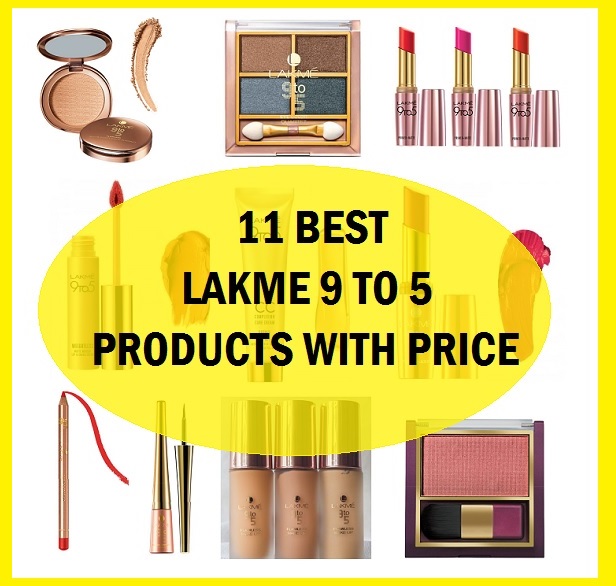 Lakme 9 to 5 has been one of the most popular makeup range from Lakme. This range is launched few years ago and has become hugely successful. All thanks to the affordable and quality products. The products include each and every makeup products like lipsticks, nail paints, blushers, compact, foundation and what not. This is what this range is liked by masses and classes. A lot of college going girls would also rely on this range whenever they are seeking right makeup products for their Indian skin with good quality. In this post, we are going to share the Best or rather all the Lakme 9 to 5 products list along with their prices and short reviews so, that you know which is the one you have to pick. Right? So, this Lakme 9 to 5 skin care range has the packaging as a beautiful rose gold. This is the generic color for most of the 9 to 5 range of products.
All Lakme 9 to 5 Makeup Products Price List 
Here is the list which has all the products from the popular Lakme 9 to 5 makeup range. This range is an affordable range. Some of us who like to get quality makeup but don't wish to splurge a lot of money then this can be quite good. So, read about these products and the next time when you pass by a Lakme counter, don't forget to check these.
1. Lakme 9 to 5 Weightless Matte Mousse Lip & Cheek Color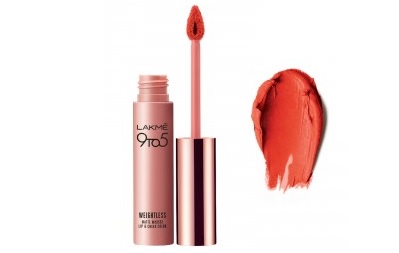 Lakme 9 to 5 Weightless Mousse Matte Lip and Cheek Color is one of the most innovative product. You can try this for your cheeks as a rosy blush color or on the lips. There are lot of cheek and lip products already available in high end brand hence this was quite good that Lakme has also introduced such a product in Indian market.
Pros
Can be used as a cheek color or lip color

Mousse and powder like satiny texture

Easy to blend on the cheeks and as a lip color

Pigmentation is good

The soft texture is non comedogenic

Has many shades from red hot pinks to plums

Lasting span is also good

Gives a smooth and even finish

The applicator wand is good

Affordable
Cons
When used as a lip color the color tend to feather out a bit
Price:  575 rupees
Shades available: 10 shades
Tangerine Fluff
Pink Plush
Fuchsia Sude
Rose Touch
Coca soft
Burgundy Lush
Crimson Silk
Plum Feather
Blush Velvet
Coffee Lite
2. Lakme 9 to 5 Complexion Care Face Cream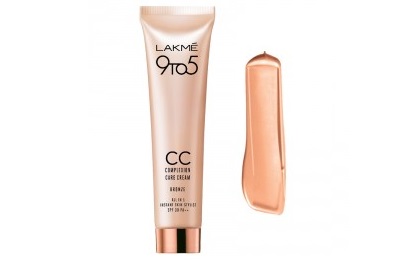 Lakme CC cream is made to moisturize, brighten and freshen the skin by giving a slight dash of makeup. This is more like your makeup "no makeup" secret that you can use every day. The cream is avialable in 2 colors and they are easy to blend on the skin. Unlike the other CC creams, it does not make your skin whitish or ashy. Also the CC cream has SPF 30 so, if you skip sunscreen while using this you are still safe but I would advise that you do. If the skin is dry then sunscreen are good as they give moisture ass well but when your skin is oily why not use a sunscreen which is gel based. Trust us you will love them.
Pros
Price is very affordable

Packaging is really good

It has SPF 30 that provides UV Protection

It slightly moisturizes

Conceals the minor flaws not major ones

Even tones the skin

Blending is super easy
Cons
Only two shades which may not suits the numerous skin tones that we have in India
Price: 275 rupees
Shades Available:
2 shades like Beige and Bronze
3. Lakme 9 to 5 Crease-less Creme Lipstick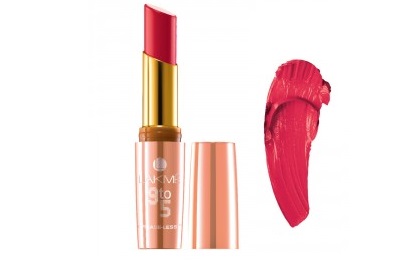 Lakme 9 to 5 Creaseless Creme Lip Colors were launched recently and the idea is to give a crease free finish on the lips. The highlight of these lipsticks is that they will give an opaque color in one stroke and are very creamy. These are very work appropriate product, like when you are in office then certainly you will wish to use makeup products that needs minimum touch ups. These are long wearing and high in color lip products.
Pros
Ideal for creamy finish and creaseless look

These are enriched with Vitamin E which gives extra moisture to the lips

The creamy texture won't tug or pull your lips

Available in a nearly 26 variety of shades

Packaging is really pretty and enticing
Cons
Some of the shades do bleed so you better use lip liners
Price
450 rupees
Shades Available: 26 shades
4. Lakme 9 To 5 Flawless Matte Complexion Compact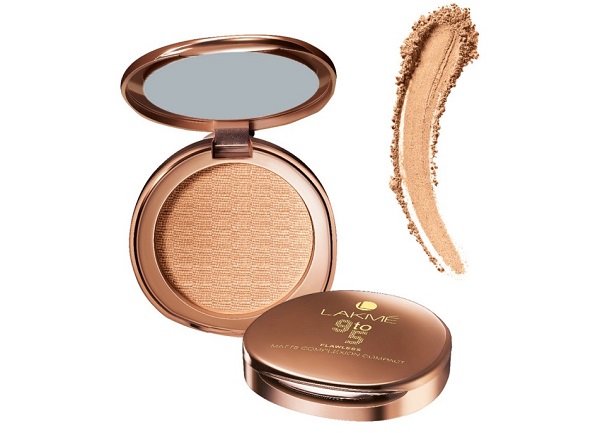 Lakme 9 To 5 Flawless Matte Complexion is a face compact that is suitable for all skin types but I find this more for the normal to combination to dry skin. This means that it may not be the best one for the oily skin type. It is formulated with vitamin E which gives moisture and prevents this from getting cakey.
Pros
Gives a matte finish which is non dry

The powder puff or the applicator is of good quality

The packing is rose gold which looks lovely

Price too is very affordable and considering that our compacts can last life long, yes that's true friends!

Contains Vitamin E for moisturization

No cakiness
Cons
Only available in 3 shades

Not very beneficial for the oily skin
Price: 400 Rupees
Shades: 3 shades are there
Melon
Apricot
Almond
5. Lakme 9 to 5 Eye Quartet Eyeshadow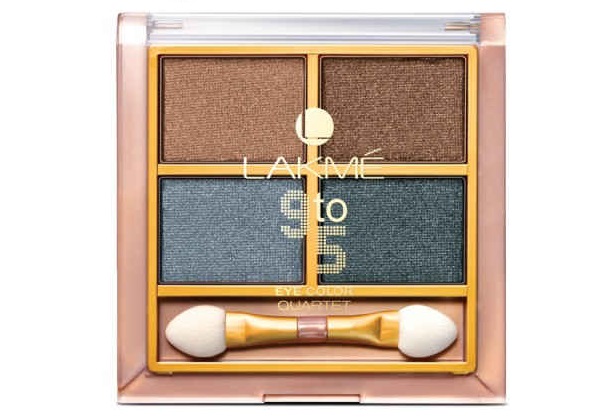 This is my most favorite Lakme 9 to 5 makeup product after the matte lipsticks of course. The quartet has 4 beautiful colors. These are around 4 variants and variant like desert Rose has subtle rosey gold earthy colors while peacock will have vibrant green and blues. These are shimmery eye shadow colors which blend nicely and give a great pigmentation. The shimmery shadow are apt for Indian wear and while you are heading for a glamorous party.
Pros
Bright shimmery satiny color

Blends well on the eyes

Stating and lasting span is good

Does not crease badly on the eyelids

4 pretty shades in just one sturdy palette
Cons
All these shades are shimmery

The applicator is tiny and not of much help if you like to use the multiple colors on the eyes like doing the crease darkening, etc
Price
500 rupees
Shades: 4 shades
Tanjore Rush
Desert Silk
Peacock
Silk Route
6. Lakme 9 To 5 Flawless Matte Complexion Foundation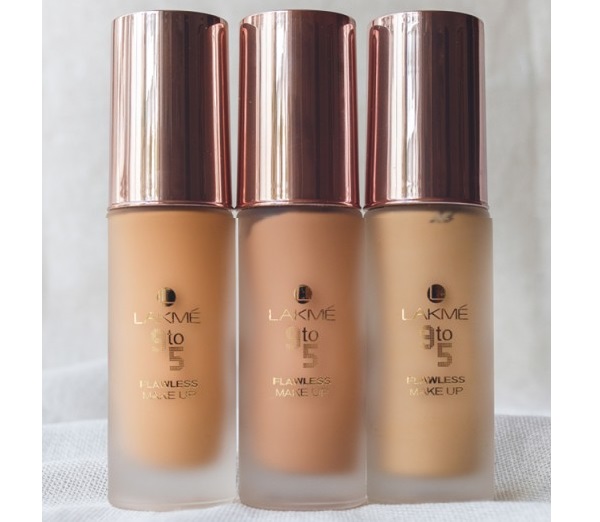 Lakme 9 to 5 Flawless Make-Up foundation is an easy to blend foundation. I find this more of a normal skin type foundation as this can be still sued for the dry skin after applying some lotion but I did I not like it that much for my oily skin. It says that this has mattifying formula which even I liked at first but after an hour the skin start to sweat.
Pros
Nice packaging

Comes with a pump dispenser

Price is okay and quite on the affordable side

Ideal for normal to combination skin and even for the dry skin

Liquid foundation that gets evenly applied even with your fingers
Cons
Not much helpful for oily skin
Price
575 rupees per pup dispenser bottle
Shades Available: 3 shades
Marble
Shell
Pearl
7. Lakme 9 To 5 Long Wear Nail Color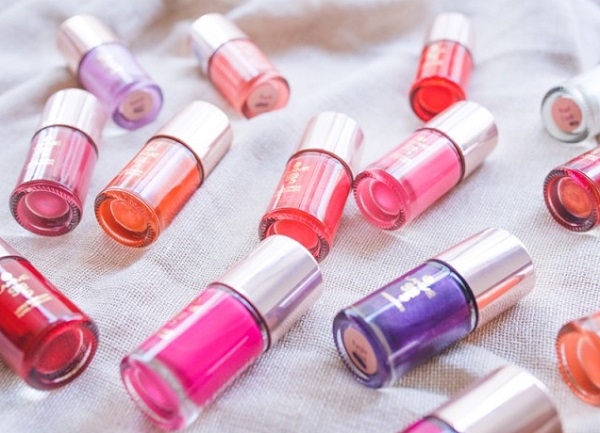 Lakme 9 to 5 Long Wear Nail Color comes with a long lasting formula which gives shine and color. I liked these nail paints as the colors are beautiful and they have a very long lasting formula except for the few.
Pros
Pigmentation is good

The range has matte, shiny, shimmery shades

They last longer and top coat can further make them more long lasting

Brush size is good and applies well

Packaging is pretty
Cons
None as such
A bit pricey for 200 bucks for some
Price: 200 Rupees
Shades available
16 shades
8. Lakme 9 to 5 Black Impact Eye Liner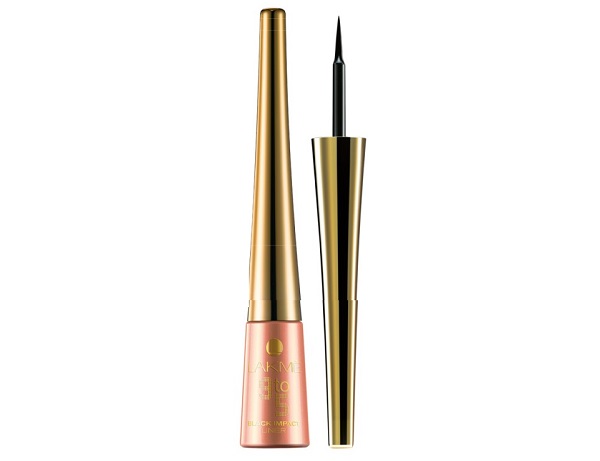 Eyeliner is an important part of eye makeup. So, if eye makeup is your fetish then why miss on the eyeliner. These days, eyeliners are available in a variety of different colors ranging from blues to purples to greens. But the basic black eyeliner is always in. Lakme 9 to 5 black impact eyeliner is a small conical container with a really long slender applicator brush. This sought of packaging is seen with a lot of brand like Maybelline, Faces, Oriflame etc. The color is intense black and gives a smooth finish.  I liked its texture and the way this applies on the eyes. For 225 rupees, this is a budget buy which actually has quality of a high end product.
Pros
Excellent pigmentation

Applies well

Does not smudge badly

Has a nice texture

Water resistant and rub proof when gets dried fully

Dries fast within minutes of application

Appropriate for college, office and events
Cons
Price: 225 Rupees
Shades available
Black only
9. Lakme 9 to 5 Lip Liner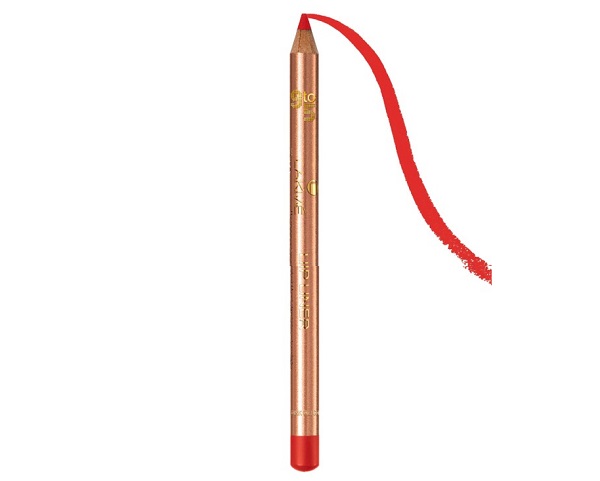 Lip liners are essential if you wish to keep your lipsticks intact for long. Lip liners are basically something that will do well for the lipstick. Lakme has only 1 lip liner range and that is this Lakme 9 to 5 lip liners. There are only 4 shades and the colors are basic like a red, pink, brown etc. The pigmentation is good and they apply well. I think for 400 rupees they are slightly over priced.
Pros
Long-lasting formula and texture

Appropriate for work wear

Intense color and pigmentation

Apples smoothly on the lips
Cons
Price is a little more should have been around 250-275 rupees
Price: 400 Rupees
Shades available:  It is available in 4 shades:
Brick Rose
Fine Wine
Pink Blush
Red Alert
10. Lakme 9 to 5 Primer + Matte Lip Color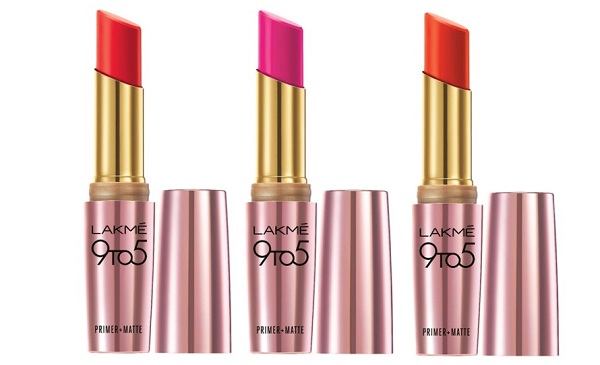 When searching for my favorite Lakme 9 to 5 matte lipsticks, I realized that they have discontinued that range and made these primer plus matte lip colors. So, in short they are matte lipsticks only but with the added benefits of the primers for the lips. Primers basically even tones the surface be it your lips, eves or the face. They will lightly fill the fine lines and pores. So, this lipstick will fill in the fine lines and then gives a smooth even polished look. The lipstick is matte only and the shades are the same like the popular ones like saffron gossip, red coat, coffee command etc.
Price
480 Rupees
Shades
30 shades
11. Lakme 9 to 5 Pure Rouge Blusher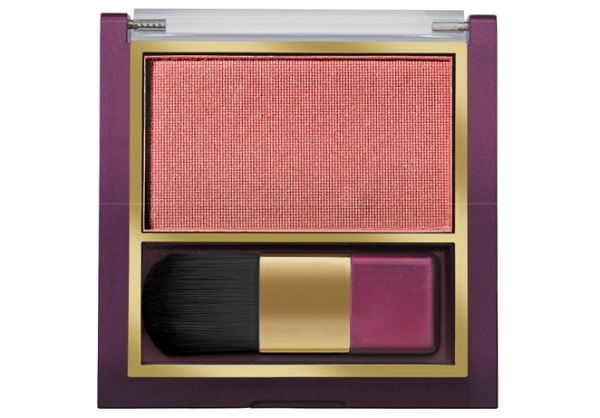 Lakme 9 to 5 Pure Rouge Blusher has a packaging like that of the eye shadow quartets. The blusher is not a matte finished one. The blusher is easy to use and has a tiny flat applicator.  I do not like the applicator as they can give a patchy finish but it is still good that they have included this. The shimmery gold illuminator in this blusher makes the skin look glowy. This is something that is more of an Indian wedding kind of blusher as the shimmery particles makes this appropriate for grand functions.
Pros
Applies well and blends well

It has shimmers hence suitable for evening makeup looks.

Smooth texture
Cons
Has shimmers hence not for the day time for many
Price: 450 Rupees
Shades: 3 shades
Rose crush
Peach Affair
Rose Blush
So, these were the Lakme 9 to 5 makeup products. Which is your favorite product? Have you used any of these?