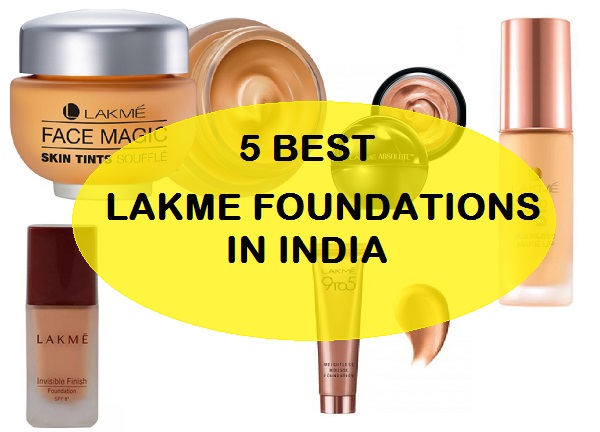 Lakme Foundation for Oily skin, Combination and Dry Skin. Are you looking or the best Lakme foundation to suit your skin type? Well!! Lakme is a very old brand and this brand was invented just to give the Indian women an ease of makeup else they used to export the makeup products from abroad on heavy prices. This is our very own brand that makes products which suit the Indian skin type and concentrates on the general Indian skin problems. Foundations can help you give an even toned skin by covering the flaws and getting rid of the blemishes temporarily by hiding them. There are various types of Lakme foundations like sheer coverage, medium coverage and heavy coverage. Even in the texture of foundation different varieties are seen like we have mousse foundation, cushion foundation, the basic liquid and the powder foundations. Applying foundations flawlessly is also essential.
What you choose and how to choose foundations, depends on your preference and skin type but one thing is for sure that you should pick a foundation shade that matches closely to your really skin types. Not doing so can results in mismatched look which can look bad.
Best Lakme Foundations for Different Skin Types Available in India
Here, in this article, we have compiled a list of the best Lakme foundations for oily skin, dry skin and for the combination skin. So, know more about the Lakme foundations then do check out this article. See the best dry skin foundations in India
1. Lakme 9 to 5 Weightless Mousse Foundation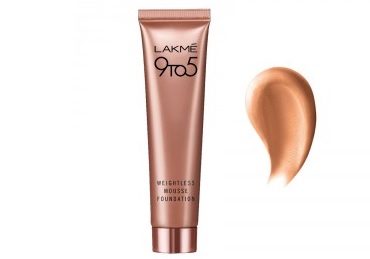 Features and Review
Lakme 9 to 5 weightless Mousse Foundation is a mousse foundation that gives a satiny and powder finish. Mousse foundations have got this air whipped texture which helps in a seamless application even with your fingers. Most of the mousse foundations are medium coverage and this is the same. This Lakme foundation is ideal for the daily wear and we loved it. We has also reviewed it on our website and liked that this gets applied really easily. This is extremely light weight and feels like as if nothing has been applied. This is a suitable foundation for oily skin as I have oily combination skin, I do not feel that this makes my skin sweaty in summers or it gets oxidized badly.
Pros
Light weight

Easy to blend on the skin

4 shades are there

Has tube packaging which is similar to that of the Lakme CC cream
Cons
There are not many shades for dark dusky skin
Recommended for: All skin types but very good for oily skin as this is very dry in texture.
Shades available: 4 shades are there
2. Lakme Absolute Mattreal Skin Natural Mousse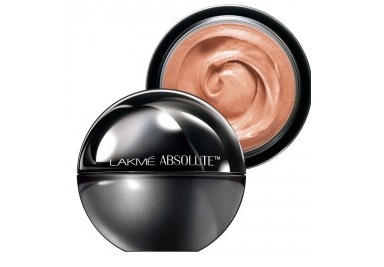 Features and Review
This has a very smooth and a feather-light mousse. This Lakme Mattreal foundation is from the Lakme Absolute range which is expensive than Lakme 9 to 5 makeup products. This Lakme foundation is packed with SPF 8 which isn't much but still gives that extra sun protection if you are wearing this foundation for the day time. While skipping the SPF is not recommended it can still be suitable. This foundation claims to give a lasting effect for up to 10 hours but who cares most of us won't wear makeup for more than 10 hours at max or rarely we do that.  Lakme Absolute Mattreal Skin Natural Mousse is an ideal foundation for oily skin for daily use. It can wear up to 4- hours without the oils and after that you will have to use the compacts to soak up the oils and sebum off the skin. There are several shade of this Lakme foundation for wheatish skin as well.
Pros
Light Finish that is weightless on the skin

Won't make the skin sweat in summer season

Blends nicely with a brush or with fingers alone

Packaging is beautiful in that round ball like tub

Carrying it can be difficult as the bottle can get upside down but it is leak proof

Stay for around 6- 8 hours in full intensity then this may get patchy
Cons
Gets patchy when the oils come on the face
Shades: Lakme Absolute mousse foundation is available in 6 different shades
Recommended for: Oily skin and combination skin and in fact for all the skin type
3. Lakme Invisible Finish Foundation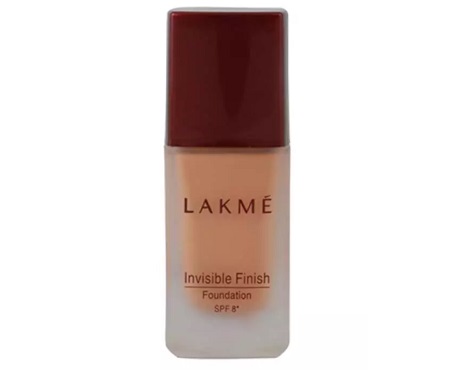 Features and Review
Lakme Invisible Finish Foundation is a liquid foundation which is appropriate for the Indian dry skin. The foundation has some satiny ingredient that applies nicely on the skin. The texture is moisturizing and gives a good effect on the skin. The foundation is for dry skin type for daily use for college and work. This can make the oily skin feel greasy after some time. I had used this and it was good but not something that I like for my oily skin. This Lakme foundation too has the SPF 8. It comes in a glass bottle and has a spatula inside which helps to take out the product.
Pros
Ideal for dry skin

Nice light finish but feel cakey on layering

SPF 8 for sun protection

Gives a medium coverage

Good thing is that there are many darker shades too which will suit the dusky skin tone
Cons
May feel heavy and cakey when we layer it

Glass bottle prone to breakage

Not for oily skin
Recommended for: Dry skin to Normal skin
Shades available: 8 shades to choose from
4. Lakme 9 To 5 Flawless Matte Complexion Foundation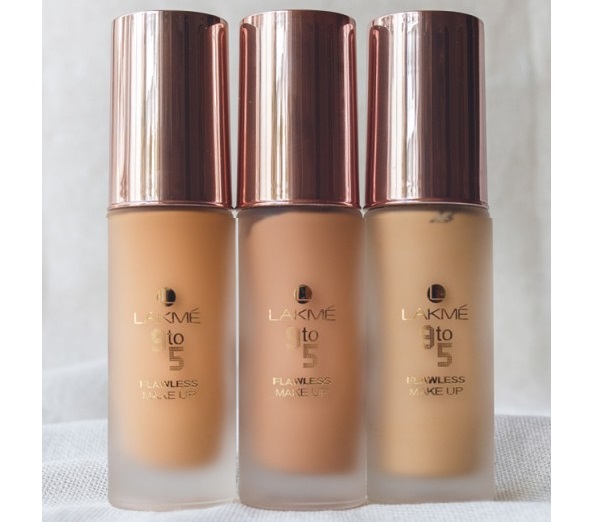 Features and Review
Lakme 9 to 5 Flawless Matte foundation is a liquid foundation that is enclosed in a glass bottle.  This has a liquid formula but has a mattifying texture. The foundation indeed has the properties that helps to make the skin glow but not make it greasy or oily but still I wills y that the oils may come and it will get patchy. It will be better if you can apply some silicone based primer. Primer application delays the oil production on the face. The shades in this Lakme foundation are suitable and designed for the Indian skin complexion hence you can get a shade to choose your Indian complexion the best.
Pros
Mattifying formula

Applies and blend well on the skin

Can be used with foundation brush or fingers

It comes in a pump packaging that is very easy and hygienic to use

Stays all day long but not in humid region as this can get patchy
Cons
Only 3 shades

May get patchy in extreme heat and humidity

If you have oily skin and you live in humid climate then it's better to choose a mousse foundation for your oily skin
Recommended for: Normal to combination skin
Shades to choose: 3 shades
5. Lakme Face Magic Skin Tints Souffle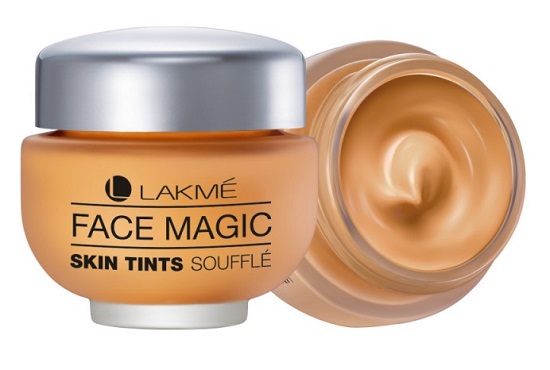 Features and Review
Lakme Magic Souffle foundation is like your everyday foundation which is ideal for sheer coverage that you need for the work. It may not give the best coverage but that my skin but better thing that it gives is suitable for all skin type. The texture is non greasy and drying therefore all the skin types can use this. This foundation may say that it covers blemishes, dark spots, etc but it is a light coverage one hence you cannot layer it again as well, since the layering does not give good results. This soufflé foundation is also rich in the cucumber extracts, vitamin E and sunscreen but they have not mentioned the amount of SPF in it.
Pros
Ideal for everyday wear

Inexpensive

Packaging looks nice and cute

Good for college girls who like to try inexpensive budge makeup products

Applies easily and nicely without any hassles
Cons
Light coverage

Does not last long

Isn't sweat and water proof

Only three shades
Recommended for: All the skin types even for the combination skin
How to apply foundations
It does not matter which foundation you are using and how expensive it is till the time you are not wearing it properly. Here's how you can apply your foundation.
Step 1: Cleanse the skin and use any face primer or moisturizer that you normally use. For the oily skin primers which are rich in silicones helps to control oils and sebum.
Step 2: Just take a small amount of foundation on the back of your hand and dot it on your face on places like forehead, nose, chin and cheekbones.
Step 3: Blend into your skin starting from the centre of the skin outwards. Blend it nicely and then try to put more on the places that needs extra coverage where you have flaws like minor blemishes and marks. After dotting the foundation, you can also use a foundation brush.
Step 4: Put some translucent powder to set the powder.
These were the Best Lakme foundation available in India. You can choose them as per your skin type. We would advise that you first check the shade no matter which foundation you buy matching the shade is more important.
Recommended Articles:
Best Maybelline foundation in India
Oriflame Illuskin Foundation Review
Blue X Factor Foundation Review