Liquorice powder or Glycyrrhiza Glabra has so many benefits for health, skin and hair fall. A lot of people take liquorice tea to improve their immunity and brain functioning. However, in this article we are going to talk about the best liquorice powders in India for skin and hair uses. It has been consistently used in skincare products and it's used to keep your skin beautiful.
Benefits of Liquorice Powder:
Presence of antioxidants, balance the oily skin and regulates excessive sebum production. Liquorice also comes with strong anti-inflammatory properties therefore, is excessively used in anti acne and fairness products. Skin conditions like psoriasis, eczema, dermatitis and even the swollen inflamed acne on the skin can be treated with the help of liquorice powder. The product has this excellent property to fade dark spots and hyper-pigmentation which is common after the acne breakout. Liquorice root extract is commonly used in skin lightening products. Liquorice whitens the skin by inhibiting tyrosinase, which reduces the excess melanin production in the skin. Other than that, it's also known to have potentially alleviates the discomfort and inflammation after sunburn and sun damage.
Best Liquorice Powders in India (2020)
1. Khadi Omorose Liquorice (Mulethi ) Powder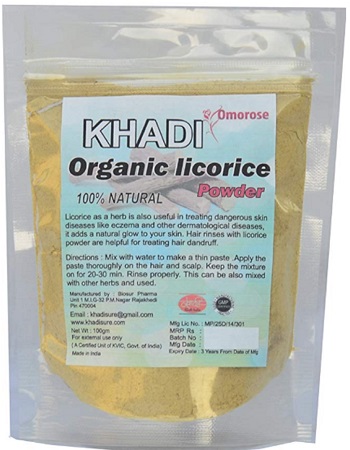 Khadi liquorice powder is a herb useful in treating skin issues like Eczema, Psoriasis and other dermatological skin diseases. It's wonderful in treating hair dandruff when used as a hair pack. To apply it on your skin, just mix it with some water and apply on the skin for 20 to 30 minutes. It can also be mixed with other herbs that can heal your skin.
2. Indus Valley Natural Pure Mulethi Powder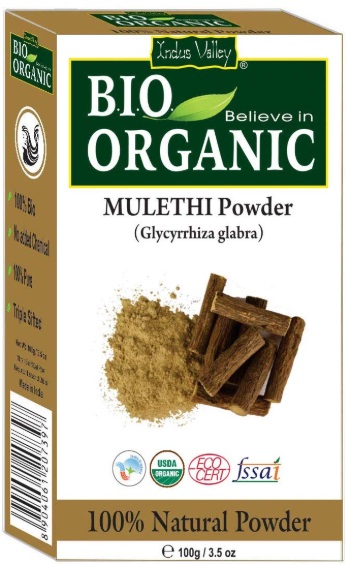 Liquorice or mulethi powder, is natural and contains just the pure liquorice powder form. This powder for skin health removes impurities and acts as natural skin whitening. Liquorice for hair, helps in reducing the excessive secretion from the scalp. It's 100% chemical free powder that does not have any chemicals, or metals or synthetic compounds.
3. Jain (Mulethi) Powder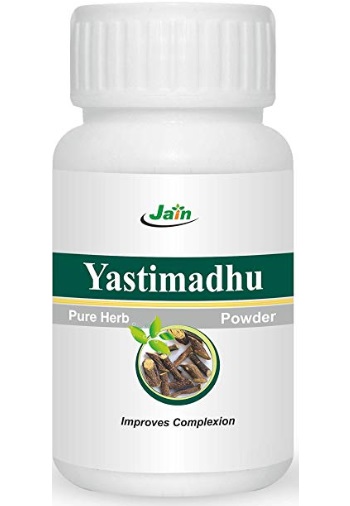 It's a pure herbal liquorice powder that improves the complexion. It can be used for skin and hair both. The flavonoids and antioxidant present in this liquorice powder helps to lighten the skin and reduces the scars on the skin with regular use. Because of its anti inflammatory properties, it also lessens the redness of acne. Applying liquorice face pack fades the effects of sun tan making the skin dull.
4. Luxura Sciences Mulethi Powder For Skin Whitening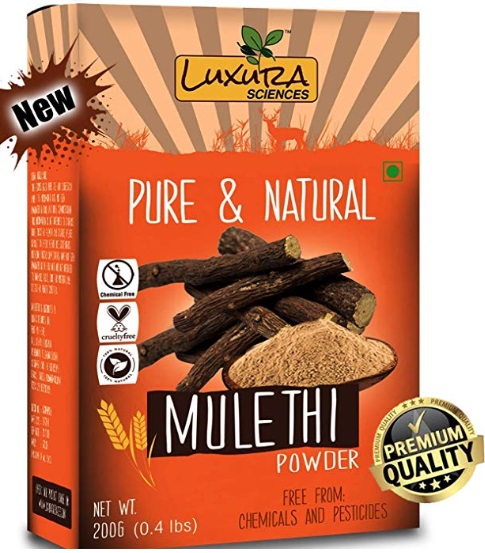 Liquorice extracts contain antioxidant called glabridin, that is a powerful anti aging and skin whitening element. For hair growth, you can apply pure liquorice root powder as a hair pack mixed with some water. Liquorice root is also known for treating the dark under eye circles and pigmentation.
5. Nature's Tattva Liquorice Powder (Mulethi Powder)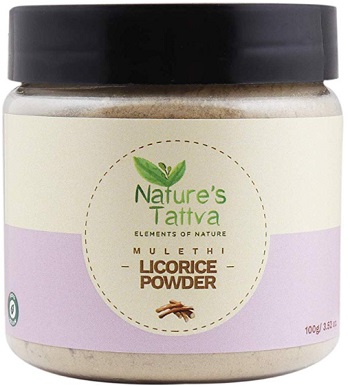 Mulethi powder is rich in skin lightening properties and to lighten blemish, age spots and dark spots. Use liquorice as a face mask on the skin mixed with some rose water twice in a week to achieve light and beautiful skin.
6. United's Pure & Natural Mulethi (Liquorice) Powder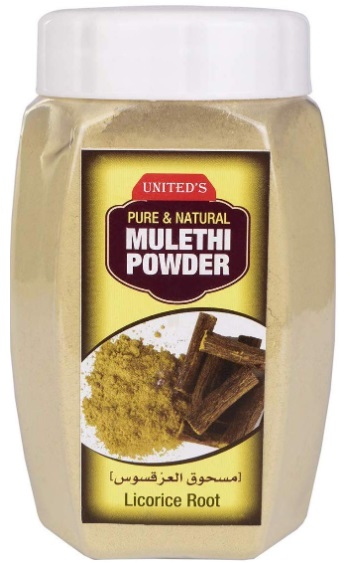 The pure and natural mulethi or liquorice root powder is suitable for skin and hair uses. While reducing the excessive oil secretion from the scalp and your skin, it's wonderful to improve your beauty. The chemical free powder contains no added fillers but the pure liquorice root extracts.
7. Jain Yastimadhu/Mulethi Powder
 
With the presence of flavonoids and enzymes, this powder gives your skin lightening benefits. Other than scars and sun-tanning removal, it also acts as a wonderful hair pack to induce hair growth. By inhibiting tyrosinase, it keeps the excess melanin in check.
8. Hollywood Secrets Organic Mulethi Powder Liquorice for Skin Whitening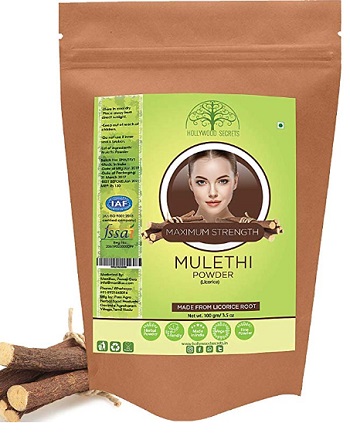 For your beautiful skin 100% liquorice powder would work the best. The liquorice powder is moisturizing and helps to support a good skin. It's excellent for your skin and hair uses.
9. Heilen Biopharm Mulethi Root Powder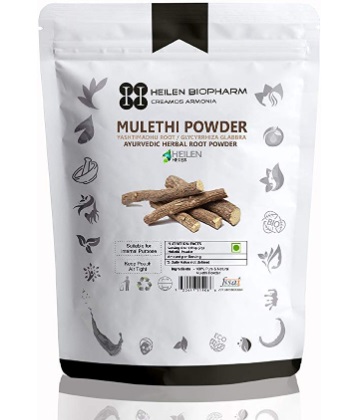 This next liquorice powder is an herbal ayurvedic formula that is suitable for oral ingestion. It comes in an airtight pouch. It can be taken with some warm water. You can also prepare tea by adding 1 teaspoon of this powder to a cup of hot water. Tea is helpful in improving oral gum problem and to freshen breath.
10. NutrActiv Liquorice (Mulethi) Powder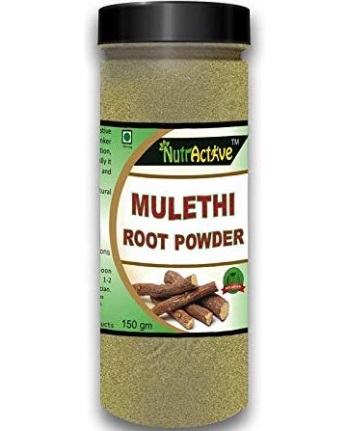 Suitable to take orally, it cleanses skin from dirt and impurities while getting rid of the tanning and pigmentation. All you get is beautiful and healthy skin. Moreover, it can also be used to prepare mulethi root tea to achieve the benefits.
How to Prepare Liquorice Face Pack
Liquorice face pack helps in whitening the skin by lowering the excessive melanin synthesis.
Take 2 teaspoons of mulethi powder and add some rosewater. Mix and apply on the face. Keep it for 25 minutes. Wash it off with clean water. Apply it twice in a week for improving complexion and maintaining the fair skin.
In the same way, you can prepare liquorice root hair pack. Apply it on the hair and keep it for one hour. It works on multiple hair issues like dandruff, hair thinning and even hair fall. Men can also try this powder for brightening their skin tone especially during summer season.