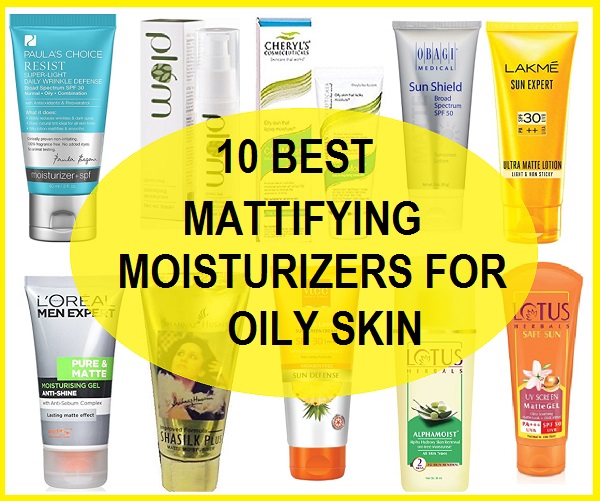 Best Mattifying Moisturizers and Lotions for Oily Skin in India with Reviews
Moisturization is important even for the oily skin. But why? It is because when the skin is already greasy then we have the sebum that lubricates the skin but when we add a thin layer of the moisturizers on tip of the skin then that protects the skin. The damage that pollutants and UV rays cause can be controlled by this layer. Moreover, when the skin is lubricated then the oil production is also lowered on its own. It also becomes crucial that which is the moisturizer that you are using. Use of the proper or right skin moisturizer is important when the skin happens to be oily. Not just the oily skin but acne prone skin too needs oil free moisturizers.
Best Mattifying Moisturizers for Oily Skin in India (2022)
Oily skin needs moisturizers that are mattifying. It simply means that after the application of such products, skin should appears matte and non greasy. So, here we have compiled a list of the top 10 moisturizers for oily skin which are matte in nature.
1. Plum Green Tea Mattifying Moisturizer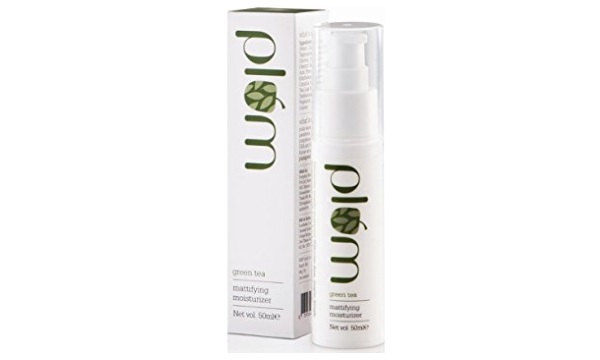 To beat the heat of this summer, we all need some skin products which can give us a glow without any greasiness. To solve the purpose, plum tree has a wonderful skin moisturizer made only for oily skin. It can actually hydrate the skin without leaving any oiliness. It has a matte effect which can control extreme oiliness and acne caused due to it. This product is really helpful as it contains green tea  which is a rich source of anti-oxidants. Green tea also tightens the skin and makes it bright.
Features
Stops excessive oil production

Hydrates the skin

Reduces breakout

Improves skin color

Gives a matte finish

Removes acne and its scars
2. Shahnaz Husain Shasilk Plus Matte Moisturizer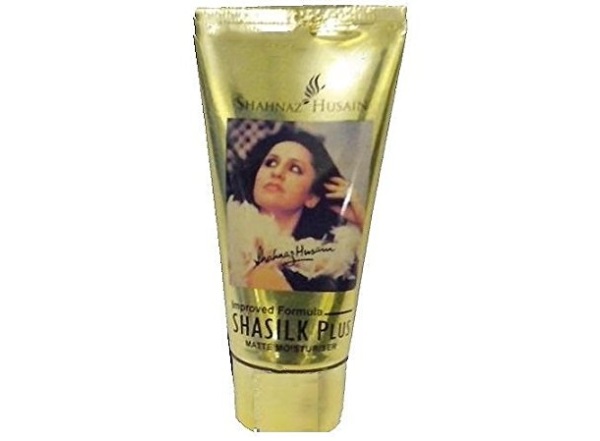 Shahnaz hussain herbal skin care products are famous since our mother ages. The quality of the products belongs to this brand is extremely satisfying. This moisturizer can be used as a makeup base which can build up a layer on the face to do further makeup without harming it. It has several natural ingredients that controls pimples and zits from inside. It also creates a shield over the skin, which protects it against harmful environmental factors like pollution and dirt. This moisturizer is the best for combination skin and sensitive oily skin.
Features
Can be used as a makeup base

Reduce oiliness

Improves skin appearance

Makes skin smooth and soft

Protects from dirt and pollution

Induces fairer skin complexion

Adds instant glow on the face
3. L'Oreal Men Expert Pure & Matte Anti-Shine Hydrating Gel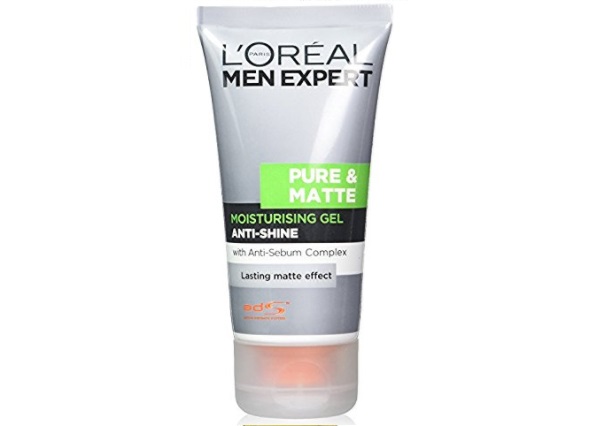 This is a very effective cream, which comes in a gel formula. It gives an instant matte look on the face. It helps in stopping excessive sebum production in the skin. This pampers the skin deeply and makes it smooth and clear. It is an anti-shine moisturizing gel that provides nourishment to the facial skin. L'Oreal Men  moisturizer also gives 24 hour hydration which reduces the oiliness. It also controls acne and scars occurrence and removes blemishes.
Features
Popular Brand

Matte finish

Suitable for man skin

Hydrating and soothing gel

Adds a glow to the skin

Reduces acne and greasiness
4. Cheryl's clarify Moist Moisturizer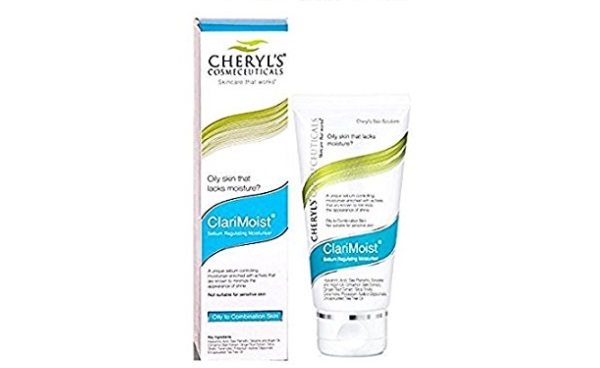 Cheryl's is a moisturizer suitable for oily and combination skin. It has a matte finish  and reduce the amount of shine. This cream slowly removes excess oil accumulation and also ensures better skin health. It may also give lacking moisture to the facial skin and make it fair and clean. This moisturizer for oily skin is not for sensitive type people, but can be helpful for all other types.
Features
Adds instant glow and brightness

Improves skin condition

Suitable for oily to combination skin

Improves skin texture

Doctor's recommended

Active ingredients control sebum formation
5. Paula's Choice Super-Light Daily Wrinkle Defense SPF 30 Tinted Matte Moisturizer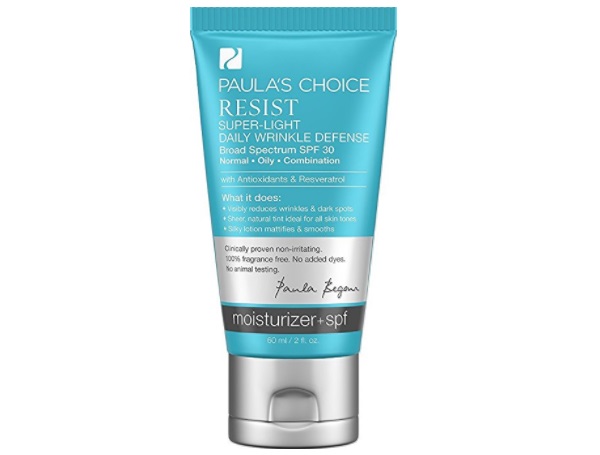 This is an anti-defense moisturizer to promote better health of your skin. It stops premature aging and also controls pimple and other bacterial spreads. The moisturizing cream can be used daily after washing your face. It has multi vitamins that prevent dull skin and induce skin color after a few applications. This is an international brand which is really popular too. It has several anti-oxidants that create a shield to protect the skin from free radicals. People having oily and acne prone skin can add it in their day and night skin care routine.
Features
Silky and soft skin

Hydrates and nourishes

Gives matte look

Contains SPF 30+++

Does not break out the skin

Antioxidants protect skin

Controls wrinkles and blemishes
6. Lakme Sun Expert SPF 30 PA++ Ultra Matte Lotion
Lakme sun expert variants are very popular among youth. This brand does as it states, this range is a complete must buy. It is very light in terms of texture and color. This  moisturizer lotion can be applied on face, neck and other parts of the body. It has an ultra matte finish which avoids oiliness on the face when you step out in the sun. It comes with 30 PA++ protection which covers your face from harmful UV rays of the sun. It reduces pigmentation and stops its further occurrence. This lotion is suitable for oily as well as other types of skin.
Features
Contains sunscreen

Provides better coverage

Makes skin matte and clear

Does not stick to the skin

Reduces pigmentation

Consists SPF 30++

Easily available
7. Obagi Medical Sun Shield Broad Spectrum SPF 50 Matte Sunscreen Lotion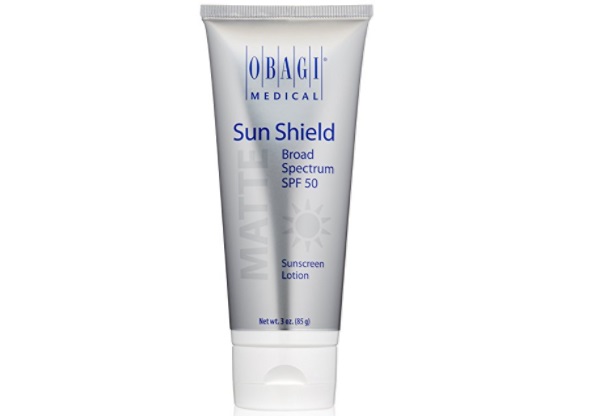 This is an amazing skin lotion for those who face skin burns, pigmentation, dark and dull skin on a daily basis. It can reduce the amount of melanin levels in your skin and improve complexion. It removes uneven skin and diminish the scars caused by sunburn. This is a doctor recommended skin lotion which can be applied to affected areas like arms, legs etc.
Features
Paraben free

Suitable for all skin types

No artificial fragrances

Protects skin against UV rays

Contains SPF 50

Non allergic

Dermatologist tested
8. Lotus Herbals Safe Sun UV Screen Matte Gel SPF 50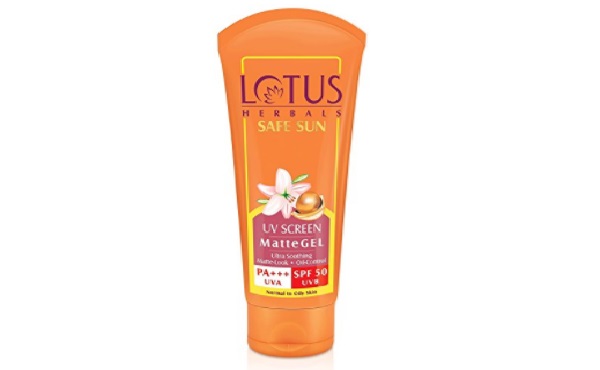 Lotus has a unique range of skin care products. If this summer you want to beat the heat with just one product then you are reading about the right one. This is a gel based skin moisturizer which reduces oil accumulation on the facial skin. As a result, you will get a beautiful matte finish on the face. The sunscreen moisturizer for oily face avoids acne and zits which are caused due to bacterial infections. Because of its texture, any skin type can use it especially oily skin people can wear it on a regular basis.  It also diminishes the chance of tanning and sun burns.
Features
Gel based

Contains SPF 50++

Improves skin tone

Reduces acne occurrence

Controls sebum production

Widely available
9. VLCC Matte Look Sunscreen Lotion SPF-30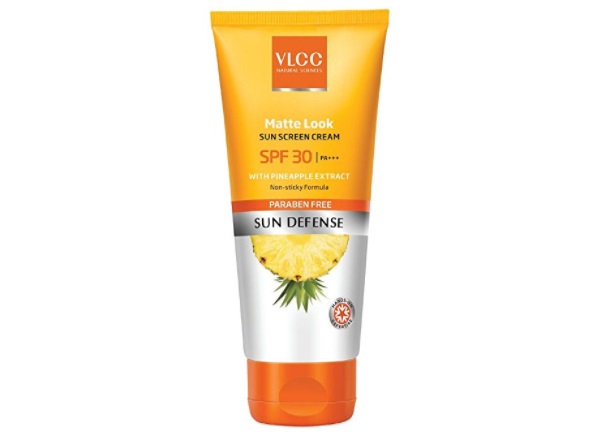 This lotion has its unique properties as it is not made with only number of chemicals, but has a variety of natural ingredients. Aloe vera, a natural skin repairer makes skin smooth and soft and is very light on the skin. It also improves the color of skin and makes it visibly fair. Even people with sensitive skin can use it like their favorite. It also contains almond oil and sandalwood extracts which  are really good for the skin. Almond oil contains vitamin-E and treats breakouts. Sandalwood oil makes skin radiant and glowing.
Features
Contains natural ingredients

Makes skin soft

Gives a matte look

Very economic

Easy to handle

Comes with UV protector

Includes Aloe vera and almond oil
10. Lotus Herbals Alphamoist Alpha Hydroxy Skin Renewal Oil Free Moisturizer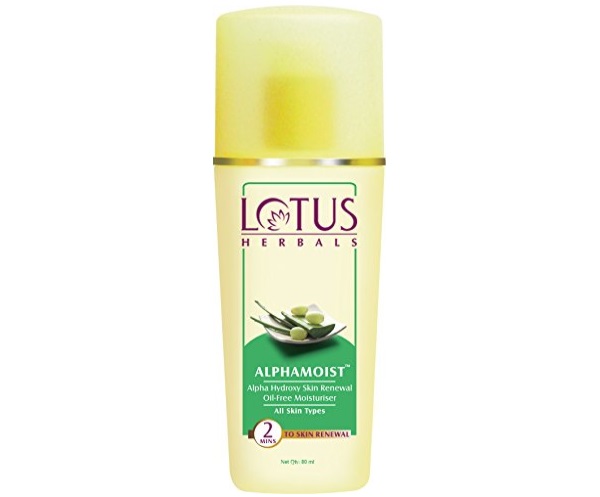 Lotus herbal has a another option for those having oily skin. This moisturizer contains basil leaves which are a good source of anti-oxidants and has  anti-bacterial properties. It stops acne and blemishes and makes skin naturally healthy. Aloe vera gel aids in making the skin supple and soft to touch. Almond oil includes vitamin-E which nourishes the skin without leaving any greasiness.
Features
Mild and easy to apply

Worth Buy

Controls wrinkles

Absorbs easily

Gives matte touch

Makes skin silky and non-glossy
These are the best mattifying moisturizing lotions for the oily skin and acne prone skin in Indian market. Have  you used any of these moisturizers? Do let us know?