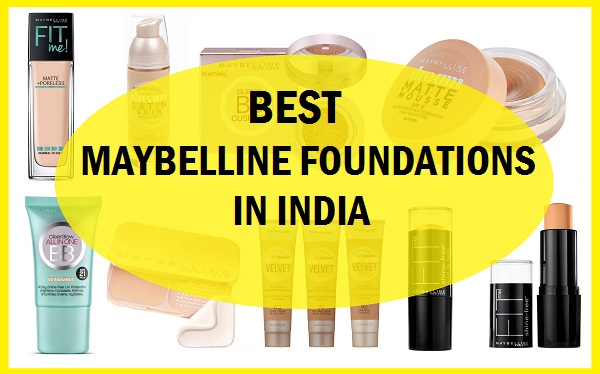 Maybelline foundations in India for Oily skin, Dry skin and Price
Foundation is a skin colored pigmented makeup product which is used to even out the skin tone and to hide the imperfections. A foundation can create a smoother skin and gives you relief in those marks and blemishes on the skin. Some of us may be using foundations on daily basis but using a foundation that can suit the skin type is extremely important and so does the shade selection. If you love Maybelline foundations then in this post we have picked up the best of Maybelline foundations which can suit skin type like dry skin, oily and acne prone skin. Above all that application of the foundation is also to be take care of, you surely won't want a foundation applied in a streaky manner and the foundation which remains unblended and people ogling at you. 
Best Maybelline Foundations for Oily skin, Dry skin and Acne Prone skin
Oily skinned girls would need foundations that can help in oil control and are not greasy at all. While dry skinned ones may wish to have a base makeup that hydrates and fills the lines on the skin. Let's check which are the Maybelline foundations that can suit your skin type. After all, every girl wants a flawless skin. 
1. Maybelline New York Dream Satin Skin Liquid Foundation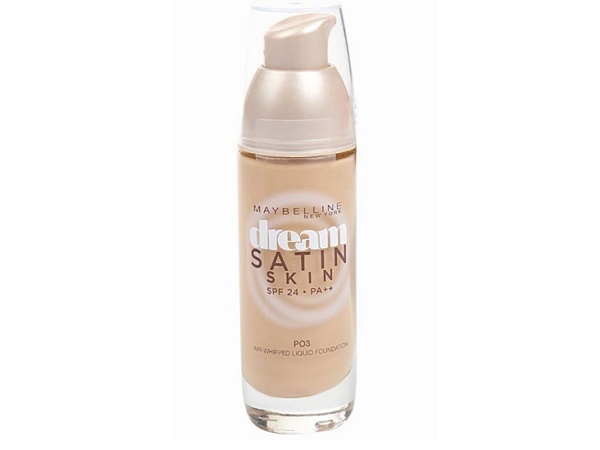 It's a liquid foundation that works beautifully on the skin. This new Maybelline Dream Satin Skin Liquid Foundation has a satiny texture which blends like a sweet dream on the skin. When air brushed makeup is high in demand to get a flawless finish, this liquid foundation is one of the affordable one. This can be beautifully blended on the skin and seep in those fine lines and pores which makes our skin look dull and tired. When the skin pores and those lines are filled you get to see a fine polished skin which looks younger as well. Good news is that it will not clog the pores therefore when the skin is oily or acne prone you can try. It's just that for very oily skin during summers it may look slightly heavy on the skin. The same goes for humid weather too.
Suitable for: All skin types but not for very oily skin in hot humid climate
Coverage: Medium to high coverage
Shades: 5 shades available
2. Maybelline New York Fit Me Matte + Poreless Foundation
The next one is the best Maybellline foundation for oily and acne prone skin. This is the Fit Me Matte + Poreless from Maybelline New York. The foundation itself is formulated for the normal to oily skin hence care have been taken that this gives a matte feel and finish while applying. The blend-ability is good and one does not feel that he foundation slip once it has been applied. As an added bonus, this foundation also has micro blurring powder. Now what does the blurring power do. Well, these powders or particles will help to create an illusion of smoother skin. Apart from that this Maybelline foundation has the oil absorbing particles too which gets rid of the oils and sebum for up to 6-7 hours. You can extend the time by either using a primer underneath or by using pressed powders. We have listed some face powders for oily skin earlier.
Suitable for: Normal to oily skin
Shades: 14 shades
Price: 525 rupees
3. Maybelline New York Clear Glow Bright Benefit Cream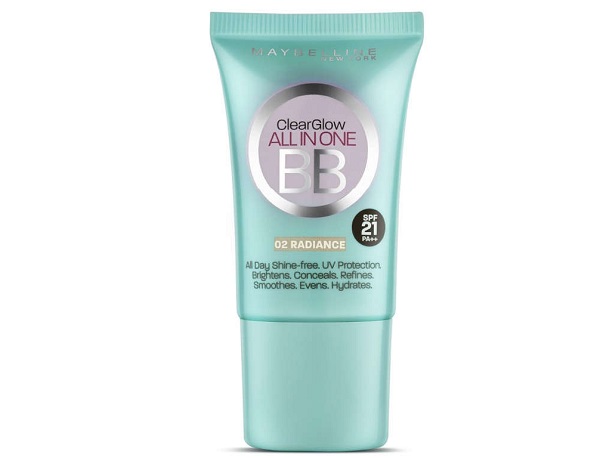 We know it's not a foundation but it is no less than a foundation or a base product that can be used on daily basis. When this Maybelline BB cream was launched, makeup lovers accepted it with open arms. Yes as I was also the one who nearly rushed to the nearest mall to get hold of this BB cream. This Maybelline foundation is appropriate for all skin type though I feel that for normal to dry skin this works better. The formula is better for everyday use so, grab this and apply like the regular face creams and you are done. Just a tip, you should blend it nicely so that may look ashy. Good thing is that this is infused with the SPF 21 so, you can forget to wear the sunscreen if you have this habit like me. But don't rely on this to cover those marks and blemishes as this gives sheer coverage at the most medium-sheer only.
Coverage: Sheer
Price 225 rupees
Suitable for: Normal to dry skin and combination skin not for very oily skin in summers
Shades available: 3 shades are there like Natural Radiance and Nud@
4. Maybelline New York Dream Matte Mousse Foundation
Do you wish to have flawless skin? Then do try this Maybelline foundation. The mousse like texture is just one of the best out there to get beautiful skin. Apply this mousse foundation with the help of a flat top brush and you will be amazed to see the results. The micro-pigment gets into your pores effortlessly to create an illusion of smoother and poreless skin. It is a powder cream foundation which glides absolutely smoothly on the facial skin and can be layered as well. Though I like to layer it once to get a nice no makeup like finish. This is really nice for the oily skin as this does not clog the oily skin pores or does not make the skin ashy. There aren't many shades to choose from this Maybelline foundation as the shades are limited and not many for the dark skin so, choose wisely.
Coverage: medium to sheer
Suitable for: All skin types
Shades available: 5 shades are there to choose from
Price: 700 rupees
5. Maybelline New York Dream Velvet Foundation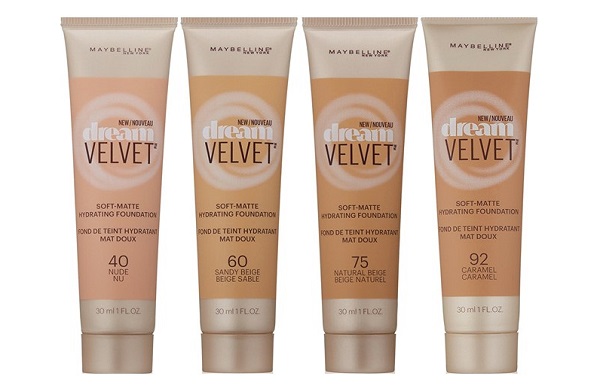 Maybelline New York made this dream velvet foundation which has a gorgeous light weight formula that everyone of us needs. This is a gel whipped formula due to which it applies nicely on the skin. It slithers nicely on the skin surface and satiny application makes this feel unique. It stays for the entire day and you will not feel that this has slipped much while going through the day. Finish is soft matte but it may feel little greasy when the oils start to show up on your skin, like for me after 3-4 hours or in humid season. It's not all, the foundation has a non drying formula which is ideal for normal to combination skin, if not for very dry or very oily skin. This is one of the best Maybelline foundation for combination skin.
Price: 700 Rupees
Shades: 4 shades
Coverage: medium coverage
6. Maybelline New York BB Cushion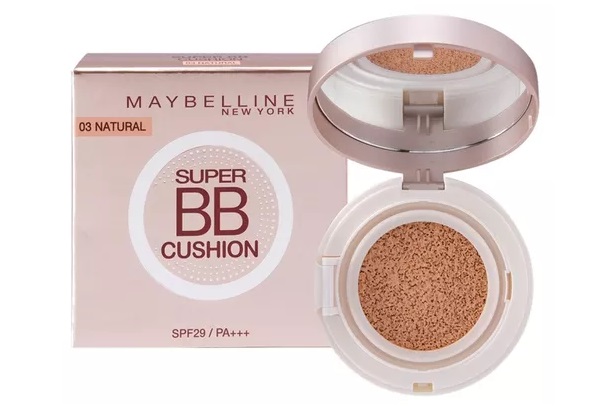 Cushion foundations is the new concept in India. You may not have seen a lot of cushion foundations earlier but these days due to neck to neck competitions the brands are gearing up for that. This is a high coverage foundation, which has the 60% moisture essence and SPF 29 it keeps your skin moisturized and sun protected. Its compact format allows you to achieve the perfect. So, all in all you get the best out of it. Moisture plus coverage and the Sun protection which makes this ready to wear for day time ceremonies. The high SPF may not be that good for flash photography but it may work well otherwise.
Shades: Available in 2 shades Light and Natural
Perfect for daily use
Price: 1200 rupees
Shades: 2 shades
7. Maybelline New York Dream Satin Skin Two Way Cake Foundation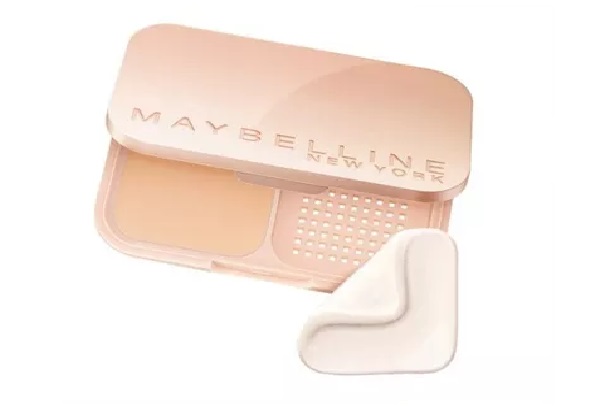 Maybelline Dream Satin Skin Two Way Cake is a cake foundation therefore those of you who are looking for a high coverage Maybelline foundation in India can consider it. It gives a non cakey finish even though it says cake foundation. The foundation as a nice to blend on the skin. It does not settle on the skin areas and is really nice to blend. It provides a non cakey and oil free finish but I feel it is a bit heavy for oily skin. May be combination skin is what is more suitable for this foundation type. This foundation gives sun protection of SPF 30.
Price: 575 Rupees
Shades: 6 shades
Coverage: It is better for medium to heavy coverage
8. Maybelline New York Fit Me Shine Free Stick Foundation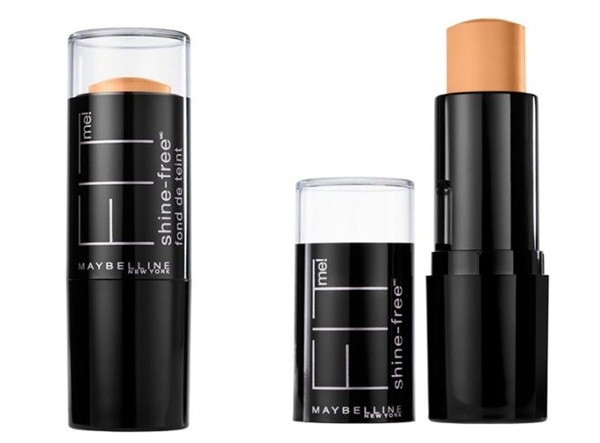 Earlier Maybelline has launched this BB sticks which were really good with their powdery satiny texture but soon they were discontinued. Now the same concept is used in these Shine free stick foundation. It is shine free even when you try to layer it for extra coverage. The texture is extremely smooth and powdery, the powdery formula is easy to apply as this is not thick but light. So, how to use this, just swipe this on the areas like forehead, nose, cheeks and chin then either with your clean fingers or with a  brash blend everything well. It claims a shine free finish for up to 10 hours which I feel is too much as I found this good for everyday use bit for 5-6 hours on oily skin. This Maybelline foundation is a dermatologist and allergy tested makeup product. This is also Non-comedogenic so enjoy suing this without worrying bout acne.
Coverage: Medium coverage
Price: 550 Rupees
Shades: 5 shades
These were the various Maybelline foundations available in India for different skin types like acne prone skin, oily skin, dry skin etc.
Have you used any of these? Which is your favorite?