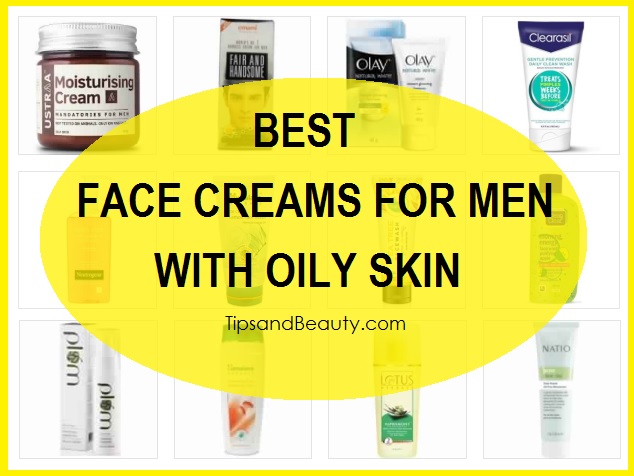 Best Men's Face Cream for Oily Skin in India
A good face cream or moisturizing lotion is a must have product in men's skin care kit. Do you use a face cream? If not then we will suggest you to do that. Yes, even if the skin is oily, you still need a face cream or moisturizer that can help to create a shield on the face that protects the skin from getting darker and also to prevent your skin from the sun damaging effects. Here we have compiled a list of the face creams that men can try for their oily and acne prone skin types. These are also good for the summer season when the sun is on its peak and the weather is humid and hot. When the skin is oily then, it naturally gets more prone to pimples and acne. A lot of men experience pimples in summer seasons and when these pimples are treated, you can struggle with marks therefore acne scar removal creams are also important to apply to keep a good complexion.
Best Day Face Cream for Men with Oily skin (2022)
This is the list that hopefully can help you in deciding the best day cream for men. Out of the so many creams, you can choose a fairness cream day cream or a cream that fights your dark spots and black spots etc.
1. Garnier Men Oil Clear Fairness Cream Sweat Control for Oil Free look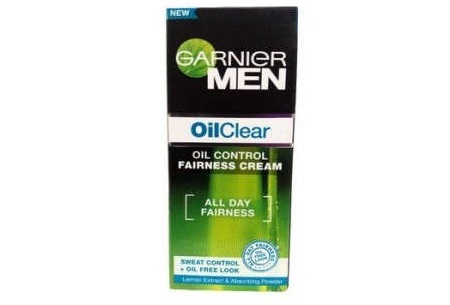 Garnier Men Oil Clear fairness cream is ideal for oily and combination skin as it controls sweat and excessive oil production. It glides easily and does not make the skin look dull. It also gives intense fairness on the facial skin. The oil absorbing formula keeps the oily skin free of sebum for long hours. It is a good summer day cream for Indian men. Due to harsh sun rays, you skin can get tanned so, you can lighten the tan by using the men's face with dark spots and marks. 
2. Nivea Men Dark Spot Reduction Moisturizer SPF 30
It gives 10X instant fairness on the skin and makes it more glowing. It also reduces pigmentation and dark spots from the face. This moisturizer contains SPF 30 which is required before stepping out in the sun. The cream has non-oily formula and absorbs easily into the skin. It is certainly a good moisturizer for men's face with dark spots and marks.
3. L'Oreal Paris Men Expert White Activ Whitening Moisturing Fluid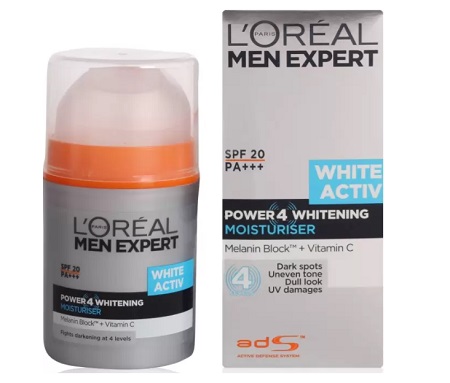 L'Oreal Paris has a huge range of products available online and offline. The men skin care range is amazing and this is one of the best products available. This cream has an active whitening formula which induces fairness and makes skin soft and smooth. This is a serum based moisturizer which can be applied at any time during the entire day. It is appropriate face moisturizer for acne prone skin for men.
4. MeGlow Fairness Cream for Men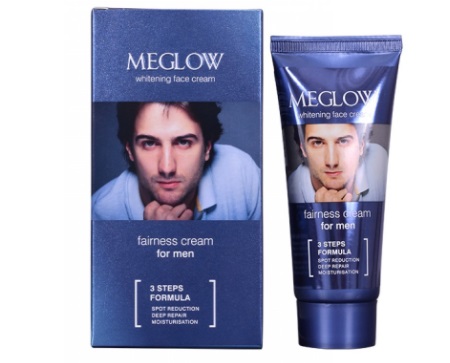 Meglow is a new cream in the market, which has a good popularity and works great on men's skin. It contains natural ingredients like Aloe Vera gel, wheat protein, which makes skin healthy and glowing. It is for all skin types so even if your skin happens to be oily, this face cream is suitable.
5. Lotus Herbals White glow Skin Whitening & Brightening Gel Creme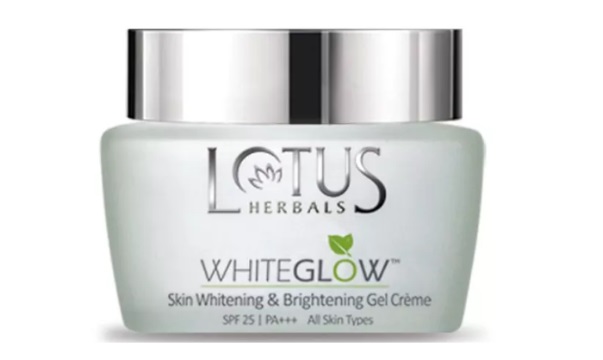 Lotus herbal white glow cream is ideal for men skin type. The best part of this cream is that it is made with 100% natural ingredients which means it won't cause any side effects. The unique gel formula gets easily absorbed in the skin and makes it really smooth and shiny. It also contains 15 SPF that is required to protect the skin from UV rays of the sun. So, it is your men's sunscreen and day cream both.
6. Kaya Men Energizing Cream SPF 15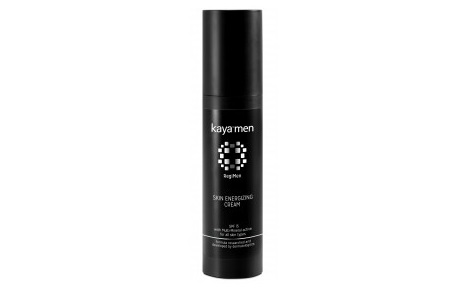 Kaya Men Energizing Cream is ideal for all skin types. It consists magnesium, zinc that is must minerals for our skin. The active ingredients if this cream makes the skin fresh and clear and prevents dullness caused by dirt and other environmental factors. The cream is very handy and comes in a bottle like packaging. SPF 15 ensures protection against UV rays. One of the best creams for sensitive skin.
7. Man Arden Ultra Energetic Day Face Cream Island Emperor with Vitamin E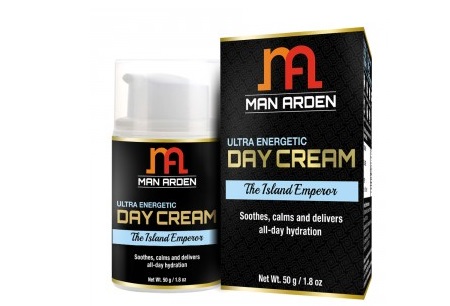 You may have not heard about this cream and brand, but it is one of the best creams available in the market today.  As it directly targets the major skin troubles of men that is lack of hydration, moisturize and excessive oil production due to pollution and exposure to the sun. It is more suitable cream for the men with sensitive skin and combination skin during winters.
8. Olay Natural White Light Instant Glowing Fairness Cream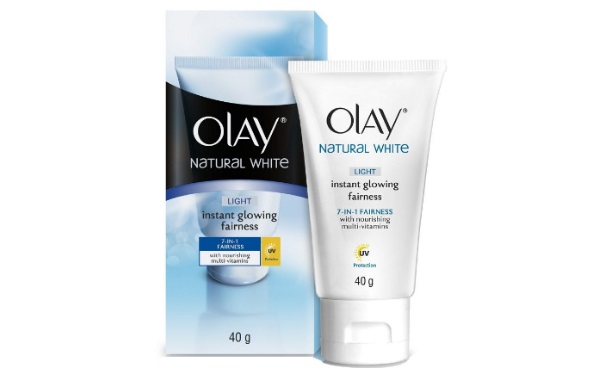 The Olay Natural White Fairness Cream gives an instant glow on the face and has a matte finish. It needs no effort to glide on the skin and your face looks bright and fair just in a single application. It is a fairness cream for men with oily-acne prone skin. For acne prone skin types, gel creams are better.
9. Emami Fair and Handsome Men's Fairness Cream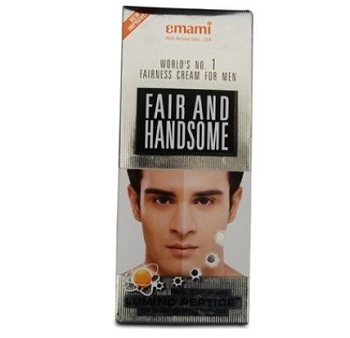 Emami Fair and Handsome Fairness Cream is popular among men for many years. It gives sun protection and removes dark spots, oil control, pigmentation of the skin. The major issue faced by men is dark and rough skin which is solved by this moisturizer as it makes the skin really soft. It can be your everyday fairness skin cream for oily skin but during winters, this cream is not very hydrating.
10. Ustraa Moisturizing Cream-Oily Skin For Men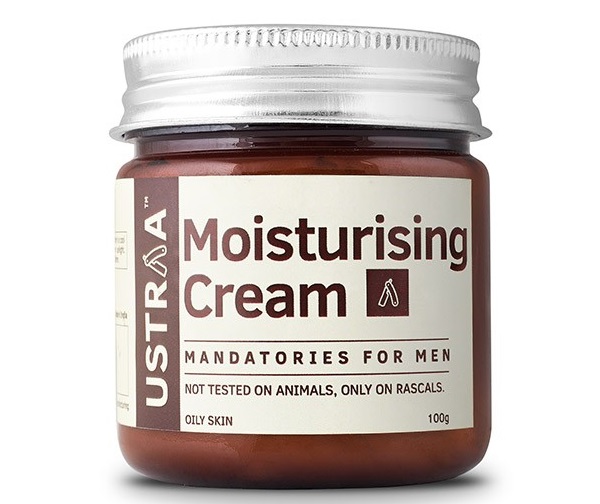 Ustraa moisturizing cream is ideal for oily skin. It has vitamin-E and canola oil that makes skin hydrated and nourished. This soothes and calms the skin and makes it feel fresh and bright. This brand makes amazing men's only products, so you should check out this brand some time.
How to apply your day face creams
Application for every skin care product is important. First of all, wash your face or if you have bathed then naturally, you would have washed the face. So, after that take the cream and apply evenly on the face. The best way is to dot the cream in the face first and then applying or massaging the dots over the face. Do this daily in the morning and in the evening with your night cream. You can also apply the sunscreen before applying your face cream.
So, these are the best face creams for men in India that you can try accordingly. These skin creams are for oily skin, sensitive skin and acne prone skin types. Have you used these face creams? Which is your favorite and you will recommend to others? You should also see which are the best fairness creams in India for men, so that your oily skin can look matte and fair this summer. Also Do check the best Medicated face wash in India if your skin is oily and acne filled.