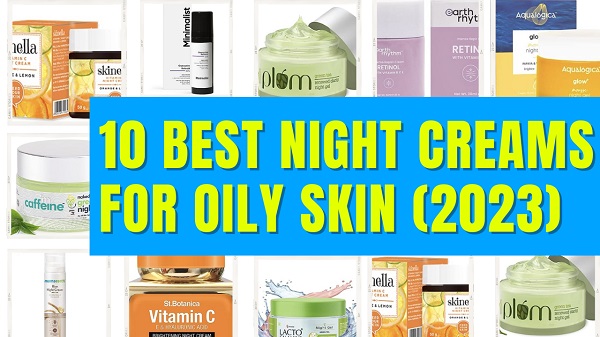 Night Creams for Oily Skin
Night creams for oily skin are like those unsung heroes that these days have emerged as the stars of your nighttime beauty regimen, offering a potent elixir that caters specifically to the unique needs of oily and acne-prone skin. This comprehensive guide a Tips and Beauty Today, navigates all about the night creams, unveiling their immense benefits, detailing how to make the right selection, and revealing the best night creams for oily skin in India for glowing, healthy skin.
Benefits of Night Creams for Oily Skin
When the sun sets and you are about to sleep, your skin embarks on a remarkable journey of self-repair and rejuvenation. Night creams for oily skin amplify this process with their unique set of advantages. Let's know what are these?
1. Balanced Hydration:
Oily skin doesn't exempt you from the need for hydration. Night creams for oily skin provide lightweight yet intense moisture, striking the perfect balance to keep your skin plump and radiant.
2. Sebum Regulation:
These specialized creams contain ingredients that regulate sebum production. By controlling excess oil, night creams contribute to fewer breakouts and a smoother complexion.
3. Cellular Regeneration:
Nighttime is when your skin's cellular repair processes are in full swing. Night creams enhance this regeneration, aiding in the repair of any imperfections and promoting a clearer complexion.
4. Anti-Aging Benefits:
Age gracefully with night creams that include antioxidants and anti-aging ingredients. Even for oily skin these elements work harmoniously to combat signs of aging and preserve your skin's youthful glow.
5. Reduced Inflammation:
Certain night creams contain soothing agents that calm inflammation and redness, providing relief to sensitive and acne-prone skin. This makes the skin beautiful.
Top 10 Best Night Creams for Oily skin List
Plum Green Tea Renewed Clarity Night Gel

Dot & Key CICA Calming Skin Renewing Night Gel

mCaffeine Night Cream Gel

St.Botanica Vitamin C, E & Hyaluronic Acid Brightening Night Cream

Mamaearth Rice Night Cream

Minimalist 2% Retinoid Anti Ageing Night Cream

Lacto Calamine Night Gel

Aqualogica Glow+ Mousse Night Gel

Earth Rhythm Retinol Night Cream

Skinella Vitamin C Night Cream
How to Choose the Perfect Night Cream for Oily Skin
With a multitude of options available in the market, selecting the right night cream can be overwhelming. Here's a roadmap to guide you through the selection process:
1. Ingredients
Prioritize ingredients like salicylic acid, niacinamide, and hyaluronic acid. Salicylic acid unclogs pores, niacinamide balances oil production, and hyaluronic acid ensures optimal hydration. These ingredients are known to unclog the pores and to regulate sebum.
2. Non-Comedogenic
Choose non-comedogenic night creams. These formulas won't clog your pores, preventing further breakouts and promoting healthy skin. For oily skin greasy, overtly sticky and pore clogging formulas are a big No.
3. Texture and Absorption:
Choose a night cream with a lightweight texture that absorbs quickly. This ensures your skin receives the necessary nourishment without feeling heavy. Gel formulation, water based and light oil-free night creams formulas are always considered good for the oily skin.
4. Antioxidants:
Look for night creams enriched with antioxidants like vitamin C and E. These protect your skin from environmental damage and boost collagen production. These anti-oxidants are known to neutralize the free radicals, which put oxidative stress on the cells.
5. Dermatologist Recommendations:
Consulting a dermatologist is invaluable. They are the experts in skin care and they can recommend you products based on your skin's specific needs and concerns.
List of Best Night Creams For Oily Skin in India (2023)
1. Plum Green Tea Renewed Clarity Night Gel: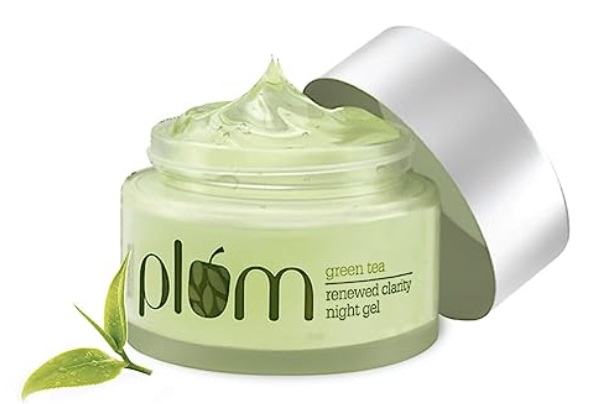 This Green Tea Renewed Clarity Night Gel designed exclusively for women with oily, acne-prone skin. Infused with potent Green Tea Extracts, this oil-free gel works diligently to clear acne and acne marks, leaving behind a radiant and glowing complexion. Additionally, the inclusion of Argan Oil Extracts ensures balanced hydration, supporting the skin's moisture retention throughout the night. We really like that this refreshing gel-like texture is enriched with antioxidants from Green Tea, Gingko, and Goji Berry, along with plant nutrients from Aloe, Licorice, and Willow Bark, for a beautifully clear and even-toned complexion.
2. Dot & Key CICA Calming Skin Renewing Night Gel: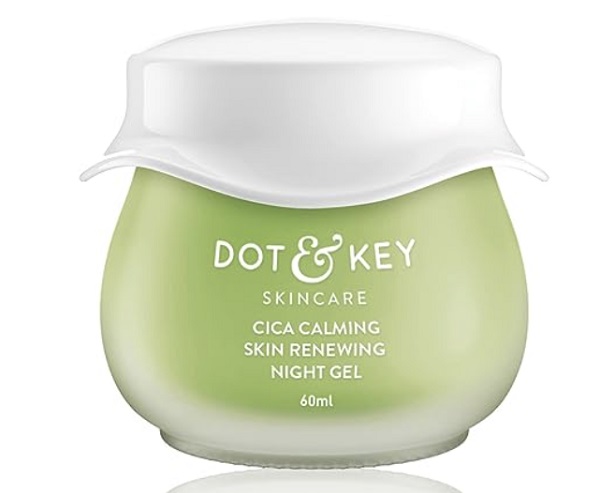 This night gel for oily skin has the power of Cica (Centella Asiatica). This is specially crafted to heal acne breakouts and soothe inflammation caused by acne. We understand that oily skinned people have acne as primary concern. With the ability to effectively reduce redness, inflammation, and irritation, Cica promotes a serene and clear complexion. Niacinamide in this gel further fades acne scars, blemishes, and dark spots resulting from frequent breakouts. This also comes with Hyaluronic Acid, which ensures balanced hydration without any heaviness.
3. mCaffeine Night Cream Gel: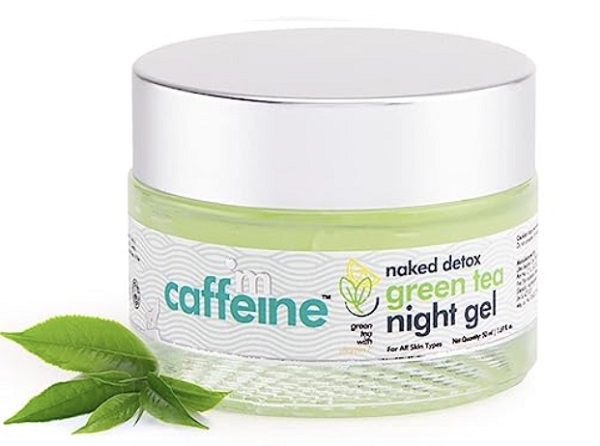 mCaffeine Naked Detox Green Tea Night Gel for oily skin and acne prone skin has soothing Vitamin C, this night cream diminishes fine lines, dark spots, and pigmentation. Moreover, the presence of Green Tea and Vitamin C in this formulation, ease fines lines and wrinkles, while also counteracting damage from pollution and toxins, offering a natural detox. It is ideal for various skin types, from normal to oily, as well as dry and combination skin.
4. St.Botanica Vitamin C, E & Hyaluronic Acid Brightening Night Cream:
Theis intense night treatment with Vitamin C, brings brightness, and repairs those visible signs of aging. This lightweight cream also works diligently through the night, firming, hydrating, and restoring your skin's appearance. It has hyaluronic acid which plumps up the skin by hydrating the tissues, while Vitamin E in this guards against free radical damage. It encourages healthy cell renewal, helping your skin regain its youthful texture.
5. Mamaearth Rice Night Cream: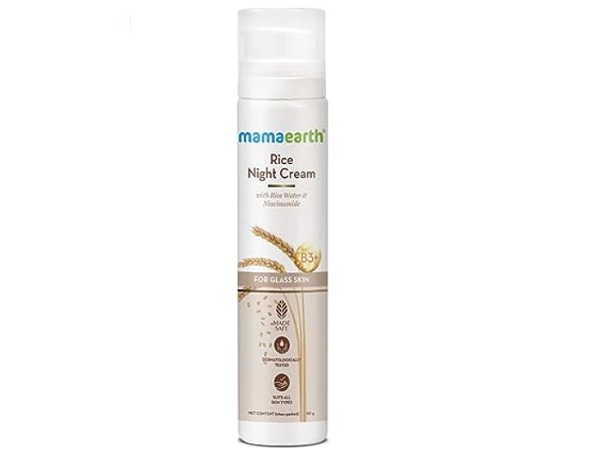 Mamaearth Rice Night Cream provides the skin with moisture, targeting dark spots and acne marks while enhancing the skin's natural barrier. Acting as a potent humectant, the night cream seals in moisture, keeping your skin hydrated. Its rich fatty acids deeply nourish, ensuring your skin stays soft and supple.
6. Minimalist 2% Retinoid Anti Ageing Night Cream: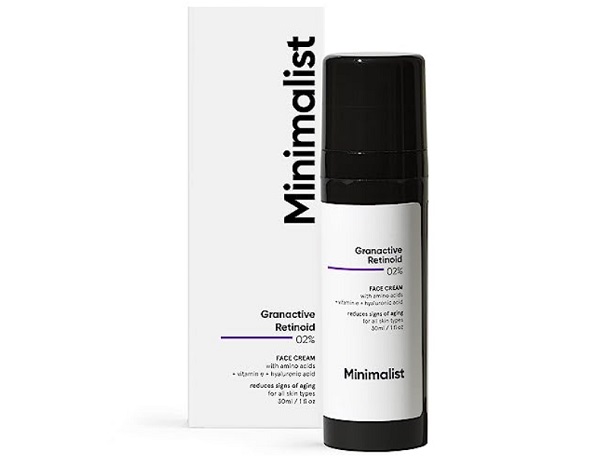 This anti-aging night cream has 2% Granactive Retinoid formula, which is also dermatologically tested for less irritation and a multi-fold better effect than the traditional retinol and retinoid derivatives. This anti-aging cream with retinoids effectively reduces fine lines and wrinkles, resulting in firmer, younger-looking skin for oily face. Boosting cell turnover and stimulating collagen production, it unveils radiant, glowy skin. Collagen in this also plays a pivotal role in maintaining youthful and healthy skin.
7. Lacto Calamine Night Gel: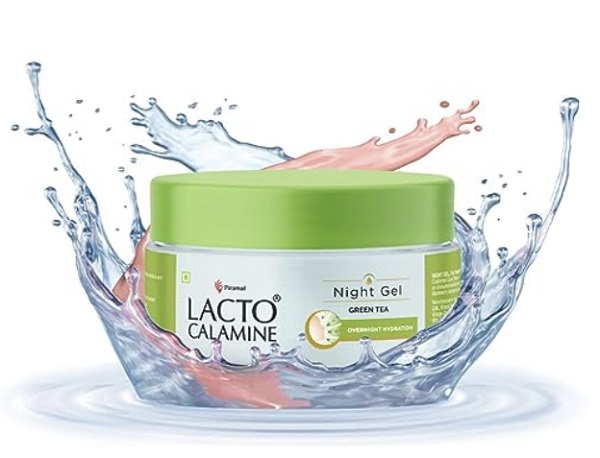 The night gel that hydrates and keeps your skin oil-free. Infused with green tea, the night gel for oily skin removes excess oil, addresses acne, and tightens pores. With the active ingredients, it is also formulated with hyaluronic acid ensures moisture retention and hydration, while five fruit extracts, rich in antioxidants, provide a smoothing effect. This gel is tailored for acne-prone and oily skin types.
8. Aqualogica Glow+ Mousse Night Gel: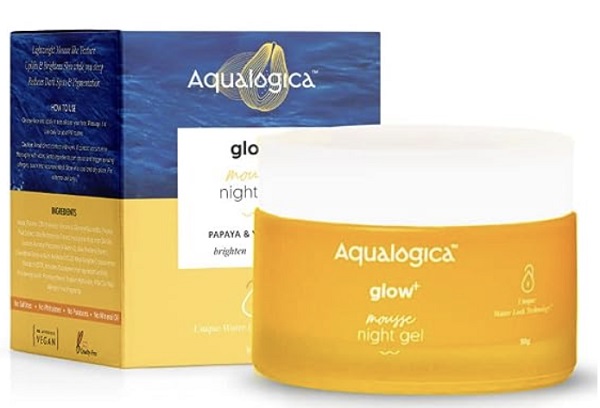 With this cream for oily skin, you get the benefits of papaya extracts, vitamin C, hyaluronic acid, and glycerin. As you sleep, this gel harnesses the power of vitamin C and papaya extracts, working wonders in reducing dark spots and pigmentation, revealing a more vibrant complexion. This is what most of the people with oily skin and darks pots expect from their night cream.
9. Earth Rhythm Retinol Night Cream: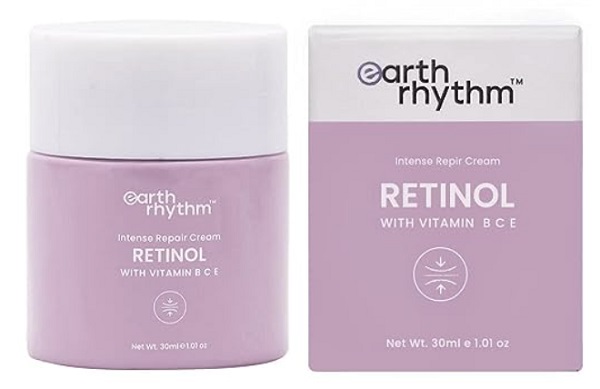 With this cream, you can get transformative power of retinol in a non-oily texture. This potent ingredient turns back the aging clock, instilling youthful vibrancy by clearing clogged pores and boosting collagen production. Vitamin B enhances skin tone, while Vitamin C neutralizes free radicals, aiding in your skin's natural regeneration process.
10. Skinella Vitamin C Night Cream: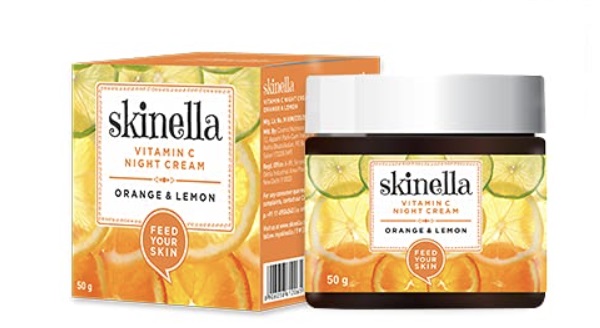 One can boost the skin's radiance with Skinella's Vitamin C Night Cream, crafted from superfoods Orange and Lemon. This night cream offers overnight rejuvenation, intense hydration, and a fight against dullness. Laden with antioxidants, it brightens skin, corrects dark spots, and evens out skin tone. Apply it nightly on your face and neck to wake up to a fresher, smoother, and softer complexion.
Some Extra Tips To follow: Night Cream for Oily Skin
The path to choosing the ideal night cream is paved with insider tips that elevate your skincare game:
Patch Test Perfection:
Always perform a patch test before applying a new night cream. This prevents potential adverse reactions and ensures compatibility with your skin.
Nightly Ritual Precision:
Consistency is key. Apply your chosen night cream every night as part of your skincare routine to experience optimal results.
Layering:
Consider layering your night cream over a serum. Serums are lightweight and can enhance the benefits of your chosen cream.
Minimalist Approach:
Less is often more. Avoid overloading your skin with multiple products to allow the night cream to work its magic effectively.
Hydration:
Pair your night cream with a hydrating facial mist for an extra layer of moisture. This combination can boost your skin's overall hydration levels.
FAQs: Your Night Cream Queries Answered
Is it safe to use night creams every night?
Yes, using a night cream every night is safe, provided the product is suited to your skin type and doesn't cause irritation.
Can I use the same night cream during all seasons?
It's advisable to adjust your night cream based on seasonal changes. Lighter formulations are often preferred during hot and humid months, while richer creams are suitable for colder seasons.
Can night creams help with acne scars?
Night creams with ingredients like retinol and vitamin C can aid in reducing the appearance of acne scars over time.
Are natural night creams better for oily skin?
Natural night creams can be beneficial, but the key is to choose one with non-comedogenic ingredients that won't exacerbate oiliness.
When should I apply night cream in my routine?
Apply night cream as the last step in your evening skincare routine, after cleansing, toning, and any serums.
Night creams for oily skin offers nourishment and rejuvenation while you sleep. By understanding their benefits, mastering the art of selection, and embracing the tips, you can make night creams an integral part of your skincare routine.