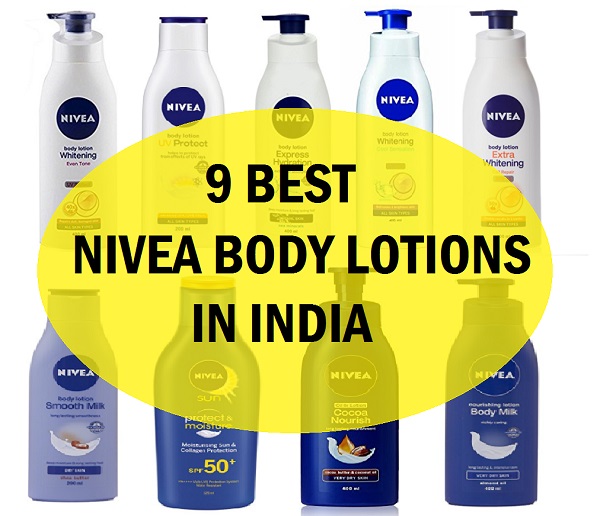 Best Nivea Body Lotions available in India. Nivea makes so many different Nivea body lotions as per the particular skin condition and requirement. Like some of us have dry skin, oily skin or even have that rough skin. Moreover, during summers we need light body lotions that should not weigh down on skin and feel heavy. During summers, we also choose body lotions which has got UV protect formula and has skin whitening features as well. Not just for the skin conditioning, body lotions will have numerous benefits for the skin. Body lotions help to make the skin even toned and smoother. The dryness can cause the rough and scaly skin therefore regular application of body milk, body oils will help to cure the dry skin. A lot of you would be thinking when and how to apply the body lotion? Well, you should ideally apply the skin creams and lotions as soon as you come out of shower. At that time, the skin is still damp and therefore the lotions seep in better and deeper. This will further give long lasting moisturization. Moreover, when your skin is damp the application becomes a lot easier.
9 Top Best Nivea Body Lotions in India (2021)
Here is the list of the best Nivea body lotions which you can give a try. Majority of these are extremely easily available in Indian market. The price too is quite on the affordable side. The bigger packs like the 400ml packs have pump dispenser. So, you can keep that on the dresses and even the small kids of your family can try it.
1. Nivea Whitening Even Tone UV Protect Lotion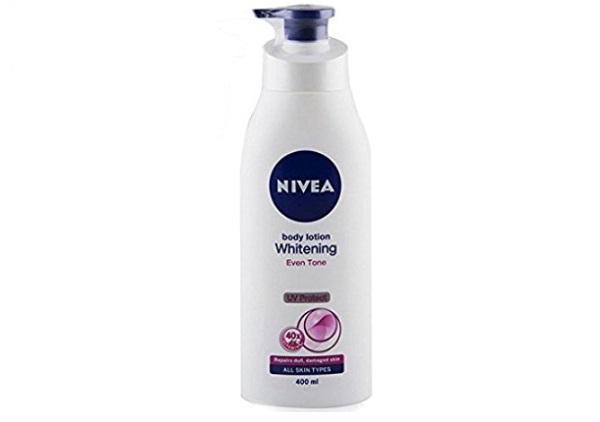 NIVEA Whitening Even Tone Body Lotion is loaded with the concentrated natural Camu Camu extracts and Acerola Cherry. These gives around 40 times higher vitamin C to repair dull damaged skin when compared with the lemon extract. When applied regularly this Nivea body lotion promises to give a smooth and lighter looking body skin. The moisturizing formula is adequate and is not too greasy if your skin isn't very dry.
Pros
Easily available
Good packaging
Non greasy or slimy
Easy to get absorbed in the skin
Skin looks visibly lighter
Has camu camu and acerola cheery extracts
Cons
Not very moisturizing for dry skin
Type of Skin
All Skin Types
Recommend for:
Uneven skin tone
Price
345 rupees for 400 ml small 200 ml pack is also there
2. Nivea Smooth Milk Body Lotion for Dry Skin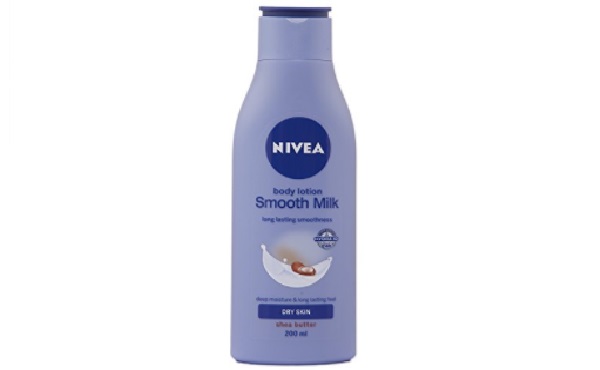 Nivea smooth milk is a very nourishing body lotion for dry skin. This can be tried for summers and winters as well for the normal to dry skin. It has the Hydra IQ and Shea Butter that are known to provide the long-lasting moisture. The formula of this body lotion absorbs quickly in the skin and reveals a radiant and supple skin tone.
Pros
Hydra IQ technology for long lasting moisture
It has highly moisturizing shea butter
Velvety finish after the application
Skin get smother and non dryness
Long-lasting softness and protection
Cons
Re-application is needed for dry skin
Price
225 for 200ml, a bigger 400 ml is also there for 345 rupees
Recommended for
Dry skin
Nivea Night Whitening Body Lotion Review
3. Nivea Body Express Hydration Lotion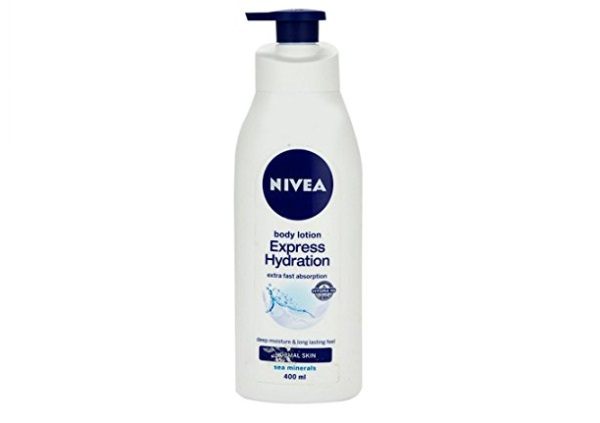 Nivea body lotion is Express hydration variant too is formulated for the dry skin that needs quick hydration especially in winter. For the harsh dry season like winters, this Nivea body lotion has the formula with Sea Minerals and Hydra IQ which provide moisture all day long.
Pros
Availability
Nourishes the dry skin
Good for winters
Smell is good
Cons
None
Price
400ml for 265 rupees, smaller packs of 100ml, 200ml are also available
4. Nivea Oil in Lotion Cocoa Nourish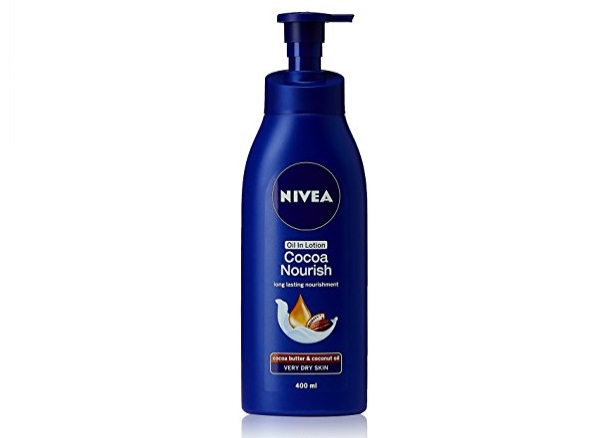 It's a body lotion that has been designed to give moisture for 24 hours. The lotion is enriched with coconut oil and cocoa butter. These two ingredients are bound to give you a glowing skin with no signs of dryness and wrinkling. Nivea oil in Lotion Cocoa Nourish gives deep moisture to the skin layers and smoothes away dullness. This excellent lotion for dry skin comes with the goodness of natural oils and a fast absorbing formula.
Pros
Suitable for winters
Ideal for very dry skin
Has coconut oil and cocoa butter
Wonderful for the hydration and glow
Cons
Can be greasy for normal skin in summers, so it's not a summer body lotion
Recommended for
Dry skin in winters
Price
369 rupees for 400ml
10 Best Body Lotions for Dry skin in India
5. Nivea Extra Whitening Cell Repair Body Lotion SPF 15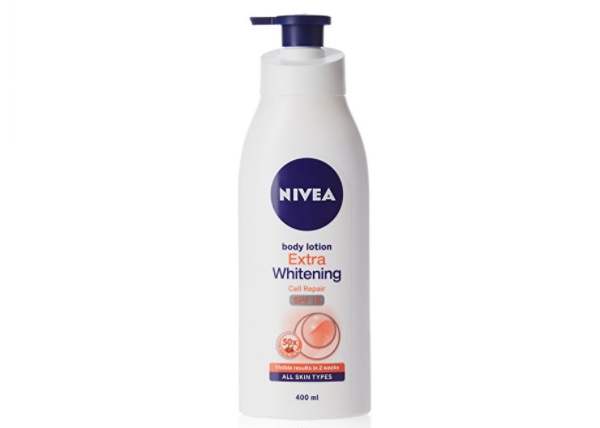 It's a cell repair and whitening body lotion from Nivea that has the fruit extracts of camu camu and acerola cherry. These are known to whiten and brighten the dull tired skin by few shades. For people looking for a decent whitening body lotion with sunscreen then it has SPF 15 and is also free of those harmful paraben, mineral oil, colorants and alcohols. This claims to repair the dull skin and nourish it deeply for a glow and whitening effect. Nivea extra whitening cell repair and UV protect lotion also cures the dark spots, uneven skin tone and itchy skin. Its a good summer body lotion.
Pros
Very easily available
Non greasy
Skin whitening is seen as it removes sun tan and dullness
Price is also affordable
Shows visible results in 2 weeks
Has almond oil which nourishes and whitens the skin
Cons
Not for very dry skin else reapplication is required
Recommended for
All skin types and for skin whitening
Price
399 rupees for 400ml
8 Best Body Lotions with SPF in India
6. Nivea Nourishing Lotion Body Milk Richly Caring for Very Dry Skin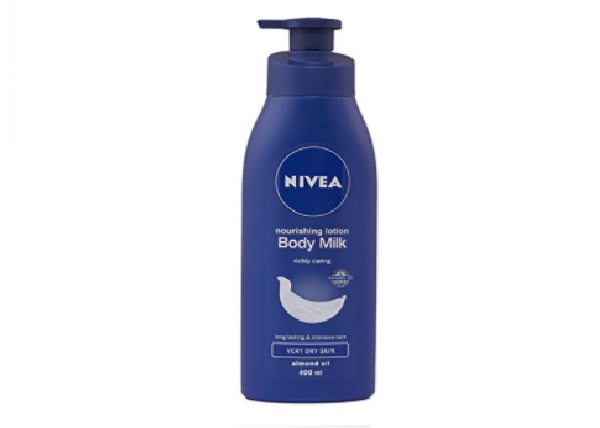 Nivea Nourishing Lotion Body Milk for Very Dry Skin has the almond oil which softens the skin. It gives intensive care for dry skin. Its formula is made to meet the needs of dry skin. As the brand says this body lotion has the almond oil, natural minerals and Hydra IQ that also heals the roughness of skin.
Pros
Ideal for dry skin
Blends nicely and easily
Has almond oil, natural minerals and hydra IQ
Cons
May be oily for other skin types in summers
Price
315 rupees for 400ml
7. Nivea UV Protect Body Lotion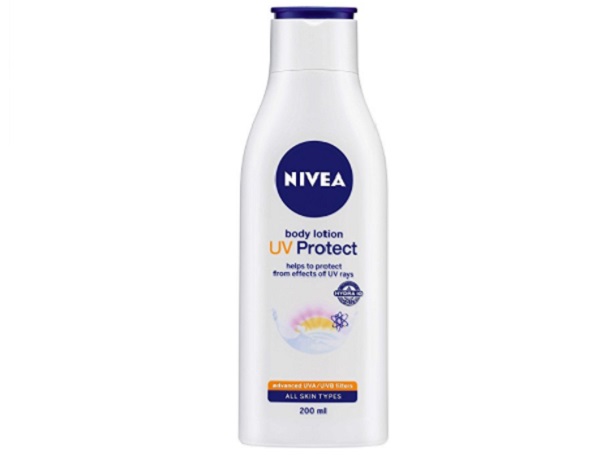 Nivea UV Protect Body Lotion is made to replenish the skin's own protection system and to prevent the premature skin ageing. This too contains the Hydra IQ and provides the 24 hour moisturization.
Pros
Enriched with vitamin B3 complex
UV protect formula
Cons
None
Recommended for
All skin types
Price
75 ml for 75 rupees and 200 ml for 200 rupees
8. Nivea Sun Moisturizing Lotion SPF 50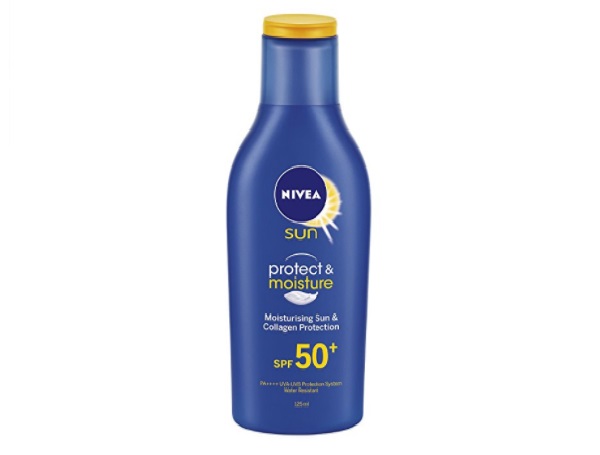 NIVEA Moisturizing Sun Lotion SPF 50 is a very high SPF lotion which has the benefits of sun protection and body lotion. The lotion is very greasy and moisturizing hence is perfect for dry skin in winter days. It says this is non greasy but after using this, I felt that after sometime like an hour, it makes the skin greasy and sweaty. The good thing is that this has the collagen protect which helps to protect the skin from aging faster while we are under harsh sun rays.
Pros
It is highly moisturizing
Gets absorbed in the skin faster
Water and sweat resistant
Acts as a sun protect and body lotion
Cons
Not very oily skin as it makes the skin sweat a lot later on during the day in summers
Recommended for
Dry skin in all season
Skin compatibility dermalogically proven.
Price
75ml for 270rupees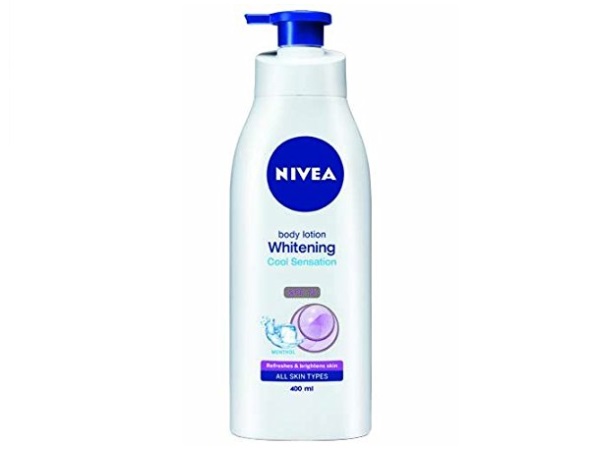 This is the latest Nivea body lotion in the market that Nivea has launched recently. It is loaded with menthol that gives cooling but as I have tried it, I find it less cooling. Only few minutes are like some cooling sensation and then it gets back to normal. Still it can be used for summers by those who want non greasy body lotion that should whiten the skin. Yes, to some extent it can give brightening effects when used regularly. Also the lotion has Vitamin C for dark spots and SPF 15 hence can be used during the day.
Pros
Availability is good
Menthol for cooling sensation
Suitable for all skin types
Summer body lotion
Brighten the skin tone by removal of tan
Vitamin C
SPF 15
Cons
Not very moisturizing hence not for the dry winter season
Recommended for
Summers and for all skin types
Price
399 Rupees for 400ml
These are the best Nivea body lotions available in India. You can try these according to your skin type. Like when you have normal body skin then apply the summer lotions and for dry skin use the extra moisturizing one. Which is the one that you like, do share in comments.