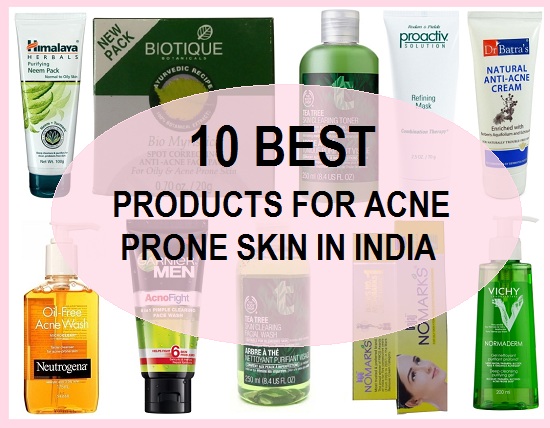 Best Skin care Products for Acne Prone Skin.  Acne can be quite irritating and embarrassing for youngsters and adults who face them. Acne can be due to hormonal changes, hygiene or using the wrong skin care products. It becomes very important that you use the right skin care products designed for oily skin and the acne prone skin. Here, we have compiled a list of various skin care products that help to combat the acne infection. These pimple and acne treating products can be in the form of gel, creams, face packs, face wash, face scrubs etc which are in the Indian market. Using the correct product will definitely make a change in the skin and skin becomes acne free. 
15 Best Face Products for Acne Prone Skin and Oily Skin
Here are the products which will help you fight the acne and pimples on the skin. The oily skin is prone to pimples hence these suitable product will do wonders. 
Best Face Packs for Acne prone skin
1. Himalaya Purifying Neem Face Pack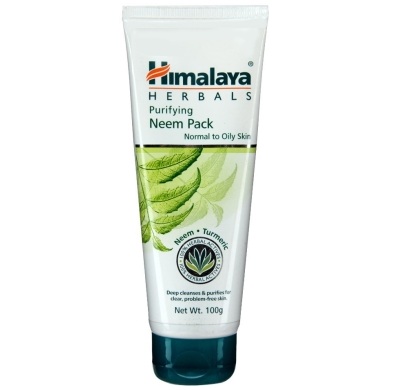 Skin care for acne prone skin is essential. And this is one of the best product that is recommended to the people who have got acne prone skin. The neem based face pack is ideal to give the skin healing from acne and pimples. Neem is anti bacterial therefore, this also helps to treat acne as well. Do check these neem packs for pimples and acne
Price: 50 g tube pack of this neem face pack is for 70 rupees.
2. Biotique Bio Myristica Spot Correcting Anti-Acne Face Pack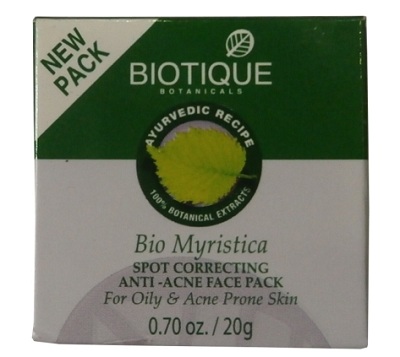 Biotique Bio Myristica Spot Correcting Anti-Acne Face Pack helps to treat and heal pimples and acne. This has turmeric, chandan which is sandalwood and other herbal ingredients. This face pack will cure the pimples and acne. This also treats the acne spots and marks. It is a good facial pack for oily skin in India.
Price: This anti acne face pack is for 197 rupees.
3. Proactiv Refining Mask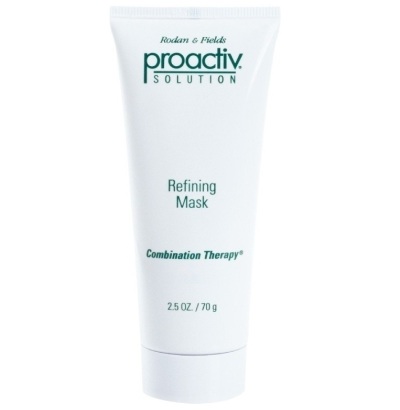 Proactiv refining mask corrects the skin blemishes and treats the pimples. This visibly reduces the pimple size and also diminishes the redness of pimples. A clarifying and pore refining pack will help to detoxify the skin and will help clear acne. When you have combination skin or skin which is prone to pimples and breakouts, then a mask like this becomes must have.
Price: This is for 1325 rupees in India.
Face wash for Acne Prone Skin
Okay, now let's move on to the cleansers to keep the skin oil-free and keeping the dirt miles away.
4. Neutrogena Oil Free Acne Face Wash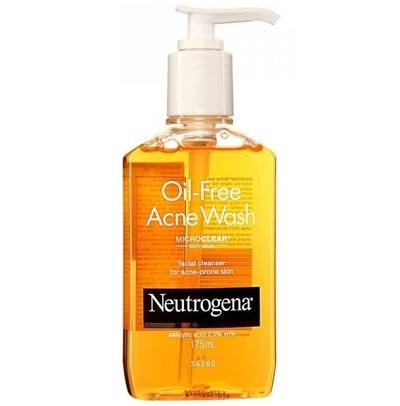 Neutrogena Oil Free Acne Face Wash is a good cleanser. It is a must have for oily skin or combination skin. Neutrogena's oil free face wash is able to give a clean and fresh looking skin. This is a salicylcic acid face wash designed for the people with acne prone skin types. Use of this also deep cleanses the large pores. The gel based face wash doesn't give the skin dry feel but removes the oils gently from the face.
Price: It is for 175 rupees for a small pack.
5. Garnier Acno Fight 6 in 1 Pimple Clearing Face Wash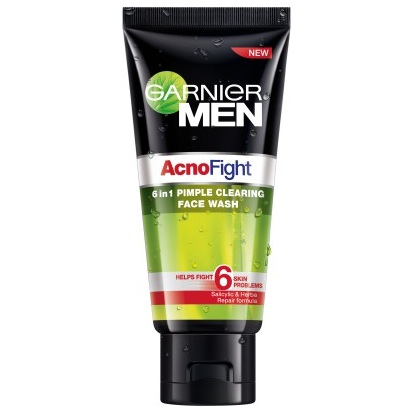 Garnier Men Acno Fight 6 in1 Pimple Clearing Face Wash is wonderful to get rid of painful pimples. This also lightens the pimple marks and also gives skin a moisturized feel. A good facial cleanser will win the half the battle for acne prone skin in preventing the acne. It is one of the best face wash for acne for men out there. It also works on dark spots.
Price: This face wash is for 145 rupees for 100 g pack. A small pack of 50 g is also available to try. You can get it at here
Also See: Best Gold based skin care products in India
6. The Body Shop Tea Tree Skin Clearing Face Wash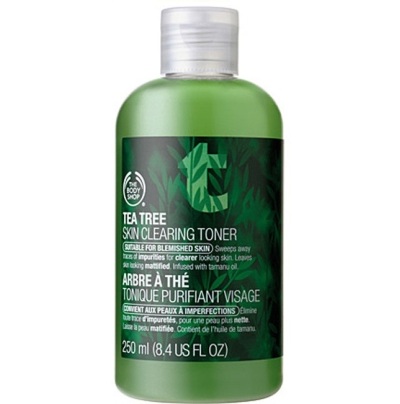 The body Shop has this entire range of tea tree products like face wash, face scrubs etc. The Body Shop Tea Tree Skin Clearing Face Wash is one of the best products for acne and pimple prone skin. This removes the excessive sebum and blackheadsoils from the skin with over drying the skin.
Price: This tea tree based face wash costs 595 rupees for 250 ml.
7. Vichy Normaderm Deep Cleansing Purifying Gel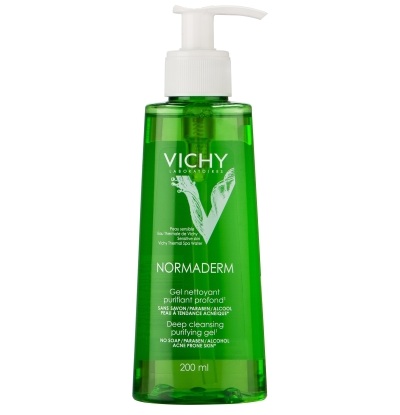 Vichy's purifying gel is also the best product for acne prone skin. Yes, its is a face wash for acne that works like a charm. It targets dirt, sebum and oily residue that gets accumulated on the skin. This is formulated with ingredients like salicylic acid and totarol that fights against the acne causing bacteria and gives a clear shine free look.
Price: This is for 990 rupees for 200 ml.
Best Anti Acne Creams
Below are some of the acne curing creams that you can use to fight pimples.
8. Dr. Batra's Natural Anti-Acne Cream
Dr. Batra  is a popular brand in India. Dr. Batra's anti-acne cream is enriched with Oregon grape root and olive leaf extracts. This ointment has the proven efficiency to heal and cure the pimples and its infection. This deeply penetrates the skin layer and improves the skin tone. It is one of the best cream for pimple prone skin.
Price: This cream is for 220 rupees for 100g pack.
9. Nomarks Aloe & Lemon Cream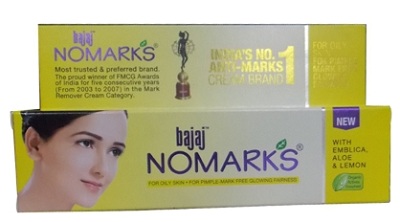 This Bajaj Nomarks Cream is great for acne prone skin. It formulated for the oily skin and skin that is prone to acne and pimples. This has emblica, aloe vera & lemon extracts. Therefore,a  skin care cream like this will help to keep the pimples in check and improvises the skin texture.
Price: This is for 99 rupees for 25g pack.
Also See: Best Anti pigmentation products in India
Skin Toners for Acne Prone skin type
10. The Body Shop Tea Tree Skin Clearing Toner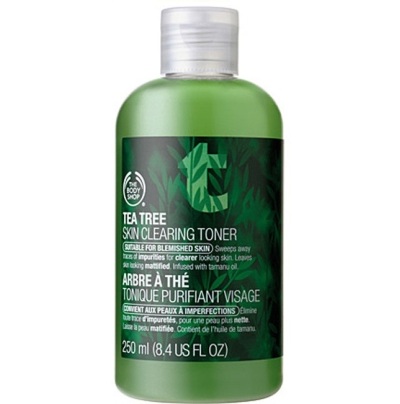 The Body Shop tea tree skin clearing toner is a great product to keep the skin acne free and glowing. Tea tree is anti bacterial and anti septic which takes off the impurities. This is why a lot of skin care brands that makes pimple control products will use tea tree extensively. Tea tree is wonderful for acne prone oily skin.
Price: This is for 755 rupees for 250 ml in India. Also See: Best Tan removal products in India
11. Lotus Herbals Basiltone Cucumber Basil Clarifying and Balancing Toner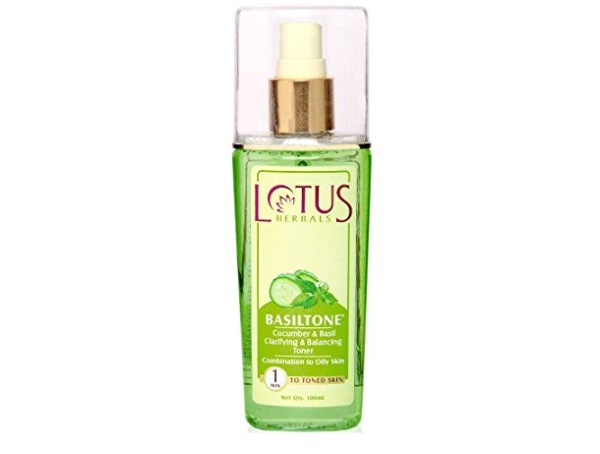 The skin toner is perfect for the acne prone skin. It maintains your skin's Ph balance. It keeps the skin fresh and removes the excessive oils. It also tightens your facial skin pores. It is suitable if you are using after removing the makeup.
Price: 236 rupees for 100ml, Buy Here
12. Kaya Skin Clinic Acne Free Purifying Toner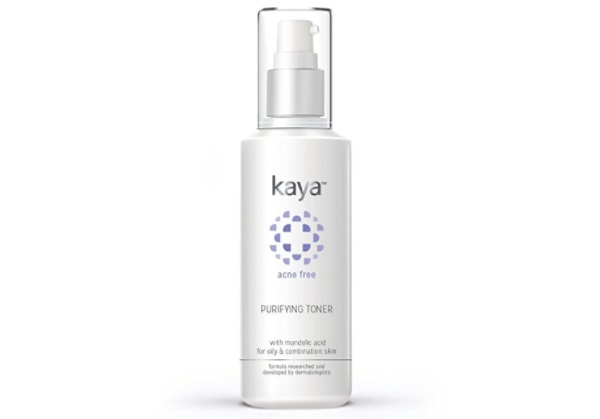 Kaya skin toner is made just to keep the acne away. Yes, we all want!! It is a purifying toner that is an alcohol free. It unclogs your skin pores for a clearer looking skin. The toner ahs soothing agents that aids in skin brightening and freshness. It has a formula that is researched and developed by dermatologists. Regularly applying this for toner keeps skin pores tighter and fresh. You know, it also results in lesser sebum release.
Price: 320 Rs for 100ml, Buy Here
13. Neutrogena Deep Clean Blackhead Eliminating Cooling Toner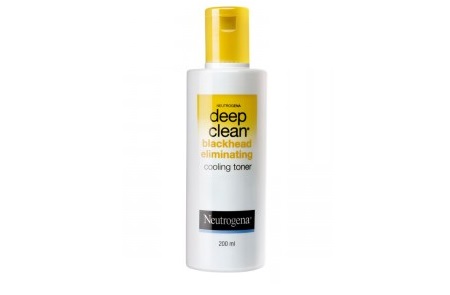 Neutrogena face toner gives instant cooling sensation and pore tightening benefits. It is rich in the blackhead Fighting Complex along with cedarwood extract for deep cleansing. It is perfect for your oily-blackheads prone skin. The product is Oil-free, Allergy tested, Dermatologist tested and has Non-comedogenic formula.
Price: 375 Rs for 200ml, Get Here
Face scrubs for acne prone skin
14. Biotique Bio Papaya Revitalizing Tan Removal Scrub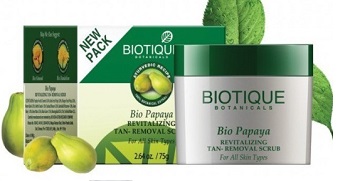 Not just papaya but it has the power of multiple fruits that gives you radiant smooth complexion. It is good to get rid of the dead skin cells that can clog your pores. Clogged pores can lead to acne formulation. Right? So, to keep the tan and dead skin away, a face scrub like this is effective.
Price: 199 for 75 g, Buy here
15. Himalaya Herbals Neem Scrub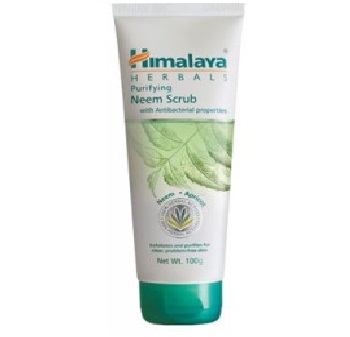 This is one of the best products that is easily available. You can get this everywhere literally. Just massage the face in circular movement with this face scrub and you get a smooth skin. It is suitable face scrub for acne prone skin to combat clogged pores.
Price: 120 rupees for 100ml, Buy Here
Best daily Skin Care Routine for Acne Prone Skin
Now, that you know about the best product for your skin, the question arises, how are you going to use them? I mean what is the sequence that you have to follow or the routine. Let's check the step by step skin care regimen that you have to follow.
Cleansers
Due to the heavy pollution in Indian cities, the first step that anyone with oily and acne prone face would do, is to cleanse it. Yes, a good cleanser can help you a lot in getting rid of the trapped impurities like dirt, dullness and the dust. The cleanser formulated for your skin are gentle yet effective with ingredients like salicylic acid, benzoyl peroxide etc that immediately clarifies the oily face and eventually prevents the occurrence of pimples.
Toning
There are so many good toners that you must take one and start using this. But you must be wondering, why I should use a toner? Toner help you get rid for any excess oil, you see! Any trapped or traces of sebum that is left behind will be take care by a skin toner. Here I have this detailed post on best skin toners for oily skin that you can read. By the way, toners also shrink your large pores that further give the benefits like less face oils.
Moisturization
So, your skin is acne prone right? Then your moisturizer should be oil-free. Rather it should be topped up with ingredients that are non comedogenic and anti-bacterial in nature. To lessen up the work dearies, do read my article about the best moisturizers for your acne prone skin type.
Sunscreen
Now, that your skin is almost ready to face the day, you should protect it from sun damage by simply applying a good sunscreen. Her are so many good sun lotions for acne prone face type that you can try. Use a gel based ones, if you feel that lotion based product makes you sweat heavily or makes your skin greasy. Like, I had this habit of using oil free or gel sun products for my oily skin.
So, you are now prepped up with your day time skin acre regimen for oily-acne prone skin. Now, it's time for the night time regimen.
Night Skin Care Regimen for oily-acne prone skin
Cleanser: Yes, use the same cleanser. If you have makeup on the, do remove the makeup using miceller solution. First
Toner: use toner to slough off the excess oils and makeup particle
Under eye cream: yes, even if you are not use to apply eye cream for the day time, it is a must do thing in the night skin care.
Moisturizer: if you then go ahead and apply the moisturizer, yes the same oil-free and water based one.
Topical Treatments
A lot of us like to apply creams and ointments like anti acne creams, gels or the over the counter medicinal creams for acne treatment. So, it is always the best to apply them at night.
So, if you do then use such products after the eye cream step.
You're done with the night routine for acne prone skin
What next!! Next is the occasional steps that we do to keep the skin healthy that aids in preventing pimples.
Face masks and packs
Use the suitable face packs and masks twice in a week. I have already listed the best face packs for acne prone skin acne which can help you narrow down the choices.
Face scrubs
Exfoliation is MUST, in bold letters when you have oily-acne prone skin. This simple process helps to keep the pores clean and to heal the scars faster. Use any good scrub and exfoliate twice in a day. You can use a scrub, exfoliate and then apply the mask.
Make it a habit like suing scrub and mask on Sundays and Wednesdays. Like I do, especially in the evening, when I reach home. Time for some extra tips!
Extra Skin care Tips for Acne Prone Skin
When you have such skin type then first thing you can do is to stop touching your face. I know it is very common for us to tough the face every now and then, but should never be done like that. Our hands carry a lot of bacteria that can trouble your skin
Never sleep with your makeup on as you must know that it clogs the pores and then those uninvited acne. Naah!!
Scrubs and masks should be your best mate which you should use regularly, like I mentioned
Use products that are made for your face type, do not use any thing just for the sake of trying. It can disrupt the pH balance, You See!!
Lastly, change the pillow cases and keep the phone screen clean as they also transfer dirt and microbes directly on the face.
These were the tips, regimen and the best beauty products for acne prone skin available in India. Which are your favorite skin care products for the acne prone skin? Do share with me too, I mean the name only, Not asking for the actual product! Haha.
So, these were the best skin care products for acne prone skin and oily skin in India. It seems pimples and acne is your major problem so, do check out these posts too.
Guys, you can also read our new blog for men at Mens Beauty Health for best face wash for men with acne prone skin