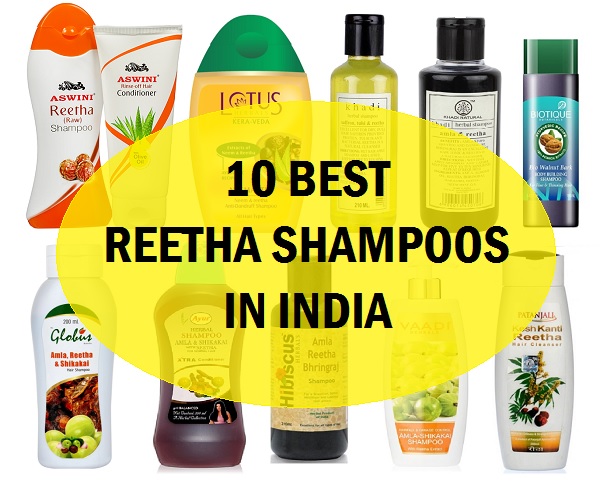 10 Best Reetha Shampoos Available in India. Reetha  which is called as soap nut is very high in the natural lathering properties. It is a natural cleanser which is used as a skin cleanser, hair cleanser and fabric softener. Reetha is a fruit which is reddish brown in color and has a round black nut inside. The outer flesh part is soft and when rubbed with some water it gives the same amount of lathers which the basic alkali soaps give. This is why reetha is used in so many things. For hair too, reetha is an excellent cleanser. There are several shampoo which contains reetha.  Reetha or Soapnut is also used to induce the growth of the new hair follicles and to make hair grow faster. It can also make the hair grow thicker by reversing the sun damage which is caused while roaming around in sun and extreme sun exposure. Reetha when mixed with other ingredients like amla, shikakai and bhringraj etc makes a very good herbal homemade shampoo. The recipe is also very easy to try, but if you have time constraints then definitely you can try the readymade shampoos with reetha or soapnut.
10 Top Best Reetha Shampoos in India with Reviews and Price
Here, I have compiled this list of the best Reetha shampoo in India which can give you cleansing with the natural Reetha botanicals without the use of those chemical filled shampoos. I am saying this as these reetha rich shampoos are natural and Reetha cleanses the scalp gently and without any harshness. See: How to use reetha for shiny hair
1. Patanjali Kesh Kanti Reetha Hair Cleanser Shampoo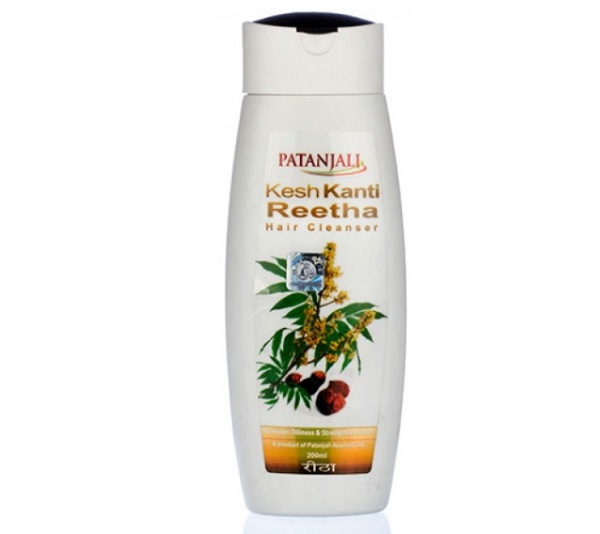 Patanjali is my favorite herbal brand which makes quality products and their products are also very affordable. This hair cleanser is safe to be used for all hair types. It produces so much lathers that I loved the way this cleanses my scalp. Along with the reetha this also contains some other herbal ingredients. I need only a teaspoonful of this shampoo to wash my hair and it makes the hair softer and shinier.  Reetha is also considered effective in the natural treatment of dandruff and scalp itching.
Ingredients other than reetha are bhrigraj, myrtle (mahendi), acadia concinna (shikakai) and emblic myrobalan (aola), margosa (neem), Indian valerian (tagar), esculent fiacurtia (bakuchi) and turmeric that improves the hair health.
Recommended For: All hair types
Price: 85 rupees for 200ml
Best Patanjali hair care products in India
2. Ayur Herbal Amla Shikakai Shampoo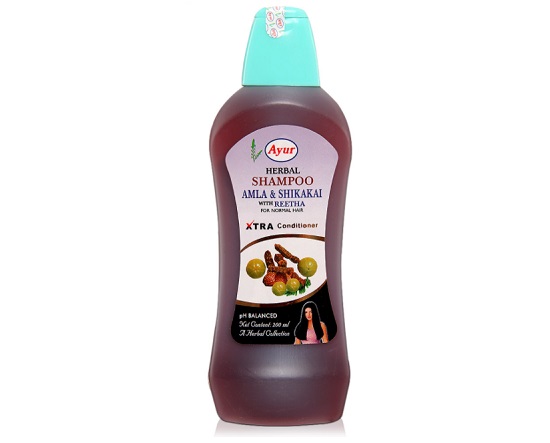 Ayur Herbal Amla Shikakai shampoo has the dark brown color. It contains the amla and shikakai too which nourishes the dry hair and makes them free flowing. This is a naturally made shampoo and is for the all hair type. The shampoo maintains healthy pH balance and also boosts the hair growth.
Price: Hairfall and Damage Control
3. Khadi Herbal Amla and Reetha Shampoo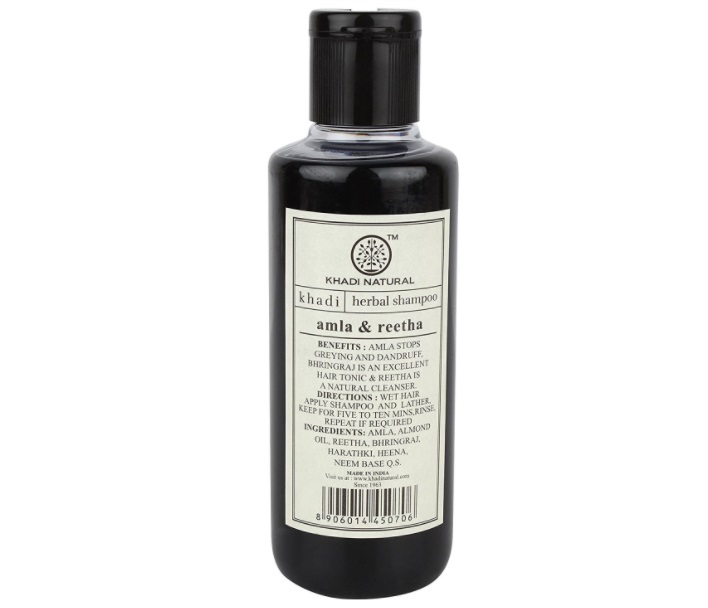 Khadi has so many shampoos that you will get lost in their variants. They have shampoo for almost every natural ingredient. Like the amla shampoo, shikakai shampoo, aloe vera shampoo, triphala shampoo and this Amla reetha shampoo. This shampoo is rich in two of the most used ingredients i.e. amla which is Indian gooseberry and reetha. It fights your dandruff problem and kills the fungus causing dandruff on the scalp.
Recommended For: All hair types but won't work well for dry hair though
Price: 110 rupees for 210 ml
4. Khadi Saffron, Tulsi and Reetha Shampoo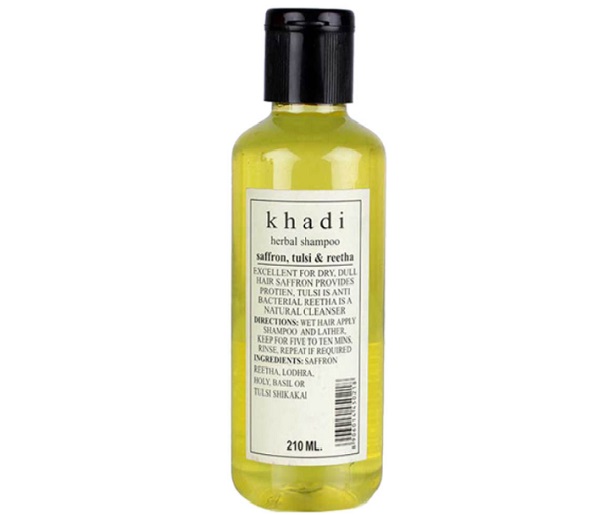 Have you ever thought of using saffron or kesar in your shampoo. Yes, khadi herbals have this shampoo that contains saffron along with the reetha or soap nut and tusli. Tulsi which we also call as holy basil has the antifungal and antibacterial properties, therefore, if you have dandruff and scalp infections which are causing the itching then you should definitely try this shampoo. Reetha will naturally cleanse the scalp and hair without over-drying the scalp or your hair. It's also a good herbal shampoo for hair fall and hair loss. 
Recommended For: Dandruff and itchy scalp
Price: 110 rupees for 210 ml
5. Lotus Herbals Kera-Veda Neemactiv Neem and Reetha Anti-Dandruff Shampoo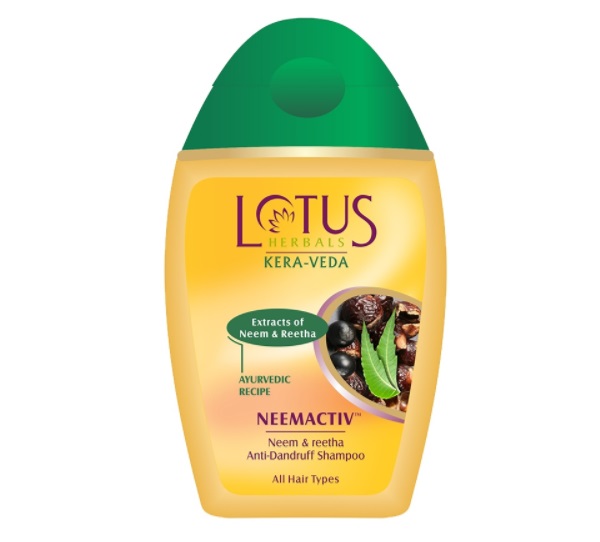 Lotus Kera veda has hair oil and shampoo both which are made with the powerful herbal ingredients. This shampoo has the neem and reetha. So, if you have dandruff problem then you should use a shampoo like this. The shampoo is fortified with the neem or margosa extracts along with the reetha which nourishes the scalp and won't let the scalp get dry. Therefore, you get double benefits like it will cleanse the scalp infection and reduce the dandruff flakes and dryness plus it moisturizes the scalp and heals the itching.
Recommended For: All hair types but made especially for the dandruff problem
Price: 175 rupees
Best Himalaya Shampoos in India
6. Biotique Bio Walnut Bark Body Building Shampoo for Fine & Thinning Hair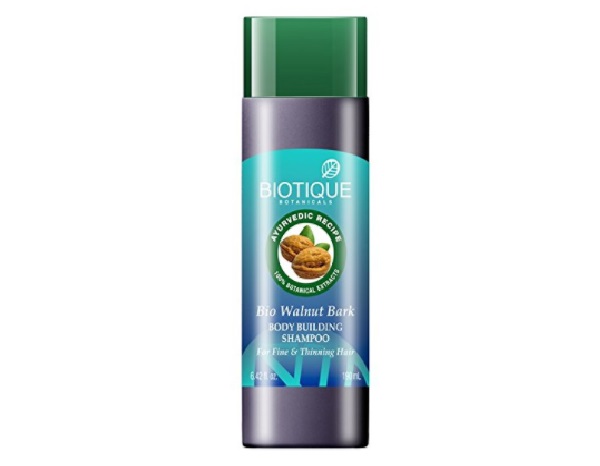 Are you trying to protect and do something about those fine and thin hair. Then you should try this shampoo. This shampoo is ideal for the fine and thin hair which looks lifeless and very low on volume. So, you can try this building shampoo that can make the hair fibers thicker and bouncier.
Key Ingredients: Akhrot chal (Jugens regia), Amla (Emblica officinalis), Ritha(Sapindus mukorossi), Bhringraj (Eclipta alba), Himalayan water Q.S.
Recommended For: Thin and fine hair
Price: 159 rupees
Best Biotique Shampoos in India
7. Vaadi Herbals Amla Shikakai Shampoo with Reetha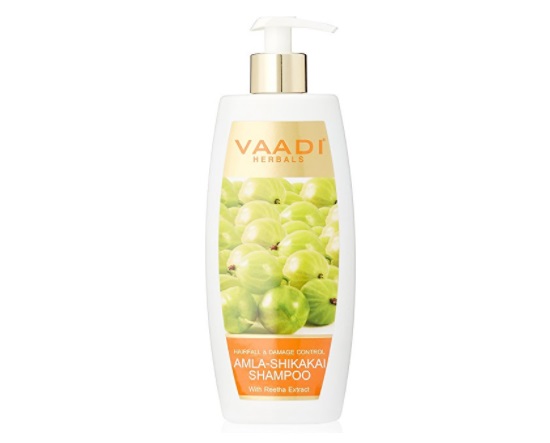 Sapindus mukorossi which is named as reetha. Reetha, is an excellent hair cleanser which gets rid of the sebum, oils, dust, dirt etc and also cares for the dryness. This Reetha herbal shampoo is not the best shampoo for the dryness care as this cleanses the scalp and hair well but does not do much about the dry hair. Reetha has the saponins which have got soap-like properties. It effectively cleanses the scalp and gets rid of the dandruff and lice as well. It also contains amla and shikakai as well along with the extracts of reetha.
Recommended for: Hair fall and Damage Control
Price: 120 rupees
8. Hibiscus Herbals Saffron and Reetha Shampoo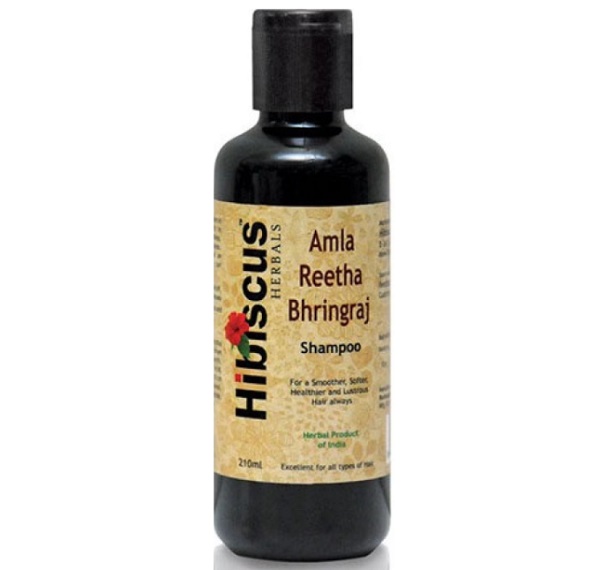 Hibiscus Herbals is not that well known brand and I have seen this online only. May be in some parts or cities in India, it is widely available but in Delhi I have not seen this shampoo. This shampoo has reetha along with kesar or saffron. Saffron and reetha both cleanses the scalp in a mild subtle manner. Therefore, if you have sensitive scalp or rashes then this can be used. It can be termed as an everyday shampoo for men and women.
Recommended For: Everyone
Price: 85 Rupees for 210ml
9. Globus Amla Reetha and Shikakai Hair Shampoo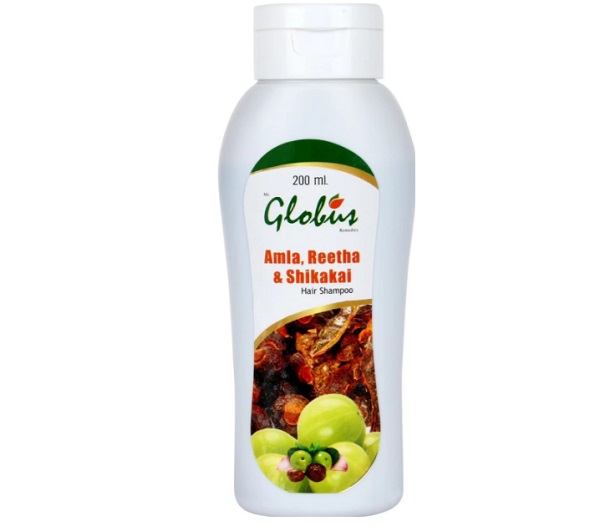 Do you like triphala shampoos then do try this shampoo. It has the goodness of the triphala like amla, shikakai and reetha. It will replenish the damaged hair by boosting the hydration and it moisturizes the hair. It is ideal for the normal hair type to get lustrous hair which looks healthier and shinier.
Amla reetha and shikakai are natural botanicals which aid in promoting the hair growth and minimizes the premature graying of hair. For hair, that has dandruff problem, in that too this can be effectively helpful. It prevents hair fall by stimulating the scalp and strengthening the roots.
Recommended For: Hair Growth and dandruff problem
Price: 90 rupees
10. Aswini Reetha shampoo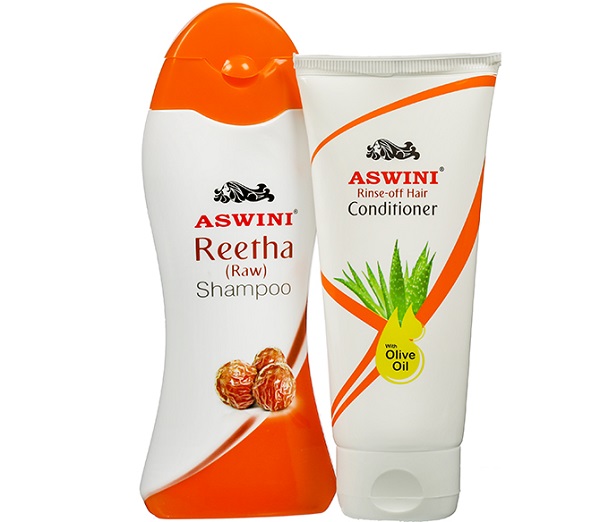 Ashwini brand makes herbal hair oils and herbal shampoos. This shampoo is a reetha shampoo which is a pure reetha shampoo and is a dark brownish in color. It does not have any other ingredient in it so, if you are looking for just a reetha shampoo then this can be tried. It gives benefits in dandruff, dryness and oily hair.
Recommended For: All hair
Price: 70 Rupees
So, these were the best reetha shampoos available in Indian that you can try as per the preference and availability in your area.