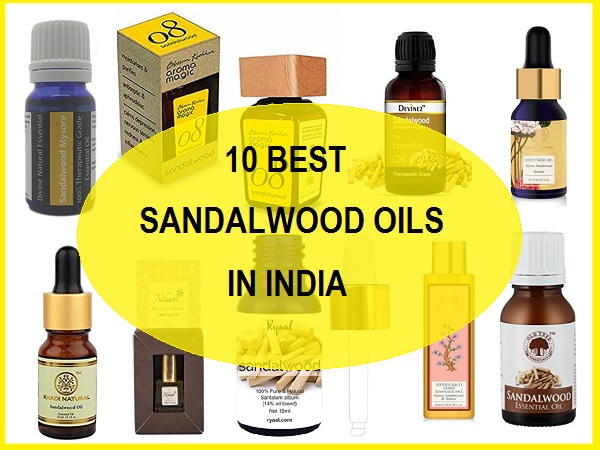 Best Sandalwood Oil Brands in India
Sandalwood Oil has been used in Indian and other Asian countries since ages. The oil is a naturally occurring oil that is a good antiseptic agent and can be used on the skin for face and for body massaging. While there are variety of ways you can use Sandalwood Oil , there are some methods that everyone can try it. You can use this in a diffuser and also for the face care. Sandalwood Oil or Chandan ka tel is one of the most used oil in the fairness products and the products to heal the dry skin Creams  like Ayush fairness cream, Vicco Turmeric cream use this oil.  Not even that this oil is also used in sacred ceremonies.
Let's have a look at some of the benefits for this Sandalwood Oil:
Anti-ageing benefits: The oil can be applied to make the skin tone wrinkle free and smoothens the fine lines. Use 2-4 drops of this oil on the face every night to massage the face. It heals the mature skin and makes it glow with health.
Use for aromatherapy: The oil has therapeutic properties and hence can be used for the aromatherapy as well.
Dryness cure: Apply this oil daily twice in day to get rid of the dry patches and excessive dry skin. You can also mix few drops in the face lotion or cream, then applying it daily can easy the dry skin.
List of Top Sandalwood Oil Brands in India
Let's have a look at the best sandalwood oils brands in India. There are various brands and we picked out the best ones for you.
1. Khadi Sandalwood Massage Oil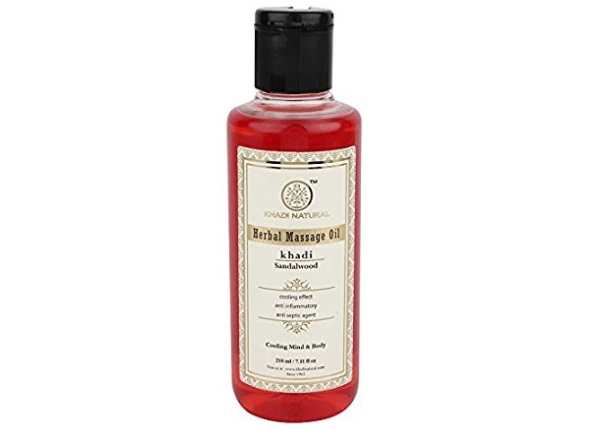 Khadi is the only brand which has a complete herbal and natural skin and hair care range that is extremely affordable and easily available. The fragrance of this oil is very soothing and gives a sense of optimism. It makes your mood happy and lively. The bottle contains enough amount which can last for 1-2 months easily.
2. Old Tree Sandalwood Essential Oil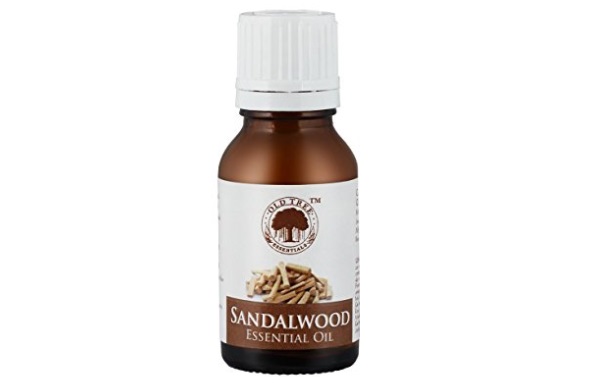 Old Tree sandalwood oil can be added in your daily skin care regime. It has anti-ageing properties which can control aging and heals scars and marks. You can use it as a moisturizer mixed with any unscented lotion. It can be used in homes to get a pleasant feel and aroma.
3. Khadi Sandalwood Essential Oil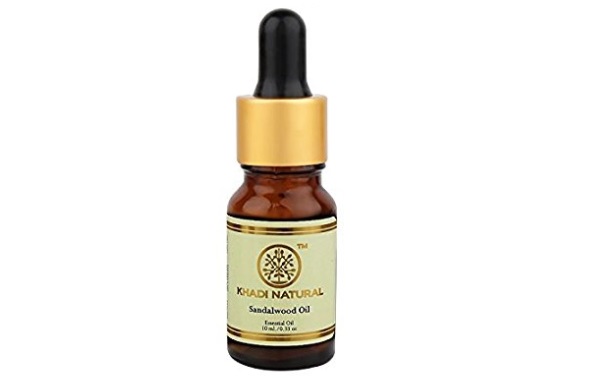 The effectiveness of this oil is optimum and gives instant results. Sandalwood oil helps in increasing skin tone and remove pigmentation in just a few uses. This oil comes in a small bottle with an easy to use lid. The quantity can easily last upto 1 month or more depending on your usage.
4. Ryaal Sandalwood Essential Oil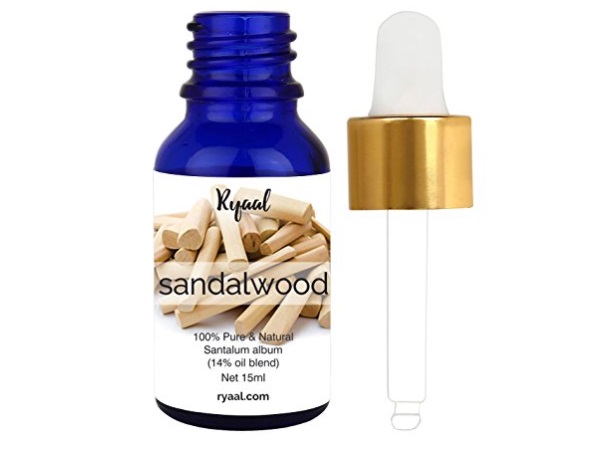 Ryaal sandalwood essential oil come in a blue bottle which contains adequate amount of natural sandalwood oil. It has many benefits like it can be used as a aromatherapy. This oil can be massaged on the body after mixed with any carrier oil like olive, jojoba or coconut oil.
5. Forest Essentials Sandalwood Diffuser Massage Oil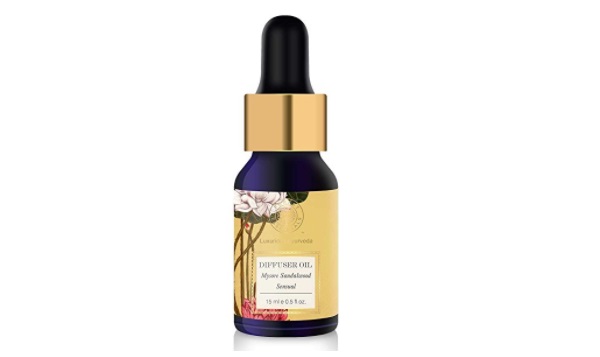 Forrest essentials is a very popular brand which comes under luxury beauty category. You may find this product a little expense, but the results are worth spending on this brand. Forest Essentials sandalwood oil is rich in many natural ingredients like vitamin-E, kernel oil, almond oil and sandalwood oil. The quantity of this oil is pretty enough for 4-5 months.
6. Aroma Magic Sandal Wood Essential Oil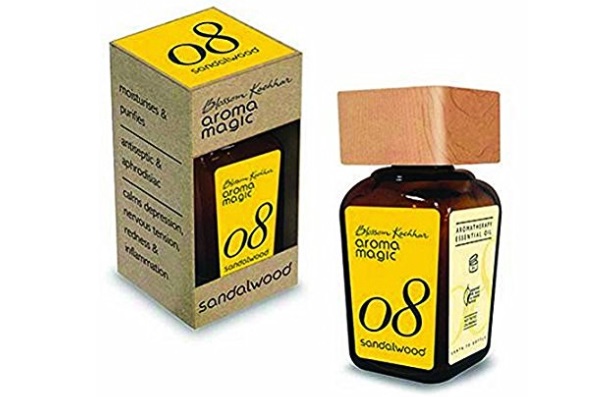 Aroma magic also has a wonderful oil range and this oil is a part of it. As the packaging states, sandalwood oil kills bacteria and hence stops acne occurrence. It also tightens and brightens the shallow dark skin tone. Moreover, you can use this sandalwood Oil to lighten the marks blemishes and acne spots like those dark spots.
7. Nchant 100% Pure, Sandalwood Oil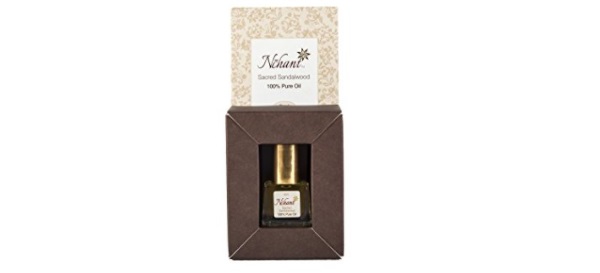 This essential oil brand has a unique packaging, which looks very luxurious and attractive. This bottle of sandalwood essential oil is a must have to make yourself relax and calm. It has antiseptic properties and is safe to use internally and externally.
8. Devinez 100% Pure, Sandalwood Essential Oil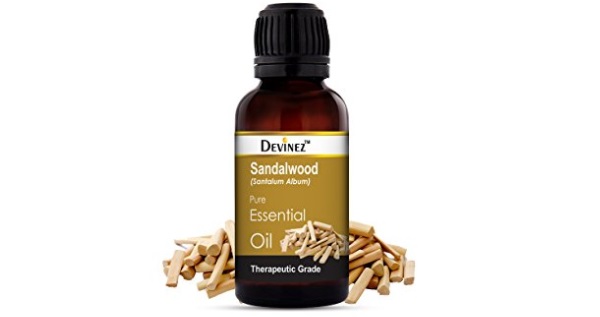 This oil is made from 60-80 year old sandalwood tree. The components of this oil are very beneficial. It has  castor oil and is free from paraben. This oil comes in a small glass bottle and is easy to handle, a few drops are enough to soothe your mind and body.
9. Forest Essentials Mysore Sandalwood and Vetiver Extra Rich Body Massage Oil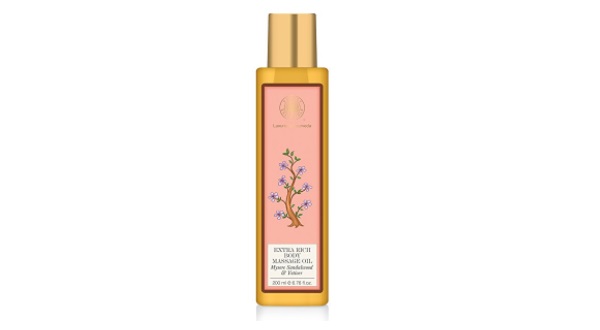 Forest essentials Vetiver extra rich oil is more pure and free from harsh chemicals. It can be used to massage the skin as it makes skin healthy and youthful. This oil is quite heavy on the pocket but has various advantages. You can use it as a room fresher as the natural woody scent will make you feel lively and full of peace. Massaging with sandalwood oil can make your skin glowing and also heals the marks on it.
10. Auroshikha Sandalwood Essential Oil
This oil has its unique nature and properties. Sandalwood oil by Auroshikha is a good buy for those who are willing to spend some extra pennies on natural products. The sandalwood oil is absolutely pure and taken from old sandalwood trees.
This is the list of the best Sandalwood oil brands in India. Have you used any of these? Do tell us in the comments.
Recommended Articles:
By Ratna Balani