Sandalwood powder is used in skin care products and for skin whitening. So, if you're looking for the best Sandalwood powder in the market then you have reached right spot. These are the best Sandalwood powder brands available in India from the online shopping sites. Applying chandan powder soothes itchy rashed skin and also treats pimples and acne faster while fading dark circles. Dark spots and uneven skin tone.
Top 10 Best Sandalwood powder Brands in India (2021)
If you're wondering where to buy the sandalwood powder, then these options to buy online will help.
1. Indus Valley Organic Sandalwood Face Pack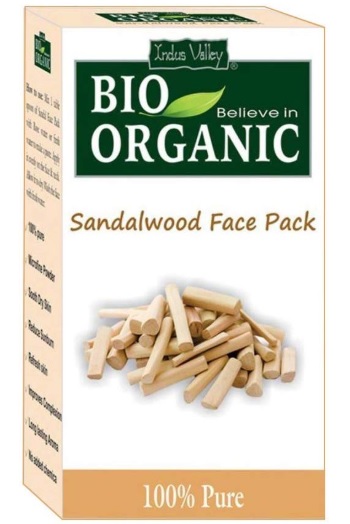 The organic Sandalwood face powder is perfect to make face pack and mask to reveal fair and glowing skin. It can also be applied on the inflammed and itchy skin. Even for skin issues like Psoriasis and Eczema, Sandalwood powder works like a charm. The soothing and cooling nature of Sandalwood helps in fading Sunburn and sun tanning. It's the best sandalwood powder for skin whitening.
2. Khadi Omorose Sandalwood (Chandan) Powder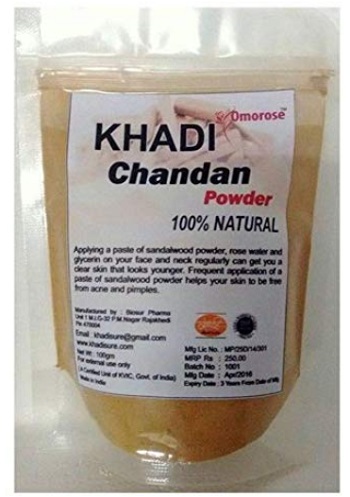 Sandalwood powder helps in getting rid of the skin problems and maintaining healthy glowing complexion. Apply a paste of Sandalwood powder mixed with rosewater and glycerine on your face regularly to achieve flawless skin. Even for making the dark skin whiter by few shades, Sandalwood powder is exclusively used. It's the best brand of pure sandalwood powder in India.
3. ETHERIC Natural Sandal Powder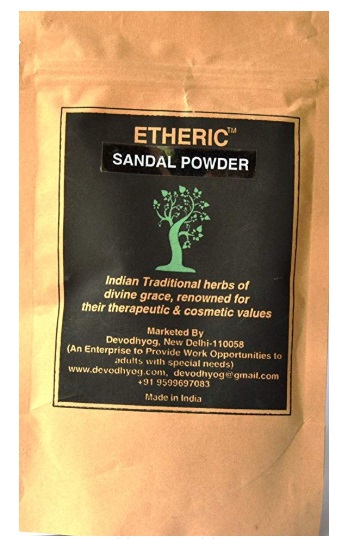 It's 100% pure Sandalwood powder, used for therapeutic and cosmetic uses. It is pure product, ideal for face pack and other beauty uses. Mix it with some rosewater, and apply as an excellent face pack to remove pimples on oily and acne prone skin.
4. Nature's Secret Sandalwood Powder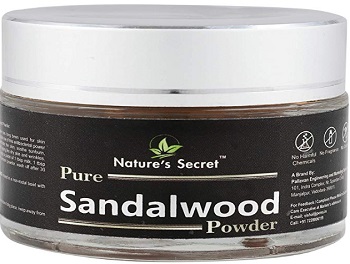 The Sandalwood powder comes in a glass jar packaging and is easy to use. It helps in curing wrinkles and skin aging. Mixing the powder with some Honey and milk, makes your skin beautiful. For dry skin, mix honey with the Sandalwood to hydrate the skin tone during winter season.
5. Looms & Weaves Ayurvedic Natural Red Sandalwood Powder (Raktha Chandan)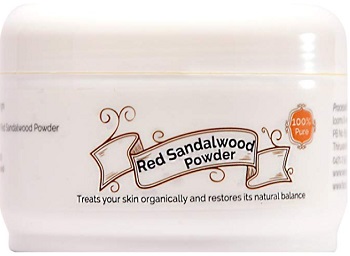 The red Sandalwood powder also known as Rakta Chandan. This is obtained from the core of the trunk unlike the regular chandan powder. It restores the natural beauty of the skin to keep skin youthful. This pure chandan powder can be used for different face packs for curing dining, itching, dryness and acne prone skin.
6. Aaveejay Natural Red Sandalwood Powder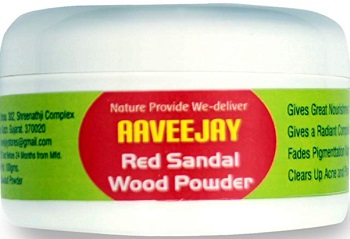 The red Sandalwood powder is 100% pure and natural. It heals the skin issues such as pimples and acne effectively when used as face mask. The product is also used in skin medication and to treat itchy skin faster.
7. Little Bee Pure Sandal Wood Powder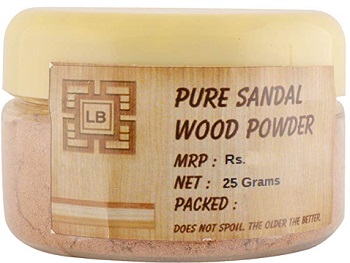 The pure Sandalwood powder comes in a jar packaging and is one of the most high quality chandan powder. For best results, apply it using some rose water or milk. The genuine powder is able to prevent acne causing bacteria and Pulse to make skin look flawless. It's also the best sandalwood powder available in India.
8. H&C Natural Sandalwood/ Chandan Powder For Face Pack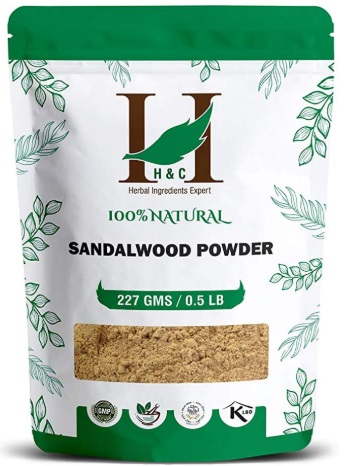 It is also 100% natural chandan powder for face pack and other facial home remedies. Pure Sandalwood powder is commonly used to beat the skin dryness, acne and pimple problem. For dark circles, using sandalwood works the best. Apply a mixture of sandalwood powder with cucumber juice and rose water. It's one of the best sandalwood powder for face and to cure dark spots and darkness sunder the eyes.
9. Raintech Natural Laal Chandan For Face Pack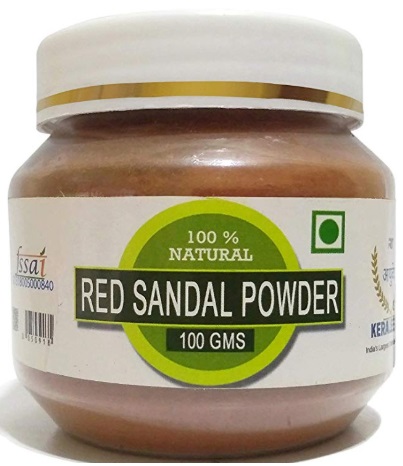 Red Sandalwood powder gives you relief in dark spots and marks and giving you naturally beautiful skin. It is also a natural bleaching agent, because of the ingredients in the Sandalwood powder. You can mix it with some Honey to make an excellent pack to make your skin glowing for a party.
10. Looms & Weaves Natural Sandalwood Powder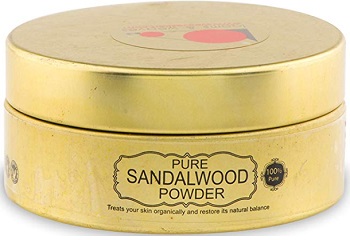 It is the purest form of Sandalwood powder at reasonable price. It's the best organic sandalwood powder hence, is completely natural and does not contain any artificial flavours, currents and additives. It is for skin care and Puja purpose.
Now that you know about the best Sandalwood powders in India you must also know how you can use the Powder for your face for different skin problems.
Since ages Sandalwood is one of the best remedies for pimples and acne. In 12th when it comes to skin whitening Sandalwood is considered the best ingredient. To mix with your face packs or to create home remedies Sandalwood mask will get relief in pimples and black spots.
Homemade Sandalwood Face Packs For Different Skin Types
Here are some face packs' recipes to help you get beautiful skin.
Dry Skin
Mix a spoon of Sandalwood powder with two spoons of honey. Apply the paste on the face and wash after 30 minutes. Use it twice in a week for beautiful healthy supple skin.
Sun Tan
Add one teaspoon of Sandalwood powder with one spoon of milk. Apply it on your face. Leave it for 30 minutes then wash it with cold water. Do this three to four times in a week and see the difference in sun tan removal.
Anti Aging
Mix one spoon of Sandalwood powder and one spoon of egg yolk. Mix one teaspoon of honey. Apply the face pack on the face and wash after 30 minutes.
Oily Skin
It's the best sandalwood face pack remedy for oily and acne prone skin. Mix one teaspoon of Sandalwood powder with one teaspoon of milk. Add one spoon of fuller's earth. Mix one pinch of turmeric powder and make paste. Apply the paste on the skin smoothly and leave it for 30 to 35 minutes. Wash with cold water. Try it at least twice in a week for best results.
Using the best brand of sandalwood powder for face also gets rid of the darkness and suntan effectively. These best Sandalwood powder for face in India would help you in deciding the suitable products.