Beauty tips by Shahnaz Husain for skin, Pimples, Dry skin, Oily skin and glow
Shahnaz Husain is well known and needs no introduction when it comes to natural beauty and skin care. A lot of people are interested in knowing about the Shahnaz Husain hair care and skin care tips so here we will share some of her tried and tested skin care beauty tips which can be easily done at home and are safe with no side effects.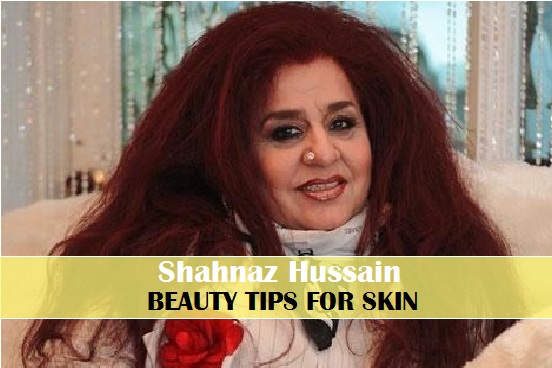 Shahnaz Husain Beauty tips for Skin care
Pimples care tips by Shahnaz Husain
Pimples and acne can be troublesome for youngsters who have reached puberty and are facing thrust of hormones in the body. Due to these hormonal changes, skin produces more oil and acne can be seen. Shahnaz Husain suggests that when someone is already struggling with acne and pimples they should not use greasy skin care products which is quite true since excess oil on the skin helps bacteria to thrive more. Shahnaz Husain says that it is always good to choose the skin care product wisely.
Using curd mixed with some turmeric powder helps a lot in treating pimples.

Using neem paste with rose water also heals and clears the pimple infection.

Pimple marks can be removed with the help of using Rose water, glycerine and some lime juice. Use this at night and wash in the morning.

Sandalwood paste also helps in pimples and soothing the red irritated skin.
Shahnaz Husain tips for Oily and Combination skin
Combination is a mixed skin where some parts of the face can be dry or oily where some can be normal. In combination skin there can also be T zone combination, where the forehead, nose and chin are oily while the cheeks and jaws are dry or normal. Such skin type needs extra care therefore using suitable products helps a lot. Caring for combination and oily skin requires suitable products and treatments. Home treatments help a lot in keeping the excess oils which can be a reason for acne later on. Natural Skin care expert Shahnaz Husain suggests the following tips for great looking skin.
Washing the face with medicated soaps infused with herbs like neem, Tulsi, turmeric helps a lot.

Use astringent to keep the skin well toned and removes the excessive oil from the skin.

Rose water mixed with some sandalwood makes a good face pack for such skin type and to get rid of excess oils and dirt.
Shahnaz Husain Dry Skin care tips
Dry skin needs extra moisturisers in contrast with the oily combination skin. Dry skin is prone to wrinkle and premature aging therefore, dry skin should always be moisturized well to keep it moist and younger. Shahnaz Husain advices that for dry skin using soaps that nourishes the skin like the glycerine soaps which do not dry out the skin are excellent.
Use moisturiser when the skin feels stretchy and also use sunscreen to protect the skin against the potential sun damage.

Massaging skin at night with the help of a good night or massage cream helps a lot to keep the skin's elasticity. It helps enhanced blood circulation and skin rejuvenates.

Apply a face mask with one teaspoon honey and some egg white. Keep it for 30 minutes and wash with plain water.

Using an aloe Vera gel moisturiser also helps. You can prepare an aloe Vera gel moisturiser by mixing aloe Vera gel with some almond oil for dry skin.
Shahnaz Husain beauty tips for body
When the body skin is also dry, then sesame oil is known to hydrate and improve the dry skin texture. Shahnaz Husain suggests to massage the sesame oil on the body an hour before bath shows good results for dry skin.
Shahnaz Husain Skin Care tips for blackheads and whiteheads
Apart from the pimples and acne, black heads and whiteheads too can trouble the people with oily skin. Shahnaz Husain shares some really good treatments for blackheads and whiteheads.
Use a mild scrub daily to keep the blackheads away. Thiis takes off the sebum which allows the bacteria to feed and form blackheads.

Using a homemade scrub to clear the whiteheads and blackheads is the best natural way to eliminate them. Mix some rice powder or flour with some rose water or curd and use daily to exfoliate the blackheads and whiteheads prone areas like nose, foreheads, chin etc. Gently rub the skin in circular motion, do not out excess pressure.

Using rose water, egg white and some honey also helps in blackheads elimination naturally.
Glowing skin tips by Shahnaz Husain 
Glowing skin looks radiant and healthy and needs less makeup and beauty cosmetics to look beautiful. Shahnaz Husain share her great tips to keep skin glowing with home remedies.
Use rose water to tone the skin when the skin is oily. It makes the skin brighter.

Face masks are a great way to add a natural glow on the face. Mix one teaspoon of oatmeal one teaspoon each of curd, honey and egg white. Make a paste and apply it on the face and rinse the face after 20- 25 minutes. Application of honey also makes the sin glow.
These were the skin care tips by Shahnaz Husain which will surely change the skin condition and texture when used regularly as per the skin type.