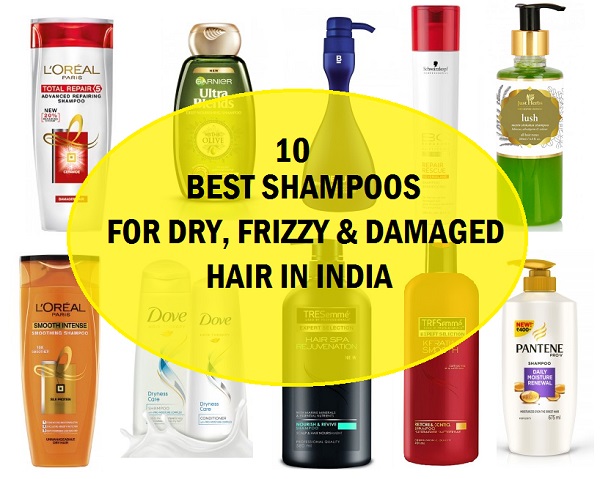 Best Shampoos for Dry Hair in India. Dry and damaged hair is caused when your hair gets exposed to too many chemicals or too much sun exposure. Heat damage due to hair straighteners and hair dryers is also known to cause dryness. Extreme sun exposure makes the hair strands brittle and lifeless. So, what exactly happens? The outer layer of the hair which is known as cuticle gets damaged and rough. This lead to weak brittle hair and also rough hair that gets tangly faster because the cuticle has become damaged. Now, the question is what we can do to revert or minimize this damage. We can use hair care product like shampoos, conditioners and hair masks or hair serums to control the damage. We have created this list of best shampoos in India to cure the dryness and damaged hair. These anti damage shampoos will protect your hair from getting further dry and damaged and also helps in smoothening of the hair strands.  
Top 10 Best Herbal Shampoos in India for Dry hair with Roughness and Frizz (2022)
Here is the list, that I have compiled for the best shampoos for dry damaged hair in India. These can reverse the damage with regular use and also can help minimization of the dryness. The dryness also causes the split ends hence these shampoos can also give benefits in treating the split ends.
1. L'Oreal Paris Total Repair 5 Shampoo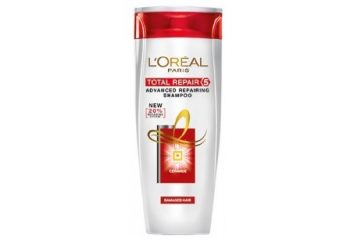 L'Oreal Total Repair shampoo fights the 5 signs of the damage, which means that the shampoo for dry hair minimizes the common hair woes like the dry hair, rough hair, dull hair, split ends and damaged hair. When the cuticle of the hair gets damaged and wears out due to extreme sun or chemical exposure. The shampoo is specially designed for the damaged hair and what the damaged hair goes through. When your hair is dry, dull and damaged then they get rough and tangled a lot, which is why you also face hair fall while combing the hair as well. A shampoo that can repair this damage by giving adequate moisture can be appropriate to minimize the damage. It's the best shampoo in India which is appropriate for colored hair as well.
2. L'Oreal Paris Smooth Intense Shampoo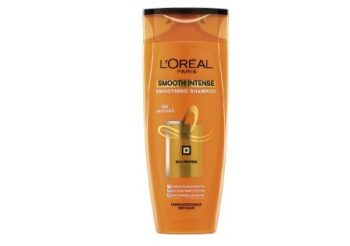 Dry hair is one of the signs of hair damage. Damage can be repaired when your shampoo provides the nourishment and nutrition to the hair. L'Oreal Paris Smooth Intense Shampoo is made with Argan oil which is known to provide your dry hair intense moisture. Silk proteins in this shampoo also make the hair manageable and smoother. The tips of the hair get splits ends, hence silk proteins are advisable to cure split ends. It claims to give 10 times smoother hair with just few application. The smell of the shampoo is subtle and sweet. I will recommend it as this is the best shampoo for dry hair in India that is very inexpensive.
Apart from these you can also take a look at these Best Aloe Vera shampoos in India to help you get the soft hair naturally.
3. Tresemme Hair Spa Rejuvenation Shampoo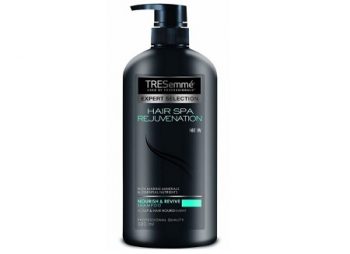 Need some hair spa? Tresemme Hair Spa Rejuvenation Shampoo is formulated and infused with the hydrating marine minerals complex and essential nutrients which deeply nourish the hair. Dryness and damaged can be reversed when you give moisture but that moisture should be long lasting and nourishing. The shampoo claims to give spa like treatment at every wash and gets rid of the dryness. I liked the lathers that this shampoo gives and the way this makes the hair ends smoother and silky. For curly dry hair, this may not be extremely useful but definitely for normal dry hair. Marine complex makes the hair smoother and silkier, which makes it excellent shampoo for dry hair in India.
4. Tresemme Keratin Smooth Shampoo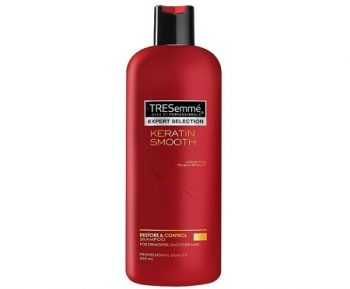 Another shampoo from Tresemme that can make your hair smoother and gets rid of the dryness. Tresemme Keratin Smooth Shampoo restores the keratin and nourishes each hair strand. One of the qualities of this shampoo is that this can give straighter hair and makes the hair manageable smooth. The rough cuticle can result in the hair fall and hair loss. Keratin infused shampoo transforms the hair to become straighter and manageable. Dryness can also cause frizz, the shampoo for dry hair also treats the frizzy hair for up to 48 hours but I have noticed that it does that for only a day at maximum. You can also apply a serum after that to minimize that terrible frizz that you are experiencing. By the way, this is also low on the sulphates but not a fully sulphate free shampoo. See the new Tresemme Nourish and Replenish Shampoo Review
Ingredients: Sodium laureth sulphate, Silicone, Keratin are the major ingredients in this shampoo.
Also, you can apply the natural shampoos to get help in dryness like these Best Reetha Shampoos in India
5. BBLUNT Intense Moisture Shampoo For Seriously Dry Hair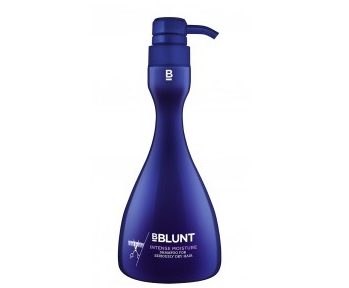 Is your hair seriously dry?? Then do try this shampoo for dry hair and rough cuticles to get some additional moisture in your hair. The hair that lacks moisture and gets damaged and rough needs enough of the moisture so that the hair cuticle can get sealed in the moisture and hair also gets smoother. When our hair is smoother, you tend to get lesser hair fall due to breaking while combing. BBlunt intense moisture shampoo is also rich in the hydrolyzed keratin and also adds a protecting layer over the damaged hair strands. If your hair's tensile strength is week then this shampoo can also enhance the tensile strength of the weak hair strands. Enriched with Jojoba oil, Vitamin E & Wheat Germ Oil designed specifically to increase moisture in damaged hair. I have used this and loved that this gives immense moisturization to the hair. It's the best selling shampoo for dry hair available in India.
Batiste Dry Shampoo How to Use and Review
6. Garnier Ultra Blends Mythic Olive Shampoo
Do you like the Garnier Ultra blends Range? I love this range and the shampoos are so sweet smelling then I love them even more every time I wash my hair. Most importantly, the shampoos are rich in moisture and help to give smoother silkier hair. This Garnier Ultra Blends Mythic Olive Shampoo is a blend of olive oil. Olive oil is enriched with the vitamins and minerals which helps to restore the moisture and reduces frizz and damage of your hair. The Ultra Blends shampoo is paraben free formula and a perfect shampoo for dry hair. It is a blend of Virgin Olive Oil, that is rich in Vitamin E. Vitamin E is one of the best natural oils to protect the hair from dryness and possible damage. The blend of the pure Extra virgin oil, rich in Vitamin E, that adds lost nutrition to dry, rough and severely moisture depleted hair.
7. Schwarzkopf Bonacure Repair Rescue Reversilane Shampoo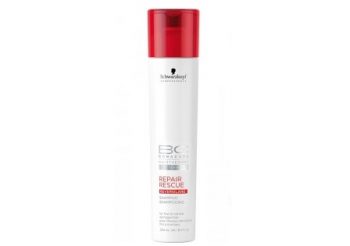 Schwarzkopf Bonacure Repair Rescue Reversilane Shampoo has this Biomimetic technology that strengthens the hair while leaving it soft and bouncy. This is one of the best professional shampoos in India for dry rough hair which has an intense cell repair formula, which repairs the hair quality and helps in rescuing the hair roots from the damage and dryness.
Features:
Biomimetic technology which boosts hair growth

Nourishes hair hence enhancing the natural shine

Moisturizes hair eliminating dryness and rough ends
8. Dove Dryness Care Shampoo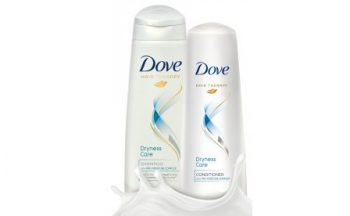 Dove also makes this shampoo that is only for the dryness and damage reversal. Dove dryness care shampoo is rich in the micro-serum which smoothen your damaged hair. The damage can be seen as the splits ends, rough ends, dry hair shafts and rough cuticle on the hair. So, all this can be healed when a shampoo gives moisture and nutrients to the dead dry hair. When the Dove shampoo for dry hair is used in conjunction with the Dryness care conditioner then it gives maximum benefits.
Features:
Smooth and nourished hair

Gives adequate moisture

It leaves the hair smooth and manageable
9. Pantene Pro-V Daily Moisture Renewal Shampoo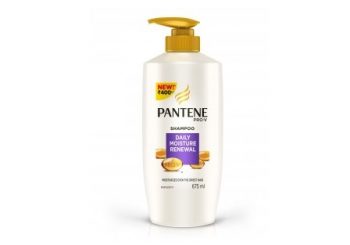 Pantene moisture renewal shampoo is a nourishing shampoo that decreases the damage caused by the 100 blow dries. How amazing is that? But does it really do that? It does help to give immense moisture to the hair but not as it claims. You know guys the claims are always exaggerated but still it does help to give smoothness to the heat damaged hair.  The moisture-renewal complex ensures the moisture locking in the damaged hair. Therefore, this shampoo for dry hair leaves the hair feel stronger and manageable.
Features:
Gives intense, all-day moisture to the dry hair, so that the hair feels stronger

Leaves hair strong to bear the damage

Suitable for all hair types that are dry, parched, or thirsty for moisture

Suitable for color-treated or permed hair
10. Just Herbs Lush Methi Shikakai Shampoo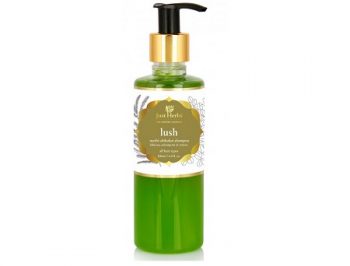 Do you like natural ingredients in your shampoos? Methi or fenugreek is one of the best natural products that can null and void your damage. Shikakai is suitable for the damage reversal as this boost the moisture and locks the suppleness. Just herbs formulates natural herbal product but yes, even they do have their fair share of the chemicals in them, little less but they do have. Methi seeds extracts impart deeper nourishment to the brittle and dry hair roots and the strands. The richness of the moisture also makes the hair appear smoother and increases the tensile strength. This shampoo for dry hair is a little expensive but if that suits your hair type then why not!!
So, these were the best shampoo for dry hair in India. Have you used this? Or which is the one that you would like to try for your dry hair?
Recommended Articles