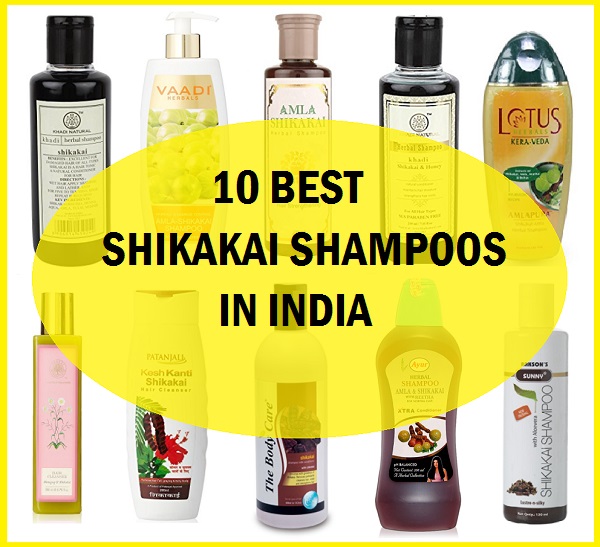 Best Shikakai Shampoos in India. Shikakai which is called as Acacia concinn is the most used herb for hair care. It is an excellent hair cleanser that cleanses the hair and makes the scalp feel healthier. Shikakai has several benefits of the hair. It can make the hair full on moisturized and bouncier. Shikakai can tame your hair which is unmanageable and rough. Shikakai means the Fruit of hair which also indicates that this can reduces all the hair problems like thinning of hair, hair loss, hair dryness, damage due to UV rays etc. The easiest way to give the boost of shikakai benefits to your hair would be by using shikakai shampoos or shikakai hair packs. Shikakai shampoos are easily available in the market. A lot of good brands make shikakai herbal shampoos that can provide you with the advantages of the shikakai fruit. It is mild on the hair and also gets back the lost sheen to your hair. Shikakai is used for hair care since ages like when these fancy shampoos etc were not there, ancient people used to apply shikakai to their hair to cleanse them. This fruit also help in the oil regulation of the scalp so, that the oily scalp can get lesser oily and hair remain oil free for longer.
Top 10 Best Shikakai Shampoos Available in India 
Here, I have compiled the list of the best shikakai shampoos available in the Indian market that you can definitely try to get help of shikakai in treating the hair loss, hair fall, dandruff and dry hair problems.
1. Patanjali Kesh Kanti Shikakai Hair Cleanser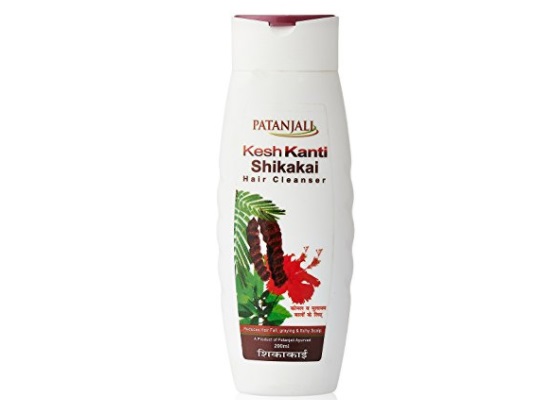 Patanjali kesh kanti shikakai shampoo is a herbal hair shampoo or hair cleanser. This herbal shampoo is ideal for nourishing the dry and damaged hair. The shampoo is quite decent in price as a bottle of 200ml. The shampoo gives immense lathers that eventually squeezes out the sebum, dirt, dust off the scalp and the hair. I like that the shampoo has shikakai along with the other herbs that keeps the hair in healthy state. Packaging is also decent but the top lid can be loose at times, so do watch out for that before keeping this in your bag, pouch etc while you travel.
Price: 95 rupees for 200ml
2. Forest Essentials Bhringraj and Shikakai Hair Cleanser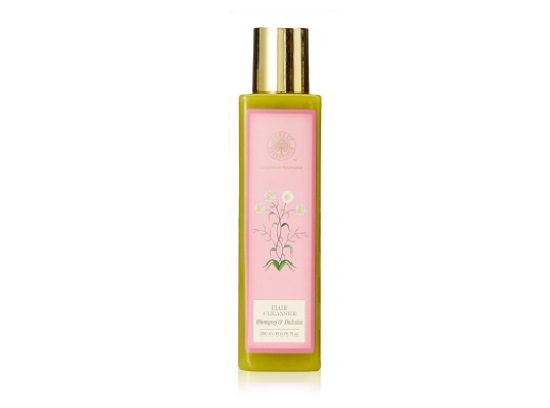 Forest Essentials products are expensive but they are quite good as they are free of the chemicals that can potentially harm the hair in long run. It is a hair cleanser that has two beneficial ingredients like Bhringraj and Shikakai. Both of these help to cleanse the hair scalp properly and makes the hair grow longer and thicker. The shikakai shampoo is for 1175 rupees and lathers decently so, you need a little extra than those regulars shampoos in the market, this is why the bottle also gets empty a lot faster that the other shampoos but it is chemical free so, those of you who likes using chemical free or low on chemical products can give this a try. It aids in controlling the hair thinning, promotes re-growth of hair and improves hair growth. Moreover, this shampoo also has licorice or mulethi that helps to gives relief in the scalp itching and dandruff.
Price: 200ml for 1175 rupees
Best Shampoos for Dry Damaged Hair in India
3. Ayur Herbals Shampoo Amla Shikakai with Reetha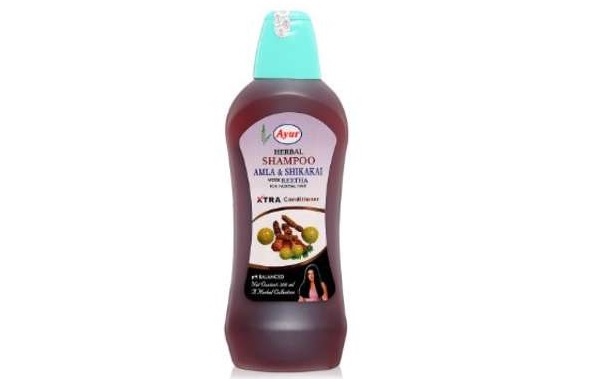 Ayur is a very old brand and I have been seeing this brand since I was a little kid. I used to get their cleansing milk for my mom and she used to like it but later that gave me breakouts and I realized, it was for the dry skin better. Anyways, This Ayur Amla shikakai shampoo used to be a part of our family since ages but not anymore. It is even cheaper than the Patanjali shampoos and is for only 75 rupees. The shampoo is dark purplish brown in color and has the extracts of amla, shikakai and reetha. The smell is herbal and is good.
Price: 75 rupees for 200ml
4. The Body Care Shikakai Shampoo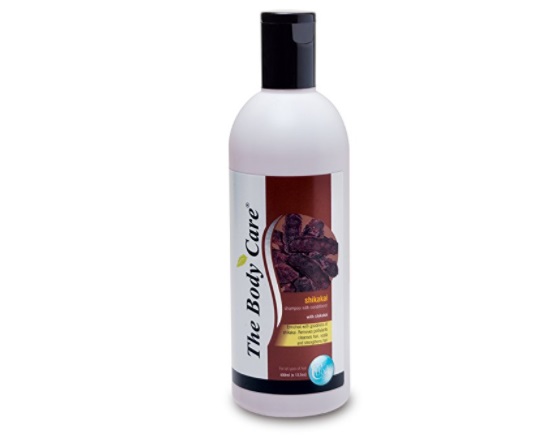 The Body Care Shikakai Shampoo is a natural hair cleanser and conditioner which gives supple, smoother and shinier hair. The shampoo is dark brown in color and lathers a lot. I doubt the chemicals in it but it is also good for the dry hair. Shikakai is great agent to help combat hair fall and thinning of hair while the dandruff is also cured with regular usage.
Price: 155 rupees
Best Aloe Vera Shampoos in India
5. Vaadi Herbals Amla Shikakai Shampoo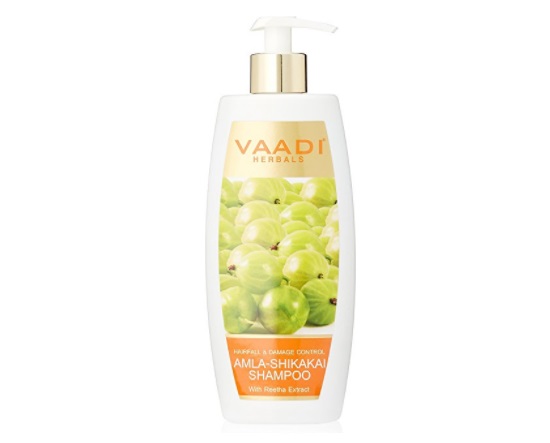 Vaadi Herbals s also a herbal skin and hair care brand that makes very affordable products. So, if you like using herbal and inexpensive products then you can give as hot to this brand. This makes almost every skin care product that we need. This amla shikakai shampoo has both amla Indian gooseberry and shikakai. It lathers good and imparts shine to the hair. It may not be extremely good for the very dry hair but for oily to normal hair the shampoo can be used. It also gives moisture to the lifeless hair so that they gets shinier. Moreover, the shikakai in this shampoo can alleviate the hair loss and hair thinning problem which is seen in men and women.
Price: 155 rupees for 350ml
6. Lotus Herbal Amlapura Shikakai Amla Herbal Shampoo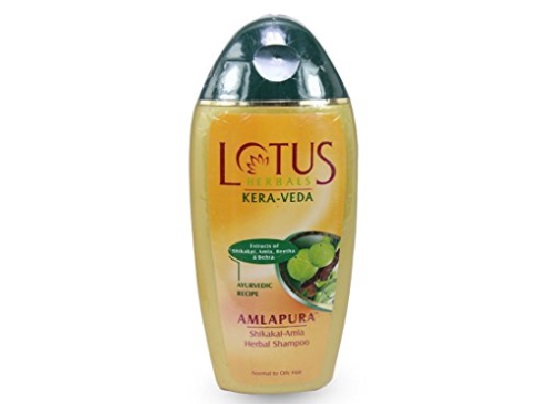 Lotus Herbals makes this amlapura shampoo wherein you get the goodness of two very commonly used but highly beneficial ingredients like amla and shikakai. Indian gooseberry or amla is rich in vitamin C that gives natural conditioning and shine to the hair. It also gets rid of the heavy dandruff flakes while the shikakai can cure the scalp infection, promotes hair growth and lastly can also acts as an excellent hair cleanser to make the hair free of the dust, dirt, etc and the pollutants. The shampoo also contains reetha so, it short this is a triphala shampoo which is not that expensive and can be used by men and women both. Triphala is a powerful combination to combat all the hair woes that one is facing!
Price: 195 rupees for 150ml
Best Himalaya Herbals Shampoos in India
7. Khadi Shikakai & Honey Shampoo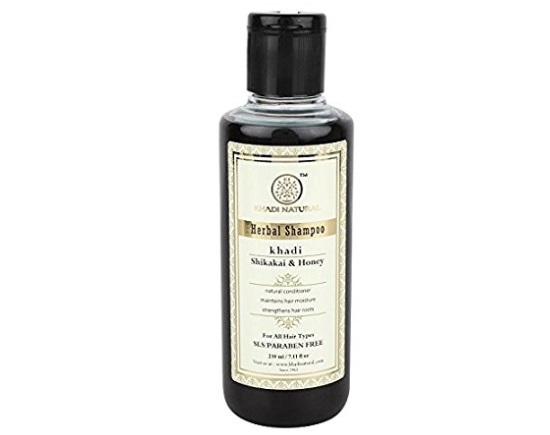 Khadi shampoo has a very unique combination of shikakai with honey yes, the shampoo is formulated with the honey or shahad and the shikakai. Both of  these are suitable to treat the dryness of the hair and to reverse the damage caused by the sun. The sun damage can be seen in the form of dull hair and dry hair ends. It also act as oil balancing shampoo so, you get a head full of bouncy shiny locks.
Price: 201 rupees for 200ml
8. Kairali Amla Shikakai Shampoo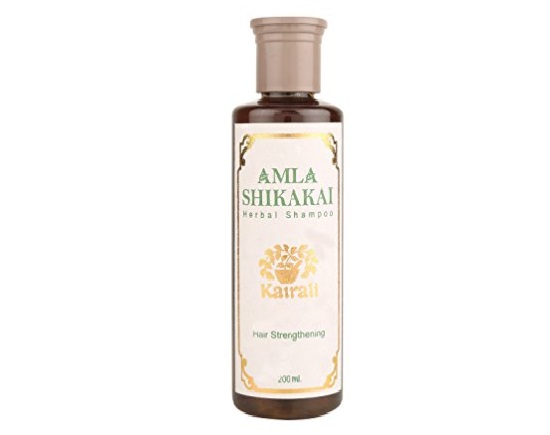 Kairali's Amla Shikakai Shampoo is rich in amla and shikakai fruit extracts that cares for the dry hair and scalp with itching problem too. The shampoo is good when it makes lathers with water. It cleanses the scalp and the oily hair gently but thoroughly. This is an Ayurvedic Shikakai Shampoo which balances the pH balance and also makes hair bouncier. Amla aids in decreasing the hair loss experienced by men and women in their middle ages. While shikakai promotes the shine and growth of new hair strands. This Shikakai Shampoo helps to restore the natural quality of the hair and aids in repairing the damaged hair.
Price: 240 rupees for 200ml
9. Khadi Herbal Shikakai Shampoo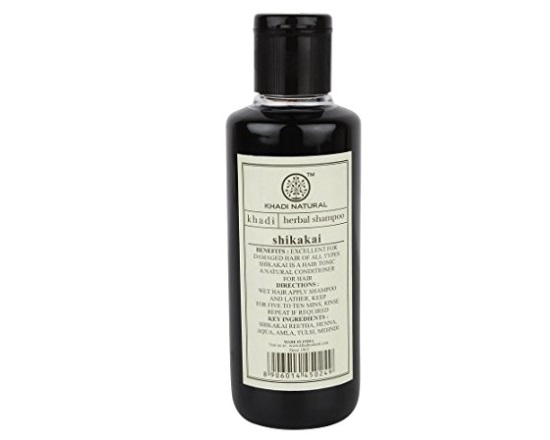 This is purely shikakai shampoo by Khadi herbals. If you will see that Khadi herbals makes several shampoos with different ingredients like neem, honey, amla, triphala, bhringraj etc but this is only shikakai shampoo so,if you are looking for the shampoo which has only shikakai for the gentle hair cleansing then this can be perfect choice for you.
Price: 120 rupees for 100ml
10. Bakson Sunny Shikakai Shampoo with Aloe vera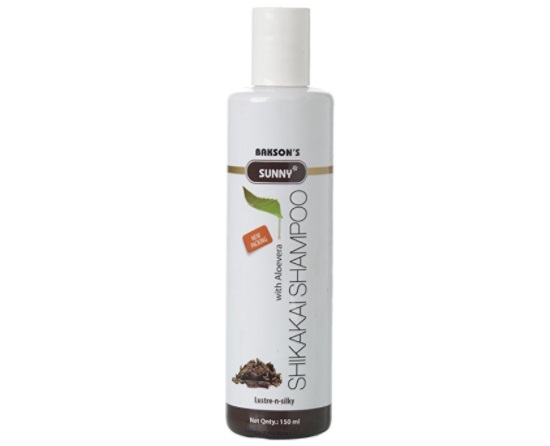 My mother used to try these Sunny Herbals shampoos when I was small. These lathers well and used to cleanse the scalp thoroughly. This shampoo is a shikakai shampoo that has the aloe vera as well. Aloe vera is deeply moisturizing in nature and it has the goodness of shikakai that cures of the dryness. But, I have noticed that this does not do much for the dry hair ends. This is more of a shampoo for the oily to normal hair.
Price: 150ml for 115 rupees
So, friends, these were the best shikakai shampoo in Indian that one should try if they like to get the benefits of the shikakai for their hair.
Recommended Articles