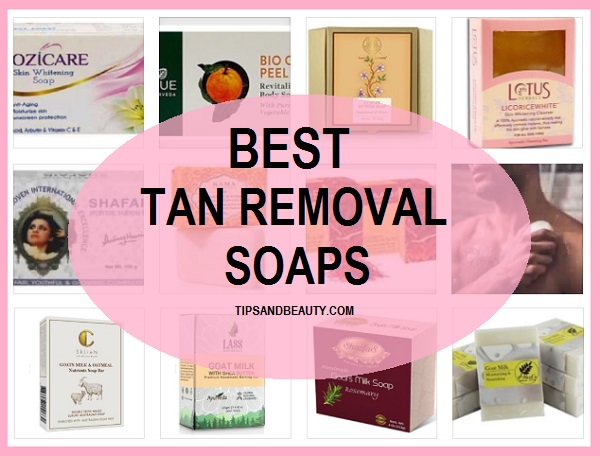 Best Tan Removal Soaps in India
Sun tanning is the major thing that most of us suffer during summer season. Summers can be tiresome due to the tanning and darkening of the skin tone. While we cannot completely avoid going out in the sun, we can surely do some preventive measures to prevent the sun tanning and dullness. By using the tan removal products, we can get rid of the tan and not let it get permanent. This can be easily done by using tan lightening soaps, face wash, creams etc. In this post, we've compiled this list of the best tan removing soaps in India.
Top 11 Best Sun Tan Removal Soaps in India
Mostly the tan is seen on the arms, legs and other exposed body parts, so when we cannot put cream on every part, but we can certainly apply the soaps to remove the sun tan. The ingredients in these soaps have fruit enzymes, arbutin, Vitamin C, kojic acid and other natural products that can lighten the skin. Here, we have compiled this list for buying the best sun tan removal soaps in India that you can use to get rid of the long term tan on the skin. Please note that you can also use the sun tan removal creams to effectively brighten the skin.
1. Nature's Essence Lacto Tan Clear Soap
Lacto Tan is by Nature's Essence and they also make Lacto tan removal bleach, cream and this soap as well. Lacto Tan clear soap has the power of the milk enzyme is with honey that can lighten the skin tone and tanning. By the daily application, this sun tan lightening soap can help you get rid of the dull sun tan from the body. Feel free to check out other best fairness soaps in India and also some home remedies on how to get rid of sun tanning.
Price: 45 Rupees for 75 gm
2. Vaadi Herbals Saffron Soap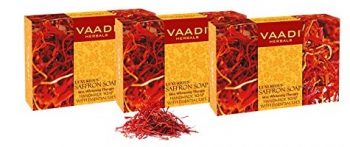 Vaadi Herbals saffron soap is one of the best soaps to remove the tanning in India on the face and body. In summers, when due to the harsh effects of UV rays, skin is bound to get dark and dull. Using a Kesar rich soap can help lighten the tan and makes skin gets back to its original fairer color. It also contains Goat's milk to further smoothen the skin of summer bumps and boils.
Price: 38 Rupees for 75 gm
3. Kama Ayurveda Turmeric And Myrrh Skin Brightening Soap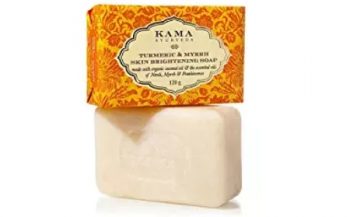 Kama Ayurveda Turmeric and Myrrh Skin Brightening soap is and Ayurvedic skin soap with the power of the natural and herbal ingredients that brightens the body skin. The skin whitening soap has the Turmeric and Myrrh that lightens and brightens the skin tone. It can also minimize the skin pigmentation and lightens the blemishes on the skin.
Price: 595 Rs for 125g
4. Avon Naturals Fairness Bar Soap
The Avon skin whitening soap is one of the best soap to remove tanning in India. It's a good soap to lighten complexion with regular use. This Avon tan removal soap is made with the ingredients like olive oil, coconut oil and almond that brightens the skin complexion.
Price: 140 Rupees for 125 g
5. Shahnaz Hussain Shafair Fairness Soap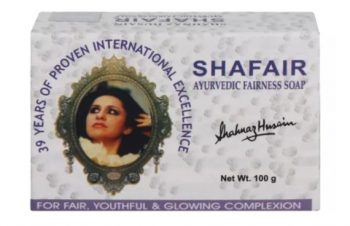 Shahnaz Hussain is a well known personality in the beauty Industry. The soap is a fairness soap that also reduces the tan and its side effects like sun burning, skin darkening. It reveals a sparkling fair complexion upon daily use. It also does not dry the skin but use of a suitable sunscreen is also suggested.
Price: 250 Rupees for 100 gm
6. Oriflame Essentials Fairness Soap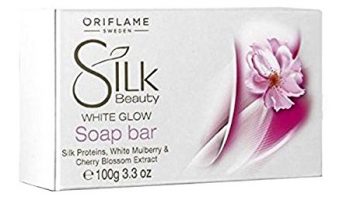 The tan removal soap is from Oriflame. It has the milk enzymes that keep the skin hydrated and lighten those dark marks and acne spots. It gives a clear glow on the face and is quite hydrating in formula.
Price: 99 Rupees for 100 gm
7. Lotus Herbals Liquorice Skin Whitening Cleanser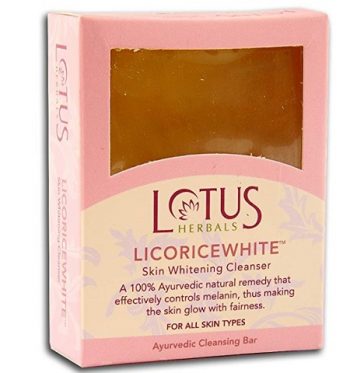 Lotus Herbals skin whitening soap is a perfect tan removal soap in Indian market. The goodness of the licorice in it helps to fight the tan and excessive melanin content. It decreases the melanin cell so that the skin appears brighter. It also has Manjistha that is also known for its skin lightening properties.
Price: 70 Rupees for  50g
8. Reawaken Kojic Whitening Soap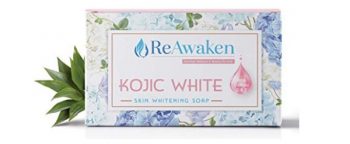 The Whitening Soap can be used for bathing purpose. It removes the dark cells and make the skin healthier. The tan removal soap has the goodness of coconut milk that gives glowing fairness. It can be used everyday to brighten the face.
Price: 299 Rupees for 100g
9. Forest Essentials Luxury Sugar Soap
How about sugar in your soap. Yes, if your skin is dry and you wish to get rid of the tanned skin then this is perfect. The Forest Essentials Luxury Sugar Soap with iced pomegranate, is a luxurious soap which is expensive but is very hydrating. It has Cow's milk and saffron with Honey. The tan removal soap revives an old and dark looking skin tone. To keep your skin fresh and tan-free. Always apply sunscreen in the day. Check here for the Best sunscreen lotions in India for different skin types.
Price: 595 Rs for 100 gm
10. Biotique Bio Orange Peel Bathing Soap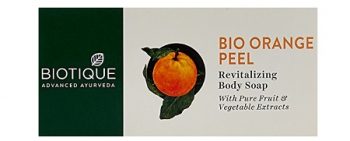 Biotique is a well known herbal brand that is preservative free. The Biotique tan removal body Soap gives the benefits of skin whitening and glow. It has no chemicals and is a paraben free product. This soap lathers well and cleanses the skin to remove the sun tan. Clearly application of the best chemical free tan lightening soap in India will do wonders for you.
11. Kozicare Skin Whitening Soap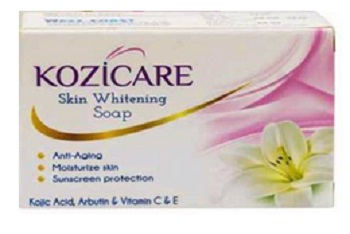 Kojie San Skin Lightening Soap has Kojic Acid that can help to get a flawless tan less kin tone. While one cannot avoid the sun tan, you can always lighten it. Kojic acid mildly peels off the skin layers which can help you in getting rid of the darkness. These soaps with Kojic acid can help you obtain a good healthy white skin.
Price: 199 Rs for pack of 3
These are the best Tan Removal Soaps in India. Have you used any soaps to lighten the tan or which is your favorite tan lightening soap. Other than the soaps, you should also read about the best sun tan removing night creams for boosted results and the other best products to remove sun tan effects.