11 Best Top Neem Soaps Brands in India with price and Reviews
Neem which is also known as Azadirachta indica is a very common tree in Indian subcontinent. You must be aware about the wonderful benefits of neem for your skin, hair and health. We have shared uses of neem leaves earlier which you can go through. This amazing tree has been used since centuries to treat various problems. The medicinal properties are immense and it has been used in Ayurveda extensively. Even skin care industry is reaping the benefits of this miraculously product. There are several neem based products available and neem soaps are one of them. If you have been looking for neem soaps then here in this article, we have compiled a list of the best neem soap brands in India that you can try. Neem or Margosa soaps are also loaded with other anti bacterial ingredients hence, these will help to cure your skin related problems like acne pimples, eczema, rashes, sun burns etc. These can be used on the face and for body skin as well. Teenagers with oily skin can find that they can try neem soap for facial cleansing and for body cleansing as well.
Best Top Neem Soap Brands in India (2022)
Here is the list of the neem soaps in Indian with their prices and reviews so that you can decide which is the one would wish to buy and try. Neem enriched soaps are also used for kids as they get dirty while playing outside and neem is  good to kill the germs and bacteria.
1. Oriflame Sweden Nature Secrets Neem Soap Bar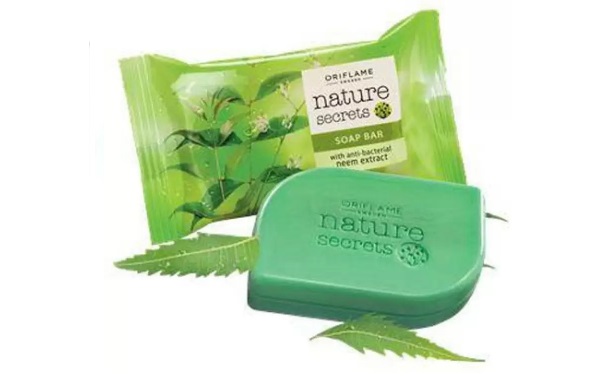 Oriflame neem Soap bar gently cleans skin and moisturizes as well. It is also infused with the glycerin which makes it suitable for the dry skin. People with oily and acne prone skin can use this for their face to get rid of the pimples. Anti bacterial properties of neem will keep the skin nourished and glowing with no acne.
Pros
Good packaging

Ideal for face cleansing for oily skin and combination skin

Has glycerin for moisturization

Dry skin and oily skin both can use
Cons
Price
80 rupees for 75 g pack
2. Khadi Herbal Natural Neem Tulsi Soap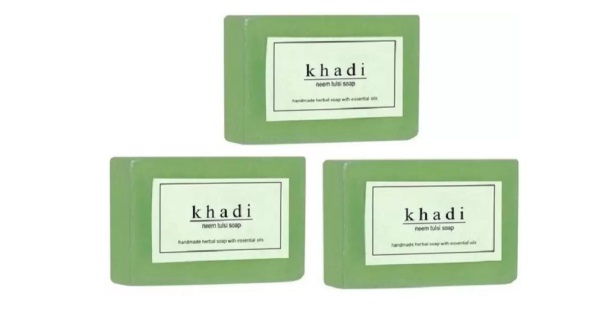 These khadi soaps are extremely popular as they used to be available on every supermarket. This is what I have noticed but lately khadi products are only seen online only. This soap is a glycerin based soap which is very gentle and moisturizing on the skin. This can also be used on the face to get rid of the dryness.
Pros
Glycerin is also there

It has neem and basil both

Good for acne and pimples

Skin rashes and sun burns are also cured

Can be used as a facial skin cleanser and body soap as well
Cons
May not be easily available
Price
3. Vaadi herbals Neem Patti Soap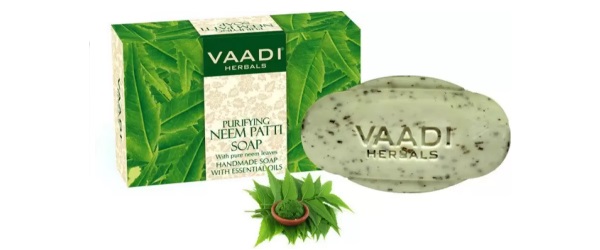 This Neem Patti soap is rich in the goodness of the neem leaves. There are small flakes of neem leaves in this soap. The soap lathers good and also removes the skin impurities and dullness. You may have seen that much soap will dry the skin but this is good for every skin type.
Pros
Good packaging

Neem leaves which is antibacterial

Suitable for all skin types

Can be used on face too
Cons
Price
4. Himalaya Neem & Turmeric Soap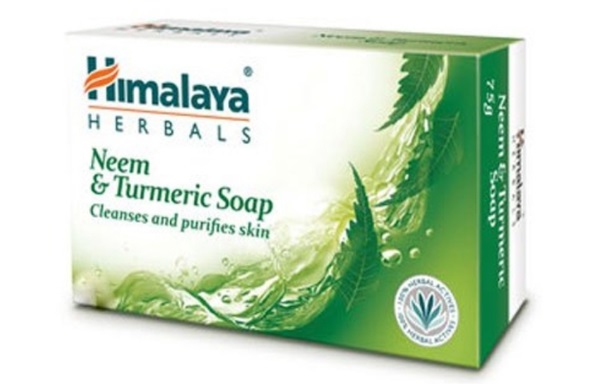 Himalaya herbals makes this neem soap which is combined with the power of turmeric. Turmerci or haldi is used a lot in Indian household not just for cooking purpose but for beauty, skin, hair and for health as well. Turmeric is another ingredient which is equally beneficial for skin problems and acne and pimples. Hence, this is ideal for oily skin and acne prone skin. But anyone can try it regardless of that.
Pros
Good packaging

Has turmeric with neem

Good for acne prone skin and oily face

Purifies and cleanses the skin deeply

Ideal for summer season

Good for kids as well

Very inexpensive price

Availability of Himalaya products is good
Cons
Price
5. Roop manta Ayurvedic Neem and Tulsi Soap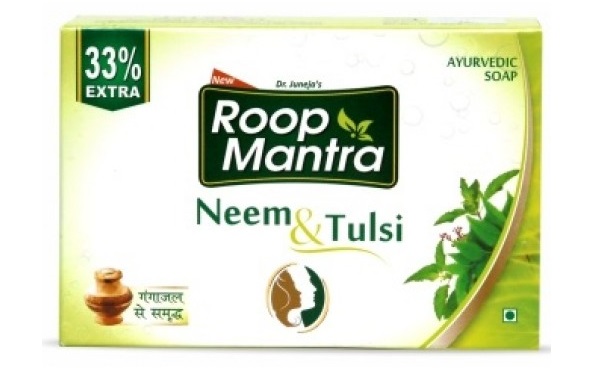 Roop mantra Ayurbedic cream is pure popular and I have sued that too. Roop Mantra also makes soaps and this neem soap is a good one. This Ayurvedic Soap has been formulated with Neem and Tulsi, both of which are highly anti bacterial products. This neem based soap is used to treat the acne, pimples, black-heads and dark pigmentation.
Pros
Relives dryness

Suitable to combat the acne breakout

Makes the skin flawless

It revitalizes the skin texture

Protects the skin from acne, pimples, blemishes and prickly heat

Has Neem, Turmeric, Aloe Vera and Tulsi extracts

It is suitable for all skin types.
Cons
None but availability can a drawback though you can get this online
Price:
6. Fabindia Neem Aloe Vera Soap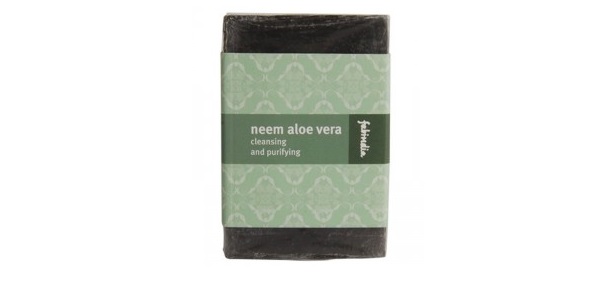 Fabindia Neem Aloe Vera Soap has the power of the two most natural ingredients and those are Aloe Vera and Neem along with vitamin E. Aloe Vera is rich in fatty acids which moisturizes the skin and gives a healthy looking glow. The benefits of aloe Vera can never be summed up completely as this is an excellent product.
Pros
Has neem and aloe vera with vitamin E

Ideal for all skin types

Protects the skin from pimples and acne breakouts

Over the time heals the skin dryness

Can be used on body and face

Keeps the skin soft and supple

Prevent acne, pimples and blemishes
Cons
Price
7. Auravedic Natural Neem Basil Tea Tree Soap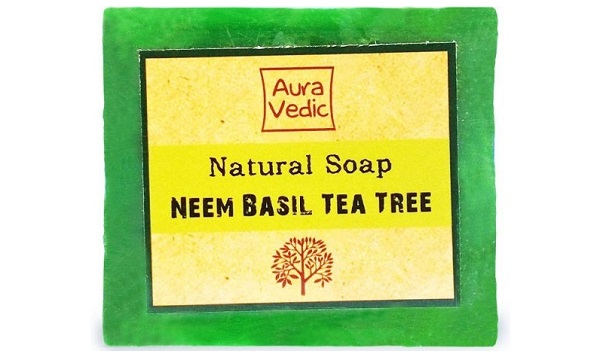 Auravedic Natural Neem Basil Tea Tree Soap is handcrafted from cruelty-free ingredients. Made with the anti bacterial and anti fungal products like neem, holy basil which is tulsi and tea tree, this neem soap is wonderful for people with oily and acne prone facial skin.
Pros
Has a blend of oils and botanical extracts

All skin types

Suitable for acne prone skin

Combats pimples and breakouts on the face

Appropriate for healing skin problems
Cons
Availability of this product is low
Price:
8. Lass Naturals Neem & Basil Soap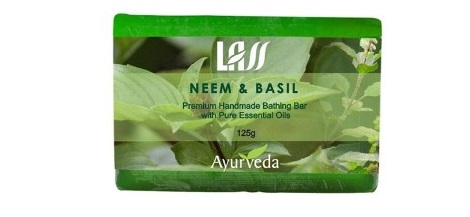 Lass Naturals Neem & Basil Soap is a unique and refreshing soap that has the powerful skin healing properties of Neem and Basil. As we know that Neem and basil both are antifungal and anti bacterial that can skin problems like uneven patches, pimples, acne, hyper-pigmentation and rashes.
Pros
Has neem with tulsi and tea tree oil as well

Gently cleanses the skin without being harsh on the facials kin

Suitable for daily bathing

It fights the skin dryness by retaining skin moisture. 
Price
9. Patanjali Neem Kanti Body Cleanser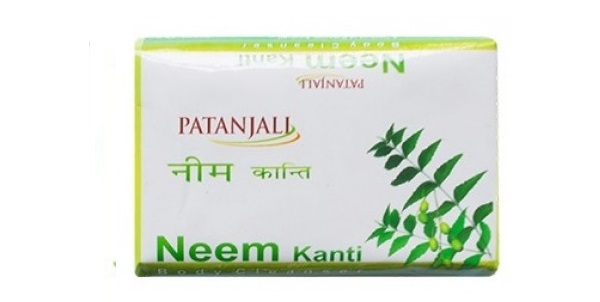 Patanjali Neem Kanti Body Cleanser is a reinvigorating soap made with the essence and extracts of neem. It is suitable to cleanse the skin deeply and to nourish it with its botanical contents. Other then the Neem, this soap also contains amla which is another herb that cleanses the skin very well.
Pros
Price is very inexpensive as this is only for 15 rupees

Made with natural and 100% organic ingredients

Calms the skin

Has neem and amla

Can be used on facial skin and body skin

Free from toxic materials
Cons
Price
10. Vestige Assure Soap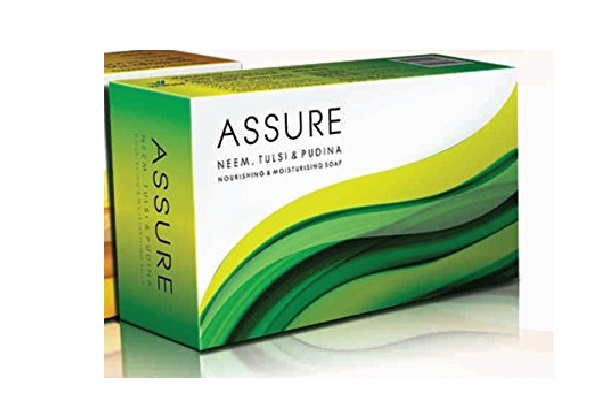 Vestige assure soap is rich in the goodness of the neem, tulsi also called as holy basil and pudina which is the mint. These three are highly potential in eradicating the scalp conditions and skin problems like acne, psoriasis, eczema etc. You can also use this for body to control the bad body odor and prickly heat during summers.
Pros
Has neem along with Mint and Tulsi

Price is expensive

Good for face and body
Cons
Price
30 rupees for 100g soap bar
11. Fairbeat Aloevera & Neem Soap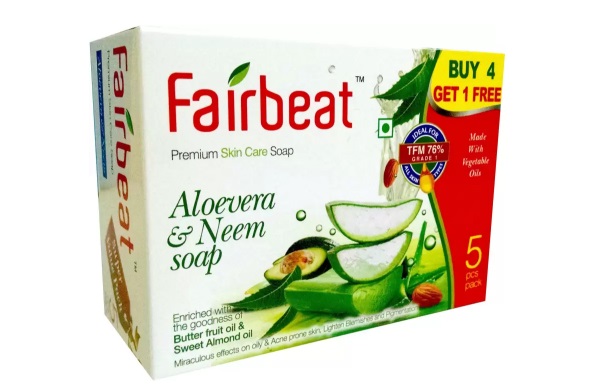 This Fairbeat soap is not just the regular neem soap but it also has aloe vera. Both of these are good for curing skin problems like rashes etc. If you have skin dryness then too this can cure as neem oil in neem extracts is very moisturizing for dry skin. You can also check out the best neem oils in India to know more.
Anyways, this is white in color and is loaded with the goodness of butter fruit and sweet almond oil.
Pros
Good packaging

Nice smell

Has aloe vera and butter fruit along with neem and almond oil

Lathers well

Good for all skin type

Can be applied on face too
Cons
Price
50 rupees per 75g soap bar
These were the best Neem soaps in India that you can try to cure various skin related problems. These can be used on the face and body and some are very moisturizing due to vitamin E, almond oil or glycerin etc. Check more neem articles: