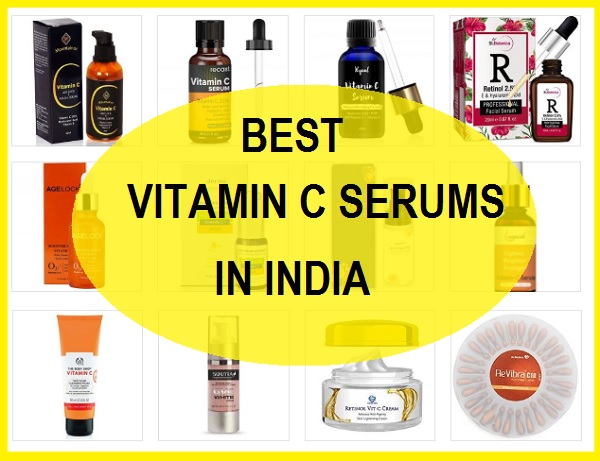 Best Vitamin C Serums in India
You may know that whether you have problem of dark spots, marks or even the fine lines, Vitamin C can come to your aid. We have so many vitamin C loaded products. Right from Vitamin C toners to skin creams to Serums to spray waters etc. Vitamin C is used a lot considering its efficiency. The reason is pretty simple that Vitamin C is a powerful antioxidant that comes with a lot of great uses and benefits for the skin.
For dark spots and dullness, vitamin C ensures to give you clear skin within few weeks. Even for anti aging benefits, Vitamin C is considered as the best thing to apply on your face. In fact, for acne and blocked pores, Vitamin C is highly beneficial to clear the pores and to minimize the chances of acne.
Here in this post, we have compiled this list of the best Vitamin C serums in India along with the benefits, advantages and the side effects.
Yes guys, there can be few side effects, if you do not take care of the certain facts about this product.
Benefits of Vitamin C Serums for Skin
Such serums with Vitamin C can be used by men and women of all age groups and skin types. In fact for the acne prone skin types, the serum with the ascorbic acid in more that 10% concentrate works wonder.
Serums are easy to penetrate the skin than the cream hence, Vitamin C serums are better than the creams, Moreover, regular application can helps slow down the aging process.
Use of serums with Vitamin C concentration of over 10%, is advised for the elimination and treatment of the signs of aging like age spots, dullness, fine lines and wrinkles.
Application of vitamin C serum twice in day ensures a brighter looking skin as it also reduces the melanin production. I'm sure those of you with discolored and uneven skin tone would really like to use Vitamin C serum for getting this very benefit.
It also stimulates the collagen production which tightens the skin and firms the skin. Therefore, after the age of 25 years, application of serum rich in Vitamin C can do wonders for your skin. You should also check out my article on the best skin tightening creams in India, as for people over 35 years of age, such forming creams are wonderful. 
Collagen production increment gradually enhances the skin's elasticity which in turns make the skin more resilient and less prone to ageing signs.
Top Rated Vitamin C Serums for Oily skin, Dry skin and Sensitive Skin (2022)
So, here is the list of the best face serums which are rich in the Vitamin C to boost your skin's texture and smoothness by getting rid of the darkness and dullness.
1. Recast Vitamin C Serum With Hyaluronic Acid And Glutathione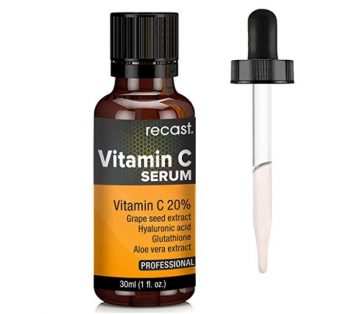 The Serum is a skin whitening vitamin C Serum for oily skin and other skin types as well. The reason is, it's a whitening serum for face as it contains Glutathione. Glutathione is a substance that aids in gentle peeling of skin and also reduces the melanin production. Hence, the skin appears smoother and fairer. Vitamin C on the other hand is also known to reduce the acne marks and dark spots on the face. It is one for the best serum for dark spots as well. The formula is non-comedogenic and light. You must have heard about glutathione pills and cream that are used to make the skin tone fair.
2. Derma Essentia Vitamin C Serum 15% Concentrate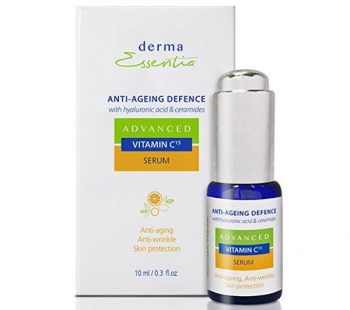 In this serum, you get 15% of vitamin C, which is considered effective enough to provide you instant skin brightening. Moreover, this aids in the removals of spots like black marks, age spots, brown spots and also the black spots and acne marks. This contains the Vitamin C with Hyaluronic Acid and Ceramides. It adds rejuvenating effects to the skin for a youthful looking skin. It is one of the best vitamin C serums for combating acne and age related issues.
3. O3+ Agelock Vitamin C Booster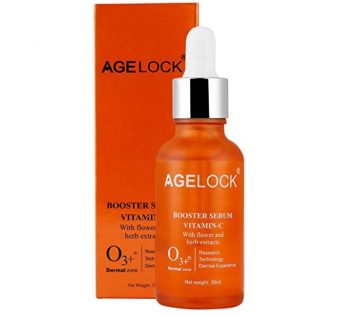 If you have marks and dullness on the skin, you should try a vitamin C rich serum to combat all such skin problems. O3+ Agelock Vitamin C serum brightens the skin and whitens it. It gives glowing even toned skin. You can apply this in the tiny dots all over the face and then massage all over the skin. It is the best rated vitamin C serum for fading the age signs showing up on the face.
4. Proderme Vita C Anti Aging Serum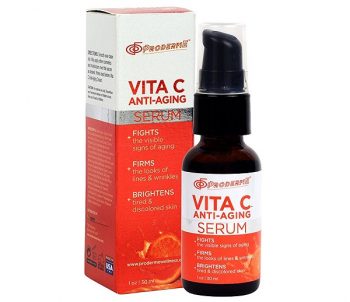 This Vitamin C anti-aging serum aids in tightening the skin. It also repairs the damage to the skin which makes the skin look loose and darker. The UV rays can have very damaging effects which ages your skin, so, a serum like this helps to get rid of all these problems. Acne scars and marks looks quite bad on the skin, if you are conscious then there is a solution! You can even heal your acne marks and scars with the regular application of a good Vitamin C serum.
5. Mountainor Best Vitamin C Serum
Mountainor Vitamin C serum has 20% concentration of vitamin C in it. It boosts the collagen production, improves the skin tone. Applying it everyday, promotes the self healing of the lifeless skin. For darker skin tone as well, Vitamin C serums have proven to be wonderful. It helps to make the skin fairer and brighter. The mild peeling action gets rid of the dead skin and also clears the pores from the dead skin and sebum. If you've problem of acne and pimples because of the blocked pores, then use of Vitamin C serum can definitely help solve this issue.
6. Khadi Mauri Herbal Vitamin C Face Serum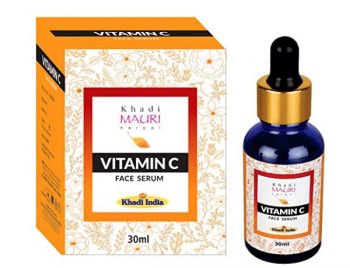 Khadi Vitamin C face serum is rich in powerful antioxidants that repair the skin and also reverse cell damage. Do you know, a serum rich in the vitamin C also boosts collagen production. Collagen protein firms up the skin for a healthier younger look. This serum for skin also contains Hyaluronic acid, grape seed, witch hazel and chamomile. This serum removes the free radicals that age the skin. It is best advised to use this along with the sunscreen during the day time.
7. UrbanGabru Vitamin C Serum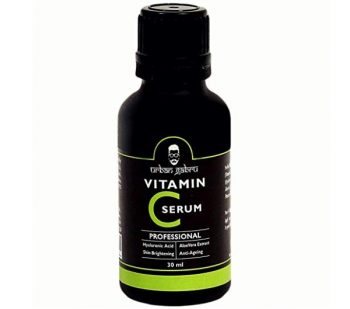 This next serum on our list is from Urban Gabru. This is a men's serum dedicated for men's skin, which gives glow on skin and repairs the dullness. The face serum is rich in the Vitamin C and has the aloe vera extracts. Hence, you can safely apply this on the face during the day time. It deeply nourishes the dull and tired skin which looks aged in appearance. This is also a unique blend of anti-oxidants. Its texture is not as greasy but is quite quick to blend.
8. Cenizas 20% Vitamin C Facial Serum With Hyaluronic Acid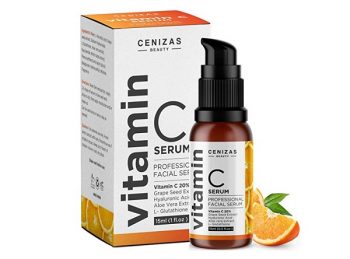 This Vitamin C serum helps to remove the skin pigmentation and also reduces the pores from the skin. The rich in the vitamin C 20%, a serum like this helps in skin brightening as well. This serum is also blended with the Hyaluronic Acid, Grapeseed and Vitamin E. This targets the common signs of the dark spots and sun spots. It is the best Vitamin C serum for the acne and their marks. It is recommended for oily skin as well.
9. Irem Vitamin C Serum for face with Hyaluronic acid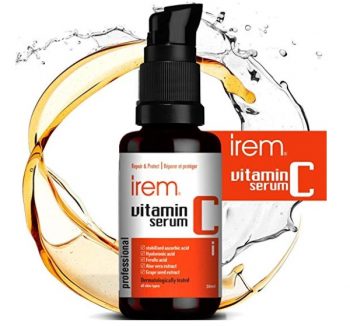 Irem serum with Vitamin C is in the concentrate 20% with Ferulic, Hyaluronic Acids and Vitamin E. It is proven to reduce the appearance of the dark spots and dullness. It fades the sun spots and improves the skin's firmness. Upon regular application this serum makes skin tone even and revitalizes the skin tone for a smooth and fresh look. For oily skin too, a serum like this, is suitable as it clarifies blocked pores and also reduces the pores size. Price too is very affordable and easily available online. You can apply pore minimizing products, that I listed here, If you've got a problem of large pores on your skin. 
10. St. Botanica Retinol 2.5% + Vitamin E, C & Hyaluronic Acid Professional Facial Serum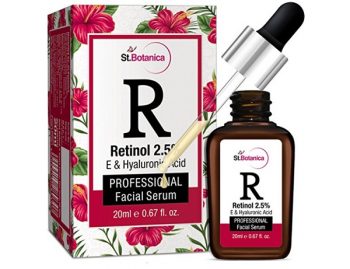 St. Botanica's Retinol serum is rich in the Vitamin E, C and Hyaluronic acid. Retinol or the vitamin A is considered ad the most effective ingredients to improvise the skin's texture. This vitamin is known to get rid of the age lines, pigmentation, marks and the skin unevenness. This is also the best anti aging serum with the richness of the Vitamin C is one of the best to get rid of the skin problems. This is safe for all skin types including, those with sensitive skin. This serum is a vegan, paraben-free, silicon free product.
Side Effects of the Vitamin C Serums
There can be some side effects of the Vitamin C serums but worry not, they can be tackled if you use and apply this product with little bit of care and follow some precautionary tips. Let's read what those are.
Sensitive skin: If you are allergic of vitamin c rich creams and serums, you may experience redness and excessive itching on your skin. It's is a sign that you should discontinue using such products.
Sunscreen: While going out in the sun, application of sunscreen is MUST while you have any Vitamin C rich skin care product on your face.
Dryness: Some people may face breakouts and flakiness of the skin after using such vitamin C enriched serums. In this situation, you should choose the vita C serum that also consists of hyaluronic acid. This combination of the two maintains the pH balance and keeps the skin moisturized. You can apply the moisturizers with SPF over your dry face to combat the effects of sun rays. Here, is an article, that I wrote which talks about the best moisturizers with SPF for dry skin in India. 
Serum gone bad: If your vitamin C serum has gone brownish in appearance then it's time to discard it as it has oxidized and it is not beneficial anymore.
This is the list for the best Vitamin C serums available in Indian market. There may be some more but as per our knowledge these are the best rated and most reviewed. Have you used any of these serums for face? Which is your best Vitamin C serum for oily skin or dry skin that you like? Do share in the comments.