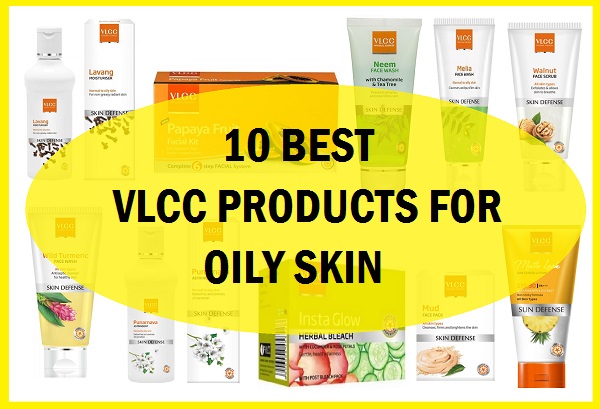 Best VLCC Products for Oily skin. VLCC is quite a famous and well trusted brand in India. This brand also ships their products to various countries where these products are used with trust. The motto of this brand is to make the skin care easy with just the natural products. It makes several skin care, body care and hair care products like face wash, shampoo, lotions, bleach cream etc. The most tried ones would be the VLCC facial kits. Yes, I have seen almost every parlour or salon using their facial kits. Their products are mostly loaded with the herbal ingredients like the botanical and plant extracts which are safe for even the most sensitive skin. Still, I would suggest that before using any product first time on the skin, it will be good of you can try this so that rashes are not there.
10 Best VLCC Products for Oily skin Available in India with Reviews
Here, I have compiled this list of the VLCC skin care products which are suitable for the the oily skin and acne prone skin as well. These products includes facial kits, face wash, skin moisturizer, face bleaching creams etc. VLCC products are easily available in the Indian market and even in the small cities their products can be bought. If not them you can always try the online shopping sites for getting these VLCC products.
1. VLCC Wild Turmeric Face Wash
Is your skin always oily and have got spots? VLCC Wild Turmeric Face Wash is naturally formulated skin natural cleanser which gives a clean and clear complexion. Turmeric or haldi as we know that is advantageous for the oily skin as this keeps the pores clean. Clean pores mean lesser skin problems. Turmeric has antiseptic properties which also prevents the acne on the skin. Acne are troublesome even for the teenagers and adults and ingredients which are anti bacterial can naturally heal the acne. It is one of the best VLCC face wash.
Pros
Tube packaging
Good for travel purpose
Flip top cap is tight
Heals the damaged skin
Clears the complexion
Has turmeric
Lathers well and non drying in nature
Cons
None but availability can be at certain places in India but online it is present everywhere.
Price
80 ml for 140 rupees
2. VLCC Lavang Moisturiser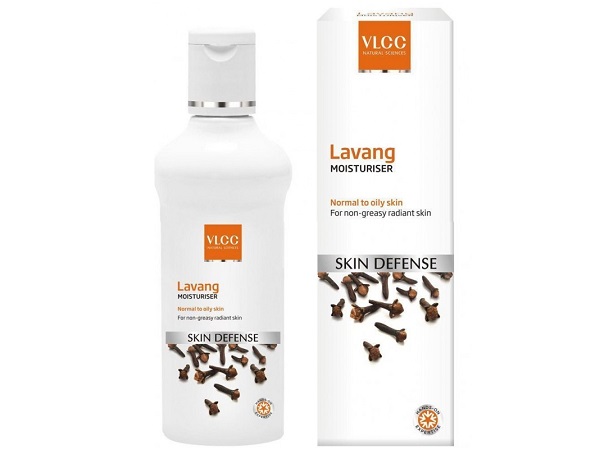 If you have oily skin and are looking for decent daily moisturizer then you can try this one. This is the VLCC lavang moisturizer. Lavang means clove and clove is suitable for oily skin. It is anti bacterial and anti-septic hence even if you are using this will not block the pores or give any skin problem. Moreover, clove treats the acne and pimples. It helps in the oil control and also lowers the secretion of excessive sebum on the skin.
Pros
Light non greasy texture
Packaging is ideal
Price is decent
Blends well and leaves a non oily finish
Cons
Can stings a little bit if you have acne which are swollen
Price
140 rupees for 100ml
3. VLCC Walnut Skin Defense Face Scrub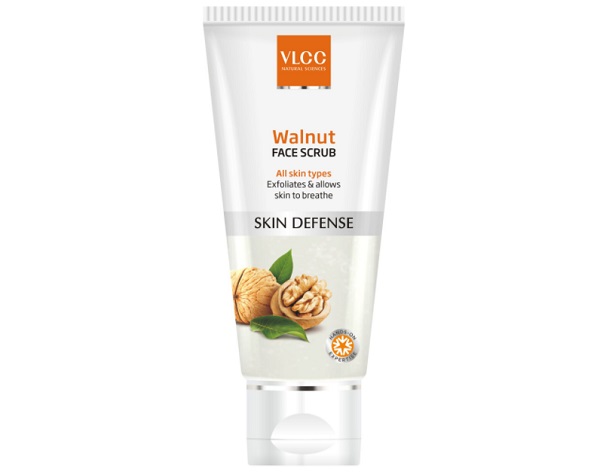 VLCC Walnut face scrub has the goodness of the walnut shell particle. It has the omega-3 fatty acids that locks the moisture while the dead skin cells are removed. When the dead skin is removed, often the skin can feel dry and itchy so the omega 3 fatty acids help to nourish the skin. This has aloe vera and glycerin which improves the blood circulation and smoothens the skin.
Pros
Has walnut shell particles
Removes dead skin
Loaded with apple and aloe vera
Has glycerin for extra moisturization
Unblock the pores on oily skin and combination skin
Cons
Can be a bit abrasive if you have sensitive skin
Price
155 Rupees for 80g
4. VLCC Matte Look Sun Screen Cream SPF 30
VLCC Matte Look Sun Screen Cream is fortified with the power of SPF 30. The matte sunscreen is ideal for oily skin as in comparison with the regular lotion based sunscreen this has matte texture. After applying this will not give a greasy film on the skin rather makes skin feel matte. It helps to give protection against a broad spectrum of UV rays. The oil free sunscreen gets into the skin nicely and helps to create a layer that protects the skin.
Pros
Suitable for oily skin and acne prone skin
Gives a matte finish
Oil free formula
Texture is easy to blend and skin feels non oily
Combination skinned ones can also try this VLCC sunscreen
Has Ayurvedic ingredients hence suitable for oily skin
Cons
Can make you sweat when you are in hot and humid atmosphere
Price
115 rupees for 30gm
5. VLCC Punarnava Astringent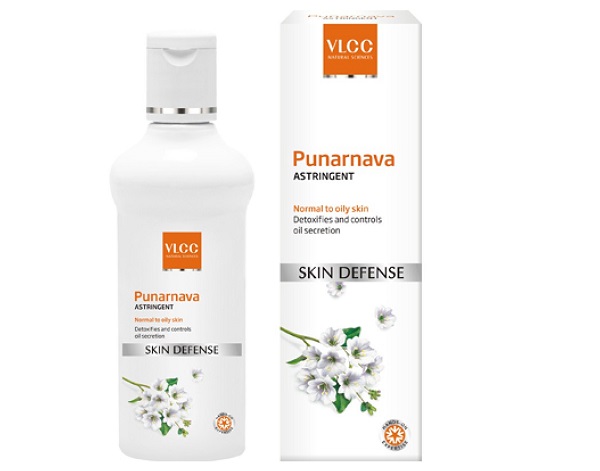 VLCC Punarnava Astringent is appropriate for the oily skin as this cleanses the superficial oils that we have on the skin.  This is made with all the herbal ingredients like Almond, Lemon, Honey and Aloe Vera. Astringents are used after the cleansing or once you have used a proper face wash on your oily acne prone skin. You can try this to further get rid of the oils. Its extracts deep cleanse, tone and refreshen up the skin. Open pores are also a beauty concern for oily skin and it helps in tightening pores and also works as an antiseptic astringent thereby preventing breakout of pimples in oily skin.
Pros
Works as an Antiseptic Astringent
It tightens pores
Detoxifies the skin
Deep cleanses the skin
Cons
Stings a bit on pimples
Price
140 Rupees for 100ml
Best skin toners for oily skin in India
6. VLCC Skin Defense Mud Face Pack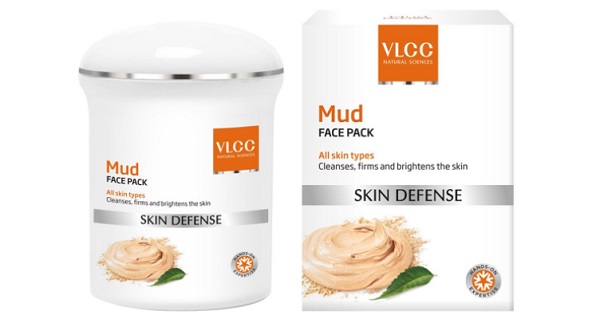 Mud packs are considered to be the best pack for oily skin and acne prone skin. Mud or clay as we say are rich in minerals and oil absorbing properties. Oils are fully absorbed with the use of mud facial packs This is a why a lot of companies make products like multani packs etc. This VLCC Skin Defense Mud Face Pack is enriched with Kaolin, Turmeric Extract and Mint Oil. Turmeric will help a lot in getting rid of the marks and acne while mint oil heals the dark spots, blemishes and pimples.
Pros
Has mint oil, turmeric and kaolin clay
VLCC Mud Pack improves the blood circulation
Removes deep seated impurities and toxins of the skin
Tightens the skin pores
Cleanses, firms and brightens the skin
Cons
Dries the skin a bit
Price
220 rupees for 70g
7. VLCC Insta Glow Herbal Bleach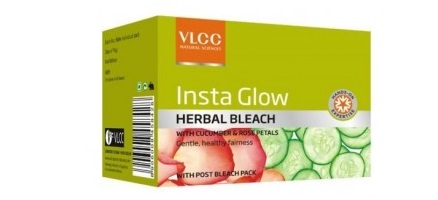 Skin bleaching gives a fair skin by discoloring the unwanted facial hair. For oily skin herbal bleach creams are considered good as when you have face prone to acne, herbal concoctions are the best. This is also one of the best VLCC product for oily skin. Even for the acne prone skin herbal bleach cream is safe to be Safe to be used. This bleach not only lightens your facial hair but will also deep cleanse the skin impurities and sun tanning. It is enriched with herbal extracts of cucumber, seaweed and tomato that act as vial nutrient for the skin. Best Bleach creams for oily Skin
Pros
Has cucumber tomato and seaweed which are beneficial
Lightens the skin gently
Is safe for sensitive and oily skin
Suitable for acne prone skin as well
Price is inexpensive
Cons
None
Price
27 g for 55
8. VLCC Neem Face Wash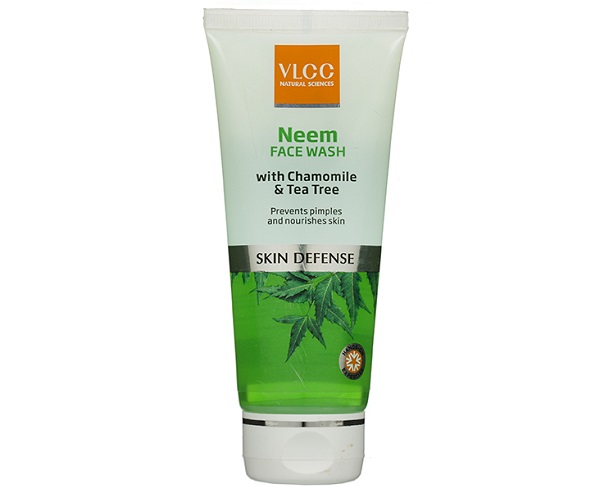 VLCC Neem Face wash is one of the most used face wash for oily skin. Neem is ideal for keeping the skin oil free and pimple free. Neem face wash are extremely helpful when you have pimples. Do you like using neem to balance the skin's pH and to eliminate the pimples. Then you should try it.
Pros
Removes dirt, oil and makeup
Prevents pimples and acne
Deeply cleanses and nourishes the skin
Has Chamomile and Tea Tree
Suitable for daily use
Price
45 rupees
9. VLCC Melia Face Wash Normal To Oily Skin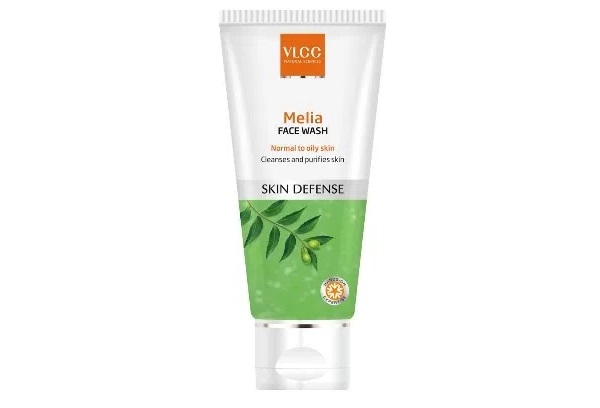 VLCC Melia Face Wash is made with the beneficial Melia extracts. One fat about melia is that this will cleanse the skin layer without over drying it. It aids in controlling the acne and pimples on the skin and skin looks a lot clear when the oils are removed. Moreover the brand says that it also has the Vitamin C that lightens the skin tone and dark spots on oily skin.
Pros
Cleanses the oily skin gently and thoroughly
It is suitable for normal to oily skin
Gives protection against pimples
Reduces pimples and dark spots
Price
140 rupees for 80 ml
10. VLCC Papaya Fruit Facial Kit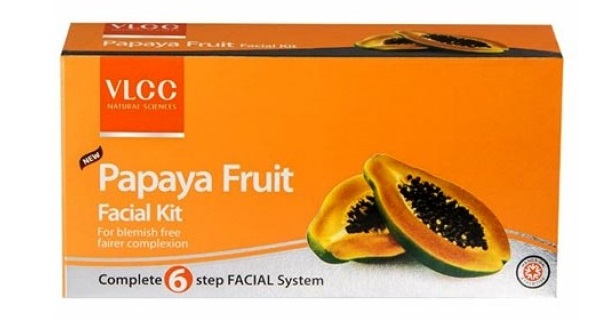 Have you thought about trying facials for oily skin. Yes, facials like fruit facial are appropriate for the oily skin so that the oils acne removed and skin marks are also cured.  You can certainly get a glowing skin which has the dewiness. While heading for a party you can try a kit like that to get the maximum glow. This VLCC Papaya Fruit Facial Kit has the contents like the Papaya Seed Scrub, Cucumber gel, Peach Massage Cream, Orange Anti-tan pack and Green Apple Skin Guard Lotion. The fruit loaded facial kit is ideal for all the skin types but as fruits are rich in Citric acid this will be wonderful or the oily skin and acne prone skin. We have also listed this in our article on best facial kits for oily skin available in India
The best ways to get the benefits of the fruit facial is that this kit will help to treat the dark spots, oil clogged pores on the skin and also the blemishes on the face.
Duration:
The duration can be once in a 15 days which will give the adequate benefits of using the fruit facial.
Price
250 g for 60g
So, these were the Best VLCC products for the oily skin available in India. Have you tried any of these? Which is your preferred one?