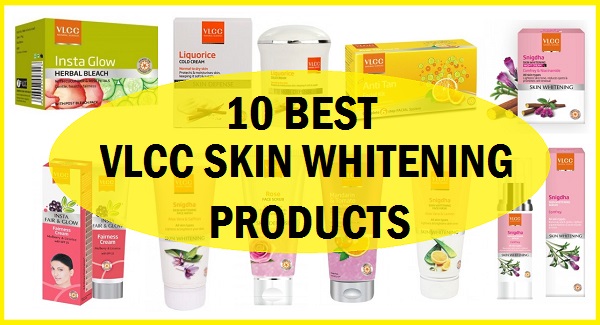 VLCC Skin whitening products. VLCC is a immensely popular brand that makes skin care and hair care products. In this post, we have compiled a list of the fairness or skin whitening products by VLCC. Skin whitening can be achieved by homemade remedies or by using the products that helps you give that. Such products can be face wash, cleansers, skin creams, lotions serums or even the whitening face masks. Let' see which these products are.
10 Best VLCC Skin Whitening Products In india with Reviews
1. VLCC Insta Fair and Glow Fairness Cream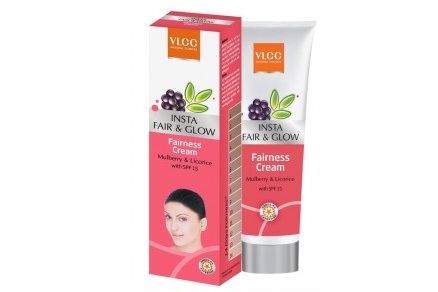 VLCC Insta Fair and Glow Fairness Cream is an instant fairness cream which is enriched with Mulberry and Licorice extracts. It lightens the skin tone and makes it glow. This VLCC Insta Fair & Glow Fairness Cream is easy to get absorbed and is ideal to remove the sun tan and re-energizes the skin.
Pros
Skin lightening cream which is ideal for dull and dark skin
It prevents the skin darkening
Works on the uneven skin tone and re-energizes the skin
It inhibits the melanin synthesis and reduces dark spots
Has SPF 15 to protect the skin from harmful UV rays
It has mulberry to work as a skin lightening and anti-ageing agent
Liquorice root extract gives skin whitening benefits
Inexpensive
Availability is good
Cons
Can be greasy for the oily skin at times during summers.
Price
90 rupees
Best VLCC products for Oily skin in India
2. VLCC Liquorice Cold Cream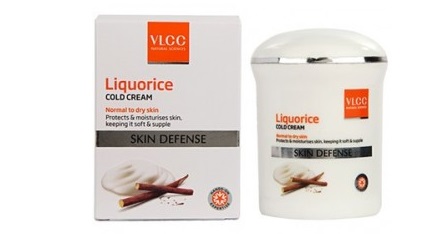 VLCC Skin Defence Liquorice Cold Cream is for winter skin fairness. In winters, your skin needs moisturization and when a cold cream has licorice as one of the ingredients that this will give you two benefits i.e. moisturization and skin whitening. This has SPF 10 therefore you can casually apply this during the day time as well. The smell is nice and no over powering which means no stress on your sensitive nose. The texture is easy to get absorbed but for oily skin the licorice cream can be slightly heavy when applied for the day time.
Suitable for
All skin type except for oily skin
Price
115 g for 50g
3. VLCC Snigdha Skin Whitening Face Wash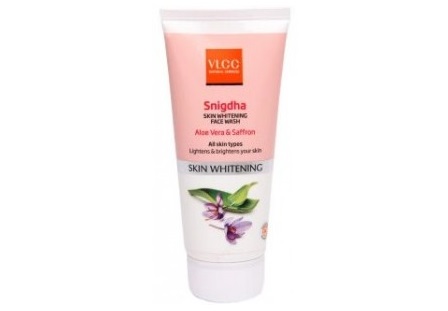 VLCC snigdha has this entire range of skin whitening products and this snigdha face wash is a creamy face wash which lathers a lot. This skin whitening cleanser works on dark spots and black marks on the skin and therefore gives a glow. The cleanser is suitable for all skin type and for dry skin it can be slightly drying. It is able to dislodge the hidden impurities and oils to make the skin appear brighter.
Suitable for
All skin types except for very dry skin as this is slightly low on the moisturization
Price
155 rupees for 100ml
4. VLCC Skin Defence Rose Face Scrub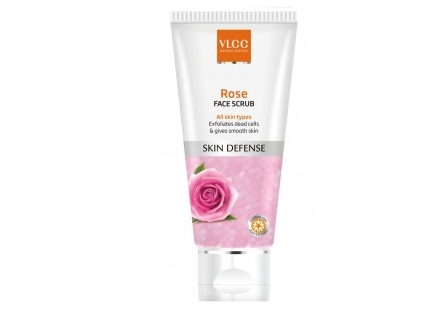 Have you thought this that when your skin is free from the debris and dead skin cells, it appears glowing and brighter? This is exactly true. VLCC Rose Face Scrub has been specially formulated with deep purifying and cleansing properties of the rose. The gel based face scrub has minute rose particles and crystals that exfoliate the skin. The particles are not too abrasive hence this can be used every other day when your skin is extremely oily during summers. This will scrub the impurities and dead skin to reveal fairer looking skin. This is also an ideal face scrub for girls and boys who have got dry or sensitive skin.
Pros
Ideal for sensitive skin
Can be used on acne prone skin as well
Gel based scrub which does not make the skin dry post scrubbing
Nice pleasant smell
Gently exfoliates
Has pleasant fragrance that stays on your skin for long.
Contains extracts of Aloe Vera and Rose for deep cleansing
Cons
None as such
Ingredients
Rose Seed Powder, Aloe Vera and Walnut extracts
Price
155 rupees 80g
5. VLCC Mandarin and Tomato Natural Fairness Face Wash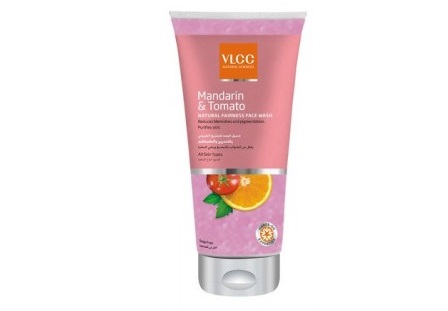 Another VLCC skin whitening face wash is the one. For fairness and glow the VLCC mandarin and tomato face wash is a natural face cleansers with the goodness of both. VLCC Mandarin and Tomato fairness face wash is a soap free products which is not harsh on the skin. Mandarin is a citrus fruits which actually revives the dull looking complexion and tomato is rich in lycopene which lightens the blemishes and also brightens the dull skin complexion. You may have also know that tomato is also quite handy and beneficial in removal of sun tan. So, this will make the skin fairer and gives relief in dark spots  and acne marks.
Pros
Soap free cleanser
Ideal for all skin types
Has Mandarin and tomato
Reduces blemishes and pigmentation
Lightens skin tone
Cleanses the skin of impurities
Ingredients
Mandarin oil and tomato seed extract
Price
90 rupees
6. VLCC New Anti Tan Facial Kit

Facials are another brilliant way to brighten the facial skin and revive the dull and tired complexion. Have you noticed how a facial can boost the skin's fairness and skin appears brighter. Yes, this is the major benefit of skin facials. VLCC Anti Tan Facial Kit is a home facial kit which targets the sun tanning. This kit can be used by everyone at home to combat the effects of sun tanning like pigmentation, dullness, skin darkening etc It is rich in the natural ingredients like the remedy for tanning. Pistachios, Nutmeg, Oatmeal and Cucumber. It also contains Aloe Vera and Winter cherry extracts that gives the whitening and fades the black spots and sun posts. College going girls too can try such a facial kit once in a month to keep the skin in best state.
The facial kit includes:
Comfrey Cleanser cum Toner
Oatmeal Scrub
Melawhite Gel
Pista Massage Cream
Melawhite Pack
Oil Free Moisturizing Gel
Price 250 rupees
7. VLCC Snigdha Skin Whitening Serum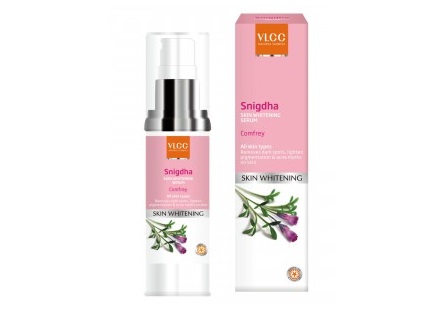 VLCC Snigdha Skin Whitening Spot Fading Serum is made with the years of research to target problem areas on the skin like dark spots, pigmentation and acne marks. The serum is extremely light weight that gets into the oily and combination skin without making the skin appear greasy even in hot summers. Serums like these are appropriate for all round the year as they are non oily in nature. It effectively inhibits melanin formation and as a result of skin appears even toned and bright.
Pros
Gets into the skin layer thoroughly
Won't weight the skin
Skin feels bright
Stops too much of the darkness pigment called melanin
Cons
Can be expensive
Price 405 rupees
8. VLCC Snigdha Skin Whitening Face Mask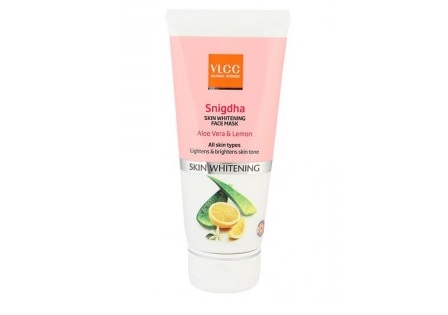 Along with the facial creams and cleansers, face mask also works to make the skin brighter and whiter so, here is the another VLCC skin whitening product which is VLCC Snigdha Skin Whitening face mask which is made keeping in mind about the benefits of Aloe vera and Lemon extracts. The Whitening facial mask gives 2-3 times brighter skin and also even tones the skin.
Suitable For
All skin type
Ingredients
Glycerin, Bentonite, Zinc Oxide, Lactic Acid, Niacinamide.
Price 155 rupees
9. VLCC Snigdha Fairness Day Cream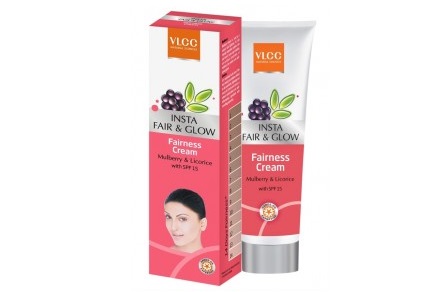 VLCC Snigdha Fairness Day Cream is rich in the skin-lightening elements like Liquorice and Wild Turmeric along with the extracts of Mulberry and Lemon Peel. These help to lighten the spots on the facial skin and excessive melanin formulation by the skin cells. It is wonderful to know that when the skin melanin is reduced the skin naturally looks brighter and less dark. The cream is non greasy but feels little bit oily when used in summers on oily skin.
Pros
Lighten the skin
Fades the dark spots
Skin appears brighter
Reduces pigmentation
Cons
Slightly greasy on oily skin
Price 405 rupees
10. VLCC Snigdha Skin Whitening Night Cream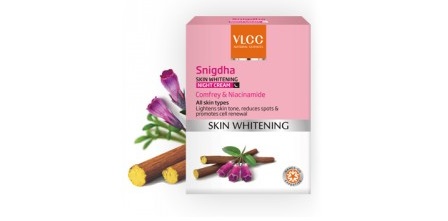 Night time is the best time to give a boost of moisturization and nutrition to the skin. Do you know that at night the skin repairs itself. The dust pollution and sun exposure that has created havoc for the skin, their effects are minimized during the night time only. Therefore, a good skin whitening night cream is a must have if you are using a skin whitening range. VLCC Snigdha Skin Whitening Night Cream is a non-greasy skin cream that reduces the appearance of dark spots and whitens the skin by removing the uppermost sun tan.
Ingredients
Trehalose 100, Symphytum Officinale Extract (Comfrey), Niacinamide, Olive Oil, Almond Oil.
Price 450 rupees
These are the best VLCC skin whitening products that you can use if you like this brand.