Best Ways to get rid of Chest Acne and Scars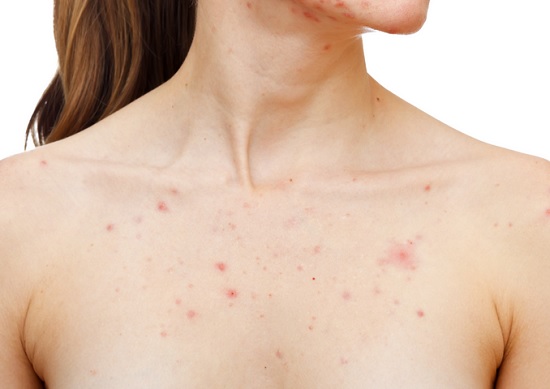 Our skin is one most of the sensitive part of the body. This is in fact the largest organ in our body. All of us wish to achieve a healthy and brighter skin. But our skin reacts to every change arises in the weather and environment. The sunny days lead to excessive oil and sweat in the body. Hot climate develops problems like itching, pimples, oiliness, rashes and skin burns. It is very difficult to buy the right products as per the skin needs. In some people you may have noticed that due to excessive heat and humidity, tiny pimples arises which are called as chest acne. Chest acne is one of the common skin problems arise in summer.
So, if you have been thinking of some home remedies and easy ways to get rid of chest acne then this post will be helpful.  Let's have a look on how you can remove and treat chest acne easily at home.
Remedies and tips to treat chest acne fast
Rose water:
Rose water removes dirt and oil from the skin and retains required moisture in it. It gives a cooling sensation after every application. Use it every day on the chest to remove acne naturally. You can also put few drops of tea tree oil in the rose water so that it can help reduce the bacterial and fungal infection faster.
Natural Antiseptic skin toner:
Make a homemade anti septic skin toner that will remove your chest acne quickly.
Ingredients:
½ cup of rose water
3 spoons of cucumber juice
2 spoons of rose water
1/2 spoon of tea tree oil or Neem oil
Recipe:
Mix all the liquids together and pour in a spray bottle

Take a small ball of cotton

Take some natural toner on it that we have made.

Now, apply on the chest gently.

For best results, use it in the night or day whenever you get sweat on the chest area.
Packs to treat Chest Acne and Chest Acne Scars
Packs are very effective in curing the scars and marks from the body. they will revive the skin and by accelerating your cell renewal rate, packs will lighten the scars.
Gram flour and turmeric
Gram flour is used for removing excessive oil and dead cells. It is one of the best skin exfoliator. It prevents acne and blemishes. Turmeric also contains anti-inflammatory and antiseptic agents that kills the bacterial infection.
How to use?
Take 2 tablespoons of gram flour

Add 1/4 spoon of turmeric powder.

Add some water and make a smooth paste.

Apply on the chest area and keep it up to 10-15 minutes.

Wash it with cool water.
Fuller earth and cucumber
Fuller earth actually removes acne and extra oil from the skin. Cucumber consists 70% of water and it makes the skin fresh. It is also anti-bacterial that reduce the risk of acne. Neem is a great anti bacterial natural products that kills the acne spreading microbes.
How to use?
Take 2 1/2 spoons of fuller earth

2 tablespoons of cucumber juice

Add some rose water(optional)

Mix all the things and make a pack

Apply on the acne prone area and remove gently after it dries out.
Oatmeal and gram flour homemade remedy
Oatmeal is the best source of fiber and proteins. It removes all the dead cells from the skin and gently treats acne naturally. Oatmeal and gram flour are the perfect remedy for preventing acne and itchiness from the chest. Using this pack twice a pack to get optimum results.
How to use?
Take 1 cup of soaked and boiled oatmeal

2 tablespoons of gram flour

Add 1 tablespoon of tomato juice

Add some water as required

Mix all the things slowly and make a smooth paste from it

Now apply this pack on the acne prone area and keep it until it dries

Lastly, wash it with cold water and get instant result.
More tips to get rid of Chest Acne
Here are some more tips that can help you get rid of the terrible looking chest acne and their scars.
Hydrate your body
In summers, you should drink enough water and juices to hydrate your skin and body. This reduces the chances of acne and skin allergies. It will also balance the amount of water, sweat out in this hot hot weather. See: Home remedies for back acne and scars
Wear cool fabrics
To avoid acne on the chest area, change your wardrobe collection to summer fabrics like linen, cotton, rayon and nylon. These fabrics allow air to pass and move freely in the body that reduces sweat and bad odor on the skin. Wear loose fabrics as tight clothes also makes skin difficult to breath and hence more sweat comes.
Bathing
Take bath twice a day to get clean and fresh skin. It is really important to stay clean in summers to avoid bacterial growth. Moreover, bathing is one of the best ways to stay and feel fresh in summers.  To remove chest acne, clean your chest area nicely while bathing with an anti bacterial or medicated soap. For Eg: Medimix, Dettol, Llifebouy, Patanjali. Alternatively, use a body cleanser with contains natural extract like Rose water, mint, cucumber, neem, tea tree extracts  etc. This can be easy remedy and chest acne treatment.
Skin powders for chest acne
In order to get rid of chest acne faster you can also use some anti bacterial and anti fungal powders that are available in the market. You can apply that on the chest at night and overnight these powders will work to treat your acne on the chest. Moreover, this will also soothe the rashes. You can also use Brands like Dermicool or Candida dusting powder. It acts on the bacteria and reduce the size of chest acne in a few days.
These helpful ways will definitely treat the chest acne scars and marks from the body. You should be consistent in trying them and make sure to keep the skin area clean.
If acne, scars, marks and pimples is your major concern then do read about the acne related articles
How to use Garlic for Acne and Pimples
Tulsi To treat Pimples,  Acne and Scars
Neem face packs for clear Skin
Neem Packs for Pimples and Dark Spots
Written by Ratna Balani