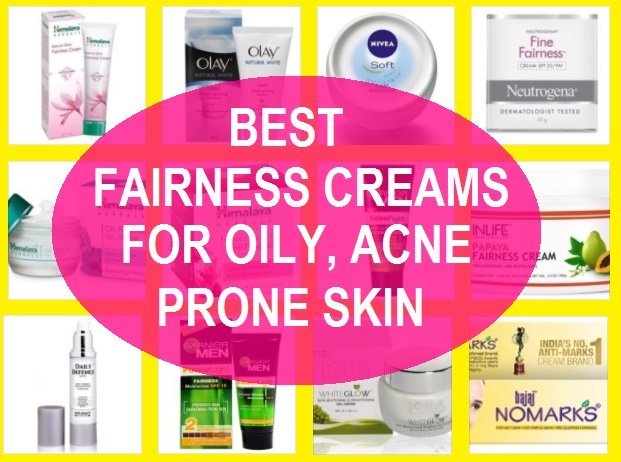 Best Fairness Cream for Oily Skin, Acne Prone skin and Combination Skin
Is your skin oily and acne prone? When  the skin is oily and prone to pimples, the first thing you think of is to get rid of the oils. Then you think of getting back the brightness since oils and sebum make the skin dull. In summer season as well, our skin gets tanned and more oils are also produced hence, these two problems can make you look darker than you are! So, how to get fair skin and which is the best skin whitening cream for oily face? The answer is simple. There are so many fairness creams available in the market which are dedicated for the oily skin and have got the non-comedogenic formulas. Fairness creams for oily and acne prone skin should be oil controlling and non greasy. Such creams have bleaching agents which can make the skin tan get lighter over the time. Oily skin gets blackheads, whiteheads and in summers the too much of oils can be quite problematic.
Best Fairness Cream for Oily Skin (2022)
So, if you are suffering from the excessive oil and sebum problem, then the acne can be the worst problem. The options of skin lightening and fairness creams that you get here in this list, can be bought from the online shopping and in your stores.
So, here is the list of the best fairness cream for the ladies and gentlemen in India.
1. Pond's White Beauty Anti-Spot Fairness Cream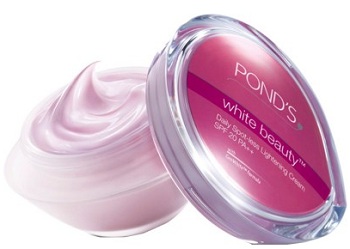 This fairness cream is quite popular amongst the Indian masses and classes. It is one of the best selling fairness creams in India. Even Boys will not shy away from trying this cream. This variant is an anti-sot one, This means that this Ponds fairness cream is a spot lightening cream that works on the dark spots and blemishes on the skin. It also contains the UV rays filters and it made using the Pro vitamin B5 to enhance the dull skin tone. It brightens the oily and dark skin effectively.
Price: 140 Rupees for 35ml
2. Wow Fairness Cream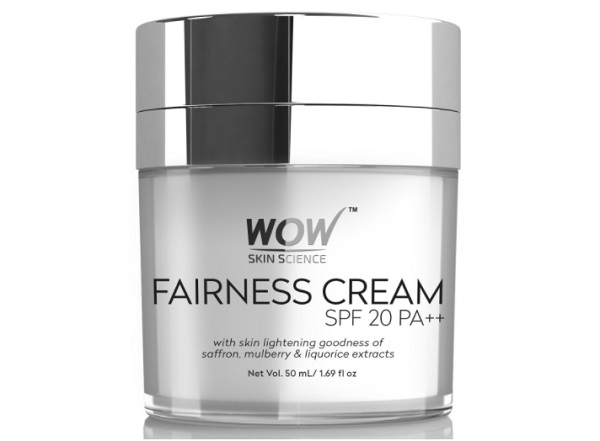 Wow brand is a new entrant in the Indian market. The brand offers various skin whitening products like creams, serums and others tuff. This WOW fairness cream has the scientifically proven. And is a safe choice for the women out there with dark skin. It has the moisturizing ingredients like the goodness of shea butter and cocoa butter along with saffron. It revives a dull and shallow complexion and you can rely on it for that. The formula is slightly extra moisturizing. Hence, it is a fairness scream or combination for winters rather than during summers for oily skin. It's a suitable fairness cream for dark skin . 
Price: 999 Rupees for 100 ml
3. Olay White Radiance Advanced Fairness Cream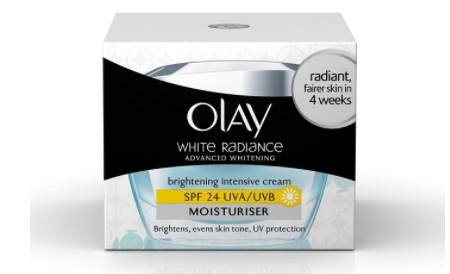 Olay is also a popular brand and their product sells like hot cakes. It is a trusted brand that makes products for fairness and anti aging. The cream is a bit expensive but give that advanced fairness by lightening the dark spots, marks and lightening the overall skin darkness. It has sunscreen for UV shielding and has the formula that gives glowing skin within few uses though for the skin brightening you have tube a bit patient.
Price: 899 Rupees for 50g 
4. Oshea Herbals Cocowhite Fairness Cream

Oshea iis a promising brand with product very affordable and easily available online. Offline availability though does not seem easy. Oshea Cocowhite fairness scream can be said as one of the best fairness cream for oily skin and combination skin for the winter season. With "coco" term do not assume that it will be greasy but it has a nice texture which blends like a smooth velvety mousse on the face. It does not make skin greasy but actually fairer from the few applications. It makes the skin look younger and a lot brighter with the subtle glow.
Price: 360 Rupees for 50g
5. Garnier Skin Naturals Light Oil Free Daily Fairness Moisturiser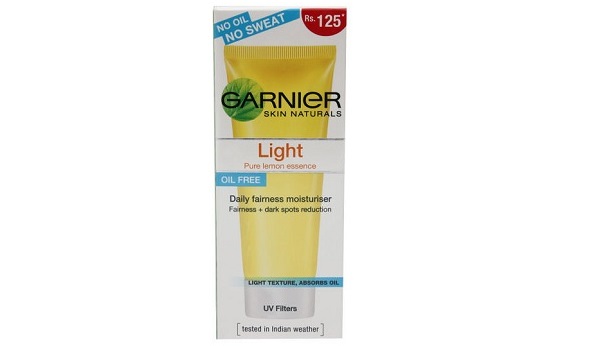 Garnier Light Oil Free Daily Fairness Moisturiser is an oil free moisturizer. Therefore, it formula is non greasy and non sticky. You can apply this once in the morning and then in the evening to retain the fairness. This is not just a fairness moisturizer for oily skin but is also a dark spot solver. Yes, the cream lightens those dark spots and makes the skin free of the blemishes and black marks. The richness of the pure lemon essence in this fairness product has Vitamin C. Vitamin C is known to lighten the spots. It is formulated for Indian weather by the way.
Price:125 rupees for 50ml
6. Lotus Whiteglow Skin Whitening & Brightening Gel Crème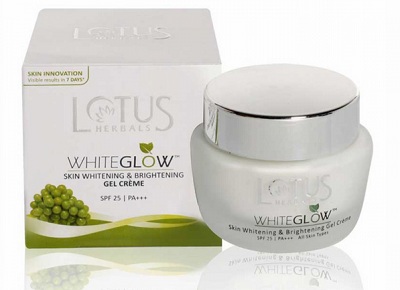 The gel cream depicts that the cream has a texture that is creamy light weight gel. Gels formulas have proven to be one of the best for the oily and acne prone skin. This Lotus Whitening gel has the power of the Saxifraga, Mulberry, grape extracts along with the milk enzymes like lactic acid. This is one of the best fairness creams for oily skin and dark skin. Moreover, the cream is very affordable and its availability is also not an issue. It does not give you matte skin but a dewy glowy skin. It can be used in summers and winters both.
Price: 390 Rupees for 60g
7. Lakme Perfect Radiance Intense Whitening Day Fairness Cream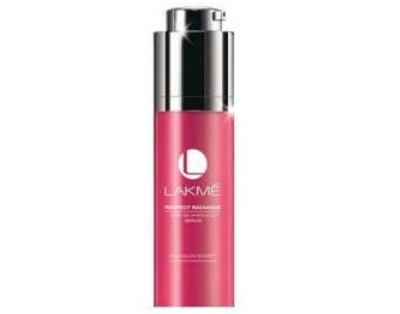 First of all, the pump packaging makes us love this fairness cream for oily skin even more. Pumps can be so hygienic! This day fairness cream is suitable for oily skin and normal skin. Moreover girls with combination skin can also apply it during the summer time. It is made using the skin brightening vitamins like Vitamin C, B3 and Chronosphere Vitazyme C.
Price: 360 Rupees for 50g
8. Himalaya Herbals Natural Glow Fairness Cream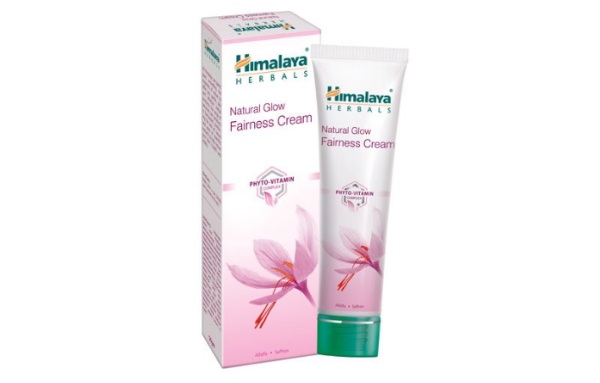 Himalaya cream is a cream that is based of herbal Ayurvedic formula and extremely affordable price. Yes, Himalaya fairness cream is the best for oily skin in terms of effects, results and money as well. It is very easily available and is a good product. This Ayurvedic cream has skin brightening properties as it cures the dull and dark spots on the face. Regular twice in a day application also boost the lightening of hyper-pigmentation. It lacks the bleaching agents hence is pretty safe for sensitive skin too.
Price: 80 Rupees for 50g
9. Biotique Dandelion Ageless Lightening Serum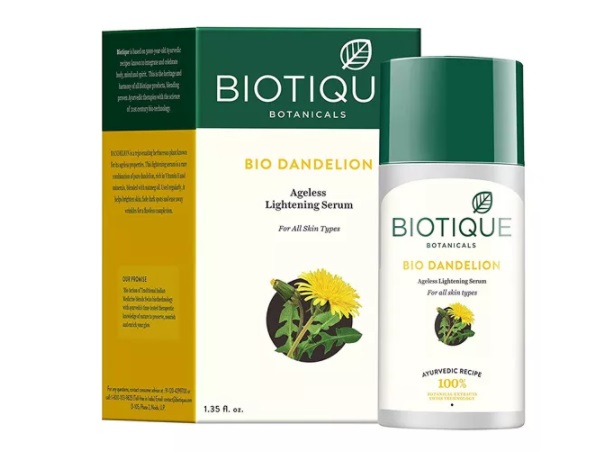 How about a skin lightening serum, Yes, serums are good to hydrate the skin and to lighten the face. Serums are non greasy and light weight hence, skin whitening serums can be just amazing for oily skin and acne prone skin. One you have oily skin, then we will advise you to apply water based products. Biotique Serum has Dandelion and quince seed extracts that improvises the dark an dull skin. It also has nutmeg that can lighten the dark spots, marks and dullness.
Price: 230 Rupees for 40 ml
10. Olay Natural White All in One Fairness Day Cream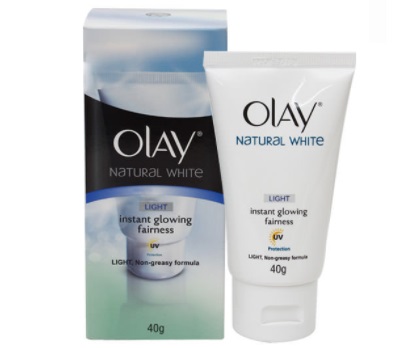 The day fairness cream for oily skin is like a tailor made. It comes with a non greasy and ultra light weightless formula that can make your skin glow and remove the dullness. The cream works in around 2-3 weeks and in that time it can do quiet effectively. Like to improvise the dark spots appearance, getting rid of the dullness, lightening the sun tan etc. Our vote goes to this cream since this is very affordable non comedogenic, easily available and is suitable for men and women of all age groups. It is a perfect day whitening cream for oily and acne proven skin type skin India.
Price: 399 Rupees for 50g
11. Blue Nectar Ayurvedic Lightening and Brightening Cream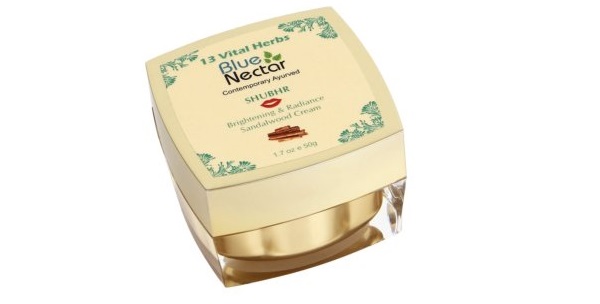 It is a comparatively new brand but effective. This Blue Nectar Ayurvedic Lightening and Brightening Cream is an Ayurvedic fairness cream for oily skin and normal skin types. It is laced with the 13 herbal that are bound to make the dark skin fairer by at least a few shades. It brightens the skin and also boosts the natural cell repair system by promoting the cell renewal.
Price: 795 Rupees for 50g
12. Fair & Lovely Fairness Cream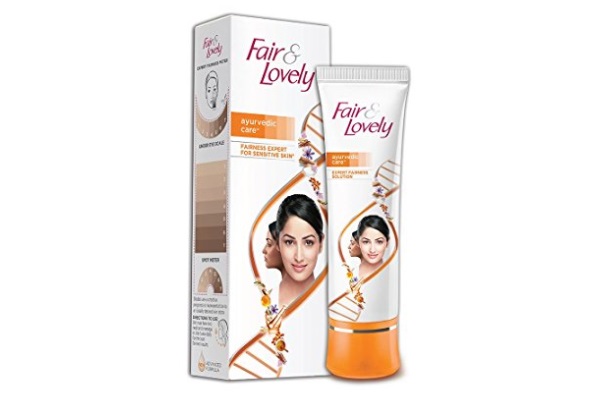 Hands down! This Fair & Lovely cream is the most popular and well known. You may have seen everyone using this few years back when the other fairness creams were starting up. This is a decent cream for oily to normal skin but not for the acne prone skin types. In winters the cream can give that matte visibly fair look on the skin but in summers it is not able to control the oils and skin look greasy afterwards.
Price: 135 Rupees for 80g
13. Clean and Clear Fairness Cream
Clean and clear fairness cream is more suitable for oily skin as it lacks the hydration that dry skin needs the most. It can transform the skin that looks dark into lighter but not helpful for the pores on the face as the cream is thick and settles in the skin pores. Hence, if you have open pores then skip this cream. Plus point is that the fairness cream contains SPF for UV protection for the day time.
Price: 120 Rupees for 40g
14. Lotus Fairgel Liquorice & Green Tea Fairness Gel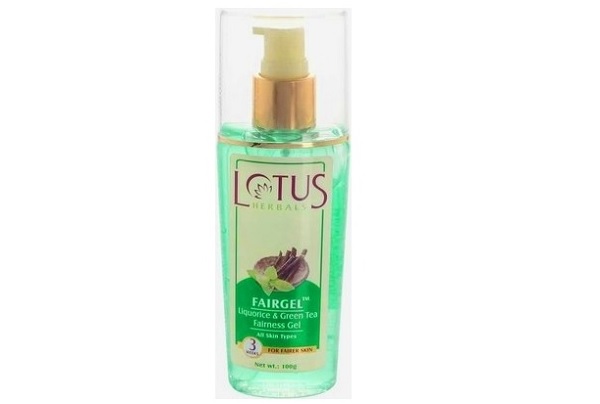 Like we said, serums are good for oily skin, similarly gels are wonderful. They not only give you beautiful fair skin but also solves your biggest concern of getting greasy face after the application. It can be used by oily skin, combination skin and the acne prone skin. For fairness, the gel has licorice that is skin lightening agents and Green tea, that is rich in the anti-oxidants that also prevent the premature skin aging.
Price: 120 Rupees for 50 ml
15. Garnier White Complete Speed White Cream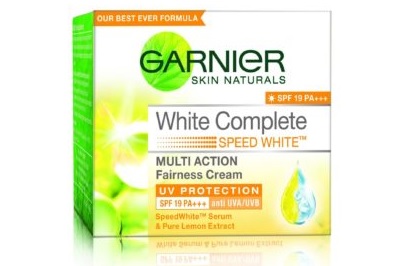 Garnier is yet another famous name in the skin care and teenagers like this brand a lot. This is affordable and very easily available. The skin whitening cream has the powerful essence of lemon that brightens the complexion by giving mild skin peeling. It also protects the skin from the sun thus acting as a natural sunscreen.
Price: 85 Rupees for 50 ml
16. INLIFE Natural Papaya Fairness Cream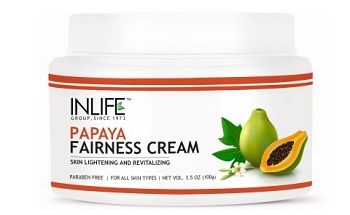 INLIFE Natural Papaya Fairness Cream is a paraben free cream for oily skin. It has primarily for the purpose of skin whitening, sun tan removal and also for reducing the dark spots on the face. It has the papaya extracts that are considered as an angel fruit which helps to lighten the dark skin tone and also even toned the skin from the pigmentation and patches.
Price: 250 Rupees for 50 ml
17. Garnier Men Oil Clear Fairness Cream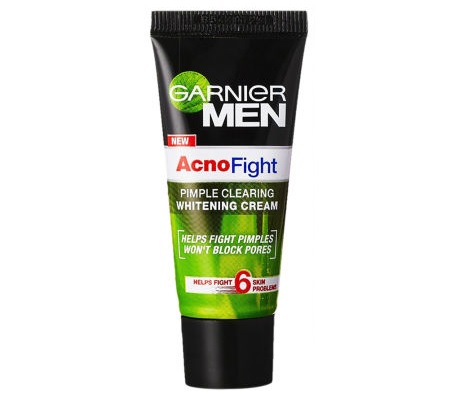 Not just women, men too need skin whitening and therefore, products for men are also made. This fairness product is the Garnier Men Oil Clear Fairness Cream, A good fairness cream with oil control features is appropriate to keep the skin oil-free and fair. It has oil absorbing clay and minerals that lightens the skin.
Price:250 Rupees for 50ml
18. Himalaya Oil Free Radiance Gel Cream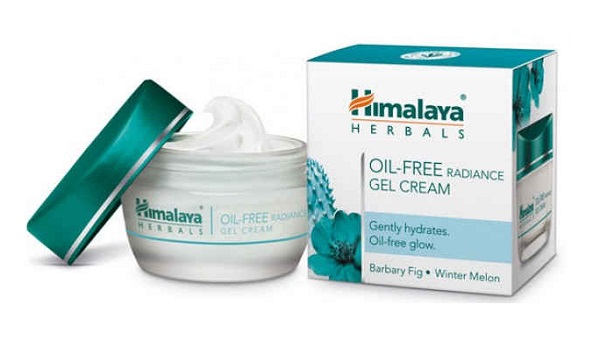 The fairness cream has come from the manufacturer of Himalaya herbals. It is a small quantity pack of 50gm which you can purchase for a try. Once you are satisfy with the product, you can easily go for larger quantity. You can now get the product in an online store. You can easily get it with the click of your mouse button. It will hydrate your skin and enhance the glow.
Price: 185 Rupees for 50 ml
19. Nivea Men Oil Control Moisturiser
Another Oil Controlling fairness cream for men with oily face is from Nivea. Yes, Nivea is a pioneer in Men's skin care products. This is extremely light and makes the skin fairer over the time. If darkness on the skin is bothering you then application of this daily moisturizer can help you.
Price: 95 Rupees for 25 ml
20. Neutrogena Fine Fairness Cream
Neutrogena Fine Fairness Cream is for all skin types but its non sticky texture is suited better for the normal to oily skin. This moisturizing whitening cream has the SPF 20 that shields from the UV rays and restores the skin tone. It is loaded with the Revolutionary Healthy White Complex that contains essential SoyTM, Vitamin B3, Vitamin C and Portulaca blend. It efficiently treats the dark spots and lightens the skin tone by decreasing the melanin formation.
Price: 250 Rupees for 50 ml
These are the best fairness creams and skin whitening creams for oily skin and acne prone skin. These can be used by boys and girls both. Rest you can choose the best cream according to your budget and skin type. Have you used any of these? Which is your favorite? Do comment and share!