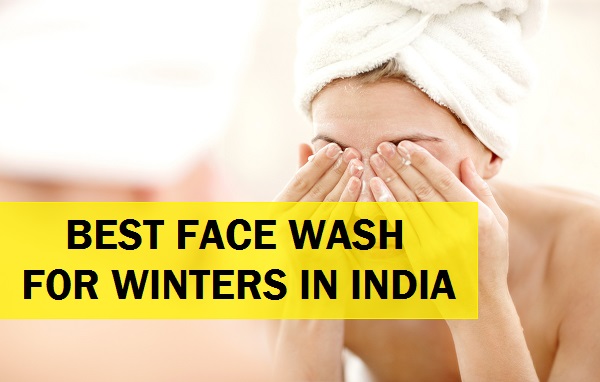 10 Best Winter Face Wash for Dry skin, Oily Skin in India
Facial skin cleansing is an important part. When we get up in the morning, we do wash our face. In winters, the skin gets dry therefore people try to use facial cleansers or winter face wash that has moisturizing texture and formula. To control and heal the winter dryness, face wash which are hydrating and creamy are more suitable. Even for the girls and boys with oily skin, the cold winter season brings the dryness. So, oily skinned ones too need face wash for winters. In this article, we have compiled a list of those best face wash that can be used in winters without making the skin dry. When the skin gets dry, it looks ashy and dehydrated which also makes the skin dull and lifeless. Using a moisturizing facial cleanser is the first step towards getting a glowing skin in winters.
Top 10 Best Face Wash for Winter in India
If you are thinking which is the right face wash to be tried for winters? Then this can be helpful. We have also shared some homemade natural face wash that you can read. The list includes the cleanser that are suitable for oily skin. Oily skin get a bit dry in winters so needs a face wash which should not make skin too dry or too oily.
1. Lakme Blush & Glow Strawberry Gel Face Wash
Lakme Blush & Glow Strawberry Gel Face Wash comes with hydrating gel texture which can easily cure the winter dryness. The gel formula is loaded with the fruit extracts therefore once used the facial cleanser won't give you dry patches. For oily skin too, this face wash act as a good facial cleanser for the cold season. While for very dry skin you should check the other options.
It is specially formulated by Lakme salon experts

The Lakme face wash is enriched with goodness of rich strawberry extracts that is high in the skin lightening ellagic acid.

Other than that, the fruit anti-oxidants and beads spread in this face wash cleanse your skin nicely by eliminating and dislodging the impurities.
Price: 110 Rupees
2. Himalaya Moisturizing Aloe Vera Face Wash
When it comes to the skin moisturization aloe vera is one of the most used natural products. You must have seen this plant gel being used in so many skin care products. Aloe vera face washes are highly popular amongst the people with dry skin in winter season. The gel is moisturisation and has a miraculous skin dry patches healing properties. Himalaya aloe vera face wash is a creamy face wash which is very delicate and gentle in texture. It lathers well and helps to cleanse the surface of the dirty skin thoroughly. It is suitable for all the skin type and people of all ages due to its aloe vera content. The price too is in budget as it is for 110 rupees for a 100g tube. We find it quite useful. The creamy winter face wash from Himalaya is rich in enzymes, polysaccharides and nutrients. It has wonderful hydrating, softening and intense moisturizing properties. Himalaya aloe vera face wash is a soap free cleanser that is recommended for the dry skin.
Price: 110 Rupees
Patanjali Neem and Aloe Vera Face Wash
3. Biotique BIO Honey Gel Face Wash
Biotique BIO Honey Gel Face Wash is a gentle face wash which is filled with the richness and properties of honey. Honey or shahad is a very delicate and healing product that occurs in nature. It is a natural moisturizer for skin. Honey is used in a lot of different dry skin products. Even for the dry hair, honey can be useful. This Biotique face wash has honey along with the bark of the arjun tree, euphorbia plant and wild turmeric. Wild turmeric also brightens the skin complexion. It is a gentle creamy 100 percent soap-free gel face wash.
Ingredients:Arjun (Terminalia arjuna), Chhoti Duddhi (Ephorbia thymofolia), Banhaldi (Curcuma aromatics), Ritha (Sapindus trifoliatus), Honey, Himalayan Water Q.S
Price: 119 Rupees
4. Himalaya Fairness Kesar Face Wash
If you wish to try a face wash with fairness benefits then this is the right fairness face wash for winters. Himalaya Fairness Kesar Face Wash has the skin lightening kesar. Kesar is utilized for the skin lightening and fairness enhancement. This is more like an Ayurvedic face wash which is creamy and hydrating in the formula. It does not dry the skin therefore for the people who are looking for the dry skin cleanser can try it. It gives two benefits: dryness care and fairness. This kesar face wash is also a soap free, natural formulation that brightens the darks kin. It also contains the pomegranate, mint and cucumber which are beneficial or dull skin.
Price: 85 Rupees
Best face wash for dry skin and sensitive skin
5. Fair and Lovely Fairness Face Wash Dullness Off Fairness on Clean Up Face Wash
This fair and lovely face wash ensures a clean skin even in dry winters. This is more for the oily skin rather than the dry skin. It is made from glycerin, myristic acids, and water, the multi vitamin enriched face wash ensures a brighter and cleaner skin. It also revitalizes the skin pores and brightens the skin complexion.
Price: 80 Rupees
6. Lotus Professional Phyto Rx Daily Deep Cleansing Face Wash
Lotus Professional Phyto Rx Daily Deep Cleansing Face Wash is the suitable face wash for all skin types in winters.  It also cures the spots, marks to make the skin complexion brighter. The cleanser can removes pimples and prevents early signs of ageing.
Price: 345 Rupees
7. Clean & Clear Natural Bright Face Wash
Those of us who need gel face wash with the gentle formula can try Clean & Clear Natural Bright Face wash. This face wash is made for the skin problems like dryness, dullness and dark looking skin complexion. It instantly revives the skin revealing the skin's natural brightness. The face wash is made using rose water which is said to brightness and freshen up the dull skin. Natural honey and glycerin help nourish the tired winter skin. This brand is popular amongst the youngsters. Price of this face wash is also very inexpensive, therefore, a lot of people can use this. Availability is also not an issue as Clean & clear is available every where easily.
Price: 65 Rupees
8. Pears Pure and Gentle Face Wash
Pears Pure and Gentle Face Wash is rich in the gentle formula that is enriched with pure glycerin that gently moisturizes the facial skin. It deeply cleanse and wash away dead skin cells. This is a soap free face wash. Natural oils in this face wash keeps the dry skin moisturized even when the weather becomes dry in winters. If you are looking for a mild face wash then this can be considered. Smell is natural and gentle as there is no harsh smell.
Price: 55 Rupees
9. Aroma Magic White Tea and Chamomile Face Wash
Aroma Magic White Tea and Chamomile Face Wash is rich in the white tea and soy milk that hydrates the parched skin. Face washes like these are ideal for oily skin winters. It consist two hydrating yet nourishing ingredients.
Price: 155 Rupees
10.  Lotus Herbals Jojobawash Active Milli Capsules Nourishing Face Wash
It is a nourishing face wash with jojoba, avocado oil and vitamin E. This too is ideal for oily to combination skin in winters. Jojoba oil is light and is a natural skin moisturizer. Avocado oil has a texture and lightness of the natural skin oil hence is safe and highly nourishing. It is also rich in protein and vitamins. Vitamin E moisturizes the dry areas on the face.  This Lotus face wash also contains the active milli capsules which enrich and protect the skin. The Active Milli Capsules burst on the skin when you rub the face wash.
Price: 75 Rupees
These were the top best face wash for winters season that can be used by the oily sin, dry skin, combination skin to keep skin happy.