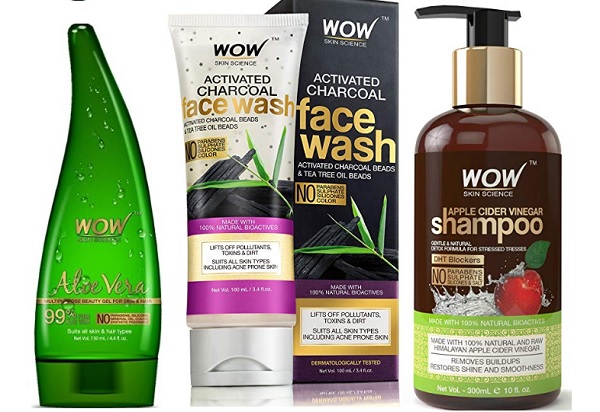 WOW is an Indian skin care brand which is amongst the best paraben free and herbal beauty product brands. The brand has got the highest number o positive reviews from the customers all over India and most o their products are best sellers in their respective categories. Considering that, here we present this exclusive list of the best WOW products for skin and hair in India. Hope you will be able to get your favourite product.
Best WOW Products in India For Skin and Hair
Here is a list that takes you through the best WOW skin science products available in India. They are easily available online on major online shopping portals.
1. WOW Aloe Vera Multipurpose Beauty Gel for Skin and Hair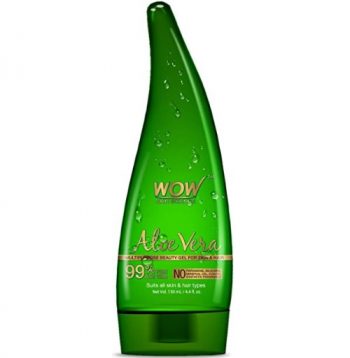 It's the best selling product from this brand. You can use this organic Aloe Vera Gel like a daily moisturizer for your facial skin as well as hair. In fact, a lot of people use aloe vera gel as a shaving lotion. Packed with nutrients like vitamin A, C, E, B12 and Folic acid along with many more, it is one of the best natural ingredients for your beauty. It is paraben and Mineral oil free Aloe Vera Gel brand and is best that we have got. Its packaging is really attractive and it can be wonderful acne prone oily skin as well. It does not contain any artificial smell or colour and has a perfect consistency. Also it can be your moisturizer for summers and winters to keep the skin. The 99% pure Aloe Vera Gel it is one of the best high quality gels that we have. Applying it regularly also manages frizzy hair and gives a cooling effect on the scalp. A lot of customers believe that it is a wonderful multitasking product for them.
2. WOW Activated Charcoal infused with Activated Charcoal Beads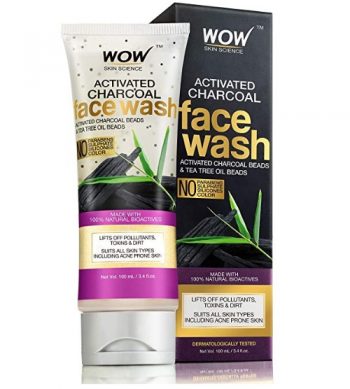 It's the best face wash that contains activated charcoal beads with 100% natural bioactives. It is able to lift off the pollutants, toxins and dirt effectively from your skin, therefore your skin looks way better and clear. As it is a dermatologically tested formula, it's suitable for even the sensitive skin type. Using it regularly on your skin makes sure that the trapped particles and impurities are removed effectively. It also contains natural ingredients like orange peel oil, aloe vera gel and coconut oil that further nurtures and balances your skin. The activated charcoal beads serve the purpose of removing pollutants and toxins from your skin layers. Due to this feature, it heals and revises your dull skin. It is a highly recommended wow face wash at an affordable price. Even during winter season, you can apply and you do not feel any dryness on your face. It is the best rated face wash for all skin types, especially oily and acne prone and the best wow product for skin.
3. WOW 10 in 1 Active Day Cream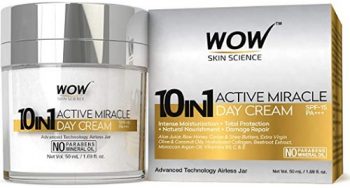 It has received the best reviews from the satisfied customers. Primarily, the product does not contain any paraben and Mineral oil that makes it a bestseller in this category. It has an advanced technology that moisturizes your skin. It basically repair the damage and gives natural nourishment to your skin. This herbal cream is enriched with Eco certified bioactive ingredients. It contains bioactives like Aloe juice, cocoa butter, shea butter, extra virgin olive oil, Collagen, coconut oil, beetroot extract, vitamin B5 and Moroccan Argan oil. It deeply revives the dull skin by getting absorbed quite fast. It's an intensive anti-aging damage repair cream that men and women both can use. As it does not contain SPF, it can work as a day and night cream both for your skin. The product is more suitable for dry skin than oily skin types.
4. WOW Apple Cider Vinegar No Shampoo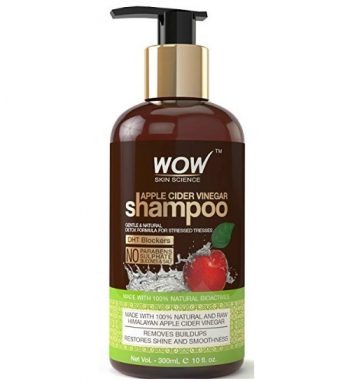 It's an apple cider vinegar shampoo which is paraben and Sulfate free. These days a lot of people are thinking about using paraben and sulphate free shampoos considering the harmful effects of the chemicals. Basically, it's a skin scalp clarifying shampoo that also has DHT blockers. This means that it controls the hair loss due to DHT hormone and also moisturizes the dry and damaged hair. As, it's made with 100% natural botanicals, you can be rest assured that your hair gets the nutrients without the chemicals. Everyday styling products and pollution can create havoc on your hair and scalp, this is choosing an apple cider vinegar shampoo clarifies, nourishes, and repairs the damage. It is the best WOW product or hair and is for all hair type. Clearly, it's one of the best organic shampoos in India.
5. WOW Activated Charcoal Face Mask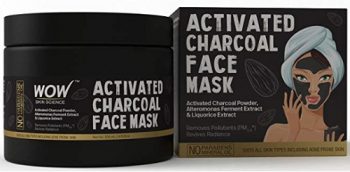 As I told you, activated charcoal is a brilliant product but for oily and acne prone skin it's even better. It is an activated charcoal face mask which is washable and it contains charcoal powder and mint extracts to remove the pollutant particles of pm 2.5. It is very easy to apply and fights the acne causing dirt, toxins and bacteria.  Once or twice in a week application gives you clear skin. Furthermore, charcoal face packs also combat blackheads and shrink the open pores on oily skin.
6. WOW Coconut & Avocado Hair Conditioner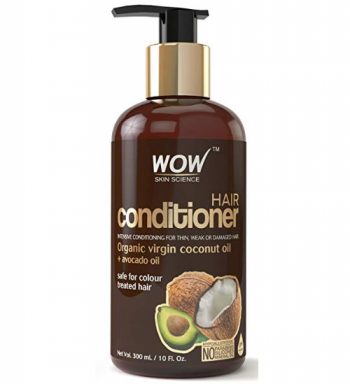 When you have extremely dry hair, a hydrating conditioner would be the best to use. This conditioner contains extra virgin coconut oil and Avocado oil safe for color treated hair and dry hair. It is an intense conditioning product for the weak and damaged hair. Containing the bio active ingredients, it ensures that every hair strand is well nourished. It strengthens hair roots and works on the status. It contains brilliants moisturising ingredients like wheat protein, sweet almond oil, castor oil, Argan oil, to ensure maximum performance for dry hair ends. It works on the breakage, split ends and frizzy hair in the most effective manner. This is the best hair conditioner in India for dry and that needs thickness and volume the most.
7. WOW 10 in 1 Miracle Hair Oil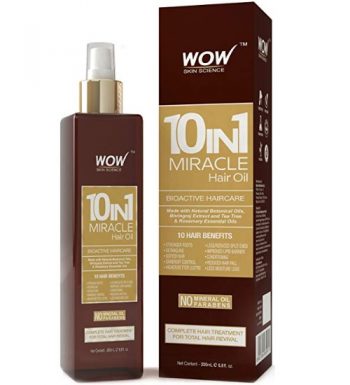 The Miracle hair oil has certified natural ingredients; therefore it provides the complete hair treatment for total hair renewal. It adds volume and bounce to your dry and damaged hair strands. It improvises the hair and creates lipid barrier to rich conditioning. Other than that, the herbal hair oil also eliminates dandruff, reduces hair fall and ensure that you are hair stays shinier and lustrous. As it is free of mineral oils and paraffin, it's a safe product for sensitive scalp as well. It's an hair oil for dull and thinning hair too. It contains natural ingredients like: Extra Virgin Olive Oil, Almond Oil, Argan Oil, Jojoba oil, Grapeseed oil and Safflower Oils (all cold expressed), Bhringraj Extract, Vitamin E and Rosemary and Tea Tree Essential Oils.
8. WOW Anti Pollution SPF40 Water Resistant Sunscreen Lotion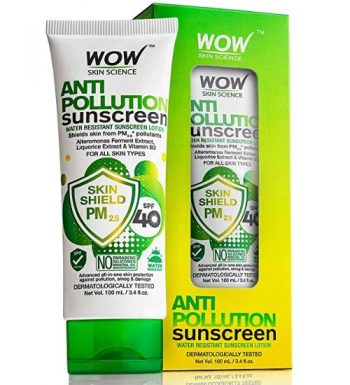 WOW anti pollution sunscreen is suitable for dry to normal skin. It shields your skin from pm 2.5 this means that it prevents the damage because of pollution, smoke and damage to smoke effectively. Pm 2.5 level pollution leads to skin becoming dry, dull, sensitive and itchy. Moreover, it also leads to premature aging of the skin. It's a clinically proven product that ensures that your skin is well protected. Its formula is good for dry to normal skin, however for oily skin, I feel that it's a bit sticky after some time. Therefore, during winters, you can use it for oily face but for summers in high altitude areas, it may not work the best for oily face.
9. WOW Anti Aging Night Cream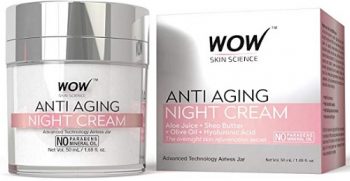 The night cream contains natural ingredients like shea butter, olive oil, Hyaluronic Acid and aloe vera. These improvises the skin from the dreadful skin wrinkles and fine Lines. The cream is sulphate, paraben, mineral oil free and is suitable for all skin types to ensure that the skin stays free of lines for a long time. Due to its rich formula, the cream isn't much suitable for oily and acne prone skin
10. WOW Flawless Whitening Pearl Serum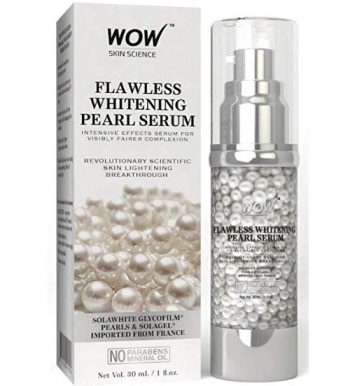 WOW Flawless Whitening Pearl Serum is suitable for all skin types and is wonderful for oily skin as it has a very light formula. It is an intensive fairness complex which comes in a pump dispenser. It looks really attractive and is easy to use. It has a Revolutionary scientific skin lightening breakthrough technology. As it, doesn't contain paraben and mineral oils, rather a light texture, it's suitable for all skin types. Other than that, the paraben free serum product also works on pigmentation, roughness of skin, dark spots and free radical damage.
So these are the best WOW beauty products in India, which can be used by men and women considering their skin types and issue. You can use these products and clearly, this is one of the best natural brands that contain certified natural ingredients. However, the best feature of their products is that they are paraben and mineral oil, sulphate and other harmful chemicals free. This is why, they have gained quite popularity and exposure in a short span of time.