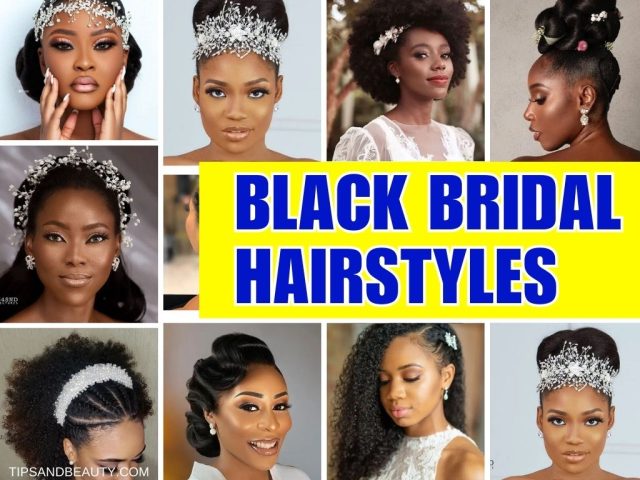 Black Bride Hairstyles: When it comes to planning a wedding, every detail matters, including your hairstyle matters. For Black brides, finding the perfect wedding hairstyle is a journey filled with options that celebrate your natural beauty and unique style. In this guide at Tipsandbeauty blog, we'll explore a selection of exquisite black wedding hairstyles that will leave you feeling elegant and confident on your special day. From classic updos to chic braids, let's see the black bridal hair and discover the perfect wedding hairstyles for Black brides.
Types of Bridal Hairstyles and Updos
Every bride deserves to feel like royalty on her wedding day, and for Black brides, the hairstyle you choose can be a beautiful expression of your unique identity and heritage. From natural curls to sophisticated updos, there's a myriad of hairstyles that celebrate the diverse beauty within the Black community.
Classic Chignon
The classic chignon is a timeless choice for its sophistication and versatility. Moreover, this elegant updo hairstyle for wedding works well with veils, hair accessories, or even a fresh flower crown, allowing you to personalize it to suit your style.
Braided Bun
A braided bun combines the beauty of traditional braiding with the timeless appeal of an updo. In fact, it's a chic and stylish choice for a modern bride seeking sophistication and grace.
Low Bun with Twist
A low bun with a twist is a beautiful variation of the classic bun. Therefore, adding a twist to the bun provides a modern and unique touch to this timeless hairstyle, making it perfect for a contemporary bride.
Intricate Cornrows
Cornrows are not only a cultural emblem but also a striking and versatile hairstyle. Whether intricately braided or elegantly simple, cornrows offer an array of styling options for a bold and regal look.
Crown Braid
The crown braid, also known as a halo braid, is a symbol of royalty and elegance. Having said that, it encircles the head like a crown and is an excellent choice for brides looking for a refined and ethereal hairstyle.
Fulani Braids
Fulani braids, adorned with beads or jewels, are a beautiful representation of African heritage. Moreover, they're not only gorgeous but also a tribute to the rich cultural tapestry that Black brides proudly carry.
Goddess Braids
Goddess braids are thick, intricate, and utterly captivating. These regal braids can be worn up or down, and they look stunning with statement hairpieces.
Afro Power
Letting your natural hair shine in its full Afro glory is a powerful statement. Embrace your curls and wear your Afro confidently on your wedding day for an authentic and stunning look.
Curly Updo
For those with natural curls, an updo that accentuates your curls is a great choice. Additionally, it allows you to showcase your hair's natural texture while keeping it elegant and polished.
Cornrow Updo
A cornrow updo combines the sleekness of cornrows with the elegance of an updo. Hence, this style is perfect for brides who want a chic and refined look.
Short Hair
For the bride who's recently big-chopped or prefers shorter hair, a TWA is a bold and beautiful statement. Enhance your natural features and celebrate your journey to self-discovery.
Afros and Twists
Wearing your hair in its natural state, such as an Afro or twists, is a bold and empowering choice. These styles are a celebration of your natural beauty.
Locs and Updo
If you have locs, consider an updo that highlights their length and texture. This style is perfect for brides who want an elegant yet low-maintenance look.
Latest Black Bride Hairstyle Ideas and Images
1. Rhinestone Studded Low Bun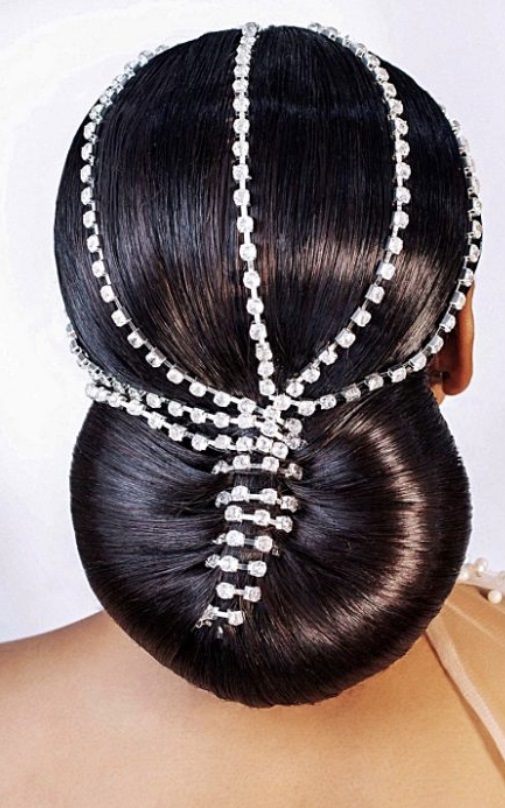 2. Top Curly Bun With Jewelery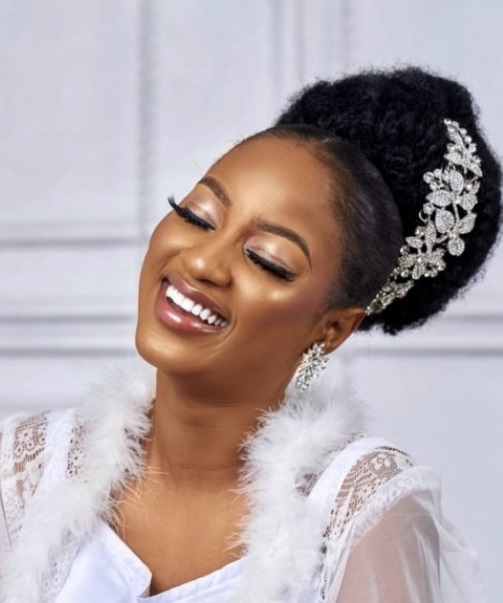 3. Low Bun With Studded Tiara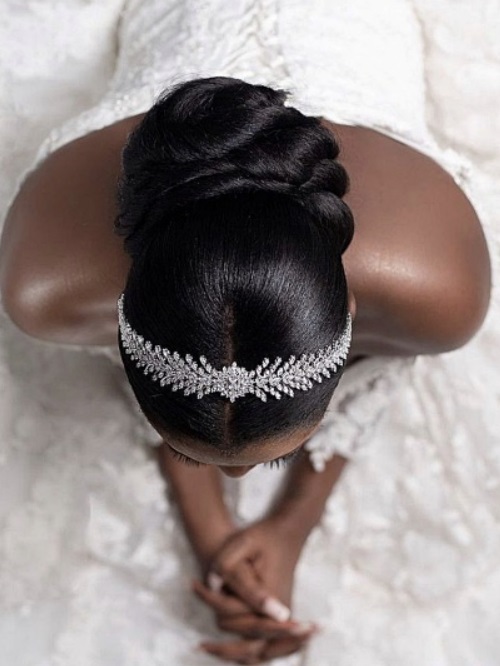 4. Braided Low Bun With Rhinestone Chain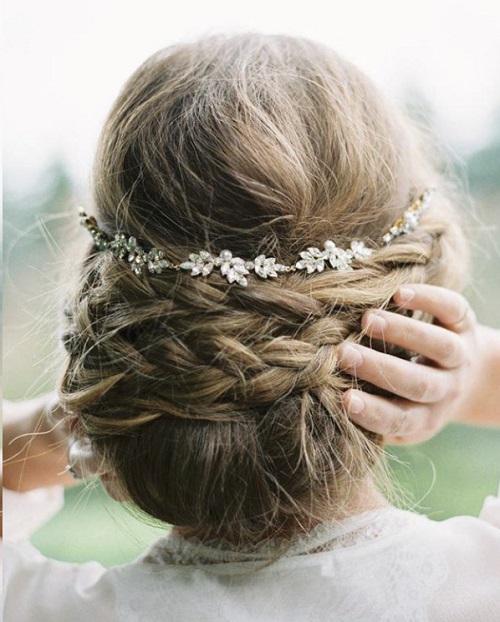 5. Rope Twisted Braided Updo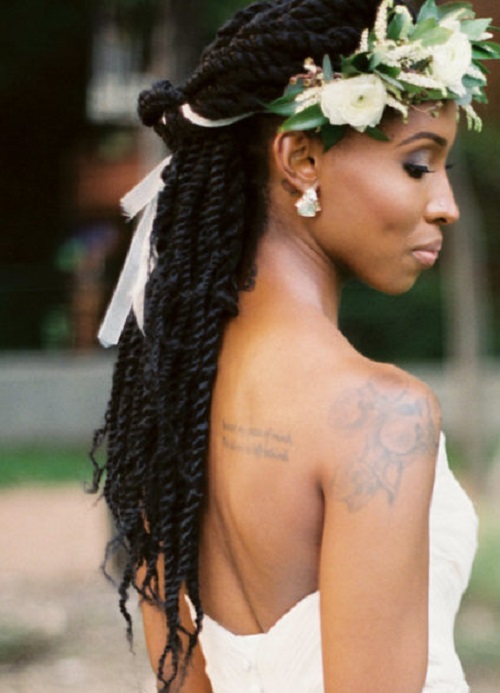 6. Dreadlock Updo For Black Brides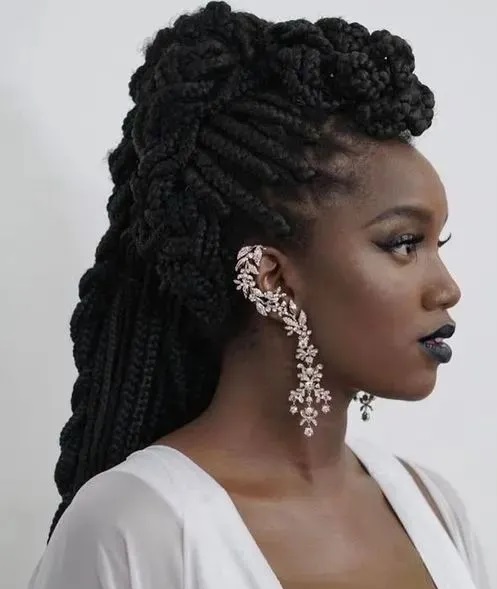 7. Curly Super Glossy Hairstyle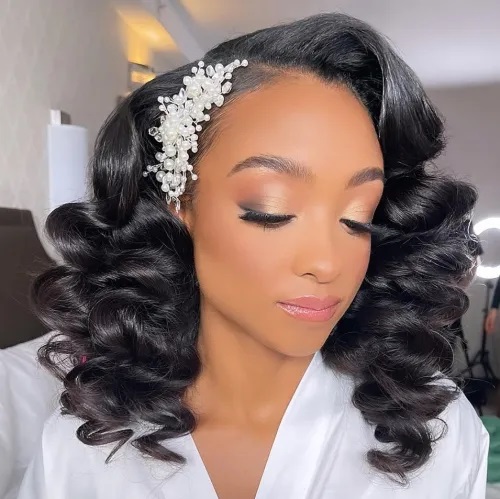 8. Hollywood Wavy Clean Bun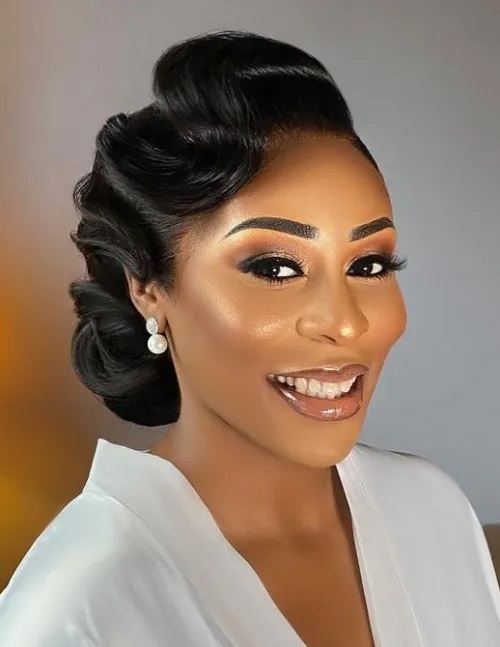 9. Front Cornrow Braid With Tiara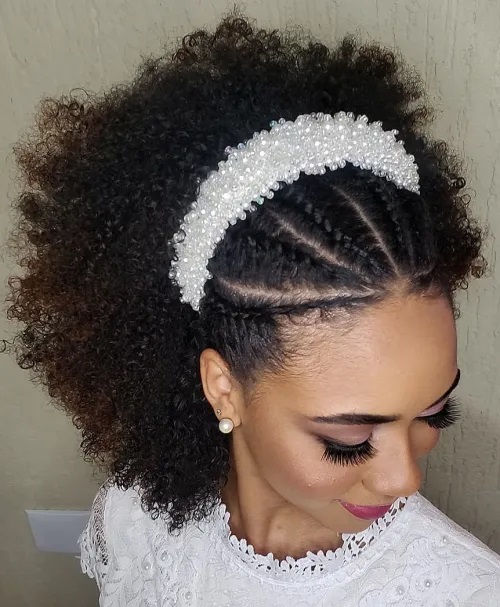 10. Low Simple Bun With Hair Jewelry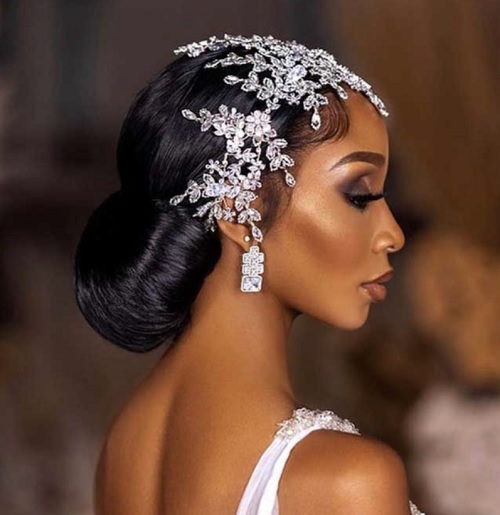 11. Massive Double Twisted Bun For Brides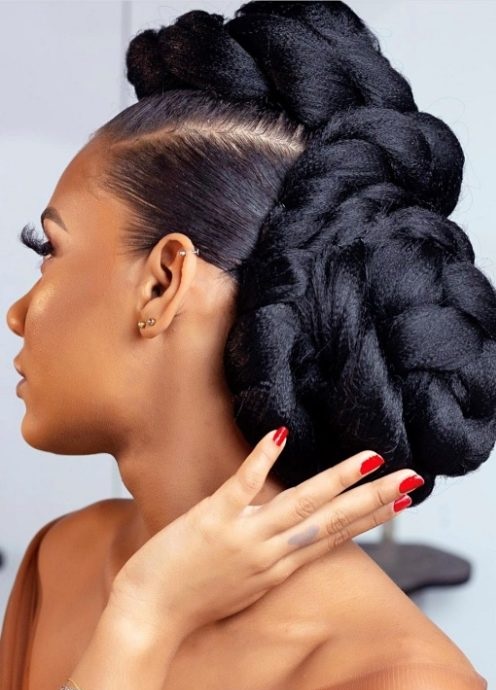 12. Top Waved Bun With Tiara Band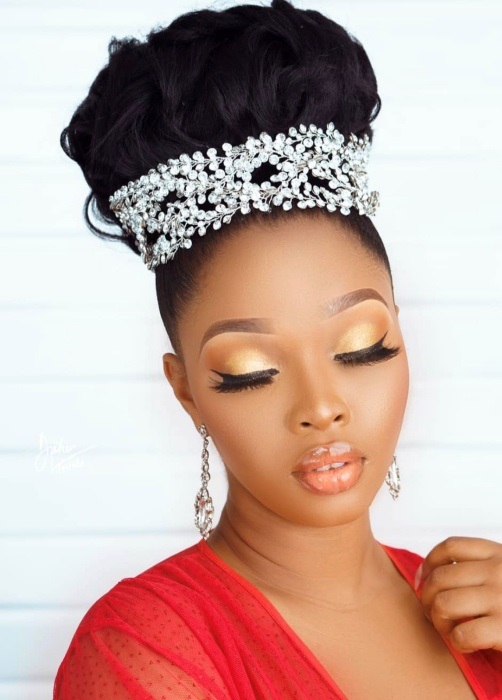 13. Twisted Floral Bun With Side Pouf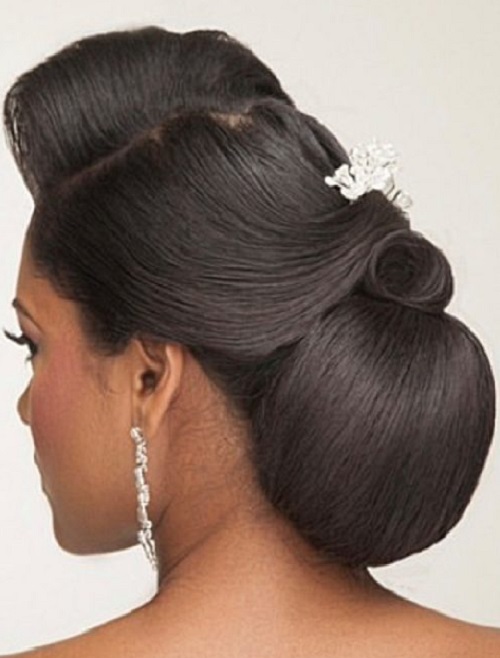 14. Double Bun With Headband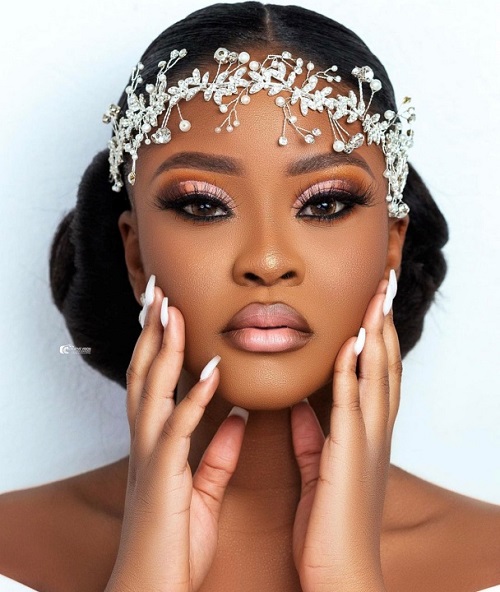 15. Blonde Low Bun With Hair Covering Jewel
16. Multiple Twisted Classy Bun For Black Brides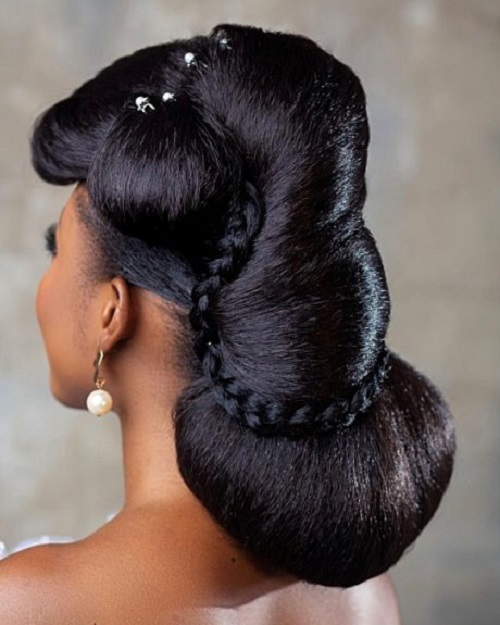 17. Rope Twisted Bun Hairstyle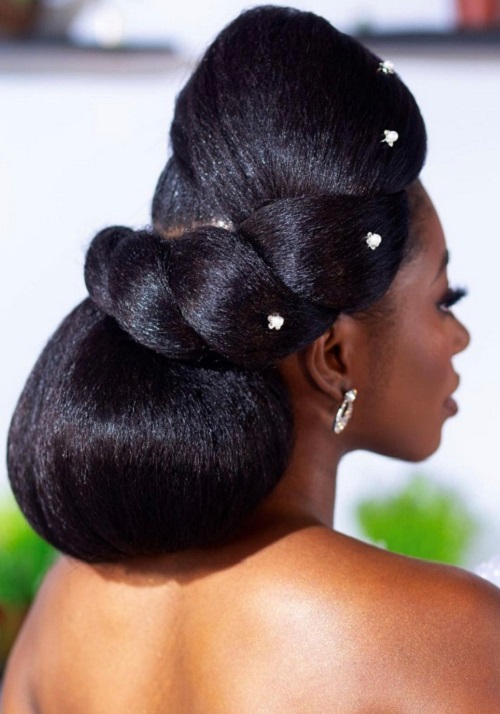 18. Circle Clipped Hair Bun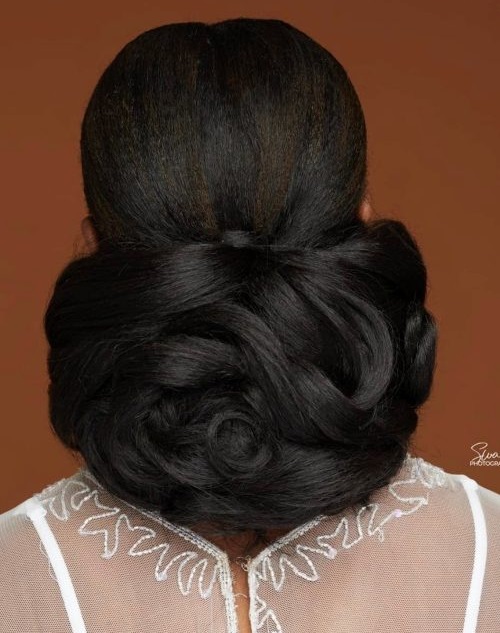 19. Circlet Clipped Hair Bun Hairstyle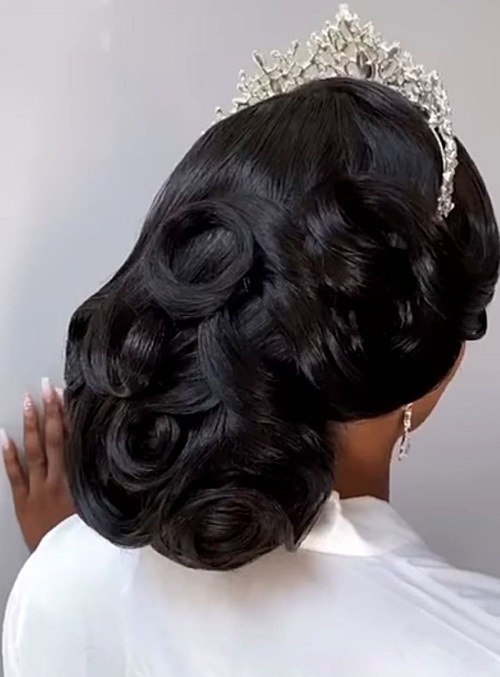 20. Weaved Low Hair Bun For Black Brides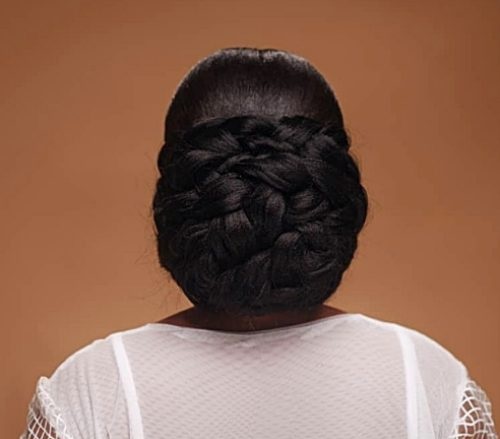 21. Short Black Curly Hair With Side Jewel Clip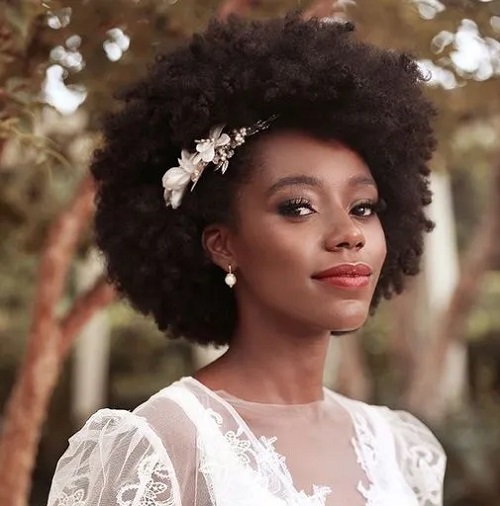 22. French Rolled Low Chignon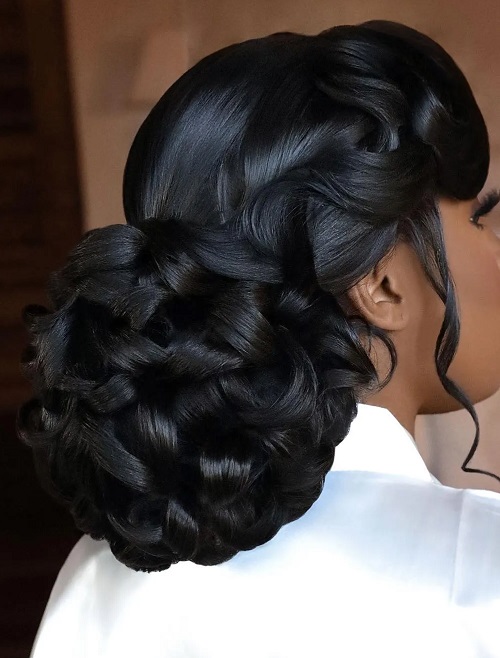 23. Clean And Sleek Bun With Accessories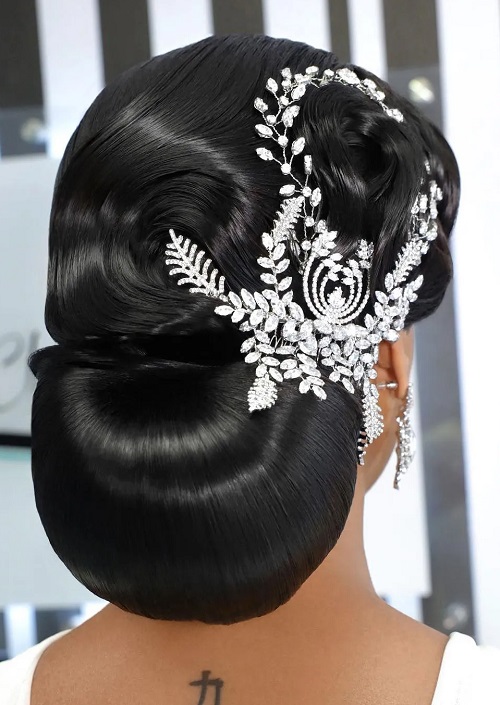 24. Short Curly Hair With Floral Accent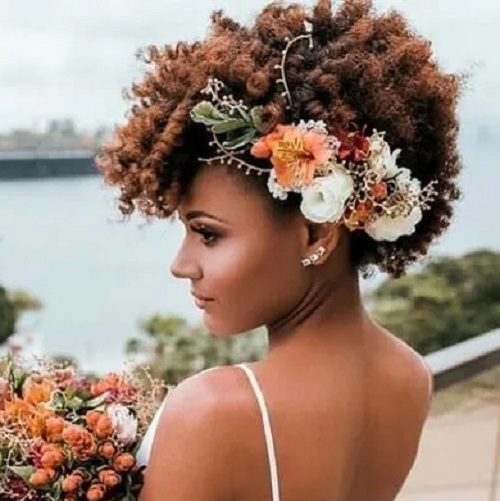 25. Rope Braided Side Lifted Low Bun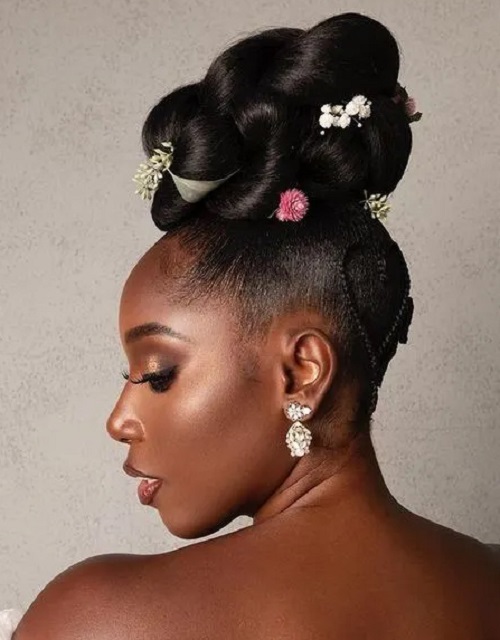 26. Wavy Loose Hair For Black Brides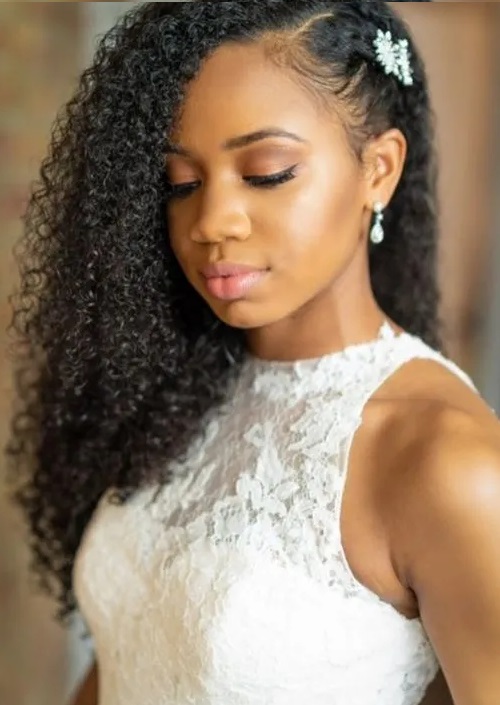 27. Heart Braided Loose Bun Hairstyle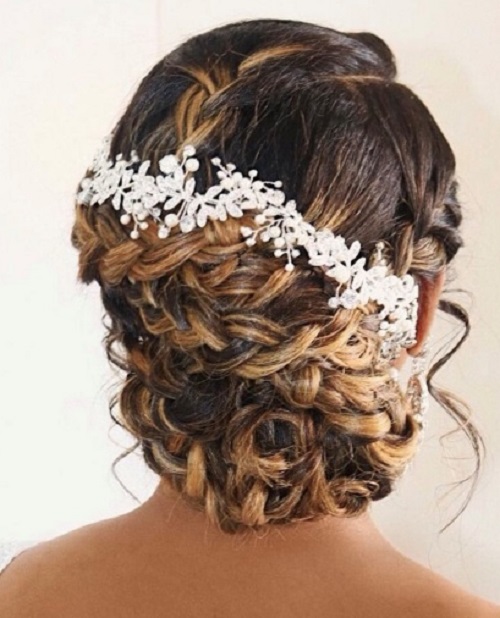 28. Multiple Bun Hairstyle For Wedding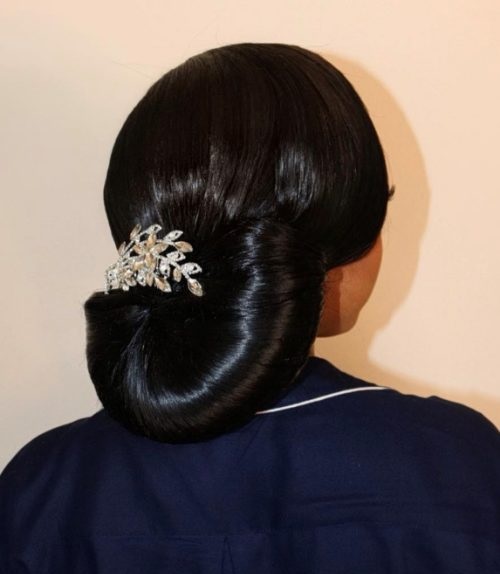 29. Middle Part Secured Braided Hairstyle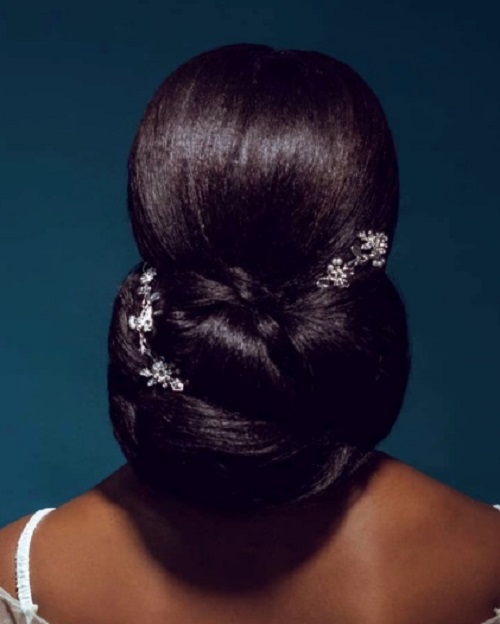 30. Braided Locks With Tiara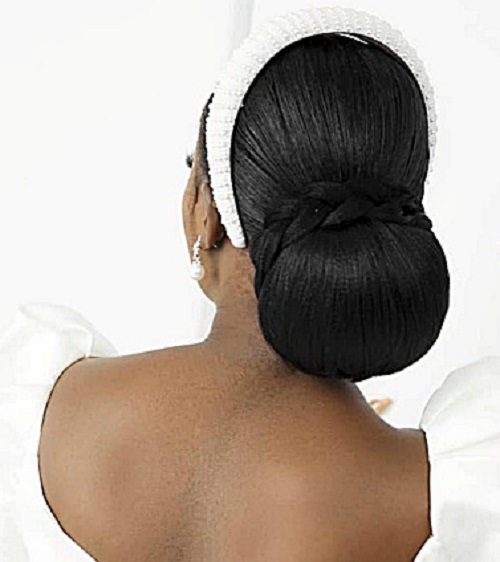 31. Top Braided Bun For Brides
32. Bridal Low Heavy Bun Hairstyle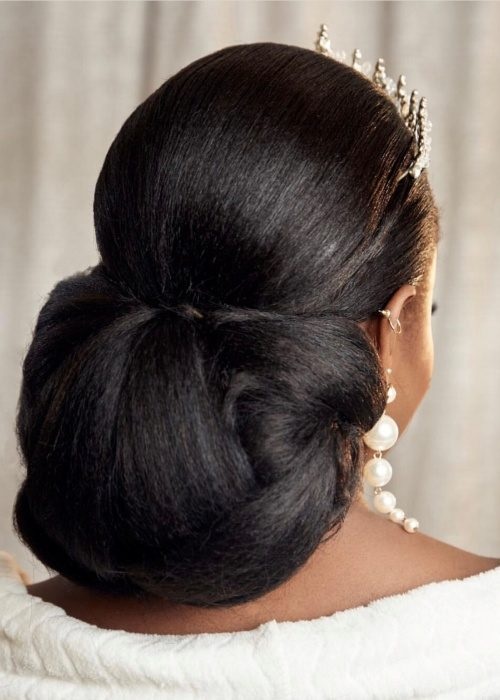 33. Bridal Front Pouf Bun Hairstyle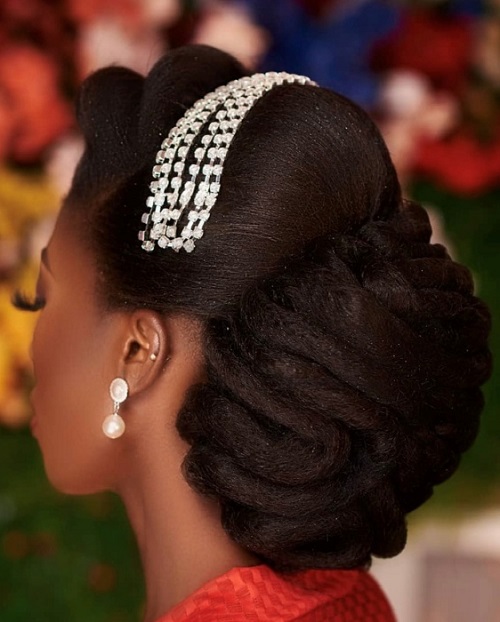 34. Braided Messy Bun For Black Women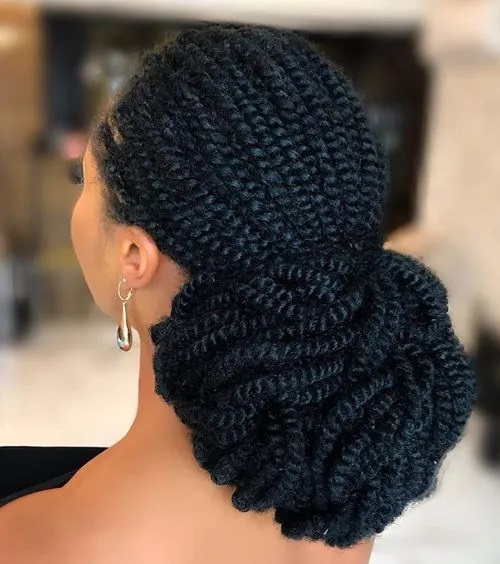 35. Wedding Big Low Bun Hairstyle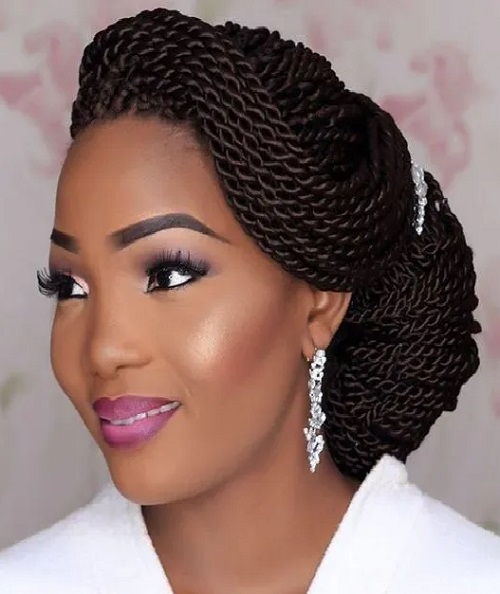 36. Sleek Shiny Hollywood Style Bun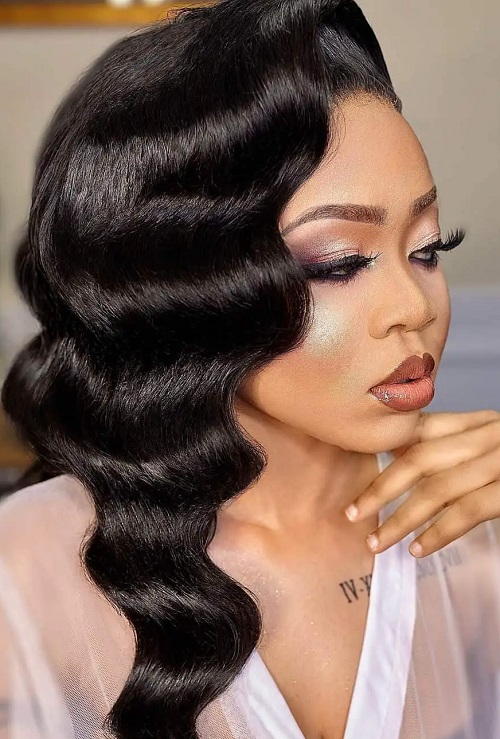 37. Braid Secured Bun With Headband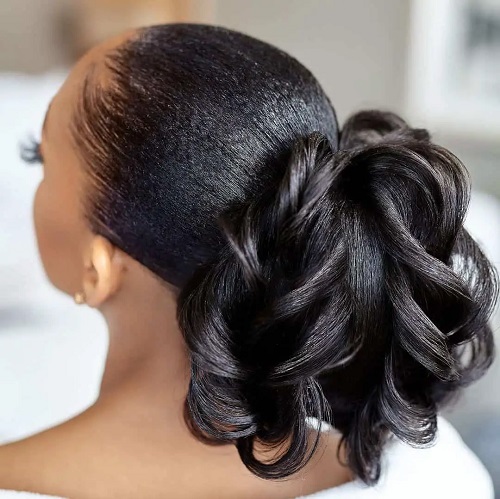 38. Bridal Braided Bun For Long Hair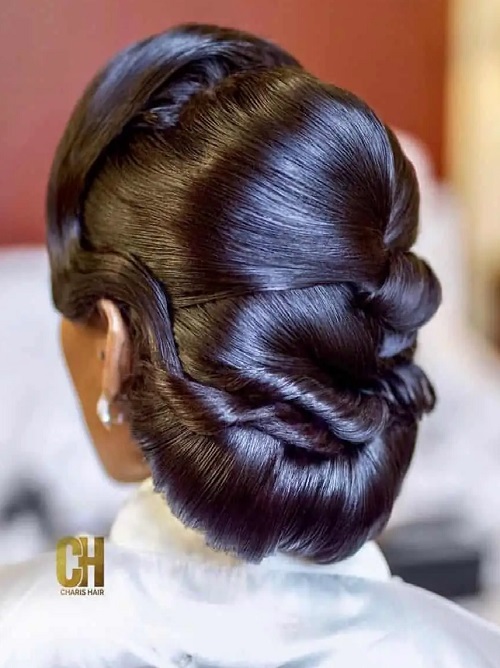 39. Twisted Bridal Top Knot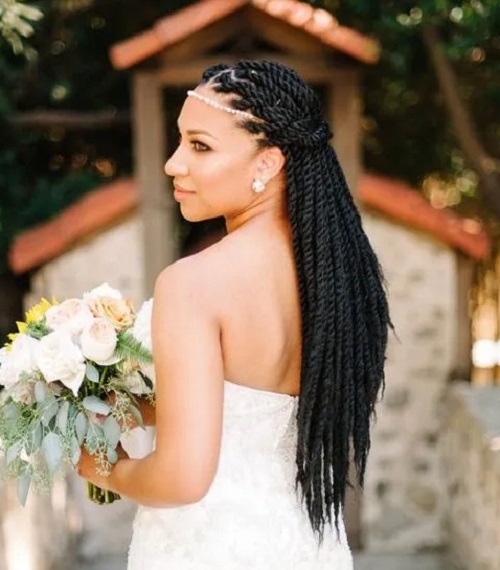 40. Side Braided Loose Bridal Hair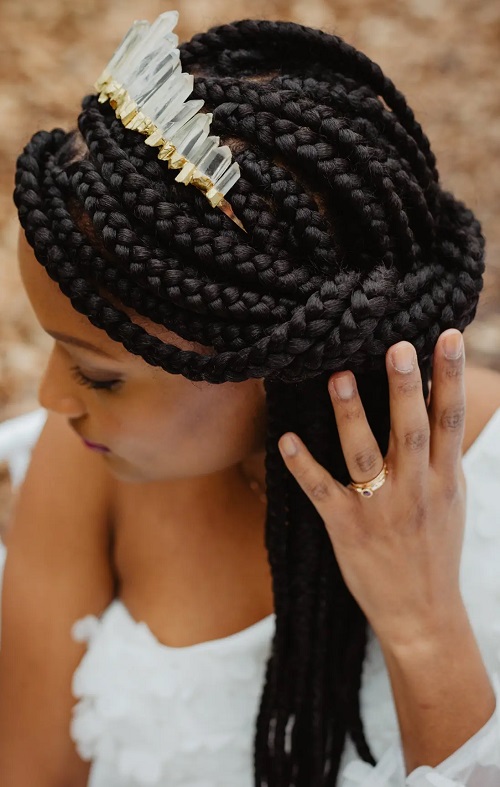 41. Simple Half Updo With Tiara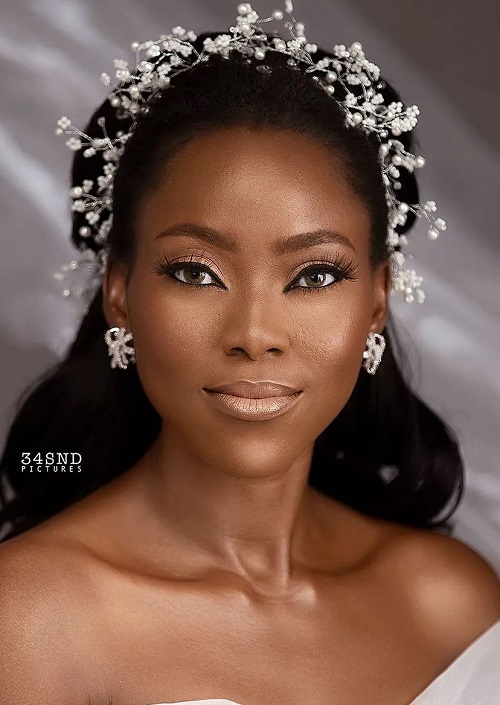 42. Jewel Embellished Top Bridal Bun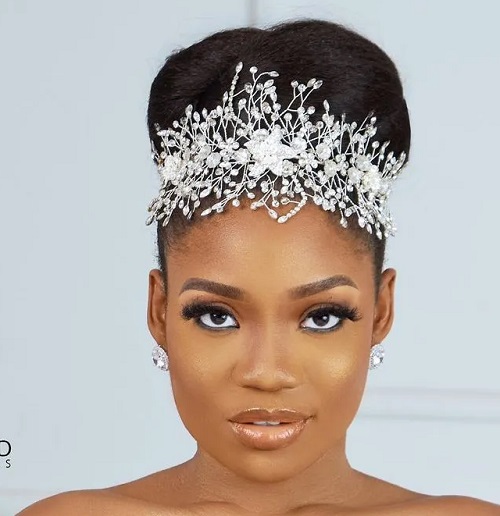 43. Middle Parted Wedding Hairstyle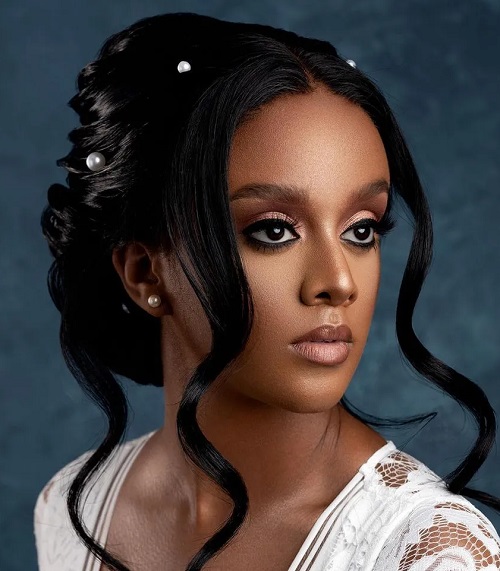 44. Short Pixie Hair For Black Bride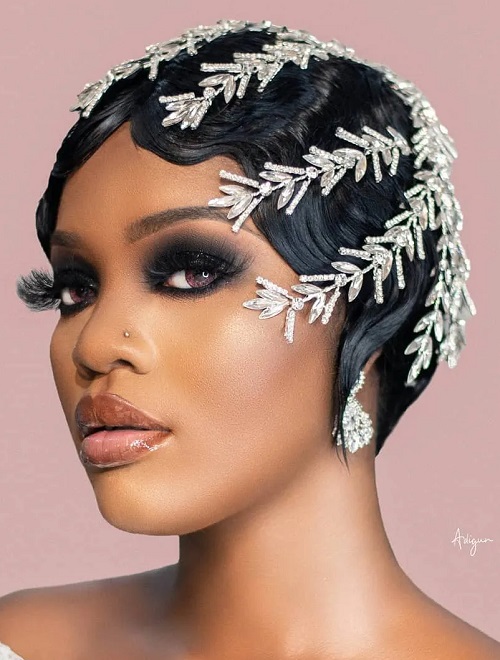 45. Bridal Short Wedding Hairstyle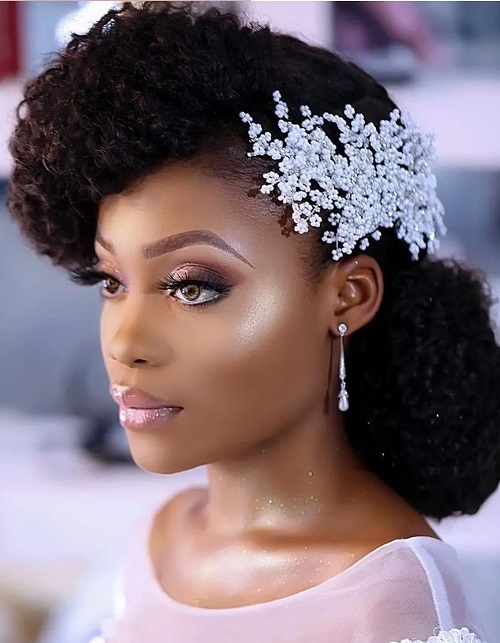 46. Front Pouf Hair With Tiara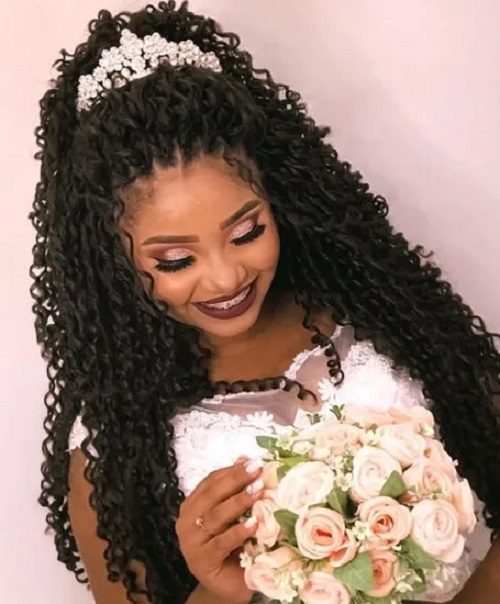 47. Sleek Netted Bun For Black Wedding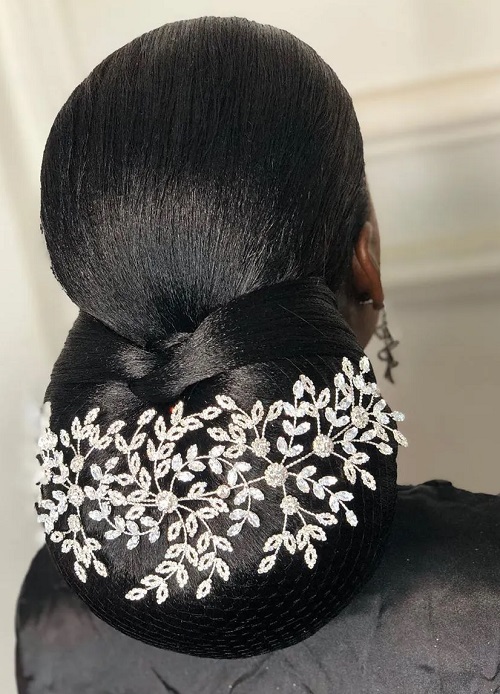 48. Curly Hair Bun Wedding Hair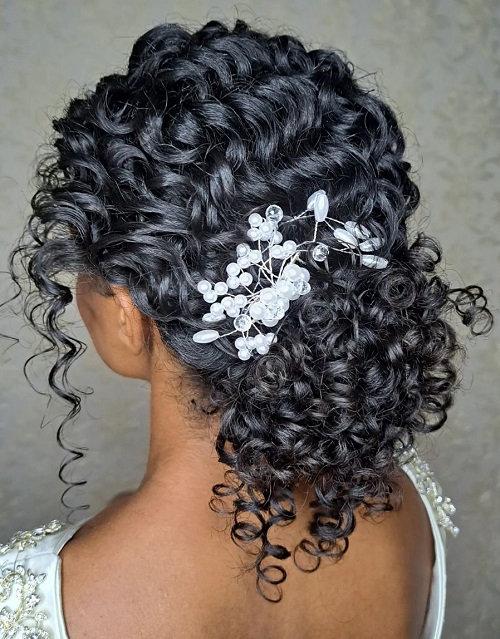 49. Side Cornrow Hairstyle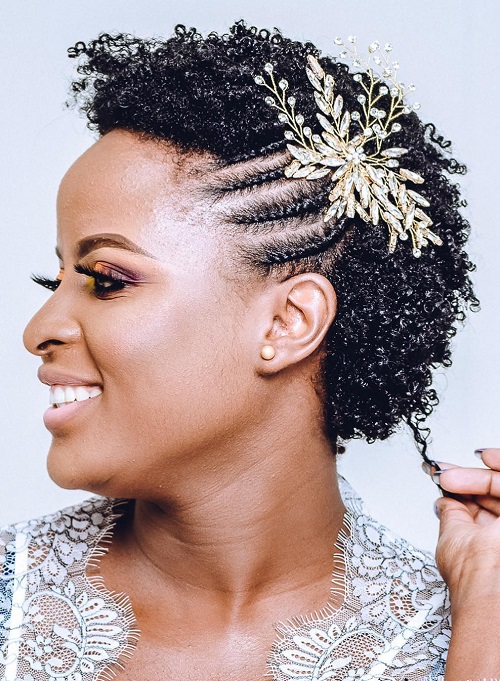 50. Pearl Embellished Hairstyle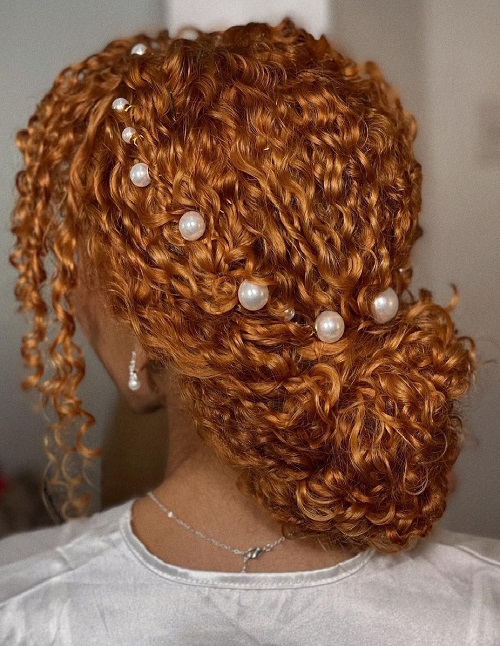 Hairstyles with Accessories
Statement Headpiece
Whether it's a jeweled headband, a tiara, or a vintage hairpin, a statement headpiece can add a touch of glamour and sophistication to any hairstyle you choose.
Veil with Embellishments
Elevate a simple hairstyle by pairing it with a veil adorned with lace, sequins, or delicate embroidery. In fact, the veil adds a traditional bridal touch while the embellishments make it unique.
Fresh Flower Crown
A fresh flower crown complements natural hairstyles beautifully. Choose flowers that match your bouquet for a cohesive and stunning bridal look.
Sparkling Hairpins and Combs
Sparkling hairpins and combs can add a touch of glamour to any hairstyle, whether it's an updo, braids, or a natural look.
Before your big day, it's essential to schedule a consultation and trial run with your hairstylist. This will give you the opportunity to discuss your preferences and ensure your chosen hairstyle complements your wedding dress and theme.
Your wedding day is a celebration of love, culture, and individuality. As a Black bride, your hairstyle is a crucial part of expressing who you are on this special day. Whether you can choose an updo, braids, or go with your natural curls, the most important thing is that your hairstyle makes you feel confident, beautiful, and true to yourself. Celebrate your heritage, embrace your unique beauty, and let your inner queen shine as you step into this new chapter of your life.