Black kurta pajama is suitable for every man for different occasions. In fact, a black kurta is a must have item in your wardrobe that can be styled a lot of different ways.  Black kurta is a traditional attire that looks good on almost all the complexions. One can wear a black kurta for different occasions like for Eid, weddings, roka ceremony and other similar functions. When you've a black kurta you can do so much with that. You can try different types of bottom wear like churidars, jeans, trousers and dhoti pants with your black kurta. You can even go for a formal event wearing an impeccably crafted black Pathani suit. In fact, the best footwear that you can wear with your black men's kurtas would be peshawari chappals, loafers, strappy sandals and even the Oxford shoes. Moreover, black kurtas are available in different designs and patterns with prints, embroidery and sequin work for festive and wedding wear kurtas. One can go for the material and fabric like brocade, Chanderi, linen which are used a lot for men's party wear kurta sets and dresses.
Latest Black Kurta Pajama Designs for Men
We are sharing this collection of the best black kurta pajama styles for men that will take your fashion game a notch above.
1. Black Pathani Kurta Style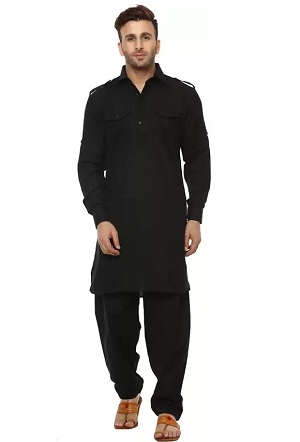 It regular Pathani style kurta with flaps on the shoulder and sleeves looking like shirt. It's not a long kurta but a medium size kurta that suits most of the men. It can be paired with Kolhapuri sandals and strappy chappals.
2. Punjabi Style Black Kurta Pajama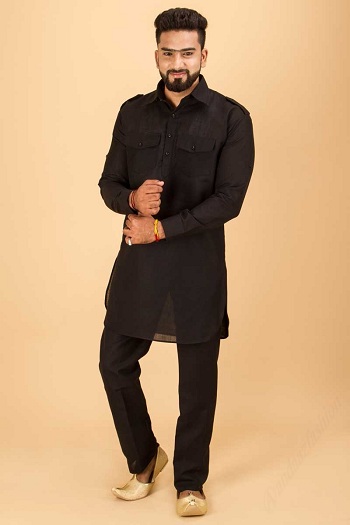 Punjabi Style kurta is very much in trend currently and you may notice that a lot of Bollywood actors are sporting various designs and styles of black kurtas in different fabrics and detailing. It has a collar with centre button placket that has 4-5 buttons on it. The full sleeves kurta is comfortable for summer season as well with a breathable fabric. Undoubtedly you can look your best wearing such a stylized kurta for Eid and other occasions.
3. Black Kurta Pajama with Jacket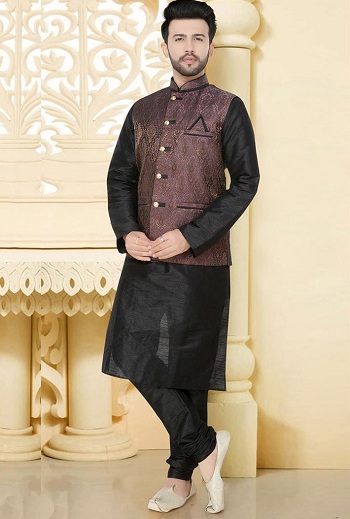 A jacket looks amazing over a black kurta pajama. It's been paired with juties, though you can also try loafers, chappals and Oxfors with this style. The Brown jacket is made up of brocade fabric. The art Silk kurta has a breathable fabric and it'll not make you feel hot even, during the festivals and events that are in summer season. 
4. Black Kurta White Pajama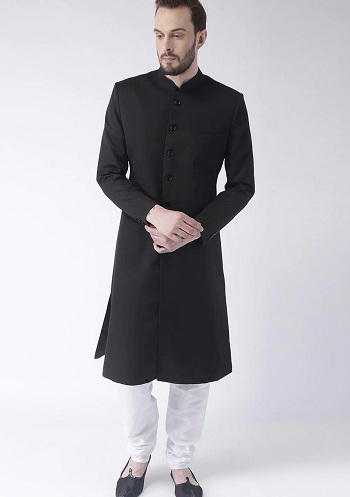 This has a very Nawabi feel to it. The Bangalore style black kurta is paired with white churidar and  you can pair this with different types of footwear. This pattern is suitable for men with old age group. You can surely look striking in this attire.
5. Black Pathani Kurta Pajama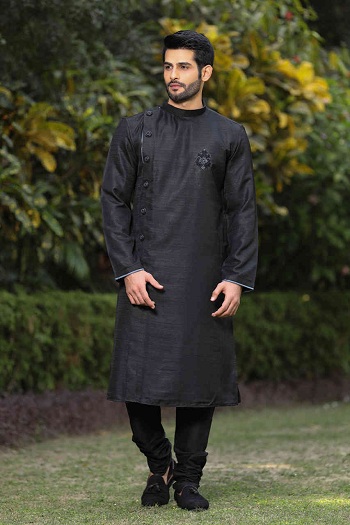 A nicely crafted best black pathani will make you look sophisticated and elegant. Coming from the Royals of Pakistan and India, it's a dress that imparts extra edge to your personality and style. It's best to pair a Pathani style shoes with loafers and Peshawari chappals. As the kurta is short in height, it's suitable for men with shorter height as well.
6. Manyavar Black Kurta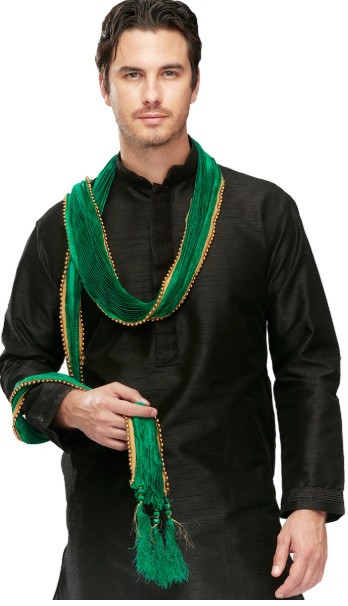 You can never go wrong when you choose a black pathani style kurta for men. You can pair it with multiple types of bottom wear like churidar, dhoti pants, salwars and what not. The side button placket adds more charm and attractiveness to this design. The otherwise plain looking Kurta with its side button placket looks. So, while a lot of men are going for heavy embroidery, you can sport printed stylish kurta like this.
7. Black Designer Kurta for Boys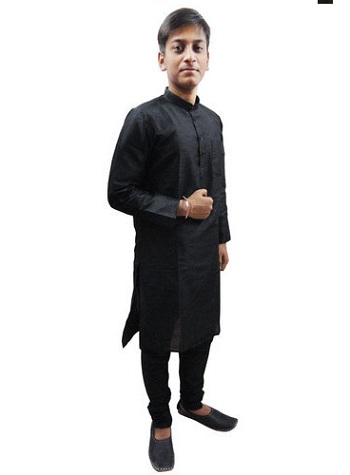 Black kurta pajama also looks good on younger boys. It's an appropriate attire that is cool and comfortable at the same time.
8. Black Embroidered Punjabi Kurta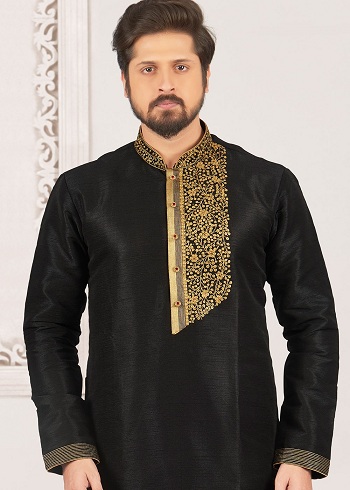 With an embroidery patch in gold colour making is very stylish and enticing. The Chinese collar has gold embroidery. It's surely is able to keep you comfortable and fashionable at the same time. You can pair your loafers and strappy sandals with such a design to stand out from the crowd. This design can be tried for weddings, Eid, festivals and other events. 
9. Black Kurta and Jacket Style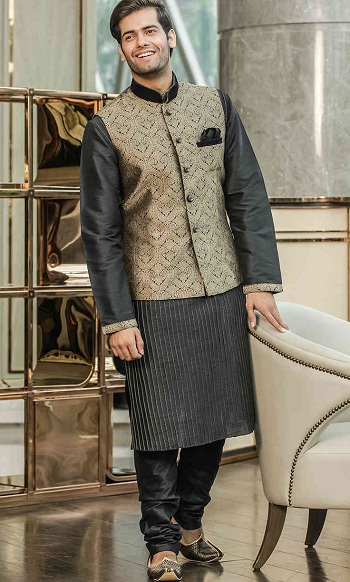 Black kurta and Nehru jacket is a classic combination which will make you look elegant and sophisticated. It's a formal attire that is perfect for traditional events. Even if you are attending close friend's marriage functions, wearing this attire will help you gain women's attention. And you are bound to get loads of compliment for your stylish attire. It can be a good option buying a black kurta pajama online that looks like this. The waistcoat makes it elegant however it's not mandatory that you wear it all the time. You can do so much with this piece of clothing.
10. Black Kurta Pajama with Koti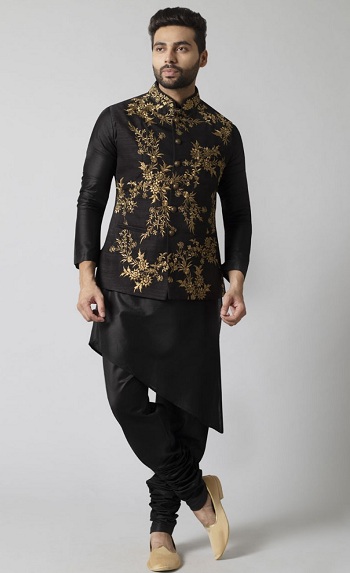 The Indo Western kind of is definitely eye catching. The gold embroidery on the jacket is the major highlight that makes this attire perfect for Indian and Pakistani weddings. The gold embroidery actually makes this plain black kurta look royal and classy. The diagonal slit hemline of the kurta is a feature that makes it very modern looking, this attire can be worn by men for most of the formal events. You can wear it with juties, chappals and shoes.
11. Black Dhoti Kurta for Parties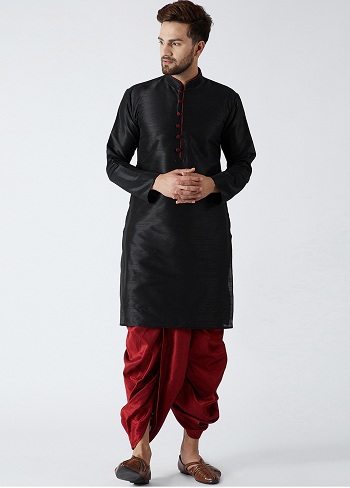 The silk black kurta is paired with red Silk dhotis. The men's kurta dress is not only classy but elegant too. It's a very attractive looking attire which is suitable for any event and appearances that you have to make. Keep in mind that you must choose a readymade dhoti, if you are not comfortable with the traditional dhoti. Additionally, you can also wear a jacket or bandi with this design.
12. Red and Black Kurta Pajama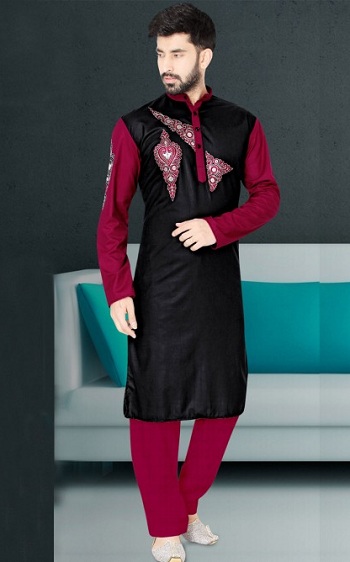 Red and black is a classic combination and that is seen in this kurta very well. The red and black kurta with embroidery patches on the chest is very luxe looking. This attire is appropriate for any Indian festival because it's not an all black as a lot of people may not wear black for Puja and other similar festivals.
13. Black Designer Pathani Suit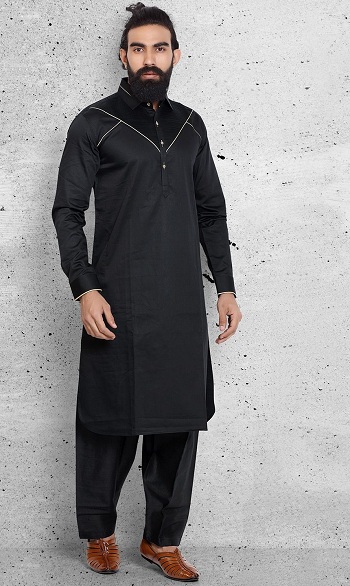 Nicely crafted kurta would expose your fashion and immaculate styling. You can pair it with any shoes that you want except for the sneakers obviously. The shoulder part has diagonal contrasting line which gives it a nice look to the full black kurta pajama.
14. Black Pathani Dress for Wedding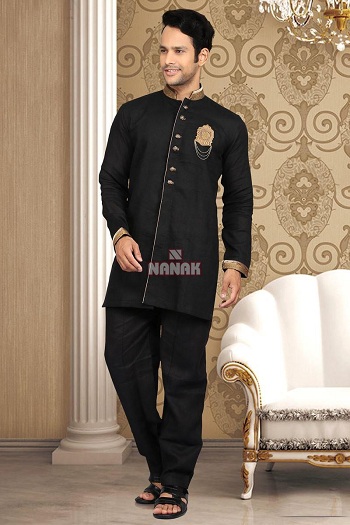 It's very attractive looking attire which is suitable for any event and appearances that you have to make. It's comfortable at giving you loads of compliments when you wear such a design. Moreover the jacket makes it dressy and formal. So you can wear it both ways, with and without the jacket.
15. Nehru Jacket with Black Kurta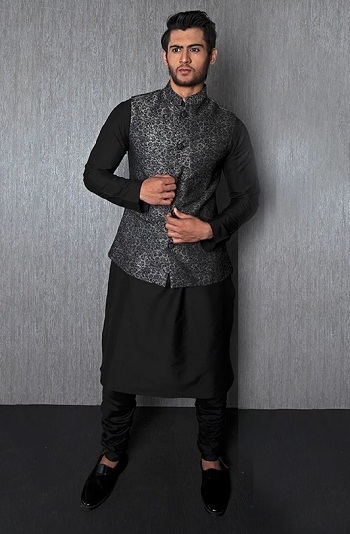 This well crafted black pathani will make you look sophisticated and elegant. Coming from the Royals of Pakistan and India, it's a dress that gives extra edge of personality and style. It's best to pair a Pathani style shoes with loafers and peshawari chappals. As a kurta, it's short in height it's suitable for men with shorter height too.
16. Short Black Kurta for Men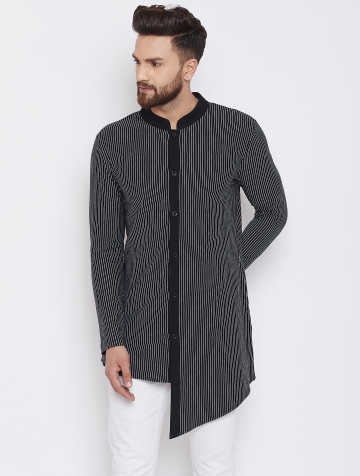 It's a short black high low printed kurta with stripes. The kurta is very stylish and the pattern is eye-catching. Men of all body type and height can wear it. Styling it with a pair of nice light blue jeans will be good.
17. Black Pathani Suit for Marriage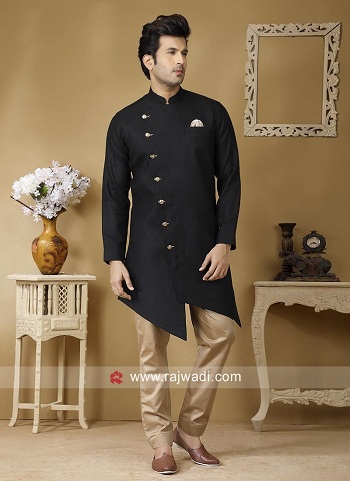 Asymmetric Hem line is currently in trend and is seen in various fashion shows and events. Designers are coming with different types and varieties of hemlines for the kurtas. Therefore this piece looks highly modern and classy. The diagonal button placket with a regular hemline is the major feature that adds dressiness to this ethnic attire for men.
18. Men's Black Printed Kurta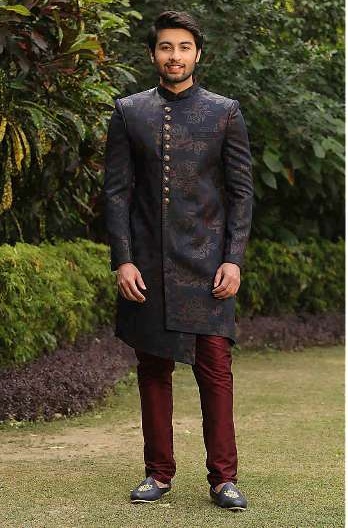 This Black peshawari printed kurta has metal buttons on the placket. It also has a regular hemline with medium length. The kurta looks more like a sherwani style and is appropriate for weddings and formal events. It's paired with Maroon churidar, though the same piece can be styled with dhoti pants and trousers.
19. Black Kurta with Jeans for Men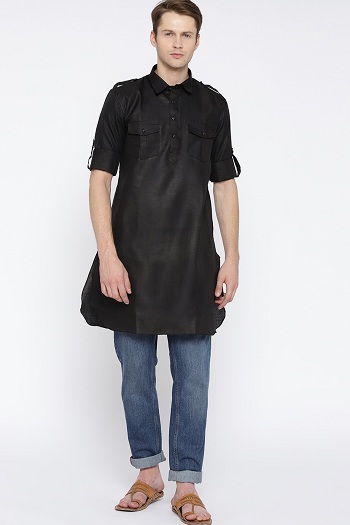 You can buy a basic plain Punjabi style kurta and wear it with your jeans. Buying such kurtas online is not difficult as on major online shopping sites such designs are available at affordable prices. It gives you a casual and semi casual look.
20. Black Kurta Pajama with Golden Jacket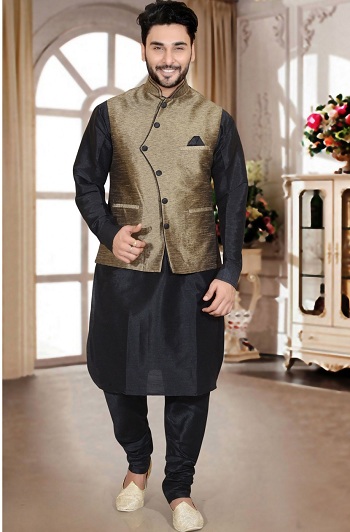 One can never go wrong when you chooses a black kurta with gold jacket. The golden jacket is very stylish looking and adds more attention and attractiveness to this otherwise plain silk kurta. The churidar pajami with this kurta makes it look more royal and elegant. It's appropriate for a friend's wedding or wedding in your family. Even for functions like Eid, Diwali and other functions it's appropriate.
21. Black Shirt Style Kurta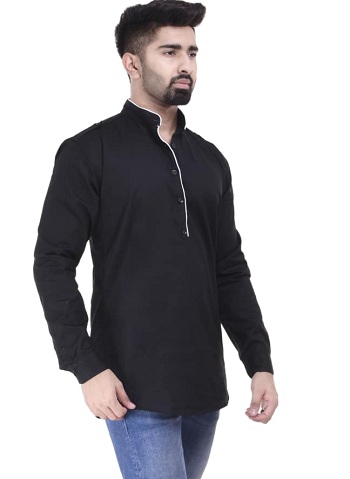 We have seen that men love shirt style kurtas. It short kurta that looks like a shirt. It can be paired with trousers, jeans and linen pants. It gives you casual and semi formal look, therefore, it can be teamed up with loafers and even the basic Kolhapuri chappals and flip-flops.
22. All Black Silk Kurta Pajama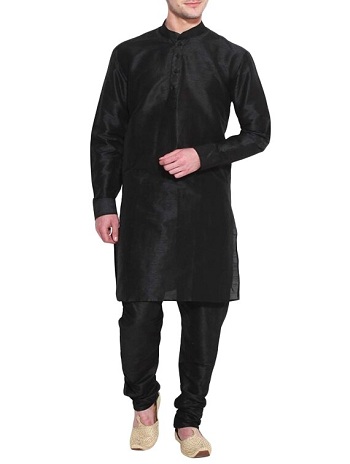 It's a full black Silk kurta pajama paired with churidar like this. You must have a plain black kurta with you because you can do so much with this. Styling plain kurta is not very difficult as you can style it with your jeans, trousers and different types of bottom wears. However you can also wear basket, waist coats and Nehru jackets over it.
23. Black Kurta Pajama with Blazer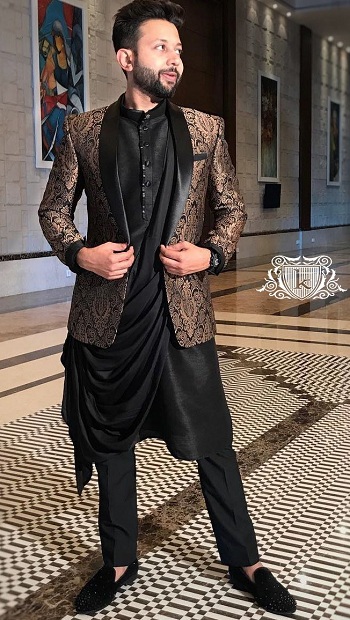 Kurtas with Blazers are one of the latest and popular trends that are going on. This brocade black and gold nicely stitched blazer is worn with black printed kurta. The bottomwear is slim fit linen trouser and Oxford shoes. It gives a very Indo Western and modern kind of look. It' appropriate for the modern man who wants their ethnic wear to be different from the rest, shall try a design like this.
24. Indo Western Black Kurta Pajama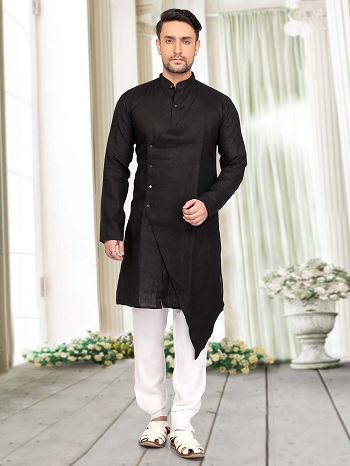 This is yet another Indo Western type of plain black kurta. The asymmetric hemline gives it extra sense of style. A lot of men would love to wear attire like this. Here the model has worn it with white bottom wear however; you can wear it with whatever bottom wear that you feel like depending on the occasion you will be wearing it for.
25. Black Kurta with Yellow Jacket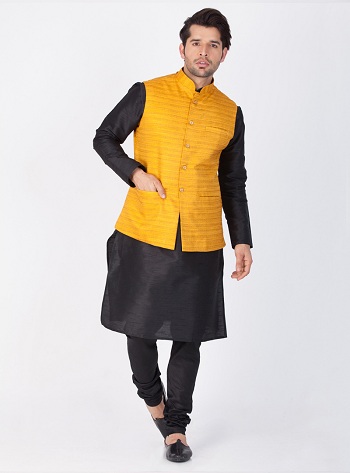 Well fitted yellow jacket looks amazing with black kurta pajama. The reason that, yellow is a very eye catching, soothing and cheerful colour. So when two contrasting colours are blended they complement Each Other nicely.
26. Black Kurta Pajama and Blue Jacket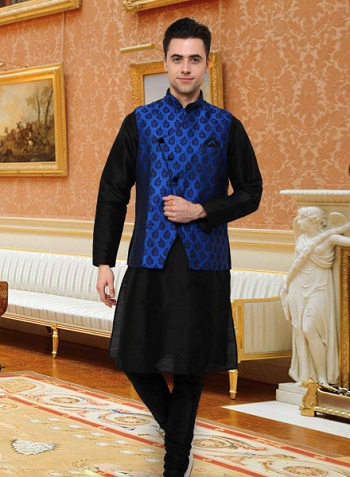 On the same lines this blue and black jacket adds more beauty to this plain black kurta churidar. The jacket is the major highlight and the style of the jacket is such that it would definitely make you look different than the rest of the guys. This colour combination is one of the best Colours for Indian men considering their medium to wheatish skin complexion. 
27. Black Kurta and White Dhoti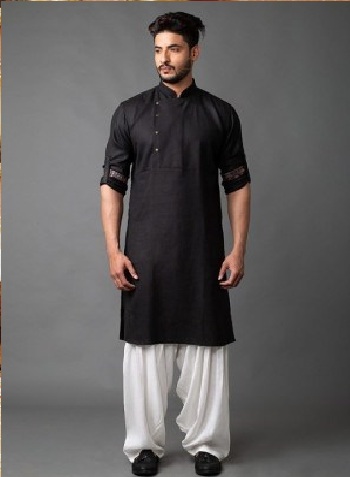 Dhoti and kurta is a classic combination. And when a black kurta is paired with white dhoti pants, it becomes classier. You can try a design like this for your festivals and other semi casual occasions.
28. Black Cotton Kurta for Men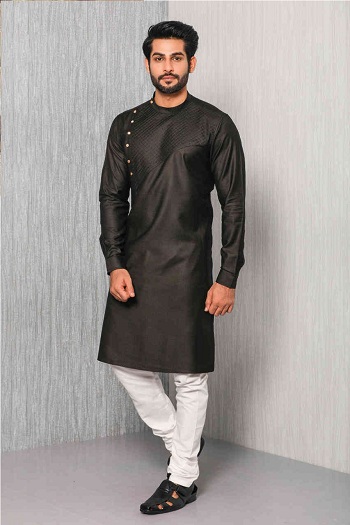 With side buttons in white colour this well fitted kurta has two different type of black fabrics used. It's in cotton breathable fabric perfect for summer season. It's paired with black and white churidar. Online similar designed kurtas are available at affordable prices.
29. Grey Jacket with Black Kurta Pajama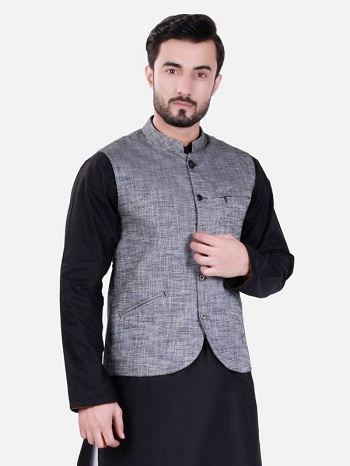 Jacket with black kurta is a classic combination, even if you would like to go for a formal event at your college, work or even for the weddings in your family or acquaintance's place. This you must try grey and black combination at least once and you will never regret. You would look smart and dashing.
30. Plain Black Kurta with Golden Waistcoat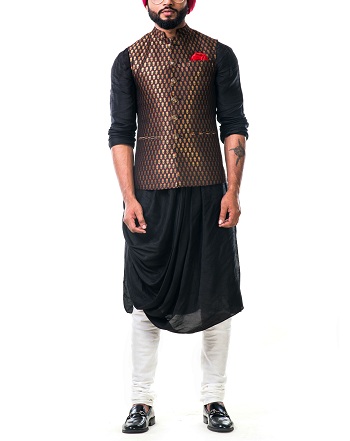 Gold waistcoat can take up your plain black kurta styling to another level. You can imagine how it transforms a black plain outfit and makes it modern and luxurious. The brocade Copper Gold waistcoat would surely justify your fashionable attire for the night functions, parties and weddings. 
These are the different types of black kurta pyjamas which are styled with different types of bottom wear and shoes. The best thing that you can do is to buy a plain black kurta pajama with different accessories. For eg. if we are going to a wedding, wear a kurta with brocade jacket. Or take a shawl with it. You can even style different footwears with your black kurta pajama. And most importantly you can wear jeans for casual events. Even your satin or embroidered Blazers can be paired. You can surely revive your plain black kurta pajama by wearing a contrasting jacket from the same colour family.