Black Tops for Women
Black tops have their own unique charm and because of the color, which is so interesting and suits almost everyone. Black tops and dresses have been the choice of many women. Black can be worn as a solid black color or blending with other colors to create different patterns and Designs. Color blocked patterns with black along with the other monochromes all vibrant colors can create a vibrant and striking look.
For edgy look, black tops can really go well with white and neutrals. Even the other darker shade or pastel colors can create such a versatile look with a black color. In fact, floral printed tops for women are so much in trend currently. There can be casual floral printed black tops for women or gorgeous embroidered or sequin studded black party wear tops for ladies. So, while there is so much to explore and experiment, we bring you this catalogue of the latest designs of black tops for women.
1. Netted Pearl Work Black Empire Top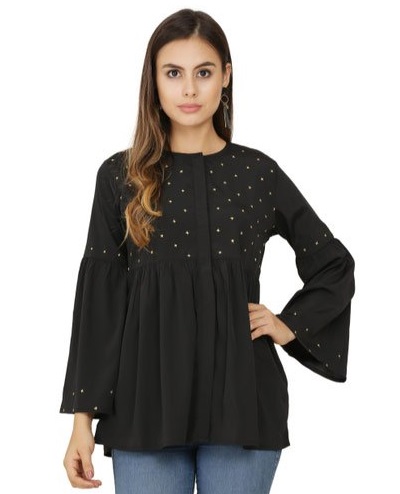 The Empire style top design in black color has bell sleeves and the pleated Empire work pattern. It has bead work on the upper part and a round neckline. It is basically a tunic style top which is ideal for office as well as for college.
2. Ladies Black Sheer V Neckline Shirt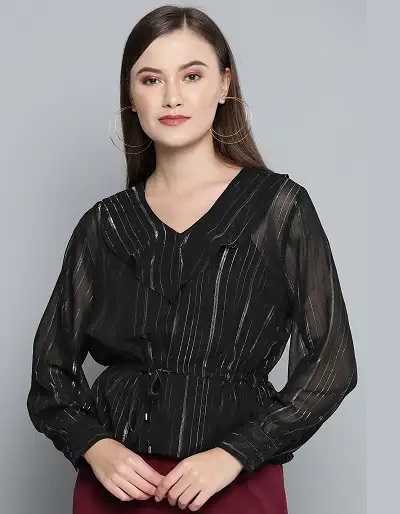 The sheer fabric simply gorgeous and it actually makes this top look apt as party wear clothing. In the top is quite versatile and it can be used as a formal wear top as well.
3. Georgette Ruffled Black Blouse Top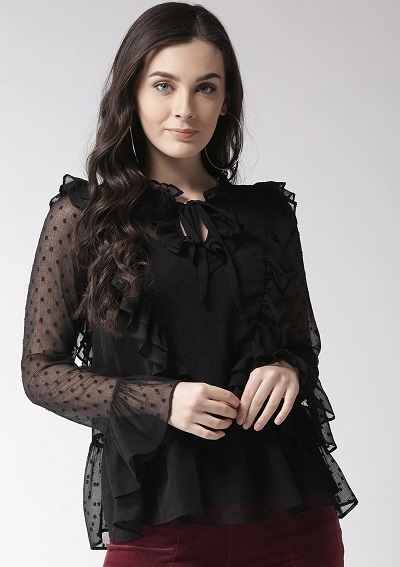 This top is also made in sheer Georgette fabric and is quite refreshing to flaunt all around the year. It is a flattering top for women and moreover, it looks quite feminine and delicate. It can be layered over a pair of jeans or short skirt. The top is an ideal top for work as well as parties.
4. Black Sequin Top Full Sleeves Party Wear Top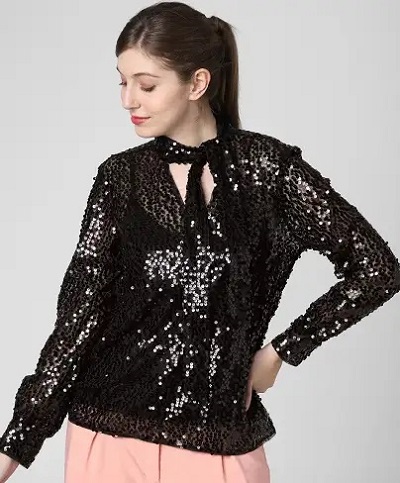 The top is heavily sequined and has this blingy and glamorous look to it. It is specially made for the parties where you have to look gorgeous and glamorous in bling outfits. This can work as a perfect chic party wear top for women. Pairing the top with the trousers,  over a short skirt would give you the best party look or even to rock a date night.
5. Simple Shimmer Work High Neck Black Top For Women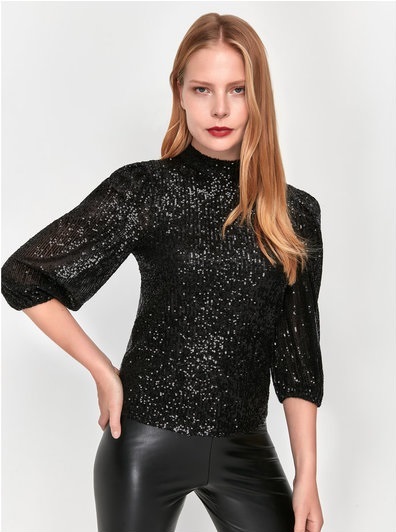 Even though the top has a shimmery fabric, it can work as a party wear as well as a formal wear top. It is not for summers, because of the styling, pattern and the fabric used. However, it is for sure a great piece for autumn and winter and for the days when you would like to wear something warm. It can be paired along with a casual blazer to create a striking and edgy look.
6. Designer Full Sleeves Black Top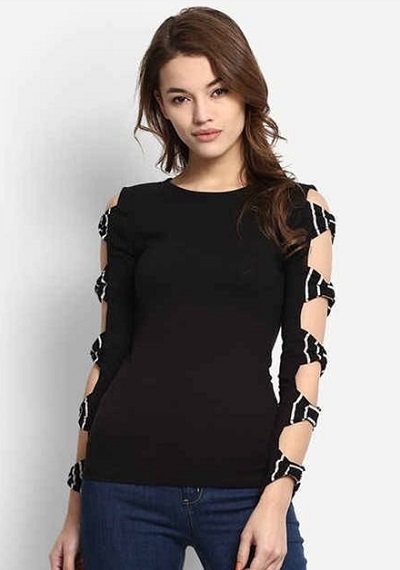 The top is quite edgy because of the sleeves pattern and it is not at all a formal top or over the top but it is more like a party wear or a casual top that can be paired with a nice fitted paired of ankle fit jeans for short skirt. Short skirt would look lovely with this top and a pair of nice Golden stilettos or Gladiator sandal would create the amazing party perfect look.
7. Black Full Puff Sleeved Top Pattern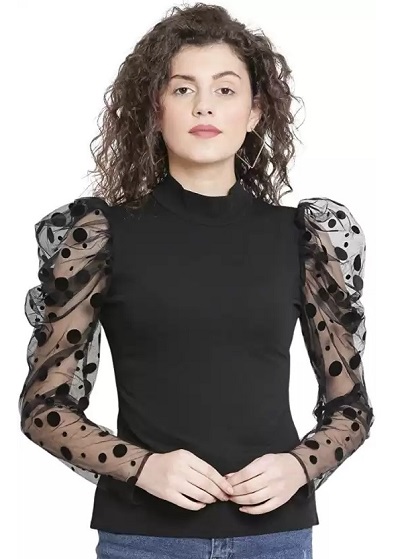 The pattern and design of this top is ideal for parties as well as casual wear. The sleeves are the highlight of this top. Such tops are ideal for trousers and can also be paired with nice fitted cropped jeans, flared jeans and of course with the short skirts. Such tops will go really well with the short Denim pencil skirt.
8. Floral Printed Tunic Style Top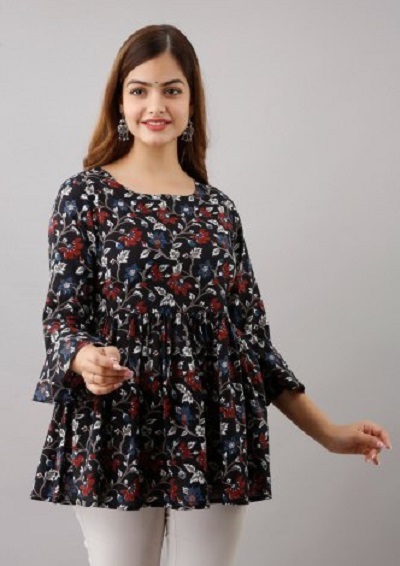 The black top is simply gorgeous with all the black floral print overhead. When compared with, jeans or trousers. As the top is kind of a tunic top, the best way to team it up would be with a short skirt. It will give a peplum kind of look with this top already has. Pair it with a pair of sandals or with wedge heels.
9. Line Long Floral Printed Black Top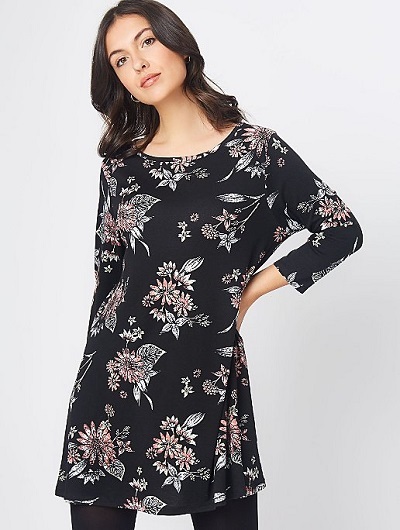 The black floral printed top is actually a kind of short dress if you will see. Therefore, it can be used as a short A line printed dress. It can be used as long top by wearing it over a pair of jeans, trousers and T shirts. With such tops, skirt and flared jeans will not look good, however while wearing them with this kind of top.
10. High Low Pattern Black Top For Women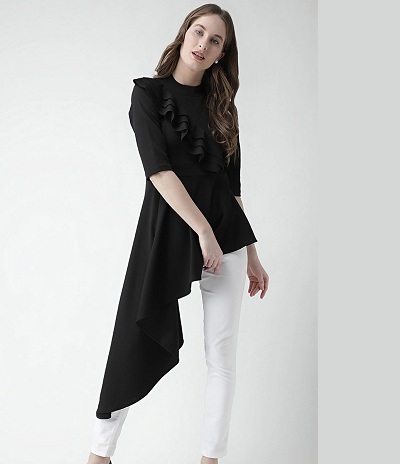 The top has an amazing and quite extraordinary pattern. Yes, it has a diagonal hemline, there in one of the side is longer, hence it gives a diagonal appeal to the top. The make and pattern of the top is quite attractive and is made elegantly.
11. Pearl Work Ruffle Sleeve Black Top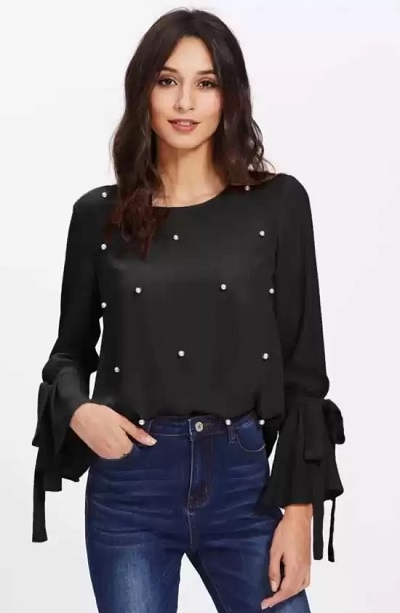 12. Short Ruffle Sleeve Black Top Design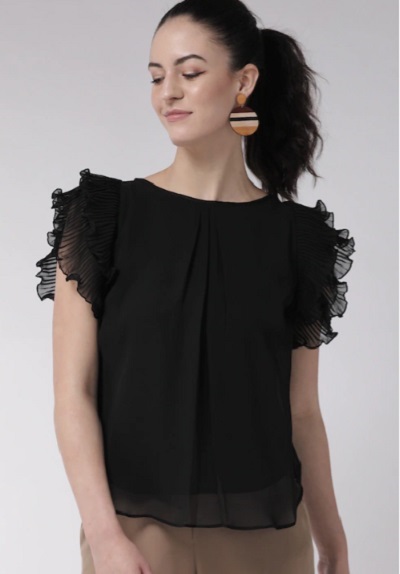 13. Black And White Kaftan Top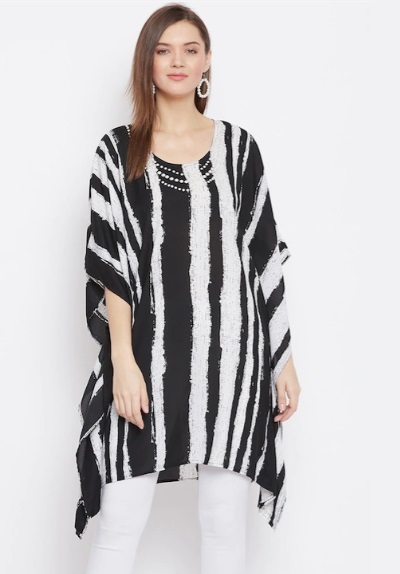 14. Floral Printed Short Crop Top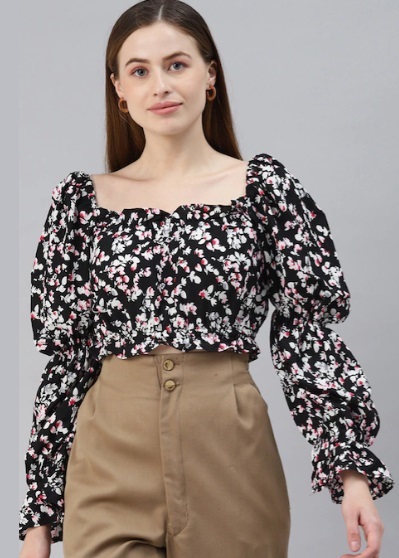 15. Black And White Top style T Shirt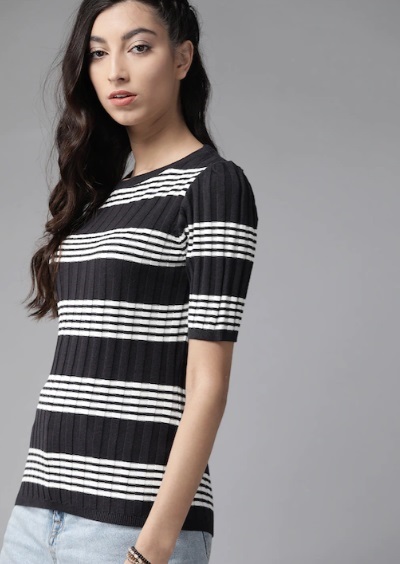 16. Floral Printed Short Black Blouse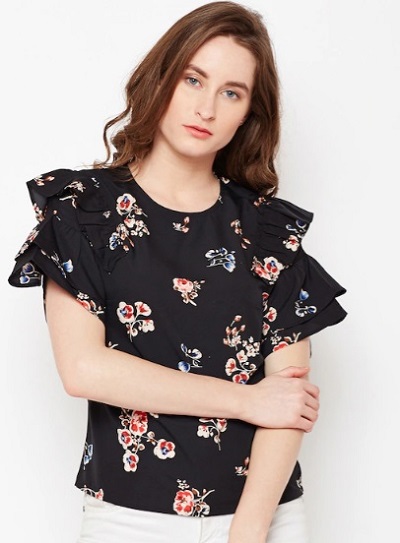 17. Raglan Sleeve Black Top For Parties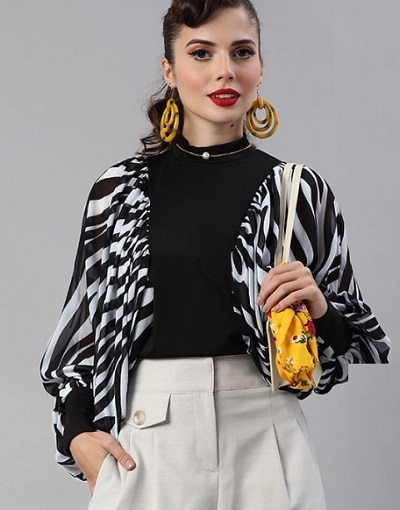 18. Embroidered Cold Shoulder Black Top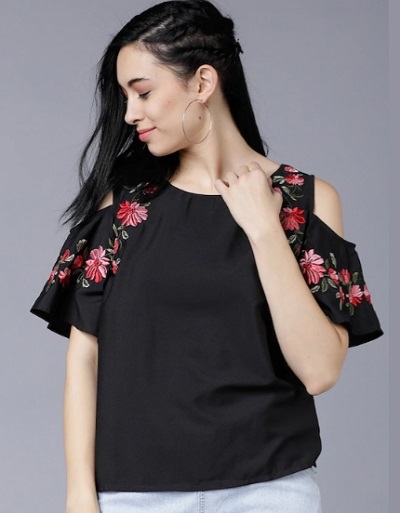 19. Georgette Black Top For Casual Wear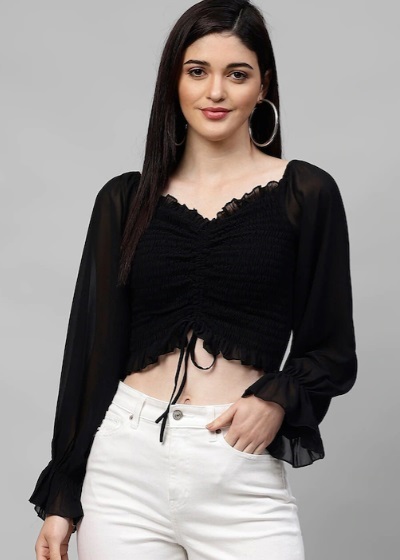 20. Off Shoulder Party Wear Black Top Design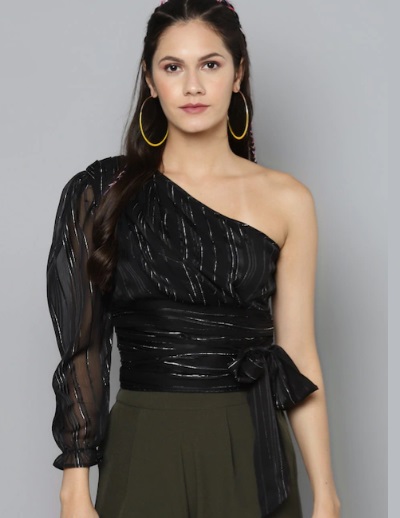 21. Layered Embellished Black Top For Parties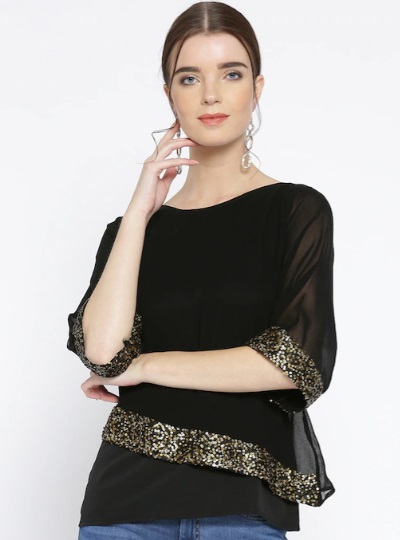 22. V-Neck Knotted Floral Printed Black Top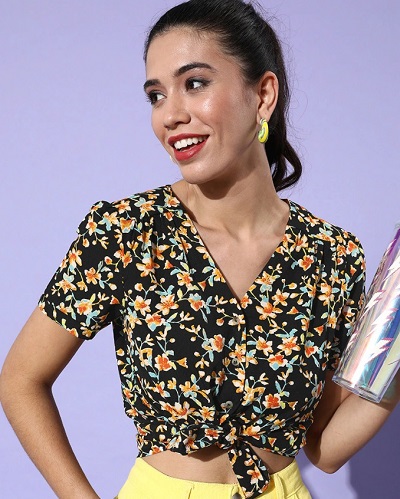 23. Lace Fabric Black Top Design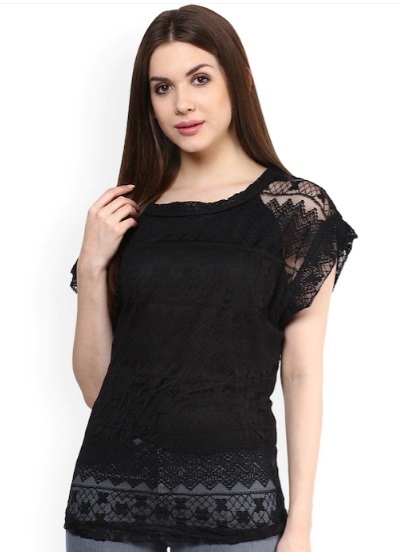 24. Animal Printed Black Top For Women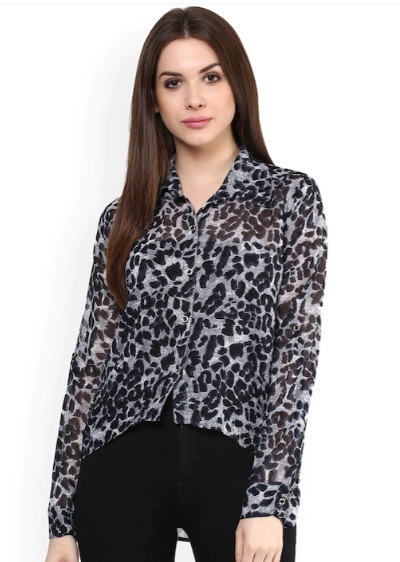 25. Wrap Pattern Black Top Design