Blouse Back Neck Designs for Silk Sarees
Silk Sarees or pattu sarees are perfect to make you look beautiful, elegant and traditional. With so much going on with different type of silk sarees these days, one cannot stop experimenting. Silk sarees are amongst the most popular attire in India which are available in multiple variety of silk. Women with all shapes and body types would prefer a saree as it hides the flaws and make you feminine and pretty.
When it comes to sarees, one can't do without the blouses. Blouse definitely plays an important part in enhancing the look and elegance of your saree. Therefore, choosing the neckline and pattern of the blouse is equally important. While your saree blouse should be comfortable, you can amp up your styling with the use of correct design, cut, work and pattern. If you're here for the latest silk saree back blouse design ideas and images, you've have reached the right spot. We've compiled this image list of the top modern designs of silk saree blouse back designs that are currently in trend. Your saree will look very enticing when paired with the right blouse design.
Beautiful Blouse Back Neck Designs For Pattu Sarees Or Silk Sarees (2020)
The latest blouse designs can be worn with the majority of silk sarees like, handloom silk, kalamkari, maheswari, cotton silk, Kota, tissue, Kerala silk and many other that we've got. Let's check.
1. Green Silk Saree Blouse with deep back neck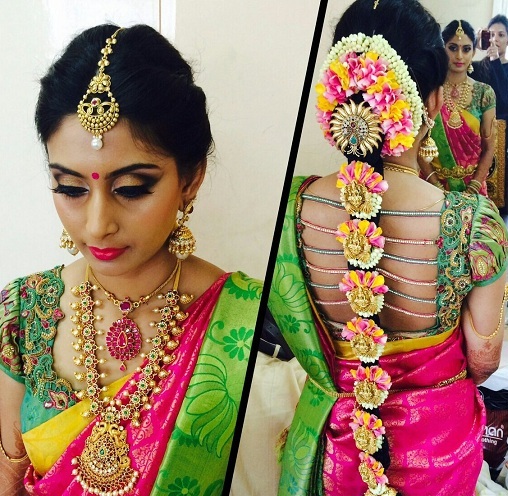 The deep back neck is sure to entice you. There are multiple horizontal stripes at the back in  2 different colours. The bead work done over the thin strips makes is very modern, unique and stylish. This can be easily replicated by your local boutique but make sure the material used is silk. Having said that, you can also have this design stitched in a brocade or chanderi silk fabric.
2. Pink Low Back Neck Silk Blouse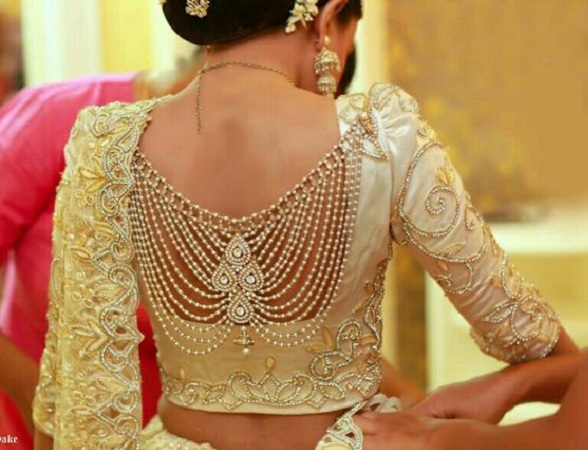 The blouse in three fourth sleeves with heavy embroidery looks grand and eye catching. It has a deep sweetheart cut with back hooks. Hooks at the back style blouse designs are very much in trend these days, therefore, you must try out once. Other than that, there are two strings attached. We would suggest that you can also put latkans at the string ends. Also see the latest silk saree blouse designs which we've shared earlier.
3. Bell Shape Cut Red Silk Blouse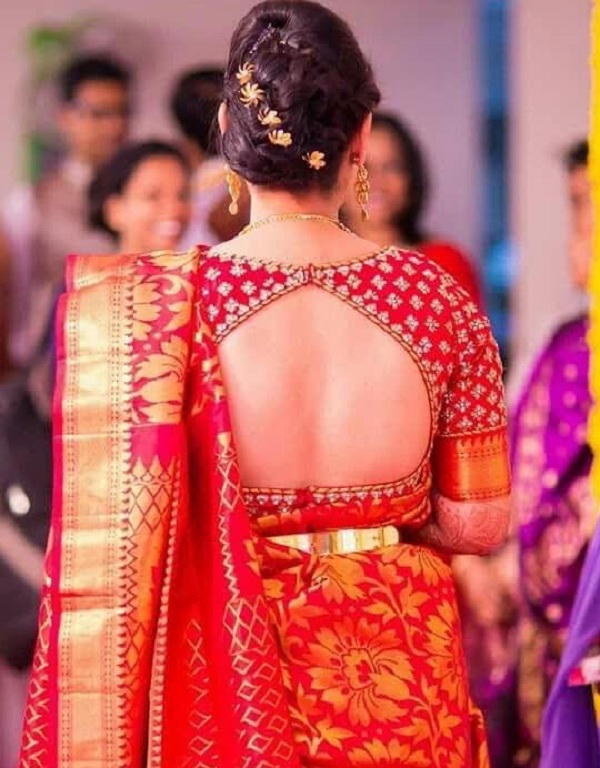 The best thing about this blouse design is the back neck which is highly appealing. The heavy hand embroidery is all over the blouse which makes it quite intricate and fashionable. The grand and luxe looking blouse design is truly amazing. Other than that, its elbow length sleeves have a border which gives extra dimensions. You can go for this design the next time you decide to wear a silk saree.
4. Deep U Cut Silk Blouse Design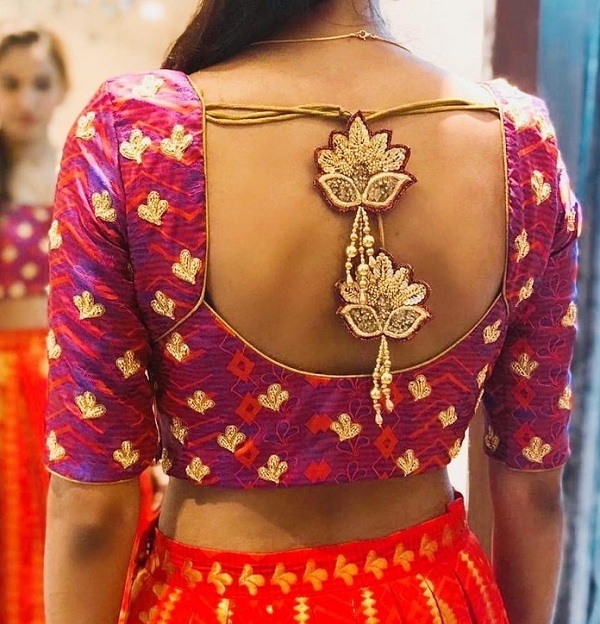 This design comes with strings at the shoulder and a very deep U cut. It's for those who do not shy away from such back neck designs. With the shoulder strings, using latkans are extremely in trend these days you can look quite stylish and young are there in such a design.
5. Cutwork New Back Blouse Design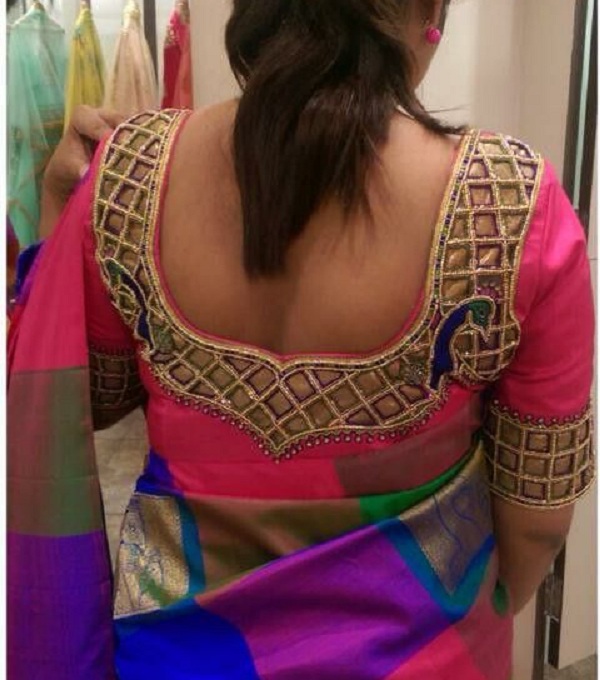 This is quite a new and innovative looking design that are cutwork on the back neckline giving you it quite traditional yet experimental feel. If not that, you can also customise that. It can be paired with different or multiple toned silk sarees. The sleeve length till elbow is with borders which are also in fashion currently. Though, you can also experiment with short or even full sleeves.
6. Double Keyhole Silk Saree Blouse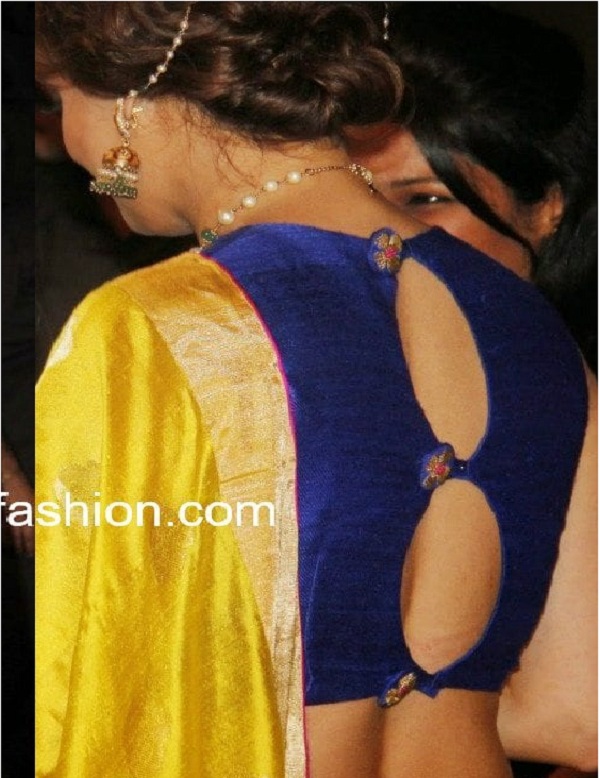 This double keyhole design is very much in attention. It's the latest style which is a good option for younger women. Nevertheless women of all age groups can go for such back neck designs. The double keyhole style has buttons that holds the blouse in place. So if you want to look your modern and stylish than going for simple blouse designs like this would be perfect.
7. Modern Back Blouse for Silk 
Saree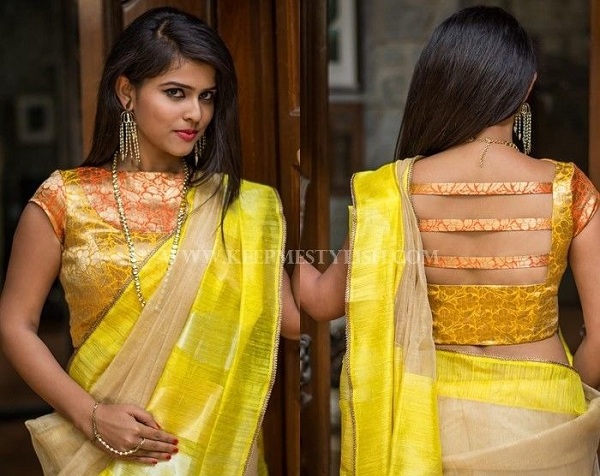 The next style of saree blouse has short sleeves with three parallel horizontal bands. This  styling makes it uber stylish and very glamorous. So, if you are looking for a silk saree blouse back neck ideas for upcoming wedding and other functions, then don't forget to try this pattern.
8. Zardosi Work Blouse Back Neck Design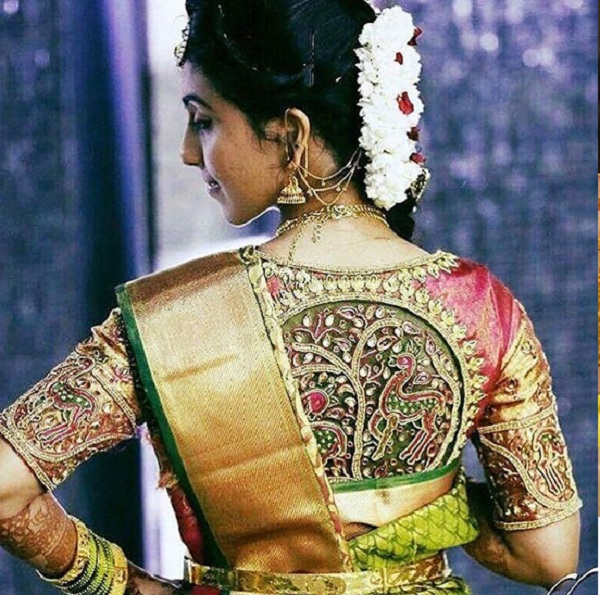 This design is intricately carved on sheer net fabric on the back with heavy embroidery. The hand work is extremely impeccable and neatly done with sequins, beards, zari, golden thread and many other material type. Such blouse designs with sheer fabric at the back is sure to gain loads of attention at any event. It's amongst those blouse back neck hand embroidery designs which draws attention at the event or party you go for.
9. Reshmi Saree Blouse Back Neck Design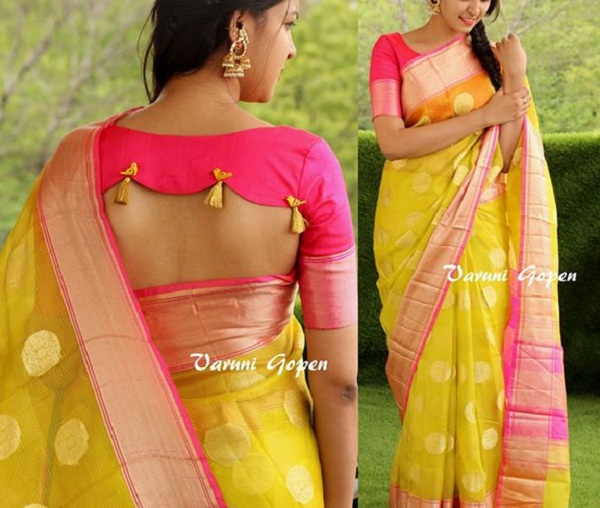 The next design has scalloped band at the shoulder with tassels. Tassels are very much in trend currently, this is the design which is something different than the regular designs. This is not an entirely backless, but the middle part of the back is visible. For modern and bold women, this is the best design. Try this back designs blouse like this with your pattu saree or any other type of sarees.
10. Beaded Back Neck Designs for Silk Blouse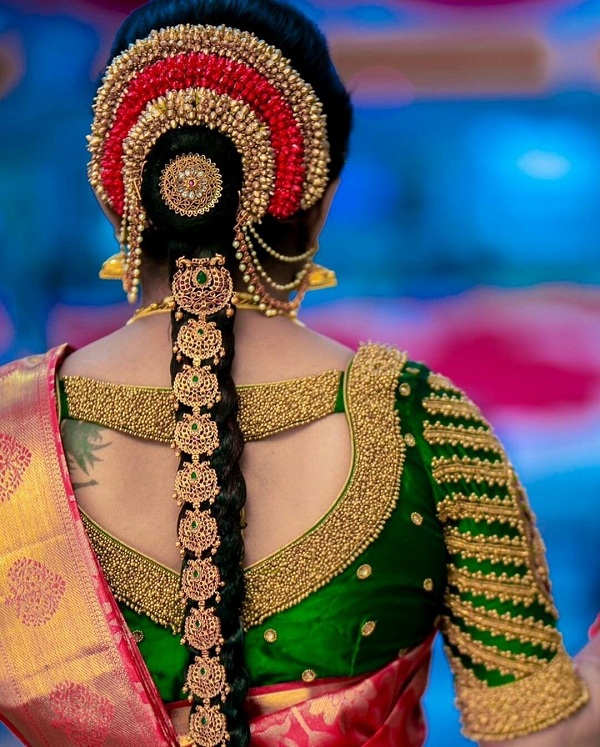 The design is experimental but the embroidery and intricate bead work has made it surely eye catching. This is a very heavy blouse design that is suitable for bridal and Grand occasions like weddings and receptions. Embroidery and beads gives it an expensive and designer look. It's the best blouse back neck designs for kanjeevaram sarees. 
11. Embroidered Back Design For Pattu saree Blouse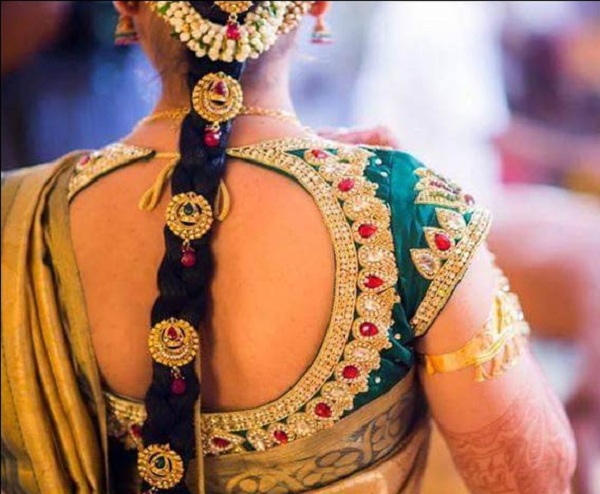 With this next blouse back neck blouse design for silk saree, there's a deep round cut that has been detailed with stones and embroidery. The same can be seen on the sleeves which are short. You can certainly set the temperature rising with such a style. Intricate detailed work at the back and overall  makes it extremely rich and luxurious looking embroidery with stones.
12. Blouse Back design with Dori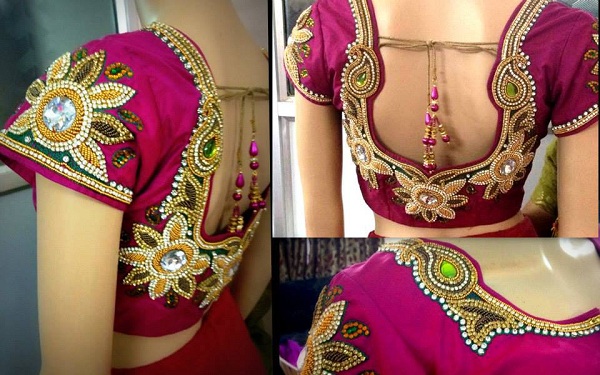 Doris at the back neck are back and can be seen sported by a lot of Actresses as well. Doris add that extra gentleness to the dress. This blouse is quite simply stick in the pattern, but when it comes to detailing and stone work, it is unmatchable period. It has strings and latkans at the back neck which has a floral type of pattern. With the beads and stone work, it looks purely captivating.
13. Mirror Work Blouse Back Designs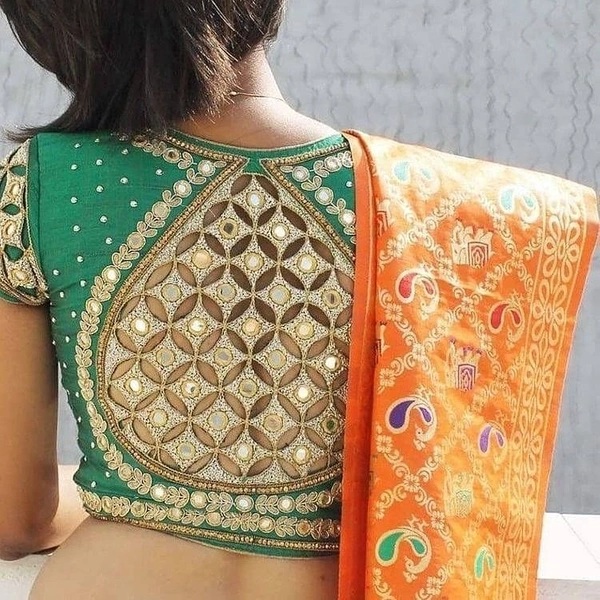 This blouse is a bridal silk saree blouse that you can wear for important occasions with your pattu sarees or any type of sarees. The design is filled with royal yet traditional styling. It has cut work in a teardrop shape. So while going for such a blouse design, you can never go out of trend. The rich border and the work at the back surely make you look stylish effortlessly in an elegant way. Surely, other women will want to praise you for your styling.
14. Blouse Back Neck Designs With Lace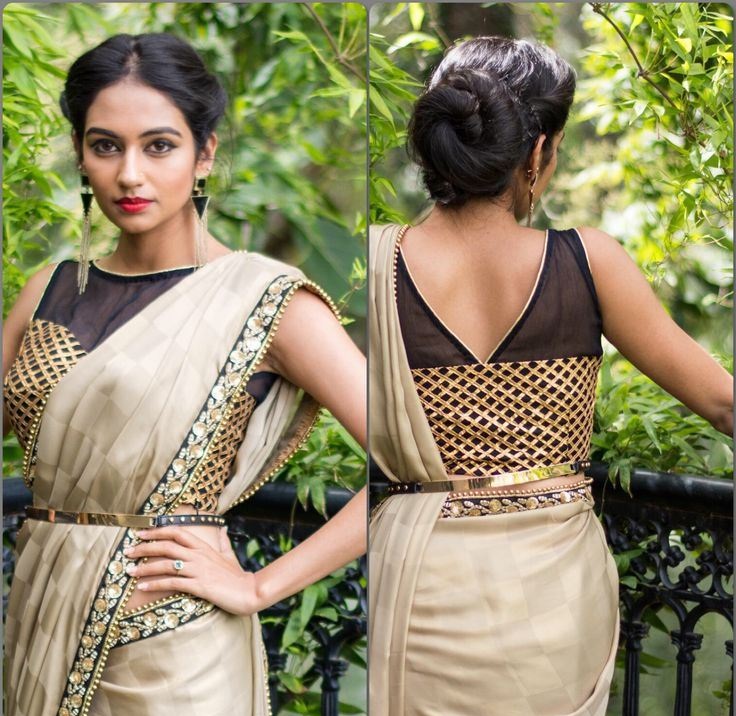 Lace is also seen used a lot in blouses. It's a sleeveless blouse with top transparent or shear fabric while the bottom part has Gota Patti work done in cross criss-cross manner. This simple back neck blouse design works well with your pattu sarees and cotton silk sarees. In fact, this can be worn with your stunning looking multiple styles of sarees.
15. Back Deep Neck Blouse Designs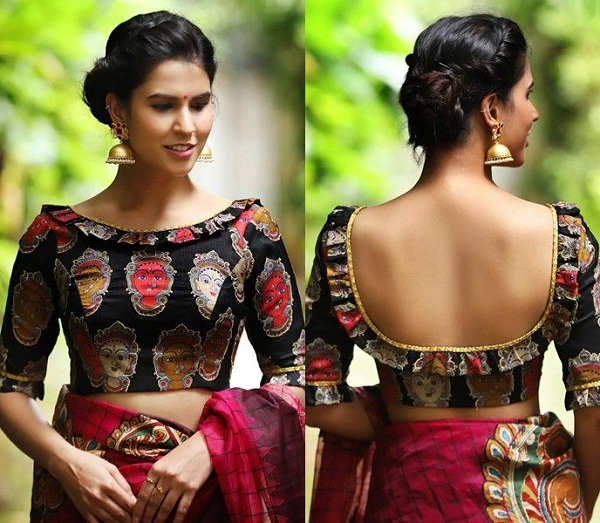 The Deep U cut and a gold lace piping and frill in the same fabric. It's sure to make you look fashionable and trendy. Younger women ad girls will find it suitable for their taste with that chic neckline. The colour combination along with the frill gives it a fresh look. It's simple yet not in a regular way.
16. Blouse Back in Net Design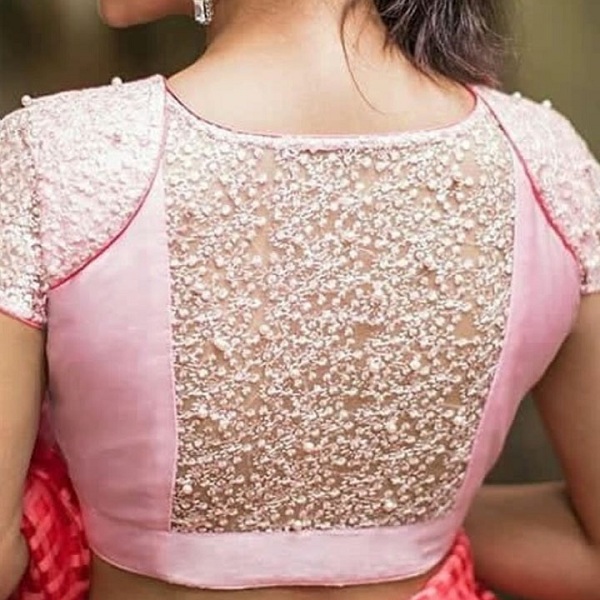 The translucent sheer net fabric with delicate thread embroidery is another option for ladies who can't wear backless yet would like to explore something similar. It'll work for women with all age groups considering the threaded net. You can get this type of blouse design and pattern stitched in other fabric but keeping the sheer net at the back part.
17. Beaded Neckline Design for Blouse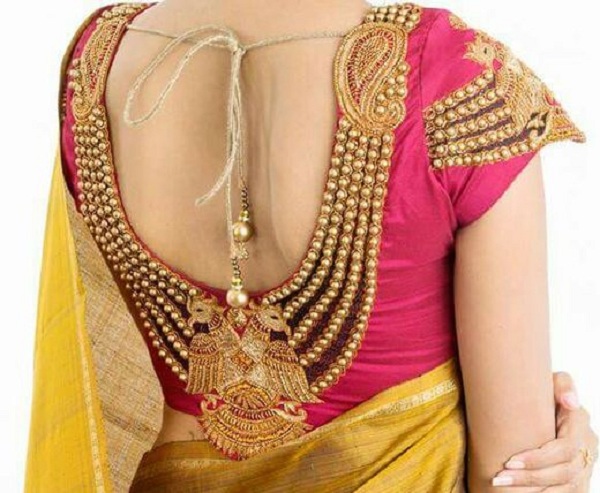 The blouse design with beards is appropriate for pattu saree and would surely compliment. It's golden beaded back neckline is adorned with multiple motifs, strings at the top and makes it grand and very expensive. It's one of the best looking back blouse designs that we have seen currently that has traditional yet elegant feel. You would agree that this design is apt for bridal affairs.
18. Bridal Back Design for Pattu saree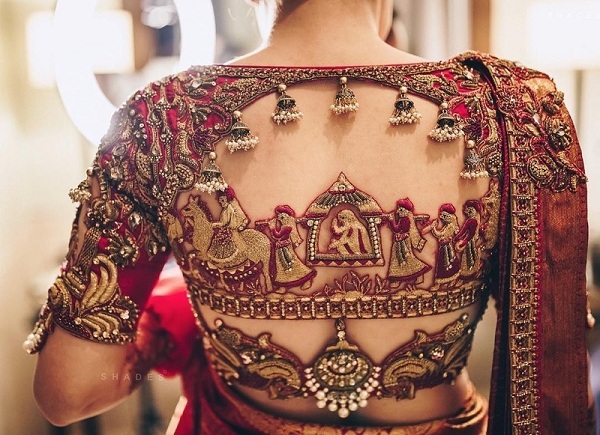 This next saree blouse design is for brides. The reason being the ornaments or jhumkis attached to the deep inverted cut. It also has motifs of bride in a palanquin carried by couple of people. It is sure to make you feel no less than a queen.
19. Blouse Back Designs with Borders on Sleeves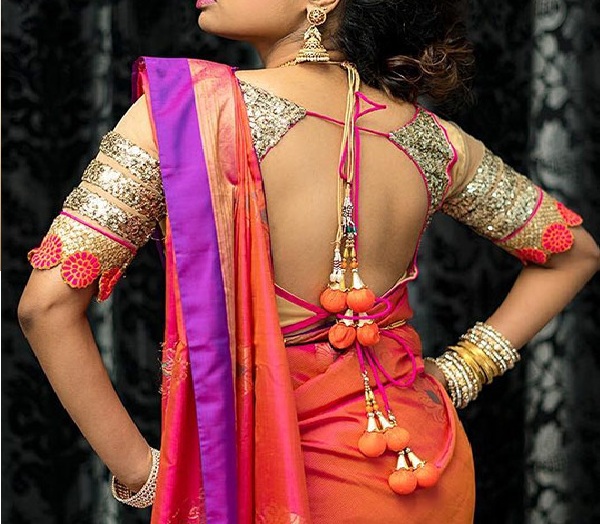 If you like multiple borders on the sleeves with backless blouse design, it's for you. It has two sets of doris with a round deep cut which gives it a backless feel. The borders on the sleeves with the floral motives on the edge makes it apt for festivals, wedding, function and other events. Try this the next time you attend an event of family function.
20. Silk Saree Blouse with Embroidered Back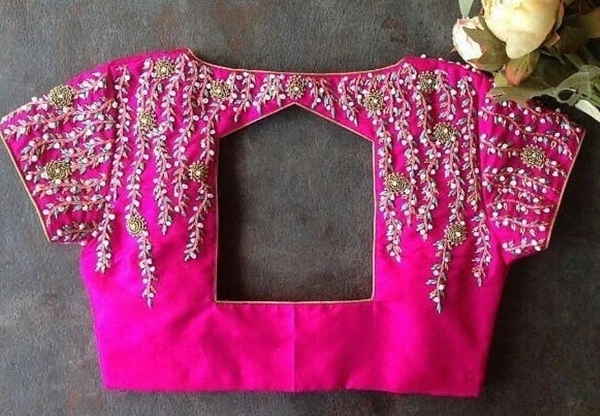 This is last but not the least. The geometric pattern cut on the back with thin floral embroidery look stunning. It can be paired with your skirts like crop top or even with the lehengas. It has short sleeves and a boat neckline.
So with these blouse back neck designs and patterns in mind for silk sarees, you will look stylish and modern without compromising on the elegance.
Picking up the best saree blouse is not difficult, when you choose the right blouse with the proper saree style. Pair simple blouses with heavy silk sarees and heavy blouse with simple sarees, it'll work better.
Having said that fit also matters a lot. It doesn't matter how beautiful the blouse piece is or how expensive the saree is. If the blouse doesn't fit you well, then it's of no use. Other than that, the blouse piece showing your innerwear is not a good sight. Therefore, it would be a good idea to wear the right kind of inner wear and the blouse back neck design fitting should be perfect.