Blue Heaven 12×1 Fashion Eye Shadow Review, Swatches and Price
Hi everyone!! Eye shadows will help to create magic to the eyes. The eyes will look great when we apply eye shadows. There are so many eye makeup products that we will create eye makeup looks. But eye shadow is a very much used product. In this post, I will share Blue Heaven 12 x 1 Fashion Eye Shadow review but there are a lot of people who will like to use eye shadows on daily basis. Like a little pale gold on the eyes or over the eyelids. Every girl should have a good eye shadow kit with her as when you need to do eye makeup then singles are hard to use if you are using 2-3 colors on the eyes. So, there here is the Blue Heaven 12×1 Fashion Eye Shadow Review. See the best eye shadow palettes and eye shadow kits in India
Price:
Blue Heaven 12×1 Fashion Eye Shadow is for 125 rupees.
Ingredients:
Hydrated Magnesium silicate, kaolin, calcium carbonate, Zinc stearate, Zinc Oxide, Mica, Titanium dioxide, permitted preservatives and may contain inorganic iron oxides.
Experience with Blue Heaven 12×1 Fashion Eye Shadow
The eye shadow palette has 12 eyeshadow colors which are of different shades. There are colors of multiple variety and have applicator as well. The flap cap is transparent which has a decent click shut packaging. The colors have the octagonal pans inside this eye shadow palette. The shades will also have the shimmery and pearly shades. Let me describe each and every shade now. I have already did this Blue heaven Eye Magic eye shadow review.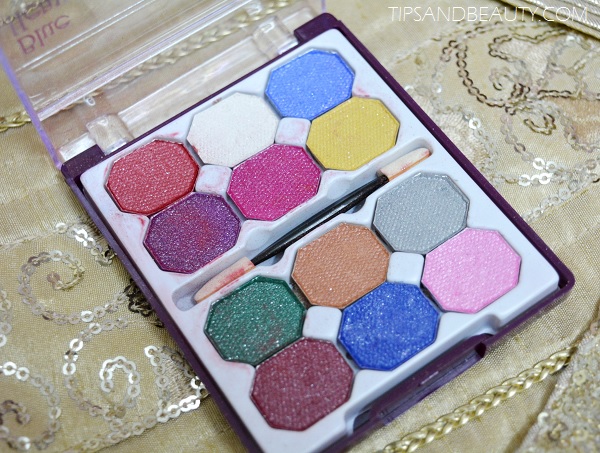 From top to bottom and left to right.
Brick red color: The color is a very shimmery color which has a decent pigmentation. This can be used with the Indian dresses which are deep red in color. It can be one of the best eye shadow color for Indian skin tone 
Pearly White: This pearly white color which is good for inner corner and brow bone highlighting.
Bright Blue: This is a bright blue color which can be used with blue dresses or in combination with other shades. Check the best makeup tips for blue dress
Deep violet: Violet is a color that looks good with black dresses or with purple dress. Even with magenta colored dresses we should try it.
Hot pink: Hot pink colors are good for red dresses and with pink dresses.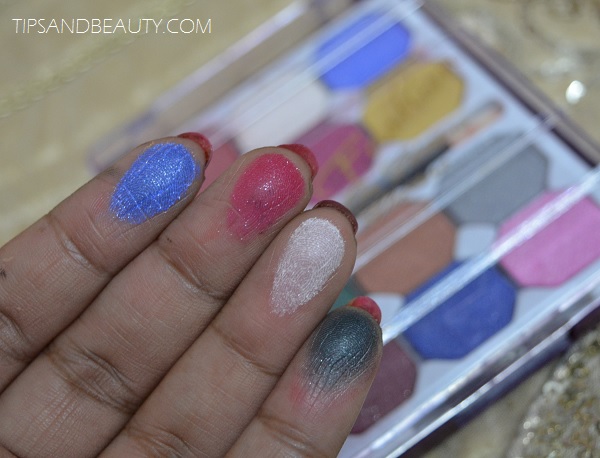 Bright yellow: Yellow colors are very cheerful and you can use this for the makeup with yellow dresses.
Olive green: Olive green colors can be teamed up with whites, green dresses.
Tan color: The tan color helps to create the perfect look with all the dresses so that you can use such colors to make the eyes look beautiful.
Grey color: The grey color is appropriate for the eyes when you wear black and grey dresses. Most of the eye shadow colors like navy, greys etc that goes well with black dresses a lot.
Burgundy: Burgundy is a color that one may not wear for everyday but it will be good for heavy Indian outfits for traditional ceremonies and weddings.
Blue: The blue shade is a great color which we will use for the eyes for blue dress. The shade is a shimmery shade.
Light Pink: The light pink color is a pretty color which can be used everyday as everyday shades should be lighter.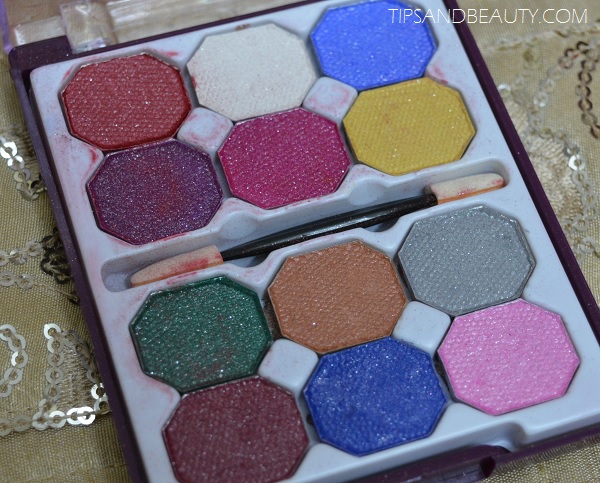 Staying span:
The staying span of these eye shadow colors is good. The shades are very pigmented and will stay on the eyelids for at least 5-6 hours. When I use the eye primers then the shades will last longer on the eyes. This will also prevent the creasing of the eye shadow.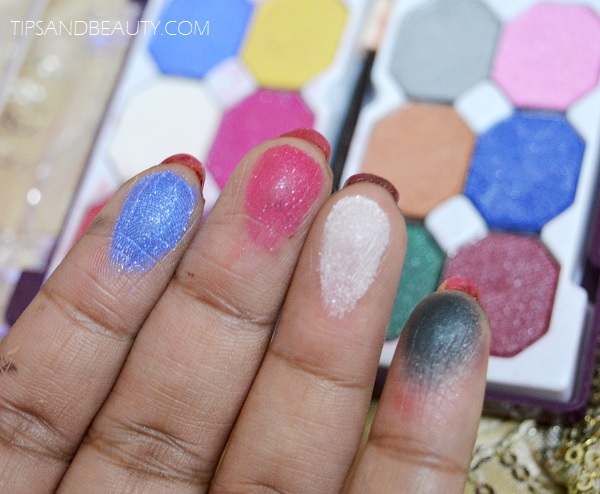 Pros of Blue Heaven 12×1 Fashion Eye Shadow 
The price is very affordable and is also inexpensive so that this can be bought for cheap

Pigmentation is also very good

The shadows are easy to blend

There is an applicator which is decent is size but I find them difficult to use

These eye shadow colors can be applied with the fingers as well.

They stay on the eyelids for good 5-7 hours

Eye primers can make them last longer

They do not fall out much still using loose powders over the under eye area is considered good
Cons of Blue Heaven 12×1 Fashion Eye Shadow
They all are shimmery and have glitters in them so if you wish to use them in the day time, they will look a tad too much.

Packaging could have been better

There could have been some matte shades too
Rating: 4 out of 5
Blue Heaven 12×1 Fashion Eye Shadows are good for everyday use and the pigmentation is also good. We have used eyeshades which were extremely expensive but this eye shadow palette being very cheap will help to give lasting results. Moreover, these eye colors will also prevent the fading since the colors are intense. The price is also cheap and thinking that these are good for the price. I feel that there should have been a black and a medium brown as well as these are highly used colors.