Blue Heaven Cosmetics Haul, Price and shades
Hi all, I still remember one of my aunt had that blue heaven eyeliner with her out of the Lakme products. I have tried so many cosmetics from the popular brands in Indian like Lakme, Maybelline, Revlon L'Oreal Paris etc but when I saw the recent ads on TV for Blue heaven cosmetics, I thought  I should give them a try. Moreover, recently few female readers asked me if I have used the Blue heaven Cosmetics or Blue heaven products? I thought I should give them a try so, I bought all the products which I could find online. The products are really cheap and affordable hence the girls who are on a budget and would like to make their makeup kits can try their products. Okay so, let me tell you girls what I have got.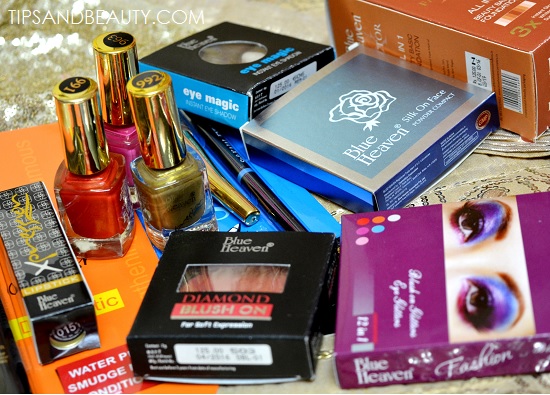 I have got these products from Blue Heaven cosmetics.
Blue Heaven Cosmetics Haul, Price and shades
Blue Heaven Expression Nail Paints
I am getting a lot in to nail paints these days. So, have used them and loved them. Detailed reviews will be soon dearies.
Blue Heaven Silk on Powder compact
This reminds me of the Chambor packaging, very similar. I have used it and there lot to tell but you would have to give me some time.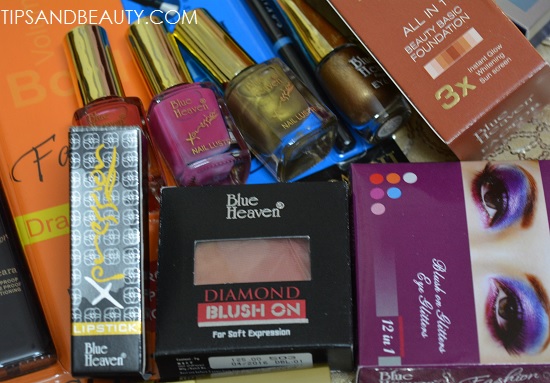 Blue Heaven Diamond Blush on
I liked the color of the product. This is a beautiful Rose gold blush which has very fine gold particle which makes it gorgeous but full story is yet to come. 🙂

Blue Heaven 12 Eye Shadow Palette
The eye shadow palette has 12 colors and they all are shimmery. Yes, so if you like matte eye shadows then this no definitely not for you. This was for 125 rupees.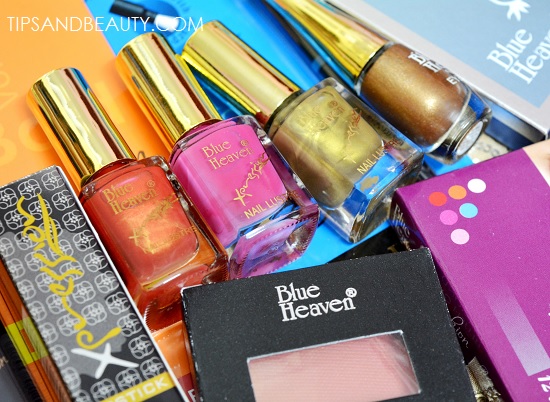 Blue Heaven All in One Foundation
This is a foundation in a pump pack and I liked the packaging. These costs 125 rupees. Very cheap and affordable product
Blue Heaven Shimmer Eyeliner in Gold/copper
I don't know what name they have given to this color as this look gold or copper to me. This is for 60 rupees something.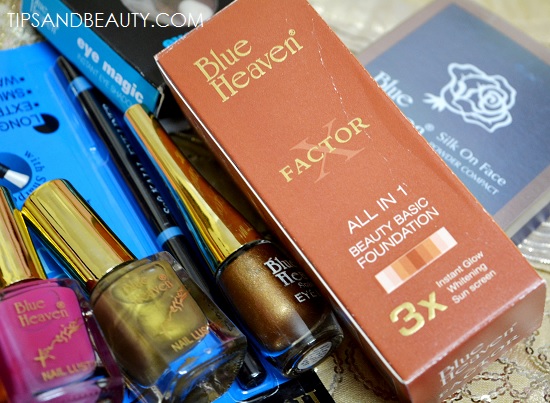 Blue Heaven Kajal
This is a Lakme Eyeconic kajal look alike in packaging. This is a bit funny since the brand can have their own design like different packaging. This kajal is for 120 rupees
Blue Heaven Eye Magic Eyeshadow Quad
This quad is also for 120 rupees and has 2shadows which are shimmery in nature. I have liked it so far let's see how this will fare.
Blue Heaven Mascara
I loved the packaging. This is so cute and beautiful. This too costs 125 rupees. I think this is my most liked products when it comes to packaging.
Blue Heaven Expression Lipstick
This is my most liked product and this cost 125 rupees. I loved the color and this is very pretty.

So, this was all my friends and I will be soon sharing the reviews of these reviews.