Blue Heaven Silk on Face Compact Powder Review, Price and How to Use
Hi girls!! Compact powders are crucial whether you are going for minimal makeup or the heavy makeup. Compacts or pressed powders are daily use product. In fact, most of us would apply compact at least 2-3 times in a day. Like for oily skin, to dab the oiliness and to set the makeup. I will share Blue Heaven Silk on Face Compact review. I got this few months ago and have used it few times. So now I can judge this Blue Heaven Silk on Face Compact and will do a review on it. In this post, I will tell you about this product.

Price of Blue Heaven Silk on Face Compact Powder:
125 rupees for 12 g of pressed powder compact
Ingredients:
Talc, Mica, kaolin, Titanium Dioxide, Ethyl Hexyl palmitate, Aluminium Stardch Octenyl Succinate, magnesium carbonate, Iron Oxide, Perfume and approved.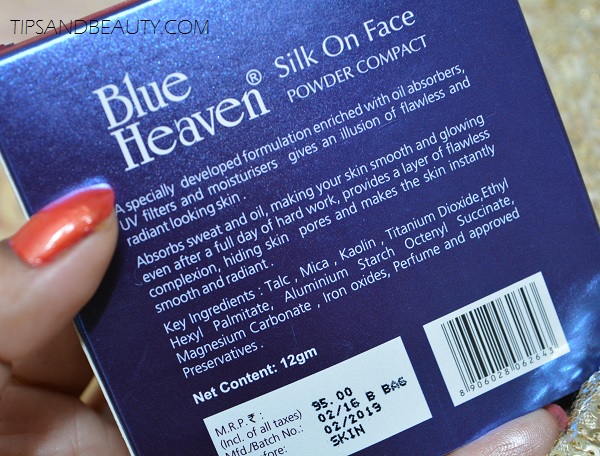 Experience with Blue Heaven Silk on Face Compact Powder
This Blue Heaven Silk on face compact powder is packaged in a carton which gives me feel of the Chambor face powder. It resembles a lot like that. Inside the carton the product is of blue color. The plastic is slightly cheap but when the product is only for 95 rupees, can we really complaint? In the compact powder case, there is a full sized circular mirror and the pan has the pressed powder with a powder puff. The quality of powder puff applicator is okay and not bad. See the Best Affordable Compact powders in India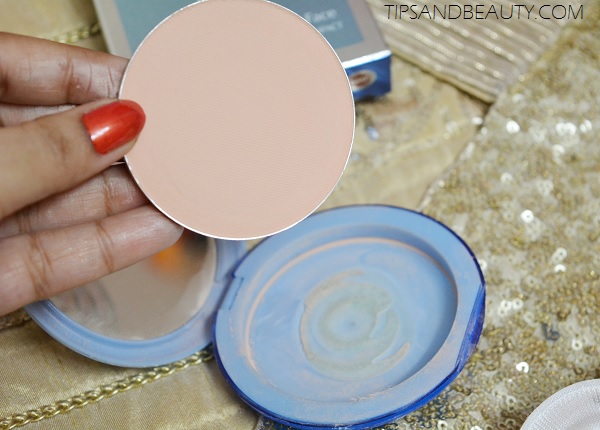 The metallic pan that contains the powder came out when I opened it. It came out because may be the glue holding the pan to the plastic was loose. The powder has a pinkish undertone so, it was a mismatch with my skin. I was hoping that at least the color should be a bit yellow so that it could match the Indian skin complexions. The product is 12g and is for 95 rupees. So, this is going to last longer.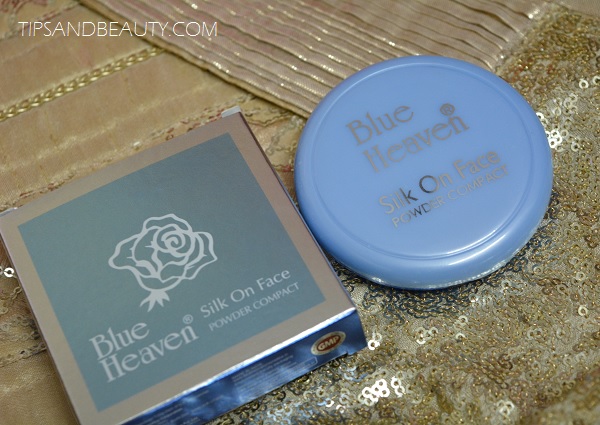 It was not completely mismatch, this is what I realized when I used this on the face. I have fair skin so, it still matched but for medium skin this will not match at all. They do not have many shades and this makes this product not good. The blue heaven 12 eye shadow palette was still good since it was an eye shadow kit but this is not that good as a product even though this is only for 95 rupees.
Staying span of this is around 2-3 hours on oily skin then you can see the greasiness and oils come on the skin. The texture is okay as this blends on the skin nicely but at the most this does not have very chalky texture slightly chalkiness is there.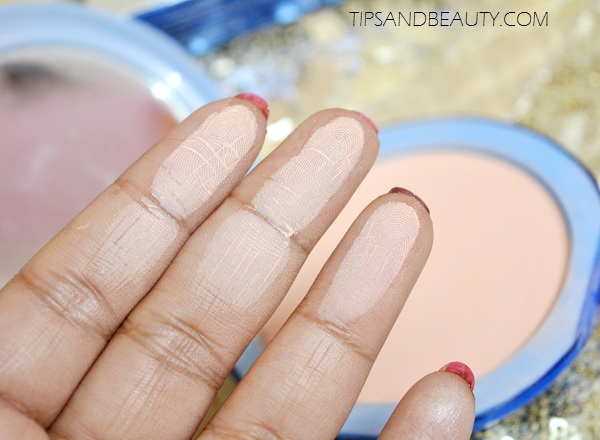 How to apply compact powder:
To apply compact or pressed powder, you should apply the base like a foundation, BB cream, CC cream etc.

After that take some compact powder on the powder puff and dab on the skin. You should never swipe it or drag it but dabbing is the best way.

Dabbing technique will help to push the powder in the pores etc so that the skin appears smoother and softer.

Then later during the day when your skin feels greasy or oily, at that time too, you should take a tissue and absorb the oils first.

Direct application of pressed powder on the oils will make the makeup look heavy and cakey.

Do remove the oils first by pressing tissue on your oily areas like nose, chin forehead etc.

Then apply the pressed compact powder using the same dabbing technique.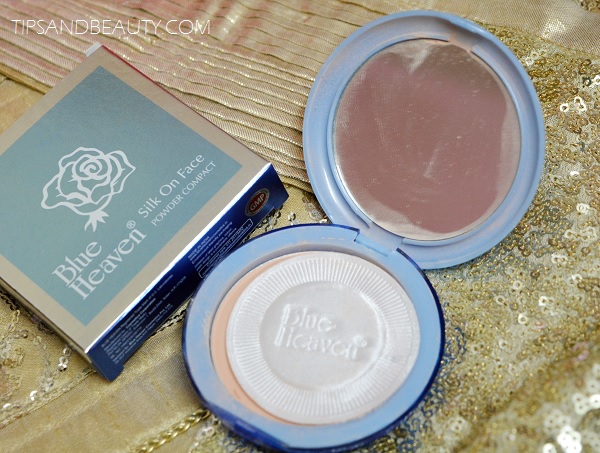 Pros of Blue Heaven Silk on Face Compact Powder
Price is affordable and cheap so that everyone can try this compact powder.

It is easily available in many cosmetics shops, online stores etc

The powder puff is decent
Cons of Blue Heaven Silk on Face Compact Powder
Shades are limited

Packaging is of cheap plastic

The undertone is pinkish hence may look off on the yellow under toned Indian skin

The pan came out of the case

Slightly chalky
Rating Blue Heaven Silk on Face Compact Powder: 2.5 out of 5
Blue Heaven Silk on Face Compact powder is a cheap compact powder but this is not good as the shades are limited. The shades do not match with Indian skin nicely. Moreover, the texture is nothing special. The price is very cheap and so does its availability but not something that I will recommend to you.
Have you tried this Blue Heaven Silk on Face Compact? How did you like it? You can also check some of our other posts:
10 Best Eyebrow Powders, Eye pencils and eyebrow kits in India
8 Best Loose powder and translucent powders in India