Blue Heaven Soft Kajal Eyeliner Review, Swatches and Price. Hi friends, Kajal or kohl is a very important or rather the most used products. I have noticed that even if a girl or woman will not use any makeup product still they use kajals. In India, kajals are used by the women of all ages. Tiny kids are also seen wearing kajal but for them there is some other reason that keeps them away from evil eye. I will share, this Blue Heaven Soft Kajal Eyeliner review. I got this kajal long ago and I still have that. I use kohl less and more eyeliners, this is why this is still not used completely and about half of the lid is still unused. This is a budget kajal from Blue heaven and while I was purchasing so many of their products, I bought this Blue Heaven Soft Kajal Eyeliner too. Read my review to know more about this kajal.
Price of Blue Heaven Soft Kajal Eyeliner: 
125 INR for 0.31 g
Shelf Life of Blue Heaven Soft Kajal Eyeliner: 3 years or 36 months
Ingredients: Not mentioned on the outer packaging as well.
About Blue Heaven Soft Kajal Eye Liner: 
Blue Heaven Soft Kajal Eye Liner gives the most desired lines which are sharp and pigmented and applies smoothly and is long lasting, extra black, smudge proof and water proof.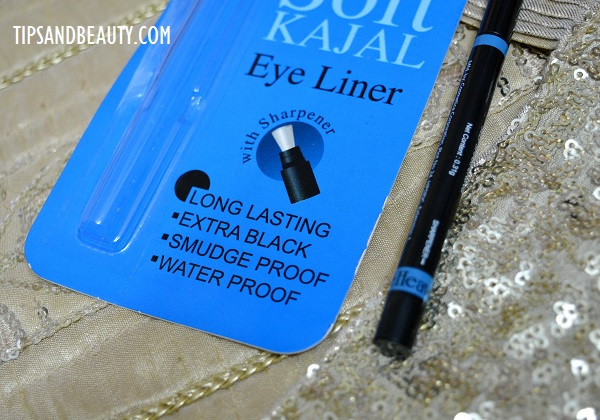 Thoughts and Experience with Blue Heaven Soft Kajal Eye Liner
Blue Heaven Soft Kajal Eye Liner comes in a outer carton pack like we have our Lakme, Maybelline, L'Oreal Paris kajals. Body of the kajal is of blue in color and it also reminds me of the Lakme kajal. The packaging is a retractable one like where you take off the slender cap and inside there is a twist up kajal. The lid of the kajal is around 2 inches long and the price paid is for that. This is the kajal amount that we get. There is a tip sharpener as well at the need. So you can just pull the sharpener and then use that in a rotating sharpening manner to sharpen the tip of the kajal. The sharpening will be required when you are using it as an eyeliner and not for the kohl on your water-line thing.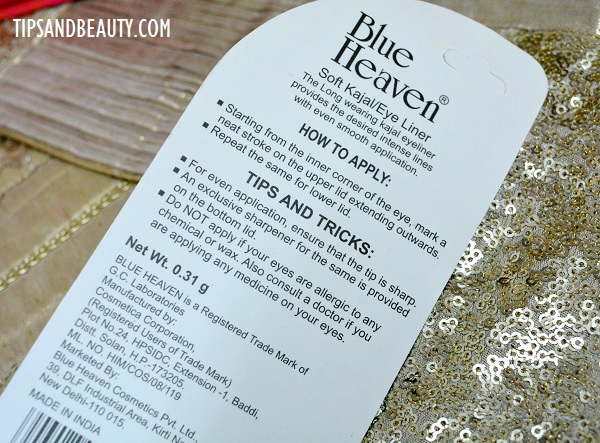 So, I liked the packaging and for a product as cheap as 125 rupees, the packaging as good. Now let's move on to know about the actual product, the actual kajal and how that works?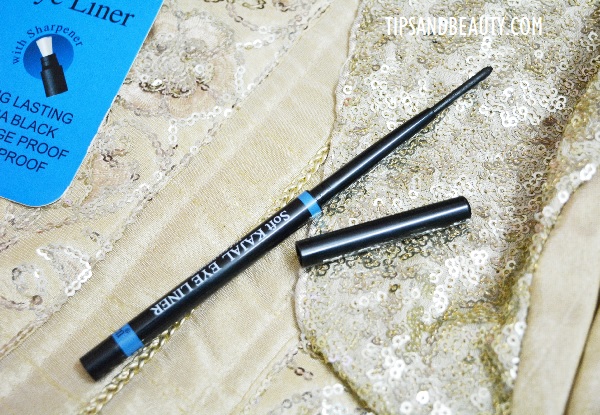 Results:
When I first swipe this Blue Heaven Soft Kajal Eyeliner on my arm, I realized that it was very black and extremely creamy. I liked that very much. But wait! Soon after, I tried to smudge the kajal and oops it smudge like hell, yes, I have around 50 some kajal and eyeliner pencils from different brands in black and other colors so, I was not expecting this to be like a kajal like formula. Like those earlier tiny tube of kajals that we used to apply and that used to smudge badly. It is also like that only may be a little less smudging and tight in formula but yes, it does. So, the moral or summary is it can be used as a kohl on the waterlines. But when I tried using it as an eyeliner. It smudges and gets applied on my crease. It is because the formula is not rub or smudge proof unlike the other quality brand makes. I have no complaints as such since this is very inexpensive but if they say that this can be used as eyeliner, then this should be smudge proof at least. Else, who would like to use an eyeliner that gets rubbed all over the eyes when you reach home. Do we?
How to apply Kajal perfectly on the eyes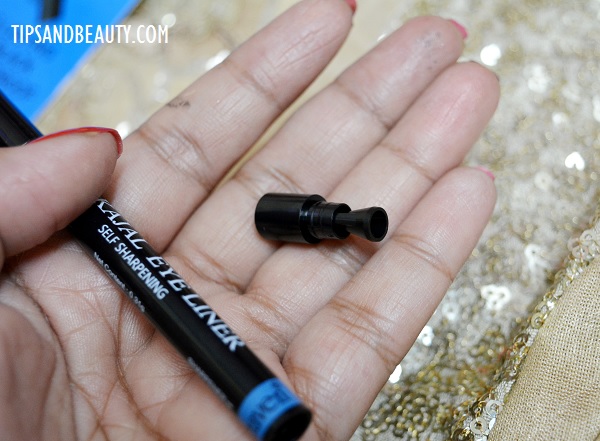 Staying span
I like the color which is black and the intensity of this Blue Heaven Soft Kajal. Even on the waterline the kajal stay for few hours only. So, ladies out there, who are thinking of keeping their kajal and eyeliner all day long can skip this and with just little extra cost you can get some other brand of kajal like you can go for the Most wanted Maybelline Colossal kajal or even the Lakme eyeconic kajal. If you like colored kajals then try the Lakme eyeconic colored ones. Those are around 275 rupees, but the staying span is amazing. Once you apply them, they get so rub proof that at the end of the day you will have to use a cleanser or makeup remover to get rid of them. How amazing!!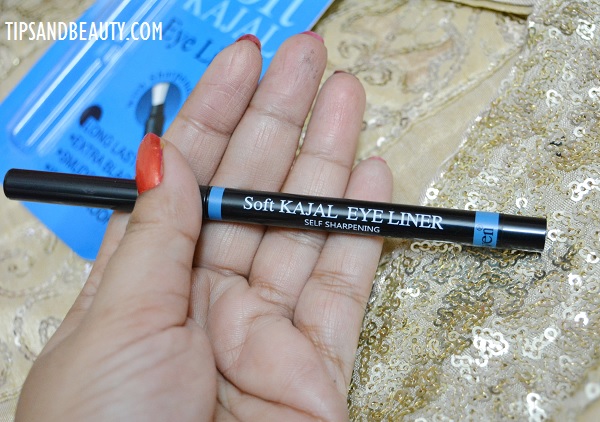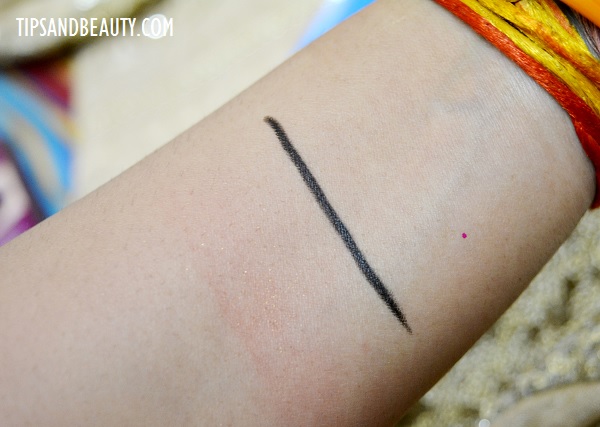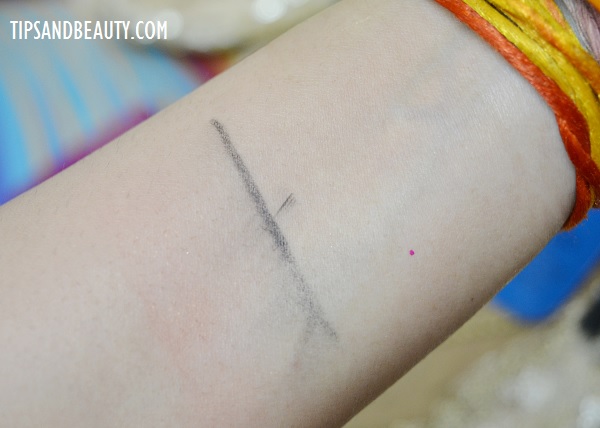 So, in short, this is an average product which can be used as a kajal but you can get a good one by just adding few bucks more. Packaging and everything is good but the actual product is not as per the expectation.
Pros of Blue Heaven Soft Kajal Eye Liner:
Very catchy and travel-friendly packaging
The detachable sharpener format is very unique
Affordable as it is only for 125 rupees
Does not irritate or sting the eyes like the old kajals used to
Pigmentation is good and intense as we get an intense rich black color
Apply smoothly and nicely on the eyes
No tugging or pulling on the lids and waterline as such
Cons of Blue Heaven Soft Kajal Eye Liner:
No ingredients list mentioned.
Not waterproof and not smudge proof
Very poor staying span
Smudges badly on the eyelids
Rating: 2.5 out of 5
Blue Heaven Soft Kajal Eyeliner is an average product which maybe good in the packaging department like other good kajal in the market but the actual product is a disappointment. I can say if you already purchased it then do try it but if you haven't then, I will suggest skip this and get some other kajal. Check out my list of best kohls and kajal in India.
Have you used Blue Heaven Soft Kajal Eyeliner? How did you like it, I am eager to know your thoughts on the same.