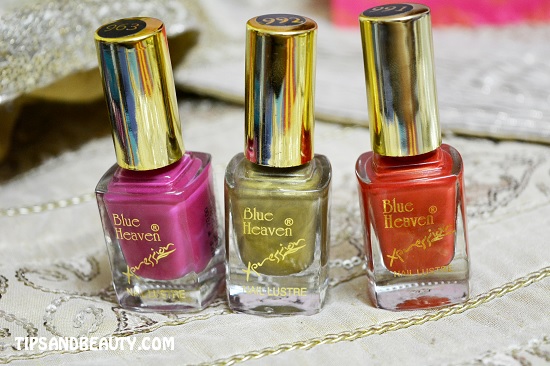 Blue Heaven Xpression Nail Paints Review, Price, Swatches and Shades The nail paints are one of my most favorite makeup products, I like nail polishes in all the colors except for very pastel colors. I have these Blue Heaven Xpression Nail Paints in the shades, oops numbers 991, 992 and 993. I got these few months ago and have used half of them already. The shades do not have names but number I felt that they should have the shade name. How long or how had it takes to name the shades. So, let' see how these Blue Heaven xpression Nail Paints turn out for me.
Price: 75 rupees for each nail paint.
Experience with Blue Heaven Xpression Nail Paints in 991, 992 and 963
The nail paints are packed in squarish bottles with gold colored caps. On the caps the sticker for label number is there which helps to identify the color.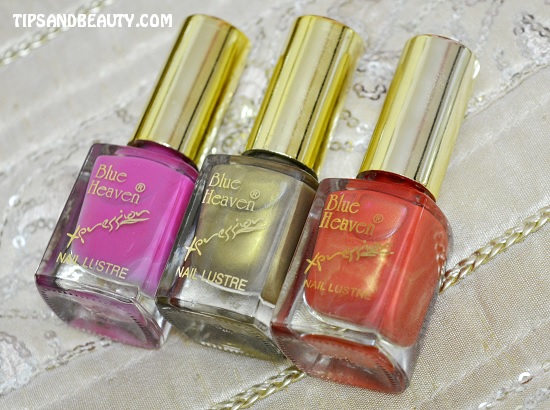 1. Blue Heaven Xpression Nail Paint in 991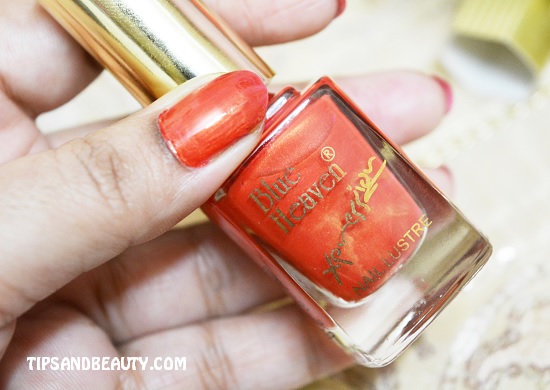 The shade is a pretty orangish color with shimmers. This shimmery shade is orange which reminds me of a corally orange. The shade is not very thick but has a thin constituency that applies well. The gold shimmer makes this color very suitable for the brides and for the Indian traditional wear. It says for 2-3 days on my nail then it would start to chip. Though the chipping is not much but I feel that the edges gets faded faster like within a day. If you do household work then within a day it will get chip or get fade.
2. Blue Heaven Xpression Nail Paint in 992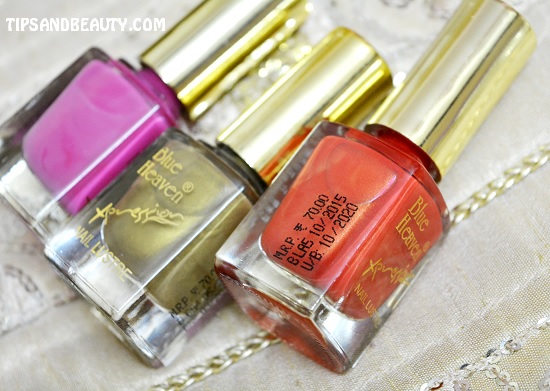 Blue Heaven Xpression Nail Paint in 992 is a olive green color with shimmers. The shimmer are gold which actually goes really well with this olive color. I liked this shade a lot as this is very pretty to look at and it stay for good 3-4 days. I think, it is the formula of different nail colors that we have. Such colors are good for office and parties too. Even though the shade is shimmery but it does have that affect that this will look good for the everyday use. The color will look great on dusky, medium and fair skin. The color is very complimenting on Indian skin tones. I will recommend if you like such colors then for it.
Read: 5 streetwear color riche nail polishes
3. Blue Heaven Xpression Nail Paint in 963
This is  a non shimmery color which is ideal for everyday. This shade is bubble gum pink that will look appealing on for work, college etc. The shade is very delicate and is no something that will look bad on the dusky or medium skin. College girls can use this color for everyday for college. The pink also has a light finish like the first coat I felt that it only gives a sheer finish. Therefore, I had to apply at least 2-3 coats of this color.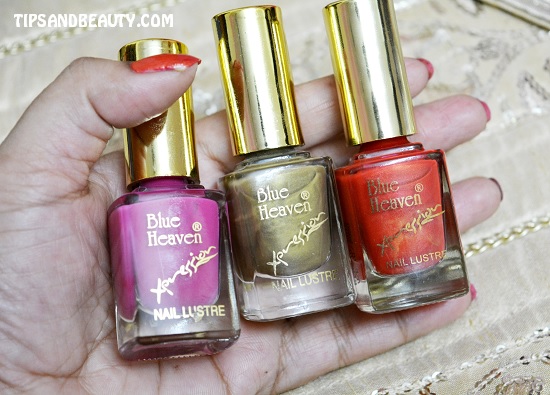 How to Apply Nail Paint properly
To apply any nail paint properly and with a non streaky finish, you can follow the following tips. The tips may not work if the polish is of really bad quality or have got dry.
Remove the old nail polish properly, then buff the nail to keep the nails smoothly.
Now apply the base coat and then leave that for few minutes.
Apply the polish starting from the center then wait for 15 minutes for it to fully get dry.
After the single coat go for the second coat to make the color look really rich and opaque.
Apply the final top coat and keep the nails to get dry fully.
Pros of Blue Heaven Xpression Nail Paint
Packaging is good
Quantity is decent for 75 rupees
The shades are nice.
Some of them are shimmery and some are without shimmer
They stay decently for few days. If you apply top coat then the stay time will be more.
The price is okay for the quality but some of the shades are not that good as they are thin in texture
Cons of Blue Heaven Xpression Nail Paint
Some of them has a very thin formula hence, would have to layer 2-3 times
Rating for Blue Heaven Xpression Nail Paint: 3.75 out of 5
Blue Heaven Xpression Nail Paints are decent in packaging and affordable in Price. The consistency of some of these is really thin and will be chipping fast but some are really good. I like the olive gold color more for its finish and color. You can try one of these Blue Heaven Nail paint which will be good for the everyday wear.