Blue salwar suit looks really amazing and the shades of blue look good on every skin complexion. Blue salwar suit are made in different colors like light blue, powder blue, Cobalt blue, navy blue, electric blue, bright blue and even the Turquoise blue. While there are so many different shades of blue color we have compiled this catalogue where in you can find the beautiful and gorgeous blue color salwar suit designs.
Latest Patterns of Blue Salwar Suit Designs
Let's take a look at the latest designs of the blue suit for women for parties, weddings, ceremonies, festivals and for the casual wear.
1. Elegant Long Thread Work Blue Kurti With Cropped Trousers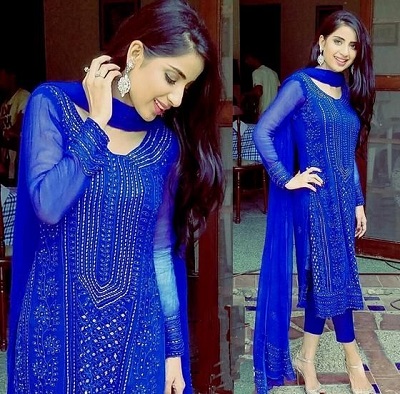 2. Navy blue Punjabi salwar suit pattern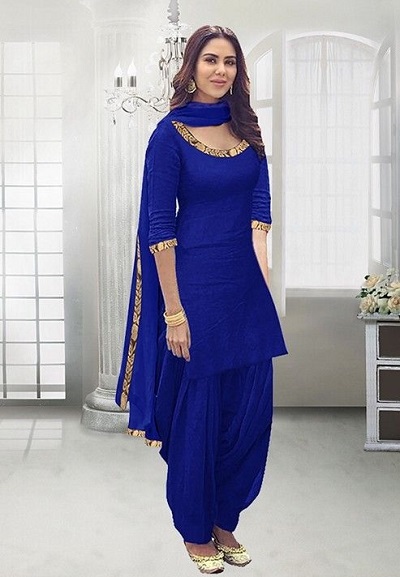 The gorgeous blue colored Punjabi salwar suit looks really amazing. It has a semi patiala salwar with short kurti and Dupatta with golden border. It is ideal for Pooja ceremony and even for the other events and ceremonies where you would like to wear ethnic dress.
3. Blue Punjabi salwar suit with thread work
The rich embroidered blue Satin salwar suit is looking really beautiful. It has a semi patiala salwar with the short blue kurti that has three fourth sleeves. The kurti is really amazing and the dupatta in chiffon fabric has four sided lace border.
4. Blue Anarkali suit with plazo pants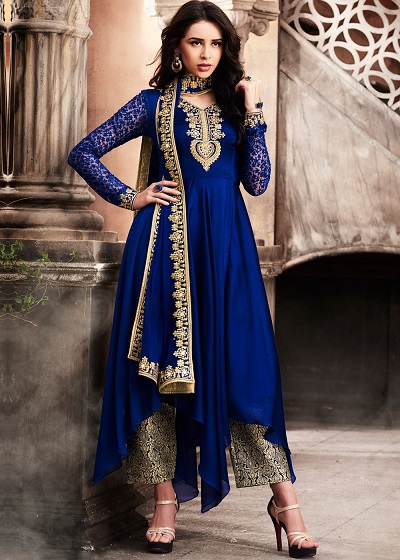 The gorgeous blue Satin Anarkali has uneven hemline with net full sleeves. It has been paired with plazo pants and Golden border Dupatta. This dress is also looking really beautiful mostly because of its pattern and the style.
5. Mirror work straight fit blue salwar suit style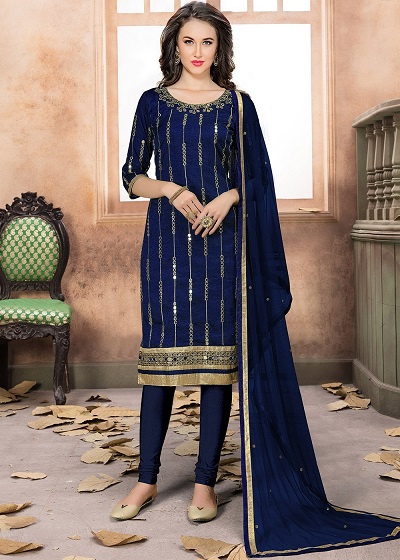 This dress is appropriate for the festivals and Puja ceremonies. The beautiful color is perfect for all the skin complexions. It has three fourth sleeves and beautiful mirror work is done on the entire kurti. Golden border is also attached on the hem line. Churidar salwar in shantoon fabric is given with chiffon dupatta.
6. Bright Blue Thread Work Salwar Suit For Women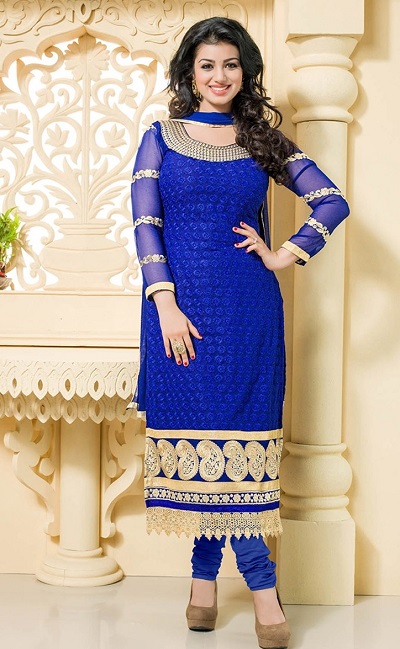 The gorgeous salwar suit has beautiful thread work and embroidery with lace border. It is paired with blue dupatta and is a party wear blue salwar suit set.
7. Light Blue Salwar Suit Narrow Fit Pant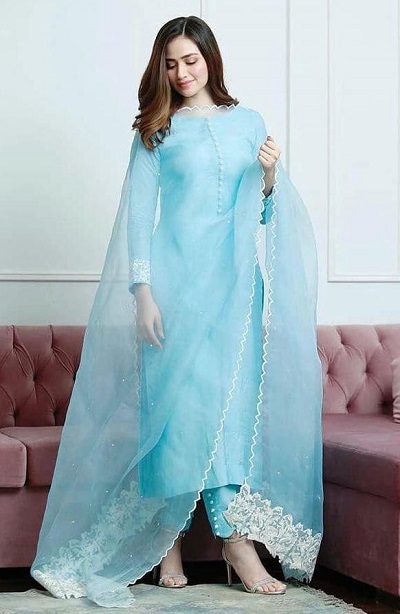 The gorgeous light blue salwar suit has narrow fit pant and full sleeves kurti. Button work is also seen on the kurti which has boat shape Neck line. It has organza Dupatta that has lace border on both the sides. It is a very beautiful and elegant looking self for the men in blue color.
8. Stylish jacket salwar suit churidar for women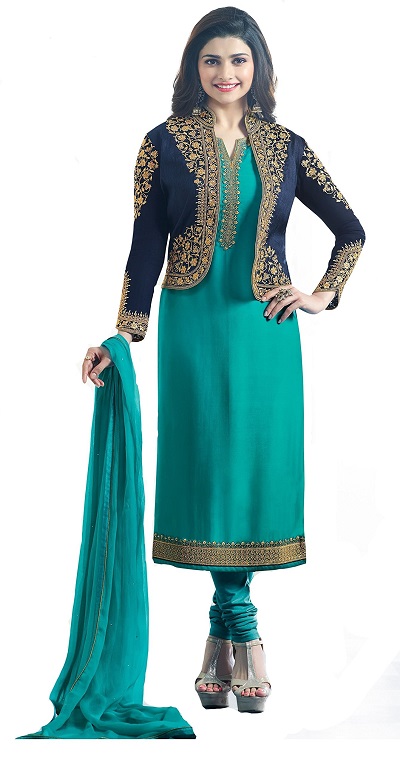 The jacket style of this dress looks really amazing. A dark blue embroidered jacket is given with this sky blue straight fit kurti and churidar. It is a party wear and wedding wear set.
9. Blue Thread Work Salwar Suit Plazo Design For Women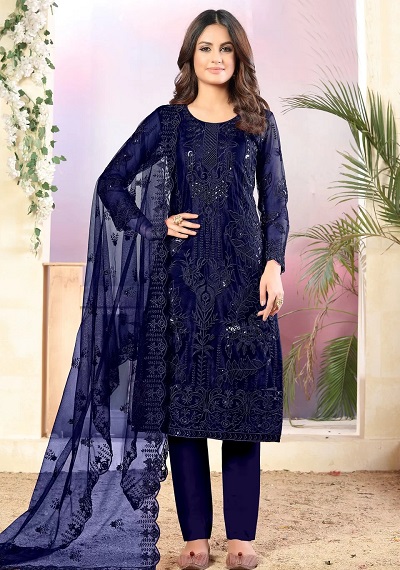 The blue colored net salwar suit for women is an ideal party-wear dress for women especially during summer season. The net fabric is very light and keeps you cool and also looks really beautiful. Dupatta with thread work in the blue color is given along with this salwar suit for women. Santoon fabric pants are given with the dress that makes it look and stylish.
10. Dark blue salwar suit with light blue net dupatta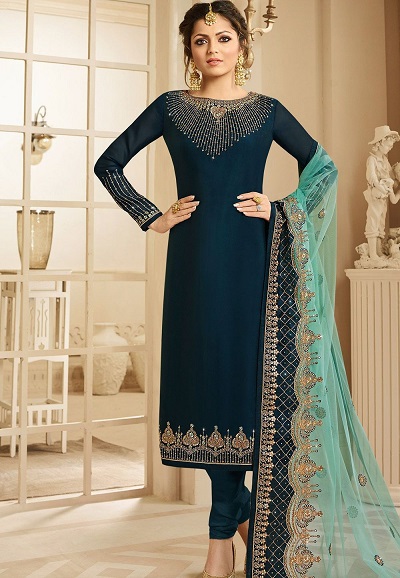 This is a perfect wedding and festival wear dress in georgette and net fabric. Georgette kurti with heavy embroidery work is seen. Nice neckline embroidery makes this kurti look beautiful. Churidar salwar is paired with this long straight fit kurta and net Dupatta. Dupatta is equally beautiful with heavy embroidery on all the four sides.
11. Rayon Anarkali blue kurta plazo with cotton dupatta
This dress looks really beautiful and nice for the summer season, because of the fabric used full strawberry on is a fabric which is breathable and ideal for the summer season. With buttons in the front round neckline it looks pretty. A white Dupatta with blue border is given with stress.
12. Stylish Blue Anarkali Dress With Dupatta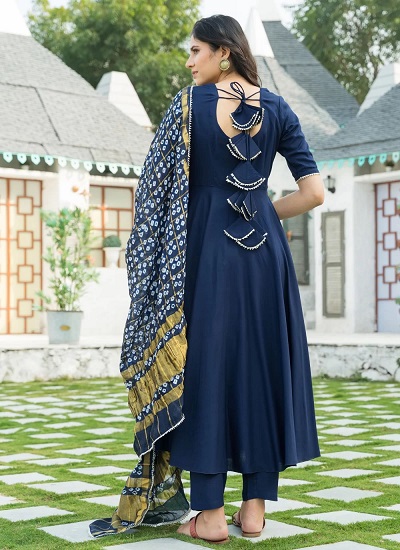 13. Beautiful Velvet Blue Embroidered Salwar Kurti With Net Dupatta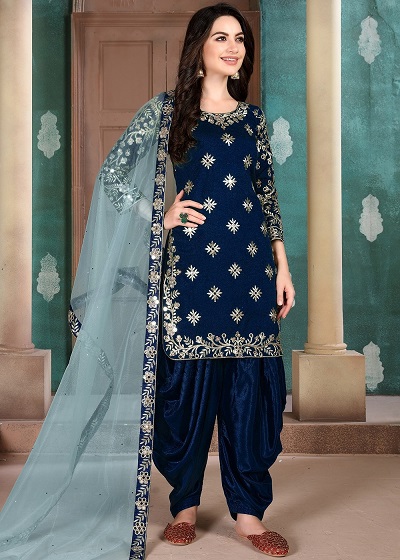 14. Long Blue Net Anarkali Dress For Parties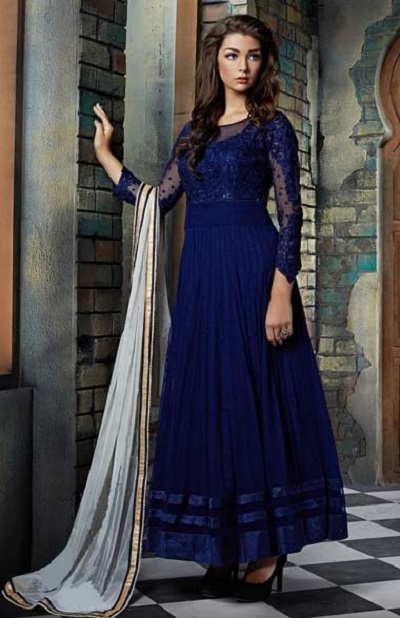 15. Stylish Long Blue Kurta With Grey Salwar And Dupatta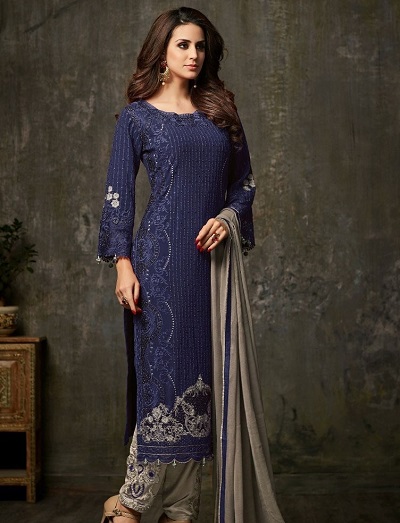 16. Designer Anarkali Suit For Parties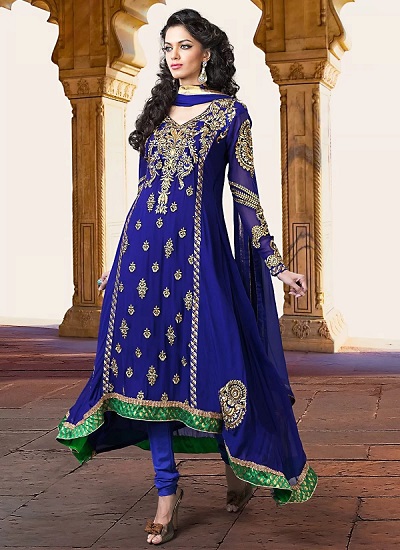 17. Light Blue Long Kurta Pant Set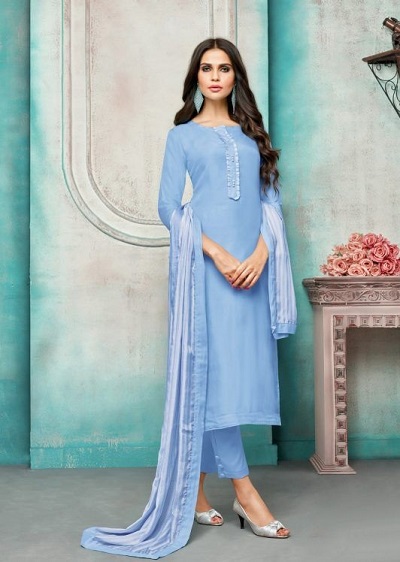 18. Jacket Style Blue Designer Kurta Tie And Dye Dupatta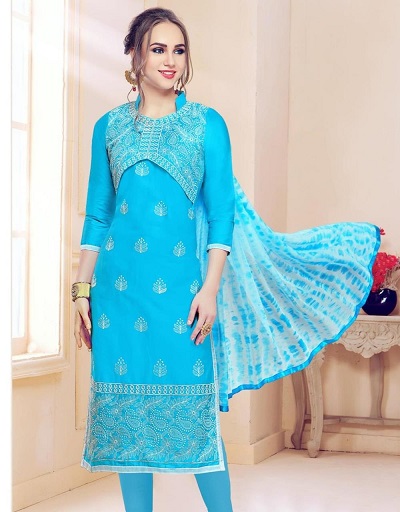 19. Beautiful Printed Short Blue Kurta Patiyala Salwar
20. Pakistani Style Blue Embroidered Kurta For Women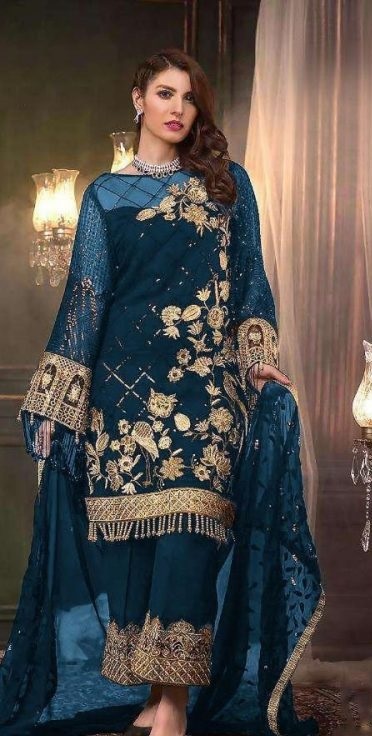 21. Printed Light Blue Kurta Dupatta Set For Daily Wear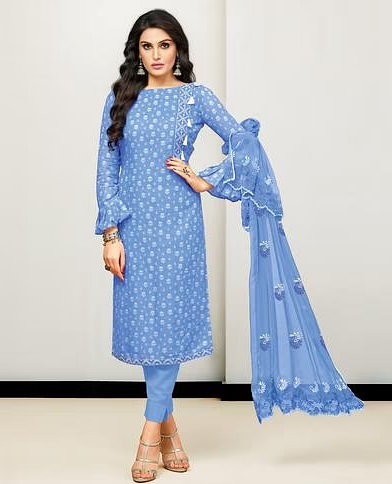 22. Blue And Green Georgette Salwar Suit For Women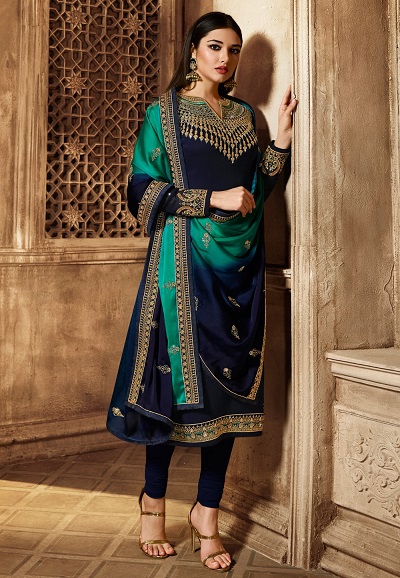 23. Heavy Mirror Work Dark Blue Salwar Suit For Parties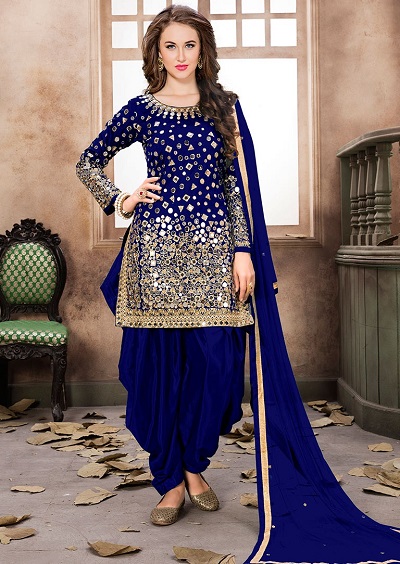 24. Blue Art Silk Embroidered Kurti With Printed Salwar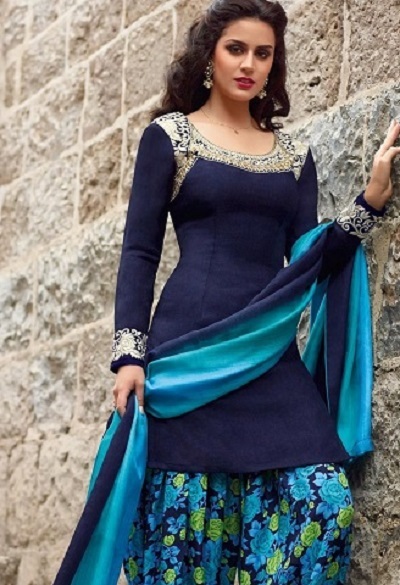 25. Party Wear Embroidered Blue Salwar With Silk Dupatta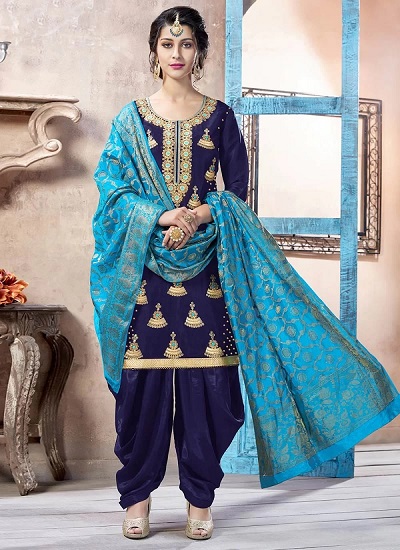 26. Blue Salwar Suit With Embroidery Work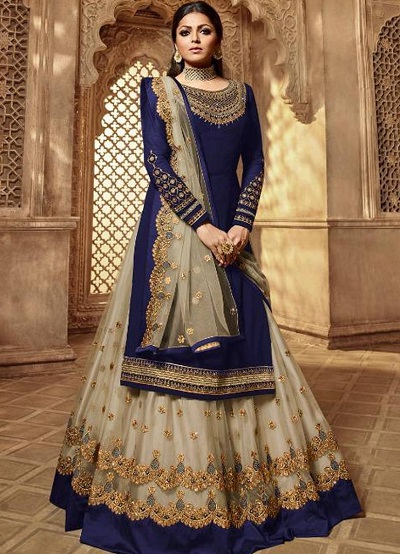 27. Stylish Blue Georgette Embroidered Suit With Heavy Plazo Pant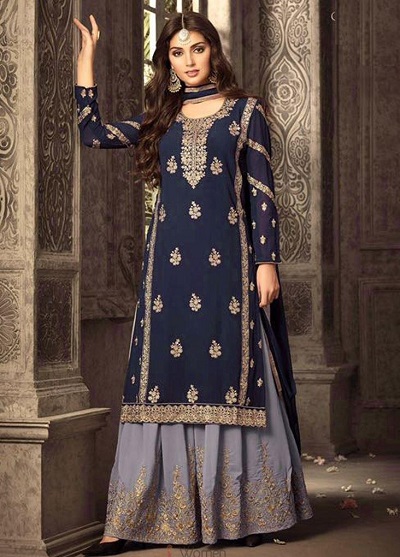 28. Georgette Embroidered Party Wear Blue Suit For Women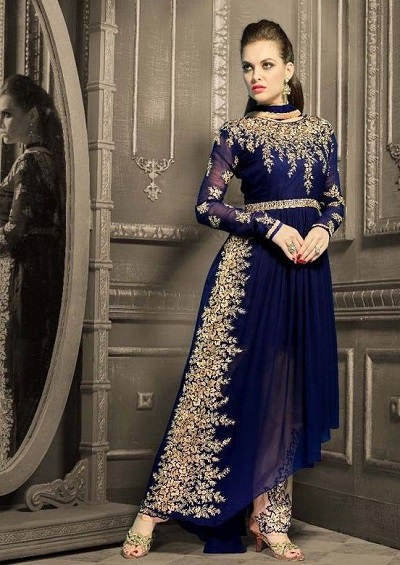 29. Anarkali Blue Suit With Straight Fit Pants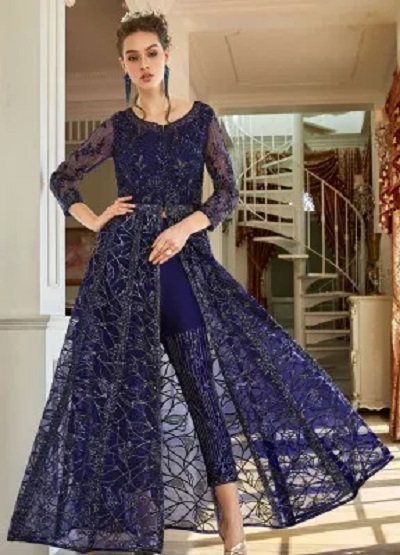 30. Short Anarkali Blue Suit With Brocade Short Trousers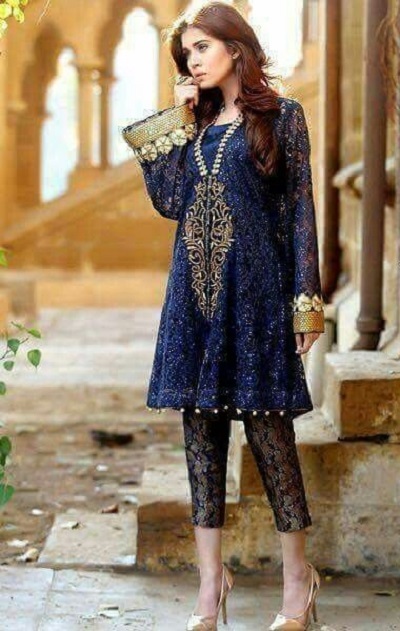 31. Blue Kurti With Golden Plazo For Wedding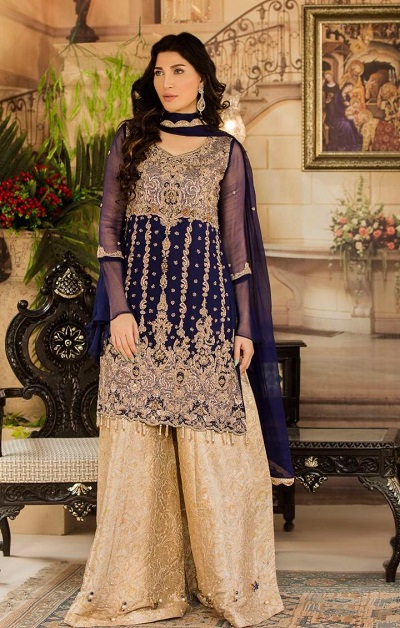 32. Blue And Grey Embroidered Wedding Wear Salwar Suit For Women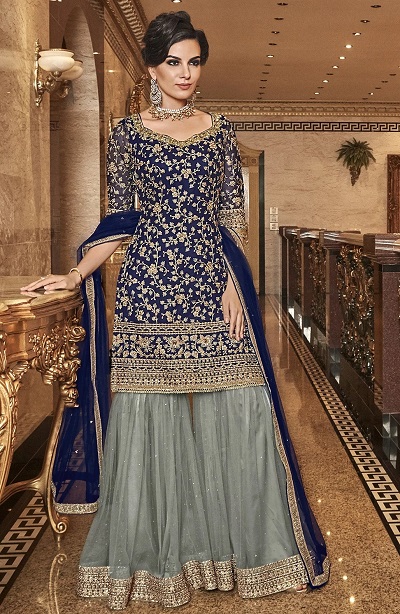 33. Blue Thread Work Short Kurti With Straight Fit Pants
34. Blue Short Kurti With Net Plazo For Wedding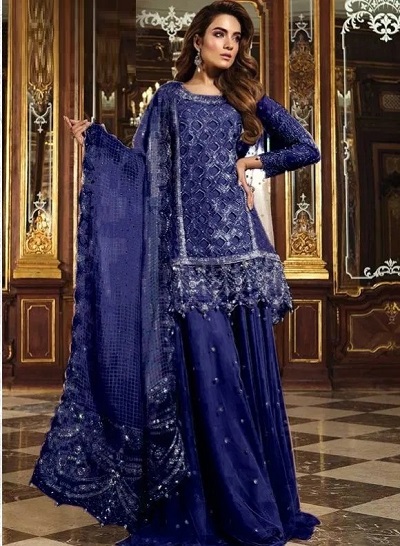 35. Party Wear Blue Anarkali Kurta With Plazo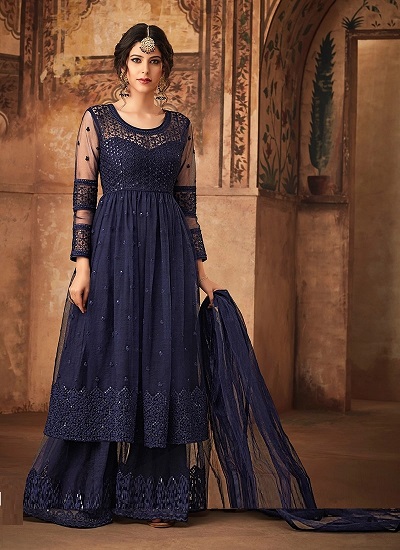 36. Long Blue Kurti With Golden Trouser Pants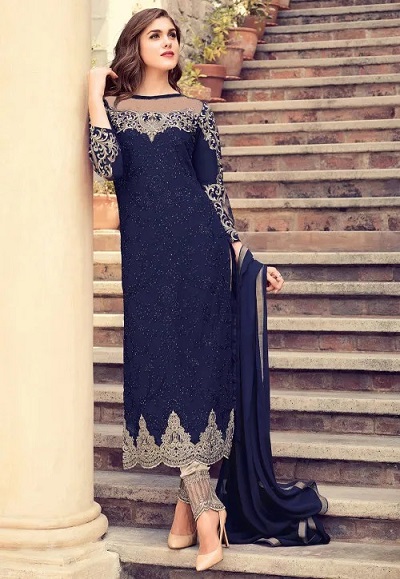 37. Pakistani Style Net Blue Kurta Trouser Dupatta Set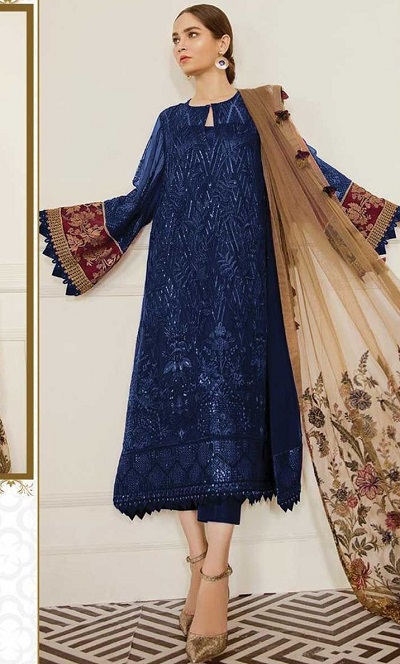 38. Mirror And Gota Patti Work Blue Kurta Trouser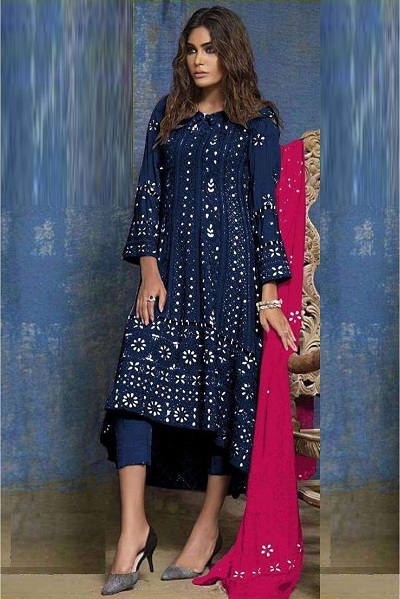 39. Party Wear Short Blue Kurti With Golden Patiala Salwar
40. Blue Plazo Set With Net Dupatta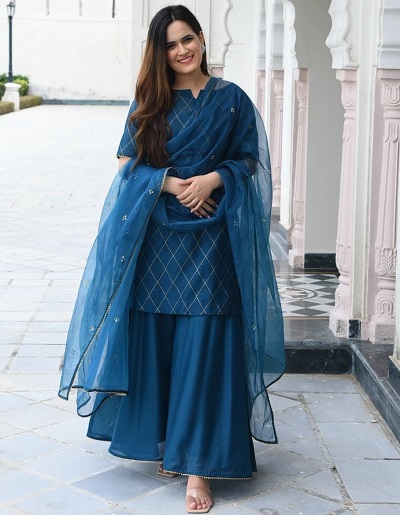 41. Stylish Blue Anarkali Long Kurta With Dupatta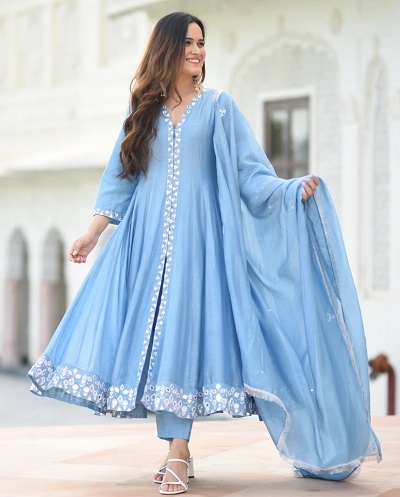 42. Blue And Green Kurta Plazo Set For Parties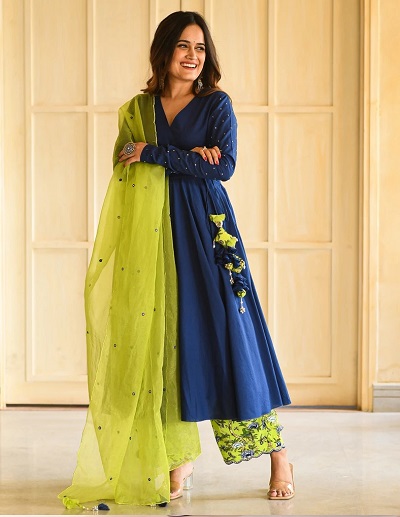 43. Festive Wear Blue Kurti With Patiyala Salwar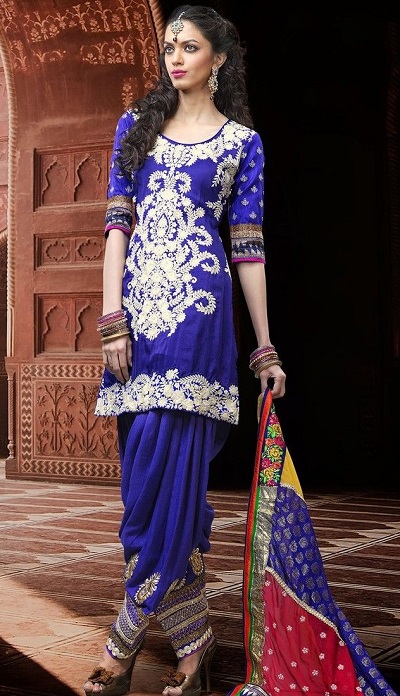 44. Long Blue Net Anarkali Gown For Women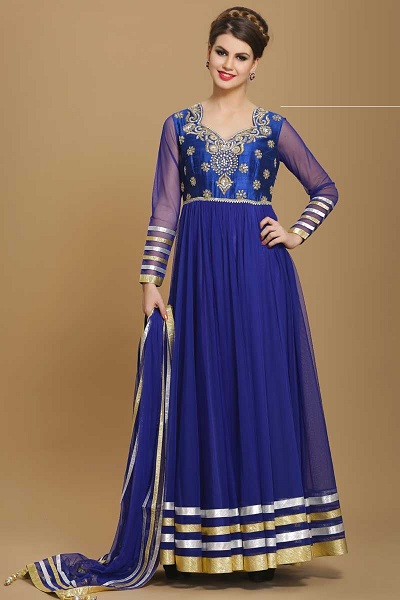 45. Blue And Pink Long Indian Anarkali Gown For Women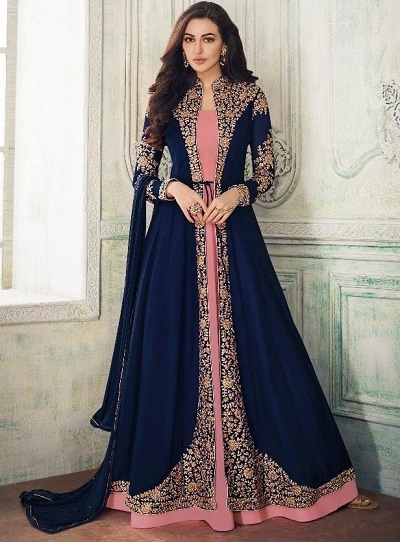 46. Party Wear Designer Blue Jacquard Kurti With Net Grey Pant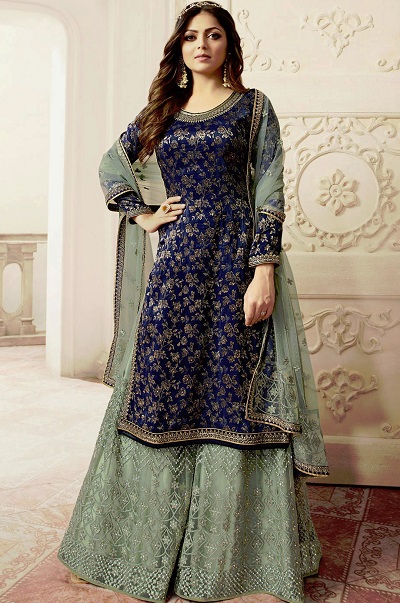 47. Long Blue A-Line Gown With Golden Dupatta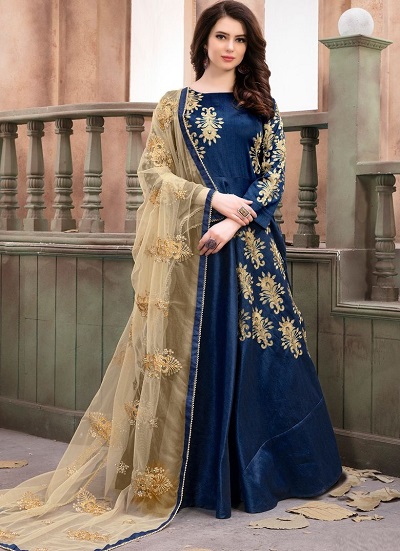 48. Blue Silk Satin Kurti With Silk Banarasi Dupatta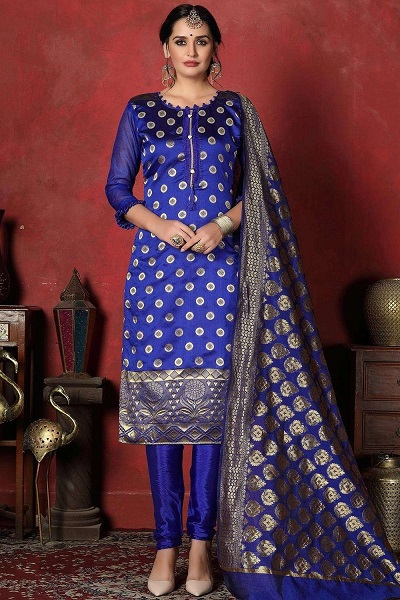 49. Dark And Light Blue Combination Party Wear Salwar Suit For Ladies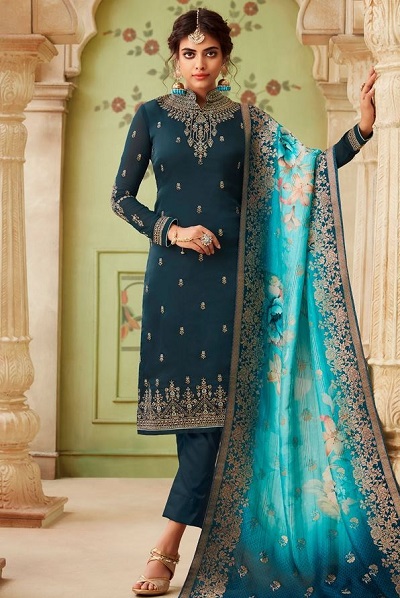 50. Blue And Green Ombre Inspired Kurti With Plazo For Weddings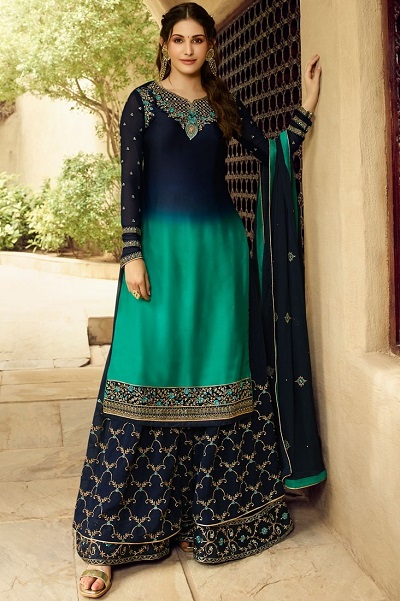 These are the latest blue colored salwar suit for women. Indeed, they are extremely beautiful but the thing is you need to pick the shade of blue that looks most flattering on you. Because blue color is available in so many different shades that it's quite overwhelming to find the perfect blue shade for you. It is a very soothing color that looks good on almost all the skin complexion. Especially, the dark blue and navy blue looks beautiful on people with fair to dark skin complexion.