Boroline Antiseptic Ayurvedic Cream Review

I will review Boroline Antiseptic Ayurvedic Cream which is a very old cream that I have heard that my mum had used when she was a kid. This cream is a very popular. This use to be the best antiseptic cream at every cheap price at that time and I got it recently to cherish the same love that I have when my grand mum used to apply this antiseptic cream on me.
Price of Boroline Antiseptic Ayurvedic Cream: It is for 28 rupees for 20 grams and it comes in that same dark green metallic tube.
Review of Boroline Antiseptic Ayurvedic Cream
This cream is in that same age old, metallic tube with a small black cap. I wish the tube could have been made of plastic. Metallic tube are not so easy to use once the cream is about to get finished. Boroline Antiseptic Cream has a very strong yet sweet smelling fragrance and the cream is quite thick and greasy which needs a little extra massaging when used on the face.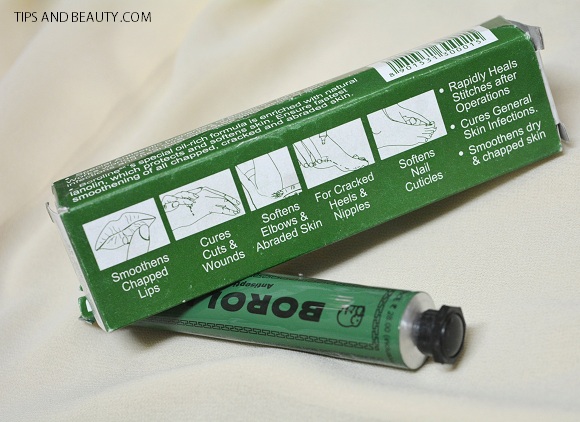 This cream is an all purpose cream which is why this can be used as a moisturiser for face and hands. It can also be used to get rid of the dry chapped lips. It heals and cures the cuts and wounds due to its antiseptic properties. I had flaky lips and when it was used at night it completely healed them in the morning. As it is thick, it doesn't get wiped off from the lips easily and stays till the next morning.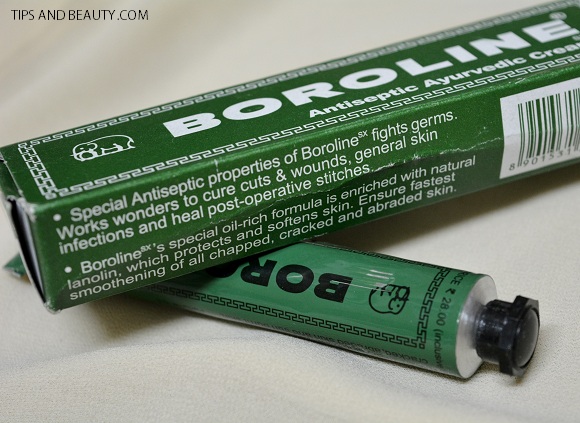 Boroline Antiseptic Ayurvedic Cream also cures the dry skin and flakiness or the dry heels. My feet are very dry and when I use this, they get soften up instantly so, I have started using it daily to cure the dry feet condition. This cream is also good for the babies with nappy rashes or when adults have rashes on the body. I had a minor accident where my hand got mild bruises and I used this. This antiseptic cream worked well to heal those bruises.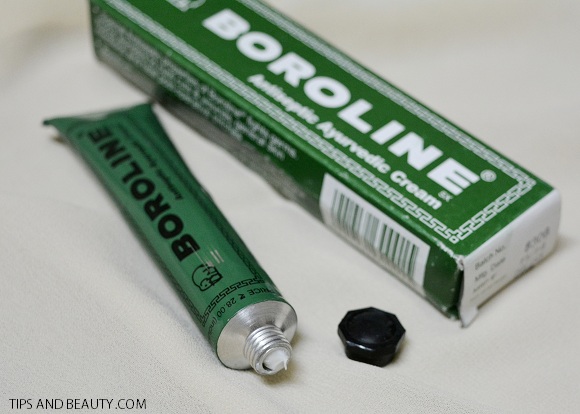 Other than that, this cream can also be a good nail and cuticle cream and also a hand cream.I have kept this tube near the bed side and would daily use on my feet, heels, nail, hands and lips. It has become a must use product for me these days at just 28 rupees and have saved me from having so many different products due to its multipurpose benefits.
One thing, I would like to tell you that as Boroline Antiseptic Ayurvedic Cream already is greasy and have oils so do not use it on the face when you have acne prone and oily skin. Other than that it is good to be used as have mentioned above.
Good about Boroline Antiseptic Ayurvedic Cream
It is very inexpensive

Its antiseptic and moisturizing properties make it a multipurpose product

It heals dry chapped lips

It cures nail, cuticles and dry cracked heels.

It is also good for baby skin and nappy rashes

It can be used on minor wounds and cuts as it has antiseptic features

This cream is also used for to combat the dryness of the skin
Not so good for Boroline Antiseptic Ayurvedic Cream
Not for oily skin for the face

Tube could have been of plastic
Rating for Boroline Antiseptic Ayurvedic Cream: 4.5 out of 5
Boroline Antiseptic Ayurvedic Cream is a great multipurpose cream that has several benefits for the skin. It heals and cures the dry skin, dry lips, cracked heel, cuts, wounds and burns. It can be used a s a face cream, hand cream, lip balm heel cream etc It is very grease so do not use on the face for your oily skin and other than that this cream is a must have product.