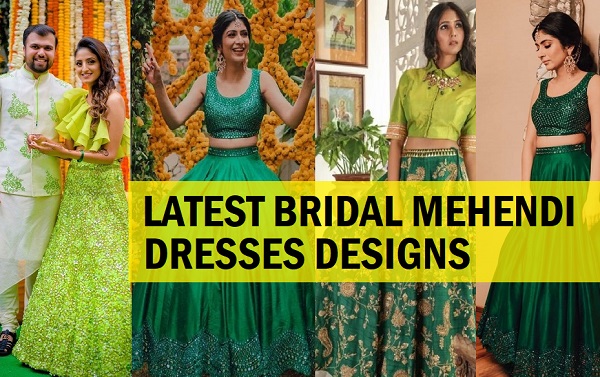 Bridal mehendi dresses are generally in the green color. The mehndi dresses for a bride is an equally important dress because mehendi ceremony is also an important ceremony in any wedding. The most importantly the brides would be their use of green, yellow or greenish blue. So, here we have compiled this catalogue wherein you will find the latest bridal Mehandi ceremony dress designs.
Latest Designs of Bridal Mehendi Dresses (2022)
1. Gorgeous Light Lime Green Colored Mehndi Dress Lehenga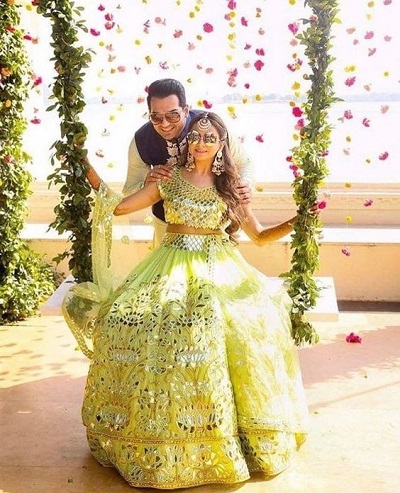 This is gorgeous lemon green lemon yellow coloured lehenga with the pretty gota pati work. It looks stunning and has been made on a sheer chiffon fabric with the net dupatta. The dress is extremely beautiful and suitable for brides who would like to stay away from darker shades of green.
2. Off Shoulder Silk Lehenga For Mehendi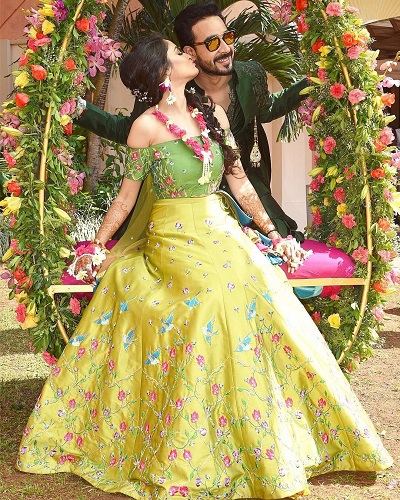 This is also a beautiful Lehenga in silk fabric with embroidery work. This lehenga is made in an A-line pattern with an off shoulder Silk blouse with gorgeous embroidery old over.
3. Lime green sequin studded beautiful mehndi ceremony lehenga for brides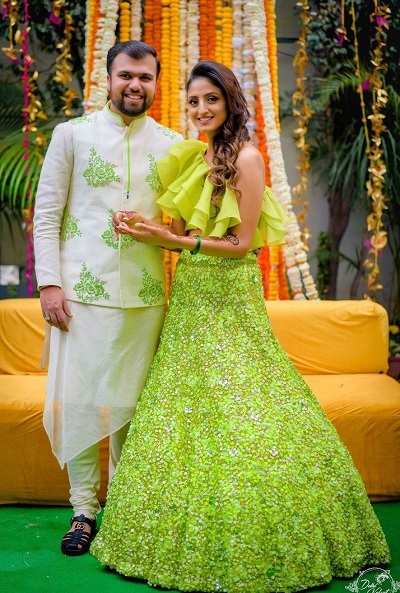 Undoubtedly, this is one of the best looking lehengas for the brides and bridesmaid. This lehenga has ruffled blouse pattern that looks really pretty. All over the lehenga beautiful thread work and sequin work is done to make the lehenga look lovely.
4. Mint green coloured lehenga for bridal mehendi ceremony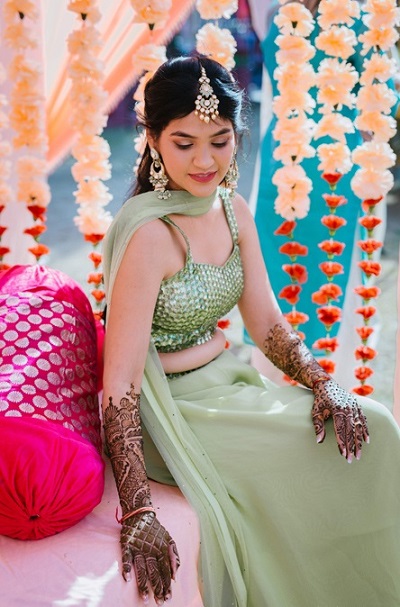 This dress here has strappy blouse with mirrors and sequin work. It's a beautiful lehenga which is not over the top but has the gorgeous heavy blouse with a plain Georgette lehenga. The dress is ideal for summer weddings where a bride would not want to wear anything very bulky or heavy.
5. Bottle green coloured beautiful mehndi ceremony lehenga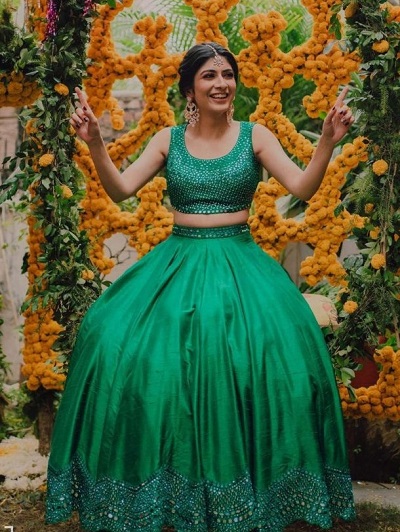 This bottle green Mehndi dress for bride's is also equally beautiful because the lehenga is plain solid in a cotton Silk fabric while the hemline of the lehenga is beautifully adorned with mirrors, sequin work and beads. Mirror and bead work as seen on the sleeveless blouse.
6. Long kurta Sharara for mehndi ceremony for bride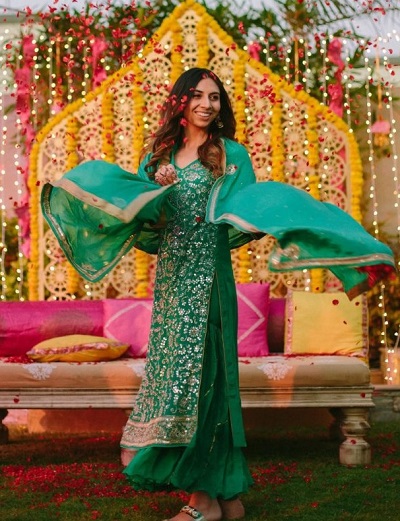 This dress is yet another beautiful bridal mehendi ceremony dress wear in a long heavyly embroidered kurta is paired with Georgette Sharara. The dress is beautiful because the top is heavy while the bottom wear is left plain.
7. Pink and green Sharara kurti for mehndi ceremony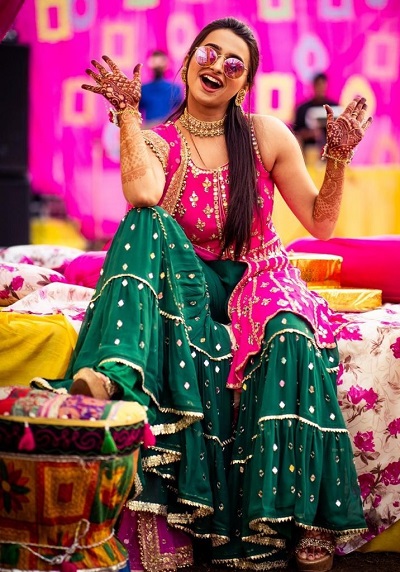 This dress has a pink mirror and Gota Patti work studded with mirror work heavy Sharara. The dress is looking really pretty and is ideal as a Mehndi dress for brides and bridesmaid.
8. Dark green beautiful bridal mehndi dress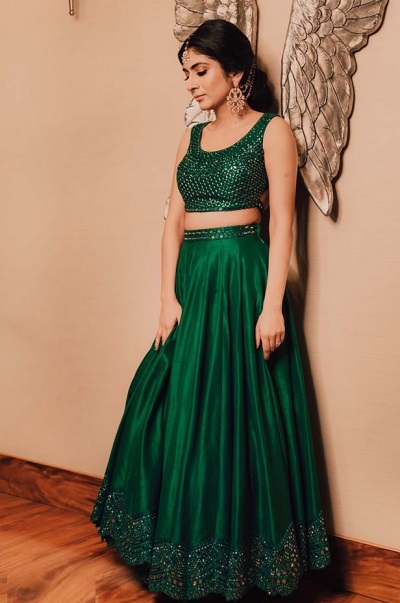 The gorgeous bridal mehndi dress has nice shiny fabric with enough of the sequin and beadwork going line. It is a nice color lehenga that looks absolutely stunning.
9. Multicolored Sharara for bridal mehendi ceremony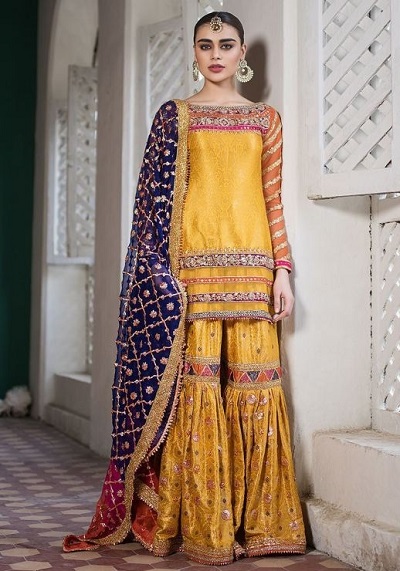 This dress is yet another beautiful dress that has a very heavily embellished Dupatta with Gota Patti work. The Dupatta has been given an ombre pattern with colors like navy blue and pink. The short yellow kurti and the Sharara in the same colour are making this dress beautiful for the bridal mehndi as well as haldi ceremony. This heavily embellished dress is ideal for brides would like to wear something stunning and new when it comes to the regular pattern.
10. Elegant sea green coloured Mehndi bridal dress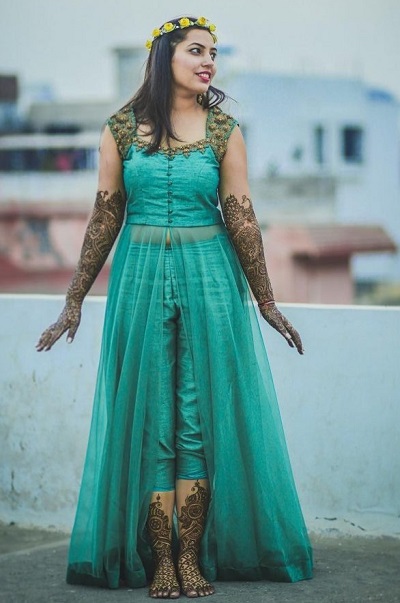 It's a long kurti with a centre slit with trouser pants. The trouser pants are made in art Silk fabric while the kurti has been made in art Silk fabric with embroidery work on the shoulder and ghera of the kurti is made in sheer chiffon Georgette fabric first. Such kind of kurti that makes your dress look really beautiful and amazing.
11. Art Silk fabric lehenga dress for bridal mehendi function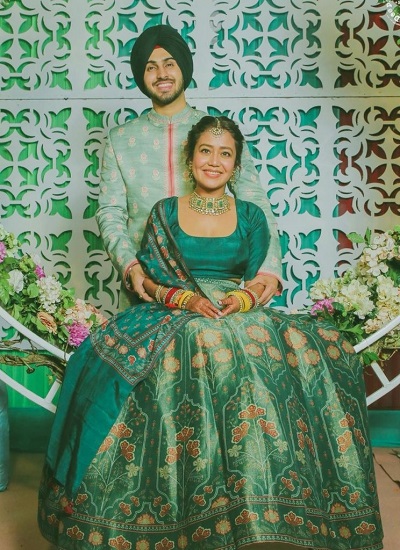 This Mehndi function dress is made in a printed art Silk fabric. Enough of the volume is given to this lehenga while the blouse is left plain.
12. Green long kurti plazo for bridal mehndi function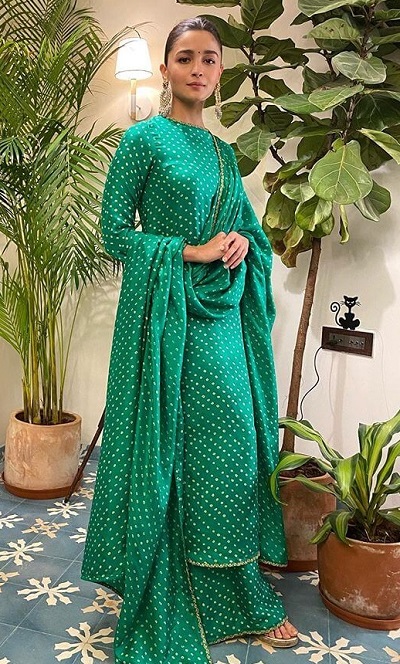 This bridal mehndi dresses quite simple and very comfortable to wear. This dress has a round neck a line with long kurti. All over Dupatta kurta and plazo Polka dotted design can be seen
13. Beautiful Silk green embroidered Mehandi dress for brides
The bridal mehndi dress is made with two shades of green. The top of the blouse is been made with Silk light lime green color while the bottom lehenga is made in a bottle green colour. On the lehenga beautiful Golden thread embroidery is seen and the blouse is more like a shirt inspired blouse with collar. This is also a very modern bridal mehendi dress design for bridal mehndi designer dresses.
14. Gorgeous Bridal Mehndi Dress In Satin Silk Fabric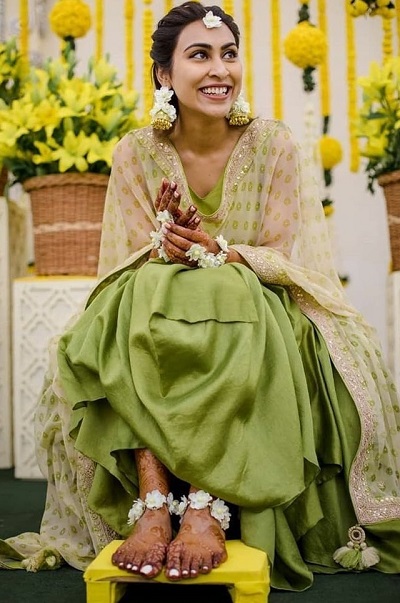 The dress for bride is very comfortable to wear and it is being made in a satin Silk fabric. The fabric is a bit shiny that is suitable keeping in mind the occasion. It is a nice mehndi ceremony dress for the brides.
15. Heavy embellished net embroidered lehenga for bridal mehendi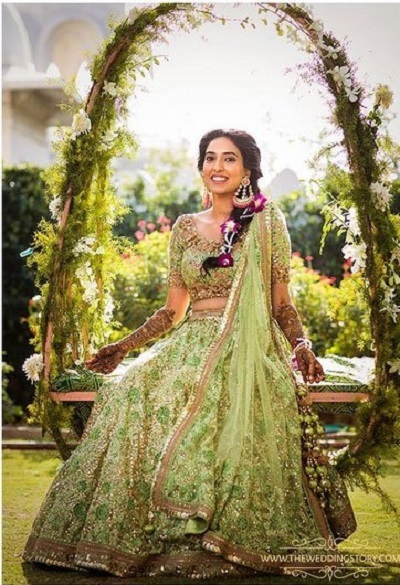 The pretty net lehenga is for bridal mehendi ceremony. The beautiful lehenga is ideal for brides who would like to go lavish on the mehndi dresses as well.
16. Mehndi Function Gown For Brides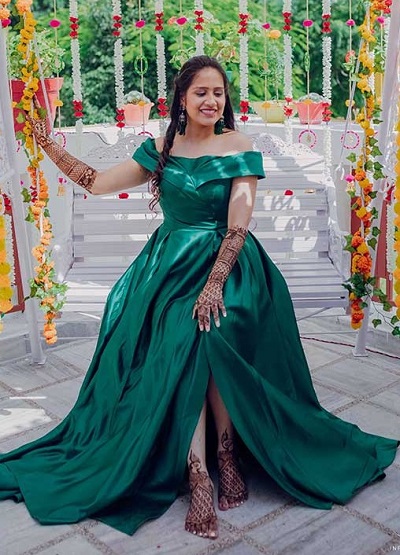 17. Stylish Peach And Mint Green Lehenga For Bridal Mehendi Function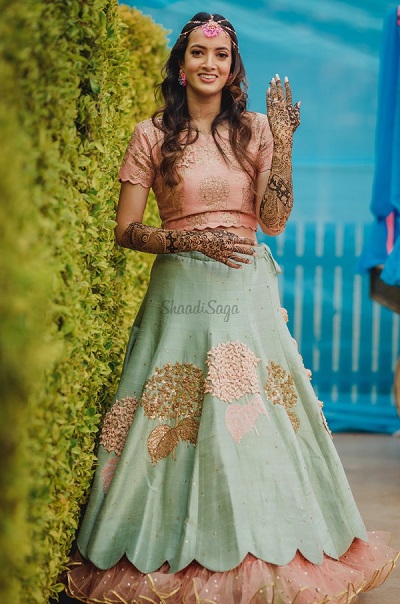 18. Simple And Elegant Green Mehndi Dress Design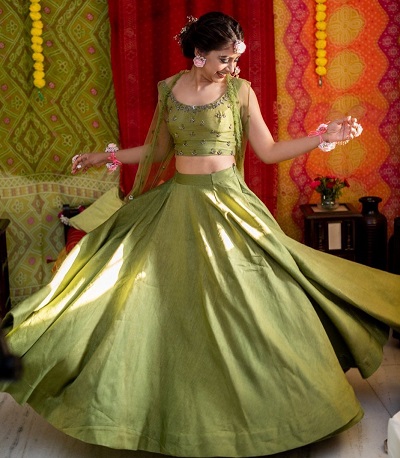 19. Lime Yellow Silk Embroidered Mehndi Dress For Bridal Function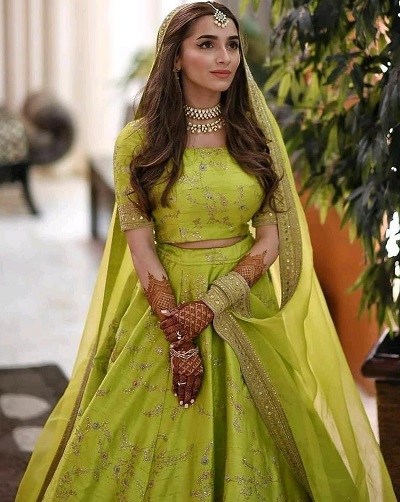 20. Mirror And Thread Work Inspired Dress Design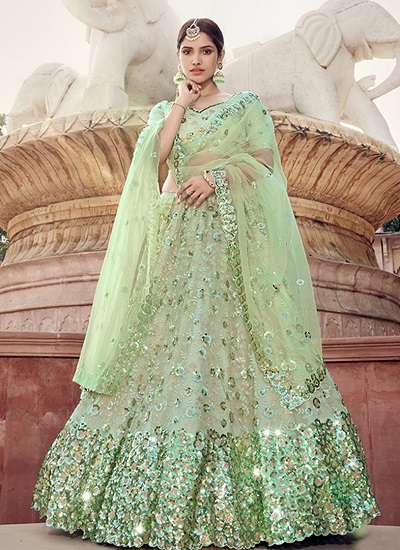 21. Gorgeous Mehendi Function Silk Lehenga Dress For Brides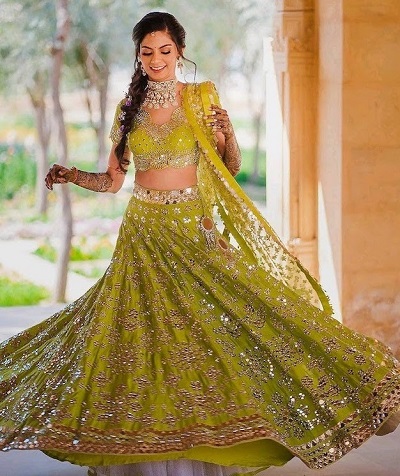 22. Drape Readymade Saree Style For Bridal Mehendi Function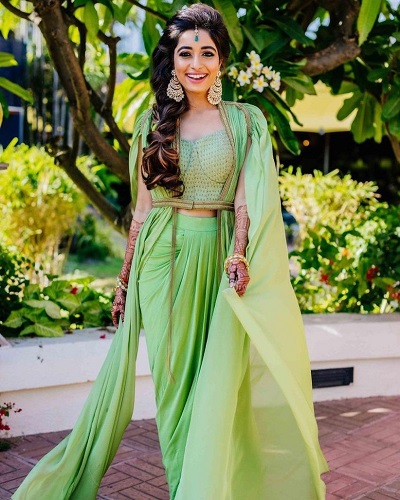 23. Stylish Green Saree For Bridal Mehndi Designs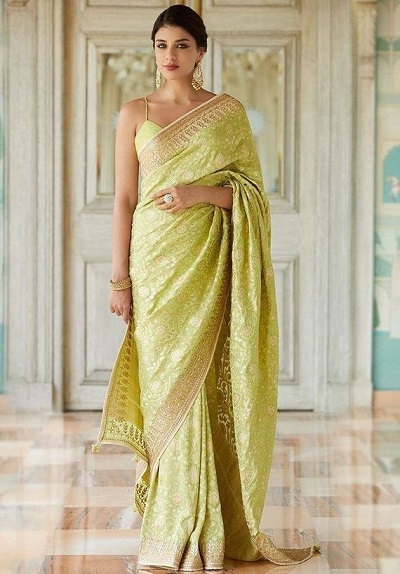 24. Floral Printed And Embroidered Green Mehndi Dress For Brides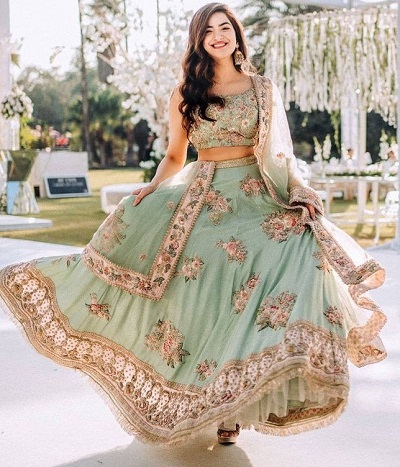 25. Very Heavy Green Colour Day Mehendi Ceremony Dress For Bride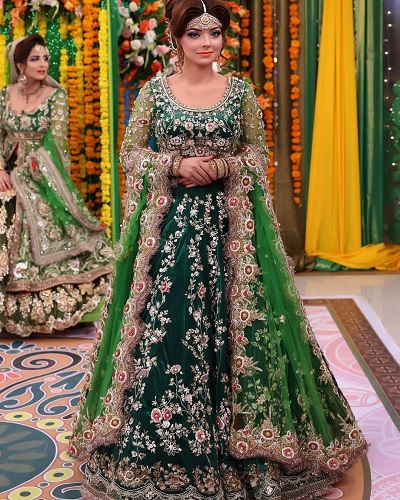 26. Gota Patti And Mirror Work Mehndi Dress For Brides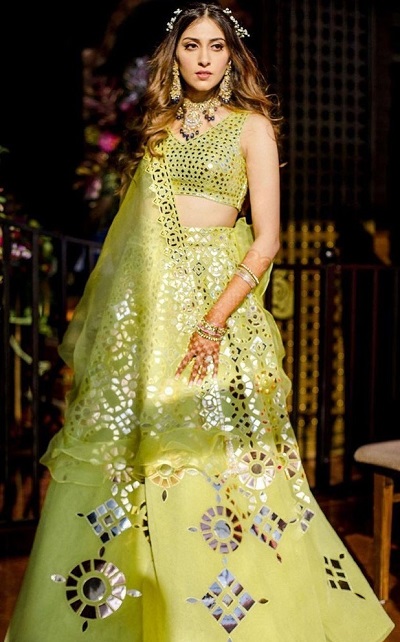 27. Green And White Embellished Mehndi Function Dress For Brides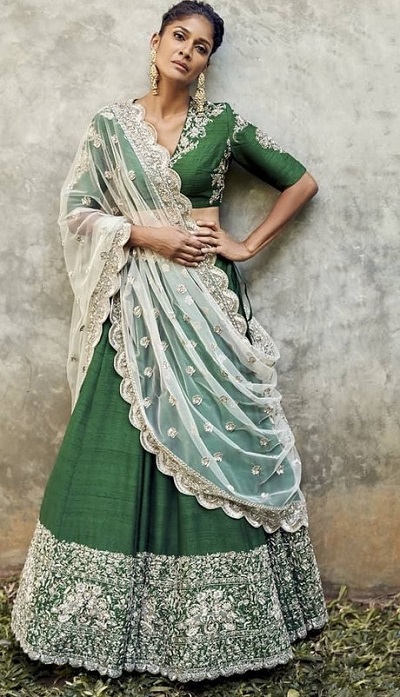 28. Bridal Embroidered Kurta Plazo Set For Mehndi Function
29. Simple Blouse Lehenga For Mehndi Function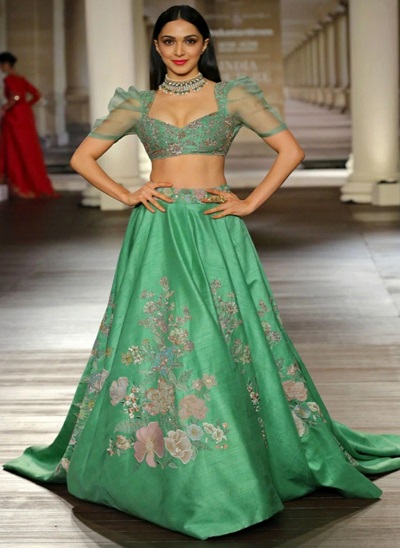 30. Heavy Embellished Blouse With Lehenga For Mehndi Bridal Function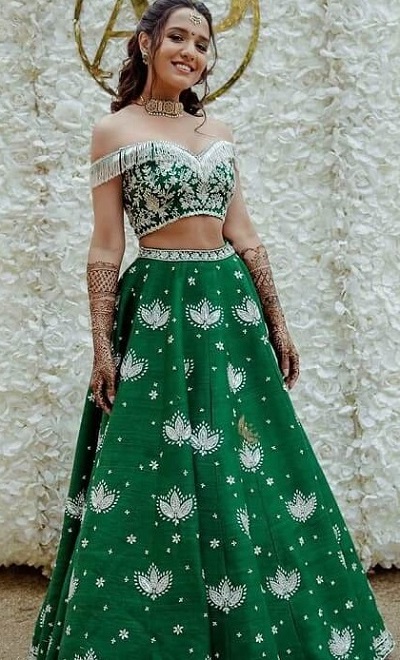 31. Multi Tiered Lehenga With Embroidered Blouse For Mehendi Function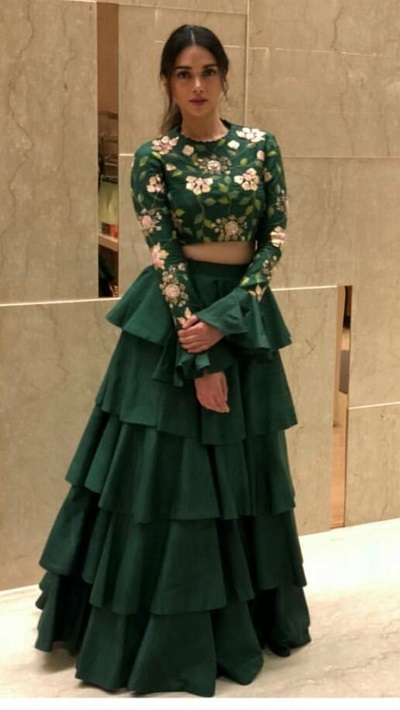 32. Lightweight Mint Green Net Lehenga For Mehendi Function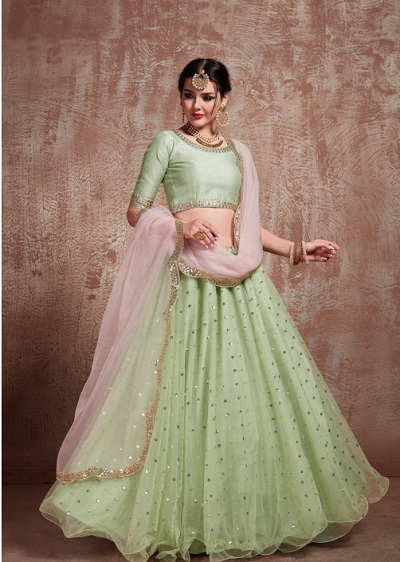 33. Heavy Embellished Green And Red Bridal Mehndi Dress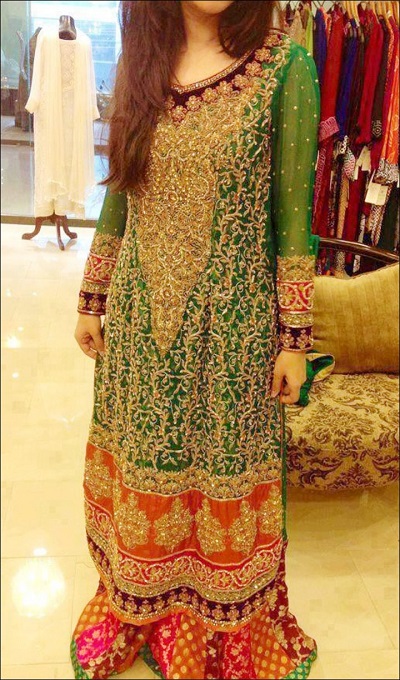 34. Stylish Gown Mehandi Dress For Brides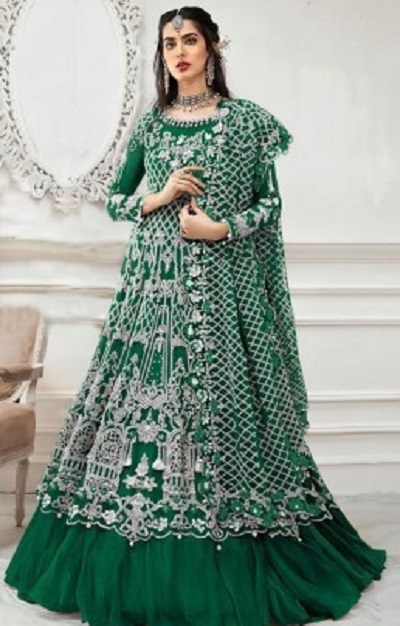 35. Latest Seagreen Mehndi Dress Gown For Brides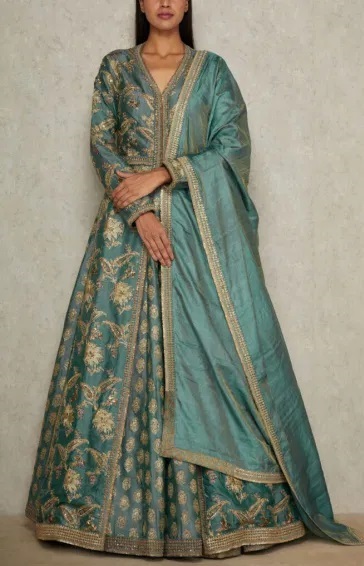 36. Stylish Cape Style Gown For Bridal Mehendi Functions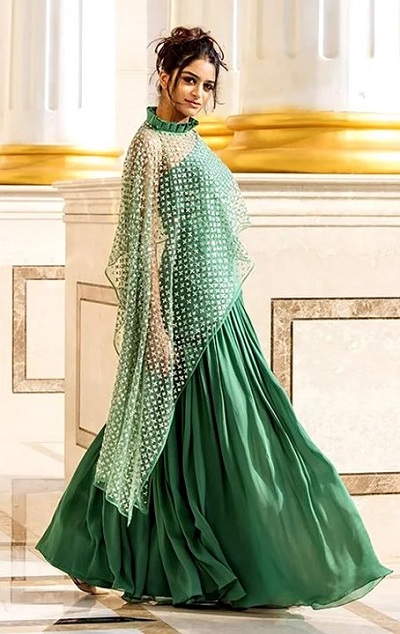 37. Very Heavily Embellished Green And Peach Bridal Mehndi Dress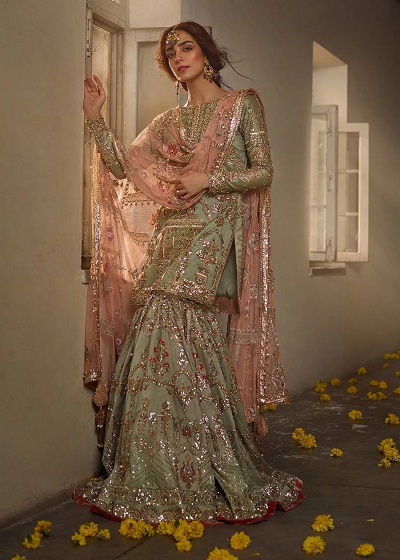 38. Green Lehenga Kurti Mehandi Dress For Bride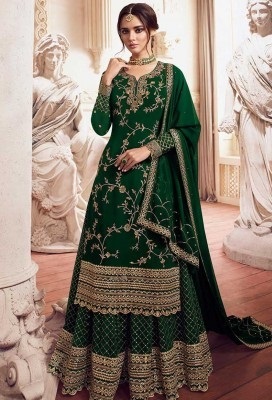 39. Dark Green Silk Kurti Sharara For Bridal Mehendi Function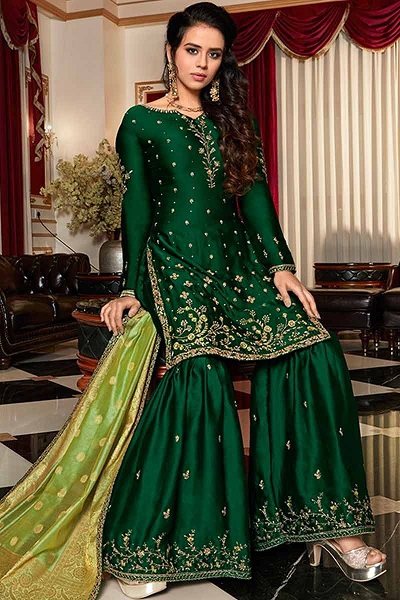 40. Yellow And Green Sharara Kurti Set For Brides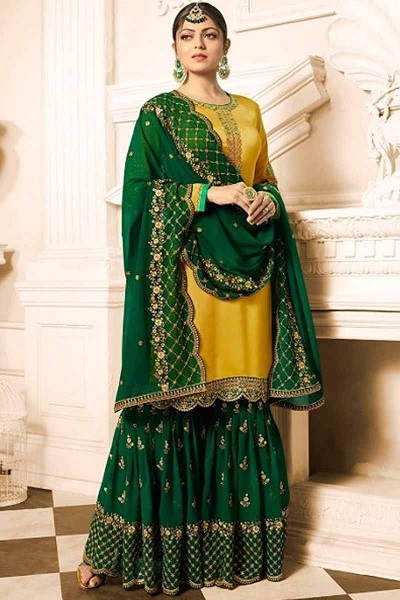 41. Yellow Kurti Sharara For Bridal Mehndi Occasion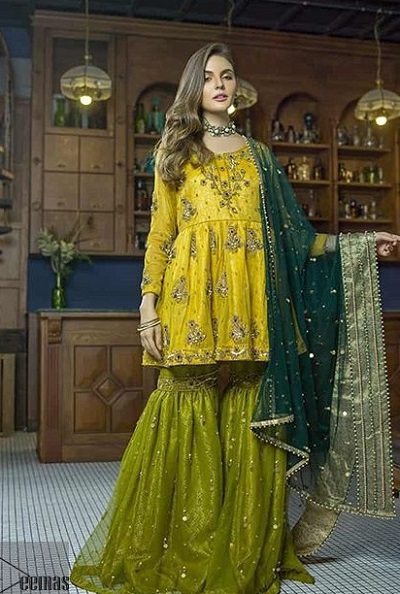 42. Long Yellow Gown With Green Dupatta For Mehndi Dress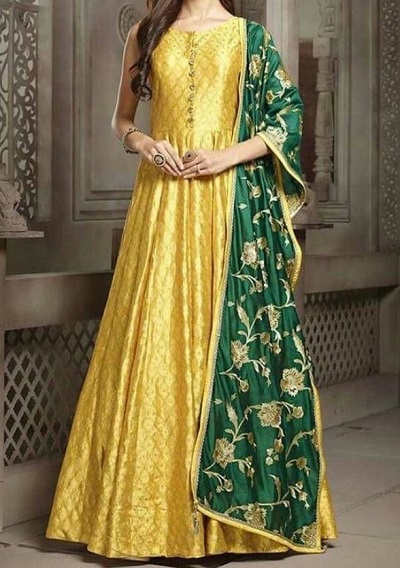 43. Green Embroidered Mehndi Function Dress For Brides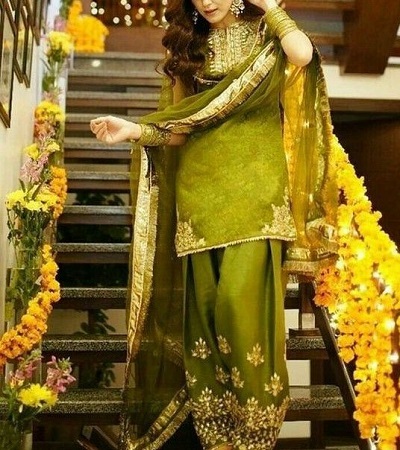 44. Dark Green Gota Patti Work Lehenga For Mehendi Ceremony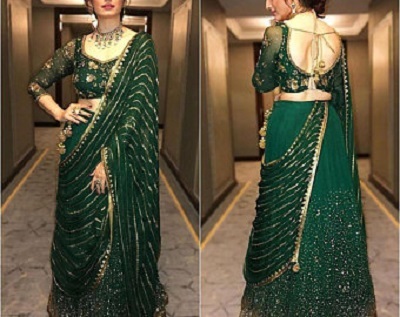 45. Long Blouse Lehenga Design For Mehndi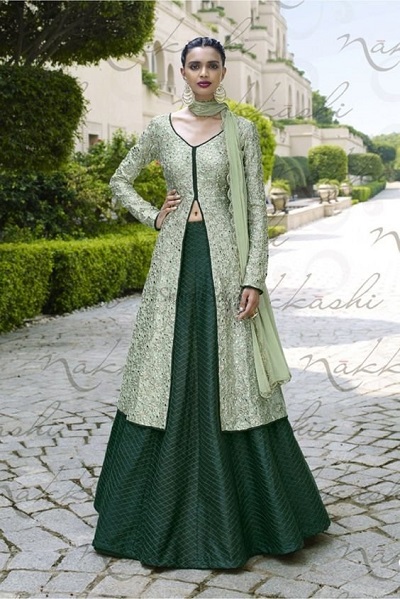 46. Simple Long Kurta Plazo Set For Mehndi Ceremony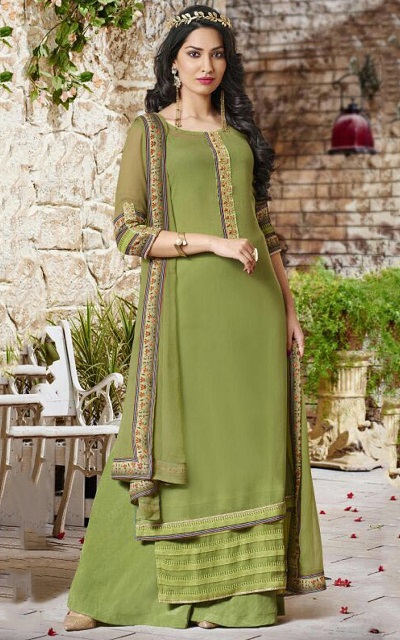 47. Lehenga Design For Mehndi Occasion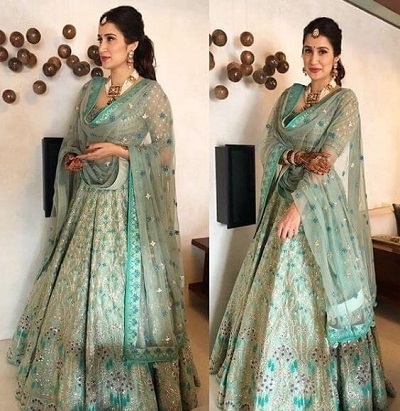 48. Beautiful Light Green Mehendi Ceremony Dress For Brides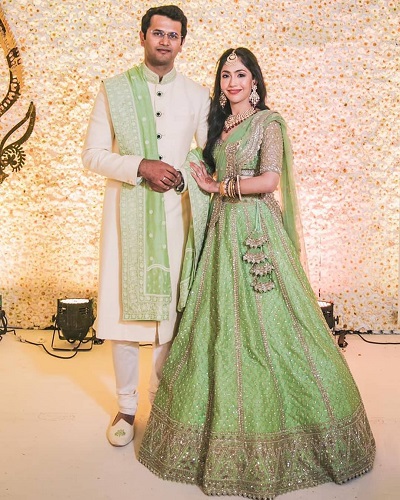 49. Stylish Blue And Green Combination Lehenga For Mehendi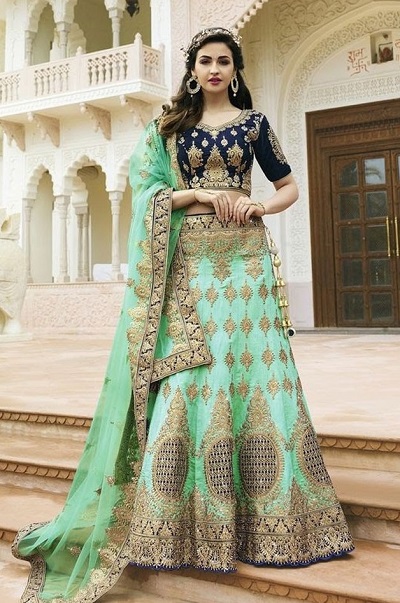 50. Short Green Heavy Embellished Kurti With Cropped Trousers