Bridal Nath or the nose pin has its own place when it comes to bridal jewelery. The bridal nose ring can indeed be the trickiest part of the bridal jewelery because of the fact that it is a bit hard to swear or to make it stay put. Nevertheless, they are beautiful and breathtakingly pretty.
Out of the latest designs of bridal nath or wedding nose pins, we would like to bring you the latest bridal nose pin designs for you. Definitely, they can make a bride look ravishing and gorgeous on that important day of her life. The nose pin should stand out and should compliment your face to make you charming and elegant, having said that comfort is also required. Even if you are a millennial bride, who would like to have a ultra modern wedding, one can never ignore the importance of a bridal nose pin. Even for the brides, who do not have nose pierced can go for the clip on bridal nose ring.
These screw-on or clip-on kind of nose pins would be suitable to flaunt a nose pin without getting nose pierced. Bridal Nath is also a unique and important bridal accessory that is a part of the bridal solah Shringar on the wedding day.
Latest Designs of Bridal Naths and Nose Ring
Let's take a look at the catalogue of the latest bridal nath designs.
1. Pearl And Kundan Studded Bridal Nose Pin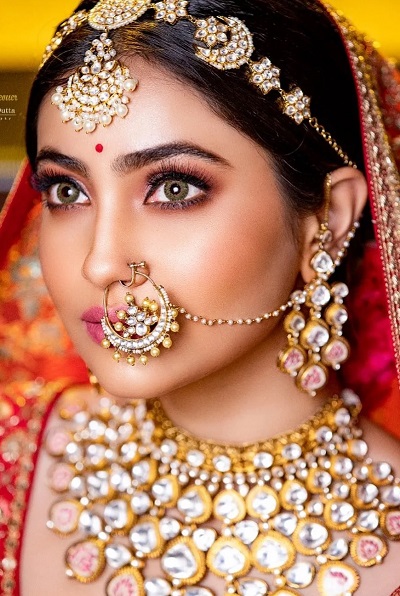 This surely looks truly unique because of the design and elegant craftsmanship. The hoop of the nath is not too big, therefore it is easy to carry and it is a screw on or clip-on kind of nath which is easy to wear. The chain of the nath also bears small and dainty pearl beads. Therefore, a bride can never go wrong with such a gorgeous looking nath for the bridal ceremony. In fact, after the wedding ceremony wrap up, it can be used for post wedding rituals and for the Puja ceremonies and certain special days like Karva Chauth.
2. Simple Small Hoop Bridal Nath Design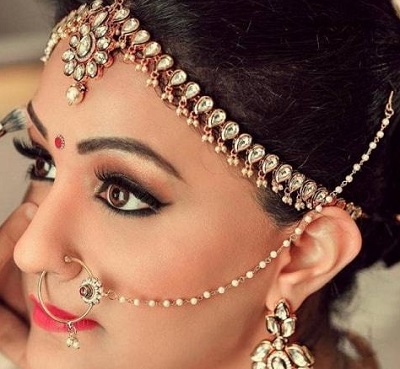 This is a very simplistic design which is ideal for bride who doesn't wish to sport an Over the Top or even heavy bridal nath pattern. It is a small nath with the chain consisting of small pearls. The simplest design of this nose ring, actually makes it lightweight and elegant.
3. Extravagant Bridal Nath design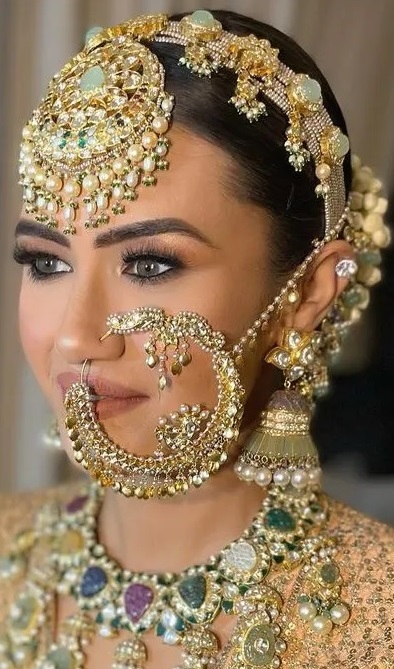 Such beautiful and heavy bridal naths are ideal for brides, willing to explore the quirky and lavish accessories. The hoop of the nath is really huge and is studded with the kundan, polki and pearl beads. This is one of its kind and can certainly be invested for. It will surely make you look different and quite edgy.
4. Bridal Nose Ring With Heavy Hoop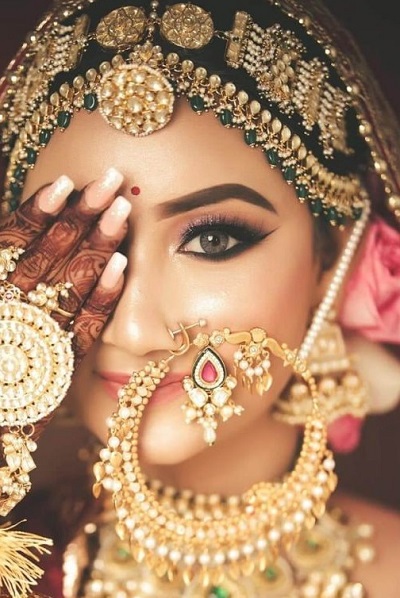 As one can see the hoop of this bridal nose ring is quite heavy in appearance. To make it a bit comfortable to wear for long hours screw kind of closure has been given. The screws are very easy because they can be screwed in to ensure the nose ring stays in place for long hours and duration of the wedding ceremonies. The chain is just a single small Pearl beaded one.
5. Kundan and Pearl Light Hoop Nath Design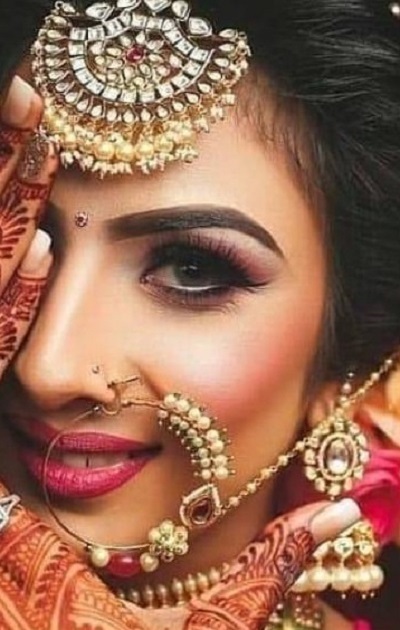 This bridal jewelery for nose is quite thin and light weight, hence, is an absolute choice for the simple jewelery opting brides. The only thing the hoop carries is a gorgeous kundan with stone setting attached with just the dainty pearl beads. The chain is made with the combination if metal with pearl beads. This jewelery is also ideal for women who doesn't want heavy patterns but would lean towards the lighter versions of the bridal nose pins.
6. Kundan Studded Elegant Bridal Nose Pin Design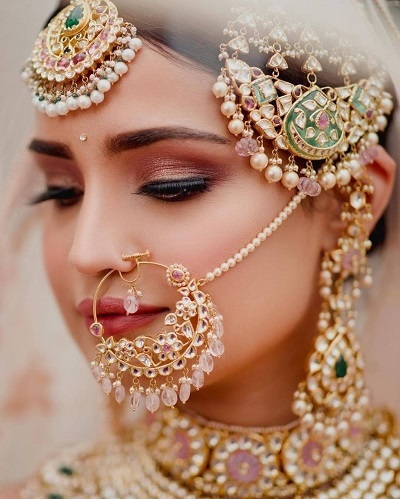 The traditional piece is absolutely awes-inspiring because of the Kundan work on it. It has a dainty pearls string and some light pink stones hanging along with the pearl clusters. It is surely and eye-catching and a breathtaking bridal Nath design. This bridal nose pin is quite striking and it would certainly make you a fascinating bride.
7. Stone And Kundan Work Heavy Bridal Nath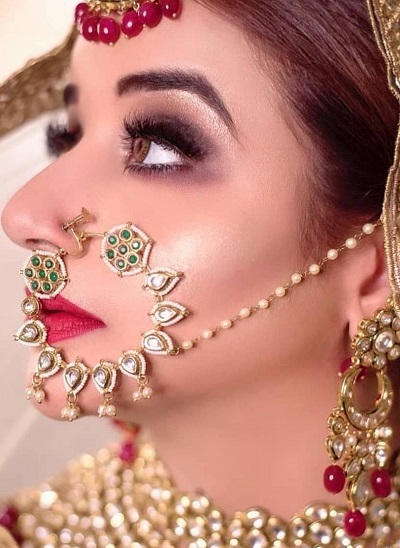 The bridal nose pin is indeed a screw nose pin with a medium sized hoop however it is going to be a bit heavy because of the stones and the Kundan work on it. Along with the pearl, it actually gives a dainty and classy look but because of the fact that it would be quite heavy screw pattern is given to it.
8. White Beaded Kundan Small Bridal Nath Design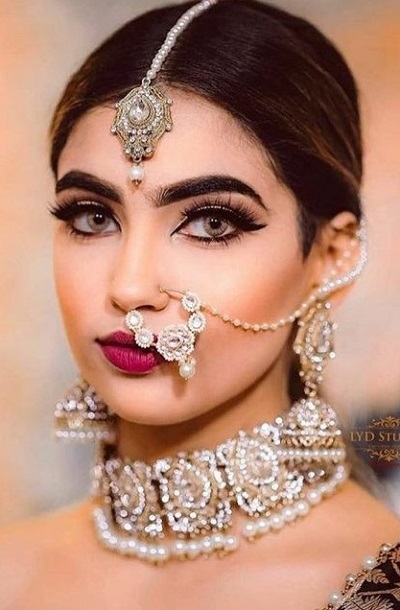 If you are into white beaded jewelery and pearl work, then this is ideal. The nath is embellished and is crafted with mostly Kundan and White pearls. The hoop is small and is easy to carry.
9. Big Hooped Simple Design Bridal Nath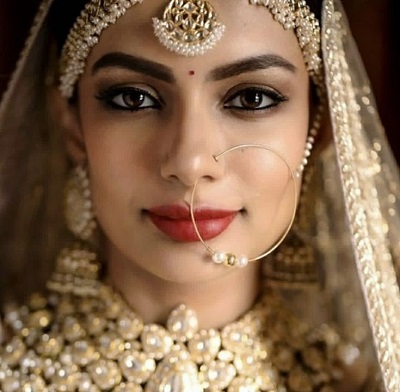 When the bride wants something simple and easy to carry them this is the nothing design that she can have. This bridal nothing has simple hoop that carries couple of golden beads. The string of the bridal nose ring is embedded with small freshwater pearls. This is a classy looking bridal nath which is very easy to wear as compared with the heavier designs.
10. Kundan Polki Bridal Nose Pin Design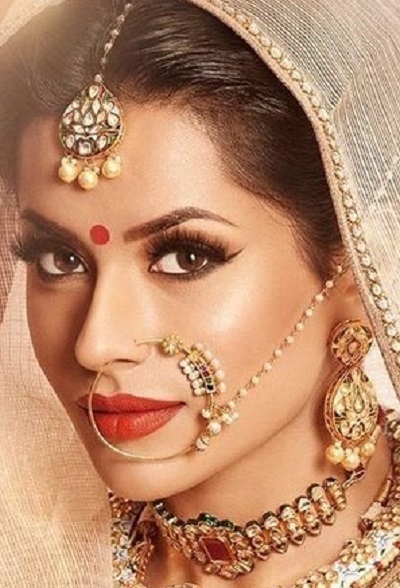 The polki work is also seen in this bridal Nath and is quite easy to carry. It is not too heavy because of the fact that the hoop is a medium sized hoop with some polki work on it. This is quite elegant and simplistic looking bridal Nath design.
11. Pearl Work Small Bridal Nath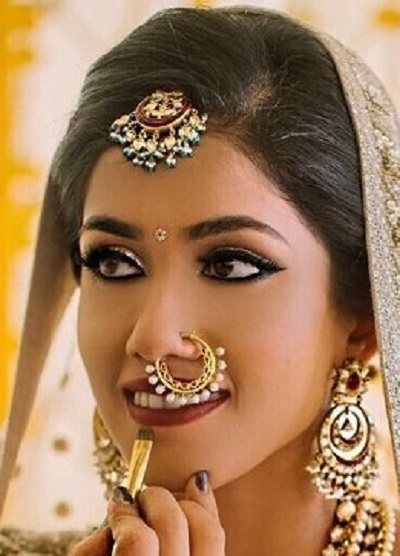 12. Kundan Embellished Bridal Nath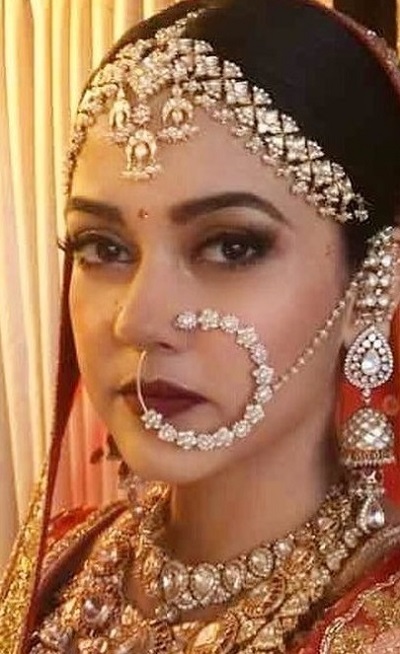 13. Simple Single Stone Studded Bridal Nose Pin Design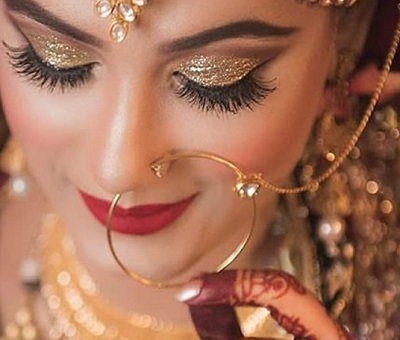 14. Gold Bead Work Simple Bridal Nose Pin Design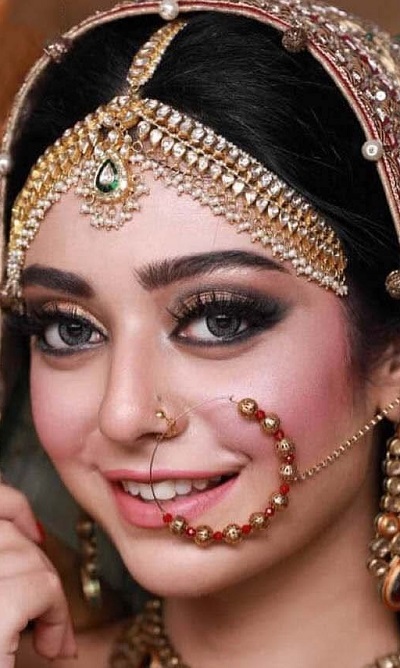 15. Heavy Kundan Work Nose Pin Pattern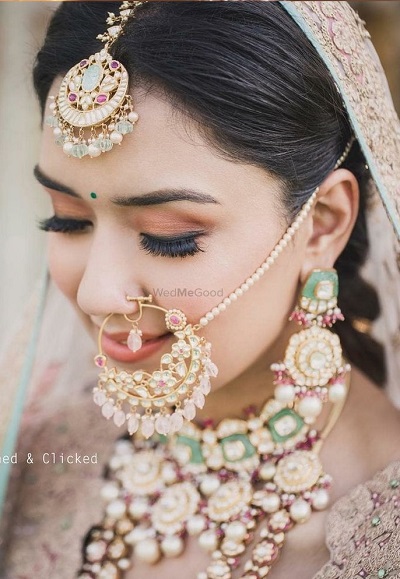 16. Kundan Polki Work Bridal Nose Pin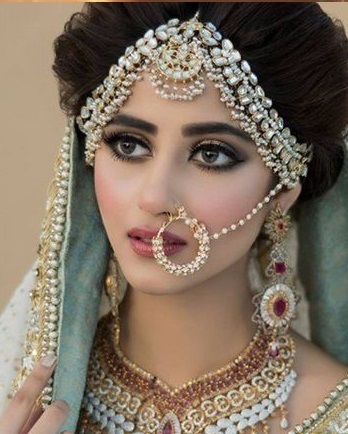 17. Heavy Kashmiri Pattern Nose Pin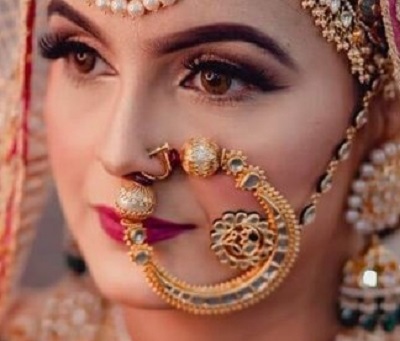 18. Heavy Double Hooped Bridal Nath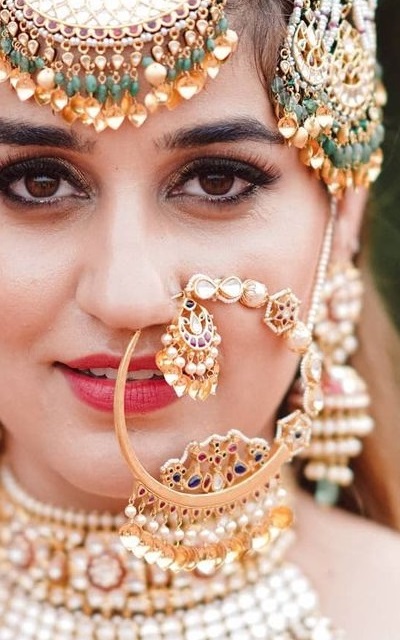 19. Kundan And Pearl Bead Crafted Bridal Nose Pin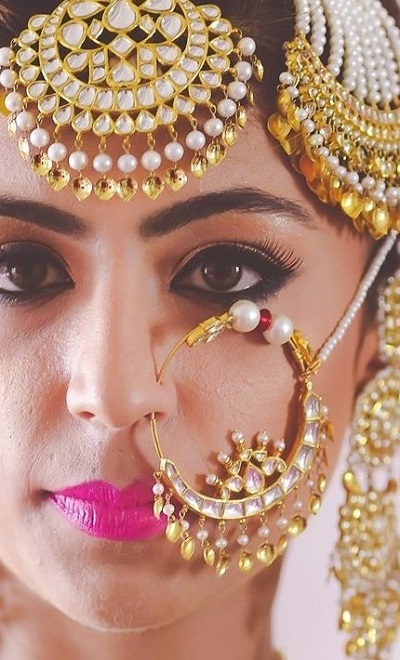 20. Pearl Bead Nose Pin For Brides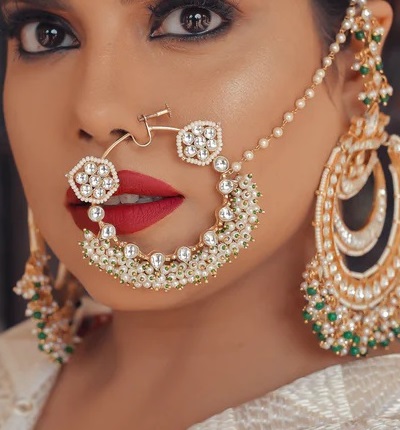 21. Very Simple And Classy Bridal Nose Pin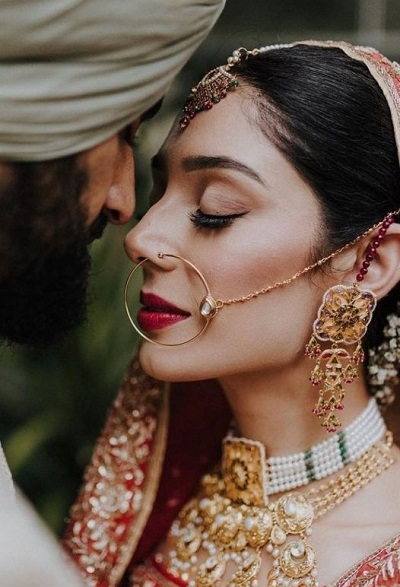 22. Pearl And Red Bead Classy Simple Bridal Nose Pin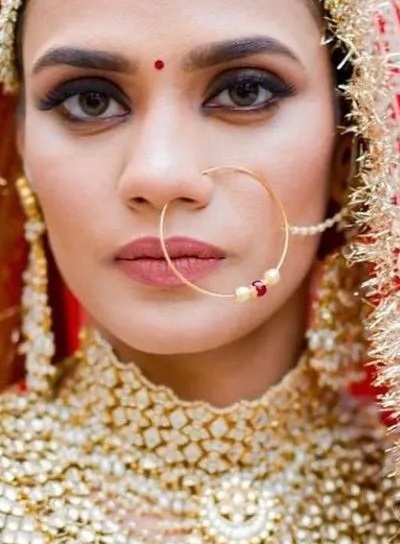 23. Polki And Kundan Setting Bridal Nose Pin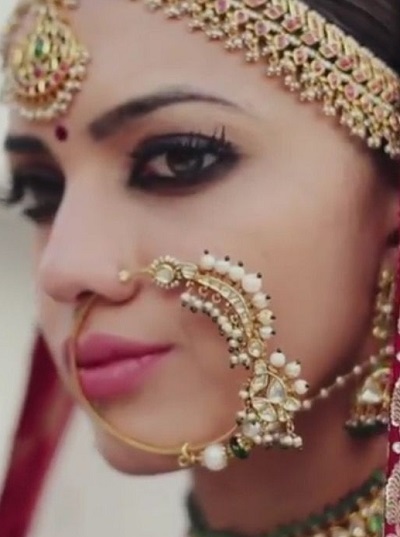 24. Small Hoop And Simple Nothing Pattern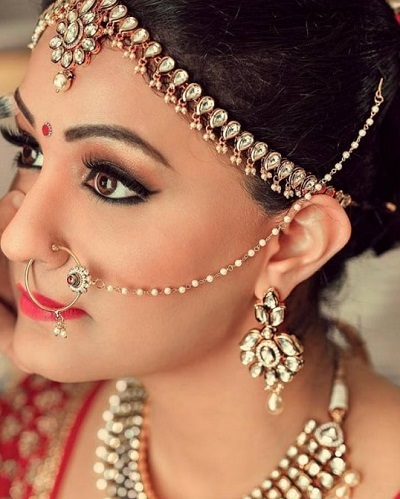 25. Cubic Zircon Embellished Bridal Small Nath