Bun wedding hairstyles are a classic and elegant choice for brides. There are numerous variations and styles of buns that can suit different hair types, lengths, and wedding themes. While buns can be made from short shoulder length hair to very long hair they long really pretty when adorned with accessories like flowers, jewelery, pearls, tiaras and more.
Types of Buns to Try For Wedding:
Here are some popular bun wedding hairstyles along with brief descriptions:
Classic Low Bun: A timeless and sophisticated bun style that is positioned at the nape of the neck. It's neat, elegant, and works well with veils and hair accessories.
Messy Bun: A relaxed and tousled bun that gives a natural and effortless look. Not to say that it's perfect for a bohemian or beach-themed wedding.
High Bun: Positioned at the crown or top of the head, this bun adds height and drama to the overall look. It's ideal for modern and chic bridal styles.
Braided Bun: Combine a bun with braids to create an intricate and romantic look. You can have a braided crown leading into a bun or incorporate smaller braids within the bun.
Loose Bun with Curls: A softer and looser bun with curls framing the face, providing a romantic and feminine touch. This style works well for a romantic or vintage-inspired wedding.
Low Bun with Flowers: Arrange a low bun and adorn it with fresh or artificial flowers to complement your wedding theme and add a natural, delicate feel.
Side Bun: Gather your hair to one side and create a bun for a modern and asymmetrical look. It's a great choice if you want to showcase statement earrings or one-shoulder dress.
Twisted Bun: Twist sections of hair and secure them into a bun for an intricate and textured look. This style adds visual interest and dimension.
Sleek Donut Bun: A polished and smooth bun created using a hair donut for a perfectly rounded shape. It gives a clean and sophisticated appearance.
Half-Up, Half-Down Bun: Combine a half-up, half-down style with a bun at the back for a versatile and stylish look. It's a great compromise between wearing your hair up or down.
Latest Wedding Bun Hairstyle Images and Ideas
1. Texture Low Bun with Headpiece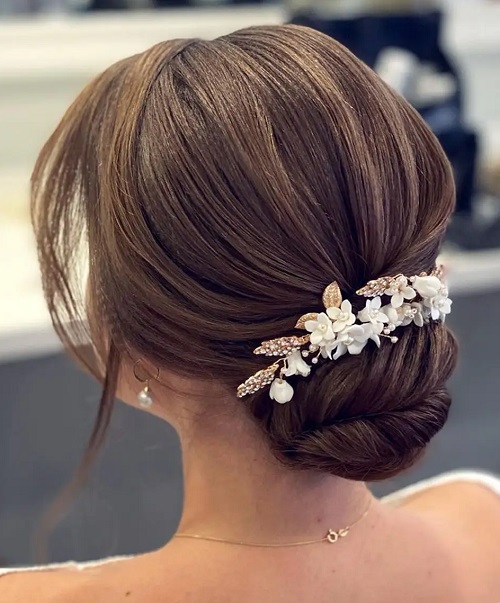 Create a low bun with added texture and accessorize with a headpiece for an elegant and modern bridal look. This is an outstanding hair to go for.
2. Loose Curl Messy Bun Hairstyle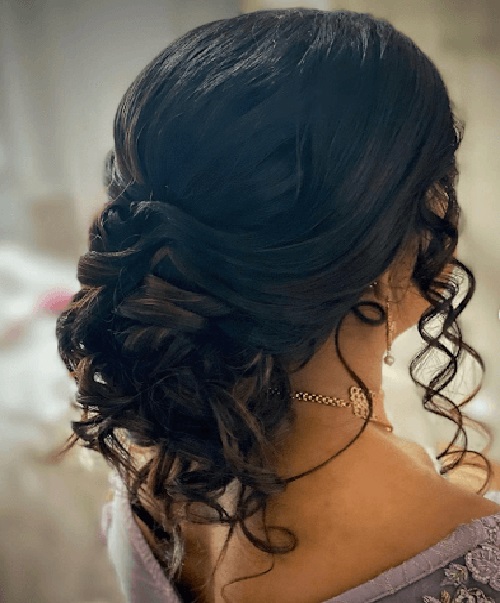 Style your hair into a messy bun with loose curls for a relaxed, bohemian-inspired bridal hairstyle.
3. Randomly Weaved Bun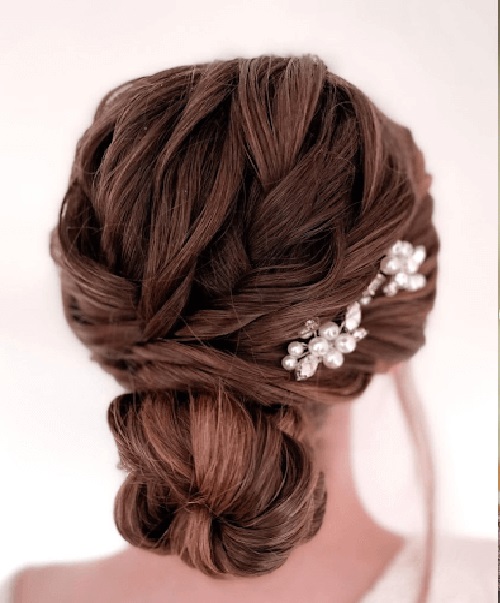 Weave your hair strands randomly before securing them into a bun, adding a unique and textured element to your hairstyle.
4. Circlet Clipped Bun Hair
Arrange your hair in a bun and use a circlet or circular hair accessory to clip it in place, giving a regal and stylish appearance.
5. Rose Flower Shape Full Bun
Craft your bun into a shape resembling a rose flower, achieving a romantic and intricate bridal hairstyle.
6. Twisted Wrapped Bun Hair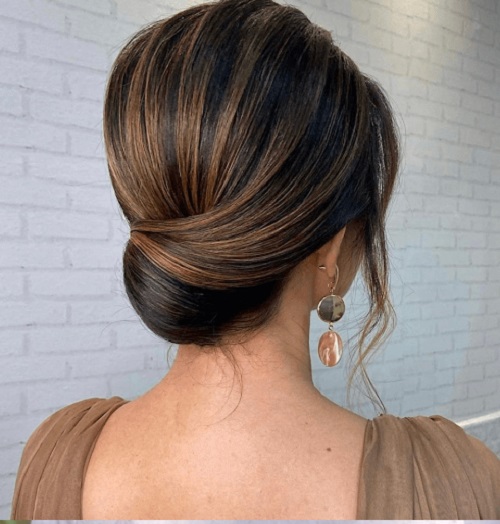 Twist sections of your hair and wrap them to form a bun, creating an elegant and visually appealing bridal updo.
7. Stone Embellished Bun Style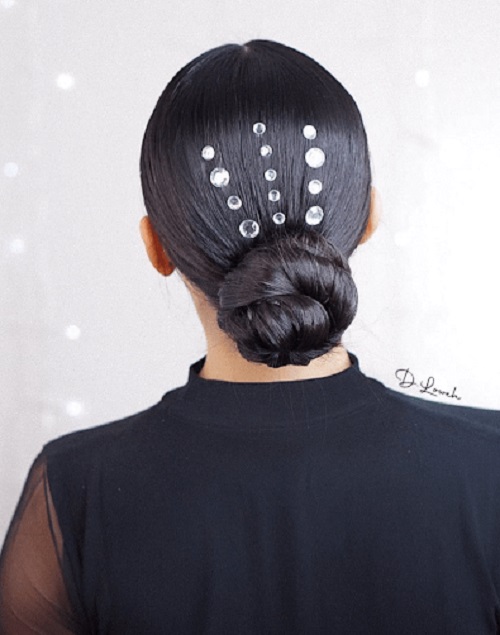 Adorn your bun with stone or crystal embellishments to add a touch of sparkle and sophistication to your wedding hairstyle.
8. Twisted Bun Style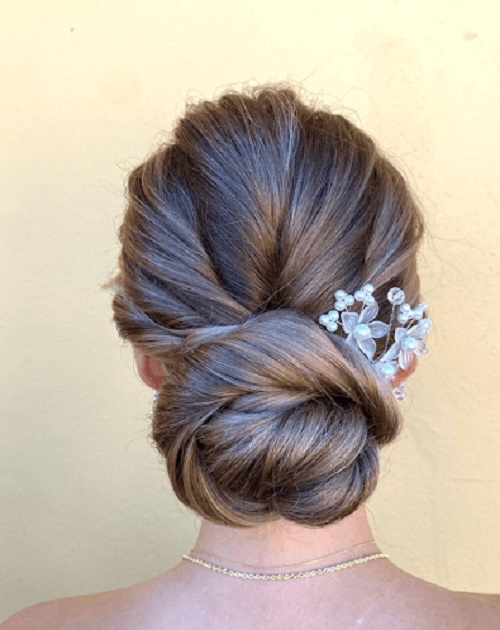 Twist your hair strands and secure them in a bun for a textured and stylish bridal hairstyle that showcases the twists.
9. Ridged Plaited Bun Hair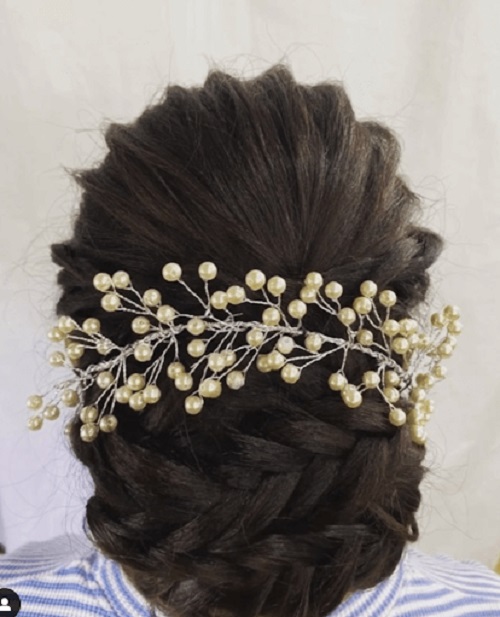 Incorporate ridged plaits into your bun for a structured and detailed bridal bun hairstyle with added dimension.
10. Low Stylish Bun Hairstyle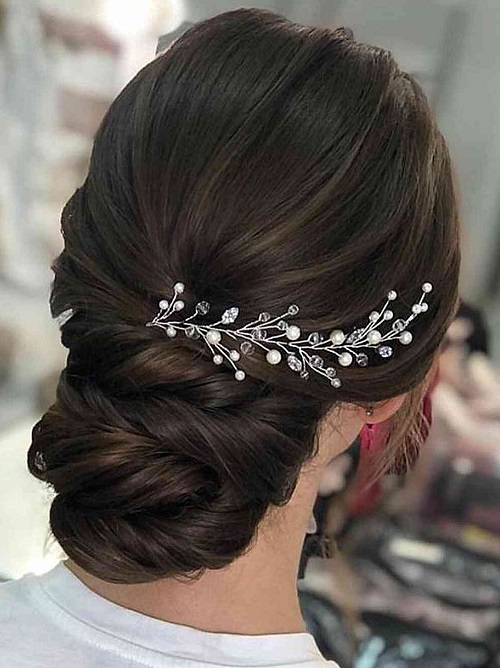 Achieve a chic and stylish low bun that exudes sophistication and complements various bridal looks.
11. Messy Front Loose Fluffy Bun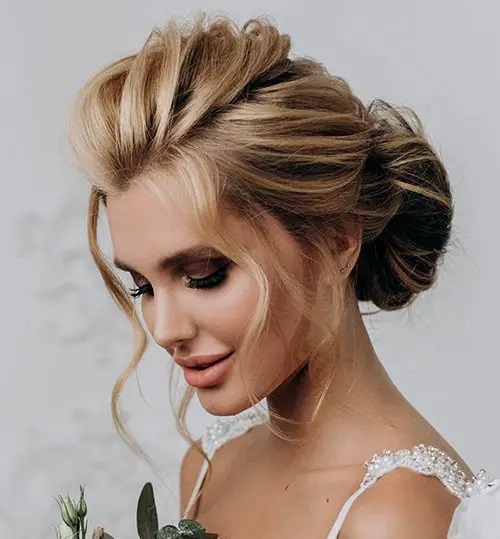 Choose a messy and fluffy bun with loose strands in the front, providing a relaxed and voluminous bridal hairstyle.
12. Bridal Bun with Jewelry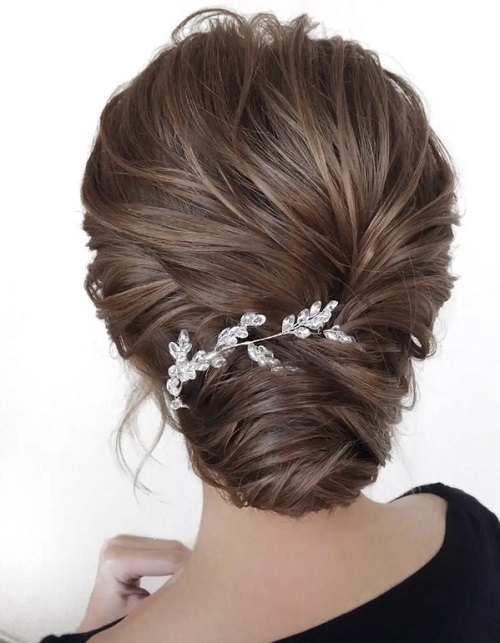 Style your bun with bridal jewelry like combs, pins, or clips to enhance the overall bridal look and add a touch of glamour.
13. Multiple Braided Bun with Flower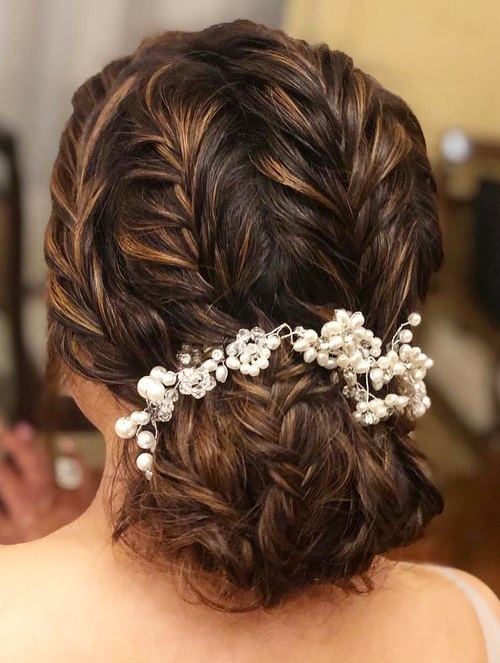 Combine multiple braids into a bun and adorn it with flowers for a bohemian and nature-inspired bridal hairstyle.
14. Easy-to-Do Bun Style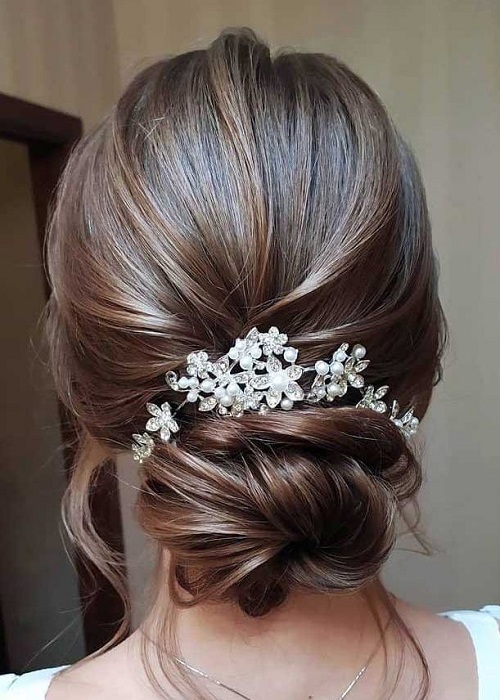 Choose a simple and easy-to-create bun style that fits your preferences and is manageable for you on your wedding day.
15. Loose Bun with Front Layers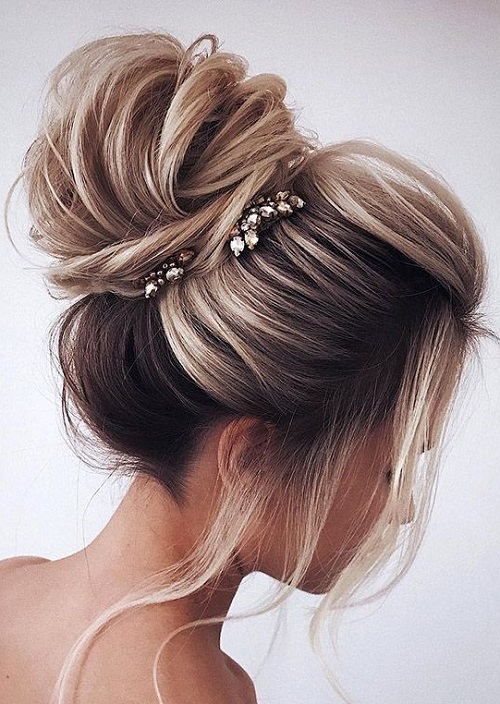 Create a loose bun and leave front layers to frame your face, achieving a soft and romantic bridal hairstyle.
16. Curly Hair Bun Hair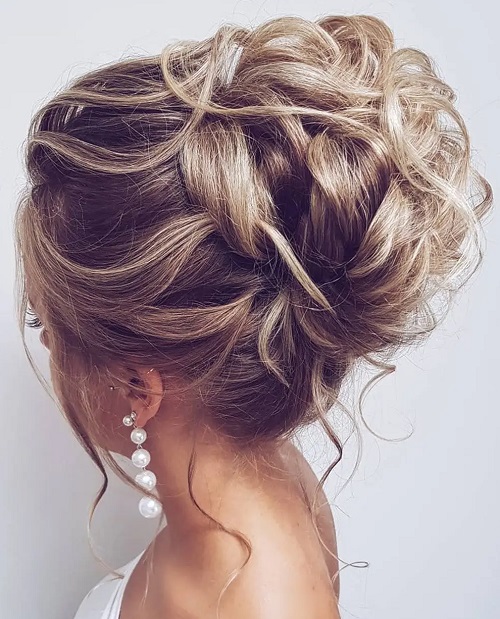 Gather your curly hair into a bun, showcasing your natural curls and achieving an effortless bridal updo.
17. Wrapped Bun Bridal Hair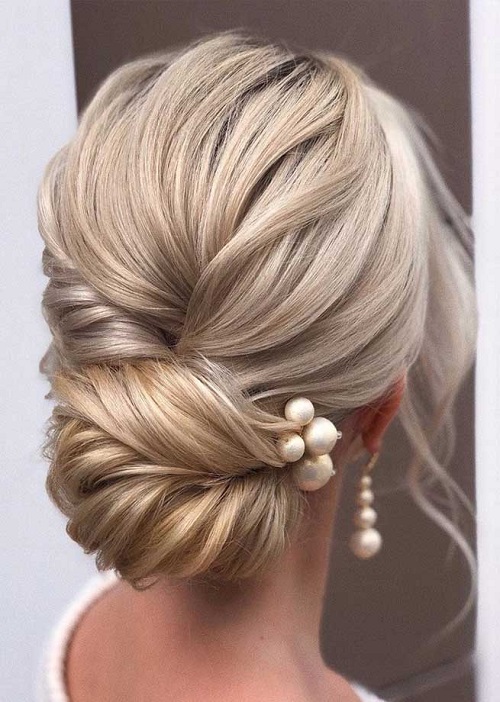 Wrap sections of your hair to form a bun, achieving an elegant and sophisticated bridal hairstyle.
18. Rolled Up Ridged Bun for Brides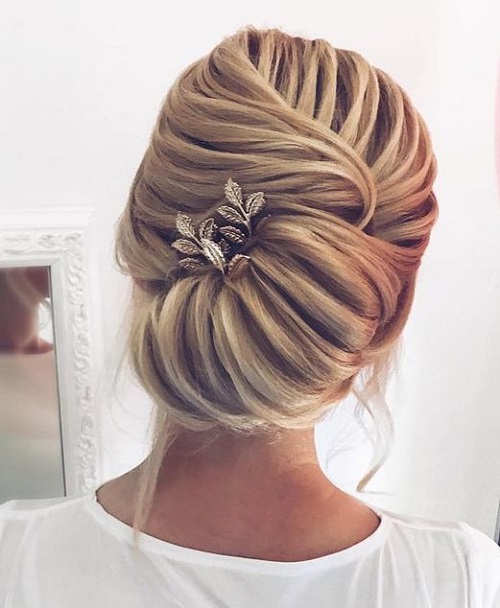 Roll up your hair to create a ridged bun, adding a structured and textured element to your bridal hairstyle.
19. Top Knot Sleek Bun Wedding Hair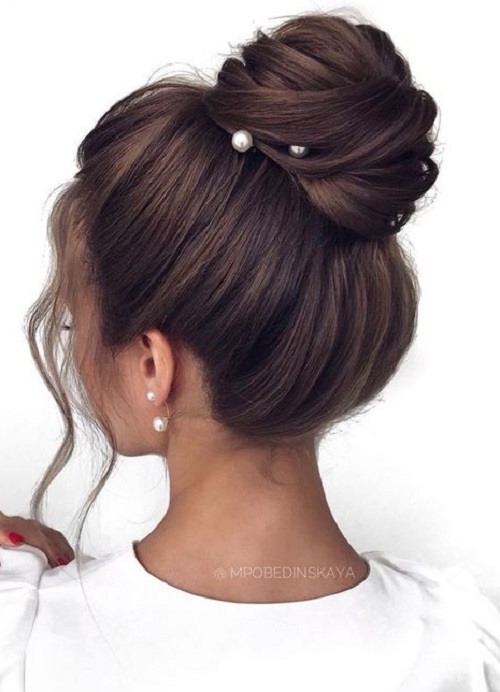 Style your hair into a sleek top knot bun, creating a modern and trendy bridal look.
20. Clean Top Knot Style Hair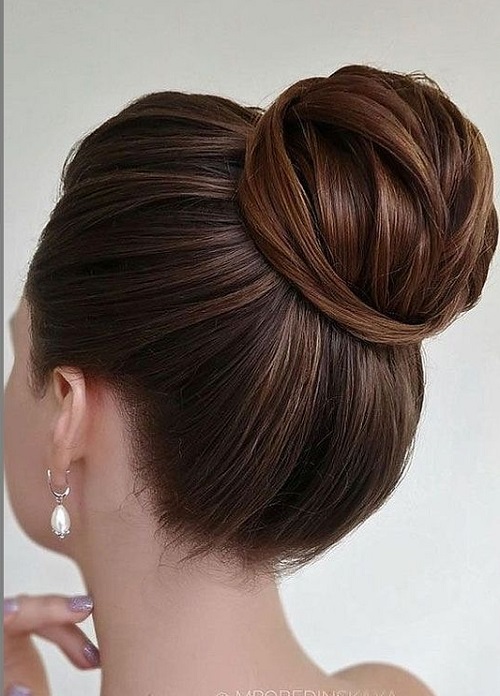 Try for a clean and polished top knot bun, providing a refined and sophisticated bridal hairstyle. It's appropriate for the women with long hair.
21. Simple Uncombed Top Knot Hair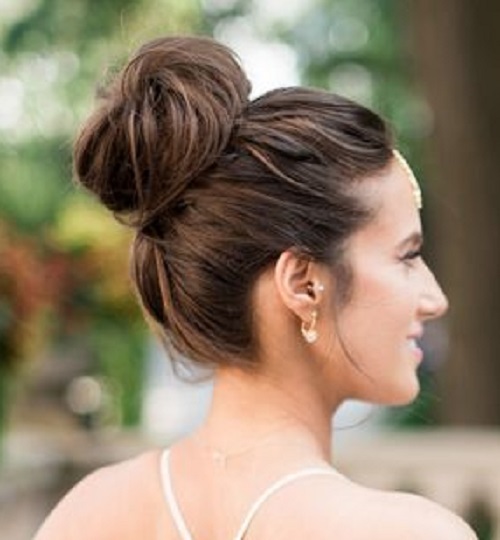 Create a top knot bun with a slightly uncombed or tousled finish for a relaxed and effortless bridal look.
22. Pearl Embellished Bun Hair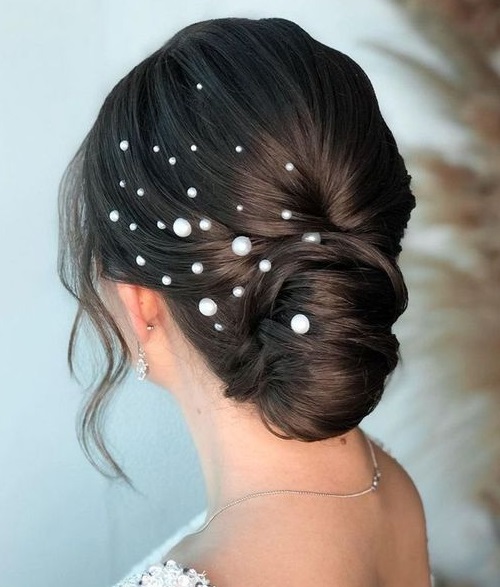 Embellish your bun with pearls or pearl accessories to add an elegant and classy touch to your bridal hairstyle.
23. Bun with Jewelry for Brides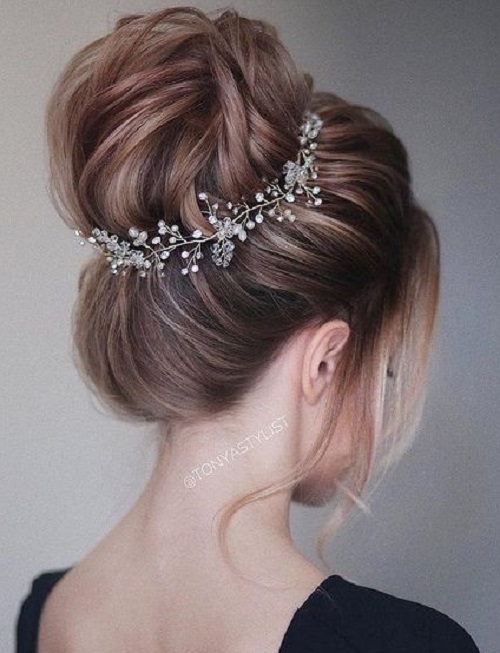 Adorn your bun with various types of jewelry like hairpins, combs, or tiaras, enhancing the overall bridal look.
24. Low Chignon Bun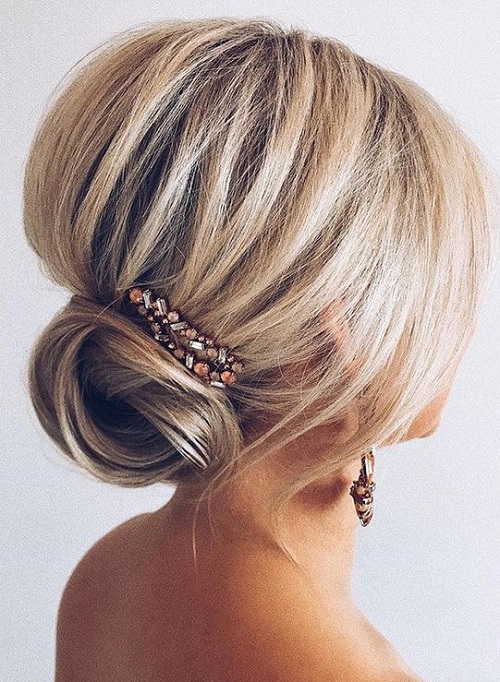 Brides can also try a low chignon bun, a classic and timeless bridal hairstyle that complements various wedding themes.
25. Pulled-Out Braid Bun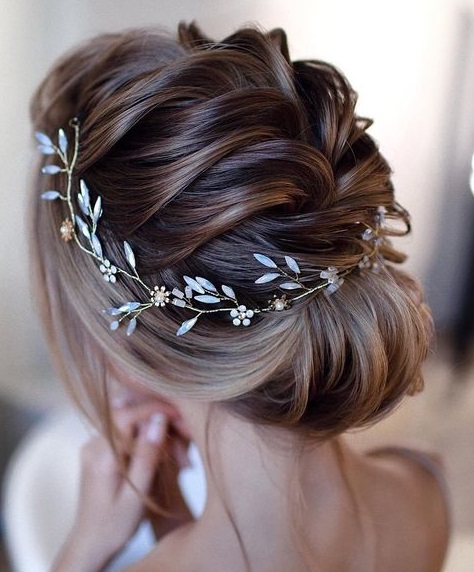 Create a bun by pulling out sections of a box braided hairstyle box braided hairstyle, achieving a textured and intricate bridal updo.
26. Hair Jewelry Pouf Bun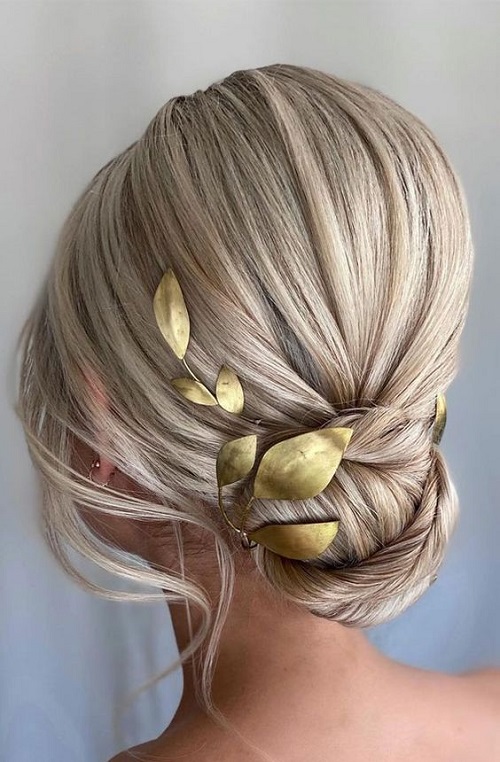 Incorporate hair jewelry into a pouf-style bun, adding a glamorous and eye-catching element to your bridal hairstyle.
27. Low Bun for Short Hair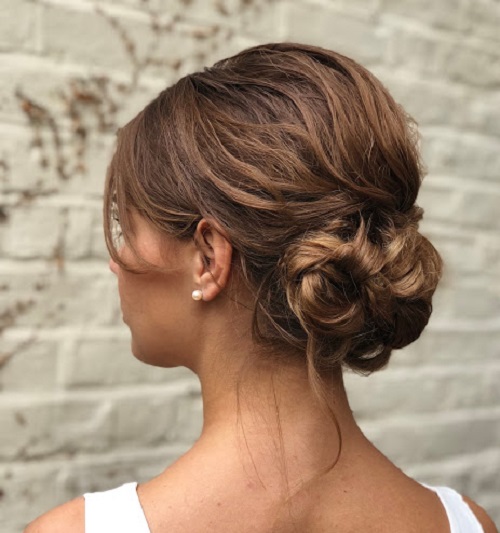 Style your short hair into a low bun, showcasing an elegant and tailored bridal hairstyle for shorter hair lengths.
28. Inside Wrapped Bun for Wedding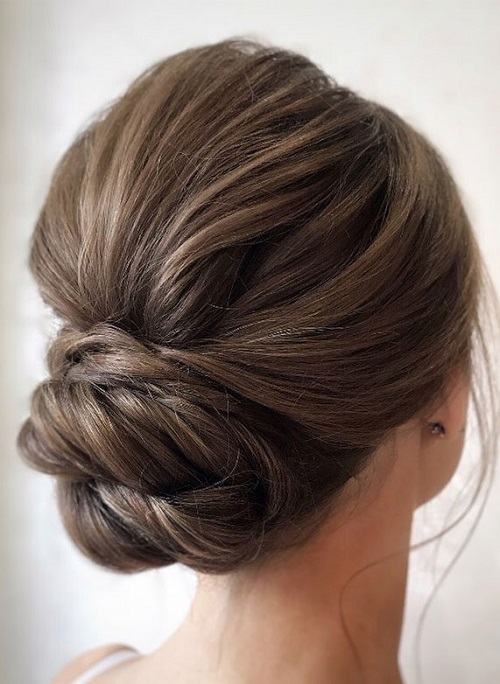 Wrap sections of your hair on the inside to create a bun, achieving a unique and visually appealing bridal hairstyle.
29. Double Twisted Bridal Bun
Twist and secure your hair into a double bun arrangement, creating a detailed and sophisticated bridal updo.
30. Reverse Crown Braided Bun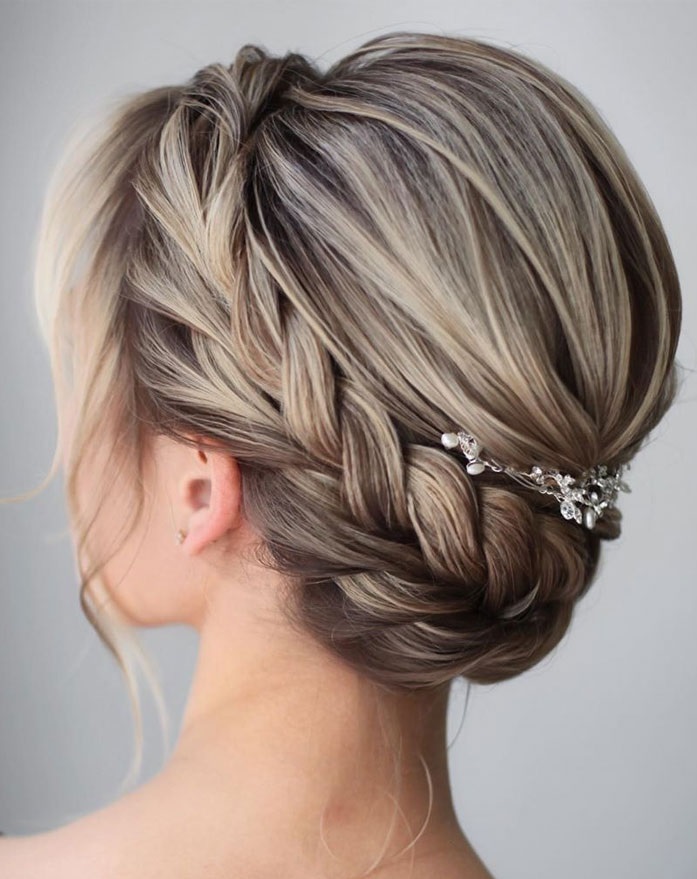 Incorporate a reverse crown braid into a bun, achieving an intricate and regal bridal hairstyle.
31. Dutch Braided Bun for Black Brides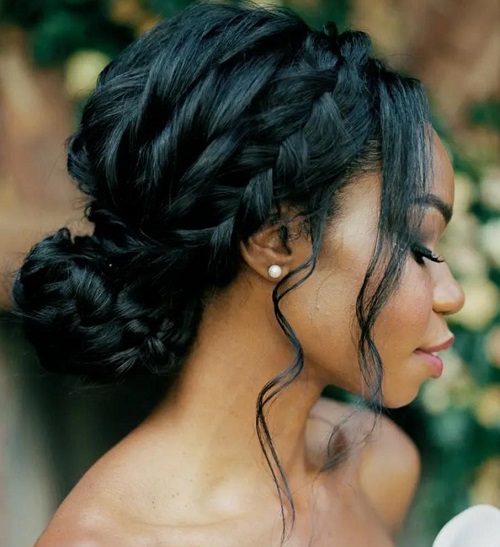 Style your hair into a Dutch braided bun, a beautiful and elegant bridal hairstyle particularly suitable for black brides.
32. Side Braided Low Bridal Hair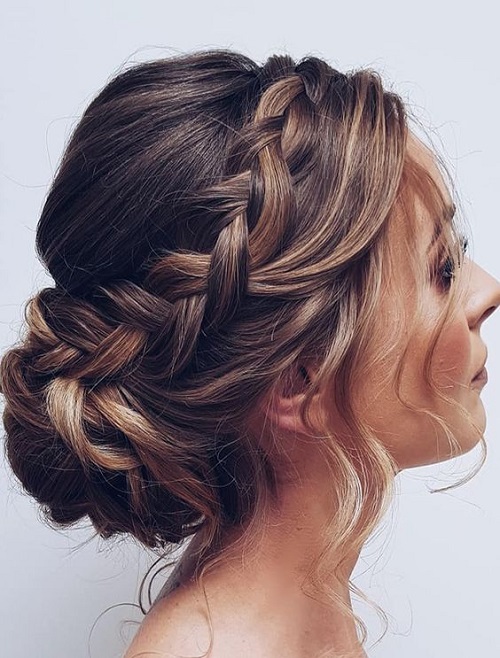 Create a low bun with braids on the side, achieving a stylish and asymmetrical bridal hairstyle.
33. Intricate Flower-Resembling Bun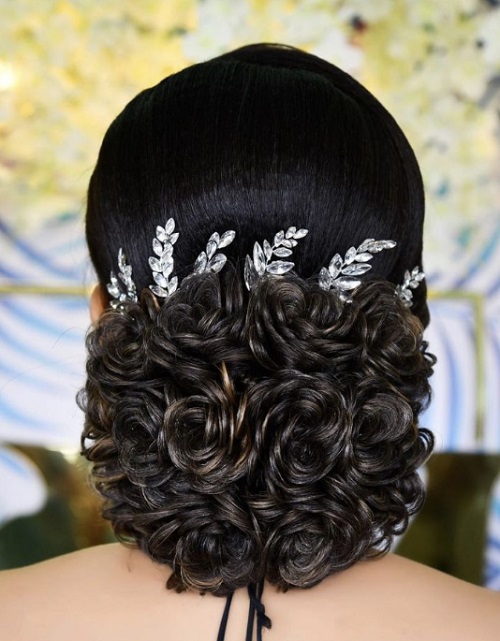 Craft your bun to resemble an intricate flower, achieving a unique and eye-catching bridal updo.
34. Fishtail Braid Bun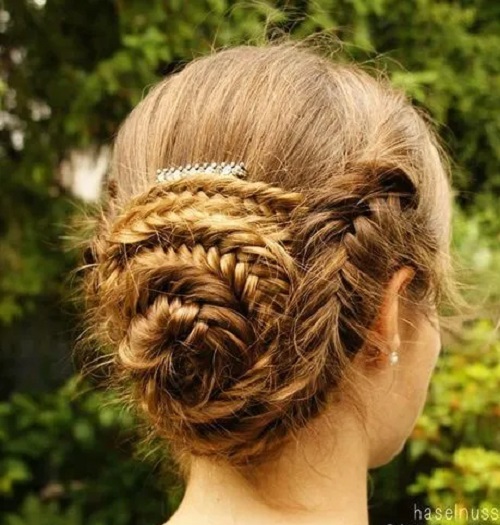 Wrap the regular fishtail braid into a bun, achieving a detailed and textured bridal hairstyle.
35. Simple Twisted Bun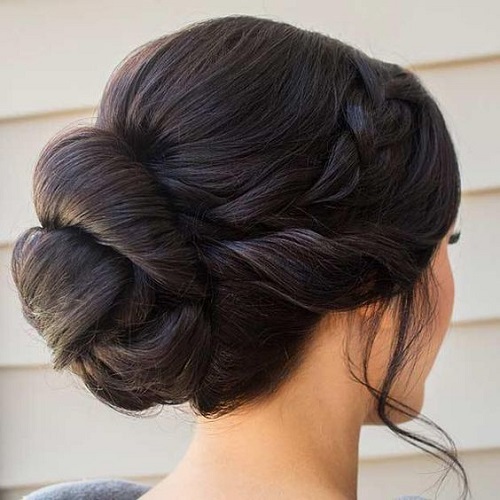 Twist your hair to create a simple and elegant bun, achieving a refined and classic bridal updo.
36. Loose Bridal Bun
Go for a loose bun that exudes a relaxed and effortless bridal look, perfect for a bohemian or outdoor wedding.
37. Flower Bridal Hair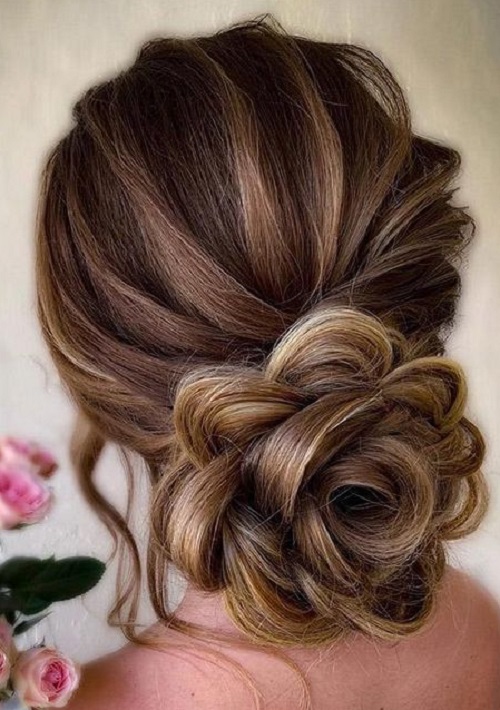 Adorn your hair or bun with flowers to achieve a fresh and natural bridal hairstyle, ideal for a garden or spring wedding.
38. Side French Braid Hairstyle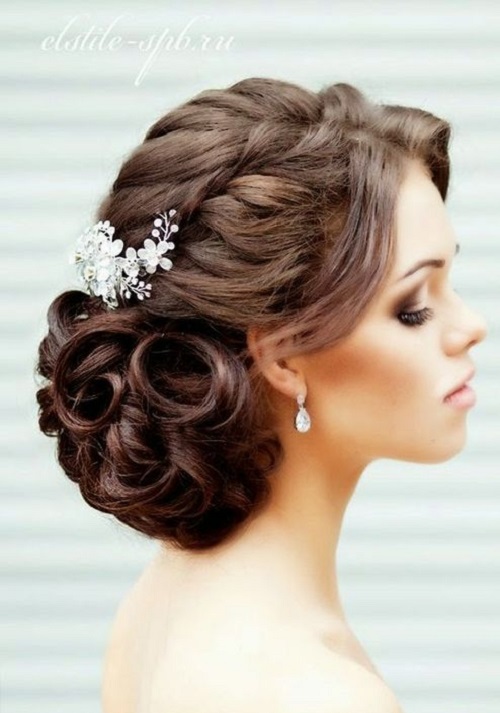 Combine a side bun with a French braid for an elegant and romantic bridal hairstyle with added texture and detail.
39. Rose Flower Bun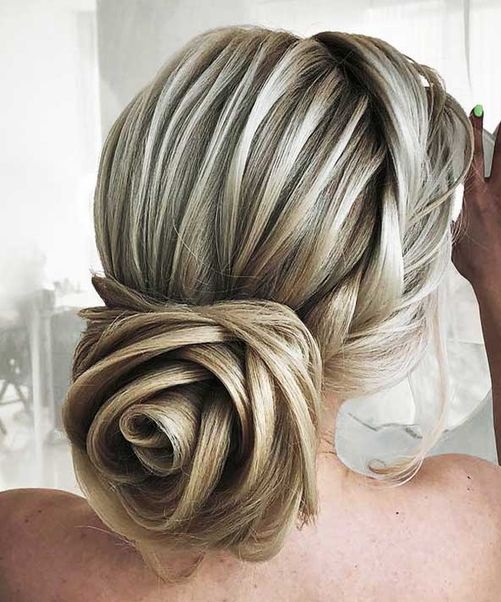 Craft your bun to resemble a rose flower, achieving a beautiful and intricate bridal updo with a floral touch.
40. Crown braided wedding hairstyle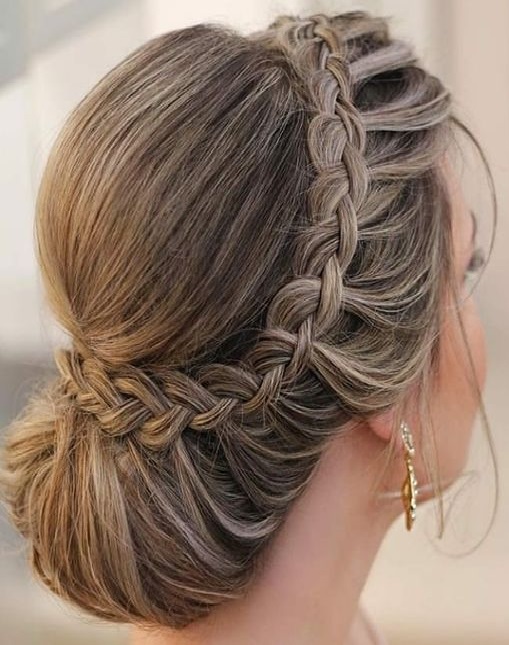 Each of these bun hairstyles offers a unique and beautiful option for brides, allowing you to choose a style that best fits your personal taste and complements your wedding theme and attire. Be sure to work with a hairstylist to perfect the chosen style for your special day.
Remember to consult with a hairstylist to choose the bun style that complements your face shape, wedding dress, and personal style. They can help tailor the hairstyle to suit you and ensure it stays secure and flawless throughout your special day.