The Cape dresses are absolutely beautiful and unique due to their pattern. For the women who would like to try something different and creative, a Cape dress is indeed what is needed. Cape dresses looked chic and sophisticated and elegant while adding a touch of contemporary vibe.
This style looks at the real and contemporary. Cape dresses for women are quite in trend and peak right now. Therefore, you too can give yourself a style makeover by wearing the latest designs of Cape dresses for women. Even plus size women can try these cape dresses. The long Cape dresses are quite fashionable during the fall winter season and not just the dresses Cape sleeve designer dresses are also worn for the parties and weddings.
How to Style a Cape Dress
It's not difficult to style a Cape dress because the dress itself is quite contemporary and modern and have that perfect balance. Therefore, to create a nice look with your cape dresses, you have to know some tips and tricks that can make your Cape dress look amazing.
The Cape dresses can be styled with pumps or strappy Gladiator sandals. If the dress is shorter than the strappy shoes and the Gladiator sandals are the best to go with. You don't have e to make your outfit look too complicated but just simply wearing the right pair of shoes and some minimal jewelery would do the trick.
Styling the mid length cape dresses like the midi dresses can be done by going for pumps or open toe sandals or shoes. You can complete the look by going for some sort of jewelery like bracelets and even the necklace.
Full length Cape dresses looks good with the comfortable heels. Matching jewelery can also do the job and make you look party perfect.
Mermaid style Cape dresses are also in trend and can be paired with platform pumps and statement jewelery.
Latest Types and Designs of Trendy Cape Dresses For Women with Images
Now, take a look at this catalogue of the different types of Cape dresses to make you feel chic and look glamorous.
1. Cape long skirt and crop top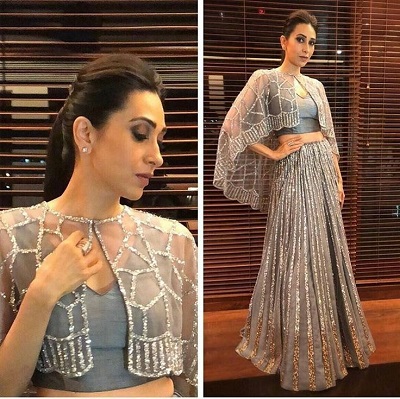 The crop top is pretty plain and simple but the cape is heavily embellished. This cape actually adds more look and appeal to this dress. It is entirely of wedding and party wear that is also ideal for a Cocktail function. As the neck of the cape is quite up, there is no need to have any jewelery but because of the plunging V neckline crop top, a necklace or chain can also be added. A statement ring can be perfect for such a nice looking dress.
2. Cape Georgette long dress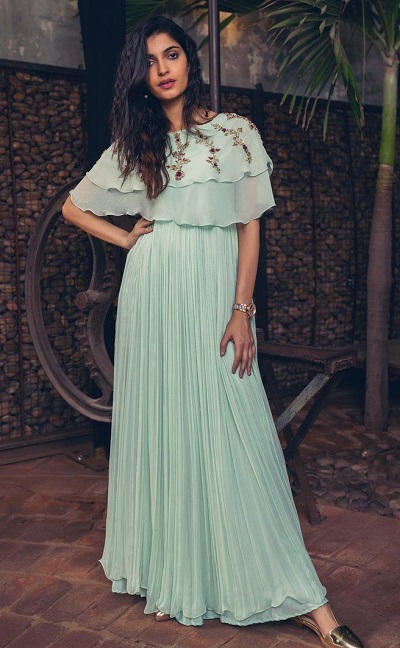 The cape dress has a double cape on the shoulder and it gives a pretty amazing summer kind of vibe. The Maxi Cape dress is ideal to wear with minimal jewelery and wedge heel for that comfortable look. It can be a Cocktail dress which is not truly shimmery or blingy. It is not heavily embellished yet it has all the features of a good Cocktail function dress.
3. Cape crop top palazzo set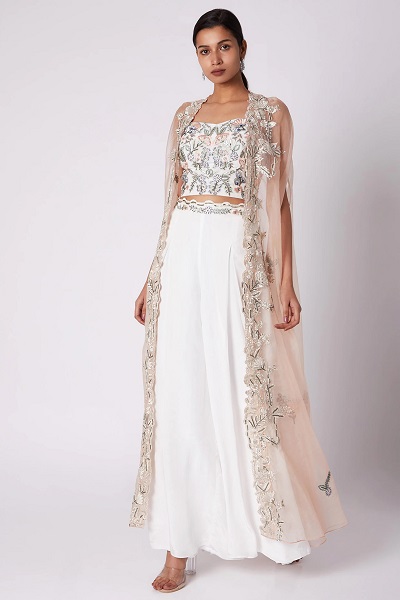 This dress is pretty simple sober and serene. It is embellished with silver embroidery work on the Cape. It is actually a palazzo with crop top over which a layer of Cape in sheer fabric is added.
4. Cape long Indian gown for women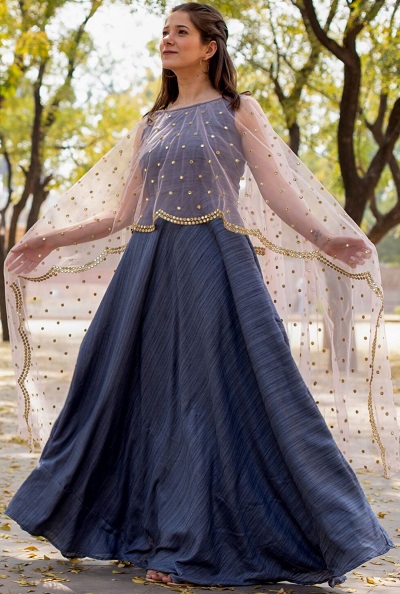 This Cape Indian gown has a nice design and detailing. The gown is pretty simple with no work, it's just plain fabric however the Cape is very beautifully made. It has small mirrors with Zari embroidery work. The cape replaces the traditional Dupatta and it's easy to wear as well.
5. Long Cape Maxi dress for women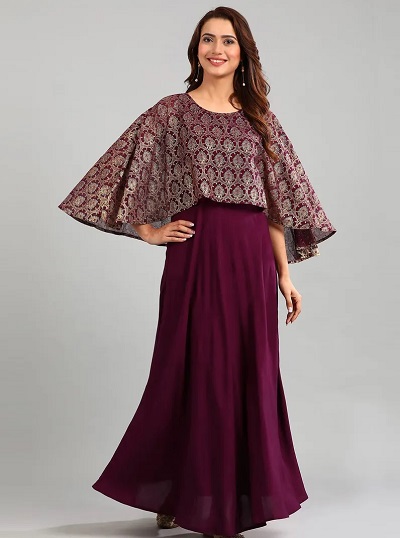 The long solid Maroon Georgette Maxi dress is so clean and crisp with the pattern. It's more like a Cocktail dress which is for apt for women not wishing to show the skin. The shoulder Cape dress is ideal to the statement jewelery that would add some bling to the dress. The shoulder cape has this Golden foil print that makes this dress ideal for parties too.
6. Shoulder Cape anarkali Indian dress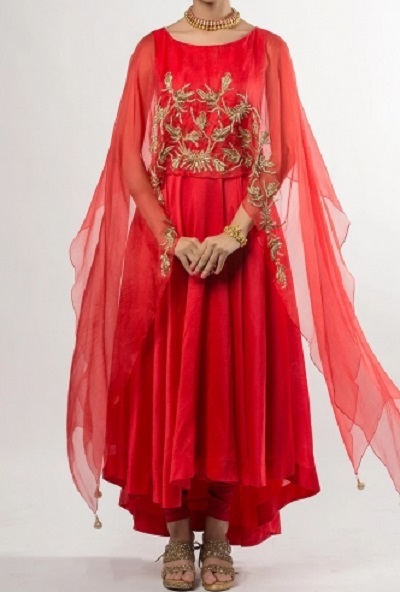 The shoulder Cape in the dress actually replaces the dupatta therefore; you don't have to take the Dupatta with this ethnic style dress. The cape also has some nice Golden Zari work and embroidery otherwise the suit is the basic A line high low pattern. It is a perfect party and wedding wear dress for Indian women.
7. Cape long Sleeves Indian gown
The Chanderi Silk Indian gown comes with the Cape sleeves. However, to make it more traditional and modern, it has been given cape sleeve pattern on only one of the sleeves. It is the detailing that we really like a lot in this dress. Wear it with a pair of pumps, wedge heels or even flats. Wedges would be much more comfortable with this dress as the heels are barely visible, therefore going with the wedge sandals would be better. A box clutch can go really well with such a dress for the Indian functions and parties.
8. Embellished Cape sleeves ethnic dress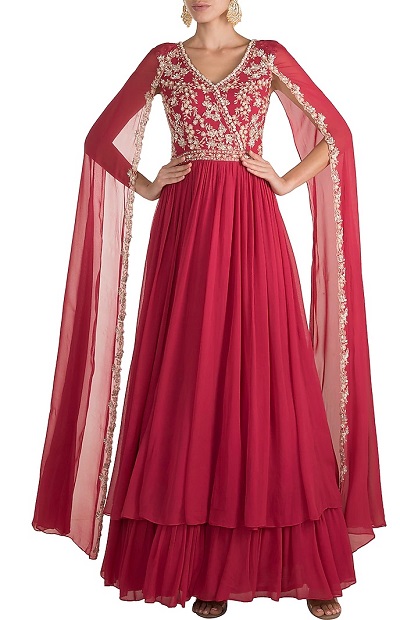 The Cape sleeves are looking gorgeous on this Indian ethnic gown. The gown is made with Georgette Fabric in a beautiful color. The embellishment on the bodice of the dress is equally amazingly done and the crisp and clear craftsmanship is evident. The Cape sleeves are adding more charm and uniqueness to this dress.
9. Heavily embellished Cape Tiered gown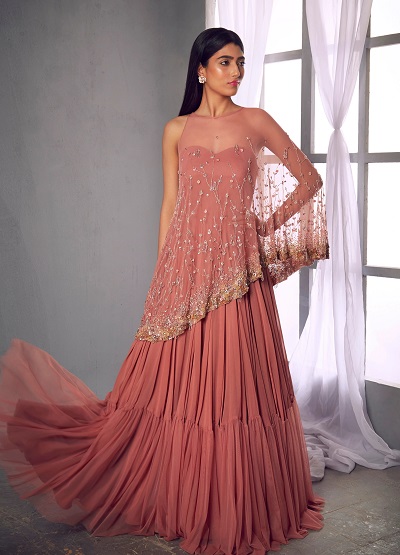 The gown in peach color looks perfect for date night too. With a doubt, it's an attractive gown that can be paired with nice statement bracelet. This gown is ideal for the Indian weddings, festivals and all the occasions where you have to look just perfect. This stylish gown is made with the sheer fabric and the top is quite eye catching.
10. Shoulder Cape long full length gown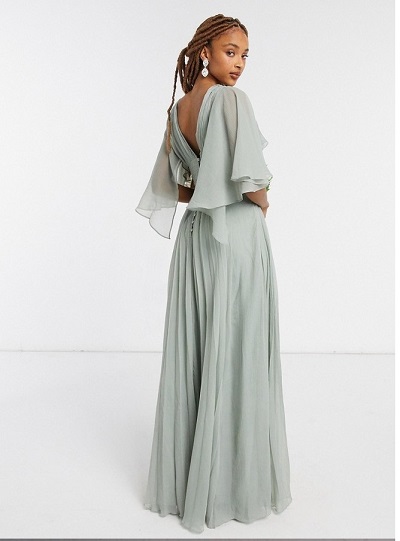 The color of this greyish blue gown is quite enticing. It is a simple yet not so simple gown. It is ideal to be paired with a silver or Gold pumps and a belt on the waist to add some metallic hue and dimension. One can simply style this outfit with the a nice box clutch to complete the look for a great evening ahead.
11. Black Cape Sheath Simple dress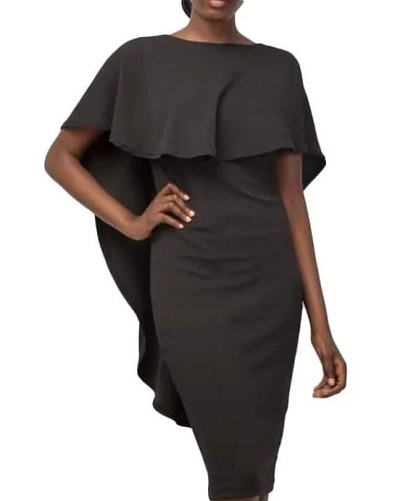 This dress comes with the black Cape to look modern and sober. It is one of those dresses that women can try for the formal meetings and after office parties. It is modest yet quite contemporary with the design. You can simply pair this with the a nice pair of black pumps or dull gold pumps to add some hue to the overall look.
12. Party Wear Cape Sleeve short dress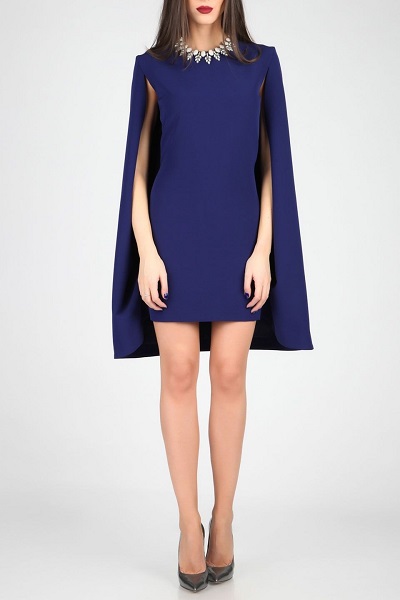 This dress comes with the Cape sleeves and the design is ideal for the Cocktail events and the formal parties. The use of the color for this outfit actually makes it stand out from the rest. The color is royal and is ideal to match up with the Silver colored pumps and a box clutch. Even an envelope clutch in silver stone work can go really well with this ensemble short blue wrap dress.
13. Women shoulder Cape Short Dress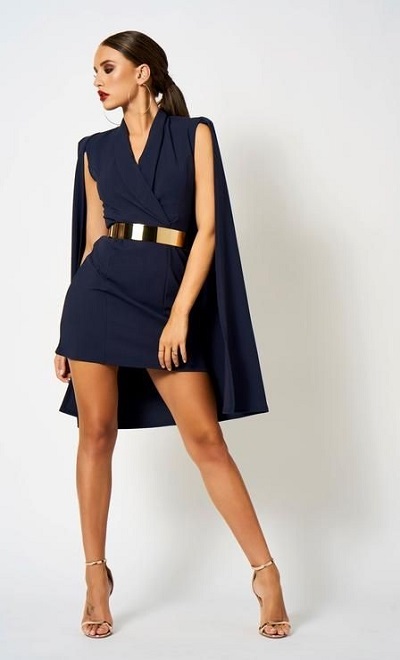 The shoulder cape is quite popular in the women's dresses and this is Semi formal yet sophisticated dress is ideal for that look. It has a metal waist belt that draws the attention towards the waist. If you have a defined and well toned wait then why not go for such a gorgeous looking dress. A pair of strappy heels or nice platform pumps can go really well with this dress. Instead of the box clutches, an envelope clutch would look better with it. Cape dresses for wedding are also popular amongst the ladies who wish to appear sophisticated and contemporary.
14. Cape Summer Dress For Women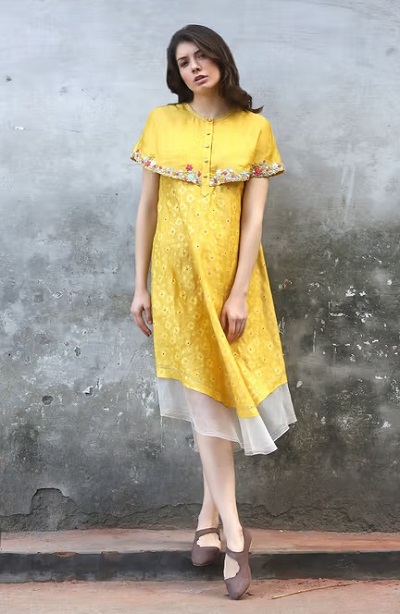 15. Shoulder Cape Indian Gown For Parties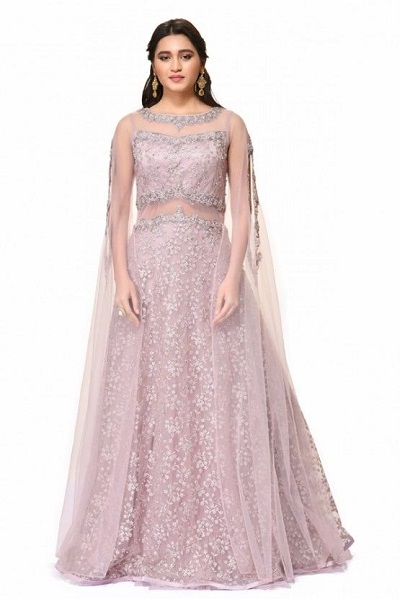 16. Style Midi Dress For Women
17. Shoulder Cape Sleeve Long Dress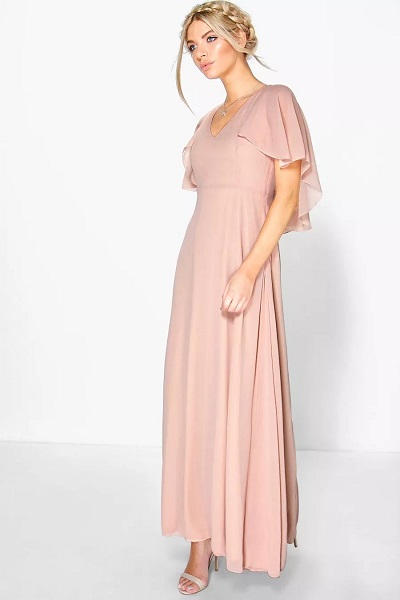 18. Long A Line Dress With Shoulder Cape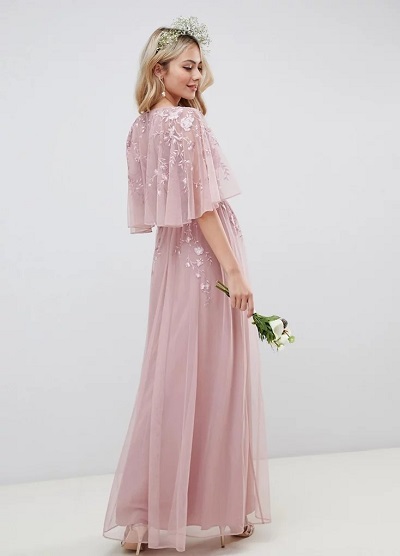 19. Shoulder High Low Cape With Side Slit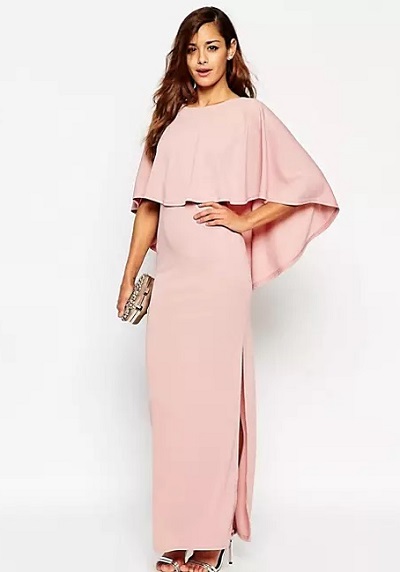 20. Cape Style Long A-Line Dress For Women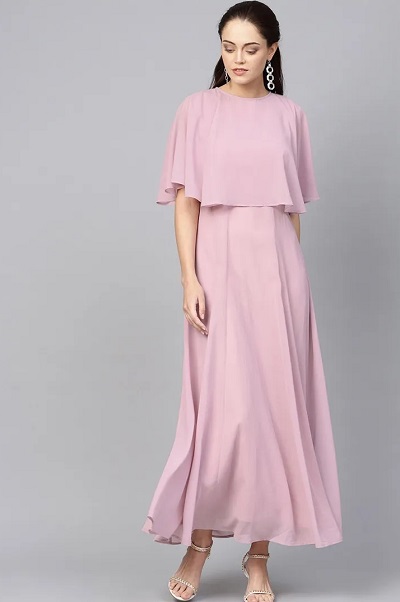 21. Fringed Style Cape Bodycon Dress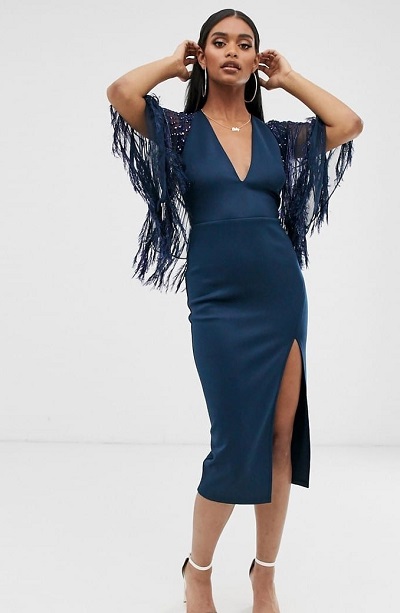 22. Simple Yellow Cape Maxi Dress For Women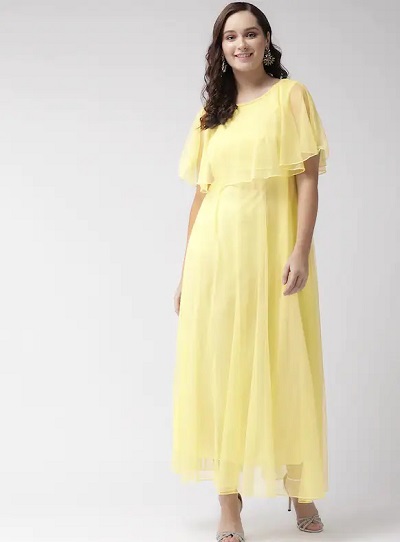 23. Prom Pink Cape Long Chiffon Dress For Women
24. Stylish Dupatta Like Cape Kurta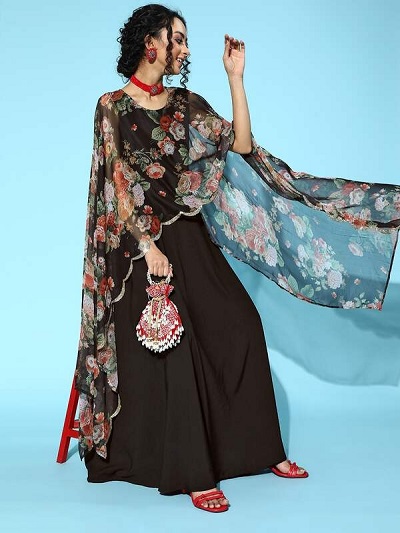 25. Diagonal Cape Style Indian Crop Top Skirt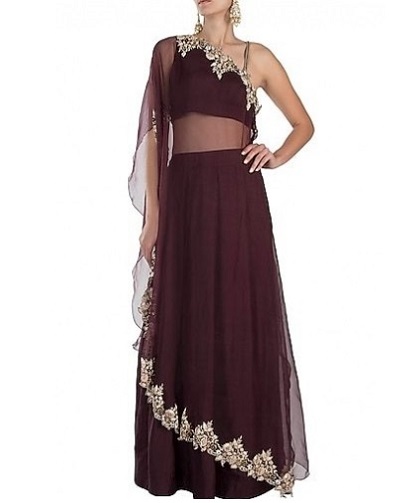 26. One Side Cape Long Gown For Ladies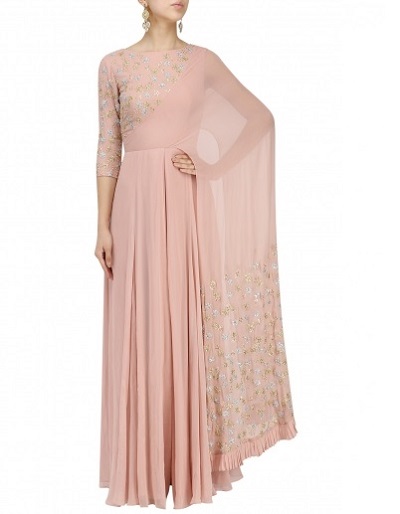 27. Pink Cape Full Length Gown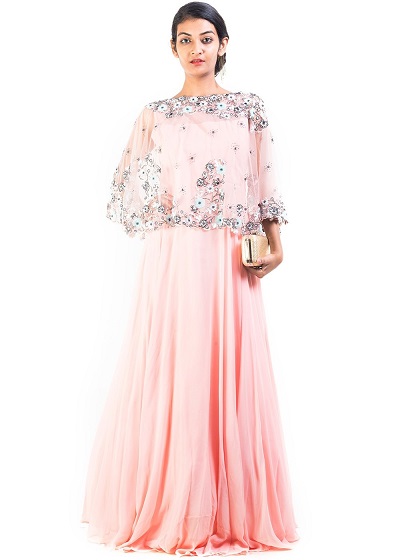 28. Orange Shrug Style Cape Full Length Georgette Gown Dress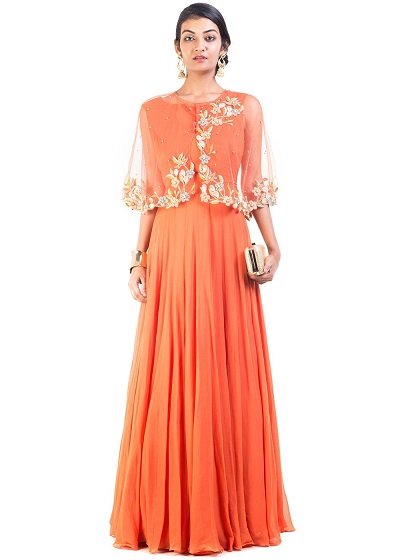 29. Mermaid Full Cape Gown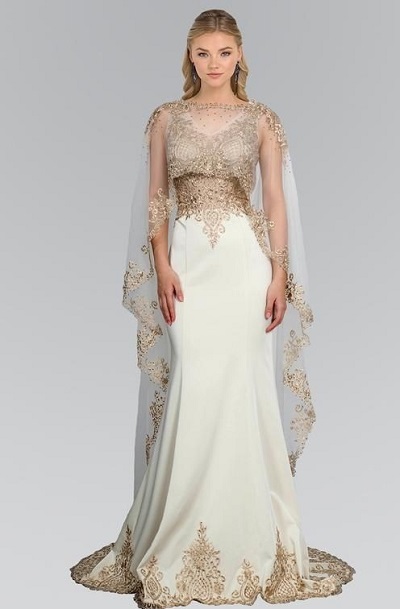 30. Centre Slit Dress With Cape