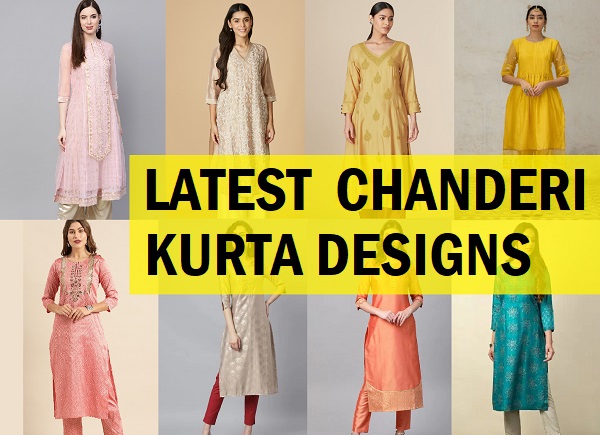 Chanderi cotton kurtis are quite popular and majority of women likes to wear them. Chanderi cotton is a fabric which is highly breathable and is appropriate for festive season dresses and kurtas. Chanderi cotton kurtis and kurta sets are are beautiful and they have that glossy sheen to them that makes them appropriate for any festival, puja ceremonies and such similar occasions. In fact, the Chanderi cotton does not shrink or bleed color, rather stays a lot better than the regular cotton fabrics.
The fact that the Chanderi blended cotton also stays shiny and glossy a lot longer as compared to the regular dyed cotton fabric. Chanderi cotton kurti designs are available in variety of styles and colors. Generally, Chanderi cotton kurtis are made with Chanderi kurti with pant and dupatta or they can be put the palazzo in Chanderi cotton fabric. Let's take a look at the beautiful designs of Chanderi cotton kurtis and kurta sets.
Chanderi Cotton Kurti Designs
1. Silk Cotton Chanderi Kurti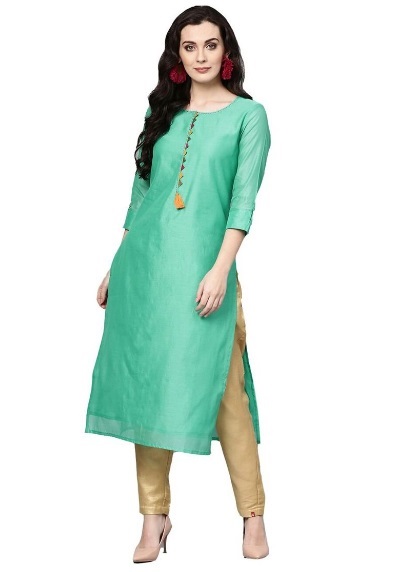 The red color kurta with a boat neckline that also has a V notch neckline makes this beautiful and quite attractive. This is a very shiny and gleaming red kurti with the subtle embroidery on the sleeves and neck line. This is for sure a party wear and a festive wear kurta that can be paired up with wide legged palazzo pant, ankle fit trousers and narrow pants. The minima jewelry worn with this is definitely going to look amazing. Even for an office party or festive season, this can be sported.
2. Embroidered Chanderi Silk Cotton Kurta Set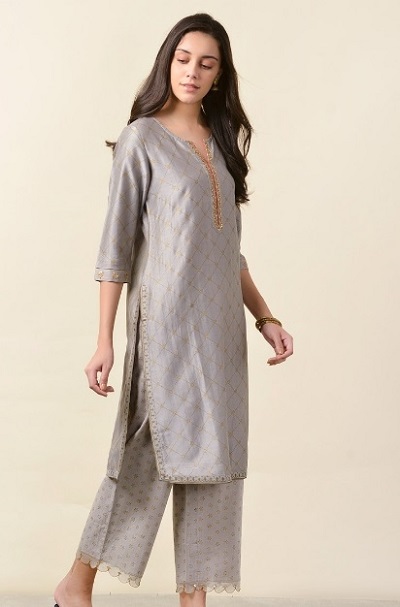 This is a festive wear kurta with 3/4 sleeves. It is certainly a party wear and festive wear kurta palazzo set. The palazzo does not have very wide flare but it is more like their regular palazzo pants. It is easy to carry and suitable for the festive season. The grey kurta has silver and gold colored foil print with an embroidered placket in the neckline patch.
3. Stylish Mustard Cotton Silk Kurta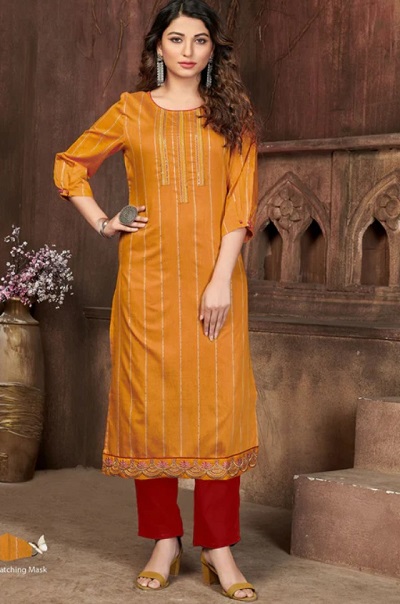 The gorgeous Silk woven kurta has embroidery of the round neckline and on the sleeves. This is wonderful to pair with your party wear bottom wear and with the different dresses. This can be tried with a Jacquard heavily embellished palazzo pants or narrow fit trousers for office.
4. V Neck Chanderi Cotton Party Wear Kurti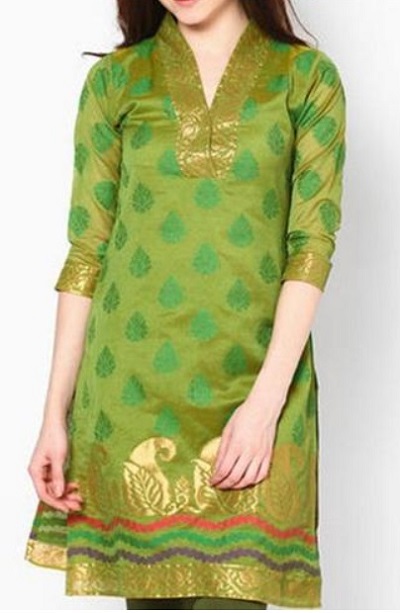 The woven design of this kurti is beautiful. You can definitely make it look more festive by pairing it with beautiful jewelery like bangles and necklace. For the bottom, there a trouser pant would look lovely and even a skirt would look beautiful. Different bottom wears that compliment this short kurti would be definitely worth to try to create an astounding festive look.
5. Chanderi cotton kurti for parties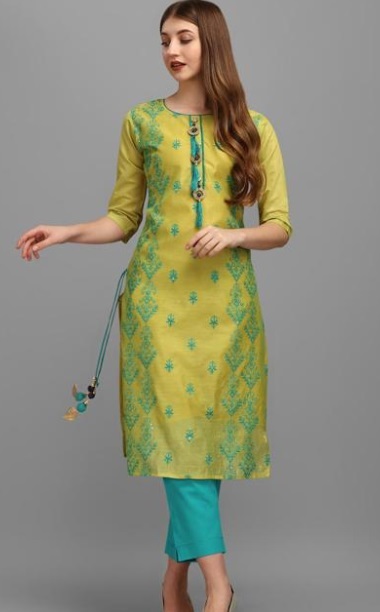 This stylish Chanderi cotton kurti comes with a round neckline that has contrasting colored pipe fitting work and button placket that holds wooden buttons with tassels. This as a woven design wherein a yellow base has a woven printed in blue color. Blue trouser pants are also added with these two three. The good thing comes with the side strings or dories that are added to make the kurti look more flattering and well fitted for your body shape.
6. Chanderi Cotton Green Button Work Kurti
This is definitely one of the best looking kurtis for office and even for college. It has a very beautiful button placket that is done on a Chinese or Mandarin collar neckline. It has three fourth sleeves and is a paneled but straight fit long kurta. Pair this kurta with trouser pants and wide leg palazzo bottom. This would definitely be your comfortable and best looking festive wear dress.
7. Chanderi Silk Blue Festive Kurti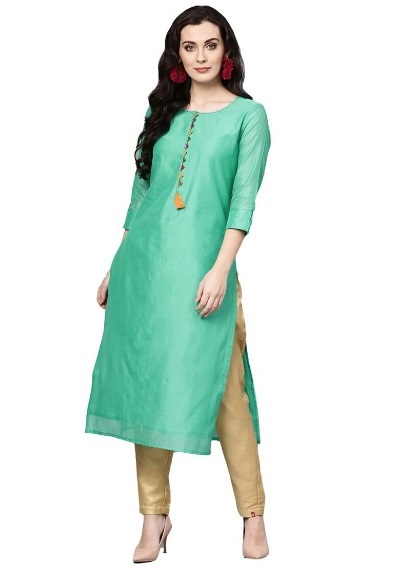 It's a beautiful kurti in such a lively and refreshing color looks amazing look. It has tassel design on the neck line which comes in a round pattern. The court has 3/4 sleeves and it has side slits. Layer of lining has also been given underneath to combat the transparency of the Chanderi cotton fabric. The lining is excluded from the sleeves to make it look a bit sheer and gorgeous. Golden trousers can also be paired up with this beautiful kurti.
8. Chanderi Yellow Dori Kurti Design
Yellow is certainly a refreshing and festive color. This kurti is made in panels, however the base design is the still straight fit kurti. It has three fourth sleeves and lining is also given. On the top part, embroidery work is given that makes it look vibrant and attractive. It has dowry work and Chinese collar is given. Definitely, the kurti is quite comfortable and one of the best looking simple kurtis that looks attractive. They can be paired with the flared palazzos or an A line skirt or even the wide leg palazzo pants.
9. Mustard Yellow Chanderi Party Wear Kurti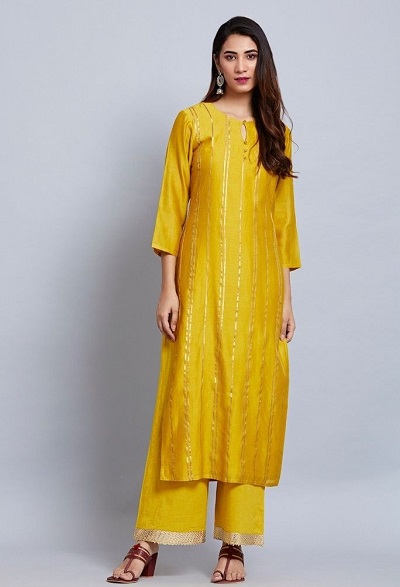 This is one of the best looking Kurta palazzo sets, as this has got a beautiful mustard yellow color. The fabric is Chanderi cotton that is a bit thicker, which is why, it does not need the lining. It has a keyhole neckline and small gota work is also given. The parallel lines of Gota is seen which makes it less flashy and blingy. It is definitely appropriate for parties as well as festivals.
10. Paneled Chanderi Cotton Green Kurti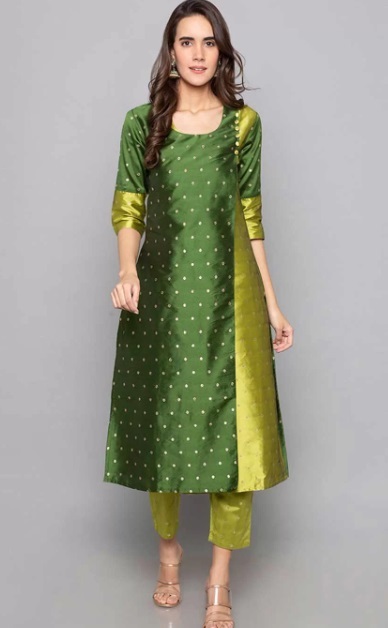 This is also one of the most attractive and best looking Chanderi cotton kurtis. It is actually a cotton Silk kurta in which two different types of silk fabrics are used. It is a paneled kurta made in an A-line pattern. Ankle fit trouser pants are also added in contrasting color with exactly makes it so attractive and highly alluring.
11. A Line Printed Cotton Silk Kurta Trouser Set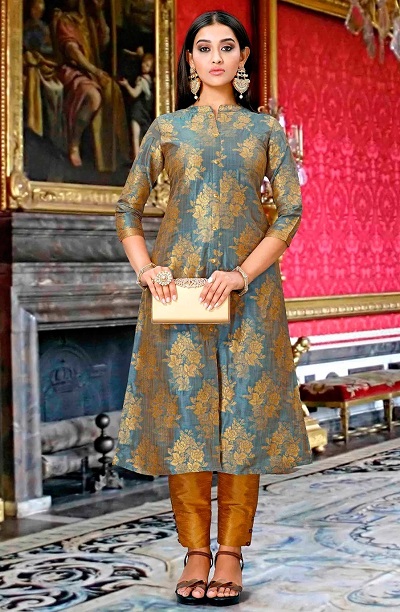 12. Boat Neck Yellow Cotton Silk Kurta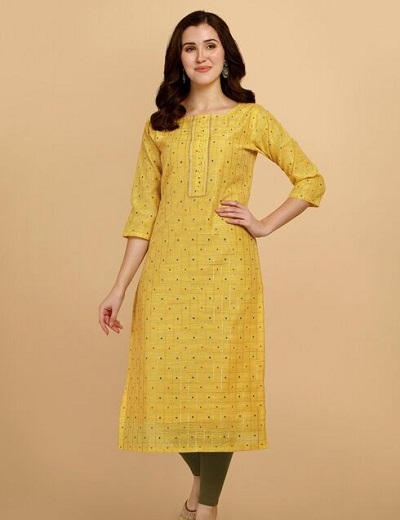 13. Button Work Chanderi Cotton Kurta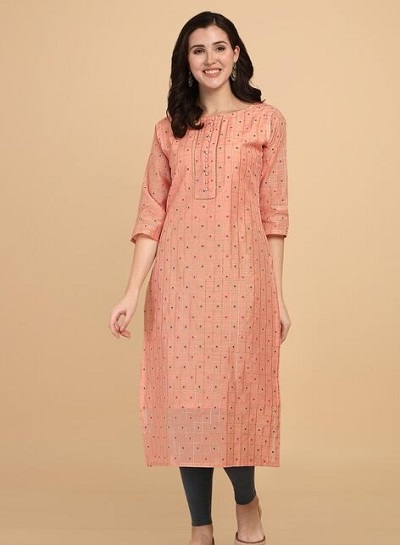 14. Designer Long Cotton Silk Embroidered Kurta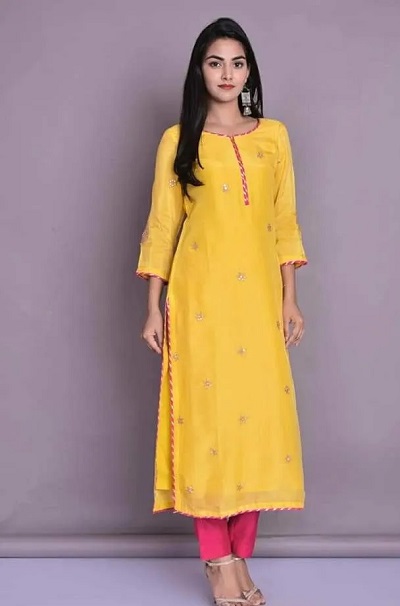 15. Side Panel Cotton Kurti Design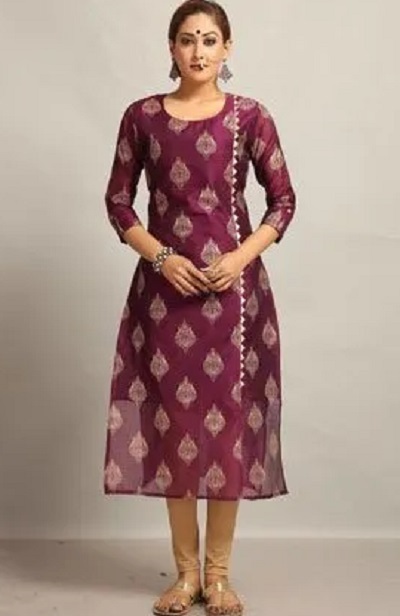 16. Grey A Line Front Pleated Party Wear Kurta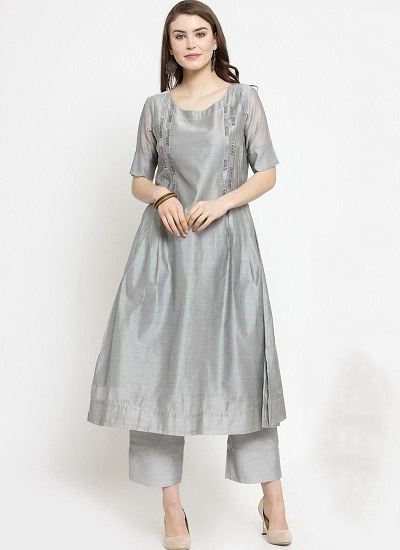 17. Long Straight Fit Cotton Silk Kurta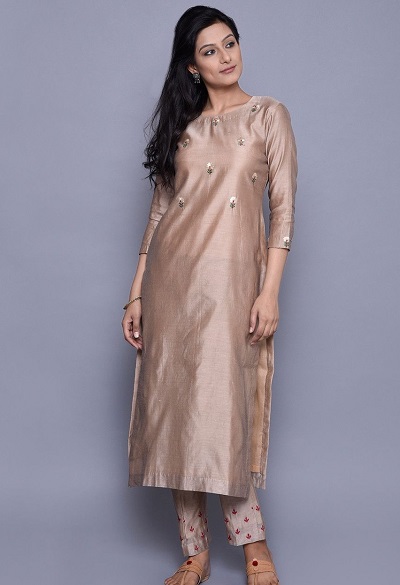 18. Embroidered Chanderi Cotton Kurti Designs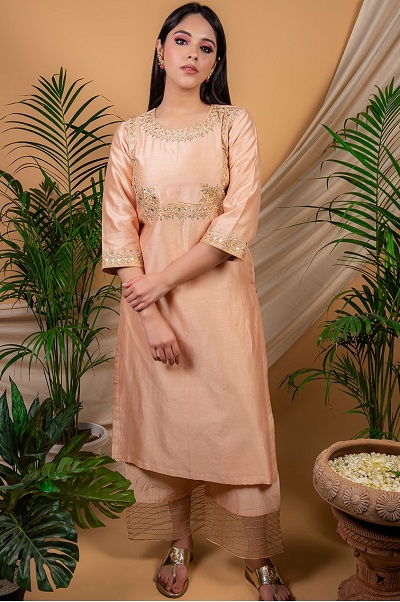 19. Wine Chanderi Cotton Party Wear Kurta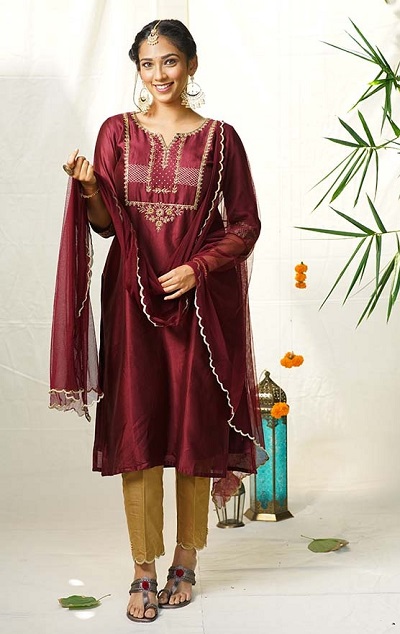 20. Lavender Chanderi Cotton Embroidered Kurti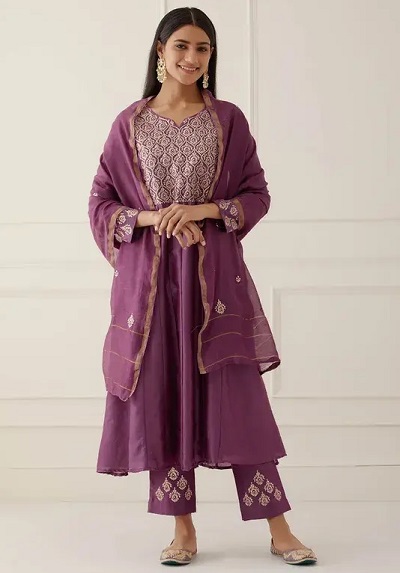 21. Kurti Palazzo Designer Set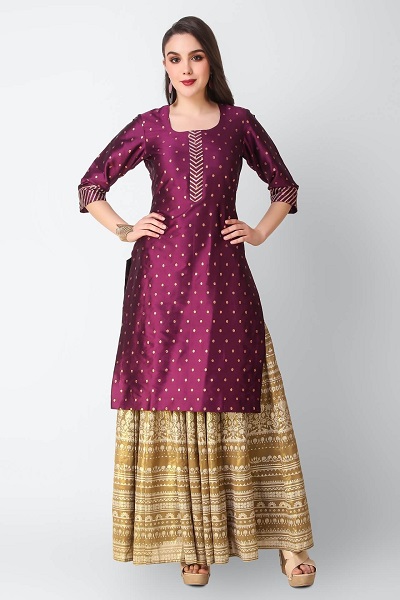 22. Purple Cotton Silk Kurti Trouser Dupatta Set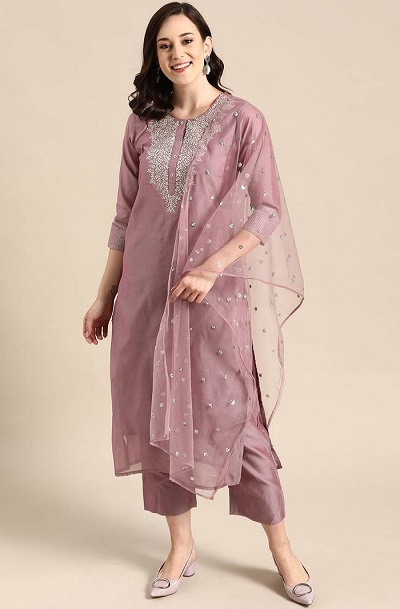 23. Simple Blue Cotton Silk Kurta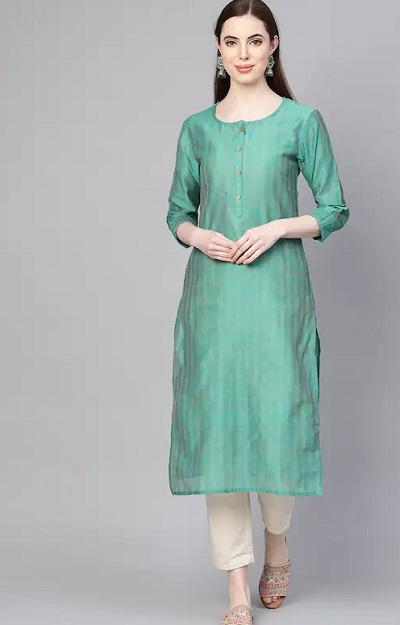 24. Printed Chanderi Cotton Kurti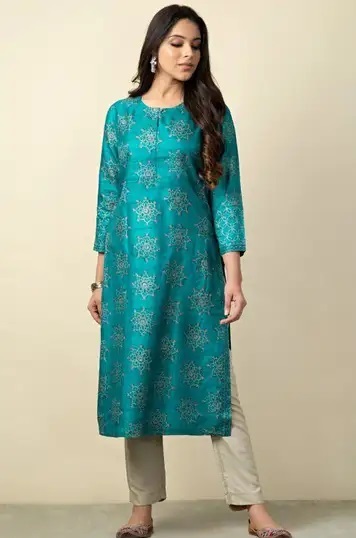 25. Cotton Silk Long Full Sleeved Kurti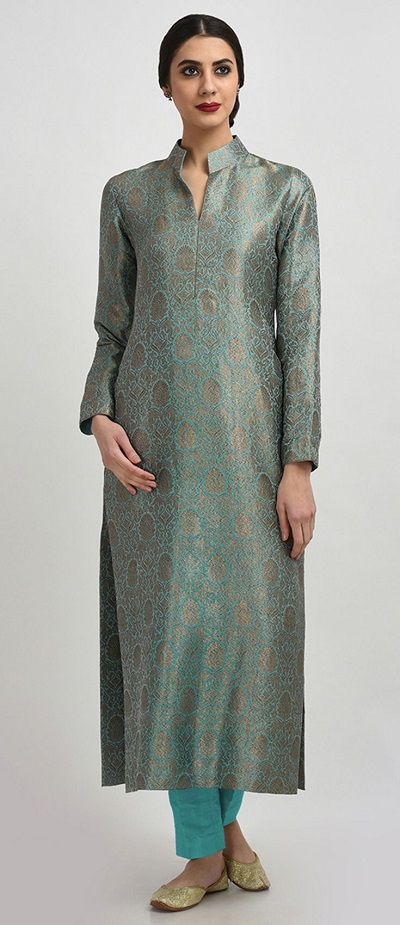 26. Olive Grey Party Wear Kurta Trouser Set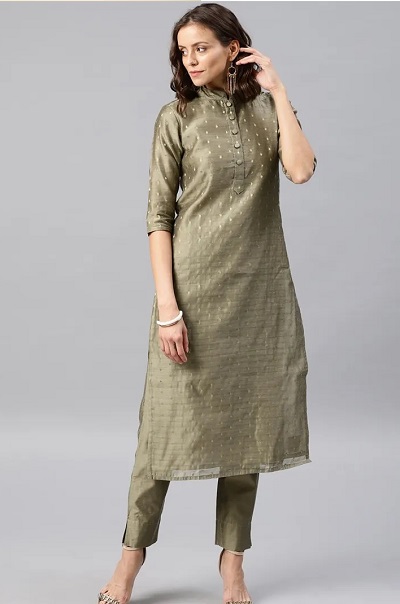 27. Printed Chanderi Cotton Kurti Set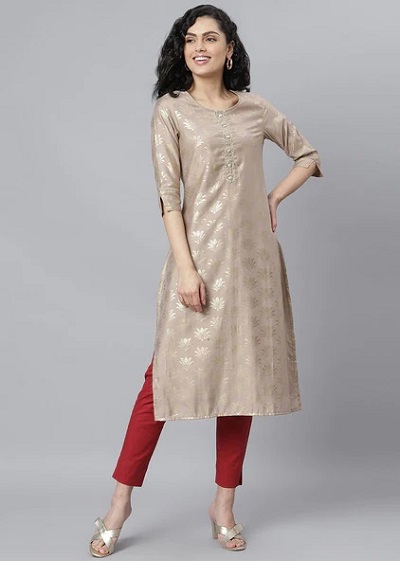 28. Woven Chanderi Cotton Kurtis Set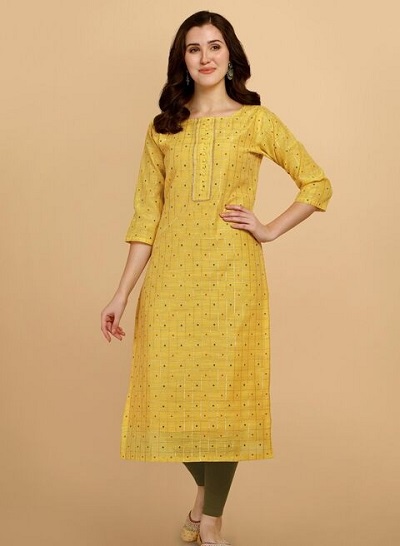 29. Blue And Yellow Kurta Trouser Set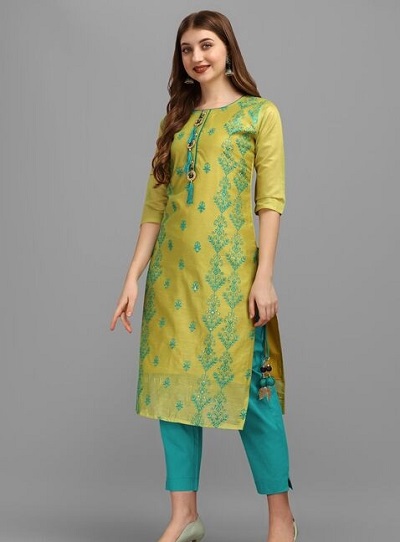 30. Peach A Line Cotton Silk Kurta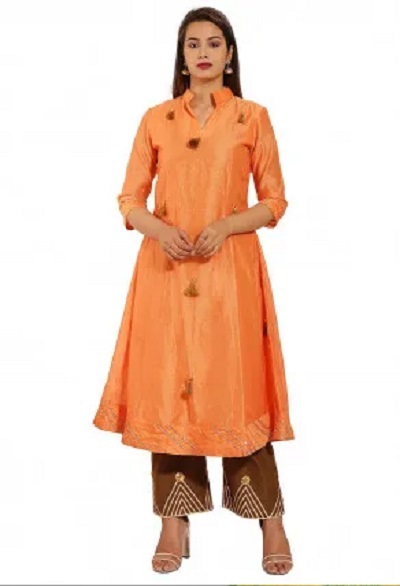 31. Sleeveless Cotton Chanderi Kurti Design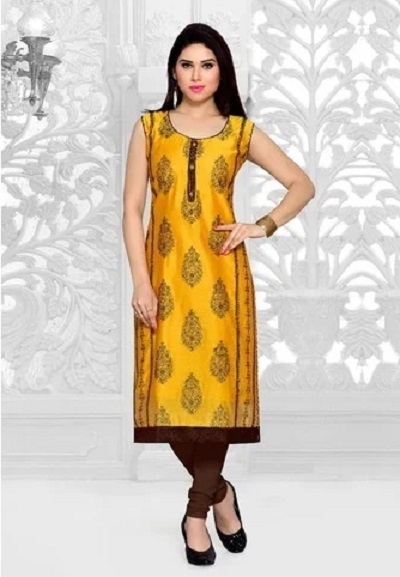 32. Double Front Slit Chanderi Cotton Kurti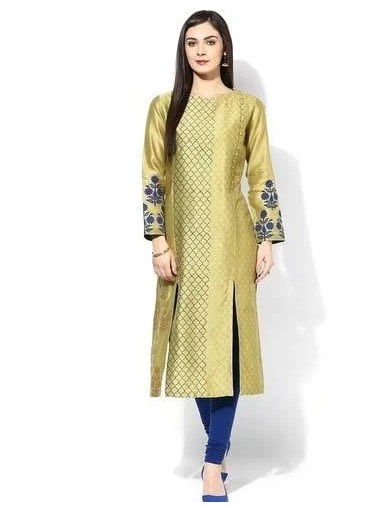 33. Chanderi Silk Kurti Palazzo Set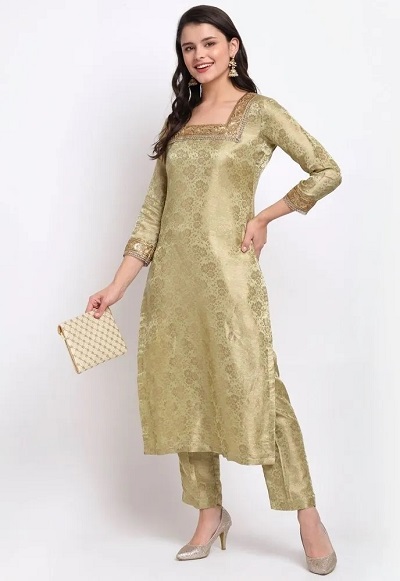 34. Chanderi Cotton Short Kurti Design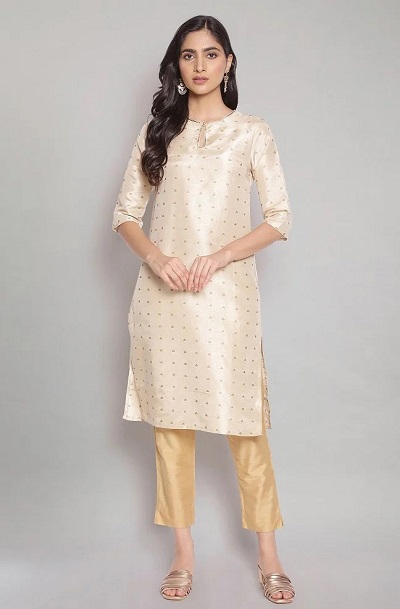 35. Pleated Designer Cotton Silk Kurta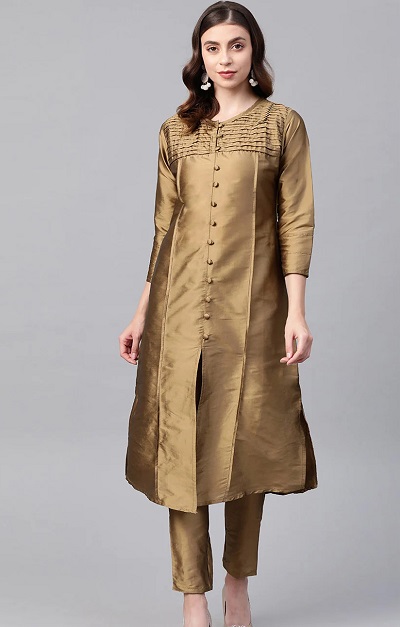 36. Embroidered Paneled Cotton Silk Kurti Set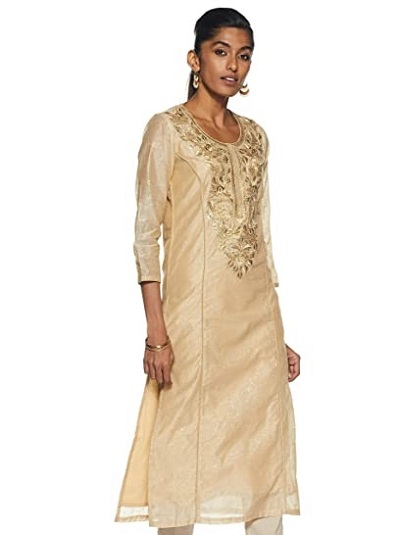 37. Simple Cotton Chanderi fabric Kurti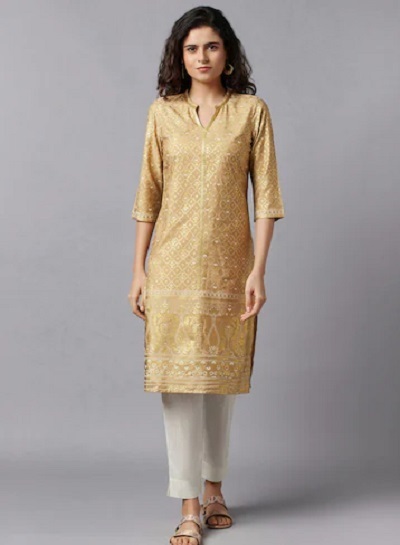 38. Boat Neck Kurti Trouser Set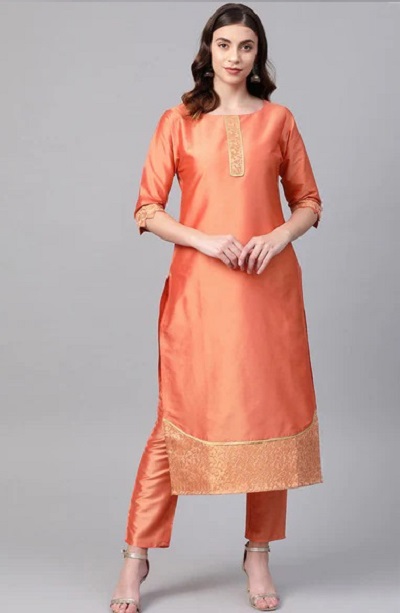 39. Angrakha Kurti Trouser Set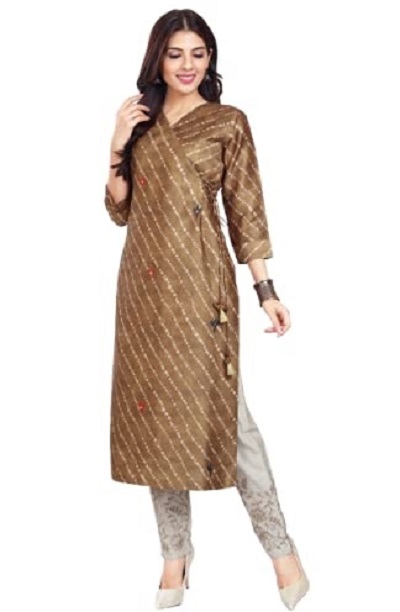 40. Pintucks Work Kurti Set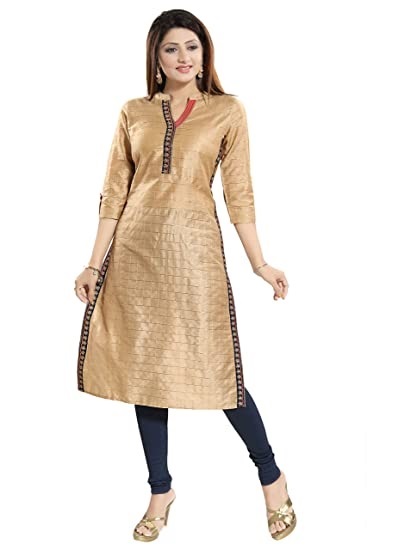 41. Simple Chanderi Silk Kurta Palazzo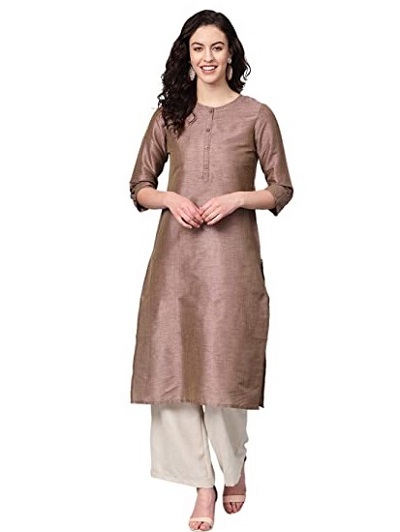 42. Pink Embroidered Kurti Palazzo Set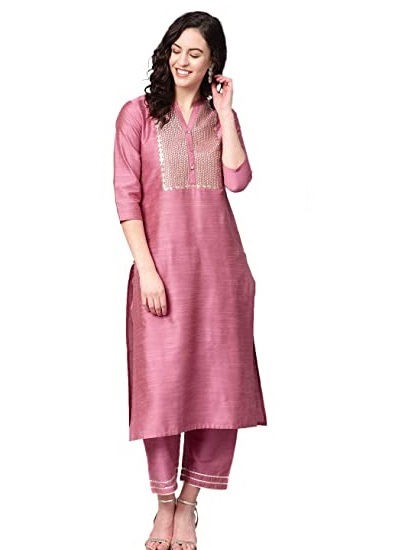 43. Chanderi Silk Kurta With Jacket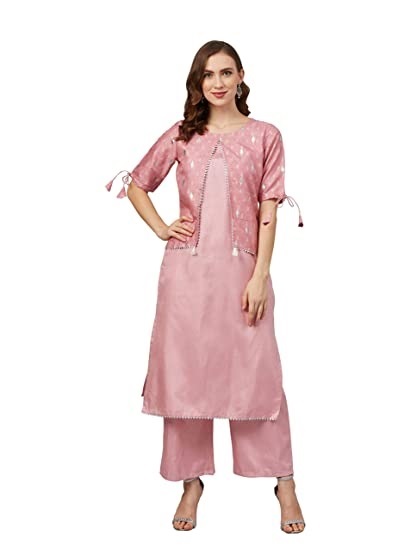 44. Chanderi Cotton Kurta Palazzo Festive Set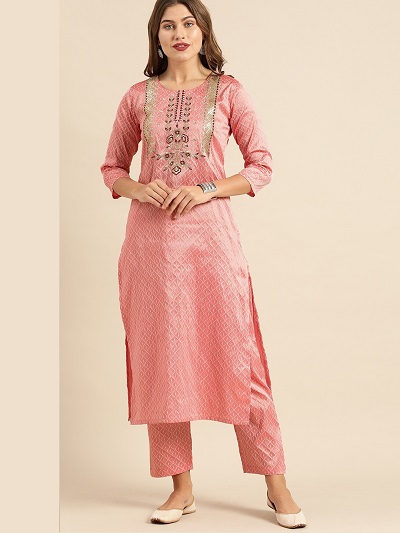 45. Chanderi Cotton Net Kurta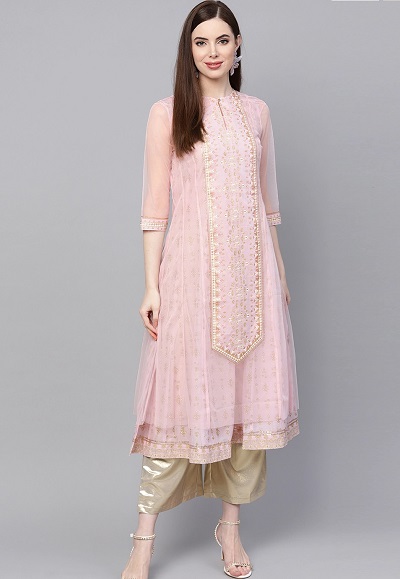 46. Chanderi Cotton Embroidered Kurta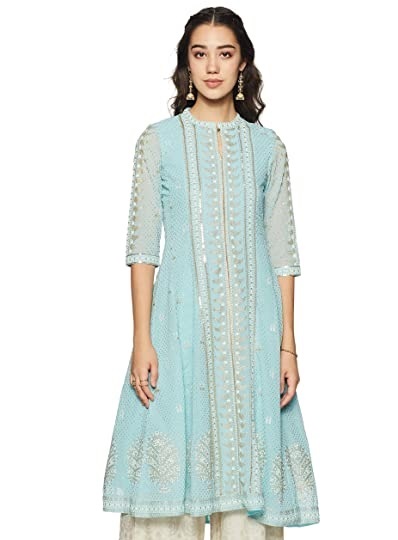 47. Designer Cotton Silk Kurta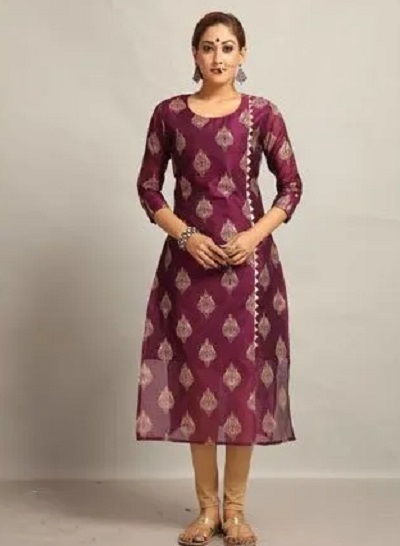 48. Cotton Silk Embroidered Kurti Design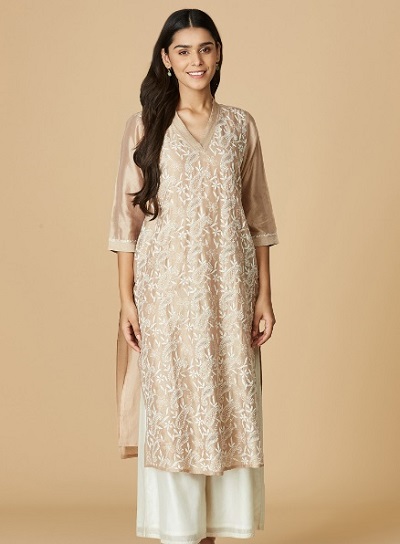 49. Embroidered V Neck Cotton Silk Kurta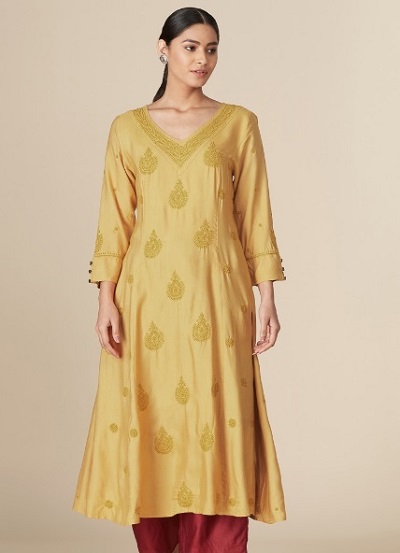 50. Pleated Cotton Silk Kurta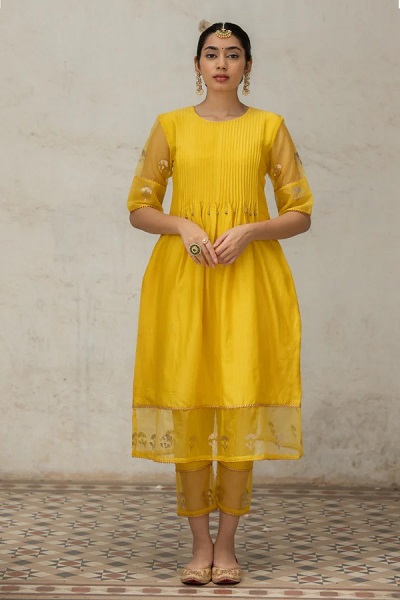 These are the latest cotton Silk kurti designs, cotton silk and chanderi Silk looks really beautiful for festive season. Most of these will not bleed or leave the color when they are washed. Which is why, they have the same exact gloss and sheen for couple of years. As the color doesn't bleed, these kurtas are good to have.