Chanderi Suit with Banarasi Dupatta Designs
Chanderi salwar suit designs look stunning. The combination is elegant and royal. Here in this catalogue we have compiled the images of the beautiful Chanderi salwar suit with Banarasi dupatta. These can be worn for the festivals and occasions like roka, engagements and even the karwa chuth.
1. Maroon Chanderi suit with Red Banarasi dupatta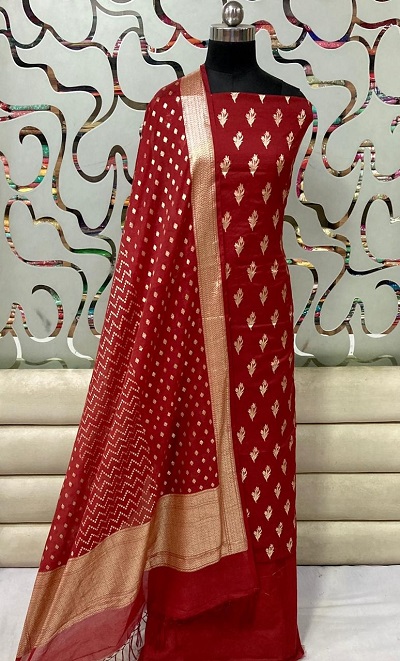 The gorgeous golden Dupatta in Maroon and gold color looks stunning. The suit is also equally stunning with the gold thread work with solid plain salwar fabric.  It is suitable for the bridal ceremonies and functions even for the festivals and after the bridal functions.
2. Stylish blue suit with Banarasi cotton dupatta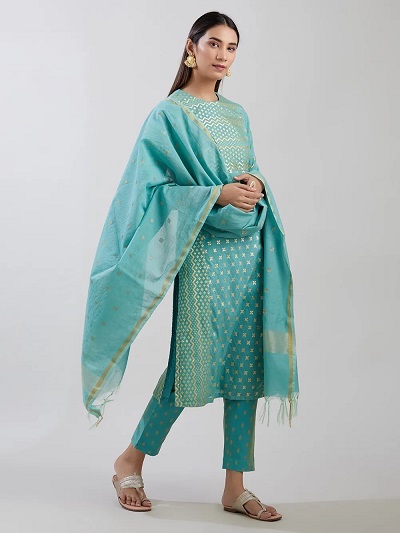 The ethnic dress for women is a readymade kurta pant set with a Banarasi cotton Dupatta. It is very beautiful and is ideal for the Puja ceremonies and the festivals.
3. Yellow Chanderi salwar kameez fabric with pink Banarasi dupatta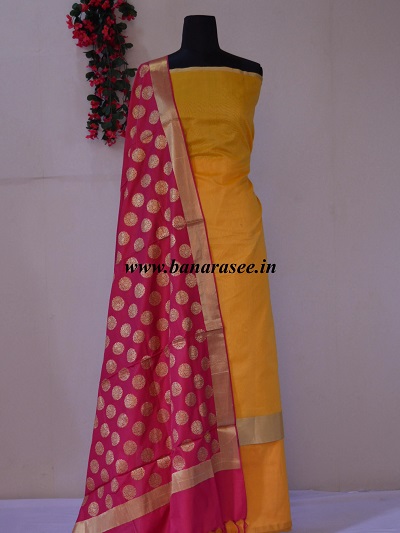 This is an Indian ethnic wear suitable for the festivals, ceremonies, engagement, and other ethnic ceremonies. This is so beautiful and the color combination is stunning.
4. Red Chanderi salwar suit with gold and silver woven Banarasi dupatta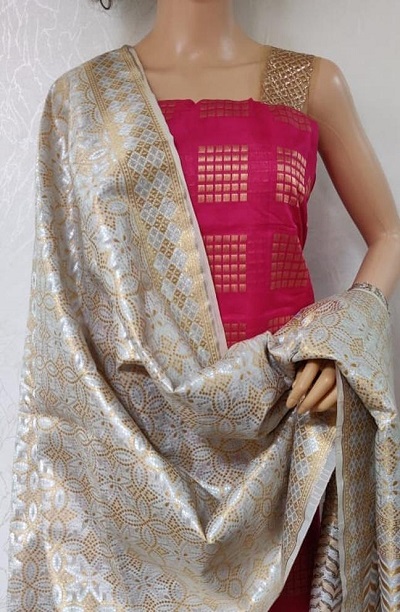 This dress is such an elegant dress with beautiful texture. It is not only stunning but it also makes you look royal and elegant. The dress is suitable for the functions and festivals. Even for a wedding or for the engagement ceremonies one can try such a beautiful Chanderi suit with Banarasi Dupatta set.
5. Yellow Chanderi embellished Suit with Carrot Pink Banarasi Dupatta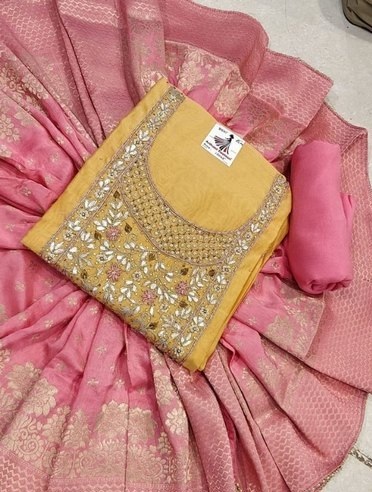 The stylish dupatta is undoubtedly beautiful with the gold thread work. The suit is in the Chanderi cotton fabric which has exclusive bead sequin and Gota Patti work done. It is ideal for the Karva Chauth festival Eid and other ceremonies.
6. Red Chanderi suit with Banarasi woven dupatta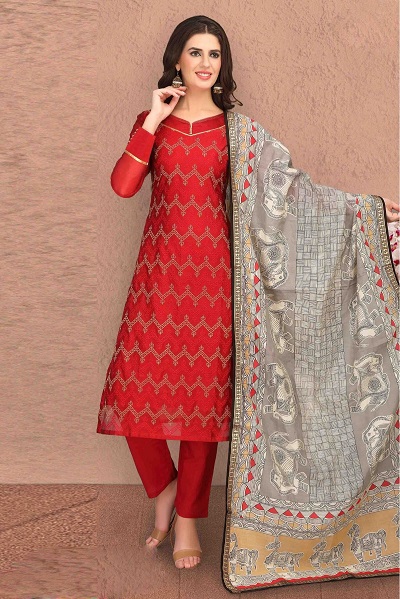 This gorgeous suit dupatta set looks beautiful because of the color combination and the fabric chosen. It is ideal for most of the ceremonies where you can wear it.
7. Beige gold Chanderi salwar suit with Maroon Banarasi dupatta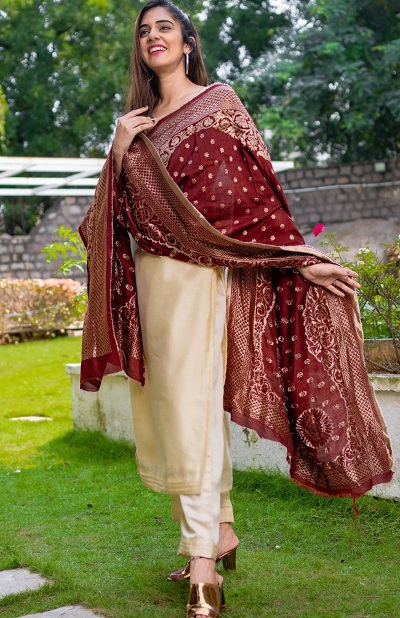 8. Stylish orange suit Banarasi cotton Silk dupatta
9. Cotton Chanderi suit with dark pink Banarasi dupatta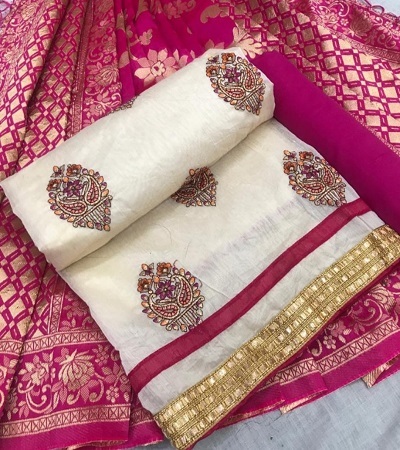 10. Blue Banarasi Dupatta with green Chanderi suit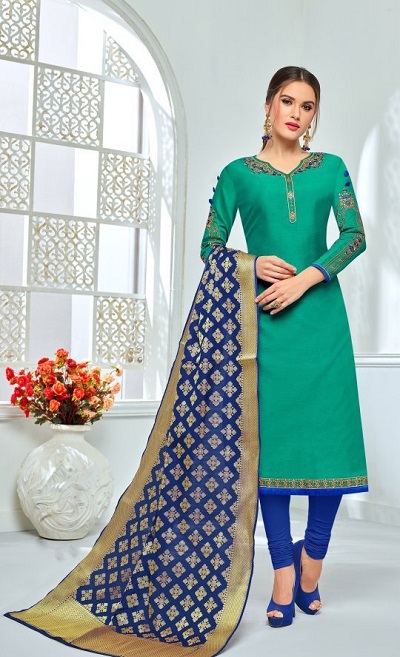 11. Yellow cotton Chanderi suit with Banarasi green dupatta
12. Stylish pastel pink suit with light pink Banarasi dupatta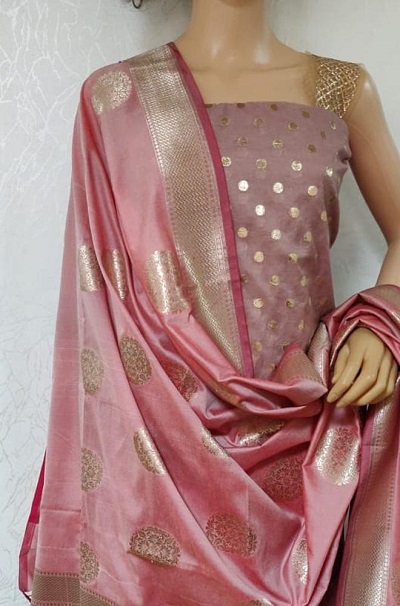 13. Dark Pink Suit with Banarasi Dupatta set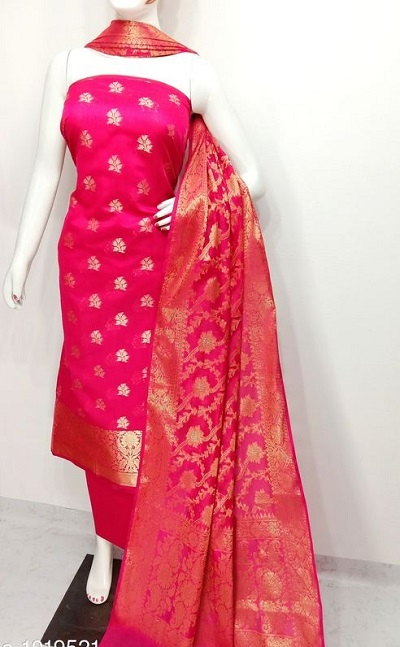 14. Olive green Chanderi stylish suit with green Banarasi dupatta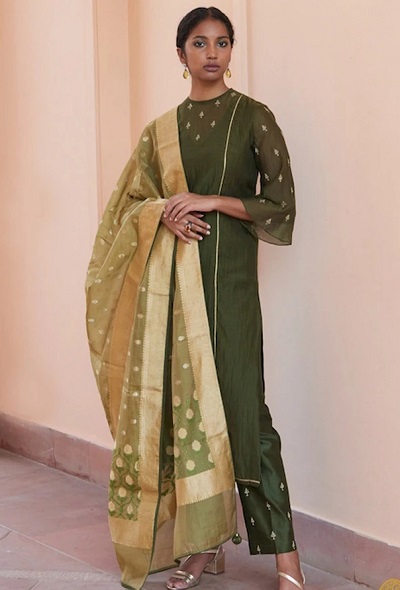 15. Green Banarasi Dupatta with green Chanderi suit pant set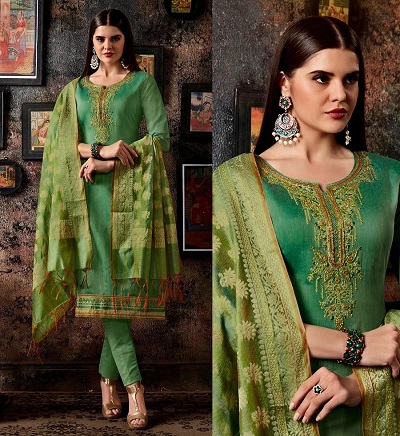 16. Stylish green beadwork suit with green Banarasi Dupatta set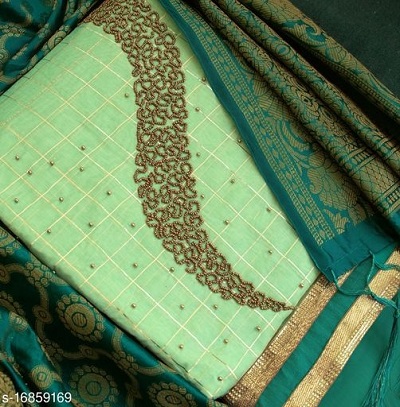 17. Yellow Chanderi embellished suit with cotton Silk dupatta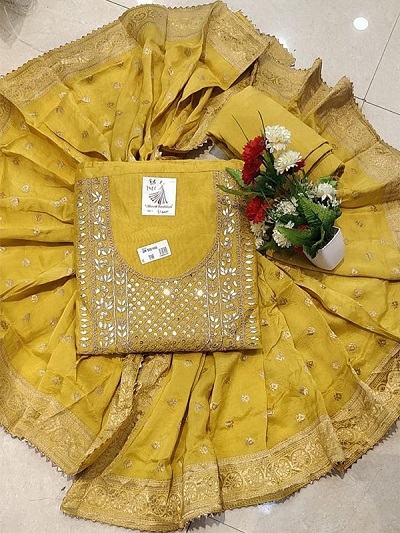 18. Pink Banarasi Dupatta with grey embellished Chanderi suit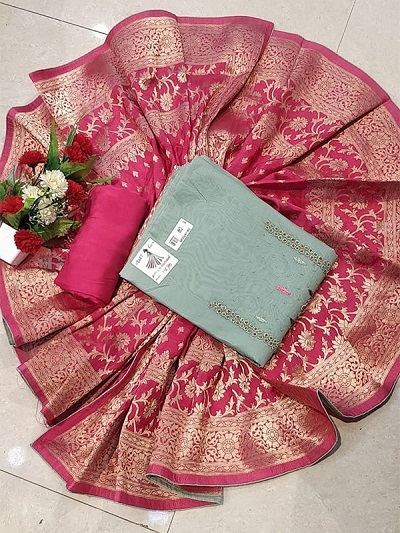 19. Dark purple Banarasi Dupatta set with peach long kurti churidar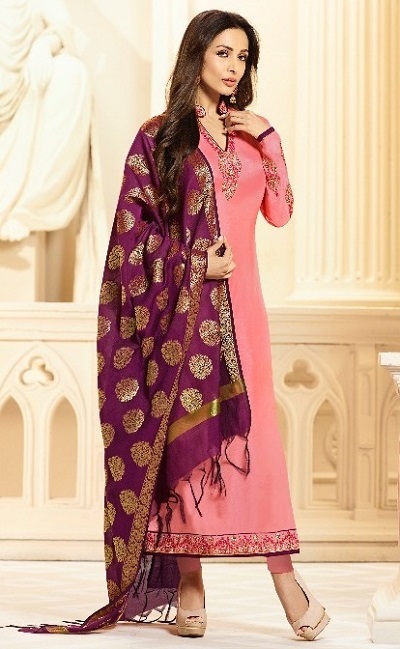 20. Lucknowi chikankari suit with green Banarasi dupatta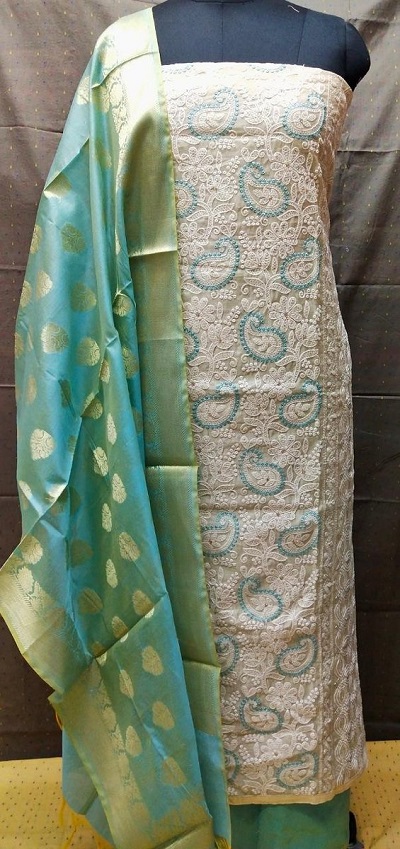 21. Gold Chanderi Silk plazo kurta set with dark green Banarasi dupatta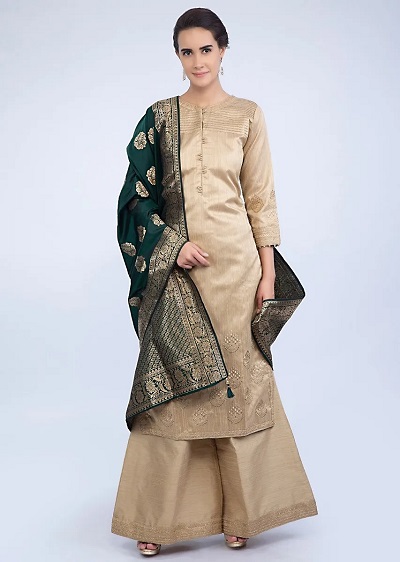 22. Deep Orange Chanderi suit with orange Banarasi Dupatta set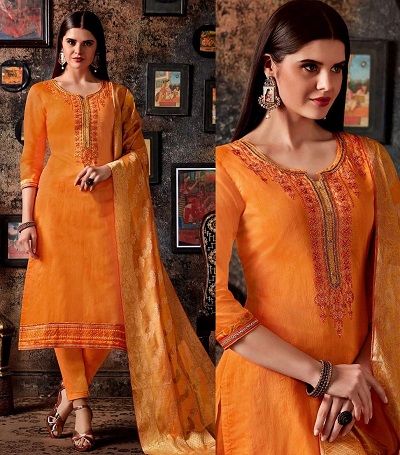 23. Ivory gold stylish Chanderi suit with Banarasi dupatta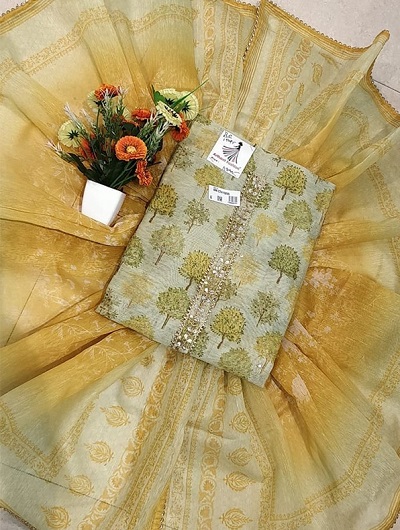 24. Stylish Chanderi suit salwar set with Banarasi cotton Silk dupatta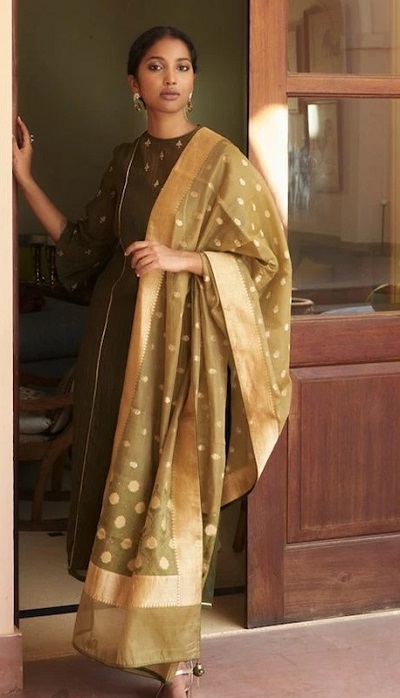 25. Stylish grey suit with Banarasi Dupatta for parties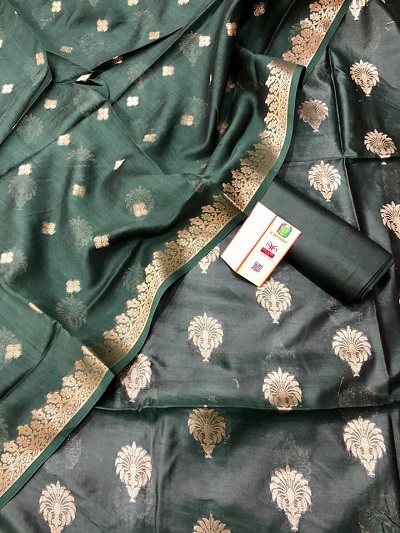 26. Elegant green suit red Banarasi Dupatta set
27. Stylish Chanderi suit and maroon Banarasi Dupatta for weddings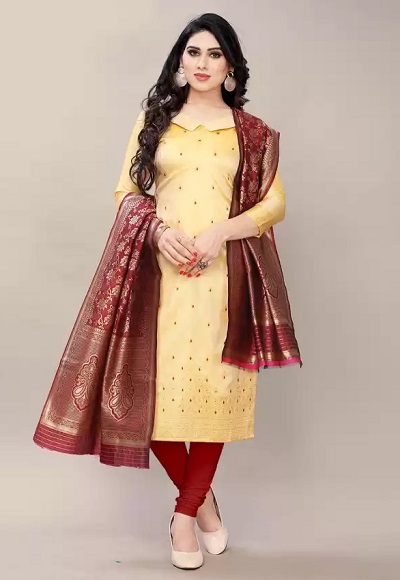 28. Blue cotton Silk Chanderi suit with red Banarasi dupatta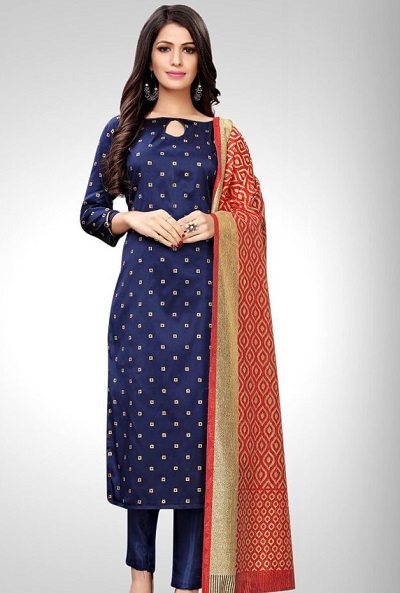 29. Pink cotton Silk Dupatta with pink Chanderi embellished suit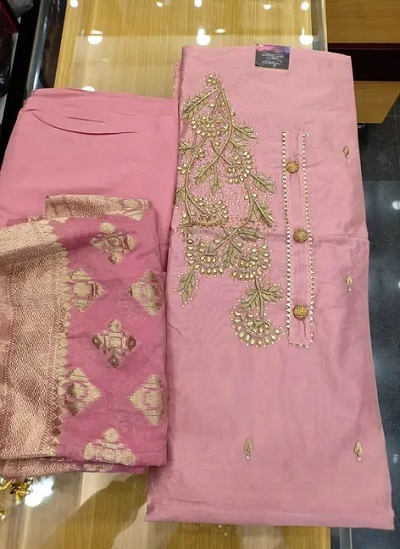 30. Navy blue heavy embellished party wear suit with Banarasi dupatta
31. Stylish yellow Banarasi Dupatta with simple blue Chanderi salwar suit
32. Yellow and pink Banarasi Dupatta Chanderi suit set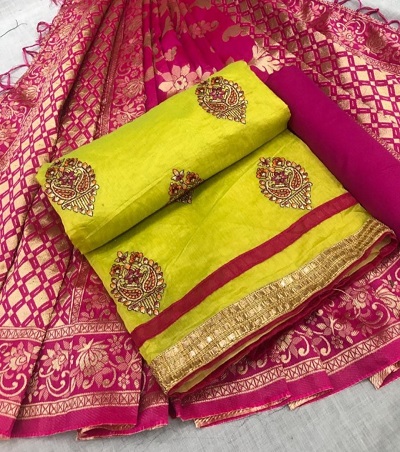 33. Stylish embroidered suit with Banarasi dupatta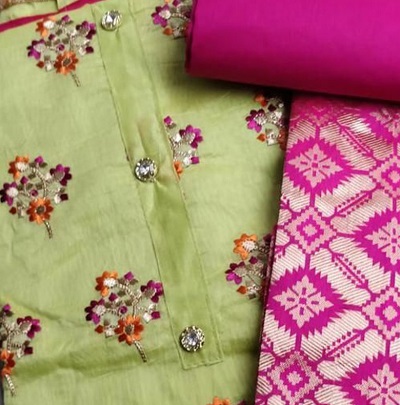 34. Printed Banarasi Dupatta with printed salwar suit set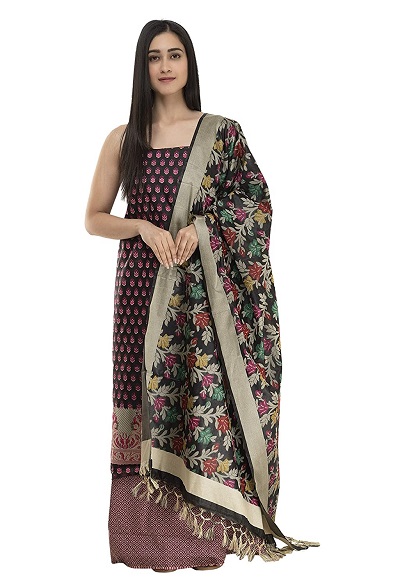 35. Stylish Chanderi black long length churidar suit with red Banarasi dupatta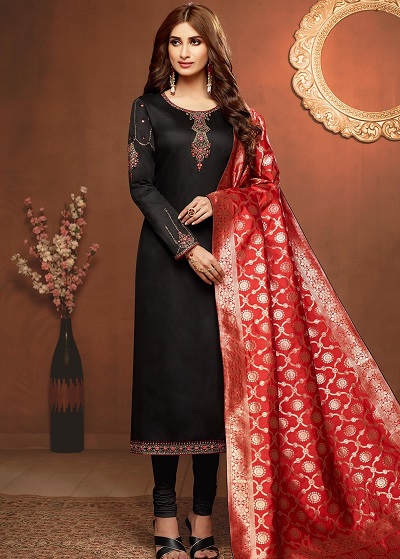 36. Beautiful Banarasi Dupatta with Chanderi silk salwar churidar set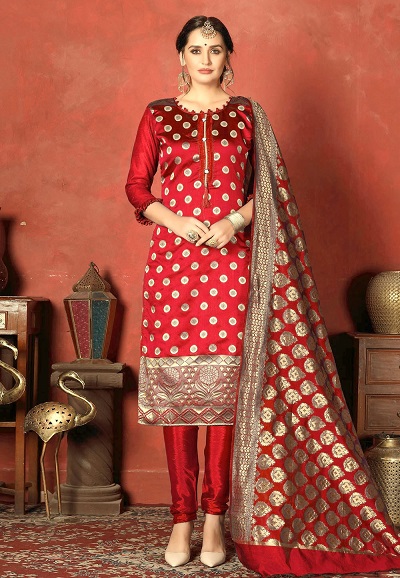 37. Orange and blue suit salwar Dupatta style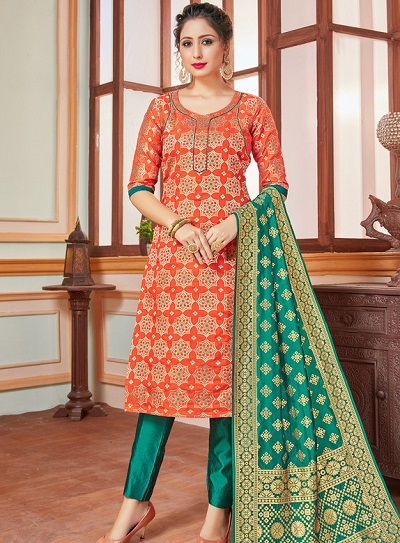 38. Mint green Chanderi suit with silver Banarasi Dupatta set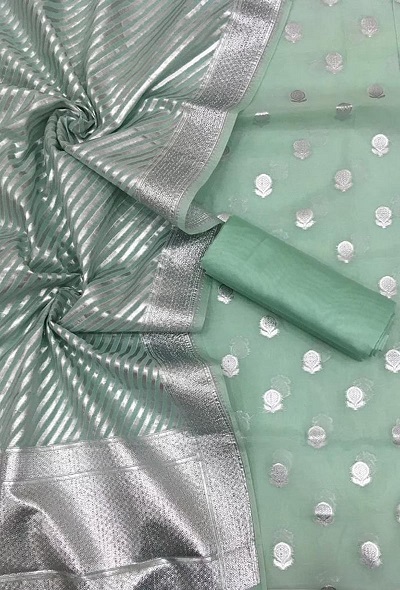 39. Stylish light green suit with silk dupatta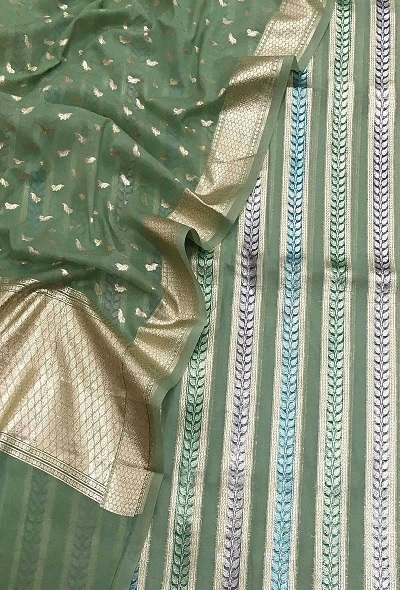 40. Heavy Banarasi suit with light pink embellished cotton Silk suit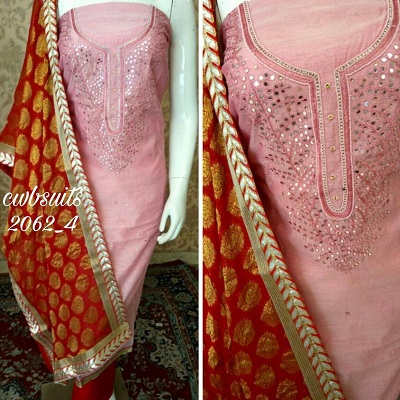 41. Gorgeous red suit with yellow Banarasi Dupatta design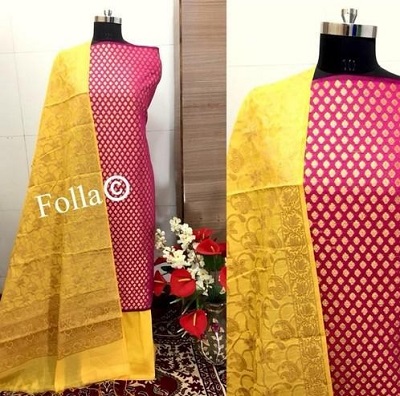 These are the latest designs of Chanderi suit with Banarasi dupattas. For sure the designs looks really stunning but these are also appropriate for your festivals, events, roka ceremony, Puja Festivals and other such equally small to medium functions.
While wearing the Chanderi Banarasi Dupatta with suit salwar ,one must remember to choose the colors depending on their liking preferences and skin complexion as well. There are colors which look really beautiful and are also in trend this season. Colors like carrot pink, watermelon pink, peach, light peach, mint green, color pastel pink, lavender light lavender pink color. Such colors are so beautiful and are in trend. Even lemon yellow and grey color is also in trend. Grey and other pastel Shades look really beautiful. Powder blue color is also one of the colors that dominates color palette when it comes to ethnic women's clothing.