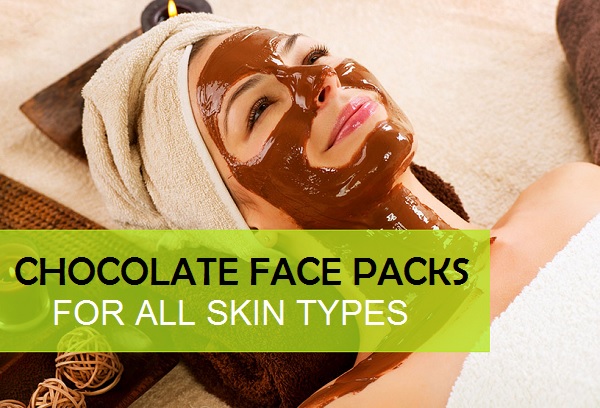 Chocolate Face packs and masks For Glowing Face
Have you thought of trying a chocolate facial masks? The most tempting dessert, kids and adults favorite "chocolate" is filled with many beauty benefits. This high fat sweet used for food preparation is multi purpose. Those irresistible cookies, cakes, puddings and brownies may induce your calories, but it is can be used as a beautifying agent.
Yes, it's true now you can buy as many chocolates as you want not only to eat, but to enhance your beauty and look prettiest like never before. We will share chocolate face masks that will enhance your beauty and glow.

Benefits of chocolate for the skin
Let's see what are the benefits of chocolate face packs and masks. Applying facial packs with chocolate helps in many ways, let's see which coca powder benefits the skin. 
It also improves the blood circulation and diminishes the early signs of skin ageing.

It is enriched with milk and butter that induces softness and moisture in the skin which is dry and parched.


Dark chocolate is one of the best chocolate that controls the stress levels leading to glowing skin.

It is also rich in anti-oxidants that increases collagen production.

Cocoa gives light and youthful skin instantly.

Chocolate protects against harmful UV rays and sun damage.


Chocolate increases the collagen production which makes the skin texture appear a lot better.

Moreover, these chocolate facial skin treatments will help to reduce the skin blemishes and spots
Best Chocolate Face pack for All Skin Types
You may have a perfect guide on the uses of chocolate for different skin types. Today, I am sharing the most easy to make homemade chocolate masks and packs for all skin types. Yes, anyone can use it and get instant results! We will use chocolate powder mostly but if  you wish you can use a bar and melt it a bit in the small bowl in the microwave or over the gas. Then use that.

1. Chocolate powder Facial pack for Blemishes

This chocolate face pack is a natural pack to give a boost of the moisturization and antioxidants to the skin. Moreover, this will also further help to reduce the signs of aging and black spots. This will also help you in looking fair and radiant without applying the costly skin creams and cosmetics. It also reduces the ageing and wrinkles from the face. It also develops shine on the face and prevents acne. Use this face mask twice in a week to get visible results. Also see: Orange peel packs for glowing skin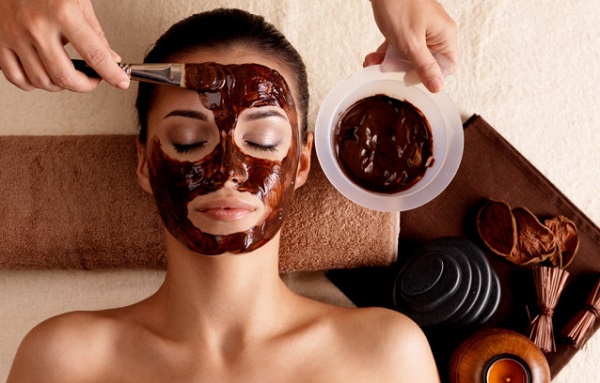 Recipe and Procedure:
Take 2 spoons of chocolate powder and put it in a bowl.

Add 3 spoons of fresh curd also.

By mixing it well, make a paste and keep in refrigerator for 30 minutes.

Now, you can apply on the skin slowly by brush or fingers.

Keep it on the face for 25 minutes.

In the end, use cool water and wash thoroughly.
2. Chocolate Face Scrub Pack for glowing skin

This chocolate facial pack will deeply cleanse your skin pores. It also exfoliates the skin and removes dead cells. This pack is an alternate scrubber for skin Moreover, this will brighten up the skin complexion. See: Mango for glowing skin

Recipe and Procedure:
Take 2 spoons of cocoa powder, 1 spoon of brown sugar and little bit of milk to mix them.

Mix all the ingredients in a small bowl and try to make a thick paste. Wipe your face with a damp towel before using this face mask.

Now apply it on the T zone, cheeks and forehead and slowly massage for 10 minutes onto the face. Be gentle on the skin, Don't rub too much.

Keep this pack for the next 10 minutes and wash it with cold water.
3. Gram flour and Chocolate Face pack for oily skin

This is also a special face pack for skin cleansing of the skin on a deeper level. It will clean your pores deeply and increase collagen production. It makes the skin bright and beautiful in just few minutes. Chocolate components make the skin firm and supple whereas gram flour clean all the dirt particles from the skin.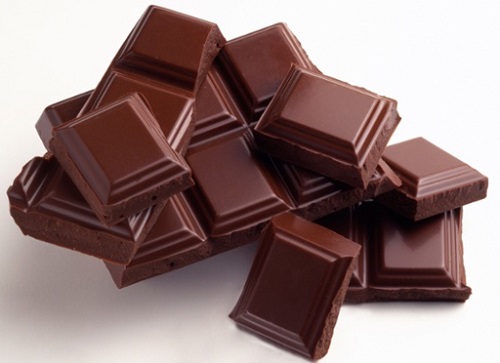 Follow up:
Take 2 full tablespoons of gram flour, 1 spoon of chocolate powder, ½ spoon of coffee and 1 spoon of raw milk 

Put all the ingredients in a small bowl. Add water and whisk it well.

Cleanse your face with a foam or gel based face cleanser.

Then towel dry your face quickly. Now you are ready to use the face mask on your face and skin.

By using a cotton ball or brush, Apply this pack all over the face, leaving your under eyes and brow area.

Keep this pack for 20 minutes. Wash your soft and smooth skin with normal water
4. Almond Chocolate Face Pack for Skin Whitening and glow

This face mask is the perfect blend of radiance and glow. To get a fair and an instant glowing skin. Try this face mask and get noticeable fairness. Almonds are wonderful for the fairness and skin glowing. See: Instant fairness face packs

Follow up:
Take a fruit and nut dark chocolate such as Bournville, temptation or any imported one.
Melt this chocolate in a boiler for 5 mins. Just take few pieces of chocolate and put them in a bowl and add over the flame.
Once, it is completely melted, take it out in a small bowl now mix 2 spoon of crushed almond paste in it.
Now, apply this face mask on the face and wash it with water after it dries out.
You can also try this once in a week for best results in making the skin glowing as well.
Try these chocolate rich face packs and masks to improve your complexion and making it lighter. You'll surely end up having beautiful skin. During winters, these are the best mask to try for dry face. Use these on your body too.