Choose the Best Bridal Lehenga Color as per the Complexion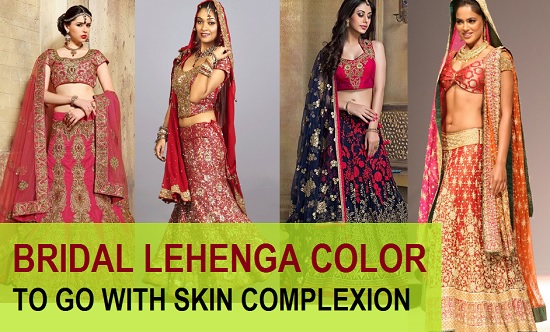 Every bride-to-be has a dream to look utmost beautiful on her wedding day. This is also her total right to be the best bride. This is why, she desires to wear the best lehenga on her big day. Forget those days in the past, when red color was the only choice for wearing lehengas. The trends are changing and so does the colors for bridal wear. Now a days, you can always experiment with colors that suits complexion and body type. Before buying a lehenga, you should consider about the price, quality, latest trends, availability and taste. You should never follow the trend blindly as there are other aspects to look at too. And yes that includes the best bridal lehenga color so go with the skin color.

Every year, a new bridal collection arrives at bridal stores. So, you can explore the market and get the best one for yourself. The color that suits you should not only looks pleasing but should also enhances your beauty and skin complexion to turn you into a gorgeous bride.
So, which lehenga color suits you the best? The color of a bridal dress can completely transform the entire bridal look. Color plays a significant role in enhancing your skin tone. If wrongly chosen, it can make you look dull and dark too. Therefore, the selection of the right lehenga color according to your skin tone is essential. Let's have a look on the different skin tones and the lehenga colors as per majority of Indian bride's skin complexion. The bridal lehenga designs and patterns also matters a lot which you will get to know once you try!

How to choose the best bridal lehenga color according to compelxion

Brides with very fair skin tone:
Girls with very fair skin color are lucky enough because they can wear many light shades or dark toned colors without thinking much. Bright and pastel colors are just for you, if you love being the subtle yet stunning bride.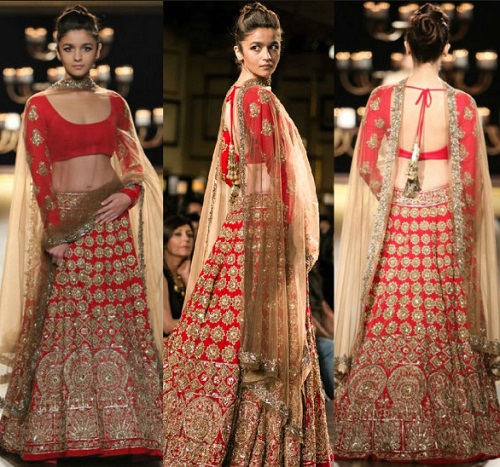 The best suited colors for you would be:
Light colors like: peach, baby pink, sky blue is perfect for warm skin tones
Dark colors like: navy blue, ruby red, wine, tomato reds, maroon, dark pink, bright greens are good to pick against pale skin tones
Shiny colors like: silver, golden, metallic blue and light shiny purple
Don't try these:
Brown and gray shades are big No for you. It tends to make you look dull and monotonous.
Ignore black shades: it may look fine for you, but if does not fit for the occasion.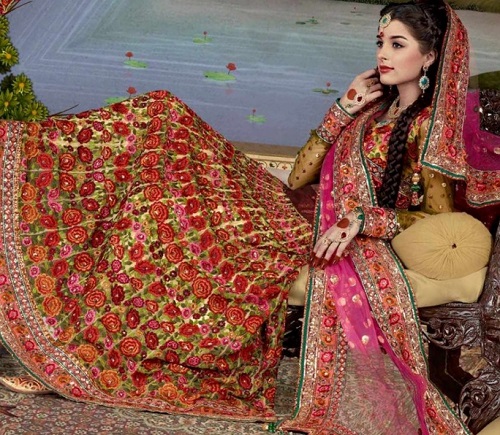 Brides with fair skin tone or warm fair tone:
This is the most commonly seen skin tone in India. Many of the women in Indian will have this fair yet yellow-ish complexion that looks beautiful. Brides with such skin tone may choose out of the following colors for their bridal lehenga.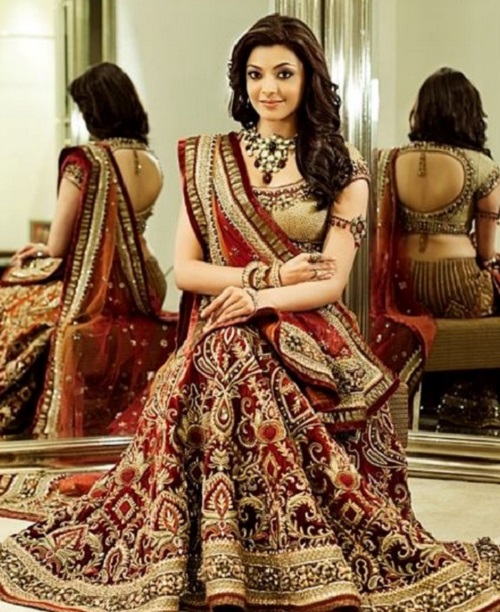 You may try these lehenga colors:
In lighter shades: if you are a lovely who likes wearing light colors, then these shades are just for you.
Light pink, emerald green, cream, off white with silver embroidery, royal blue and beige.
In darker shades: you can select some of the darker shades for your bridal wear. These mainly are:Yellow, cherry red, maroon, hot pink, purple. Bright reds, tomato reds, maroons, orange, hot pinks are always a good choice for bride with fair skin complexion.
Colors to avoid:
Don't try shades which looks dull. Evade buying deep and dark shades of green, brown, yellow and burnt orange.
Bride with Medium to Dusky skin tones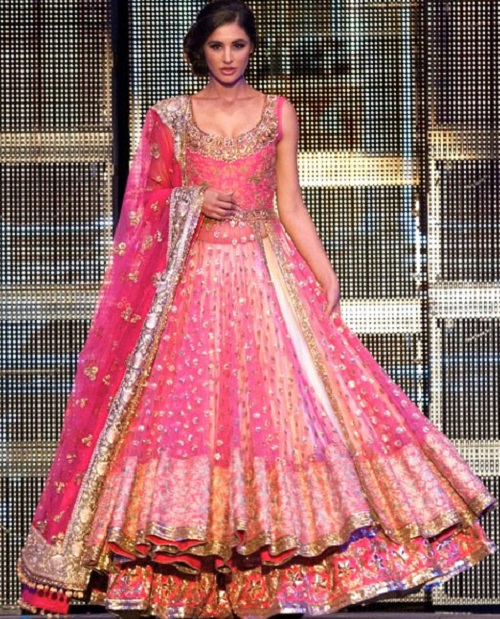 Many of our beautiful brides have medium skin tone which looks slightly darker. This skin tone is also found a lot in India. Such skin complexion can be brightened up by wearing the right lehenga color to go with the skin complexion that will highlight your face on your Big day!
You can try shades like

Lighter shades: If you want, you can opt for peach, beige, shimmery raspberry pink, pale yet warm pink and light tone of gold's.
Darker shades: You must try warm shades like rust, red, yellow and orange and corals that will gain the attention of your guests on the wedding day. Bridal lehenga colors like mustard, burnt orange, medium pink also looks good on dusky brides.
Don't pick colors like

Don't choose colors that are too dark for your complexion. It comprises navy blue, deep green, violet, gray colors. These shades will make you look dull in pictures as well.
Brides with Dark skin tone
This shade of skin complexion is what is called as dark skin tone. Women having dark skin color faces many problems while choosing the best color for the lehenga. While searching for the right bridal lehenga color they end taking a wrong decision and regret later. Since, when the complexion is dark you should always try wearing something that will not make you look darker but your best. For you all, choosing the right bridal lehenga color for dark skinned bride is tricky but not very difficult.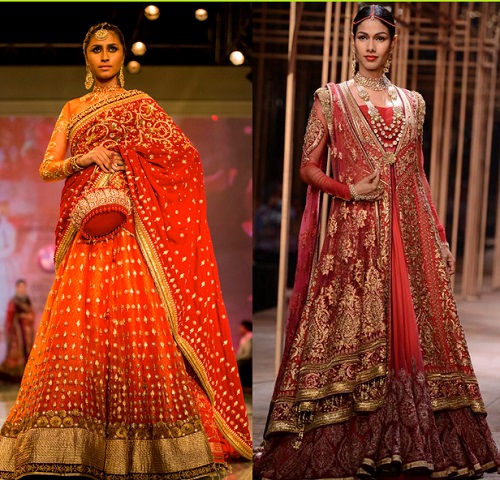 You may try:
Light and warm shades: You can try some medium pink shades, red as in apple red and blues which is not too dark but warm.
But I recommend you to avoid light shades for lehenga because it may look dull and will not brighten up your whole look.
Darker shades: Deep orange, mint green, dark yellow, bright rust, deep red make you look sexy and gorgeous.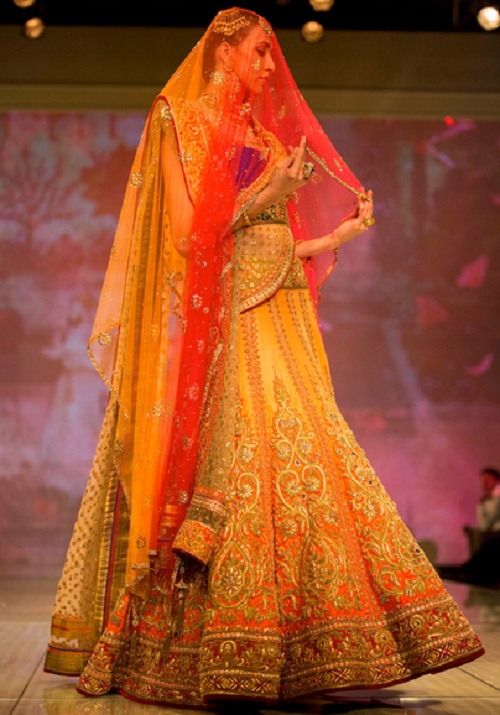 Don't pick bridal lehenga colors in

Neon shades are just not for you. It may focus on your skin tone too much and are not the best bridal lehenga colors for you.

Now  that's all but I will also suggest you to drape the lehenga at the trial while you are at the store so that you can be sure to choose the best color for yourself. But at times, the design and detailing also matters therefore trial of the bridal lehenga will set the things easy for you. You can take pictures after each trial so that you can compare in the end and settle for the one that looks the best on you.
Always consider your body type before purchasing the wedding dress or even if you are bride's sister, sister-in law etc who will get equal attention just like the bride.  
Hope the above guide to choose the best bridal lehenga color may help you and get rid of confusion and misleading decisions. 
Written by: Ratna Balani