Cotton kurtis are very comfortable and also are available in different patterns, varieties and designs. So if you would like to wear the comfortable yet stylish kurtis for the summer season, then cotton is a fabric that you must go for. In this article, we are presenting the latest catalogue of the Cotton kurtas and kurtis for women. Cotton kurta for ladies is surely a comfortable dress that can be worn for office, work, college and even for the hangouts. So even if you are going for grocery shopping, kids school or are going for office, temple or for some festival or puja ceremony, then cotton is a fabric that you can wear for long hours. Cotton kurta for girls are also suitable for summers. So here let's take a look at the latest designs of cotton kurtis and kurta designs for women.
Latest Designs of Cotton Kurtis for Women
1. Beautiful Printed High Neck Collar Cotton Kurti For Women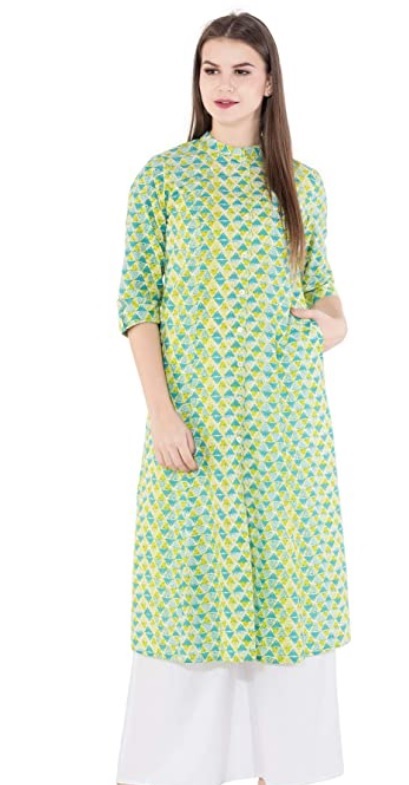 This dress is a nicely printed which has high neck collar and three fourth sleeves. It also has pockets on the side first of the medium length kurti can be paired with churidar palazzo pants skirt or even with leggings.
2. Printed Cotton Kurti With Yoke Design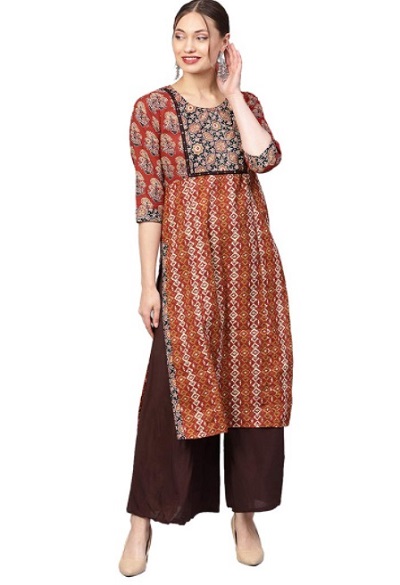 Yoke design kurtis and kurtas are popular because they give a nice design to the dress. This could be has three fourth sleeves and the yoke print. This can be paired with plazo aur leggings.
3. White Cotton Kurti For Office And College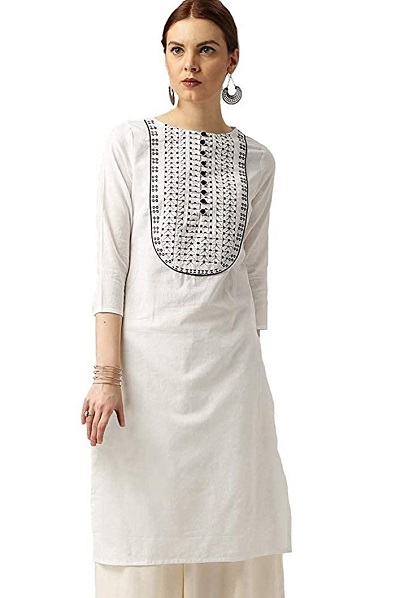 The nicely made white cotton kurti has a yoke design and black buttons. The kurti has a scoop round neckline and 3/4 sleeves. This is very minimal but very attractive to look at.
4. High Low Pattern Cotton Kurti Design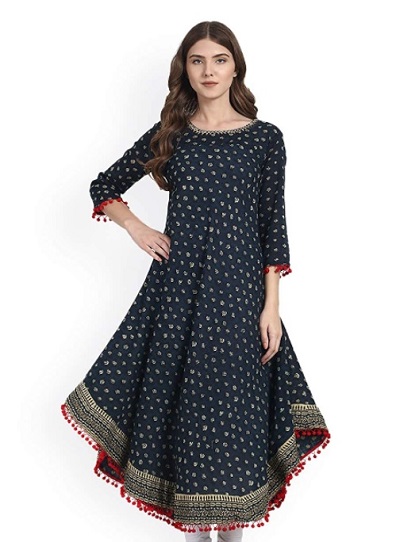 T he stylish kurti is a party wear dress that also has a pom pom lace given at the hemline. It looks really pretty and beautiful because of the design and the styling.
5. Yellow cotton embroidered daily wear kurti design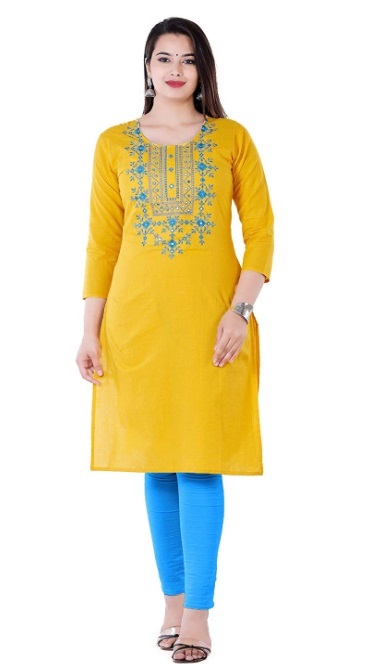 This is a daily wear kurti in yellow colour with blue colour embroidery. The kurti design is quite refreshing and so does the colour. One can wear such kurtis for the events, parties and even for the daily wear.
6. Long Centre Button Placket 3/4 Sleeves Kurti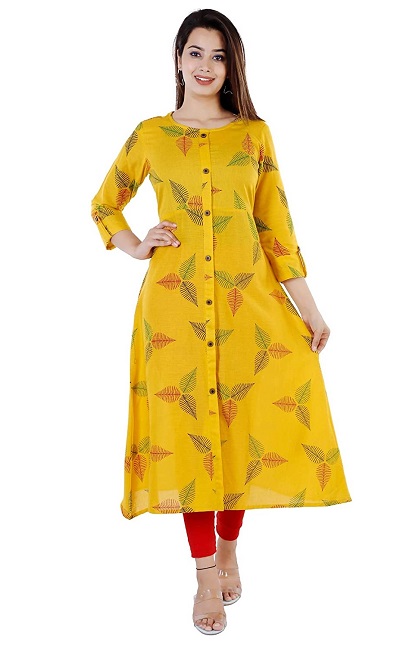 The centre button placket design is very popular and in demand. This kurti has 3/4 sleeves with button. It has round neckline and beautiful yellow printed fabric has been used to make this designer kurti.
7. Blue Stylish Printed Long Kurti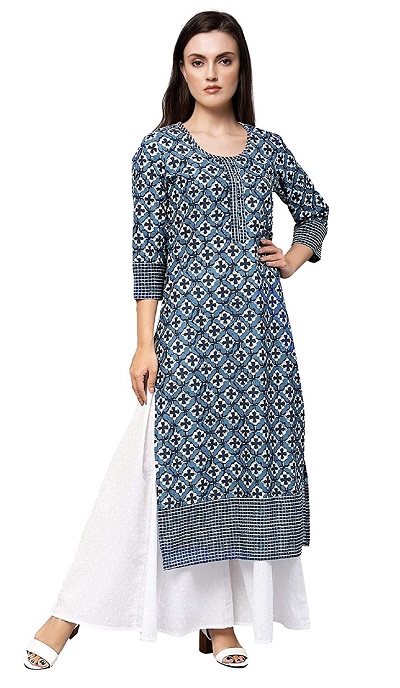 It's suitable and comfortable kurti for office and college. Women can try different types of bottom wear along with this kurti because it is so attractive and beautifully designed.
8. Printed green kurti with tassels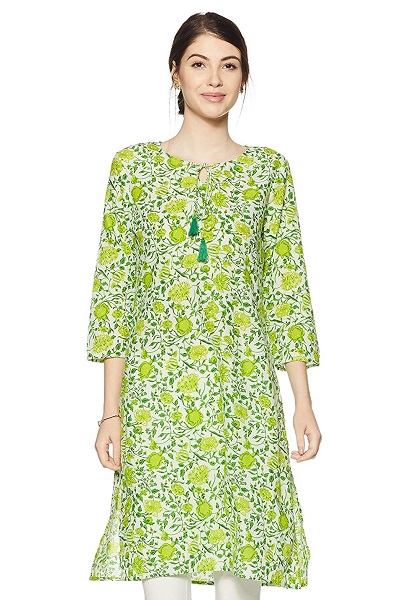 The designer green printed kurti is a refreshing summer appropriate dress. It has a keyhole neckline with strings and tarsal. This is a very pretty designer kurti that can be worn with a white palazzo and even with leggings
9. Maroon printed long kurti with straight fit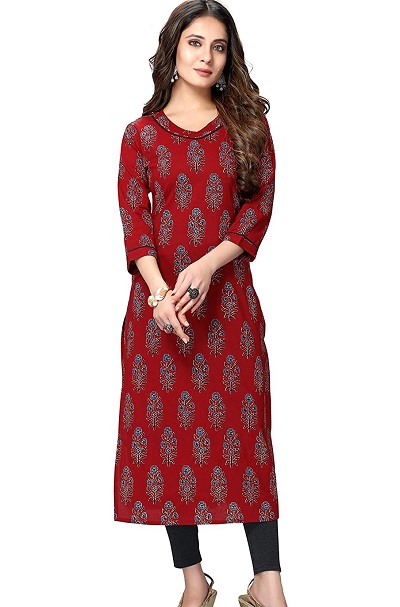 The stylish maroon kurti has a printed pattern and a straight fit. It is suitable for everyday wear as well as for the college and office.
10. Stylish Shirt Like Centre Button Placket Kurti Design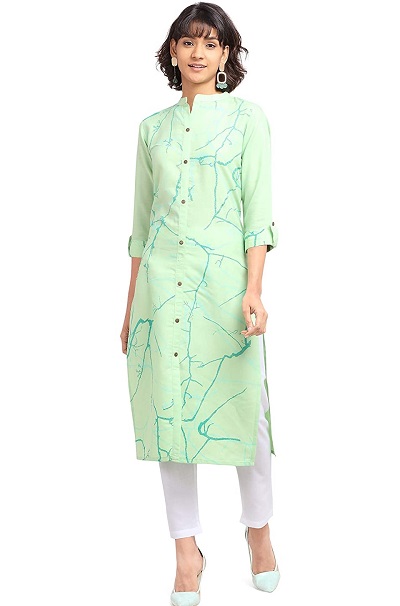 The cotton kurti has a centre button placket with buttons and a stand collar design and the sleeves has a button strap on the sleeves.
11. Long Yoke printed Anarkali cotton kurti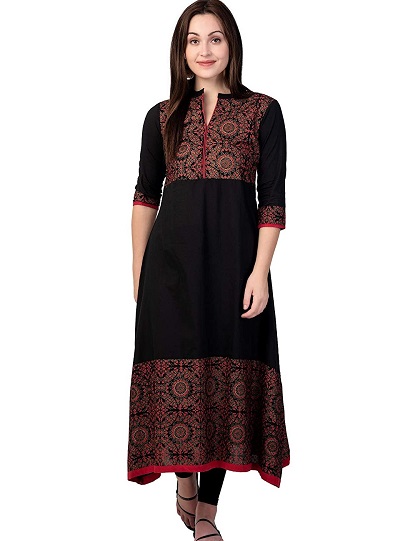 This stylish dress is suitable for functions and parties because of the design and pattern. The black colour with red detailing looks really pretty and ideal for different occasions.
12. Shirt Like Long Kurti With Straight Fit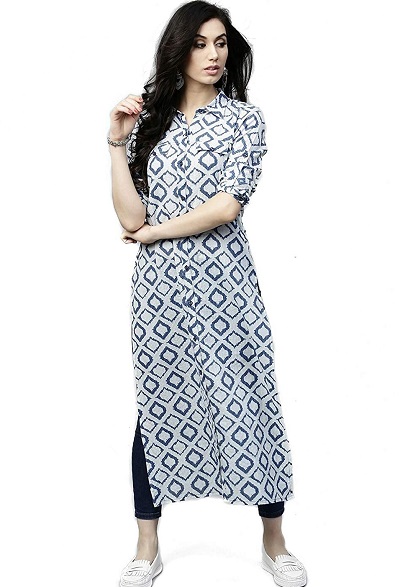 This is a printed shirt like kurti that has a shirt like collar and sleeves. It is a straight fit long kurti which can be paired with a palazzo. With this particular design palazzo would look the best for stop it is a nice cotton printed kurti for summers.
13. Cotton Printed Pink Kurti For Daily Wear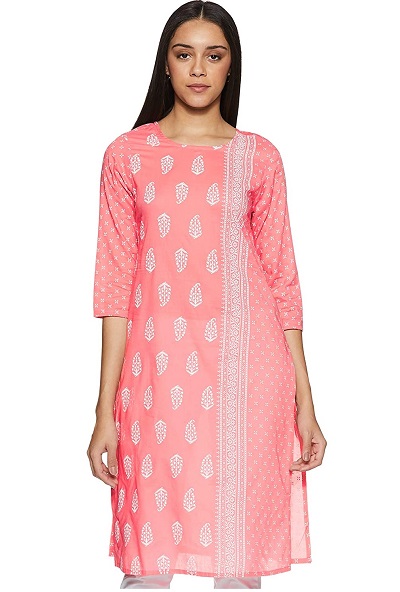 It's a daily wear dress that is made in a nice and refreshing pink colour. Suitable for casual and everyday wear such dress is ideal and comfortable.
14. Black Floral Printed Kurti For Ladies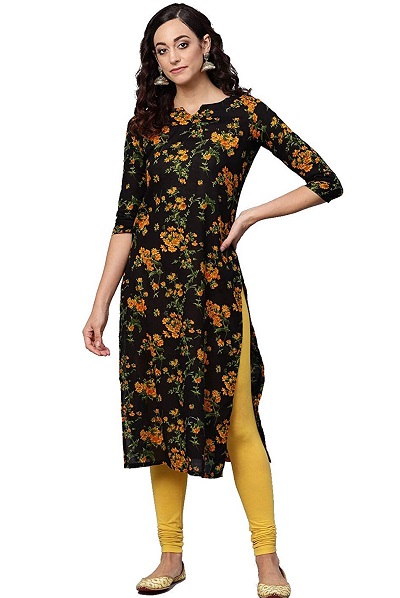 This is really a designer looking kurti which is made in a nice black floral printed fabric. It has three fourth sleeves and medium length. For short girls it would be a long kurti therefore that can be paired with long length churidar and palazzo.
15. Cotton Anarkali Kurti With String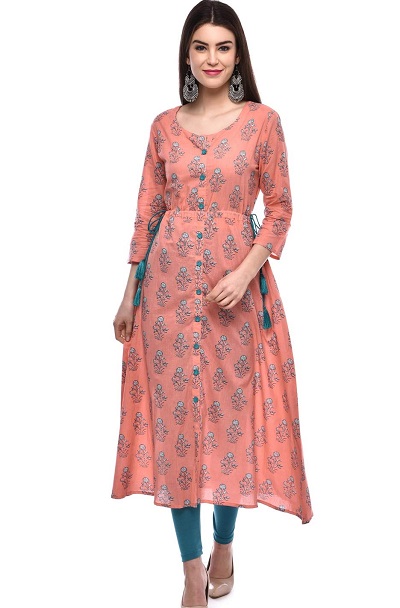 This is a designer kurti that is appropriate for festivals and even for college. It has three fourth sleeves and long design.
16. Printed stylish designer kurti For Festive look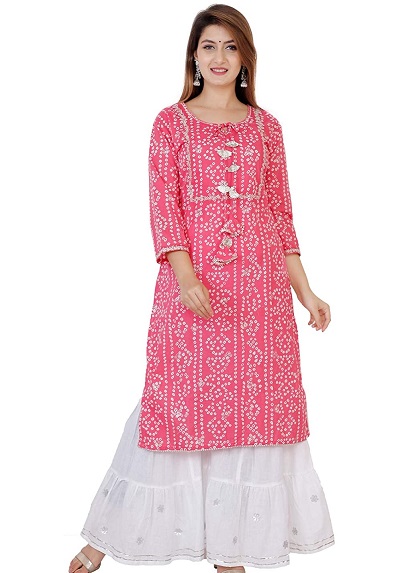 The beautiful pink colour kurti has a print with pink and white. The pink inspired from the Rajasthan makes it look traditional get modern stop.
17. Boat Neckline medium length kurti for girls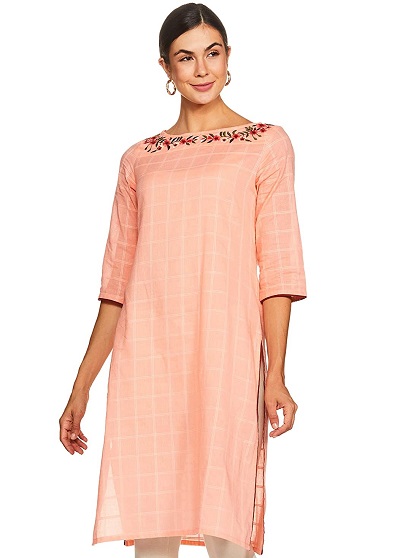 The nice design of this kurti makes it appropriate for the college and work. And can pair a white palazzo or a straight fit cigarette trousers with this kurti. It has a boat shape neck line and even the print is quite subtle and has some embroidery is also given near the neckline.
18. Pink Chikankari Work For Women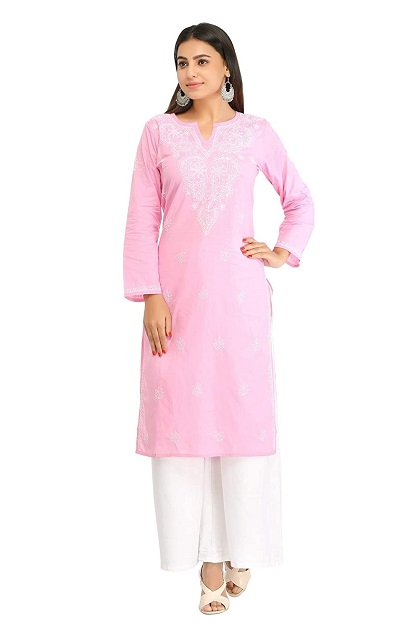 The stylish kurti has a rich embroidery and chikankari work that makes it exclusive and designer. It is also a good thing that the ladies can wear it for work and college. Even for everyday wear, this casual kurti is perfectly fine.
19. Long Multi Coloured Printed Anarkali Cotton Kurti For Parties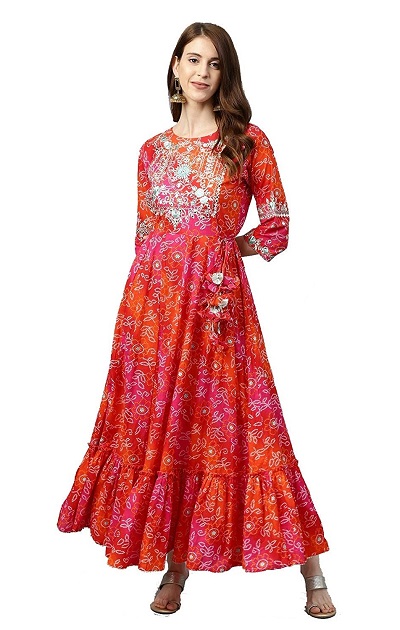 The long kurti is so beautiful and has a unique design with rich Gota Patti work. This makes it an appropriate dress for festivals like raksha bandhan and Puja ceremonies.
20. Blue Cotton Printed Kurti With Stylish Neck Design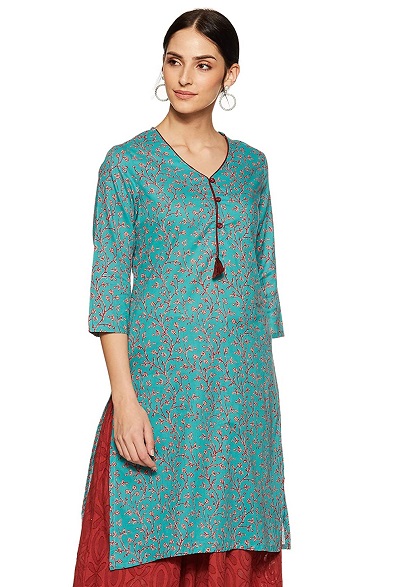 The Cotton printed Kurta in blue colour is suitable for summers and it has a nice piping. It looks quite elegant.
21. Hot pink cotton kurti for daily wear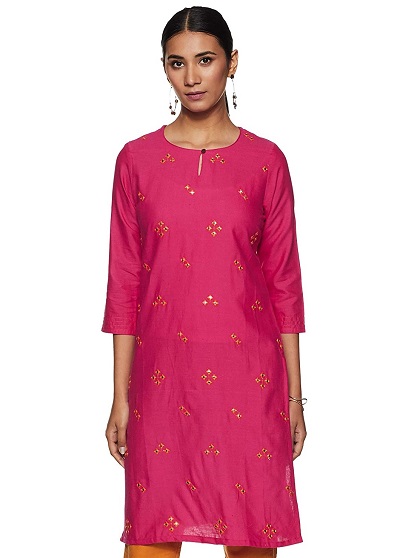 The ladies cotton kurta design in hot pink colour is ideal for everyday wear and for casual wear. If you are wondering what type of kurtis that you should wear for daily wear then this is it.
22. Refreshing Lime Green Summer Cotton Kurti For Women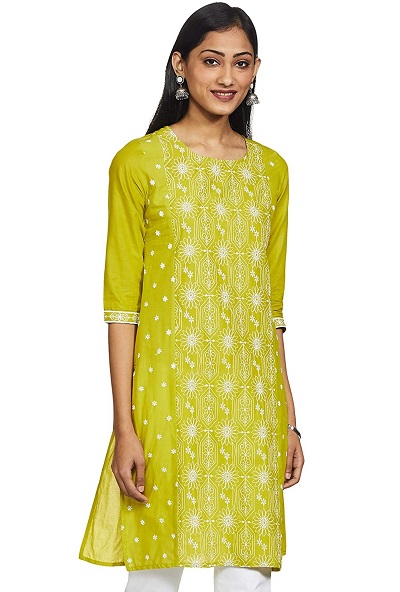 the design and the print of this kurta for women is so beautiful and attractive that younger girls would really love to wear such colours and Designs it is not only compatible but easy on the eyes.
23. Long Printed Anarkali Style Cotton Kurta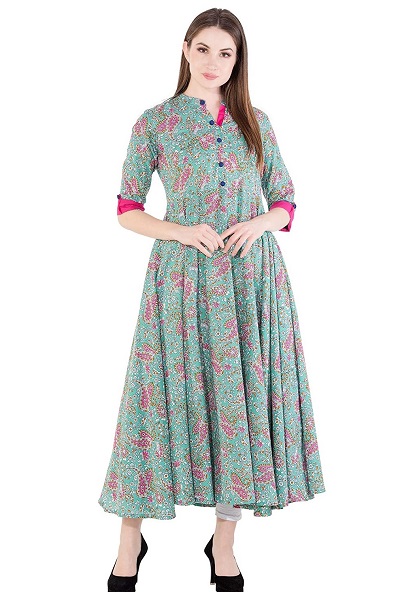 Such dresses can be worn with jeans or leggings. It is suitable for taller girls because the anarkali kurta is really ankle touching.
24. Pink and white printed with Lace border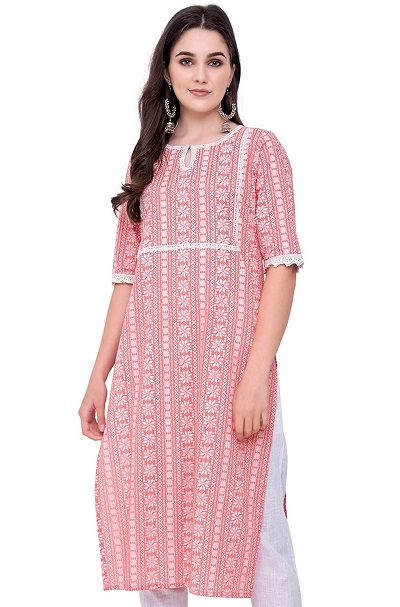 This is also a work and office wear kurti which can be tried for college as well. This kurti for women has a lace border and neckline design is pretty too.
25. Printed umbrella kurti with designer pattern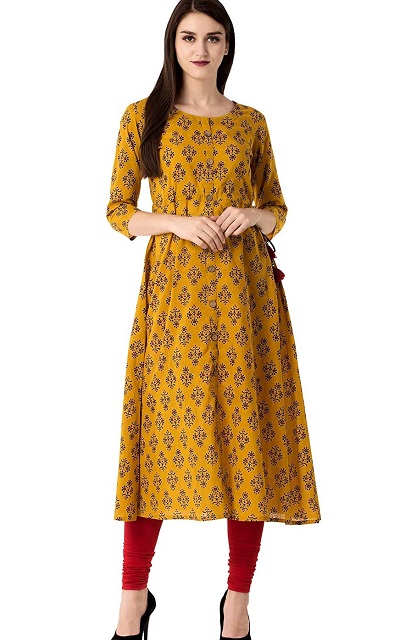 The printed umbrella kurti is ideal for summer season and it can also be worn for as a Maxi dress. So while you can skip the bottom wear, this will also work as a Maxi ethnic dress for you.
26. beautiful pale pink printed summer cotton kurti for women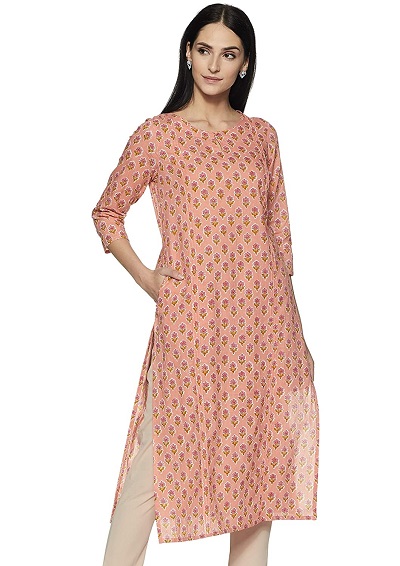 Appropriately this is a kurti that is a must have for summer season. The design and the print of the kurti is so beautiful and attractive that during the summer season, it would surely make you look stunning.
27. Vertical Printed Beautiful And Simple Kurta For Ladies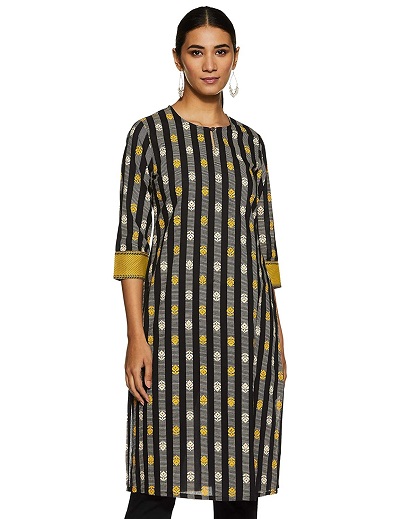 The Cotton kurta for ladies is ideal for summer season and for office. It can be paired with full flared palazzo pant or even cigarette pants would look really beautiful with this dress.
28. Cotton printed embroidered kurti Design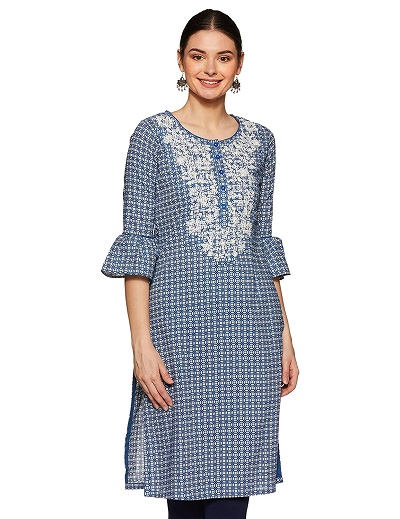 The nice blue and white printed kurta has an embroidery design near the neckline and 3/4 sleeves. The sleeves are made with ruffled pattern and these are also suitable during the summer season because they are made with cotton fabric.
29. Sleeveless stand collar Centre panelled kurti for women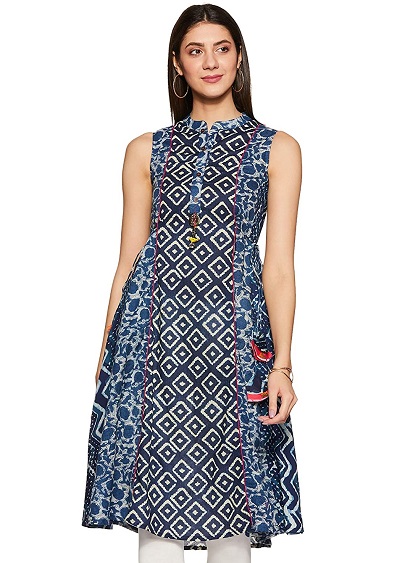 For summer season, the sleeveless dresses are appropriate because that lets you breathe and stay cool during the hot summer season. This dress has a sleeveless pattern with stand collar and a centre panel has been used to create this design for stock such branded kurtis look really beautiful. This can also be paired with jeans.
30. Multi Coloured Kurta With Round Hemline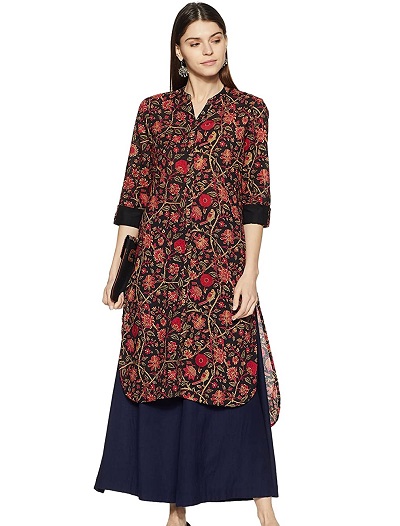 The multi coloured beautiful floral printed kurta  looks very beautiful. This kurti has a rounded hemline and tab folded sleeves.
31. Designer umbrella Kurti in cotton fabric for women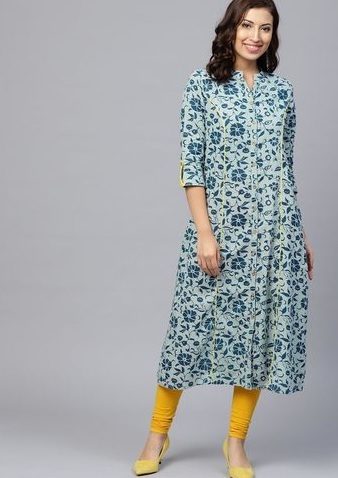 This gorgeous dress is made in cotton fabric and has a stand collar. The designer kurti has a design on one of the sides. It looks really beautiful and is ideal to be paired with white bottom wear.
32. Pink printed button work kurti for girls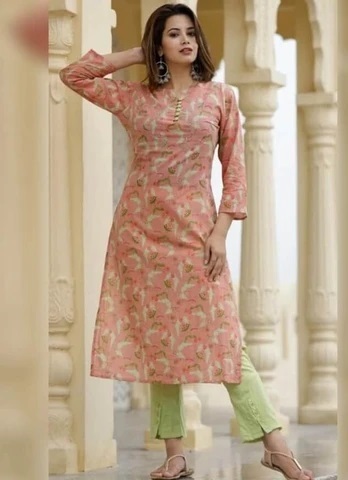 This is a kurti that is ideal to be paired with a contrasting colour bottomwear. A green trouser pants are used with this kurti that makes it look stunning and gorgeous.
33. Cotton printed Centre slit long kurti with jeans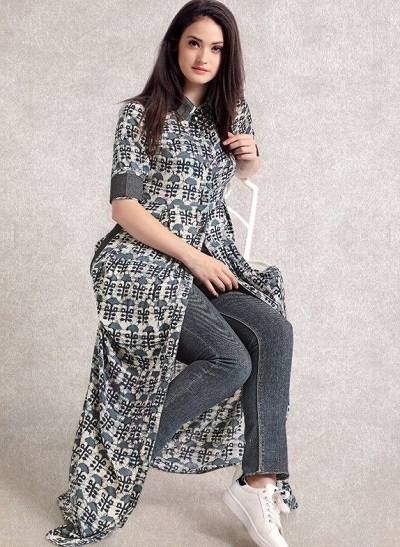 Jeans with kurti is a popular Indo Fusion or Indo ethnic combination for girls. Especially for the college going girls kurti with jeans is a popular combination.
34. Short blue printed kurta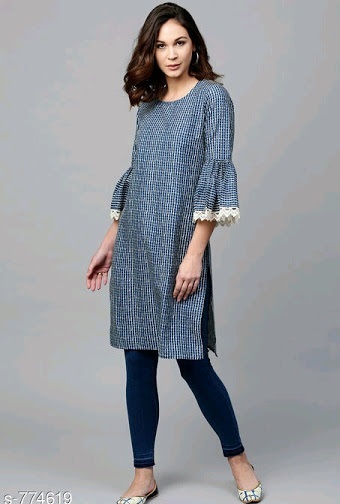 The short kurta has a nice designer sleeves and is ideal to be paired with jeans also.
35. light grey Centre slit buttoned designer kurta with jeans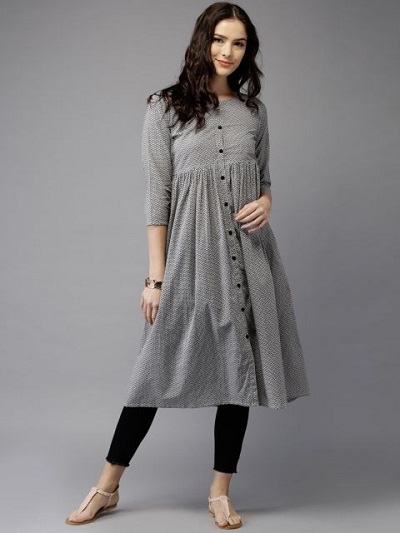 This is also a kurti that can be paired with jeans or cropped pants. Here it is paired with cropped leggings and it is stylish and comfortable dress.
36. Grey Stylish Long Kurta With Palazzo Set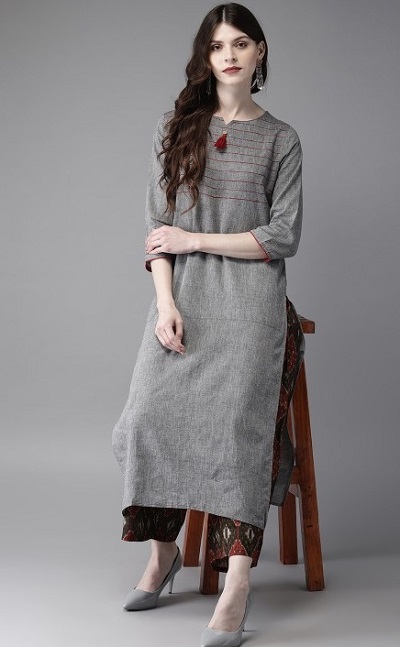 The cotton grey kurti looks really beautiful and black is the colour that would look amazing with this dress.
37. Light Yellow Centre Slit Long Kurti Summers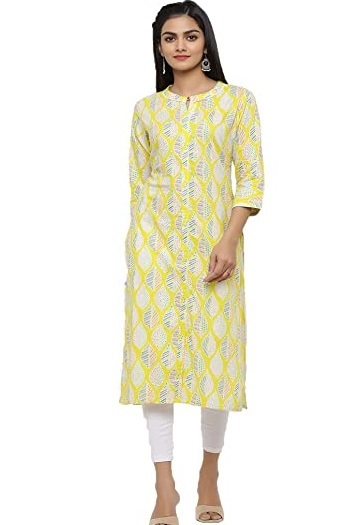 The cotton kurti for women has a stand collar and it is ideal for even for your work and college. Not just that it will keep you cool but also make you look attractive.
38. Floral Printed Shirt Like Cotton Kurta For Summers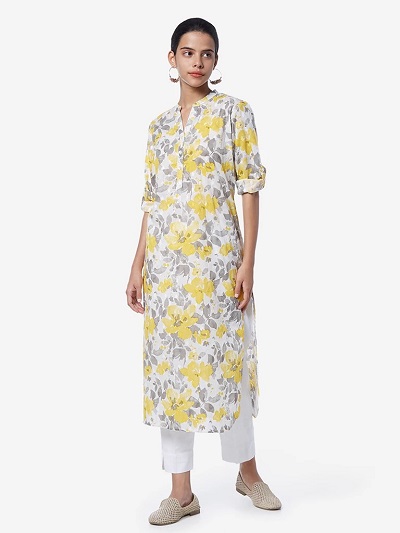 This is a very refreshing nice white and yellow floral printed kurti with beautiful design.
39. Umbrella kurta with stand collar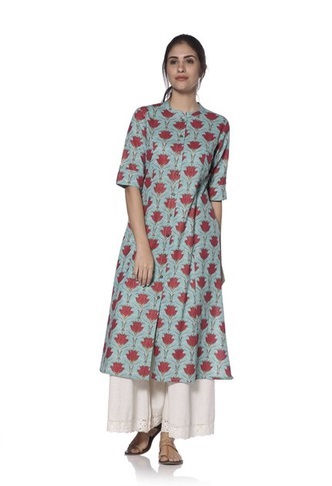 The kurta is paired with white palazzo pants and has an umbrella cut design. The beautiful kurti in light blue colour has red coloured floral print all over. It is a festive wear dress as well
40. A-line long side cut kurti for women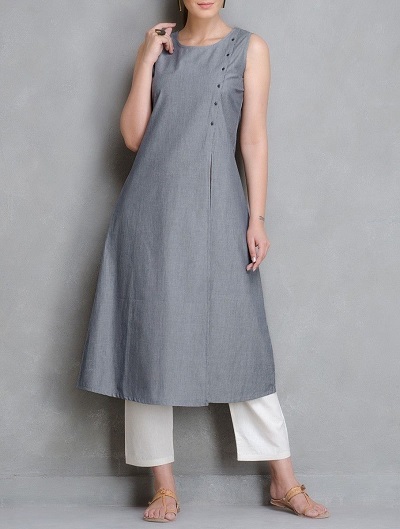 It has a nice sleeveless pattern with A line pattern. It has side slit as well that makes it look very modern and suitable for your outings, college and festivals.
41. Mustard yellow short cotton kurti for women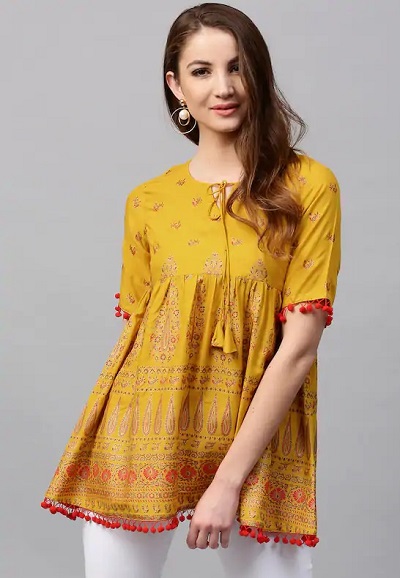 This is a festive wear and party wear kurti for women and you can wear a skirt palazzo, dhoti pants and more. It has a keyhole neckline with strings and a border is used on the hemline and on the sleeves.
42. Short cotton Silk kurti with yoke design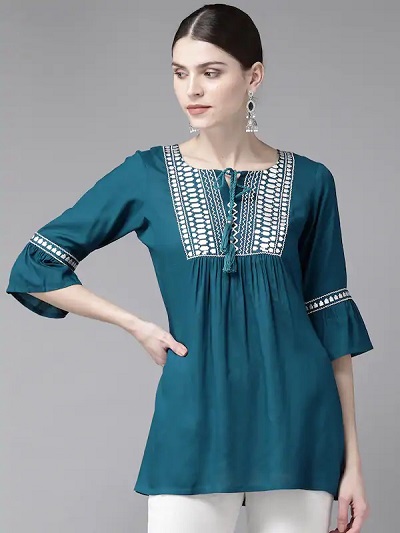 The beautiful and short cotton Silk kurti has a nice design on the sleeves and on the neckline. It has gathering in the front which makes it very comfortable to wear. The short kurti can be paired with the jeans too.
43. Long Floral Printed Centre Slit Jacket Kurti Style For Women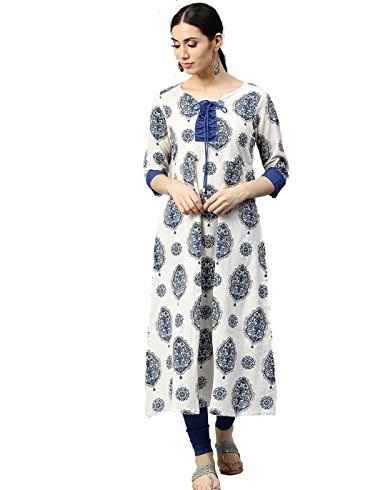 The Cotton jacket style kurti has a nice drawstring at the neckline and three fourth Sleeves. It's suitable for your jeans and with the churidar pants.
44. Pink Printed Side Slit Long Kurti With Jeans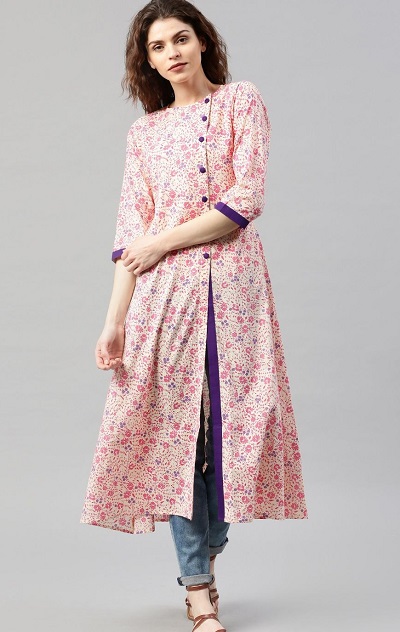 The nice cotton printed kurti is paired with jeans. This is a very beautiful and attractive looking combination.
45. High Low Hemline cotton printed kurti design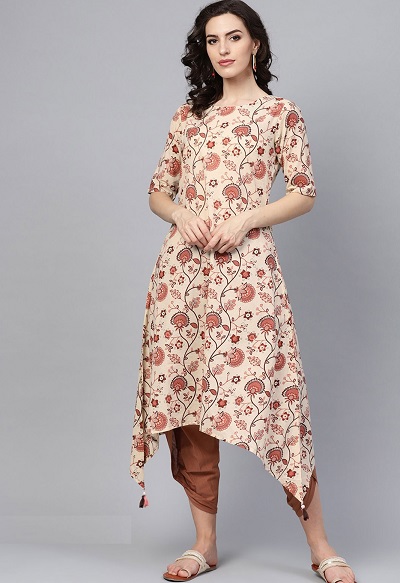 The high-low hemline kurtis are very much in demand and are very popular. The best thing about this kurti is the pattern can be paired with palazzo, trousers coma dhoti pants and churidar pants.
46. Green Long Floral Printed Kurti With Tassel Design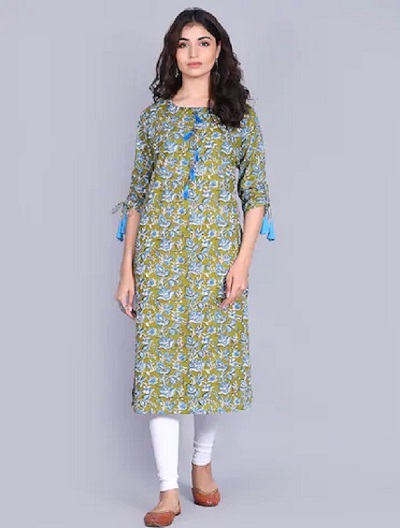 With the tassels design, this kurti looks really stunning and beautiful. A perfect for summer dress this kurti is stylish and will look really pretty for office and college.
47. Balloon sleeved umbrella pattern yellow kurti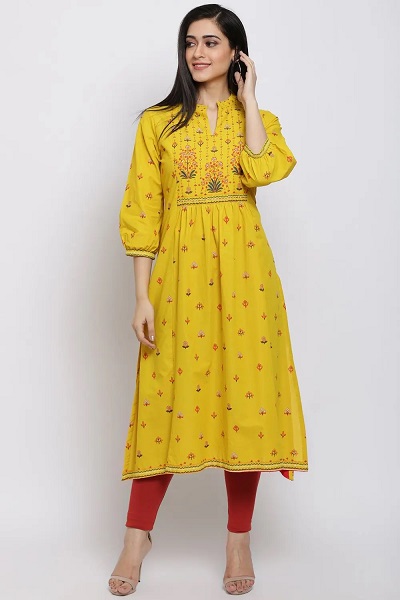 This kurti has beautiful balloon style design with the stand collar. The kurti has a designer sleeves and it is also given a beautiful pattern.
48. Umbrella style long kurti with tassel buttons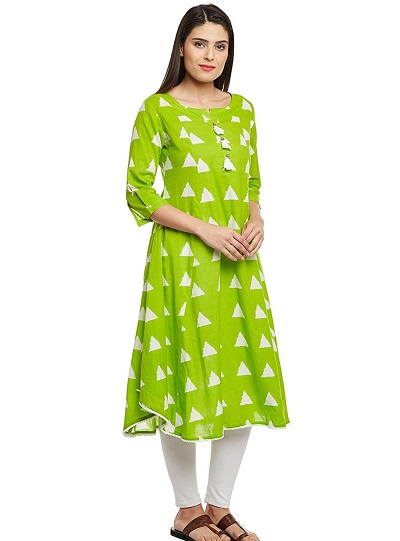 This kurti has tassel buttons in the front and is an umbrella kurti. The printed design of this green kurti has white triangular shapes that makes it pretty.
49. Orange sleeveless side buttons long umbrella kurti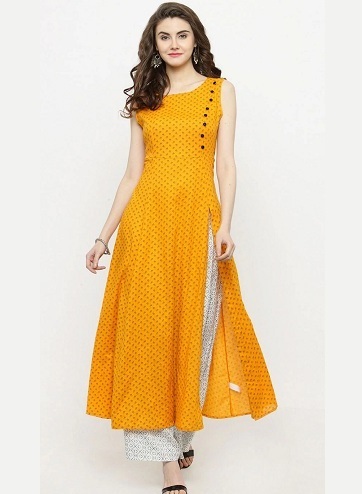 The cotton kurti is made in a nice and designer pattern. It's a long kurti that has a side slit with sleeveless pattern. The buttons are also given on one of the shoulders. It is best to be paired with wide legged palazzo and even with a pair of nicely fitted jeans.
50. Stylish designer cotton kurti for women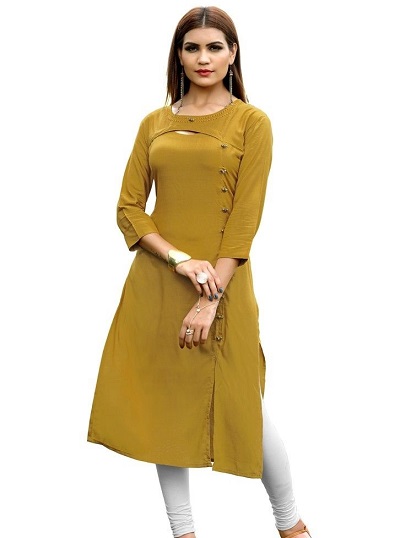 Patchwork style kurtis are also popular and here in this kurti that is a side slit. The beautiful kurti is ideal for your office and even for the festivals.
These are the latest designer cotton kurti styles that women can try. If you like to try any of these designs then to keep in mind the occasion as simple and printed kurtis are best for the everyday wear.