One cannot wear heavy sarees for day to day basis however there are cotton sarees that one can wear everyday and even for the occasions where you need to dress up elegantly and not very dressy. This is why we created this catalogue and images of the latest cotton saree blouse designs.
Latest Cotton Saree Blouse Designs and Styles (Catalogue)
1. Cotton Saree Printed Blouse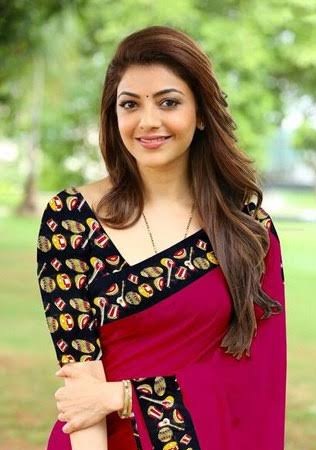 The printed cotton saree blouse has elbow length sleeves and is given a scoop neckline both on the front and back. It given front hooks and is used in the regular blouse pattern. The cotton blouse is simple and elegant blouse that is suitable to pair with your cotton, cotton silk or even the other type of sarees.
2. Cotton Printed Blouse for Saree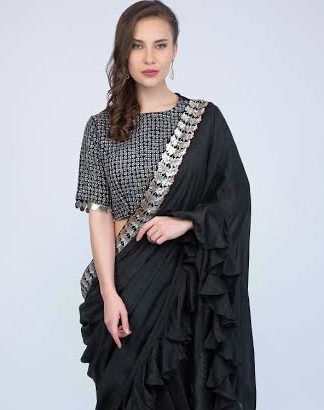 This cotton saree blouse is made in a princess cut and small coin like embellishment is done on the sleeves edges. It's given round neckline and is one of the simple and elegant looking blouse designs to be paired with pure cotton sarees.
3. High Neck Cotton Blouse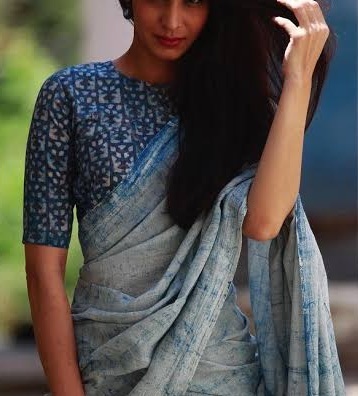 The printed cotton saree blouse has high round neckline. It is suitable for everyday wear and women with bulky body types can also wear it. It with your cotton silk and other printed sarees and you would look stunning and elegant.
4. Geometric Print Cotton Blouse for Saree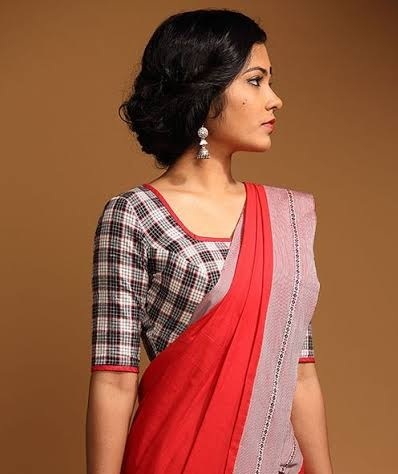 Blouses with contrasting border of piping add more beauty to the blouse. The geometric pattern cotton saree blouse is given a princess cut pattern and has red piping on the edges. It's given a scoop round neckline.
5. Chinese Collar Cotton Blouse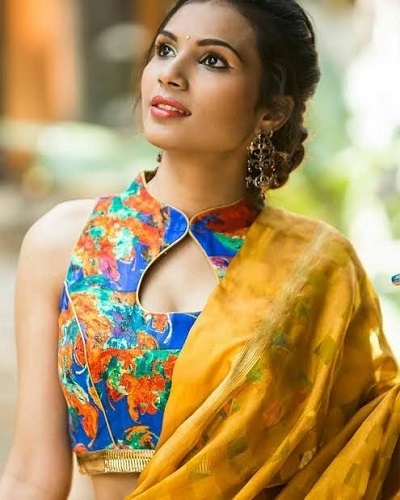 The cotton blouse is also made in a Chinese collar neck line with keyhole pattern. This Halter style printed blouse is made with a designer pattern. It is suitable to be paired with different types of sarees. Even with your printed lehengas you can try it.
6. Pleated Sleeves Cotton Blouse Design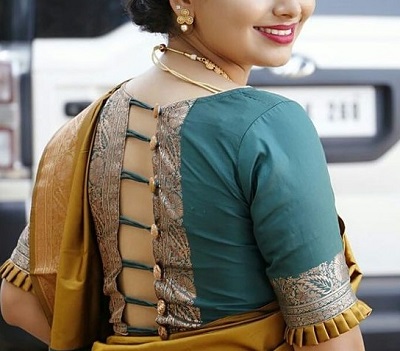 The cotton blouse with border has pleated sleeves. The place on the border of the sleeves is making it designer. What makes it more stunning is the back neckline. It is indeed one of the best designer cotton blouse styles that we have seen.
7. Ikkat Pattern Cotton Blouse Design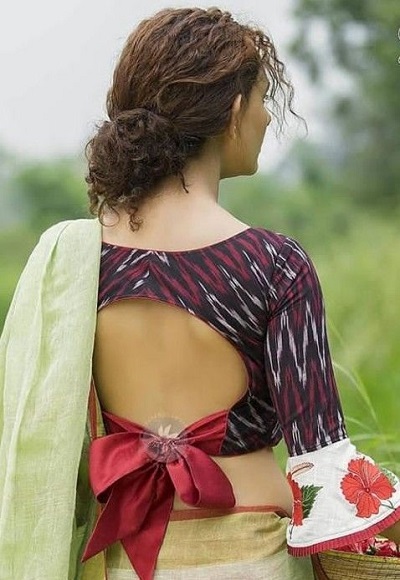 The Ikkat printed cotton saree blouse has flared sleeves with pleats on the edges. A bow is also given at the back to secure the blouse in place. It is like a semi or half backless style cotton blouse pattern.
8. Stylish Back Design for Cotton Blouse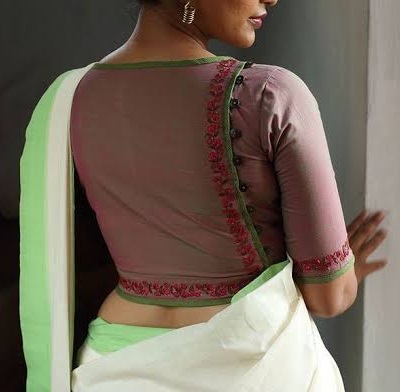 This cotton saree blouse has buttons on one of the sides. It is very designer and elegant in its look. This is given elbow length sleeves with some mild embroidery work going on. The contrasting taping in green colour makes it even stunning.
9. Embroidered Cotton Blouse Pattern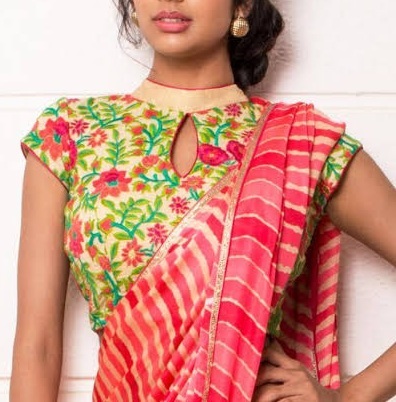 High neck printed cotton blouse embroidery. It's given a princess cut pattern with side zip. The keyhole neckline design adds more designer look to this otherwise simply made blouse. It can b paired with your different cotton sarees and even printed lehenga to be super stylish.
10. Cotton Blouse with Printed pattern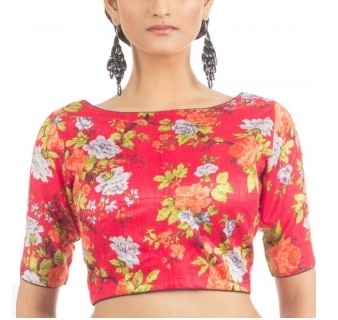 Cotton Silk printed blouse with elbow length sleeves and boat shaped neckline is a versatile attire that you must have in your wardrobe. It can be paired with skirts, lehenga, Ghagra and even with the cotton sarees as usual. The beautiful red and floral printed design is surely giving it a spring summer vibes.
11. Designer Cotton Saree Blouse Pattern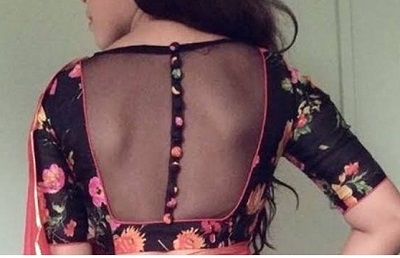 The cotton saree blouse has a deep square cut neckline making it backless but this year net fabric kind of saved showing the extra skin. The vertical strip is with buttons. The black floral print red cotton blouse is given elbow length sleeves. It has a boat shaped Neck line  and is suitable for different type of attires. Even for a business meeting or other events where you would like to dress up formally, this blouse style is good to go.
12. Cotton Silk Saree Blouse Style
If you are wondering about the blouse design for your cotton silk sarees with border, then this can be tried. The round neckline, it is given back buttons. It has long three fourth sleeves that bear the border on the sleeves too. It is a beautiful made designer cotton blouse that women with all body frames can go for. Style it for the family events with your silk sarees. This is one of the best blouse designs that have seen in this catalogue.
13. Cotton Blouse With Short Sleeves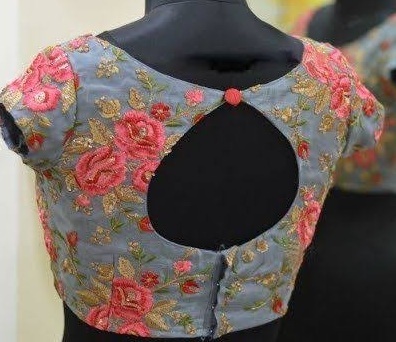 Northeast neck blouse design has short sleeves and round neckline. The boat shaped Neck line in the design gives more charm and elegance to this design. It's given back hooks so that you can wear it easily. The cotton blouse has rich embroidery in pink flowers and Golden sequin work. It is a wedding, parties or even the festival kind of blouse piece that you can style with your chiffon, cotton silk and even lehengas.
14. Padded Cotton Saree Blouse Design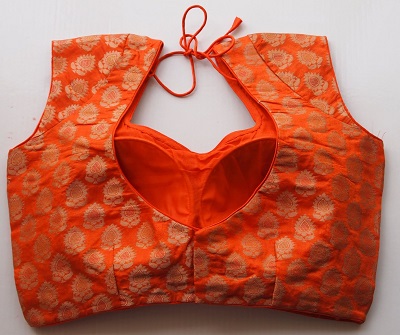 This is simply not a cotton saree blouse but a cotton silk saree blouse. The padded saree blouse has regular pattern in front. It has short sleeves and only is given on the back neckline. It comes with back open hooks and is very easy to wear and looks extremely amazing.
15. Pink Cotton Blouse For saree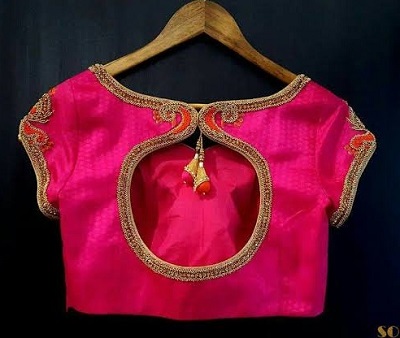 Cotton Satin blouse in hot pink colour has a stunning design. The fabric is cotton satin that makes it more shiny and beautiful. The pot shape back neckline looks perfect. Short sleeves are also embellished and made beautiful by the rich embroidery work.
16. Green Blouse Design in Cotton Material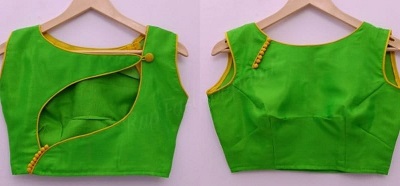 One must look at the beautiful green saree blouse. The leaf shape pattern or cut at the back neck line is given hooks and button to secure the blouse in place. Made with the three dots in front, this is a very designer blouse piece that one can wear with formal sarees or formal events where you would like to dress up classily.
17. Cotton Blouse with Back Strings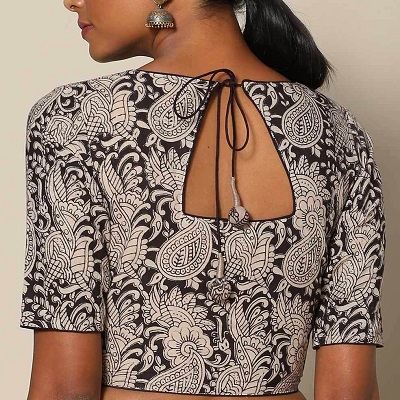 The printed cotton blouse has two strings at the back neck line. It is an elegant and simple blouse design that is suitable for everyday wear.
18. Simple Green Cotton Blouse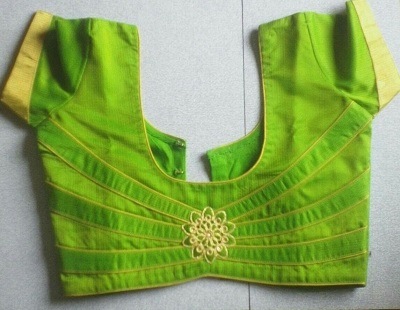 The green cotton saree blouse is made with patch work and front open hooks. Is given short sleeves and scoop back neckline. The patch work is elegant and adds more charm and beauty to this simple design.
19. Patch Style Cotton Blouse Design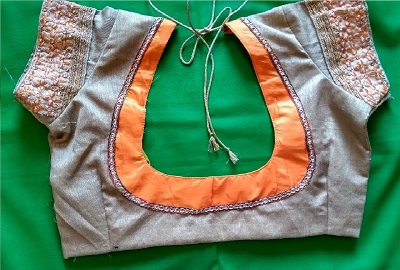 The saree blouse design has patch work or contrasting colour. The sleeves are given rich border work that bears stones and sequins. It is a simple blouse design that women can wear with your everyday saris or for small functions or get together at home.
20. Chanderi Cotton Blouse Pattern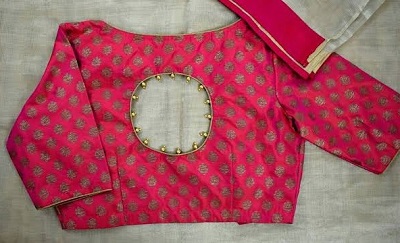 This blouse here with cotton Silk material has priints all over. The golden print makes it delicate and beautiful. The boat shape Neck line it bears a round cut at the back. Tiny beads are added inside the round cut to makes it designer and beautiful.
21. Black Cotton Blouse Design For Parties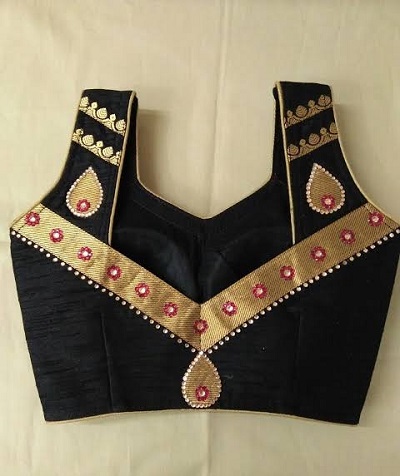 The Cotton Silk black blouse is made even prettier by the use of golden border work. The blouse is work style and sleeveless design. It can be paired with all different types of cotton, tissue Silk, different types of cotton silk sarees. It is a very party wear kind of cotton blouse.
22. Designer Cotton Patch Work Blouse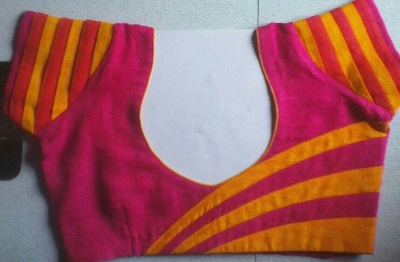 The cotton saree blouses patch work and multiple colours use. It has around front neck line and scope back neckline. The stylish and simple blouse design is suitable for day to day use.
23. Designer Embroidered Cotton Blouse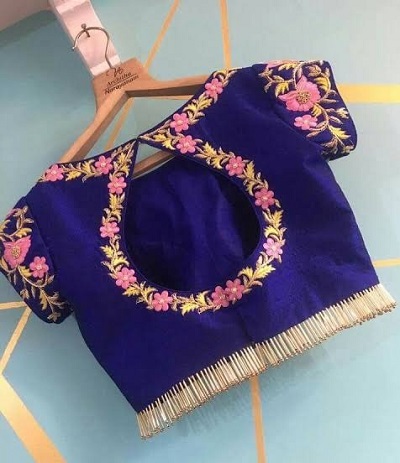 Chanderi cotton blouse has embroidery work in contrasting colour. The pipe work on the sleeves part is even prettier. The blouse design has a Boat shaped neckline and short sleeves. Back part has teardrop shaped cut designer look.
24. Modern Back Cut Work Blouse in Cotton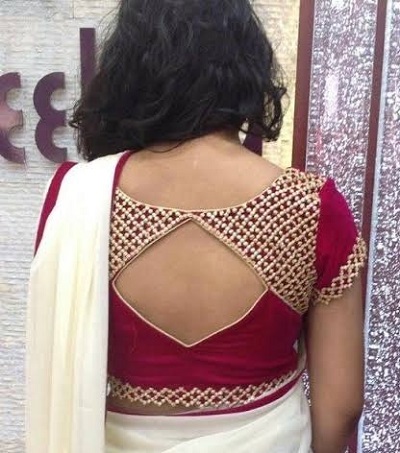 The pretty cotton saree blouse has embroidery work in check pattern. The square cut or Rhombus cut at the back is what makes it attractive. It's given short sleeves and round neckline. It is suitable for women with all different types of body frames.
25. Backless Cotton Blouse Style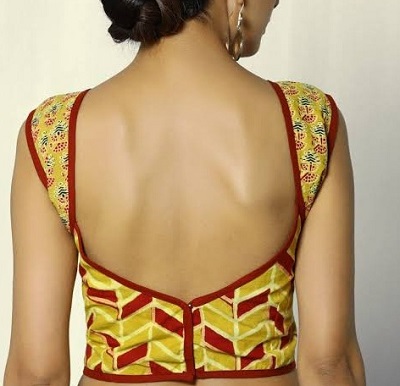 If you want to have your cotton saree blouses stitched in a backless style so that all eyes on you, this design should be opted for. With short shoulder straps it has been given backless design. It's a long waist length blouse design that is suitable for your printed lehenga and Ghagra as well.
26. Boat Neck Cotton Saree Blouse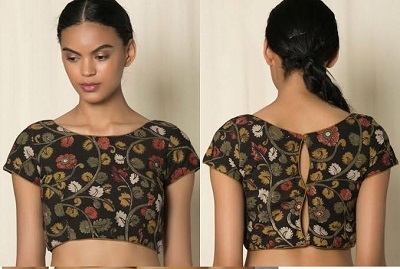 The printed cotton blouse has boat shape Neck line and double keyhole back neckline. With short sleeves it is a beautiful blouse that can be paired with your everyday sarees.
27. Cotton Blouse with Three Fourth Sleeves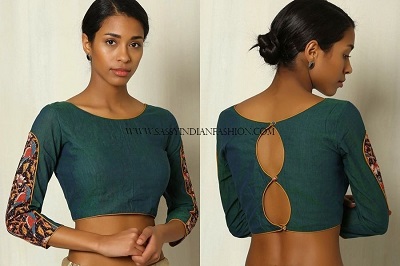 It is made in a very simple pattern and the design a look is added to the back neckline where in double keyhole pattern is given. It is suitable for the different styles of cotton sarees.
28. Orange Patch Style Cotton Blouse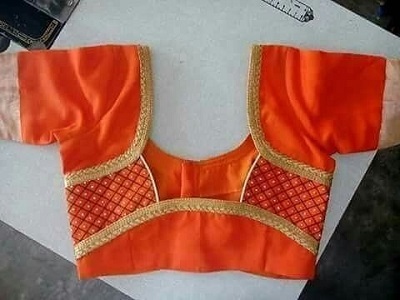 This patchwork orange cotton blouse has Chanderi cotton. Made with golden border work in between it looks very designer. It is suitable for small get together and functions of festivals.
29. Cotton Half Chinese Collar Blouse
The Cotton printed blouse has front opening buttons and half Chinese neckline. It can be also be paired with other type of dresses.
30. Cotton Shirt Collar Style Blouse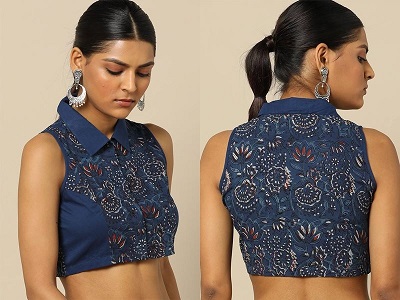 Shirt collar cotton blouse with sleeveless pattern is also very popular currently. It can be teamed up with not just the sarees, lehenga dresses but also with your jeans and skirts.
31. Jacket Style blouse Design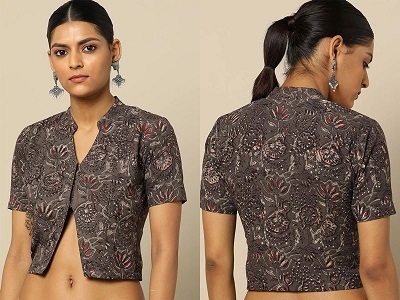 The jacket style cotton blouse has half Chinese neckline with the centre slit. It has front opening box and can also be paired with the jeans and sarees.
32. Yellow Cotton Blouse for Daily wear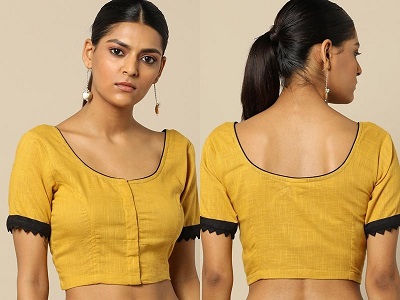 Stylish cotton yellow blouse has contrasting colour and front hooks. It's made with a princess cut design rather than the darts. It has black colours sleeves border.
33. Cotton Blouse with Bell Sleeves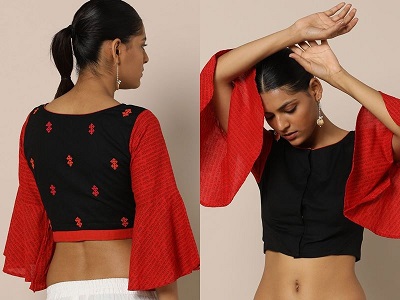 The cotton saree pattern has Bell sleeves and also looks like a top. Not just with your cotton, Georgia tour silk sarees it can be paired with lehengas uneven the jeans full skirts or even the palazzos for extra designer effect.
These are the latest cotton saree blouse designs that you can try to look your best.