Crop Top for Women
Crop tops for women have taken over the fashion trend at present because of the beautiful crop top designs and pattern. There are so many crop top patterns that are currently quiet popular. Cropped top style was highly popular and at their peak in the eighties and they are making their appearance felt again currently. To flaunt your toned abs, and to make the torso look longer and taller crop tops are one of the best things to try. There are so many different types of crop top style like the regular crop tops, T shirt style, shirt cropped tops, smocked tops, blouson tops, or plain simple Denim crop top. In fact, there can be crop tops with the collars and the elaborate capes.
They can be wonderful to layer the ethnic and western style outfits as well. The long full length shrug can be certainly paired with the crop top and there are so many different styles and ideas that can be tried with a crop top. Let's take a look at the latest styles and designs of the crop tops available currently.
1. Stylish off shoulder crop top with full sleeves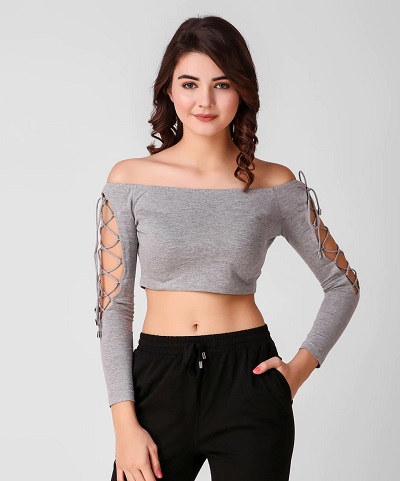 This is a beautiful grey colored plain solid crop top with stylish designer sleeves and off shoulder Bardot style casual pattern. This is one of the things that can be tried with your wide legged pants and with your denims. They are perfect with different types of bottom wear and will certainly make your abs look better.
2. Smoked border style crop top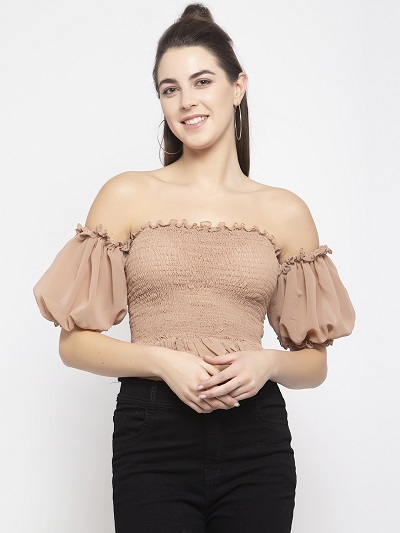 The amazing top has a beautiful fawn color and is an off shoulder Bardot style smocked top with puffed sleeves. It is a refreshingly pretty looking top that it can be worn with different bottom wear like a pencil skirt or any other type of bottom wear. This is the best thing that can be tried with different types of styles.
3. Off shoulder Bardot style crop top design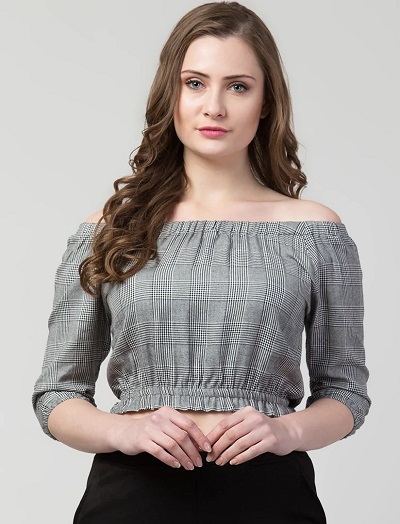 This is a gorgeous crop top style that can be tried with different bottom wear. The best thing that can be done with this crop top is to pair a pencil skirt for a corporate look.
4. Stylish flared sleeves off shoulder smocked top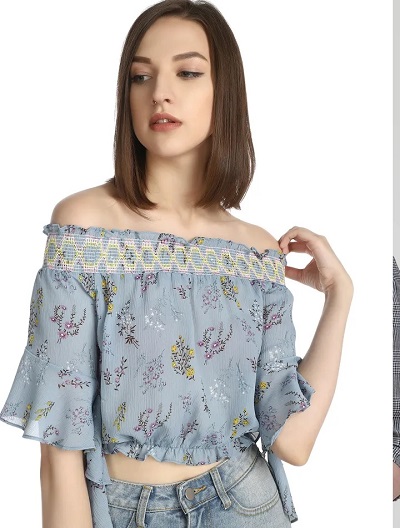 This crop top is ideal for all those summery stylish dresses. The crop top has a stylish front and the design of the neckline. It can be paired with a pair of a body hugging or fitted trouser pants. This can also be tried with a pencil skirt.
5. Ruffled full sleeves cropped women's top style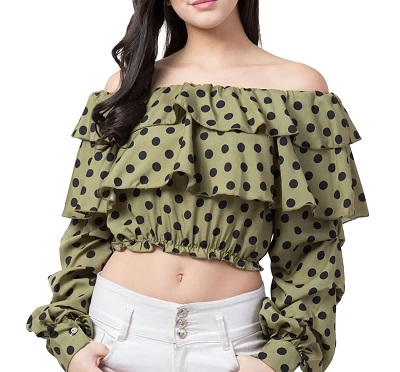 This crop top style is definitely a must have if you want to that Bohemian kind of a stylish dress for your summer style. The Polka dotted olive green top has a nice design and attractive pattern. The full sleeves in this summer top have shirt like cuff that further make the top for women stylish.
6. Layered shoulder ladies cropped top with shirring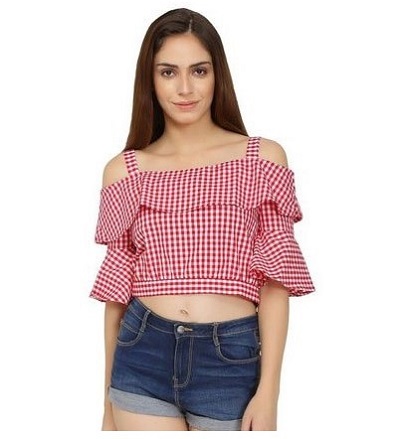 The gorgeous layered style crop top has beautiful flared sleeves. The top looks amazing when paired with different types of shorts and even the pencil skirt.
7. Panda printed t-shirt fitted crop top style
The crop top T shirt style tops are so much popular amongst the young girls. The reason being that can be tried with a fitted denim and In fact with the shorts. Like here they are paired with Denim shorts. This for sure would look really stylish.
8. Crop top design with shoulder strap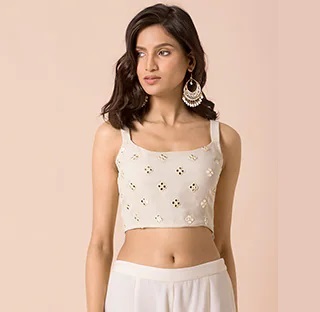 The gorgeous shoulder strappy crop top has mirror work and it is a crop top cum Indian style sleeveless blouse. It can be tried with skirts, palazzo, dhoti pants and even with the lehenga and other types of Indian ethnic wear dresses.
9. Crop top boat shape neckline blouse
The crop top style blouses are quite popular because of the fact that they can be tried with your Indian ethnic wear as well as the western wear and to create the Indo Western kind of fusion lock. The top has the eye catching embroidery work over the neckline.
10. Sleeveless Pearl embellished crop top design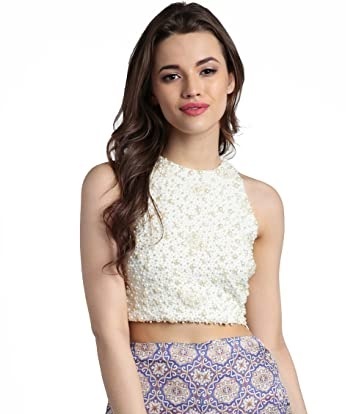 The Pearl embellished crop top design is a gorgeous design with the pearl embellishment and a round neckline. The sleeveless top can also work as a blouse for your lehenga as well as this can also be tried as a top for the party wear bottom wear.
11. Full sleeves collared Pearl embellished party wear crop top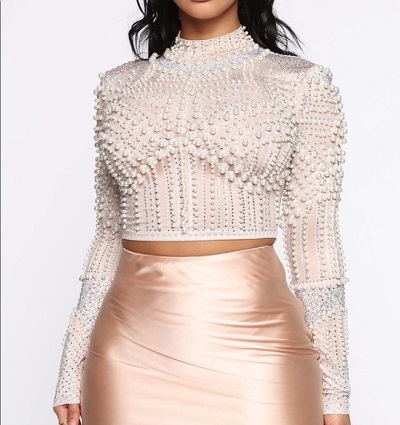 This is so gorgeously made top that it can make heads turn for sure. The crop top has a collared pattern with the beaded embellishment going all over the top. It has full sleeves that make it look beautiful and quite elegant at the same time.
12. Party perfect Embellished full sleeves stylish designer crop top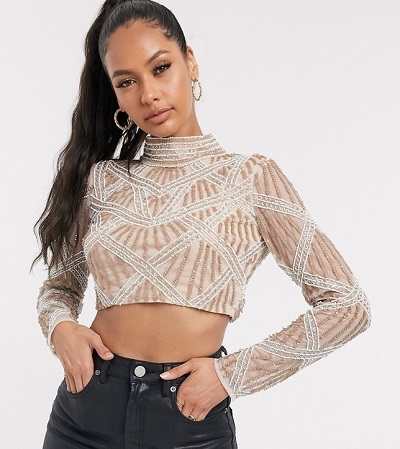 The latest crop top design is a party wear crop top which can also work as a lehenga blouse. This stop can be tried with different types of bottom wear and it is so gorgeous.
13. Halter style collared embellished black crop top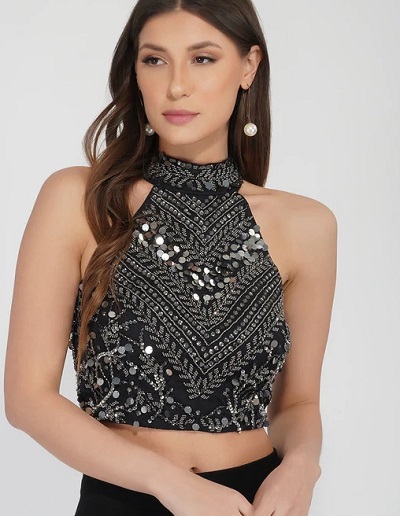 This crop top in the velvet fabric is amazingly made with the velvet fabric and a beautiful party apt colored Halter style pattern. This top is so amazing that when worn with a pair of trousers or a full Flair maxi skirt, it's going to make you shine in all those parties and cocktail events. In fact, such crop top can also be tried as the lehenga blouse for the lehenga for your skirts. Hence, it can make a crop top blouse for the traditional wear for the Indian ethnic functions.
14. Full sleeves black crop pattern top for parties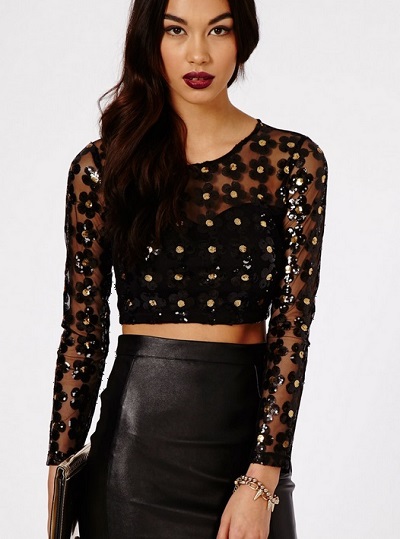 This is so shimmery it can be a crop top for parties as well as Indian functions. The crop is made in a lace net fabric with sequins all over. The sequin work actually makes it a cocktail and party wear top.
15. Mirror embellished sleeveless green top style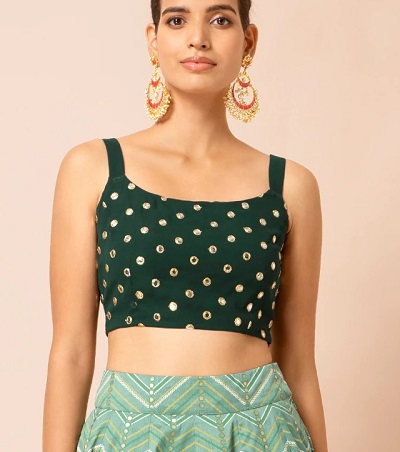 16. Yellow mirror embellished sleeveless Indian crop top blouse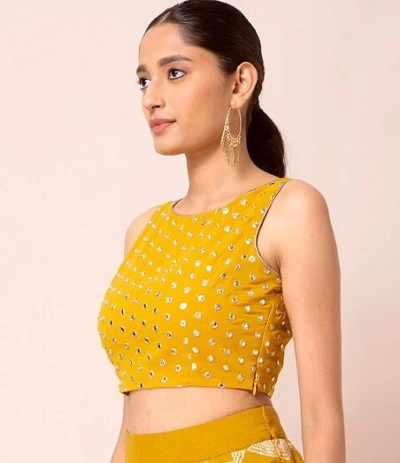 17. Cold shoulder sequin embellishment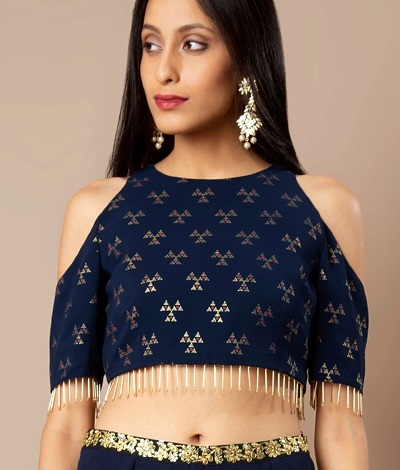 18. Stylish net Cape style crop top design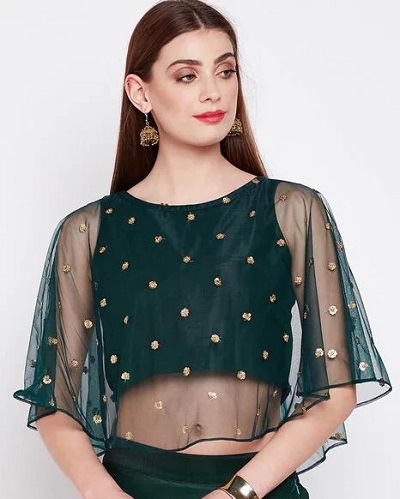 19. Full sleeves printed summer crop top style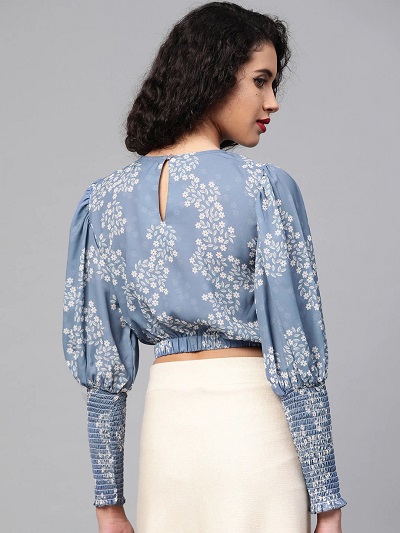 20. Georgette crop top style in pink color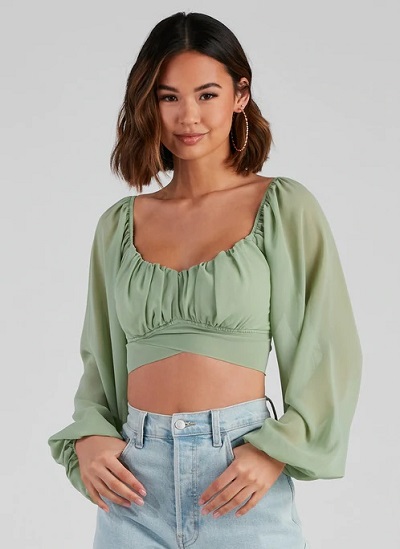 21. Corset style crop top with full sleeves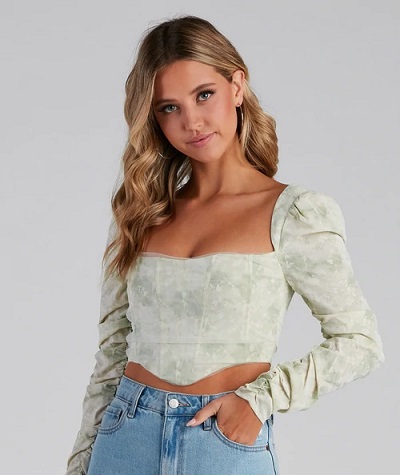 22. Floral printed cropped corset style design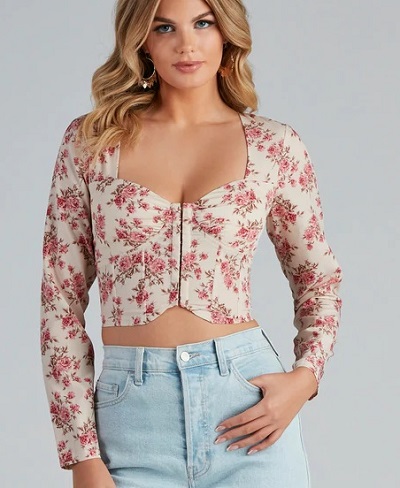 23. Short sleeves sweetheart neckline top design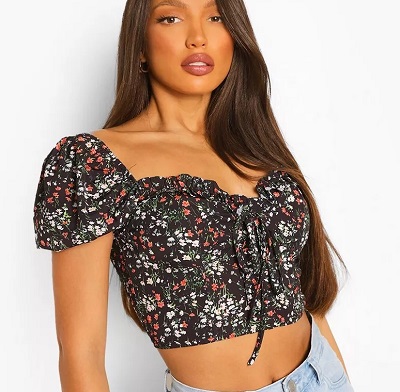 24. Designer simple crop top with full sleeves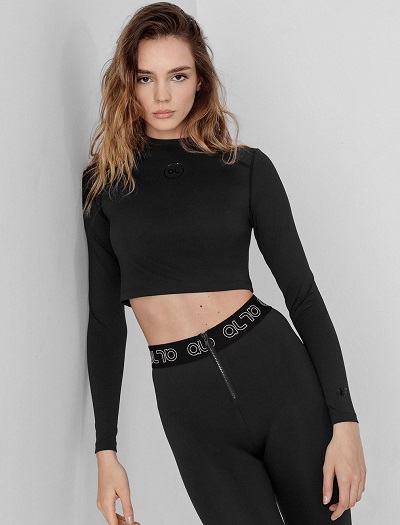 25. Sleeveless Strappy crop top with buttons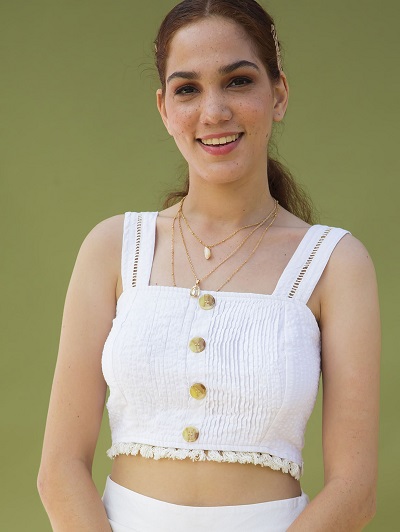 26. Crop top with butterfly sleeves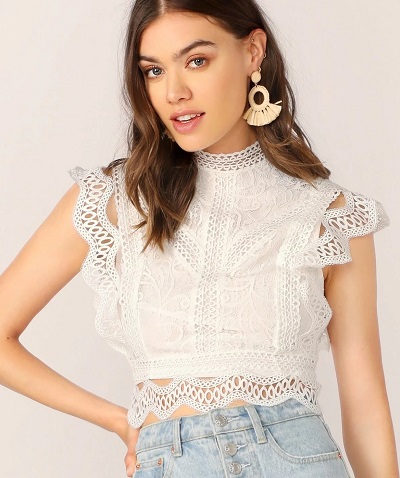 27. Black sleeveless lace fabric crop top design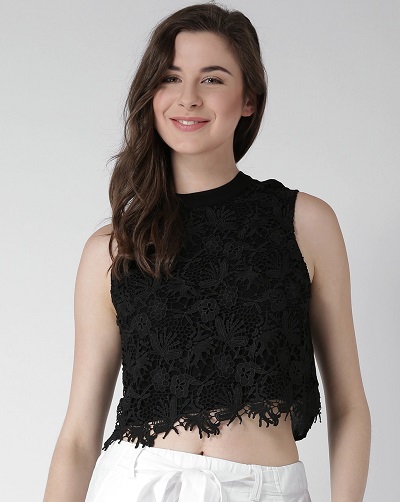 28. Lace and net fabric crop top style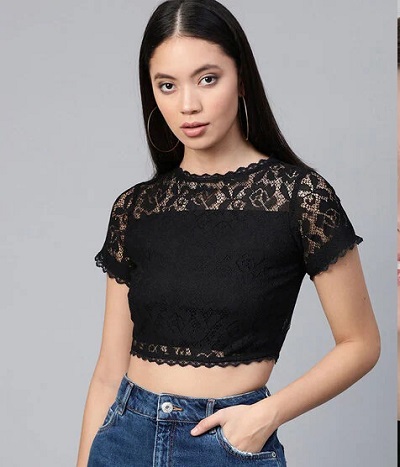 29. Embellished one shoulder top blouse style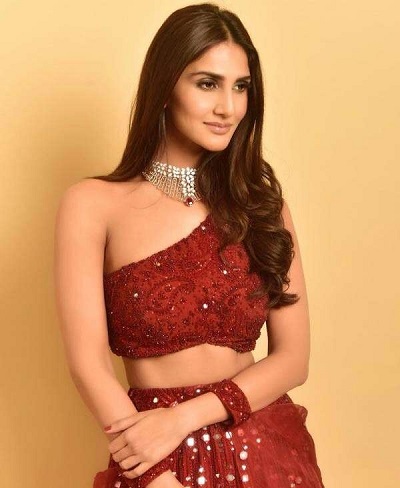 30. Black sweetheart neckline cropped short sleeve top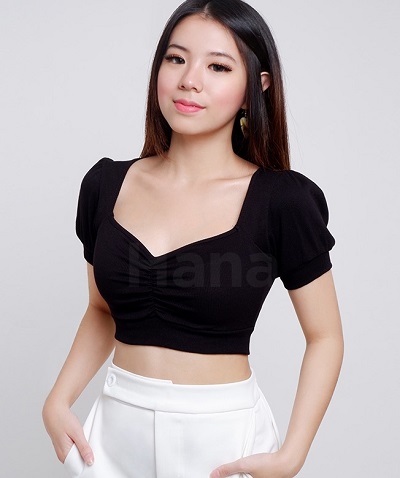 31. Rainbow colored t-shirt style top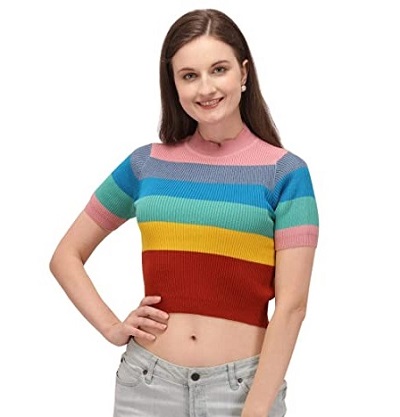 32. Sleeveless short sweater style top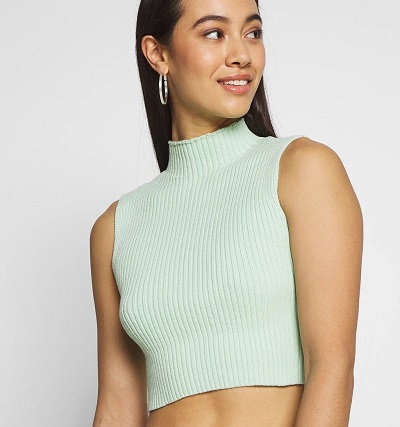 33. Crop top style with straps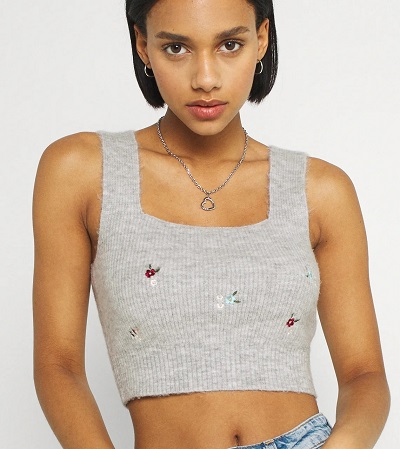 34. Front zipper crop top design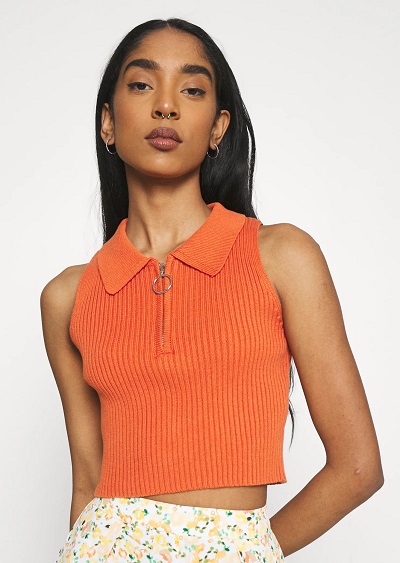 35. Check printed crop top design
36. Full sleeves Polka dotted crop top pattern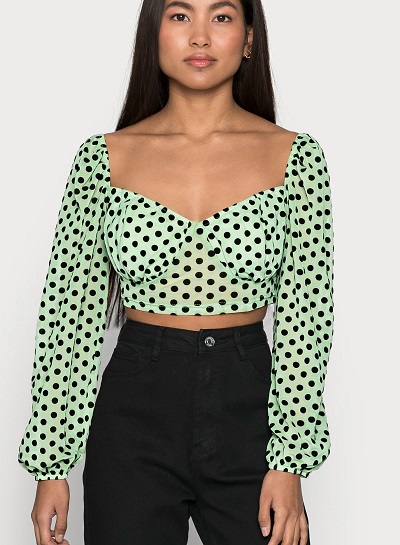 37. Satin printed Halter style crop top design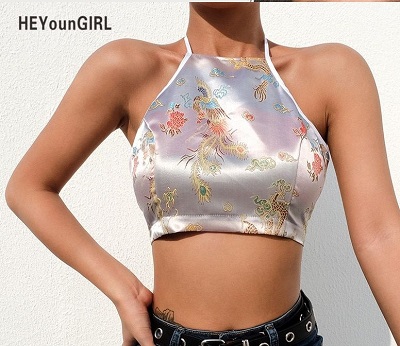 –
38. Shirt style wrap around crop top design
39. Diagonal stripe shirt pattern style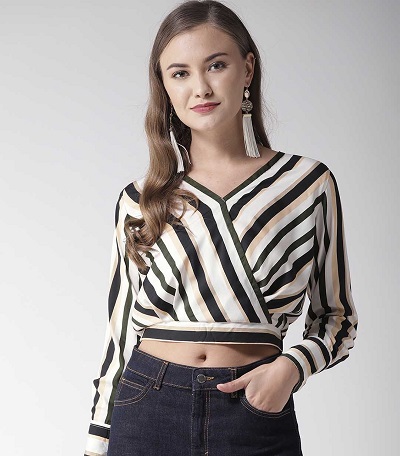 40. Crop top half sleeves shirt style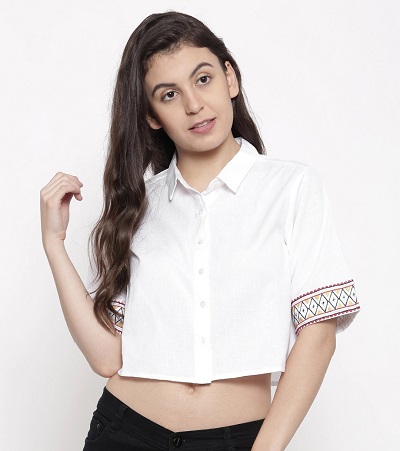 41. Layered off shoulder white crop top shirt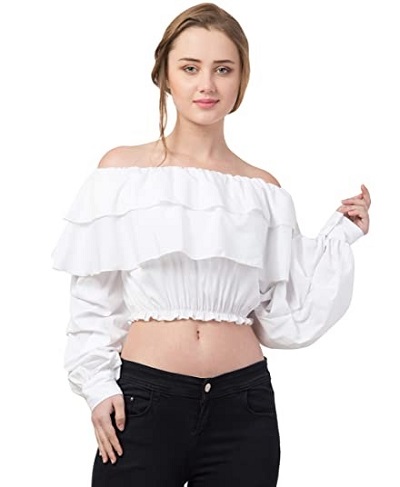 42. Double layered style of crop top design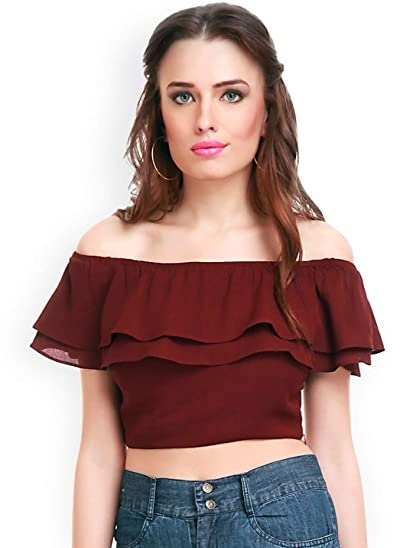 43. Stylish full sleeves crop top pattern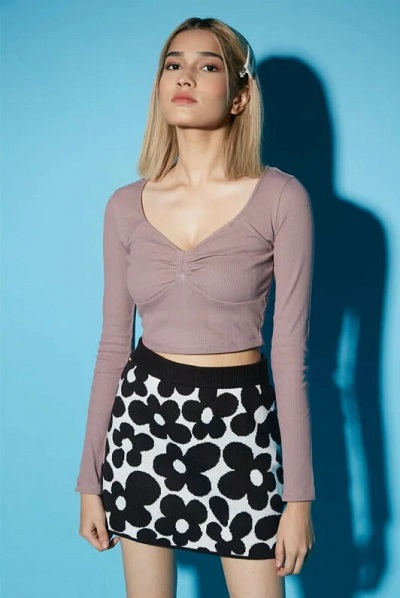 44. Long sleeves party wear top pattern in shimmer fabric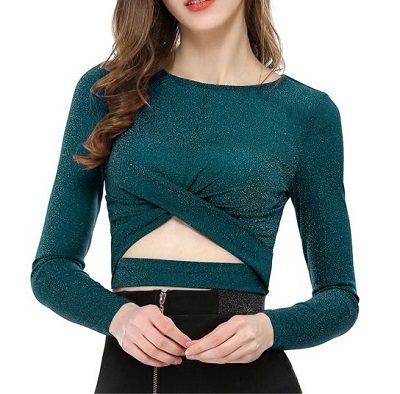 45. Off shoulder front zipper short crop top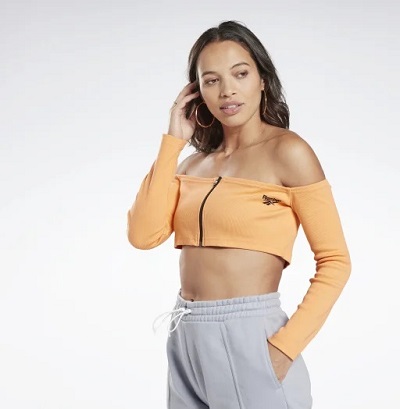 46. Shirt crop top pattern with full sleeves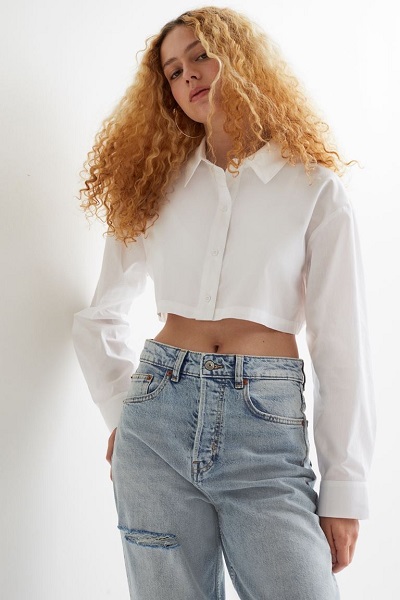 47. Stylish short sleeves crop top with straps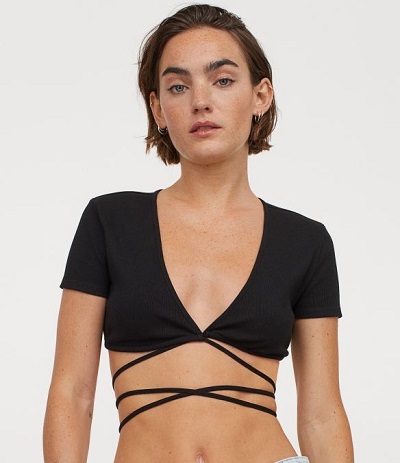 48. Halter style cropped top pattern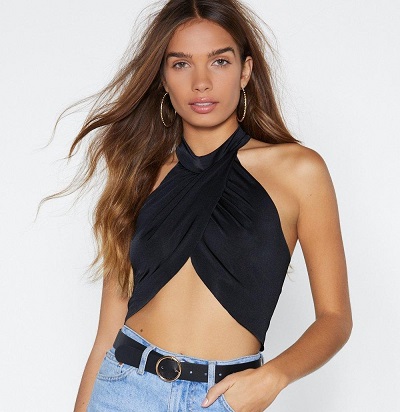 49. Noodle strap crop top with bow design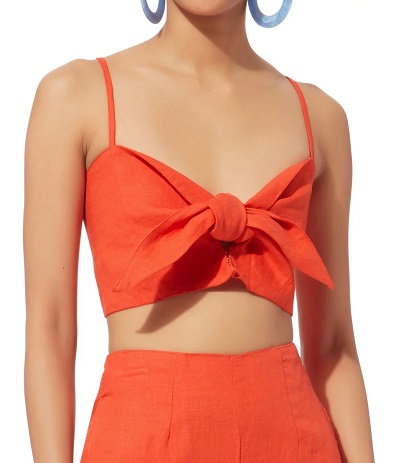 50. Casual T shirt style crop top design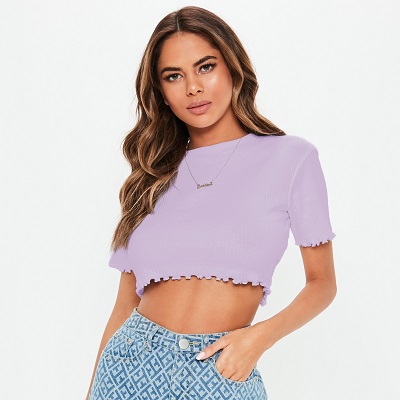 There are so many different designs of Crop tops that one can try and for sure there are so many patterns with such a gorgeous embellishments that there can be for the parties and for the office where you have to look formal yet sober like under a pant suit.