Denver Extreme Deodorants in Balance and Endurance Review
Hi everyone, Do you like to use deodorants. I think we should use deodorants daily since personal hygiene is important especially when it is summery and we tend to sweat a lot. This will prevent the body odor and the sweatiness. I will review these 2 Denver deodorants today which my husband is using.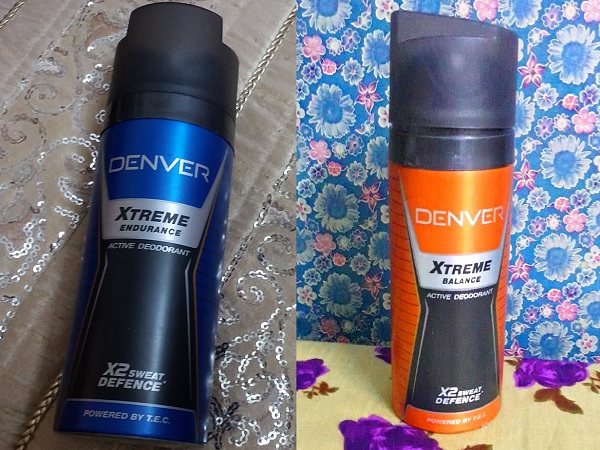 Denver launched these "Denver Xtreme" range of deodorants with 2 times more sweat defence ensures to work well during the harsh sweaty summers. These deodorants have the new and unique ingredient like Tri Ethyl Citrate or TEC which help in the inhibition of the bacterial growth and prevents the body odour.
Let me talk about them one by one based on my husband's experience with these 2 products.
Denver Xtreme Deodorant Balance
This Denver deodorant is the one that comes in the red spray bottle. This deodorant has a floral fragrance which helps to uplift the mood and makes the refreshing feel when you use it.  I liked this too and feel that this is more like unisex deodorants due to the floral notes. My husband liked it too. He will use this in the morning and just once in a day is enough. This is very long lasting. Even my brother used this and find it very good for everyday usage. This deodorant has a fresh bergamot, mandarin notes with a hint of lavender notes. The heart notes are filled with the fresh notes of geranium and galbanum while the base notes are of amber, vetiver and smokey musk.
Denver Xtreme Deodorant Endurance
This Endurance deodorant is the one which is in the blue spray can pack. This is more of a citrus and fresh smelling deodorant which my husband absolutely loved because of its strength, and staying span. This si a very long lasting scented deodorant which stays on him for more than 24 hours but if you sweat too much then the span would be reduced but still as compared with many deodorants this is good.
This has a vibrant and invigorating scent which starts with refreshing notes of citrus fruits. The heart mid-notes consist of floral blend of the lily and other flowery notes. The base is enriched with musk and patchouli which also add slightly spiciness to it and masculinity.
Denver Xtreme deodorants are priced at Rs. 199 for the 150 ml bottle. These are available on retail, modern outlets and also online shopping sites.