Hi  guys, today's post is for men as I am going to review a men's deodorant. No, I have not used this but my husband and brother have used it. Whenever, I get any men's product, I will pass the products to them and they would happily share their views on them. So, today, I have Denver Sport Deodorant. This deodorant is one of the new launches from Denver. Over the months, Denver has sent me quite a lot of deodorants that I have given to my husband and brother. So, now they have started liking this brand as their lasting span is quite good and so does the smell. So, what about this deodorant. Does this has good staying span too or it is just those fade away kind of deodorants. Let's check out in this review. 
Price of Denver Sport Deodorant: This is for 199 rupees. I think this is an affordable price considering that the most of the body sprays and deodorants for men are within this range only.
Experience with Denver Sport Deodorant
This deodorant is packaged in an aluminum can and the pump is very easy to press, I am saying this as there are some sought of spray pumps that are not easy to press. Or their top part will come out hence, I like this sought of design for spray pumps. Nice easy to use packaging and the bottle can be carried to gym while travelling etc.
The packaging is blue and black which looks nice. So, this was that I can write about as far by just a not a perfumed liquid deodorant but has a gas base, looking at the product. Now let me share the actual product details based on what my husband and my brother said about it.
This Denver deodorant has a very masculine scent that is good for summer time. It lasts long for 6-7 hours which is good as men would rarely reapply the deodorants. This is not very strong but is ideal for men who sweat more or have body odor problem. This can mask the body odor well and for long hours. This has anti bacterial properties too so this will protect the skin from bacteria. Moreover, the odor causing bacteria is also eliminated with this deodorant.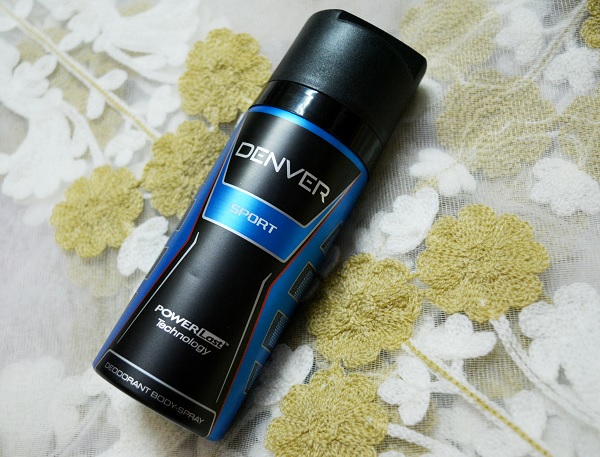 So, overall, this is a very good men's deodorant that is affordable. This deodorant pack of 199 rupees can last for more than a month that is good for everyday use. Denver deodorant also gives that refreshing feel post the shower in summer.
How to use this deodorant: This can be used after the shower. After the shower the skin is fresh and free of the sweat and bacteria. Therefore, when you use deodorants at that time, they perform well. They will keep the skin odor free and sweat free for longer. Also when you feel in the middle of the day that the sweat is getting more and body odor is coming, then too you can reapply your deodorants. Moreover, to make the deodorant perform well the second time, You can wipe off your underarms and then spray the deodorant. To wipe the underarm sweat etc, you can use the wet wipes. Just apply this wipe to remove the dirt, sweat etc and apply the deodorant again. Using 1-2 sprays would be sufficient on each underarm. 
Good about Denver Sport Deodorant
Packaging is good and can be kept in the travel bag and gym bag

Sprays pump works well and does not stuck in between.

Price is affordable and is inexpensive option for college boys as well.

Availability is good and this can be bought from chemist shops, malls etc

Masculine scent which is refreshing too which lats decently

Ideal for summers to mask the body odor

Controls sweat and body odor for decent hours.

It has anti bacterial properties which controls the growth of odor causing bacteria.
Not so good about Denver Sport Deodorant
Denver Sport Deodorant is a good everyday use deodorant this is good for men in summers. This has a masculine fragrance that lasts long and controls the odor and sweat. I would recommend that you take a sniff of this while you are ta the counter or supermarket and see if you liked the smell, since smell is something personal and what I like, you may or may not like.