Designer saree blouse patterns are usually worn for parties and event where you need to look sophisticated, stylish and gorgeous. The ethnic and traditional blouses are not just to be worn with the sarees but also to add charm to your personality. Other than that, the designer blouses are available in different patterns, styles, fabrics and even the cut. Currently, designer blouses like Peplum blouses, Off shoulder blouses, Chinese collar, halter are very popular and in trend. So, whatever is your preference of a designer blouse, here are some latest collection of designer saree blouse patterns.
Latest Designer Blouse Design Images Catalogue (2023)
Let's check these modern and designer saree blouse designs and patterns.
1. Embroidered Designer Blouse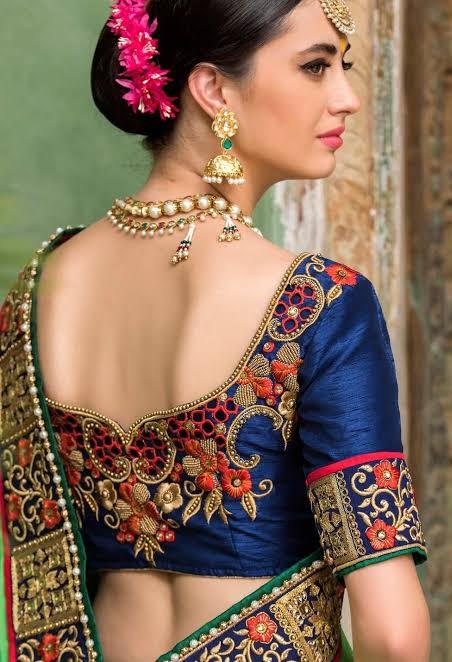 This beautiful blue raw silk new style designer blouse has heavy embroidery on the sleeves and over the neckline. The neckline is embellished with small golden beads. It is a deep back neckline which gives extra modern look to it. This new designer blouse model is best to be paired with silk or pattu sarees.
2. Designer Blouse Latest Pattern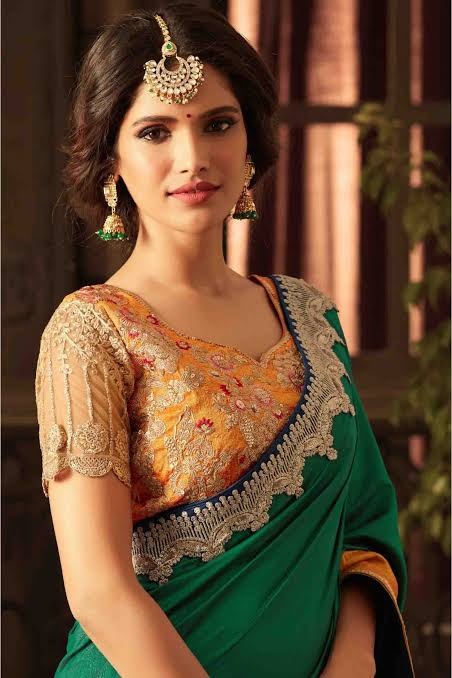 Designer blouse is not just for your regular silk, georgette and net sarees, but it's also perfect to go with the lehengas. This net fabric sleeves are beautiful and makes it more feminine. It's made in a princess cut with side zipper and embroidery and sequin work on the front and back part. Such blouse pieces are perfect to go for party wear sarees and lehenga dresses.
3. Latest Fancy Designer Blouse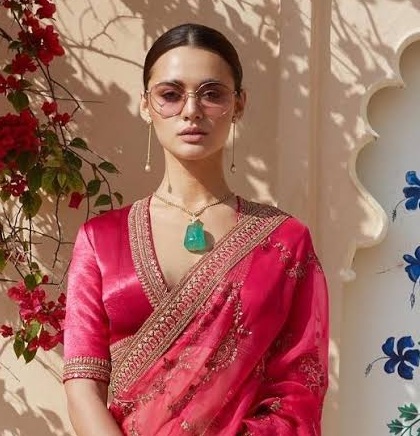 Silk Satin is a very royal and rich fabric. The Sabyasachi collection in carrot pink color is truly a beautiful designer blouse. And gold thread embroidery on the edges of the neckline and sleeves adds beauty to this simply amazing saree blouse design. The designer blouse in silk can be teamed up with Kanjivaram, net and even the georgette heavy sarees.
4. New Designer Mirror Blouse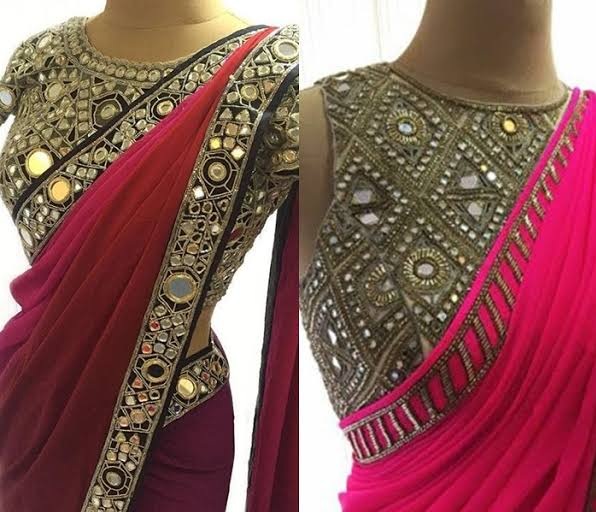 Designer mirror blouse is for women who like heavy blouse pieces. In fact, the new designer heavy blouse back neck is also wonderful to be paired with your both heavy and light weight sarees depending on the occasion. For example, you can try such designer heavy blouses for party wear and other occasions.
5. Green Peplum Designer Blouse Style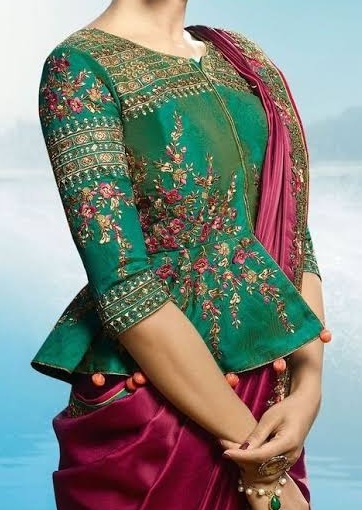 One can never truly have enough of the designer peplum style blouses. The peplum blouse has three fourth sleeves and rich embroidery in contrasting color over green base fabric. Most of the beauty of the blouse is the nice cut and peplum panel around the waist. This designer blouse pattern is suitable for all body types and specially women who are trying to hide the Belly flab.
6. Party wear Blouse Design for Sarees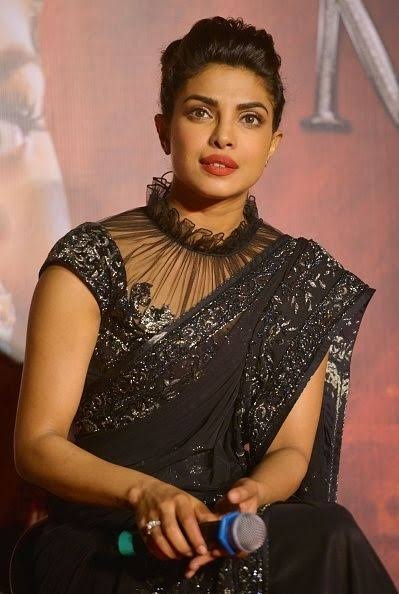 The glittery party wear designer blouse has referred color. Using the sheer fabric on the top part it gives both quality and glamorous to this style. Is one of the best designer blouse pieces to go with your glitter, net and Satin sarees that we have seen.
7. Heavy Jeweled Designer Blouse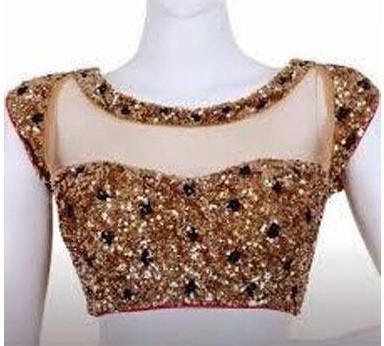 Puff sleeves are given to this medium length sleeve blouse. There is this deep scoop neck at the back but that is made more attractive the pearl and golden bead chains. The jewellery pieces on the back neckline also works to hide the deep neckline and also to show some skin. It is one of the best roka, engagement and party wear blouse designs.
8. Cut out Pattern Designer Blouse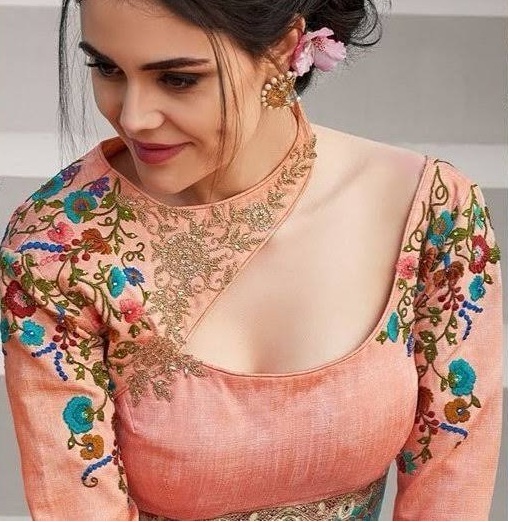 Cut out pattern is what makes this blouse stunning and designer in look. It has cut over one of the shoulders that make it very unique and modern. The raw silk fabric is used to make this blouse with rich vibrant color embroidery. This fancy designer blouse design is suitable to wear with both heavy and light weight sarees and even with lehenga. You can pair plain raw silk saree with designer blouse.
9. Boat Neck Latest Designer Blouse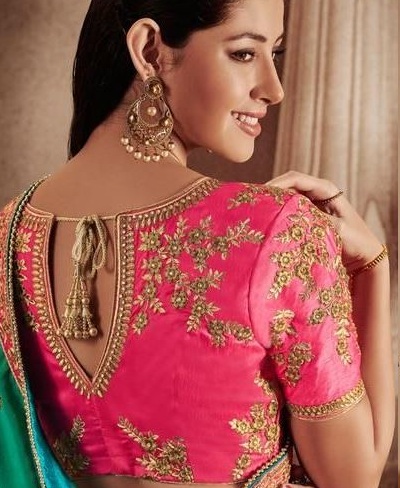 How about a V shaped keyhole neckline at the back. Yes, the beauty of this nicely made designer Pink blouse is at the back. It has boat shaped neckline and the designer embroidered blouse comes with medium sleeves. One can team it up with heavy to light sarees.
10. Cold Shoulder Designer Blouse Style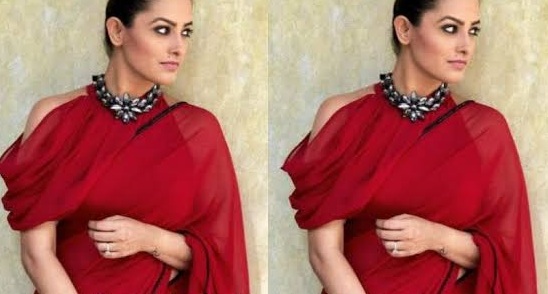 The cold shoulder blouse has high neck with jewellery and embellishment near the neckline. The sleeves are not the regular sleeves but draping that gives the appearance of sleeves. It is a very designer and modern looking blouse which is perfect to go with your lightweight net, chiffon and georgette sarees. You would surely look like a diva wearing such a dress.
11. Jewellery Inspired Blouse Design
Heavy jewellery studded blouse must be there in collection because such blouse pieces are so versatile that it can lift up any damn lightweight or plain saree. And with these you can do so much even when you are going to high end parties or wedding, a heavy fancy designer blouse pattern piece can dress you up.
12. Beautiful Neck Pattern Designer Blouse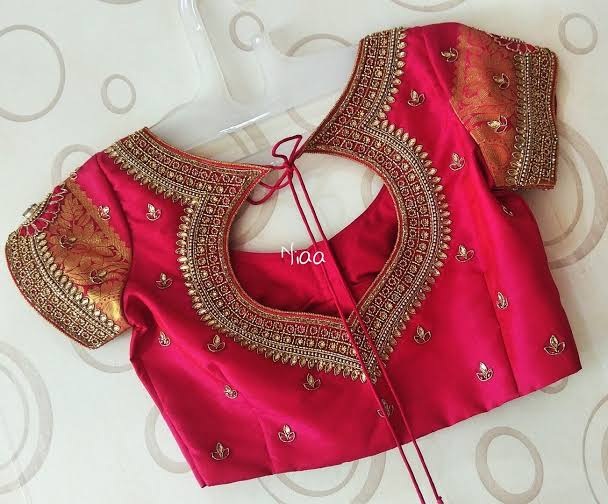 The beautiful teardrop shaped neckline is what makes it unique and very elegant. The designer blouse piece is made in silk fabric and is perfect to be paired with any saree. The Zari work is clearly spread all through the blouse fabric with neckline and sleeves being heavy on the zari embroidery work.
13. Trendy designer new pattern blouse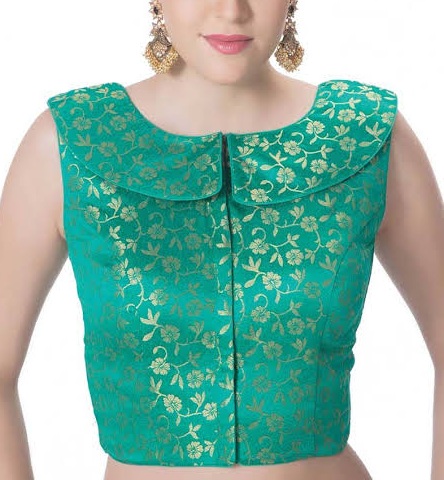 The front collar and front open pattern makes it unique. It's not amongst the regular length blouses but goes till your waist. It is suitable for women who do not want to reveal too much of waist but would go for such blouse styles.
14. Designer Velvet Embroidered Blouse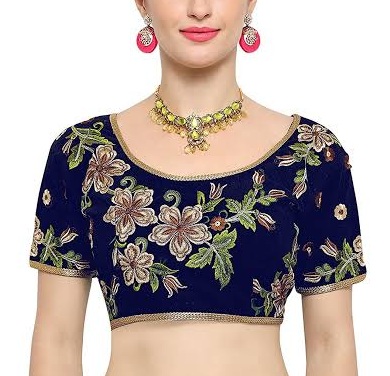 The designer embroidered velvet blouse in blue color can be paired with contrasting color sarees.   Lace border on the edges makes it more stylish and neat.
15. Chinese Neck Designer Blouse Pattern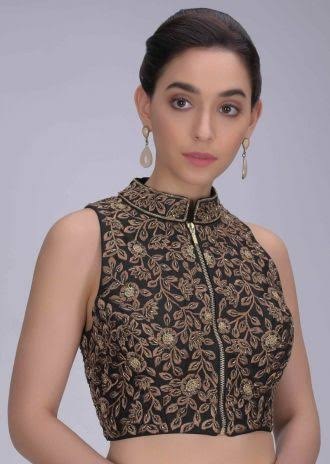 For women who would like to try something different shall try this blouse pattern. It's given a Chinese neckline. The velvet and heavy embroidery makes it heavy designer blouse. It is perfect to go with your saree and lehenga.
16. Pearl work Designer Blouse style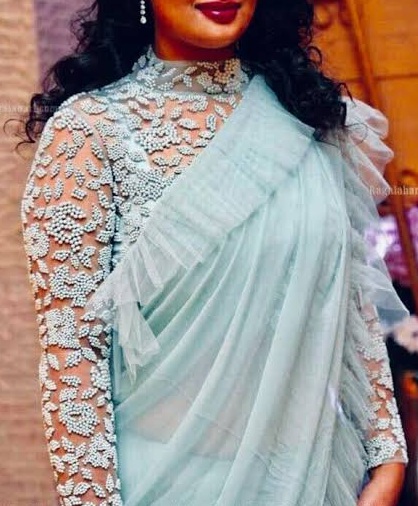 Pearl work on sheer fabric of this blouse looks extremely delicate and feminine. The full sleeves are given on this high neck chinese collar blouse. Such latest designer saree blouse pattern can be paired with net, tissue and georgette sarees. Here the blouse is paired with this which makes it a stunning dress for any Cocktail party or function.
17. Golden Party Wear Designer Blouse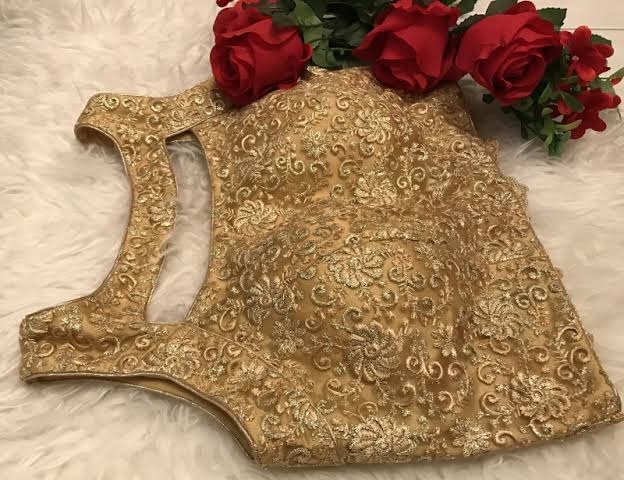 A golden sleeveless blouse should be there in your wardrobe. It's a versatile designer piece that can be helpful when you are running out of a suitable blouse with your new saree. The blouse has rich embroidery in the same color and broad slit below the neckline.
18. Strappy Designer Blouse for Sarees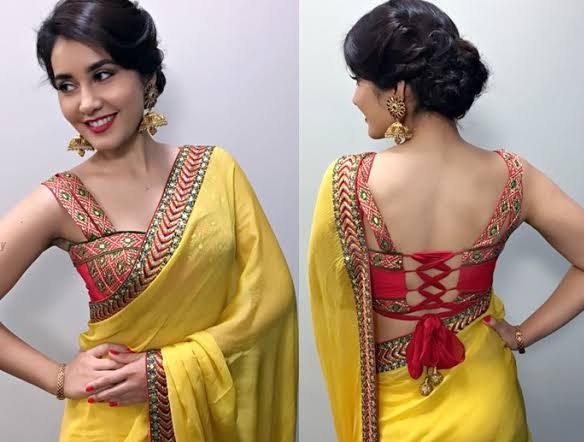 This strappy bustier like blouse is an ultra glamorous designer piece that adds to your personality. The blouse is very beautiful looking and has dori at the back. This is very modern and designer blouse piece that works for chaniya choli, lehenga and sarees.
19. Patch Work Designer Blouse pattern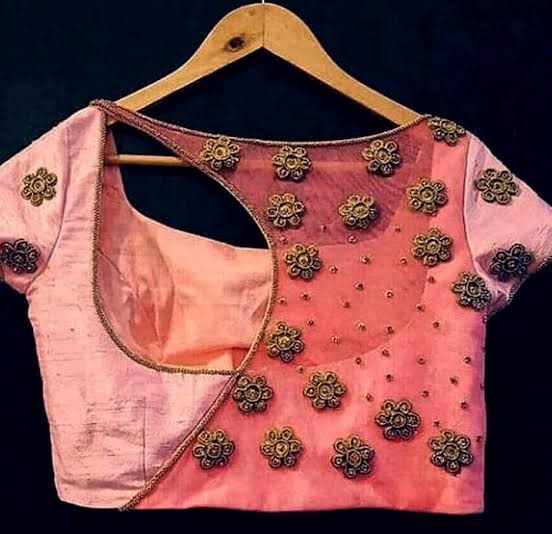 Patch work blouse designs are very much in trend currently and this goes to the beautiful pattern and cut. This blouse has a patch of sheer net fabric on the back that is adorned with embroidery and sequin work. The blouse has princess cut and side zip for wearing it.
20. Off Shoulder Designer Blouse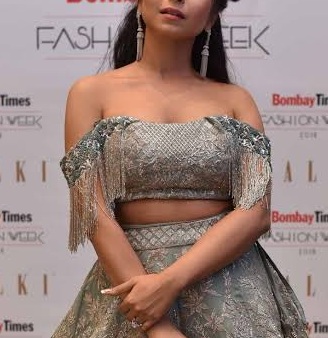 The Off shoulder blouse has modern and extremely confident women would like to own the party and being the most stylish personality of any party. The blouse is very beautiful and with the fringes under the sleeves, it adds boldness to its style.
21. Net Designer Blouse With Long Sleeves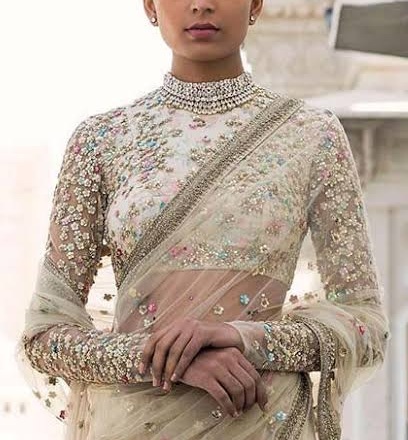 Lace and net blouse are surely attractive which give you delicate and royal look.  It is made with embroidered net fabric. This high neck blouse has long sleeves and pearl work. The rich embroidery work makes it blouse for all age groups and body types.
22. Jeweled Back Neck Designer Blouse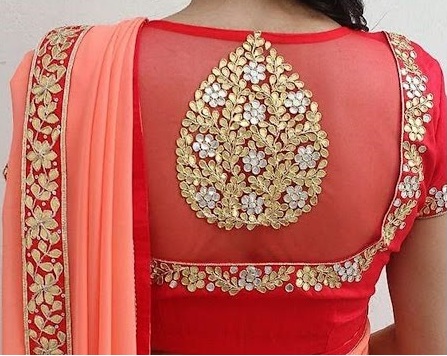 The stylish designer blouse has innovative and beautiful back neckline. The entire back neckline has scoop shaped cut with sheer fabric.
23. Peplum Style Designer Blouse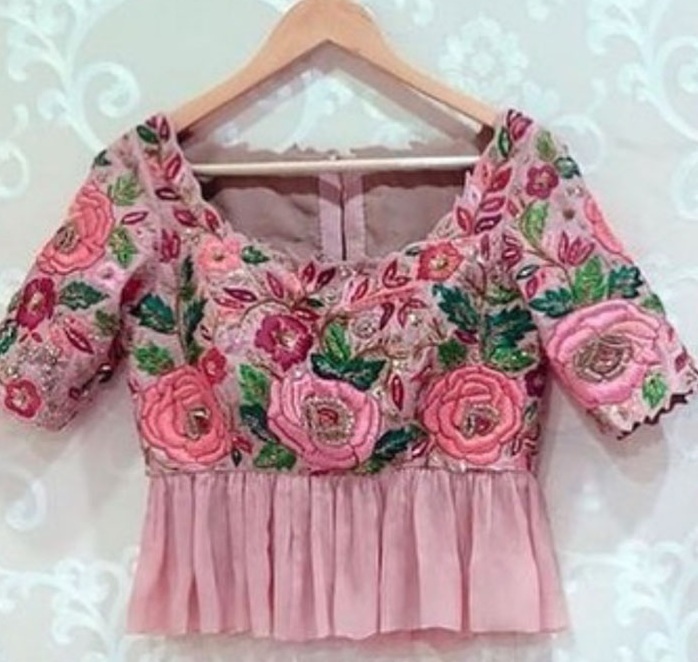 With peplum style, this blouse is surely enticing and new age. You can try this blouse with sarees and lehengas.
24. Ruffled Sleeved Crop Top Blouse
The new look design has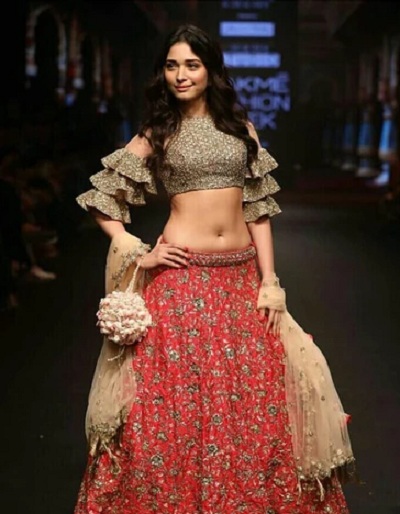 ruffled sleeves that are in trend currently. You can replicate this design with various dresses and bottom wear.
These are the latest designer blouse patterns and catalogue that you can go through to get any of the patterns stitched.