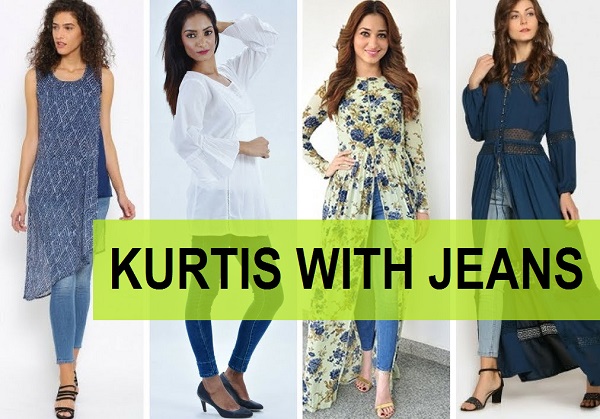 Jeans with kurta is one of the favourite fusion wear amongst many Indian girls and women. A kurta is extremely comfortable piece of clothing that looks breathtakingly beautiful when paired with a pair of nice fitted or distressed jeans. While wearing the two together, you can easily create a modern, stylish look that is also extremely comfortable. A kurti is a multipurpose product that can be worn with anything so, right from churidars to leggings, you can pair these with different types of jeans. To give you more ideas, we have created this post compiling the images of the various designer kurtis with jeans.
Images of Stylish Kurtis with Jeans for Ladies and Girls (2023)
1. Bell sleeves kurti and jeans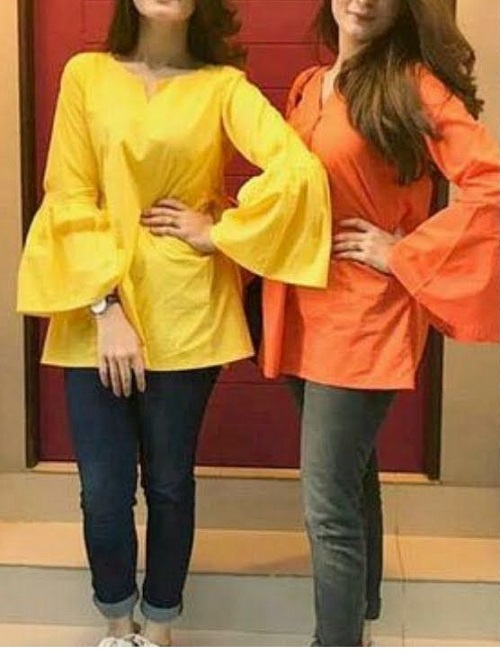 The kurtis has V-shape neck and bell sleeves. The kurtis is a short kurti with full sleeves. Short kurtis look really good on women who are medium to petite in height and who are thin. These are in bright colours that are looking absolutely stunning over the grey and basic dark blue jeans.
2. Classic white Kurti and Jeans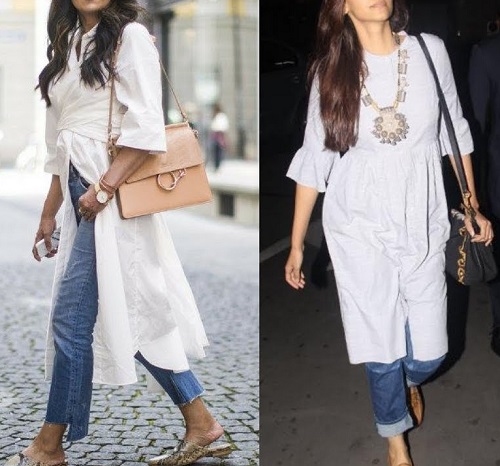 White kurta and jeans is a deadly combination that every girl can pull off easily. The white could come has centre slit that makes it more appealing. With such pair of clothing, you can either wear flats or stilettos or even your wedges. Basic white kurta should definitely be a part of your wardrobe.
3. Denim kurta design with Jeans
You must have heard about the Denim upper and jeans pairing . Here in this design, there is a Denim like kurti paired with a pair of jeans. The kurti is short and is perfect for girls with short height. The pleating on the centre makes it look lovely and this kurti can be worn for casual hangouts and when you go for lunch with your friends and family.
4. Double slit kurti with jeans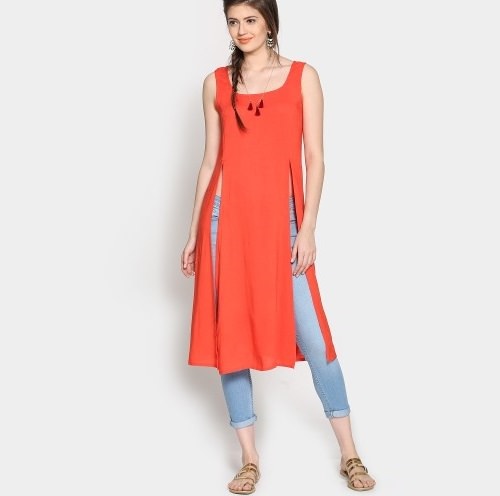 The kurti has 2 side slits that extends beyond the waist. The high slit makes it extremely glamorous and modern. The kurti is sleeveless, though you can also replicate the same design with sleeves. The orange kurta looks wonderful when paired with light blue or dark blue jeans. The high-slit gives little bit skin show from the midriff part but you can also keep the slit till the waistline or wear an inner.
5. Floral kurti with denims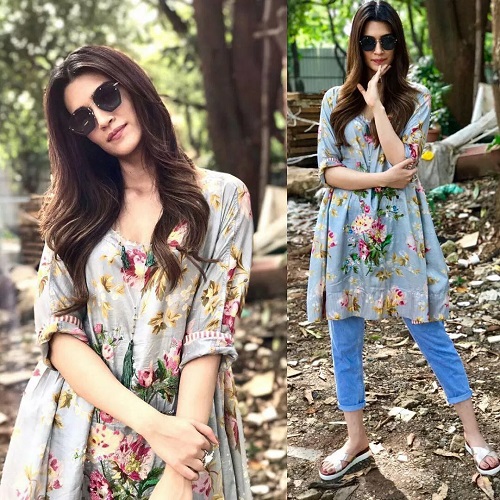 The floral kurti has beautiful flower inspired design. It looks amazing when paired with blue jeans. You can also wear kurtis like these with your regular leggings and trousers. The style is very casual and comfortable that can be worn for college. The three fourth sleeves are good for all throughout the year.
6. Front slit kurti and jeans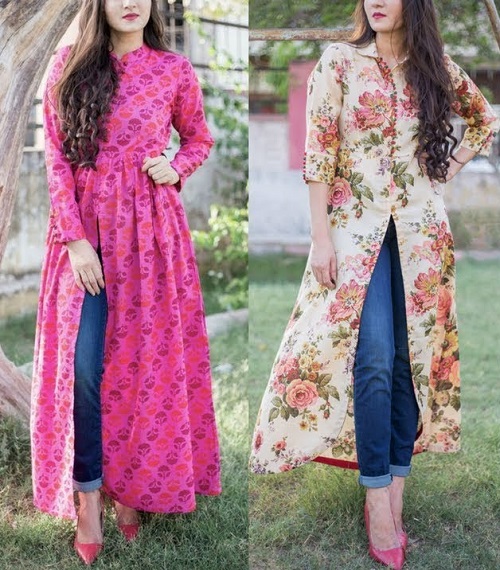 The kurtis have high neck. They come with three fourth sleeves and buttons on the bust area. As the slits are high, hence can be paired with any type of jeans. These are very comfortable and can be worn for casual Hangouts and for dinners and lunches with the friends and family.
7. Jeans and Ikkat Print Kurti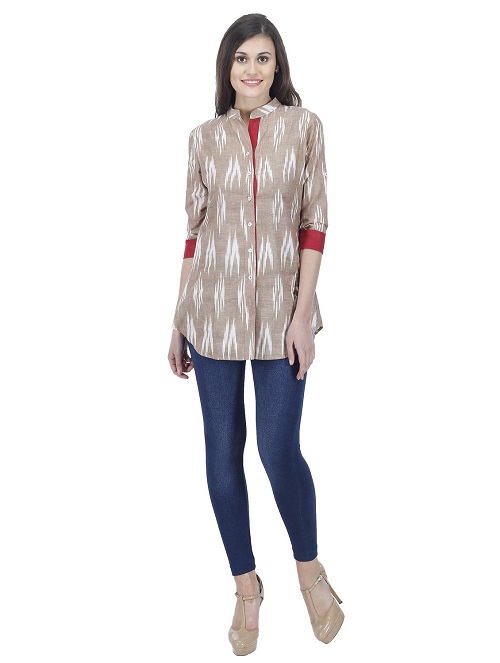 The short kurti has button tab sleeves which are three fourth in length. It has a Mandarin collar with a button placket. The short kurti comes with round or curved hemline. It is perfect with those slim and fitted jeans. Even girls and women with lower bulky body can also wear such short kurta.
8. Jeans and short kurti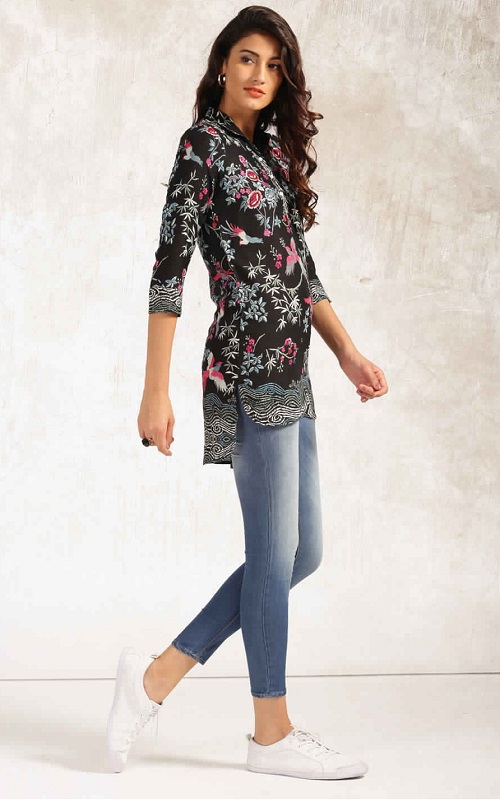 While we are talking about the short kurtis, this looks amazing with a pair of jeans. The kurti has a long side slit with three fourth sleeves. The floral pattern makes it even prettier. This can be teamed up with your sneakers, flats, wedges and even pumps. This kurti is very comfortable and good for our day to day use. These can also be worn for office and other work related things. You can pair your faded or rugged jeans with thee too.
9. Short red kurti and jeans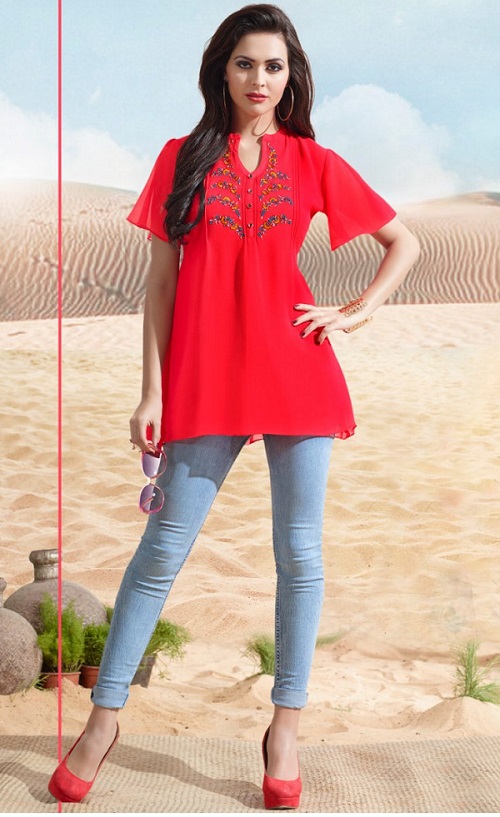 This kurti is extremely pretty to look at because of the color and the bell short sleeves. The flared bottom gives it a good one to be tried by women with heavy hips. This kurti is also an everyday wear kurti that can be paired with jeans, palazzos and even the patiala salwar.
10. Side slit kurti with jeans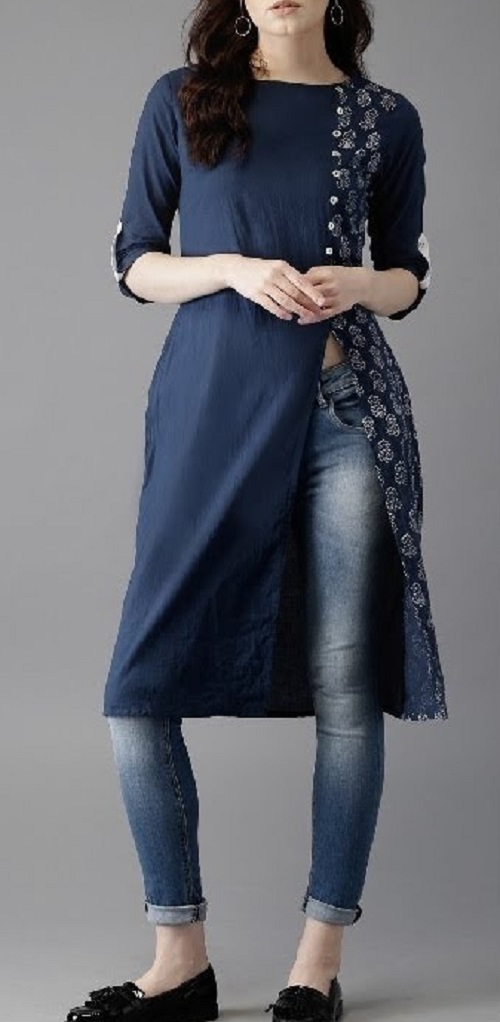 The navy blue side slit kurti has buttons on the top and a slit on the bottom. There are two different fabrics used. One is solid fabric and other is beautiful printed fabric. The round neck or the boat neck looks nice and gives it very comfortable feel. This kurti can be tried with jeans, leggings or even the trousers.
So, these are the jeans with kurti images that can give you enough of the inspiration. So which is the one that you like? We would like to tell you that we loved the short kurti with jeans styling the most and long kurti with high slit for slim girls.